In 2020, India embraced cryptocurrencies amidst the global economic challenges posed by the pandemic.
Fueled by the growing interest in digital financial assets, individuals in India gradually began using cryptocurrency exchanges for trading and sought out low-fee crypto trading apps.
Today, many novice traders are eager to tap into the cryptocurrency realm and initiate their journey in digital currencies. However, with many platforms available, the question arises: which is the optimal choice for traders in India?
To provide guidance, we've rigorously evaluated numerous crypto exchanges to pinpoint the standout options within the crowd. Continue reading to discover some of India's finest choices for your investment journey.
Top 6 C
rypto Exchanges in India Reviewed
If you are starting to explore cryptocurrencies in India, experts advise using an exchange regulated by the Securities and Exchange Board of India (SEBI) for buying and trading Bitcoin and other digital currencies.
You can legally get involved by depositing Indian Rupees (INR) through bank transfers, UPI transactions, or credit cards.
Now, to help kickstart your trading journey the right way in India, we've come across these top exchange platforms that stand out from the rest of the competitors:
1. Bitget – Overall Best Crypto Exchange in India
After evaluating multiple crypto exchanges in India, Bitget emerged as a top-notch choice. Established in 2018, Bitget offers access to 500+ cryptocurrencies and a user base exceeding 20M users. The exchange has a 24-hour derivatives trading volume of over $6B.
It holds regulatory compliance with an MSB license from FinCEN, assuring its legitimacy for users across 100+ countries.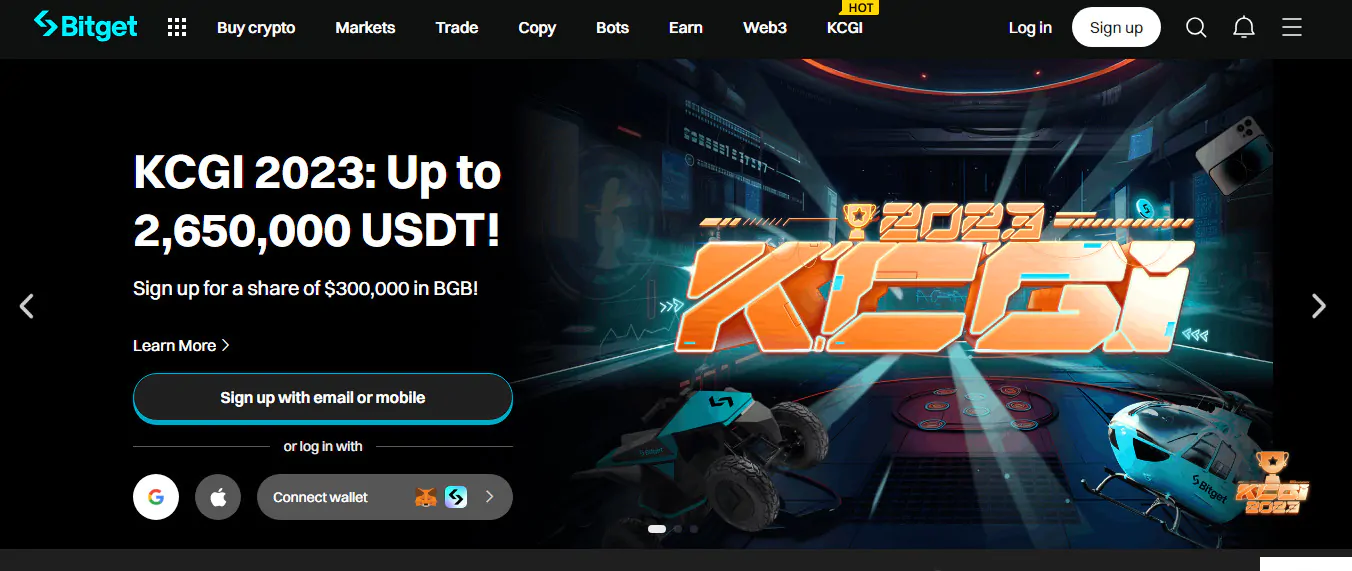 Bitget's strengths lie in its comprehensive spot and derivatives market, including 100x leverage and low fees, catering to beginners and experienced traders.
With 300+ futures contracts, it's a solid option for diversification. For passive income, Bitget offers staking, mining, and "copy trading" while supporting INR deposits and withdrawals for Indian users.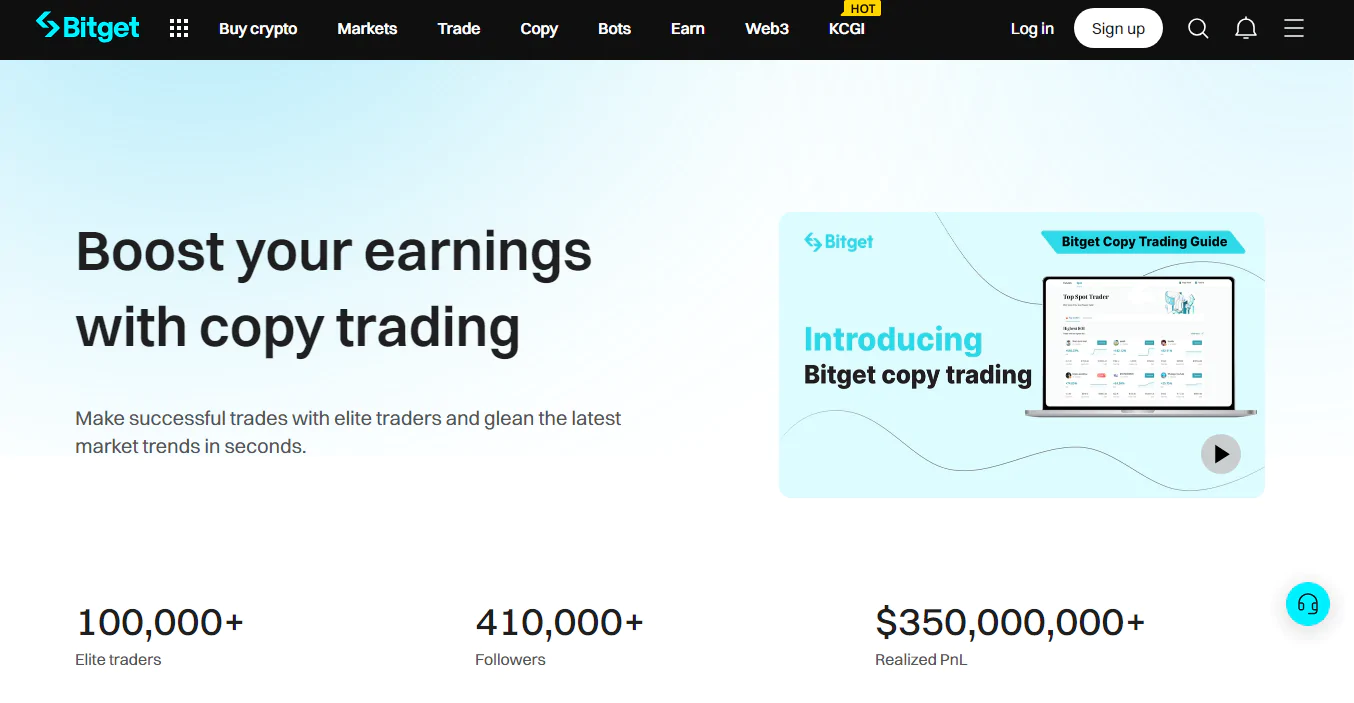 Moreover, one of its standout features is Bitget's commitment to security, demonstrated through its proof of reserves practice.
Allowing easy INR withdrawals to Indian bank accounts, Bitget streamlined the user experience. Overall, Bitget is a reputable and user-friendly choice for Indian crypto enthusiasts.
Want to explore more about Bitget? Check out our detailed review here.
Spot Fees: 0.1% maker / 0.1% taker
Futures Fees: 0.02% maker / 0.06% taker
Deposit Methods: Bank Transfer, Debit Card, Credit Card, UPI, PIX, and Google Pay.
Regulation & Licensing: Legally authorized as an MSB (Money Service Business) by the U.S. Treasury Department's Financial Crimes Enforcement Network (FinCEN).
2. OKX – Best Exchange for Beginners
Established in 2013 as OKEX, OKX lists over 350 cryptocurrencies overall and has a 24-hour derivatives trading volume exceeding 11 billion.
The exchange is headquartered in Seychelles, extending its operational reach to the United Arab Emirates with additional offices in Dubai.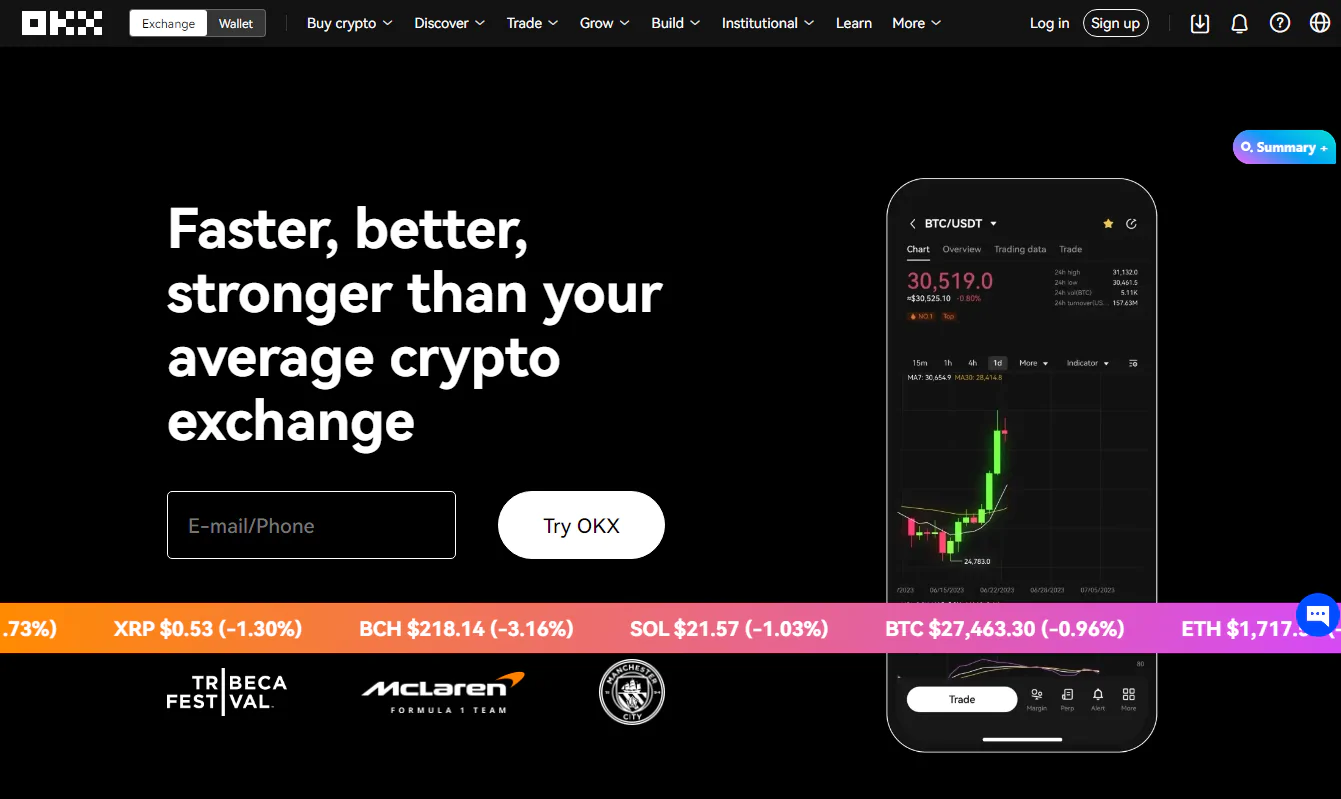 Partial KYC verification, involving name and passport or ID number, is the requirement at OKX. For elevated withdrawal limits, document images must also be submitted.
Accessible in over 200 countries, OKX's spot market hosts 331 digital currencies, while the futures market offers 230 contracts, providing ample opportunities for crypto traders. Moreover, leverage of up to 125x is supported on the derivatives trading platform.
OKX offers a valuable feature for newcomers—an exceptional free demo account, earning it a spot on our list of the best free demo accounts for crypto traders.
While OKX is one of the premier bitcoin exchanges, it might not be as intuitive for beginners as other platforms. However, seasoned traders will find their experience comfortable on the platform.
Benefiting serious traders with competitive trading fees, OKX presents an attractive fee structure: 0.08% maker fee and 0.1% taker fee for spot traders, 0.02% maker fee and 0.05% taker fee for futures trading.
If you're inclined to acquire cryptocurrencies, OKX accommodates credit card transactions.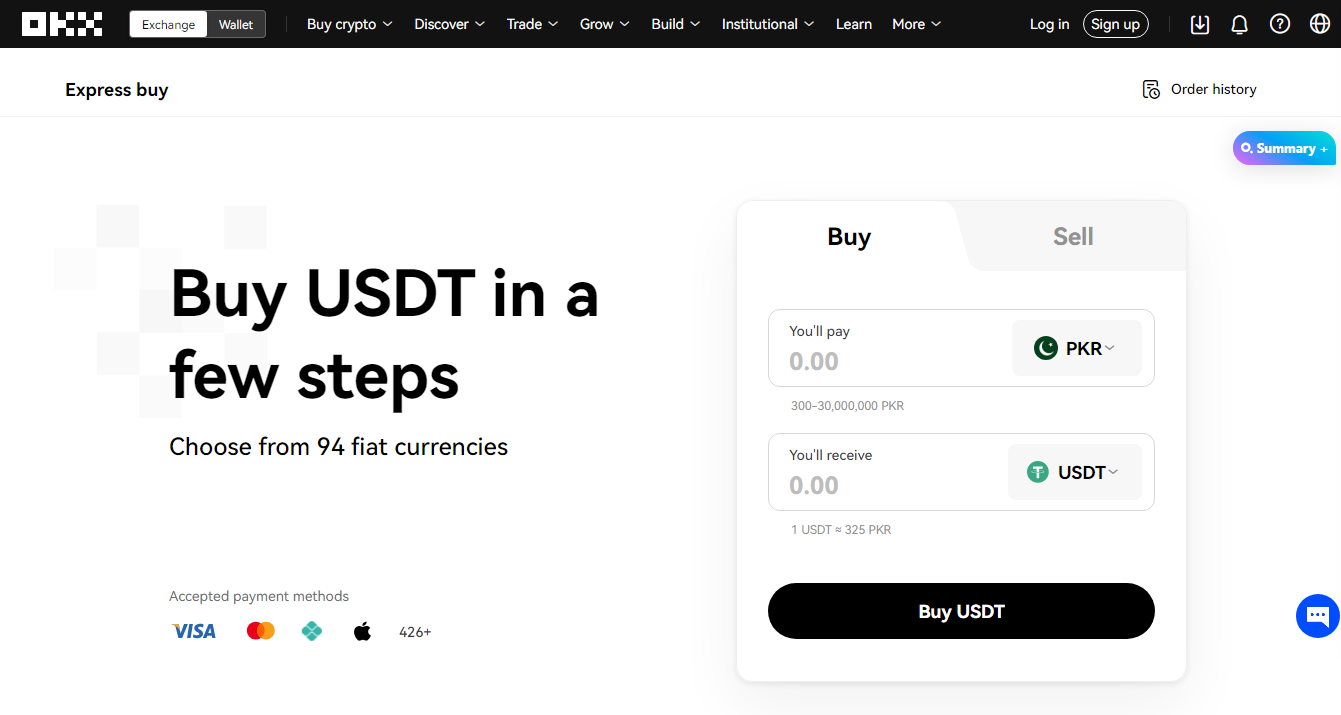 Supporting AED transactions via Simplex and Banxa, which accept credit and debit cards, and offering P2P Express, facilitating bank transfers and Abu Dhabi Commercial Bank payments.
However, it's essential to note that customer support at OKX has a limitation. The platform offers email support but not round-the-clock live chat assistance. An automated bot manages the website's chat function.
For a comprehensive understanding of OKX, delve into our detailed OKX review.
Spot Fees: 0.08% maker / 0.1% taker
Futures Fees: 0.02% maker / 0.05% taker
Deposit Methods: Bank Transfer, Credit Card, Debit Card, UPI, IMPS, Paytm, PhonePe, and more.
Regulation & Licensing: Licensed from Dubai's Virtual Assets Regulatory Authority (Vara).
3. WazirX – Best Alternative India-Based Crypto Exchange
WazirX is an expanding cryptocurrency exchange in India with over 400,000 registered users and an impressive app with a 4.6-star rating.
Despite the influx of new exchanges and controversies, WazirX offers many coins and tradable pairs like USDT/INR, ETH/INR, and BTC/INR.
The platform is designed with user-friendliness, catering to beginners and experienced traders alike. WazirX ensures a seamless trading experience on all devices with a smooth interface and multilingual support.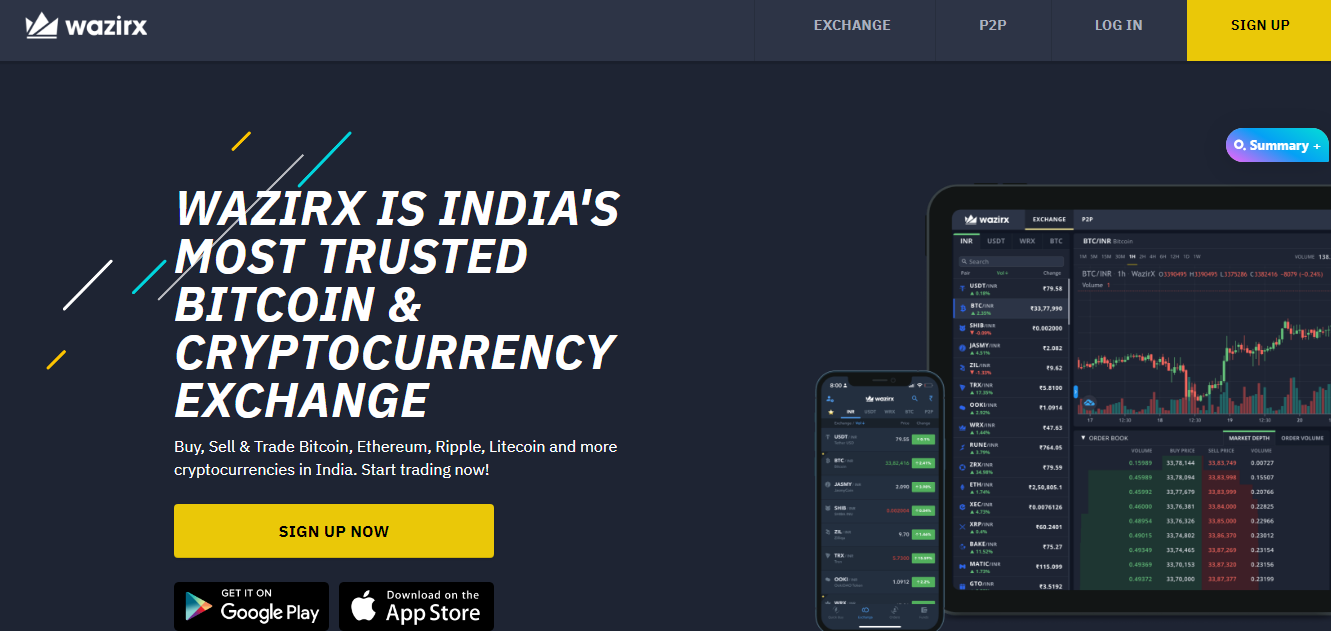 WazirX provides advanced trading tools, charts, and graphs for trading enthusiasts. Notably, it introduced a pioneering feature – the peer-to-peer (P2P) auto-matching system that instantly pairs buyers and sellers.
This automated mechanism securely transfers escrowed USDT to the buyer's wallet, facilitating smooth transactions.
Speed is a highlight, thanks to WazirX's robust blockchain infrastructure capable of swiftly handling a high volume of transactions.
Security is paramount, backed by two-factor authentication (2FA) and a multi-signature wallet system adhering to stringent KYC/AML guidelines.
WazirX offers a variety of trading and investment options, with 200+ crypto coins and 400+ pairs available. Notable coins include Bitcoin, Ethereum, Litecoin, Cardano, and Solana.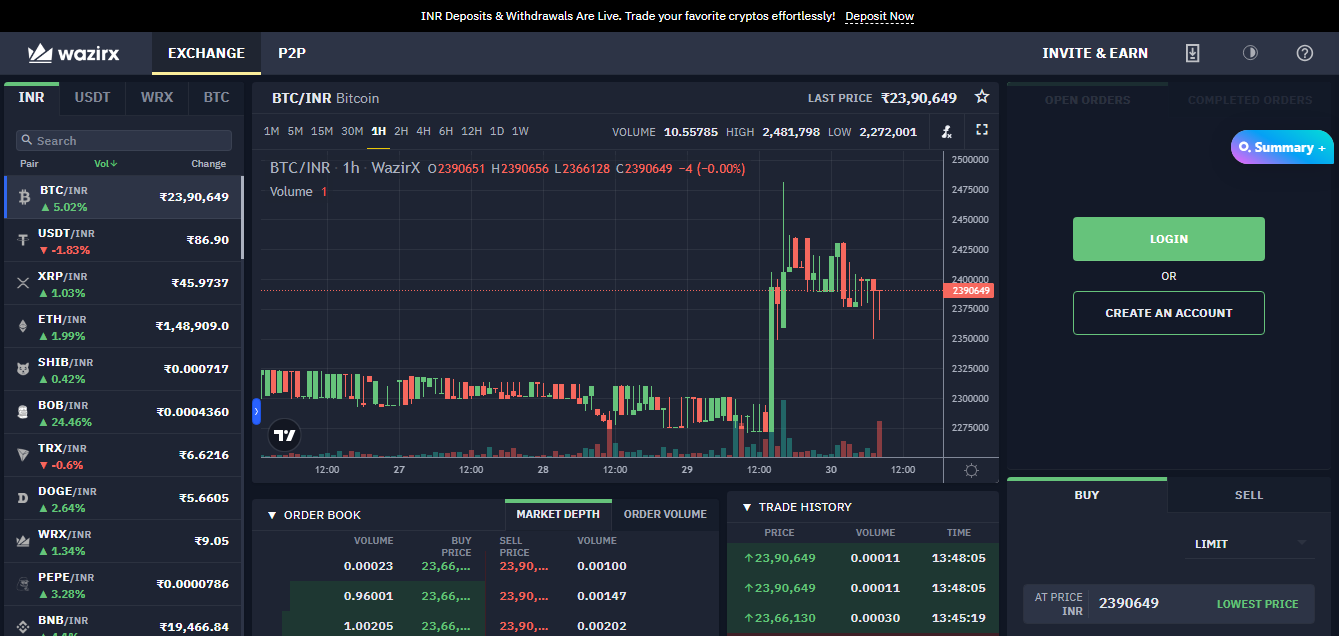 Additionally, WazirX features its native token, WRX, integral to its ecosystem. WRX can be obtained using INR and traded for other cryptocurrencies, providing benefits like fee discounts and token airdrops.
The exchange introduces the Smart Token Fund (STF), allowing new investors to access expert trading strategies for a 25% commission on profits.
Overall, WazirX's user-friendly platform, advanced tools, security measures, and diverse trading options make it a solid choice for traders in India.
Trading Fees: 0.2% maker / 0.2% taker
Deposit Methods: You can deposit INR to your account via a bank account or peer-to-peer (P2P) transactions through Mobikwik.
Regulation & Licensing: N/A
4. Bybit – The Most Advanced Crypto Exchange in India
Bybit, the second-largest crypto derivatives platform globally, offers a compelling choice for Indian users.
Since its inception in 2018, Bybit has garnered over 10 million users, featuring low fees, advanced tools, and a daily derivatives trading volume exceeding $10 billion —a perfect fit for Indian investors.
While based in Dubai, Bybit adheres to CySEC regulations in Cyprus, enabling its services across Europe and India.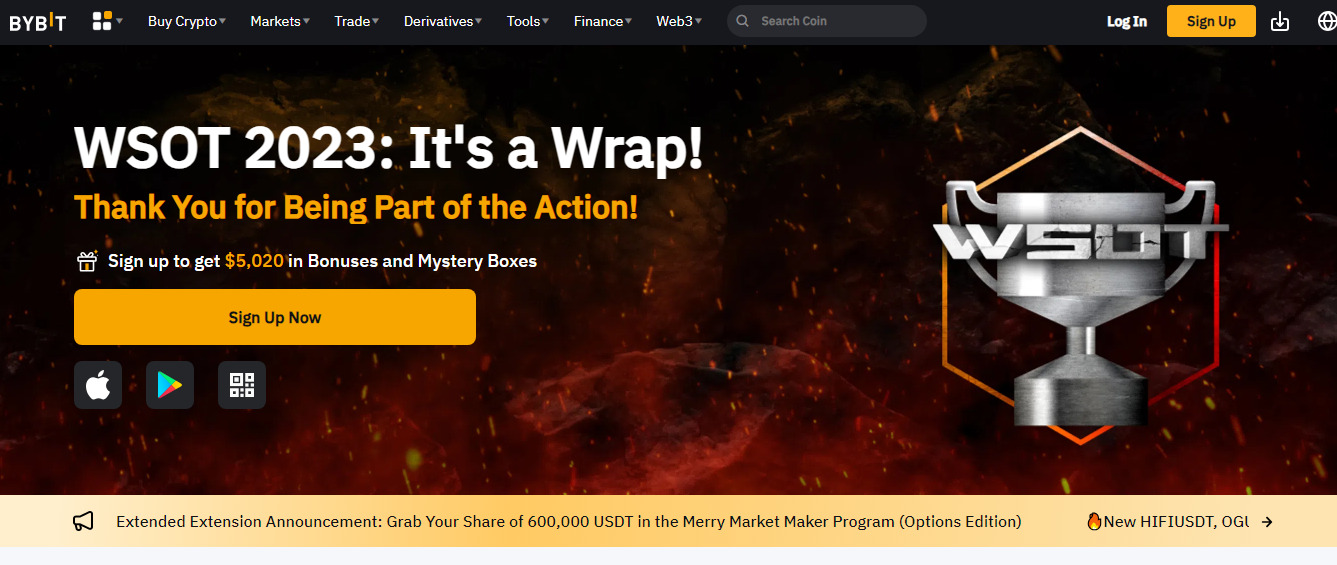 Supporting 100+ digital assets, Bybit provides diverse trading options. It also offers a comprehensive futures market with up to 100x leverage—a boon for experienced Indian traders.
Bybit, along with Bitget, leads the pack for advanced tools, low fees, liquidity, and leverage for Indian traders.
Bybit simplifies Euro deposits and withdrawals, accepting methods like Bank Transfers, ZEN, and Advcash Wallet, with fees ranging from 0.30€ to 0.92%.
Besides trading, Bybit offers passive income opportunities through staking, mining, and copy trading, mirroring Bitget's offerings. This versatility caters to various Indian user needs.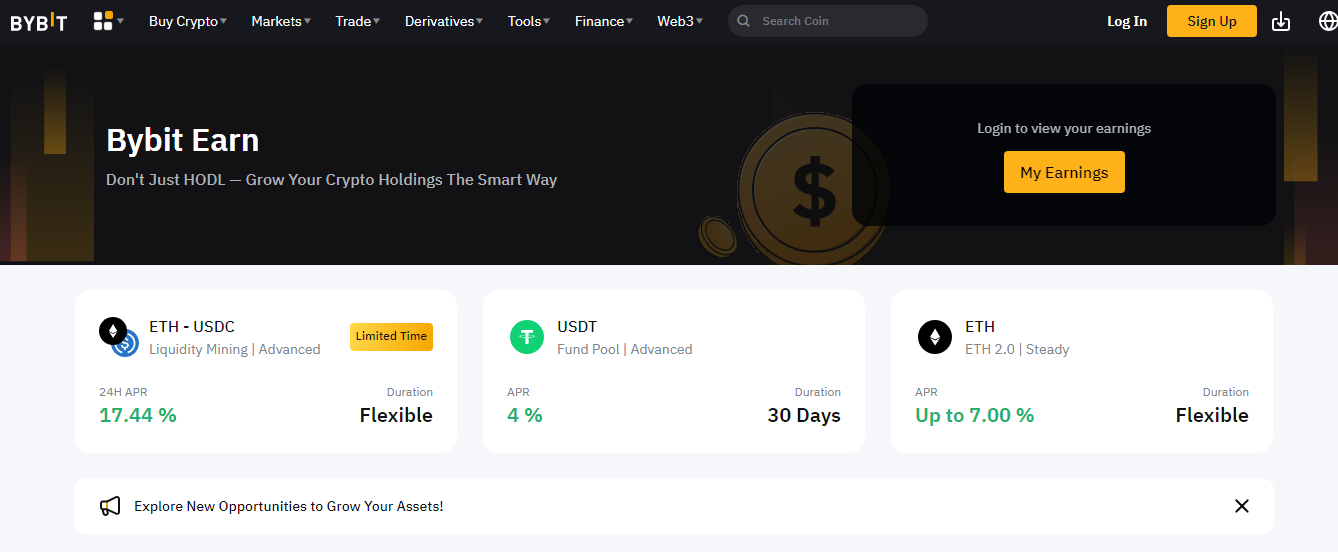 Bybit's commitment to transparency shines with full proof of reserves, assuring Indian traders of 1:1-backed assets. For Indians seeking a feature-rich platform, Bybit is a prime contender.
Learn more about Bybit through our in-depth review.
Spot Fees: 0.1% maker / 0.1% taker
Futures Fees: 0.02% maker / 0.055% taker
Deposit Methods: Bybit supports INR deposits via bank transfers, debit cards, credit cards, UPI, and PhonePe.
Regulation & Licensing: Licensed as an MSB (Money Service Business) by FinCEN, the Financial Crimes Enforcement Network Department of the Treasury.
5. CoinDCX – Best for Advanced Crypto Traders
CoinDCX is one of India's most secure and transparent crypto trading platforms that supports 500+ crypto assets. With automated security checks, including biometrics, the user onboarding process is robust.
The introduction of self-custody wallets allows easy transfer of cryptocurrencies to users' custody.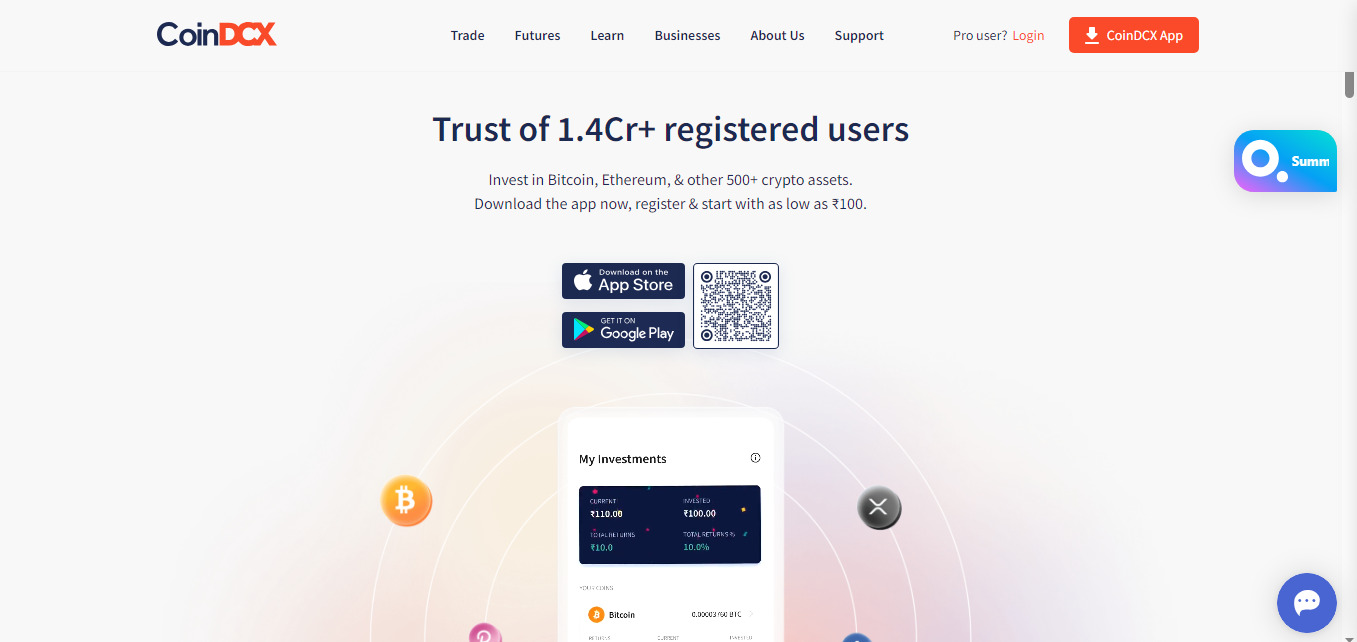 This platform offers diverse crypto services, from margin trading and futures to lending and staking. Android and iOS users can access the CoinDCX mobile app, which provides educational resources via vlogs and blogs, guiding users in crypto trading strategies.
CoinDCX also offers insights into earning passive income from idle cryptocurrencies. The exchange supports the use of INR as its accepted fiat currency.
When it comes to deposits, users can choose from options like NEFT, RTGS, and IMPS for their transactions. The platform offers diverse trading options, including SIP, margin trading, futures trading, and instant buy/sell features.
For those interested in margin trading, CoinDCX provides the advantage of 10x leverage to enhance trading capabilities. Furthermore, the platform's lending program entitles users to earn up to 16.25% annual interest by lending their cryptocurrencies.
CoinDCX's commitment to security is evident through its robust measures, including two-factor authentication (2FA), while storing 95% of user funds in cold storage for added protection.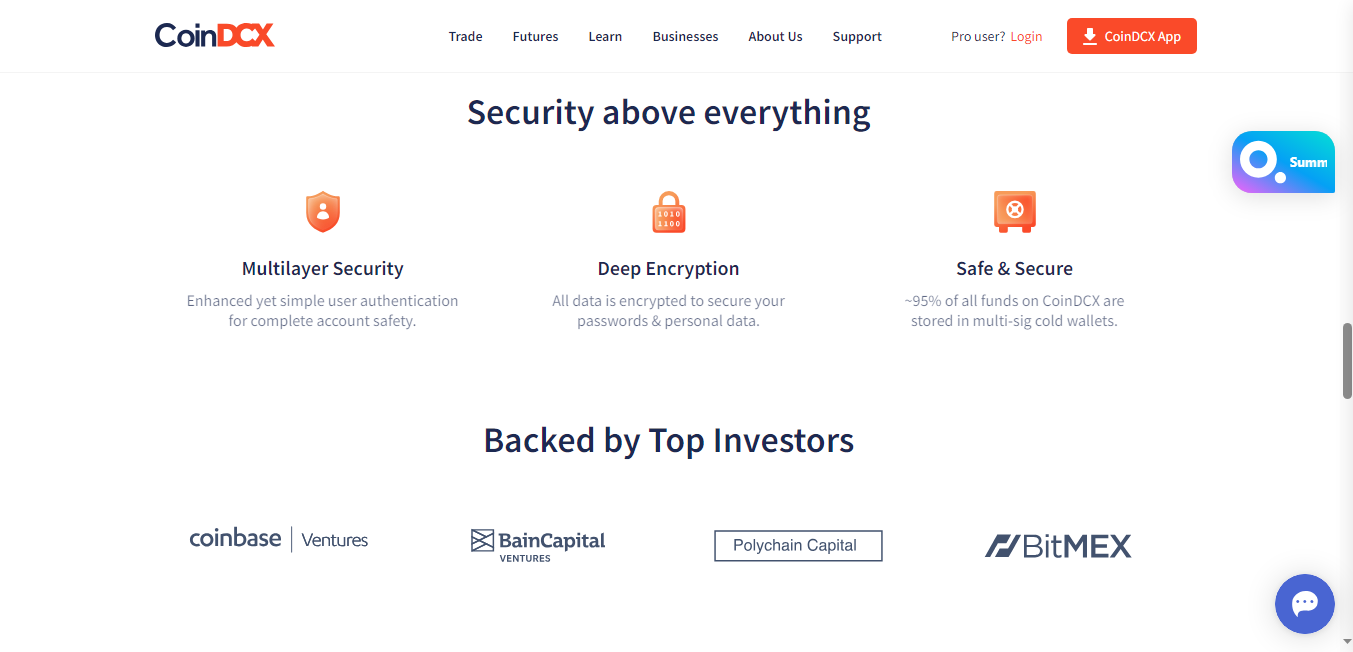 An additional feature of CoinDCX is its built-in news app, which keeps users well-informed with daily updates from the crypto world.
Spot Fees: 0% maker / 0% taker
Futures Fees: 0.02%/0.05%
Deposit Methods: The exchange supports INR deposits through IMPS & UPI.
Regulation & Licensing: Regulated by the Financial Stability Board (FSB)
6. BitBNS – Best for Advanced Trading Features
Positioned as a leading cryptocurrency exchange in India, Bitbns features an impressive range of almost 50+ cryptocurrencies for trading, including well-known options like Bitcoin, Ethereum, Litecoin, and Binance Coin.
Beyond trading, Bitbns stands out in the Indian market for offering educational resources through Bitbns Academy and research reports for beginners and experienced traders.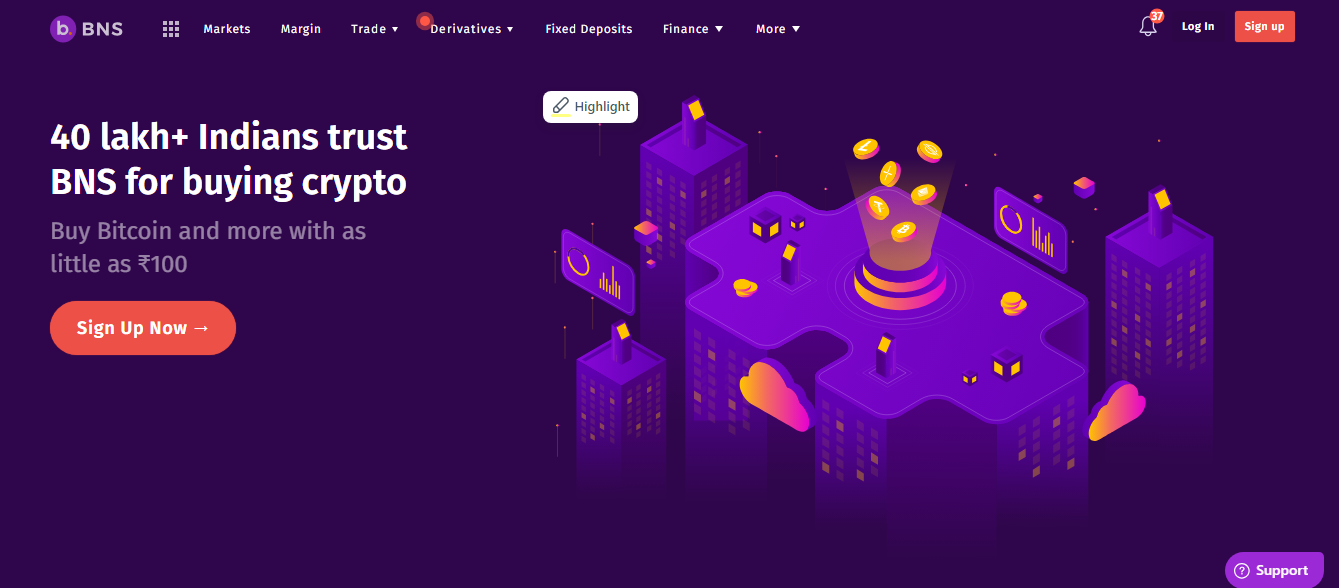 Bitbns differentiates itself through interactive initiatives like engaging contests and refer-and-earn programs, fostering user engagement.
Notably, Bitbns pioneered tax relief by introducing zero Tax Deducted at Source (TDS) on Systematic Investment Plan (SIP) transactions, simplifying investments.
Embracing the metaverse trend, Bitbns lists key metaverse tokens like Alien World, RFOX, DEAPcoin, TRACE, and Klaytn (KLAY), showcasing its adaptability and diverse investment options.
Bitbns' features include wallet options catering to different expertise levels in trading, passive income through staking BNS, instant price alerts, and innovative products like Bitcoin SIP and FIP. Diverse referral programs enrich the user experience.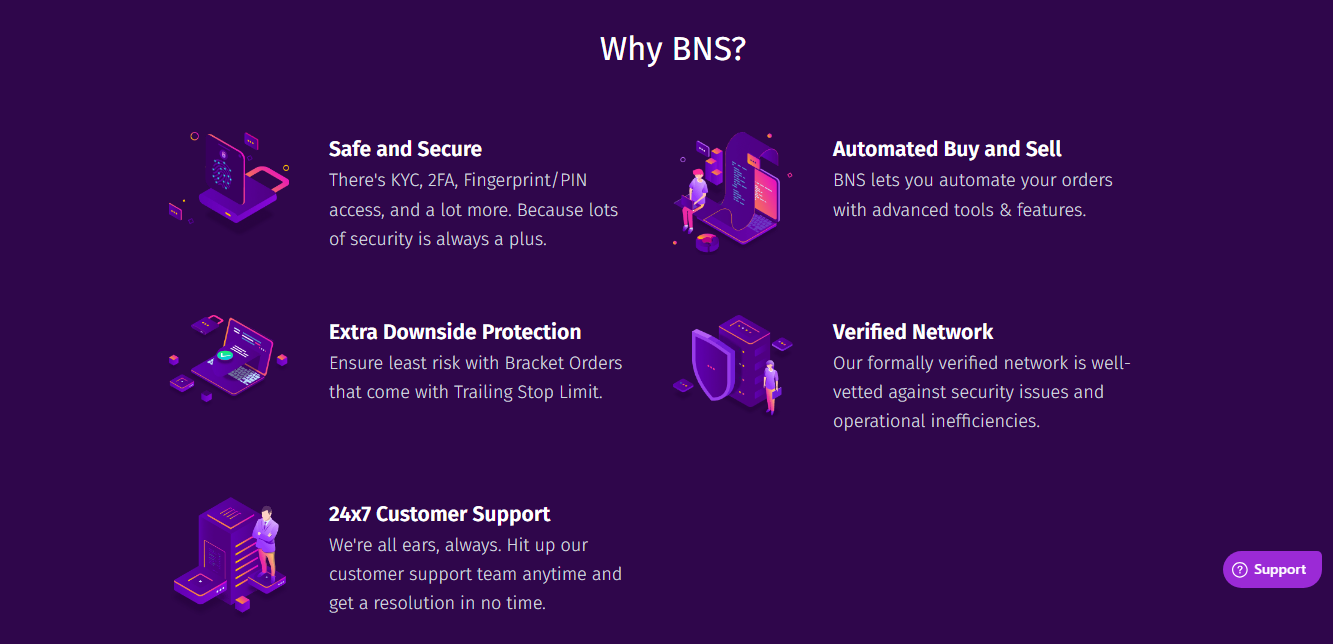 Supported currencies encompass USD, INR, and AED, ensuring global reach while catering to local preferences. Bitbns Academy offers education on Cryptocurrency and Blockchain.
In conclusion, Bitbns ranks among the top cryptocurrency exchanges in India, offering diverse assets, user-friendly features, and educational initiatives for traders in India.
Spot Fees: 0.25% maker / 0.25% taker
Futures Fees: 0% maker / 0.1% takes
Deposit Methods: The exchange allows you to deposit INR via P2P or direct bank deposits through UPI, NEFT, IMPS, or RTGS.
Regulation & Licensing: N/A
How To Choose A Crypto Exchange In India?
When deciding on a cryptocurrency exchange, prioritize the following factors for a well-informed choice:
Security
Opt for an exchange emphasizing security, ensuring your funds are stored in cold storage and backed by insurance.
Look for exchanges with bug bounty programs, two-factor authentication, and robust safety measures to safeguard your holdings from potential hacks and attacks.
Fees
Carefully consider the fee structure of different exchanges:
Understand the types of fees each exchange charges.
Compare trading, deposit, withdrawal, and transfer fees.
Ensure the fees align with your trading strategy and do not excessively impact your earnings.
Variety of Investment/Trading Options
Evaluate the exchange's offerings:
Check the variety of trading avenues and options available.
Explore the range of supported trading pairs and coins.
Determine if they offer additional crypto products like staking, lending, and futures.
Consider if the exchange provides its wallet.
Review minimum deposit requirements and payment methods.
Liquidity
Prioritize exchanges with good liquidity, allowing you to swiftly convert your coins to fiat currency and vice versa. Assess their 24-hour trading volume, as higher volumes indicate better liquidity.
Compare real-time trading volume data among exchanges to make an informed decision.
Other Features
Look for an exchange that offers a comprehensive suite of features, including:
Responsive customer support.
Attractive rewards and referral programs.
User-friendly interface.
Abundant educational resources and research reports.
Price alerts to stay updated.
Multiple payment options for smooth transactions.
User Base and Volumes
Prioritize exchanges with substantial user bases and high trading volumes. Avoid basing your decision solely on low fees or high rewards. Instead, focus on well-established exchanges with a proven track record.
Is Crypto Trading Legal In India?
Buying and trading cryptocurrencies in India is now legal after the Supreme Court lifted the ban by the Reserve Bank of India in March 2020. Entities following RBI guidelines must do customer checks and take measures against money laundering.
However, there's no clear government regulation for cryptocurrencies yet, and their legal status is uncertain. Some states are suggesting their own rules, so it's important to stay updated on any changes.
Crypto trading isn't illegal in India, but it's a bit unclear because the rules for cryptocurrencies are still being developed.
The government has tried to limit crypto use but has not fully banned it. The rules around crypto trading might have changed, so I recommend checking the current regulations in India.
Is Crypto Taxed in India?
As per the Indian Income Tax Department, cryptocurrency is taxable in India. These digital assets, known as Virtual Digital Assets (VDAs), are subject to a tax rate of 30% on profits from trading, selling, or using crypto.
This rate includes additional surcharges and a 4% cess. Additionally, transfers of crypto assets exceeding RS50,000 in a financial year are subject to a 1% Tax at Source (TDS).
This tax rate applies to individual investors, commercial traders, and anyone transferring crypto assets, with no differentiation between short-term and long-term gains.
Taxpayers must report gains from Crypto/NFTs under Schedule – Virtual Digital Assets (VDA) in their Income Tax Return.
How to Buy Cryptos in India?
Navigating India's evolving cryptocurrency regulations makes purchasing digital assets relatively straightforward. To help you understand, here's a concise guide to buying cryptocurrencies:
Step#1: Select a Platform
Start by choosing a SEBI-regulated platform such as Bitget, Bybit, OKX, CoinDCX, or WazirX. Evaluate each platform's unique features, the variety of supported assets, and the associated fees to make an informed decision.
Step#2: Create an Account
Sign up on your selected platform, provide your details, and undergo verification to ensure compliance with KYC (Know Your Customer) and AML (Anti-Money Laundering) regulations.
Step#3: Deposit Funds
Deposit Indian Rupees (INR) into your account through bank transfers, UPI transactions, or credit card payments. These funds will be used for purchasing cryptocurrencies.
Step#4: Purchase Cryptocurrencies
Once your account is funded, navigate to the trading section of the platform. Select the cryptocurrency you wish to purchase and place an order based on your preferences.
Step#5: Secure Your Assets
After purchasing cryptocurrencies, transferring them to a private wallet is recommended for added security. This step ensures you control your assets and reduces the risk of keeping them on an exchange.
Summary
In conclusion, our list of top crypto exchanges in India caters to diverse trader needs. From
Bitget is the best overall choice to OKX, ideal for beginners; WazirX provides a local alternative, Bybit offers advanced features, CoinDCX serves advanced traders, and BitBNS enhances trading strategies.
Each of our top-picked crypto exchanges in India caters to the needs of different traders. So, based on your trading needs, you can ideally kickstart your trading journey by opting for either of these platforms. Happy Trading!
FAQs
Are cryptocurrency exchanges allowed to operate in India?
Yes, cryptocurrency trading is legal in India. Cryptocurrency exchanges are permitted to operate within the country's regulations.
How to be sure a crypto exchange is legitimate and secure?
Performing a brief search and background check on the app can confirm the legitimacy of the exchange. To ensure the exchange's legitimacy and security, consider the following points:
Verify the exchange's trading volume and liquidity. Review their security protocols. Check for insurance coverage on deposits and crypto funds. Examine the exchange's deposit and withdrawal limits and pricing structure.
What are the benefits of keeping my assets on an exchange?
Crypto exchanges offer a highly secure solution for storing digital currencies, particularly if you're an active cryptocurrency trader.
These exchanges function as platforms where you can place orders and trade cryptocurrencies for other crypto assets, fiat currencies, and NFTs.