Ellipal is a completely air-gapped hardware wallet that runs in a sealed environment without connections to the outside world. The wallet does not rely on any conventional connections like USB, WiFi, or Bluetooth and only transmits data via QR codes. This technique makes the user's cryptocurrency holdings more secure and protected.
Ellipal is still a compelling alternative worth considering, even if it may not have attained the same popularity as Ledger and Trezor wallets. The remarkable Titan hardware wallet from Ellipal, Ellipal Titan wallet resembles a small smartphone with a touchscreen and back camera. It promises outstanding durability and resistance to tampering.
In the field of air-gapped cold storage wallets, the Ellipal Titan is regarded as a pioneer. The whole design is encased with metal to provide the highest level of tamper-proof protection. Using QR codes rather than other connections like USB, WiFi, or Bluetooth for data transfer makes this hardware wallet stand apart from the crowd. This wallet lets you make transactions quickly and easily with only a few simple QR scans.
In today's post, we will look at the Ellipal Titan wallet.

Pros and Cons
Pros
High-security standards: The Titan wallet provides robust defenses against hacking attempts, ensuring the secure storage of cryptocurrencies.
Offline cold storage: The Titan wallet completely isolates private keys from online connectivity with an air-gapped design.
User-friendly interface: The Titan wallet's intuitive interface enables even new and experienced users to easily manage their digital assets.
Durability and portability: Featuring a rugged and compact design, the Titan wallet is highly resistant to physical damage and offers convenient portability.
Support thousands of coins: With over twice as many supported currencies, the Ellipal Titan wallet stands out for its ability to hold more than 10,000 distinct coins. It is exceedingly unusual to come across a coin that cannot be safely kept on the Ellipal Titan because of its wide range of coin compatibility.
Connects with mobile devices: The Ellipal Titan allows easy connectivity with Android and iOS smartphones through its specialized applications. Your mobile device's QR code scanner makes accessing your wallet's features easy.
Large touchscreen: The Ellipal Titan offers a user-friendly experience that sets it distinct from the other wallets with smaller displays with its 3.97" LCD touchscreen. The Titan's large display size makes interaction and navigation easier. It eliminates the need for the many phones' two buttons to function. Users may scroll and touch the screen to easily access different features and services.
Tamper-resistant design: Crafted from a durable aluminum alloy body, the Ellipal Titan boasts a tamper-resistant design that safeguards against supply chain attacks. Its construction makes it nearly impossible to disassemble the device without causing significant damage. Even applying heat to the glass touchscreen won't allow its removal. Attempting to open the wallet without authorization will result in irreparable damage. Additionally, in the event of a brute force attack, the wallet's chip will automatically erase all data, ensuring that your information remains secure even if the wallet is stolen.
Recovery Seed: The Ellipal Titan offers an extra layer of security through its support for an optional passphrase. By adding this passphrase, users can safeguard their wallets from being restored by unauthorized individuals who may come across their 12-word recovery seed. Even if someone gains access to the recovery mnemonics, they won't be able to restore the wallet without knowing the passphrase. This valuable security feature provides peace of mind. However, it is crucial to remember the passphrase as there is no way to recover the cryptocurrency if the wallet is lost and the passphrase is forgotten, even if the mnemonic phrase is available.
Cons
Limited Support: The Ellipal Titan's present limited support for cryptocurrency assets is one possible drawback. The majority of the well-known cryptocurrencies are included, although certain important ones, like Tezos, Cosmos, are not yet supported. It's crucial to remember, nevertheless, that Ellipal frequently adds support for new assets and upgrades its platform. As a consequence, this drawback is probably going to become better as more coins are added to the wallet.
Price: The Ellipal Titan hardware wallet is positioned at a higher price point than other available options. Those seeking more budget-friendly choices may find the Trezor's One and the ELLIPAL Mini more affordable.
Supports Smartphones Only: One limitation of the Ellipal Titan is its lack of compatibility with desktop computers. It exclusively supports mobile devices, which may not be an issue for most users, given the prevalence of smartphones. However, those prioritizing desktop-based security and prefer having their wallet app on a computer might view this as a drawback.
Features of Ellipal Titan Wallet
Its prominent features are the Ellipal Titan Wallet's tamper-proof construction, using QR codes to completely detach from the internet or other data connections, and seamless interaction with the Ellipal app. The wallet's sturdy design makes it almost impossible to open without using substantial force, and even if unauthorized access is attempted, the gadget immediately deletes any private keys it has saved, guaranteeing total tamper resistance. It differs from other products on the market because of this essential characteristic. Additionally, the wallet becomes a cold storage solution when QR codes are used for all transactions, providing increased security for handling digital assets.
Security
Security is of the highest concern to ELLIPAL as a maker of hardware wallets. ELLIPAL has painstakingly created a strong security system that protects users from hacking attempts and ensures flawless mobile support to accomplish this crucial aim.
By making sure that your wallet is cut off from any electronic device, including Bluetooth, WiFi, and USB cables, the Ellipal Titan goes above and beyond basic protection. The only way to connect is via scanning the QR code on the wallet's screen and scanning the QR codes on your phone using the camera. The extremely strict air-gap configuration provides complete isolation and maximizes security.
Being completely disconnected from the Internet is a key component of ELLIPAL's security strategy. ELLIPAL functions as an entirely impermeable hardware wallet with the only exception of QR codes. Thus, possible weaknesses are minimized, and it continues to be immune to connections like USB, WiFi, or Bluetooth.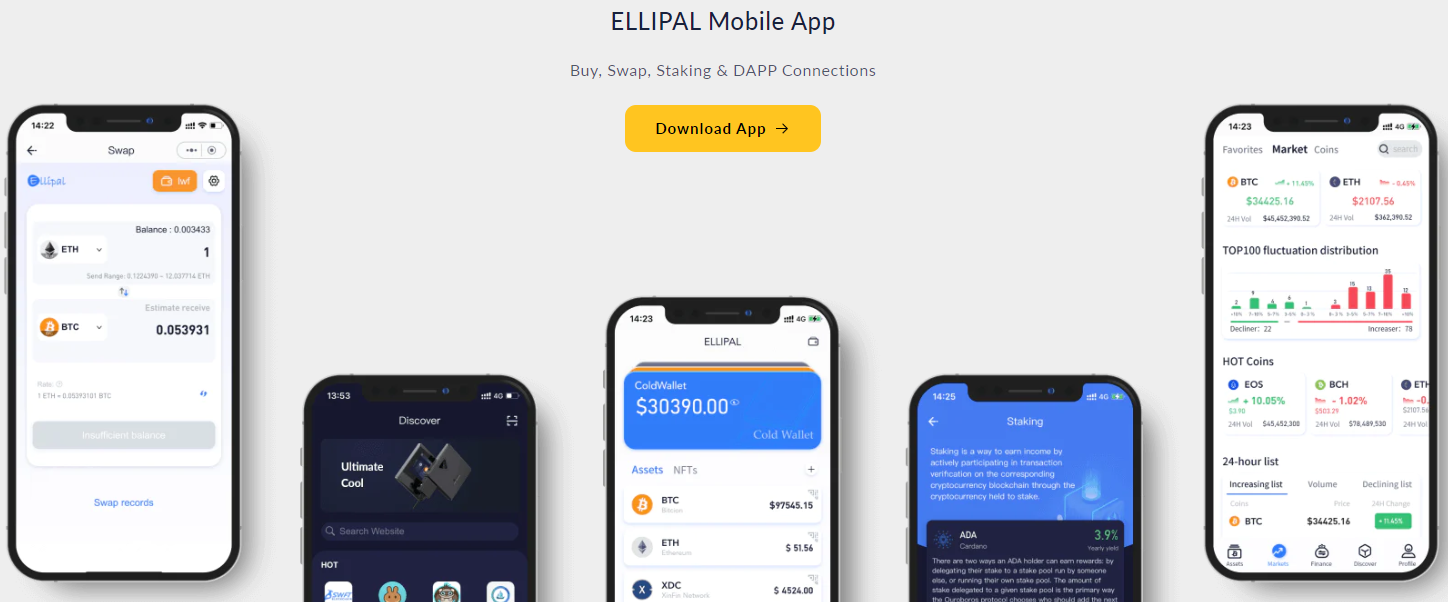 Setting up the Ellipal Wallet
The Titan must communicate with the user's mobile device to act as an offline hardware wallet. Apple and Android users may use the specialized ELLIPAL App, which can be downloaded from the Google Play Store or Apple App Store. The Titan will create a QR code during the first setup process, making it simple for customers to scan and verify that the right software is installed on their mobile devices.
After installing the app to synchronize the two devices, users will be prompted to scan the QR code on the Titan hardware wallet screen. The next step for users is to establish an account for the wallet. Account creation does not include any requirements for KYC (Know Your Customer) since the account's only function is to identify the user.
Users of the app have three choices for managing their wallets. They may either establish a new wallet, restore an older wallet by inputting a phrase of 12, 15, 18, 21, or 24 words, or import private keys one at a time. The ELLIPAL Titan also includes the capacity to read QR codes from paper wallets, making it simple to upload paper wallet data into the app.
Compatibility
The Ellipal Titan surpasses other wallets in terms of storage capacity, as it can securely hold over 10,000 different tokens. Moreover, the Ellipal Titan continually expands its supported tokens by adding new ones each week, constantly growing the range of available coins. While it can securely store major coins like BTC, ETH, ADA, and BNB, it also supports thousands of other lesser-known tokens.
The ELLIPAL Titan comes with several pre-loaded DApps for immediate use. Additionally, users can access over 100 DApps by utilizing the QR codes and scanner functionality. This includes prominent DeFi lending platforms like Aave and Compound Finance, as well as popular decentralized exchanges (Dex's) such as SushiSwap and Uniswap. With this capability, users can easily participate in various DeFi activities and explore a wide array of crypto platforms using their ELLIPAL Titan wallet.

Frequently Asked Questions
Is the Ellipal Titan Safe?
Yes, the Ellipal Titan hardware wallet is built with robust security mechanisms to assure safety. The private keys are kept offline due to full air-gapping, which essentially eliminates the number one danger to cryptocurrencies—malware assaults and remote hacking efforts. The Titan also has anti-tamper and anti-disassembly features. All internal data will be deleted, and the device will be rendered useless if a breach is discovered. In such a situation, the wallet user may quickly get their money back by entering their recovery phrase on another wallet.
What Happens If Ellipal Leaves The Market And One Can No Longer Download The App?
It may be quite difficult for customers who depend on the app to access their cryptocurrency accounts if the maker Ellipal goes out of business and their software is no longer accessible for download or upgrades. These users may not be able to access their money or efficiently manage their crypto holdings if the program doesn't work as planned.
Users would be left without a trustworthy way to communicate with their hardware wallet and carry out necessary tasks like sending or receiving crypto due to the Ellipal app's dependence on transactions and account management. Their ability to access their cash may be lost as a consequence, which may lead to serious inconvenience or financial difficulty.
Why is the Ellipal Titan So Expensive?
Due to a number of considerations, the Ellipal Titan has a higher price tag. It is, first and foremost, a piece of hardware with a full touch screen and an integrated camera that offers cutting-edge functionality. Second, the physical construction of the gadget adds an additional degree of protection by making it very difficult to penetrate the shell. Its improved security capabilities and features make up for the hefty price.
Why is the Ellipal Titan Air-Gapped?
The Ellipal Titan is air-gapped in order to provide the highest level of protection for users' private keys and digital currency. It is physically impossible for the device to connect to any external networks or the internet when air-gapped. Since no data can be sent to or received from the device, it is effectively shielded from any internet threats and hacker attacks.
The Ellipal Titan's air-gapped considerably limits the attack surface for prospective hackers. This isolation makes it exceedingly difficult for bad actors to undermine the security of the wallet by preventing any unauthorized access to or communication with the private keys stored on the device. The Ellipal Titan offers consumers an additional degree of security as a consequence, protecting their priceless digital assets from possible cyber assaults.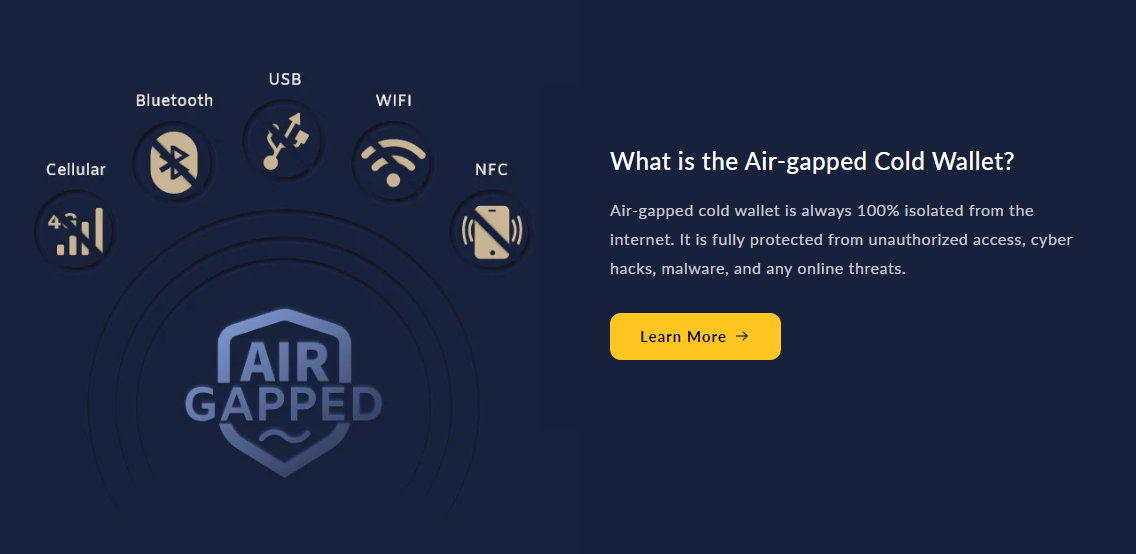 Conclusion
Ellipal Titan is one of the best hardware wallets for cryptocurrencies now on the market. It features 100% air-gapped communication, enhancing security for users' private keys, and can store over 10,000 coins while working with both Android and iOS smartphones. The wallet also has a sturdy build that makes it impervious to manipulation and able to survive a variety of weather conditions. Ellipal Titan is surely a wallet worth taking into consideration if you have a large collection of coins that you want to keep safely.