Atomic Wallet is a blockchain wallet that supports over 500 cryptocurrencies. It initially came out as Atomic Swap in 2017 by Konstantin Gladych. Gladych doubles as the CEO and co-founder of Changelly. Atomic Wallet stands out for its decentralized exchange called Atomic Swap, which inspired its name. The wallet offers a good list of features, including storage for cryptocurrencies and non-fungible tokens (NFTs), crypto staking, and the ability to make crypto purchases directly within the wallet. It utilizes cold storage, ensuring that all passwords and data remain securely stored on the user's device.
Features of Atomic Wallet
Atomic Wallet's user-friendly design makes it the perfect option for new and seasoned cryptocurrency investors seeking safe and anonymous portfolio management.
The wallet itself is free to use. Users just have to pay network transaction fees. Atomic Wallet offers support for more than 500 coins and tokens. Atomic Wallet is compatible with different devices and has easy desktop and mobile versions.
The wallet offers works for Atomic Swap exchange and other exchanges. This increases the options for maintaining and exchanging different cryptocurrencies.
Atomic Wallet guarantees security by encrypting and keeping your private keys on your device. There is a 12-word backup recovery phrase to protect against device loss or theft. Users may feel secure thanks to this functionality.
One noteworthy feature of Atomic Wallet is that you can purchase crypto using a bank card. This makes it very easy for even those new to the crypto space. Anyone can easily start trading coins and tokens after installing the wallet.
Atomic Wallet provides numerous ways for users to earn incentives in addition to its trade features. Users can earn profit through cashback and staking schemes.
Additionally, Atomic Wallet offers customer service accessible around the clock to improve the user experience further and ensure that help is always available.

Atomic Wallet Fees
You can download Atomic Wallet for both desktop and mobile devices for free. However, when you send cryptocurrency using the wallet, you pay network fees to the blockchain validators.
These network fees are necessary to compensate the crypto miners who validate transactions and add them to the blockchain. The blockchain determines the specific amount of the fee at the time of the transaction. The fees vary depending on the type of transaction one is carrying out. For instance, the network costs for Ethereum are known as gas fees. The increased demand for transaction processing causes gas prices to rise when the Ethereum network is congested. As a result, network fees vary depending on the current situation and the particular blockchain one uses.
Also, the number of inputs in a transaction affects the network fees. This holds true for digital currencies like Bitcoin (BTC), Litecoin (LTC), and DigiByte (DGB). Let's assume you want to send 0.2 BTC to another wallet. Since there are no fractional BTC units, the transaction will have two parts consisting of 0.1 BTC and 0.1 BTC. Each component serves as an input for the transaction. As a result, the network fee for this transaction will probably be higher than it would be for a transaction with a single input. The higher fee is because the blockchain network needs to verify and process each input independently. As a result, transactions with multiple inputs typically have higher network fees than transactions with a single input.
Users can customize network fees by accessing the "set fee" feature and adjusting the slider on the send screen. Setting network fees directly affects the transaction speed. To illustrate this, let's consider a scenario where both User A and User B plan to send 0.1 BTC each. However, User A customizes their network fee to $10, while User B sets theirs at $0.99. In this case, miners will likely prioritize verifying User A's transaction first due to the higher fee.
When you carry out fiat-to-crypto purchases with a bank card, Atomic Wallet applies a 2% fee, with a maximum fee of $10. It's worth noting that the card's issuing bank may also impose additional fees.
For exchanges within the Atomic Wallet charges a 0.5% fee. This fee does not include the commission imposed by the wallet's exchange partner.
Atomic Wallet Privacy and Anonymity
Atomic Wallet stands out as a leading platform in this area since it stresses privacy and anonymity. The wallet enables users to access their money without verifying their identity or following Know Your Customer (KYC) guidelines. Hence, Atomic Wallet does not create a new address for every transaction. Despite these restrictions, the transactions made possible by Atomic Wallet are still considered entirely anonymous.
Atomic Wallet Supported Operating Systems
Atomic Wallet offers broad compatibility with various operating systems, including Windows, MacOS, and Linux. Specifically for Linux, it supports popular distributions such as Ubuntu, Debian, and Fedora. However, it's important to note that the desktop version of the wallet is not compatible with hardware devices and lacks support for connectivity options like Bluetooth or wired devices. Nevertheless, it does provide a user-friendly interface for ease of use.
On the mobile front, Atomic Wallet can download the app from both the Google Play and App Store, catering to Android and iOS devices, respectively. The wallet has garnered a 4.4-star rating on the Google Play Store based on over 65,000 reviews. Many reviews express satisfaction with the wallet's user-friendly interface and transaction fees. However, there are also some negative reviews highlighting concerns about bugs, high fees, and a desire for the option to sell cryptocurrencies directly within the wallet.

Atomic Wallet Security
Atomic Wallet incorporates several security measures to protect user funds. The first line of defense is the user-created password, essential for accessing the wallet, confirming transactions, and viewing private keys.
As a non-custodial wallet, Atomic Wallet grants users complete control over their private keys. These keys are typically encrypted and stored on the user's device, ensuring they retain full custody of their funds. For any transaction to be authorized, Atomic Wallet mandates the input of the user's password.
To provide an additional layer of security, Atomic Wallet generates a 12-word backup phrase. This backup phrase is randomly generated and serves as a crucial means to recover wallet access in case the user's device is lost or stolen. It is a backup mechanism to restore access to the wallet and safeguard the user's funds.
All data stored on users' devices or transmitted during transactions is thoroughly encrypted to prioritize user security. Atomic Wallet employs robust encryption methods such as AES (Advanced Encryption Standard) and TLS (Transport Layer Security) to ensure secure and protected transactions. No data gets stored on servers, and Atomic Wallet neither stores nor has access to users' private keys. This puts the responsibility for the safety of funds squarely in the hands of the users themselves.
However, in June 2023, Atomic Wallet experienced a significant security breach. Hackers associated with the notorious North Korean Lazarus group stole over $35 million worth of various cryptocurrencies from Atomic Wallet users. The stolen funds were subsequently laundered through Sinbad.io, a coin-mixing service.
Concerns about Vulnerabilities
A comprehensive security audit by Least Authority in February 2022 highlighted vulnerabilities in Atomic Wallet that potentially put users at risk. The audit report advised against using the wallet. Atomic Wallet acknowledged the issues and assured users they were working on fixes. However, it is crucial to thoroughly investigate and understand the nature of these vulnerabilities before considering using the wallet.
Given the paramount importance of security in a cryptocurrency wallet, any reports of vulnerabilities warrant serious consideration. While Atomic Wallet's response suggests that the issues may not be severe, you should make your research and investigation advisable before entrusting funds to the wallet.
Restricted Cryptocurrency Options for Purchase
Atomic Wallet offers a limited selection of cryptocurrencies you can buy. This means that users will have a restricted choice and may need to explore alternative options if they wish to invest in a wider range of crypto tokens.
Not Open-Source
Like many other cryptocurrency wallets, Atomic Wallet does not provide public access to its source code for review by the general public. Although this may not be a decisive factor for everyone, some crypto investors prefer to use open-source wallets as they believe it provides an additional layer of security and transparency.
Pros and Cons
Pros
Compatibility with Different Devices
Atomic Wallet is compatible with various devices, including Windows, MacOS, Android, iOS, Debian, Ubuntu, and Fedora. This ensures that users can conveniently access and use the wallet on their preferred platforms.
Massive Crypto Asset Support
With Atomic Wallet, users can securely store, swap, and exchange over 500 crypto assets. This diverse range of supported cryptocurrencies provides users ample options for managing their digital assets.
User-Friendly Interface
Atomic Wallet boasts a simple and intuitive user interface, making it accessible and user-friendly for newcomers and experienced cryptocurrency investors. Its straightforward design and functionality contribute to a smooth user experience.
Secure Private Key Encryption
Atomic Wallet employs encrypted private key storage on users' devices to ensure the utmost security. This robust encryption method safeguards private keys.
Cons
Availability of Limited Cryptocurrencies for Purchase
Atomic Wallet only supports purchasing select cryptocurrencies within the wallet, limiting the options available for users.
Absence of Hardware Wallet Support
Atomic Wallet lacks support for hardware wallets, which generally are said to provide an extra layer of security for managing cryptocurrencies.
Average Support
The level of support provided by Atomic Wallet has been described as average or mediocre, implying that users may encounter difficulties or delays when seeking assistance or resolving issues.
Atomic Wallet FAQ
Yes, Atomic Wallet is available for free download. Users can install and use the wallet without any cost. However, it's important to note that users are responsible for paying transaction fees required for exchanging or transferring crypto assets within the wallet. The respective blockchain networks typically impose these transaction fees and are not directly associated with Atomic Wallet.
Can I Use Atomic Wallet on my Mobile Device?
Yes, Atomic Wallet works on mobile phones. Also, it works perfectly on Ubuntu, Windows, and MacOS.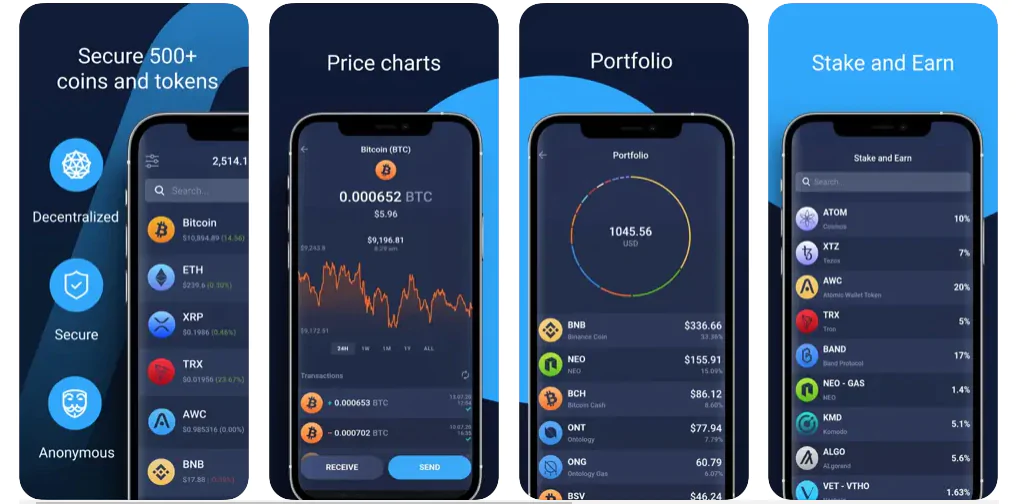 Is there a Limit on the Amount of Cryptocurrency I Can Store in Atomic Wallet?
Atomic Wallet allows users to store any amount of cryptocurrency, regardless of size. Whether you have a large or small quantity of digital assets, Atomic Wallet can securely store and manage your cryptocurrency holdings. There are no limitations on the amount of cryptocurrency that you store within the wallet.
Do Atomic Swaps Have Anything to Do with Atomic Wallet?
Yes, Atomic Swaps are the main feature of the Atomic Wallet. Atomic Swap is the decentralized exchange housed within the Atomic Wallet that allows users to exchange over 500 crypto coins and tokens at the click of a button.
Does Atomic Wallet Come with any Two-Factor Authentication?
Atomic Wallet currently does not support Two-Factor Authentication (2FA) due to its reliance on centralized providers like Google for this security feature. As a result, users cannot utilize 2FA within the wallet at this time.
Conclusion
Atomic Wallet is a great wallet that helps users to purchase, exchange, and transform digital currencies. It distinguishes itself among similar options in the market. With its user-friendly interface, this wallet caters to both novice and experienced crypto investors who prioritize swift transactions, robust security measures, and the utmost privacy and anonymity when overseeing their portfolio and engaging in transactions.