In today's cryptocurrency trading landscape, the best trading bots provide beginner and experienced traders with the means to profit from market fluctuations through precise timing and automated strategies.
These bots and automated trading platforms have become indispensable tools for traders, offering trading without the need for constant oversight.
But is automated trading the only reason to consider a trading bot? And how do you select the best cryptocurrency trading bot from the top options available?
This detailed review will address all these questions + the top 11 trading bots to consider in 2023. So, keep reading to learn more.
Advantages of Crypto Trading Bots
To determine if a trading bot suits your needs, let's explore some key benefits of using automated crypto trading tools:
Enhanced Clarity: Crypto trading bots enable you to execute trades with a clear, emotion-free approach, eliminating impulsive decisions.
Efficient Trading: These software solutions offer efficient trading by adhering to pre-defined parameters. Traders can automatically set rules that trigger different order types, saving them from constant strategy adjustments.
Faster Operations: Trading bots facilitate rapid execution of orders without requiring constant trader intervention. Orders are executed swiftly, and you can engage in round-the-clock trading without monitoring your computer continuously. This minimizes the risk of missing profitable opportunities, even while you're asleep.
Effective Data Analysis: Crypto bots excel at data analysis, efficiently identifying patterns that may indicate future market conditions. This includes analyzing market data and predicting potential risks. Performing these tasks manually can be highly time-consuming.
Best Crypto Trading Bots Reviewed
To help you start your automated trading journey and meet your trading needs, we've found these standout trading bots:
1. 3Commas
3Commas is a leading crypto trading bot for experienced traders seeking advanced functionality.
Recognized for its intricate design and extensive customization options, 3Commas serves a diverse user base, including large-scale investors, day traders, entrepreneurs, and corporations. It provides a robust toolkit for traders looking to enhance their crypto strategies.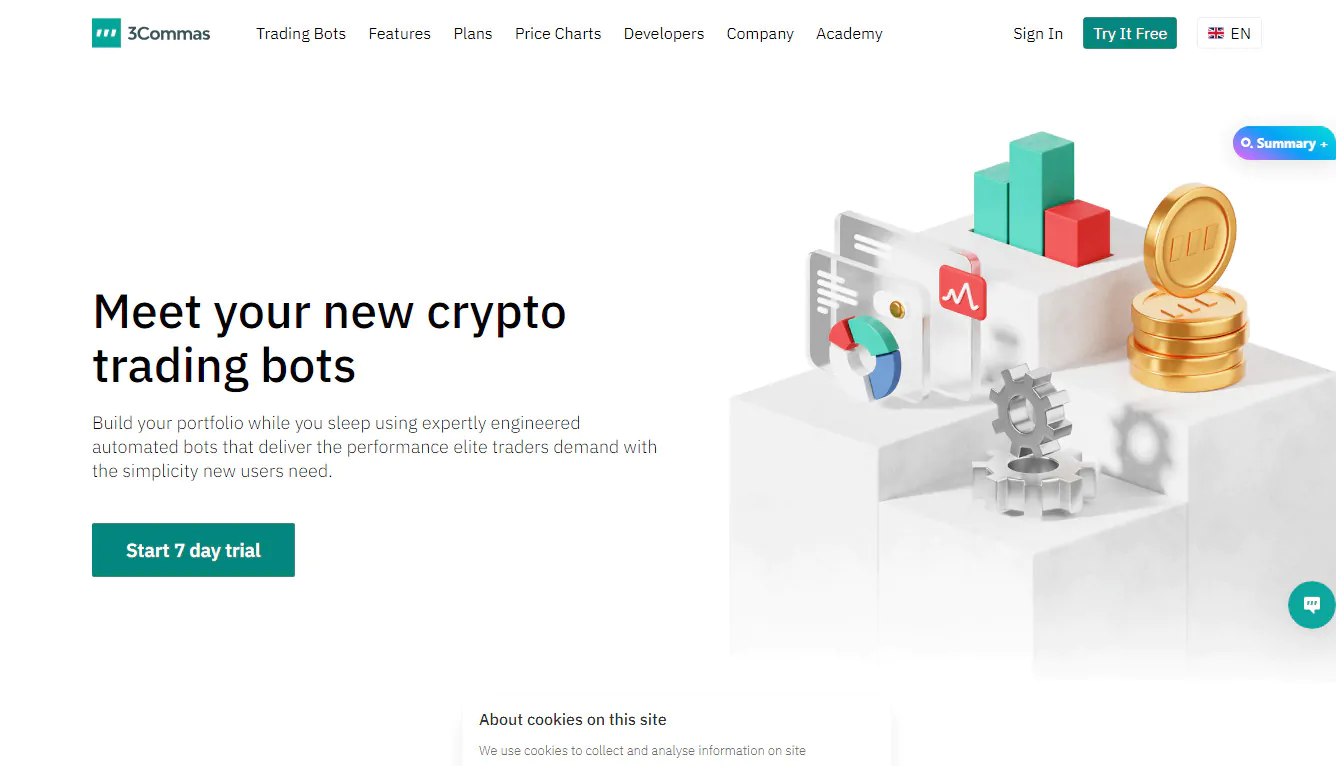 Features
Advanced Customization: 3Commas offers comprehensive control over trading strategies, enabling users to fine-tune their executions across multiple exchanges.
Feature-Rich Platform: While packed with features, 3Commas does require an investment in understanding its intricacies, making it an ideal choice for dedicated traders.
Dynamic Strategy Focus: This crypto trading bot emphasizes short-term strategies, requiring active involvement to adapt to changing market conditions.
Continuous Adaptation: Traders must stay vigilant, regularly adjusting their strategies to align with shifting market dynamics, ensuring optimal performance.
Complete Trading Solution: 3Commas stands as a comprehensive toolset, meeting the diverse needs of professional crypto traders.
Pricing Plans
Free: $0 forever
Starter: $22/monthly
Advanced: $37/monthly
Pro: $74/monthly
2. Pionex
Pionex stands out as one of the pioneering crypto bot exchanges, offering a remarkable selection of 16 built-in, free trading bots. With these bots, users can seamlessly automate their trading activities, allowing 24/7 market monitoring without constant manual intervention.
Pionex supports liquidity aggregation across two major exchanges, Binance and Huobi Global, and holds a prominent position as one of Binance's largest brokers.
Furthermore, Pionex has earned recognition as a certified partner of CoinLedger, providing users with simplified tax reporting solutions.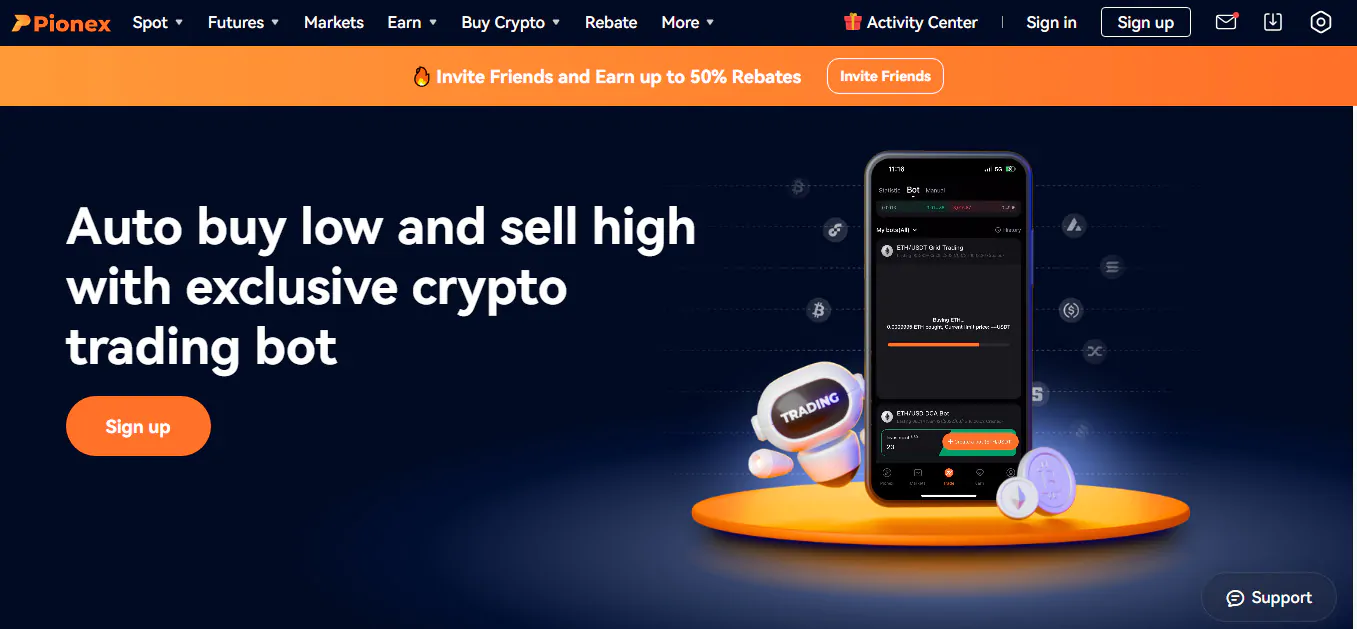 Features
Competitive Trading Fees: With a maker-and-taker trading fee of just 0.05%, Pionex offers some of the lowest fees among major exchanges.
Robust Bot Selection: Pionex enables retail investors to access 16 free trading bots, enabling automated trading strategies tailored to individual preferences.
Grid Trading Bot: Facilitating strategic buying at lower prices and selling at higher prices within specified ranges.
Spot-Futures Arbitrage Bot: Enables passive income generation with low risk, targeting an estimated return of 15% to 50% APR.
Martingale Bot: Utilizes Dollar-Cost Averaging (DCA) buy strategy and one-time sell actions to capture profit fluctuations.
Rebalancing Bot: Aids in portfolio management and maintaining coin holdings.
Smart Trade Terminal: Empowers traders with advanced features, including stop-loss, take-profit, and trailing stop options within a single trade.
Leveraged Grid Bot: Provides leverage of up to 5x, enhancing trading opportunities.
Dollar-Cost Averaging (DCA) Bot: Implements recurring purchases at regular intervals to mitigate the impact of market volatility.
Regulatory Approval: Pionex holds U.S. FinCEN's MSB (Money Services Business) License, ensuring compliance and trustworthiness.
Mobile Apps Accessibility: Access Pionex on both iOS and Android devices for on-the-go trading convenience.
Pricing Plans
Pionex doesn't charge any subscription fee.
3. Bitsgap
Bitsgap opens the door to automated crypto trading across a vast network of over 25 crypto exchanges. The platform offers a risk-free 14-day trial period and convenient sign-up options using Google or Facebook accounts.
Bitsgap provides a demo exchange for feature exploration before committing to advanced plans to ensure you're comfortable with its capabilities.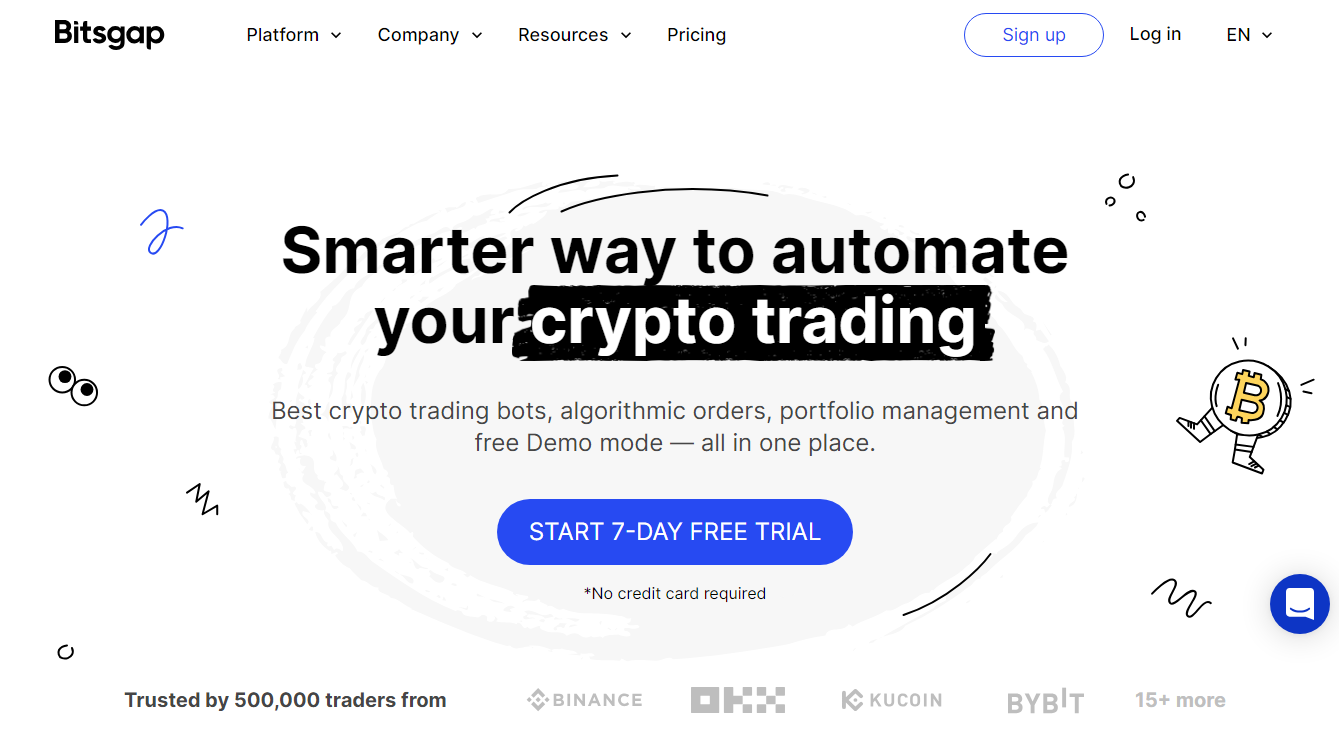 Features
Comprehensive Backtesting: Bitsgap offers backtesting functionality, allowing traders to fine-tune their pre-configured trading bots for both bull and bear markets. Optimize your strategies for better outcomes.
Arbitrage Trading: Seamlessly execute arbitrage trades across multiple exchanges, capitalizing on timely market signals to make informed trading decisions.
Efficient Portfolio Management: Bitsgap simplifies portfolio management with tracking features, helping traders monitor their investments more effectively.
User-Friendly Web Platform: Access Bitsgap's features via its web-based platform, ensuring accessibility for traders across various devices.
Pricing Plans
Basic: $29/monthly
Advanced: $69/monthly
Pro: $149/monthly
4. OKX
OKX simplifies automated trading with various pre-built trading bots catering to different crypto trading styles.
These bots cover grid, DCA, arbitrage, and slicing strategies and are compatible with spot and futures trading, including long, short, and neutral strategies. Creating and customizing these bots is also user-friendly and accessible to traders of varying expertise.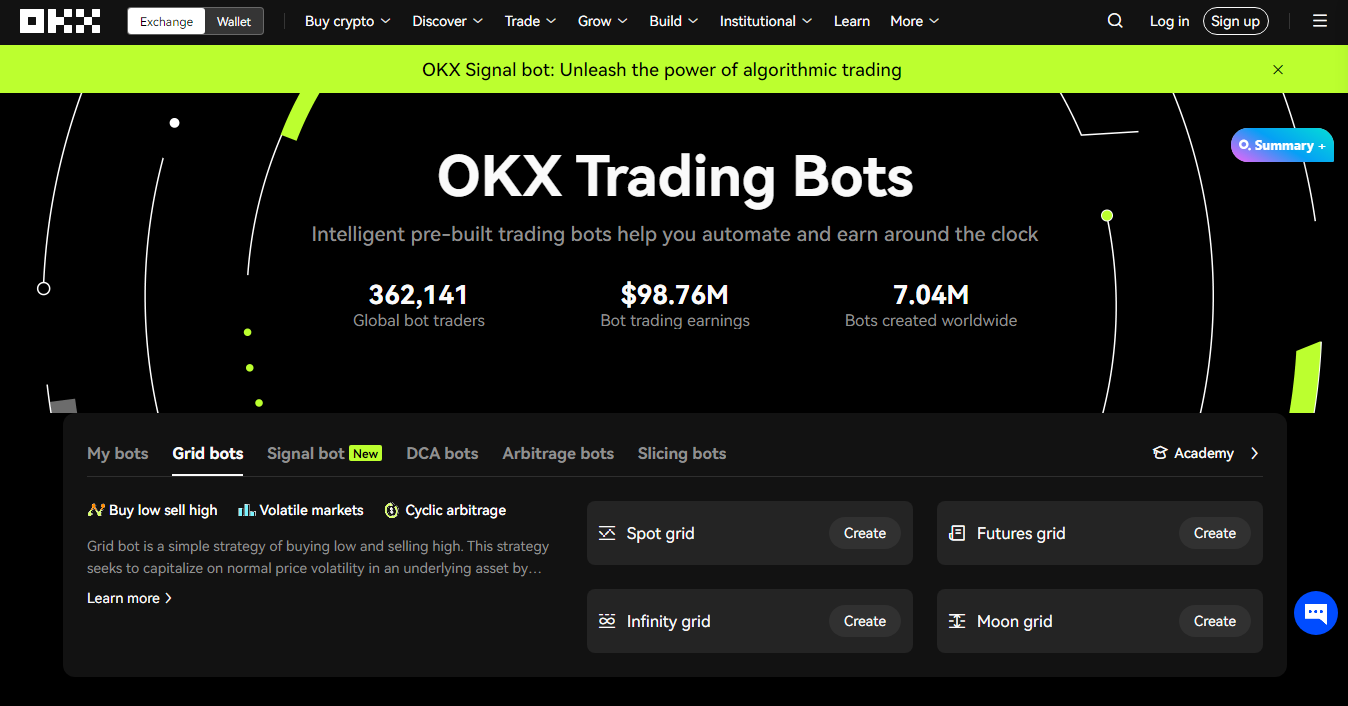 Features
Comprehensive Bot Guide: OKX provides a dedicated guide explaining bot functionality, step-by-step instructions, and essential insights into stopping bots and closing trades.
Diverse Bot Selection: Choose from an array of bots, including a price lock trading bot, spot grid trading bot, futures bot, smart portfolio trading bot, recurring buy bot, moon grid bot, arbitrage trading bot, TWAP bot, slicing bot for precise iceberg orders, and more.
Bot Trading Support: Access expert support for bot trading through OKX's Telegram channel and the support center button on the website.
Bot Marketplace: Explore a marketplace of trading strategies shared by other expert users, allowing you to evaluate their performance metrics before replicating them.
Free Bot Creation: OKX allows all users to create bots quickly and easily as long as they understand their functionality. Customize bot parameters to align them with your trading strategy.
Educational Resources: The exchange offers detailed explanations of each bot type, how they operate, and step-by-step usage instructions, ensuring traders can maximize their bot trading potential.
Pricing Plans
All OKX trading bots are free of cost.
5. Mizar
Mizar is a respected trading bot platform, extending support to more than 10 exchanges, including spot and futures markets.
Designed to cater to traders with diverse experience levels, Mizar offers a comprehensive suite of features to facilitate efficient and well-informed trading endeavors.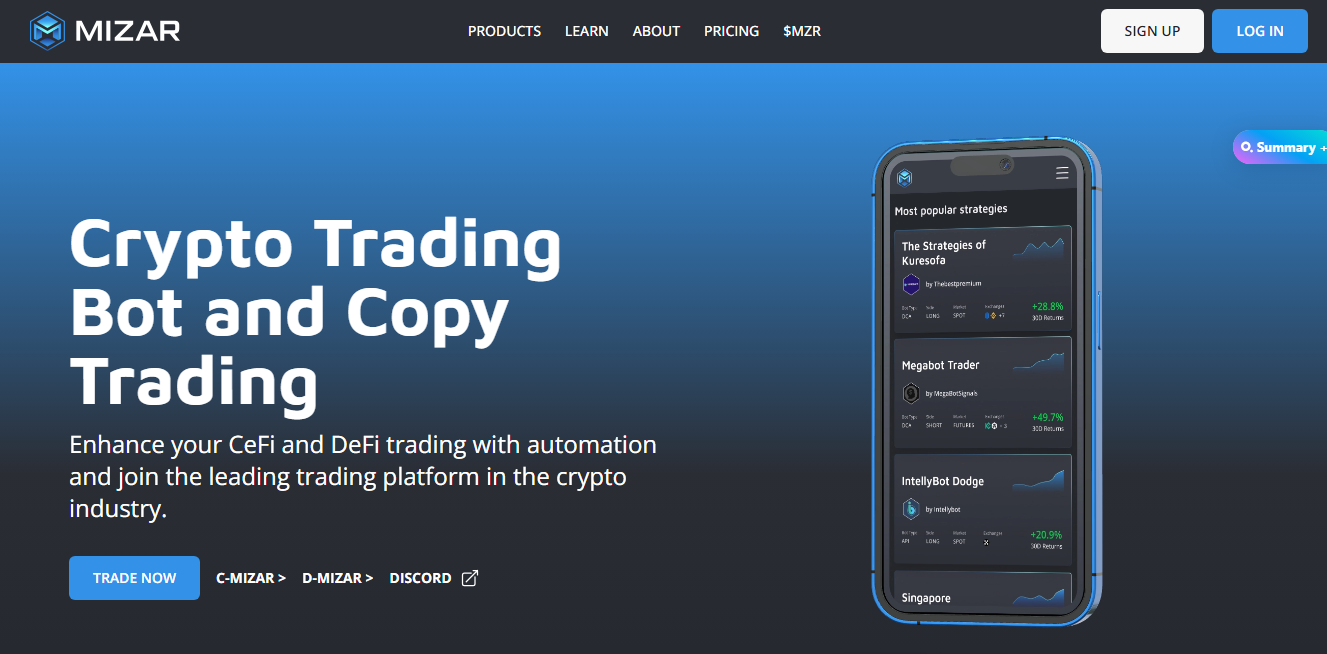 Features
Bot Marketplace: Mizar features a dynamic bot marketplace, simplifying the replication of successful traders' strategies. This functionality not only aids in portfolio diversification but also serves as an invaluable learning resource for users seeking insights from seasoned traders.
Smart Trading Terminal: Mizar's Smart Trading Terminal empowers users to automate their trading orders easily. Seamlessly integrated with TradingView Charting, this feature allows traders to set up trades directly on the chart, incorporating essential elements such as multi-entries, stop-loss, take-profit, and trailing options.
Dollar Cost Average (DCA) Bots: Mizar caters to experienced traders with DCA bots designed to enhance risk management and automate trading activities.
SDK Integration: Mizar extends the capability of users by providing an SDK for seamless integration with other software platforms or TradingView. This integration amplifies order management capabilities, affording traders more control and flexibility.
Custom Indicators: Users can harness Mizar's diverse range of custom indicators to fine-tune their trading strategies, fostering a more precise and strategic approach to cryptocurrency trading.
Paper Trading: Mizar offers a valuable paper trading option, allowing users to test their trading strategies without exposing themselves to financial risks. This feature is a practical training ground for refining and validating trading techniques.
Pricing Plans
It doesn't charge any monthly subscription fee. Instead, Mizar charges users solely based on their active usage. This approach ensures accessibility and cost-effectiveness, making it an appealing choice for investors across the spectrum of expertise.
6. CryptoHopper
CryptoHopper is a cloud-based crypto trading bot that employs algorithmic programmed trading strategies and integrates external signals for informed trading decisions.
This user-friendly bot connects seamlessly with nine prominent cryptocurrency exchanges, including OKX, Coinbase, KuCoin, Kraken, Binance, and Huobi.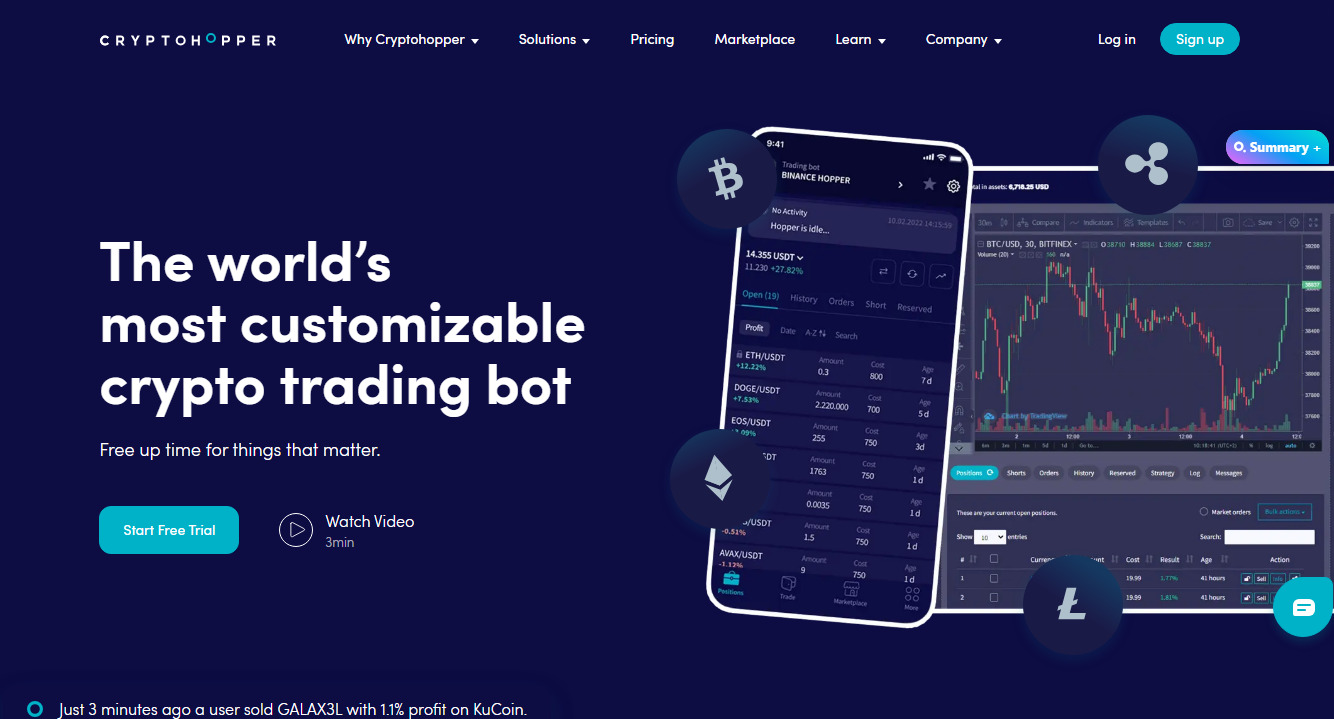 Features
Amsterdam-Based: Operated from Amsterdam, Netherlands, CryptoHopper offers a trustworthy trading environment.
Signal Integration: CryptoHopper lets users use free and paid signals from different sources to improve their trading strategies.
Continuous Trading: CryptoHopper operates 24/7, executing trades across various cryptocurrencies, including Bitcoin and 75 other digital assets.
Comprehensive Indicator Set: Users benefit from popular indicators like Stochastic Oscillator (Stoch), Relative Strength Index (RSI), Bollinger Bands, and more.
Trading Tools: Access valuable trading tools such as bot backtesting, customizable and saveable templates, trailing stops, and technical indicator customization.
Advanced Indicators: The platform offers over 30 trading indicators and over 90 candle patterns to refine trading strategies.
Web-Based Platform: While CryptoHopper does not offer mobile or desktop apps, its web-based platform ensures flexibility and accessibility for users.
Pricing Plans
Pioneer: Free
Explorer: $16.58/monthly
Adventurer: $41.58/monthly
Hero: $83.25/monthly
7. Haasonline
Next, we have Haasonline, another standout crypto trading bot that lets you operate from your computer. This promotes enhanced security through local API key management.
However, it is worth noting that this trading bot demands a 24/7 online presence, and resolving issues can take time due to manual software updates.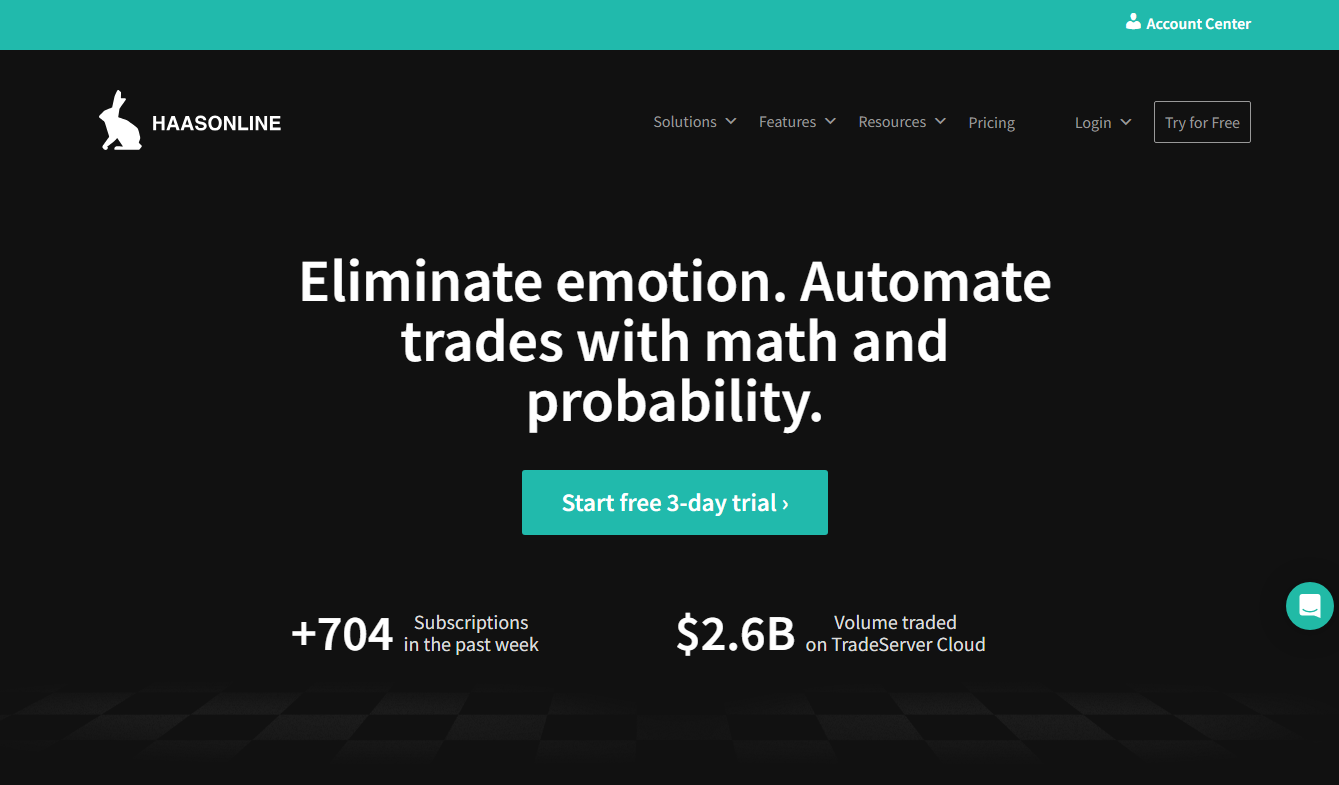 Features
Continuous Online Presence: The desktop-based approach requires your computer to remain online for uninterrupted bot operation.
Secure API Management: Haasonline ensures your API keys stay on your local device, reinforcing security.
Visual Editor: Recently introduced, this feature simplifies strategy creation with drag-and-drop blocks, aiding in decision logic understanding.
Comprehensive User Experience: Haasonline covers signals, complex algorithmic trading, and arbitrage for seasoned users.
Developer-Friendly: Best suited for users with technical knowledge and developers, making it a top choice among crypto trading bots.
Pricing Plans
Lite+: $9/monthly
Standard: $49/monthly
Pro: $99/monthly
8. Kucoin
Kucoin, a well-established cryptocurrency exchange, has introduced an integrated trading bot service that caters to the needs of traders in the digital asset market.
This trading bot from KuCoin opens up opportunities for generating passive income, a significant milestone in achieving financial independence.
Automating trades removes the influence of emotions and the potential for human errors, resulting in a more resilient and effective trading strategy.
It's worth noting that KuCoin imposes a limitation on users, allowing just one KuCoin bot application per device. Additionally, the bot operates exclusively within the KuCoin exchange platform, lacking compatibility with other exchanges.
Its simplicity caters to novices but might not fully satisfy seasoned crypto traders.

Features
Bot Evolution: KuCoin's bot journey began in early 2021 with a humble trio of features. Today, it flaunts a formidable set of six:

Infinity Grid: Dive into grid trading, exploiting price differentials within defined ranges.
Dynamic Rebalancing: Swiftly adapt to market swings, optimizing your trading tactics.
DCA (Dollar Cost Average): Mitigate risk by gradually and consistently investing over time.
Classic Grid: Execute classic grid trading techniques efficiently.
Futures Grid: Fine-tune your futures trading strategies with precision.
Margin Trading Grid: Seamlessly explore margin trading opportunities.

Coin Diversity: The trading bot is compatible with an extensive cryptocurrency roster, aligning with the platform's rich array of over 800 coins.
Advanced Trading Orders: Experienced traders and crypto enthusiasts can use advanced order options, including live chart analysis, preset buying or selling prices, and stop-loss features.
Cost-Efficiency: KuCoin's trading bot currently incurs no fees, catering to beginners with its straightforward interface. Nonetheless, be prepared for potential updates in the pipeline.
Pricing Plans
Kucoin offers its trading bot as a free-to-use software for all users.
9. Coinrule
Coinrule is swiftly emerging as a prominent trading bot provider, acclaimed for its user-friendly interface.
It has earned the trust of leading investors, including Y Combinator and Urban Innovation Fund, and notable Angel investors from Twitch, Kayak, and Eight Sleep.
With its support, Coinrule has empowered countless traders to automate substantial investments across major cryptocurrency exchanges such as Binance, Coinbase, KuCoin, and more.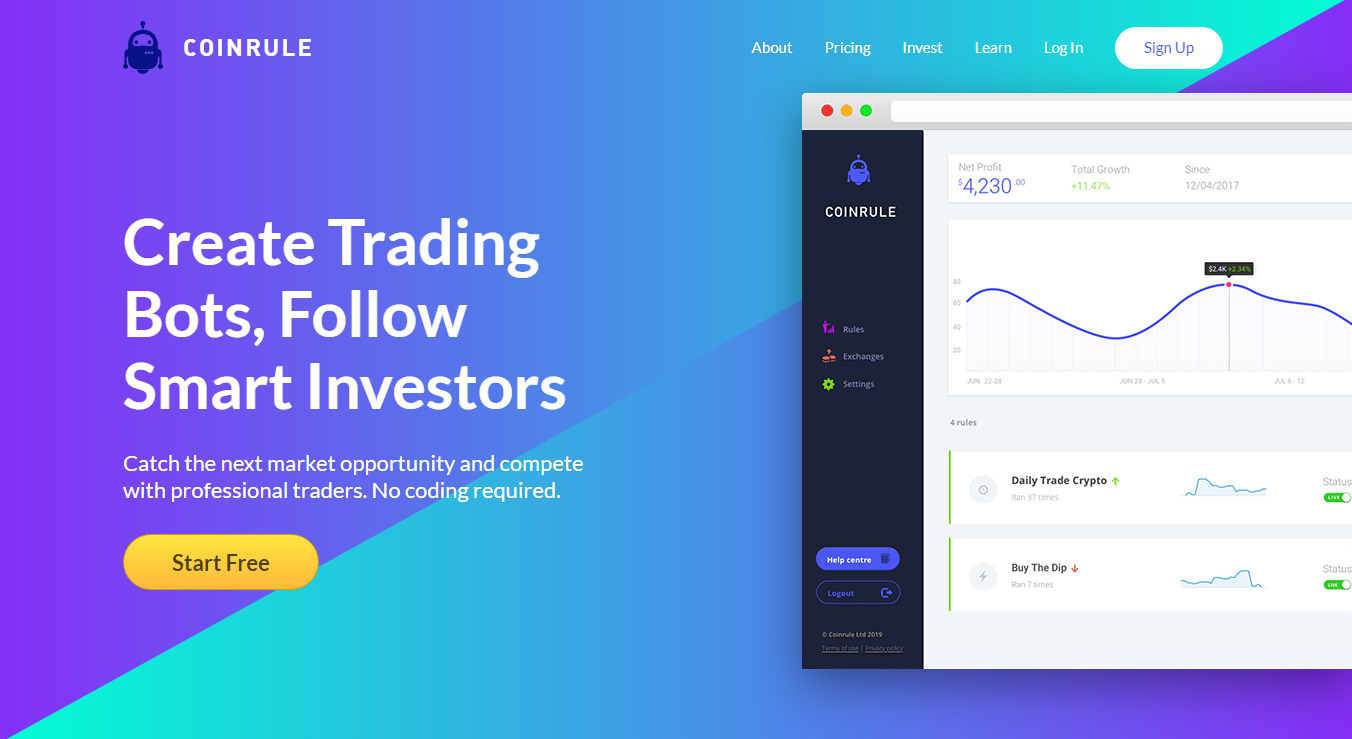 Features
AI-Based Trading Bot Marketplace: Traders can access a marketplace with hand-picked, highly profitable strategies. These strategies are rigorously backtested using historical data, instilling confidence in traders who can implement them in under a minute.
Coin Price Scanner: Coinrule scans price trends across a vast selection of 2,000+ cryptos. This feature aids in identifying prime investment opportunities.
200 Pre-set Templates: Over 200 pre-set trading strategy templates are available, making it ideal for newcomers. Users can also create their own custom rules.
Beginner-Friendly UI: Coinrule's interface is intuitively designed to accommodate users of all experience levels, making it accessible even to beginners.
Leverage Trading: Support for leveraged trading on various exchanges, including an "Any Contract" scanner to identify optimal leverage pairings.
Demo Trading: Coinrule offers a risk-free demo mode for users to test their strategies.
TradingView Integration: Integration with TradingView offers access to various technical indicators and customizable trading setups.
Mobile Apps: Coinrule extends its accessibility with Android and iOS apps, complementing the web interface for a seamless trading experience.
Educational Resources: Coinrule provides a wealth of educational resources, including guides, tutorials, and responsive customer support, to help users grasp the platform and the broader realm of crypto trading.
Pricing Plans
Starter: Free
Hobbyist: $29.99/monthly
Trader: $59.99/monthly
Pro: $449.99/monthly
Business: Enterprise Rates
10. Bybit
The Bybit trading bot stands out for its ability to enhance profits and simplify the trading experience. This automation tool offers three types of crypto trading bots, catering to a wide range of users.
Bybit allows manual input for those seeking customization, enabling users to tailor their bots to specific preferences.
Furthermore, users can take a passive trading approach by copying successful traders on Bybit, making bot setup accessible to all, regardless of technical expertise.
While Bybit's bots may have slightly less customization compared to other platforms, they provide an excellent avenue for passive trading without the need for coding skills.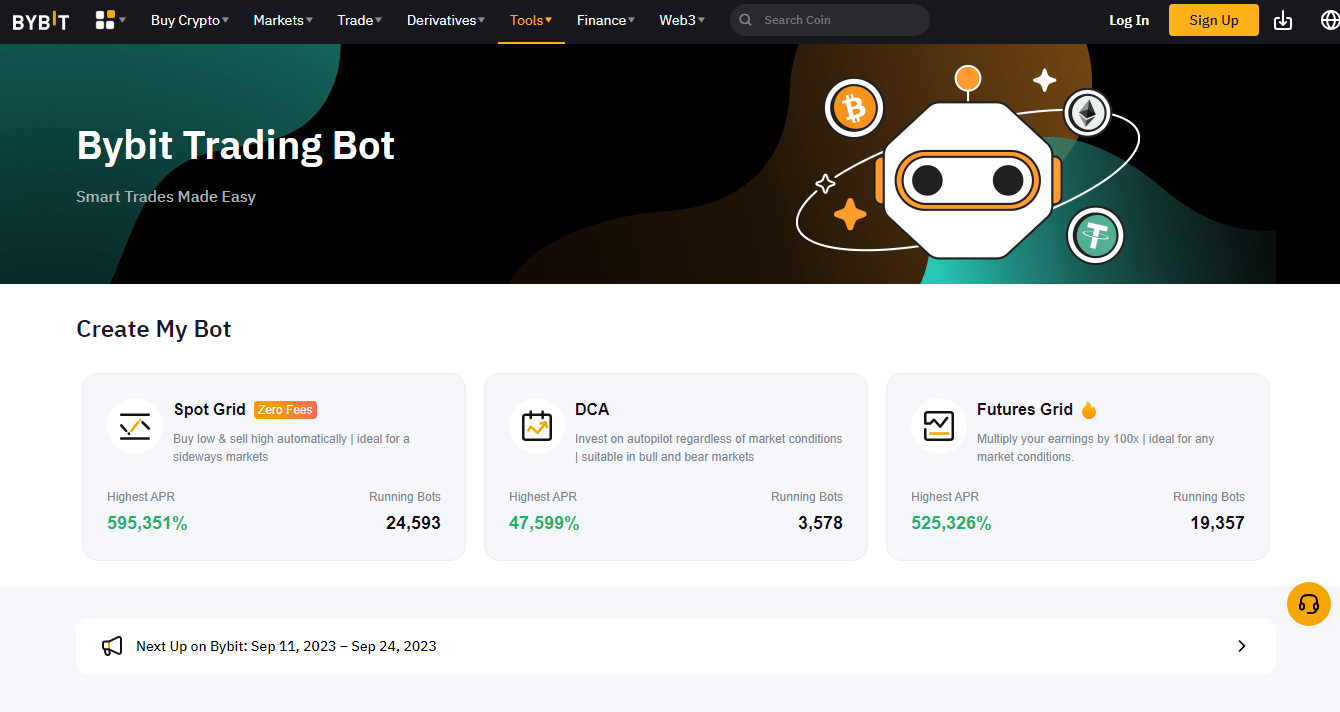 Features
Diverse Bot Selection: Bybit allows users to create three types of trading bots, including:

Spot Grid Bot: The preferred and versatile choice for most traders.
Futures Grid Bot: Similar to the Spot bot but with up to 100x leverage, enhancing both profit potential and risk.
DCA Bot: Enables strategic buying of a chosen coin at preset intervals, mitigating risk.

Bybit Grid Bots: Bybit offers the capability to create grid bots that skillfully craft buy and sell orders to form a 'trading grid,' allowing you to seize opportunities presented by price fluctuations.
Effortless Bot Creation: Bybit simplifies setting up your grid bot. Choose a spot pair and specify price boundaries, grid count, and total investment easily.
Efficient Management: Manage your grid bots effortlessly with Bybit. Access active and historical bots and gain valuable insights into trading outcomes, such as Total Profit (USDT), Grid Profit (USDT), Total APR, and more.
Strategic Profit Optimization: Bybit equips you with the knowledge of Grid Profit and Total P&L Calculation, enabling you to fine-tune your profit strategy. Consider various price movements and potential trading fees to maximize earnings.
Empowering Copy Trading: Bybit empowers you with the option of copy trading. Select a top trader and replicate their strategy, facilitating profitable trades without the need for constant monitoring.
Seamless Termination: Bybit ensures a straightforward process for concluding your grid bot. Choose a suitable settlement method, guaranteeing the smooth return of your funds to your Spot Account. All pertinent details can be conveniently reviewed in the 'History' section.
Pricing Plans
Bybit trading bots don't incur any additional subscription fee.
11. Tradesanta
Tradesantas cloud-based crypto trading software is designed for beginners and experienced traders. It allows you to make profits without watching your screen all the time.
Moreover, it works with major crypto exchanges like Binance and Huobi, offering flexible strategies, responsive customer support, and easy-to-use features.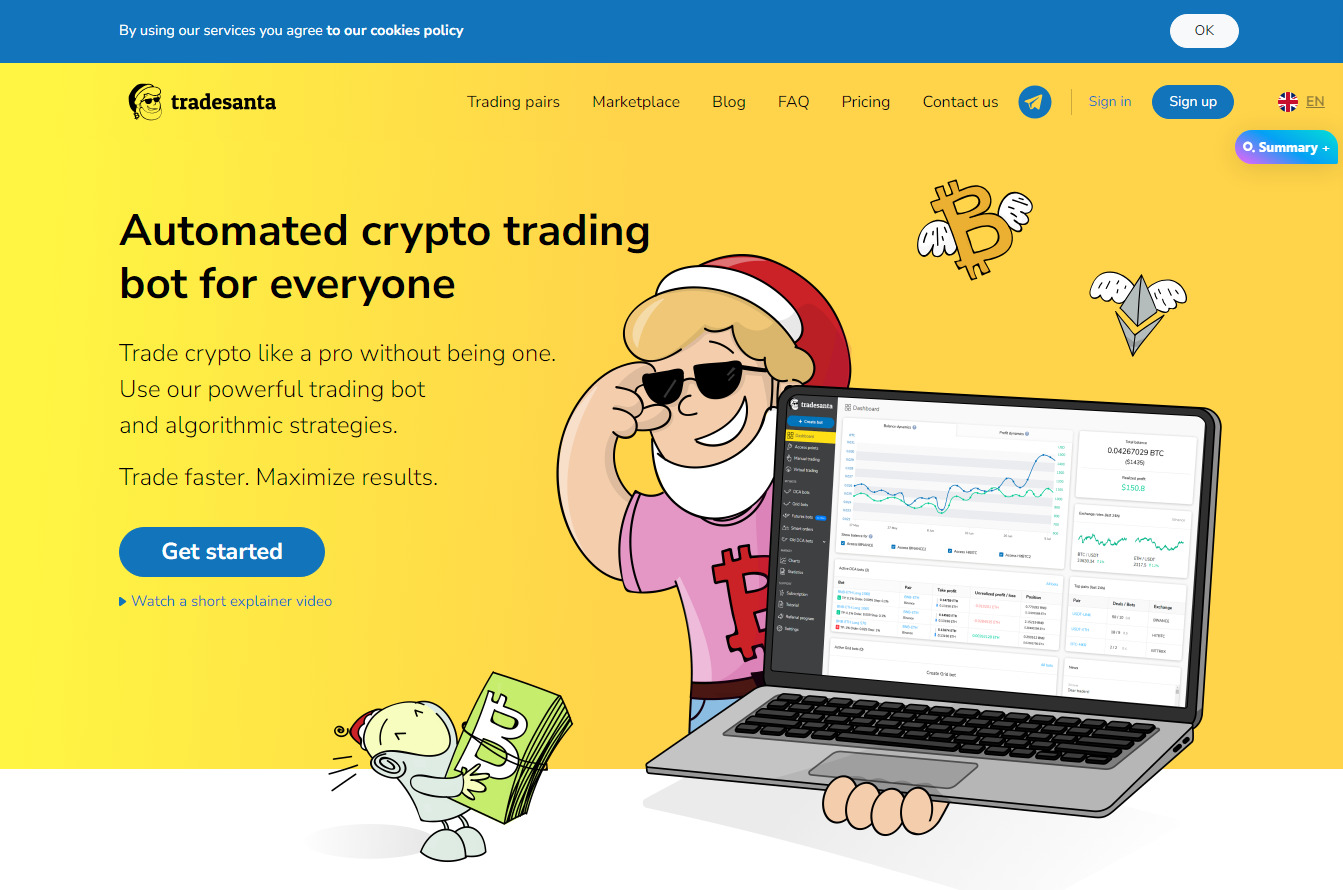 Features
Indicator Variety: Utilize various indicators, including Bollinger Bands, MACD, and RSI, to inform your trading decisions.
Unlimited Bots: The maximum plan allows you to run unlimited bots concurrently.
Cross-Platform Access: TradeSanta is accessible via web platforms, Android and iOS, providing flexibility for traders on the go.
Customer Support: You can access a helpful support team to assist with questions or issues.
Pricing Plans
Basic: $18/monthly
Advanced: $32/monthly
Maximum: $45/monthly
How to Select the Best Crypto Trading Bots?
The ideal crypto trading bot largely hinges on your unique investment strategy and the specific features you desire in such a tool. Here are essential factors to consider when selecting a crypto trading bot:
Social Trading
Look for tools that offer social trading features. These allow you to follow other trading bots and their strategies. A well-developed marketplace within your chosen trading tool simplifies access to profitable trade strategies, enhancing your trading experience.
Indices
Consider how trading tools create and manage indices, especially for portfolio automation. Unlike traditional markets, maintaining a complete index of all crypto coins isn't feasible.
Look for bots that provide educational content explaining which coins are sampled and how market caps affect index weighting.
Trading Communities
Community support plays a significant role in crypto trading. Investigate active trading communities on Reddit, Telegram, or Discord platforms.
Some tools invest heavily in community development, while others cater to individual traders. While looking into community support, consider language and regional factors, as crypto regulations vary worldwide.
Backtesting
Ensure that the crypto trading bot supports comprehensive backtesting. Backtesting allows you to assess how your trading strategies performed under real market conditions, factoring in elements like slippage and latency. Realistic simulations are essential for informed decision-making.
Technical Indicators
Consider the technical indicators employed by a crypto trading bot. These indicators, such as moving averages, Bollinger bands, and MACD, guide the bot's decisions based on market trends.
Different bots may use specific indicators, so understanding the data behind your bot's strategy is essential for informed investing.
Security
Prioritize security when selecting a crypto trading bot. Reputable bots implement security measures like two-factor authentication and encryption to safeguard user accounts and trading data. These precautions are vital for protecting your assets.
Cloud-Based vs. Server-Based
Decide whether you prefer a cloud-based or server-based crypto bot. Cloud-based options offer convenience, while server-based solutions require ongoing server or computer operation.
Server-based systems, although more customizable, demand technical expertise. Be aware of your priority, as both have their merits.
User-Friendly Interface
Assess the user-friendliness of the bot's interface. Many trading bots offer intuitive interfaces that simplify setup, strategy customization, and performance monitoring. Whether you're a beginner or an experienced trader, a user-friendly interface ensures usage ease.
Support & Tutorials
Examine the availability of educational content provided by the trading platform, such as training modules, blogs, and videos. Consider responsive customer support, including chat or phone assistance.
Promptly addressing bugs and updates is crucial to prevent unnecessary trading delays.
Risk Management
Evaluate if the crypto trading bot offers risk management features. Some bots incorporate tools like stop-loss orders and position sizing to assist users in automating risk management. This ensures that you can control your risk exposure effectively.
Multiple Exchange Support
Check the bot's compatibility with various crypto exchanges. Most trading bots can work with multiple exchanges, but the extent of support varies. Verify which exchanges your chosen bot supports to ensure it aligns with your trading preferences.
Crypto Tax Software Integrations
For traders involved in numerous transactions, crypto tax reporting can be complex. Ensure compatibility between your chosen trading platform and crypto tax software.
Cost
Examine the pricing structure of the crypto trading bot. These prices can be very different, ranging from free to quite expensive. We suggest you pick the one that matches your usage needs and budget, considering what it can do and its support.
Make sure the cost is fair for what you get regarding features and value before you decide.
Final Thoughts
In conclusion, automating your cryptocurrency portfolio strategy can be a game-changer, providing you with the invaluable gift of time. The relentless 24/7 nature of crypto markets can be draining, potentially leading to burnout.
These remarkable crypto trading bots offer diverse solutions to help you regain control over your time and investments.
However, remember that each bot has unique features and functionalities, so take the time to explore and understand how to harness their power for your portfolio effectively.
FAQ
1. Do crypto trading bots work?
Yes – from a technical standpoint, crypto trading bots do work as reliable tools. However, their profit-making effectiveness depends on your trading strategy and how you've programmed the bot.
There's no guarantee that a crypto trading bot will always generate profits; it hinges on your approach and market conditions.
2. How much does a trading robot cost on average?
The cost of trading robots varies widely. Some are entirely free, while others can cost thousands of dollars. The price depends on factors like the number of bots you want to use and the size of your investment portfolio.
3. Are cryptocurrency bots legal?
Yes, cryptocurrency bots and bot trading in the crypto market are entirely legal. These bots are technical tools used and tested in various financial markets, including stocks and forex.
Note: Not all crypto trading brokers permit bots, so it's crucial to check with your chosen platform.
4. Are crypto trading bots profitable?
Crypto trading bots have the potential to be profitable, depending on how you've configured them and your chosen trading strategy. Before proceeding with one software, you can use backtesting features to assess your bot's performance under historical market conditions.
However, it's essential to remember that past market conditions may differ from future ones, impacting your bot's profitability.