In today's cryptocurrency craze, many people want to get involved. But to join the fun and trade digital currencies like Bitcoin, Ethereum, and Dogecoin, you need a place called a crypto exchange.
Kraken is one such exchange that's been around for quite a while, starting in 2011, just a couple of years after Bitcoin was created.
As one of the experienced players in the crypto world, Kraken is best known for being a safe and secure exchange that supports the trading of 240 different cryptocurrencies. And guess what? It's not too expensive to use.
This is probably what helps it score 3rd position as the best spot trading crypto exchange globally on CoinMarketCap. But the big question is, is Kraken the best place to start your crypto journey? We'll explore all the details in this detailed review.
Kraken Overview
Kraken is a crypto exchange that's been around since 2011, making it one of the older players in the game. It was founded by Jesse Powell, a crypto pioneer and CEO of Payward Inc. The best part about this exchange is that it provides its users with a wide range of services.
These services include margin, spot, futures, indices, OTC, staking, and NFTs trading. With a user base of over 8 million traders and institutional clients, Kraken has become a significant player in the crypto space.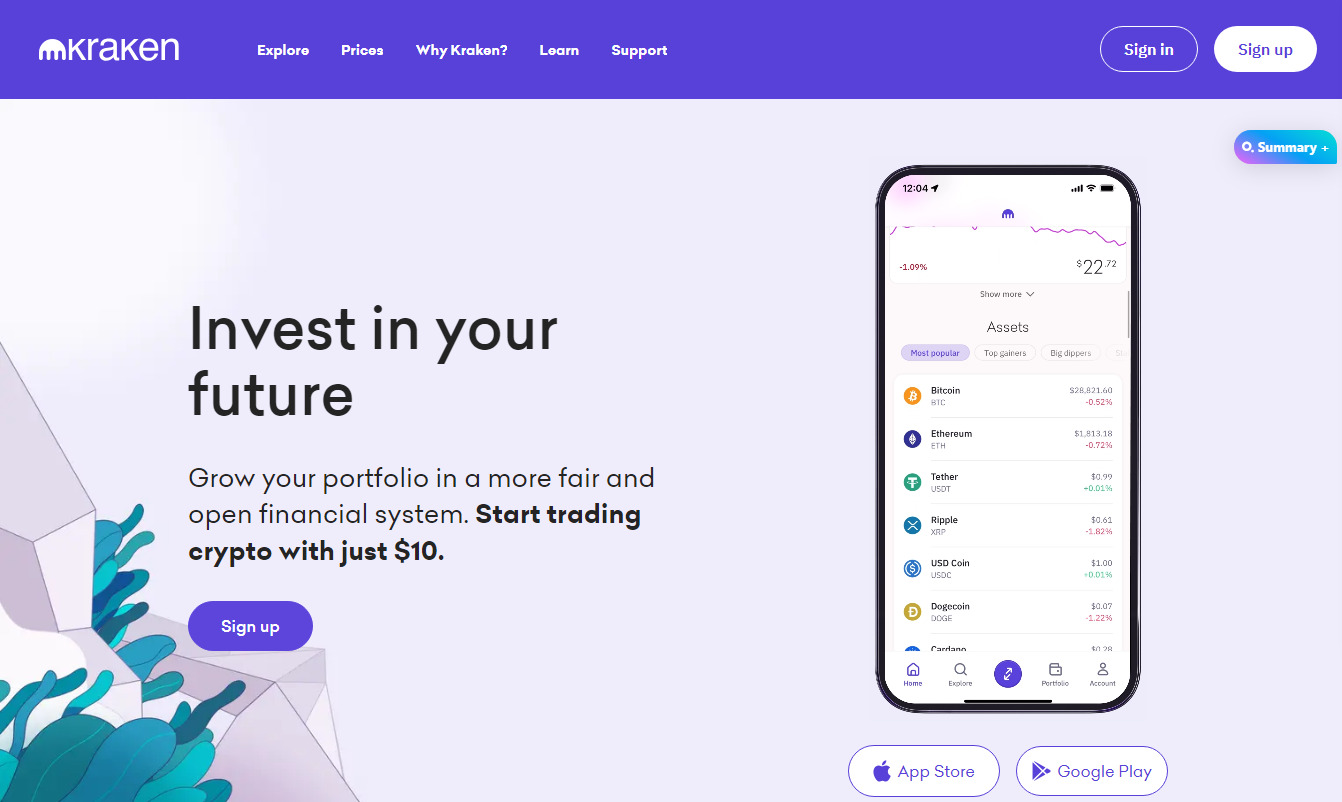 What sets it apart is its backing from notable investors like Blockchain Capital, Digital Currency Group, Hummingbird Ventures, Tribe Capital, and others. This adds a layer of credibility and trustworthiness to the platform.
Kraken Pros
Supports 240 cryptocurrencies, including popular ones like Bitcoin, Solana, Cardano, Ethereum, and Dogecoin.
User-friendly interface, suitable for beginners.
Active exchange with easy buying and selling at market rates.
Offers advanced trading features, such as margin trading.
Provides a wide range of educational materials.
Low fees for advanced traders.
Kraken Cons
Higher transaction fees on the main platform compared to Kraken Pro.
Reports of costly hacks with limited support.
Staking is not available for U.S. customers.
It is unavailable in all U.S. states, including Washington and New York.
Relatively slow account funding process.
Kraken Trading Platforms
Kraken offers two distinct trading platforms to cater to traders of all experience levels: Kraken and Kraken Pro. Let's further explore what each of these platforms offers.
Kraken
The central Kraken platform is designed with beginners in mind, providing a user-friendly and straightforward interface.
With a verified account, users can easily purchase cryptocurrency using a linked bank account and quickly convert between various currencies within their accounts.
One notable advantage of this platform is the absence of the need to pre-fund your account; you can buy crypto directly from your bank account balance. Additionally, Kraken offers a staking feature, allowing users to earn interest on their cryptocurrency holdings.
For added security, enabling two-factor authentication (2FA) is recommended.
Kraken Pro
Kraken Pro is a more advanced trading platform for Kraken users tailored for active traders. This platform can be accessed through both a web browser and a smartphone.
While the interface may initially appear complex to newcomers, it offers a wealth of detailed asset information, including interactive charts and insights into open orders.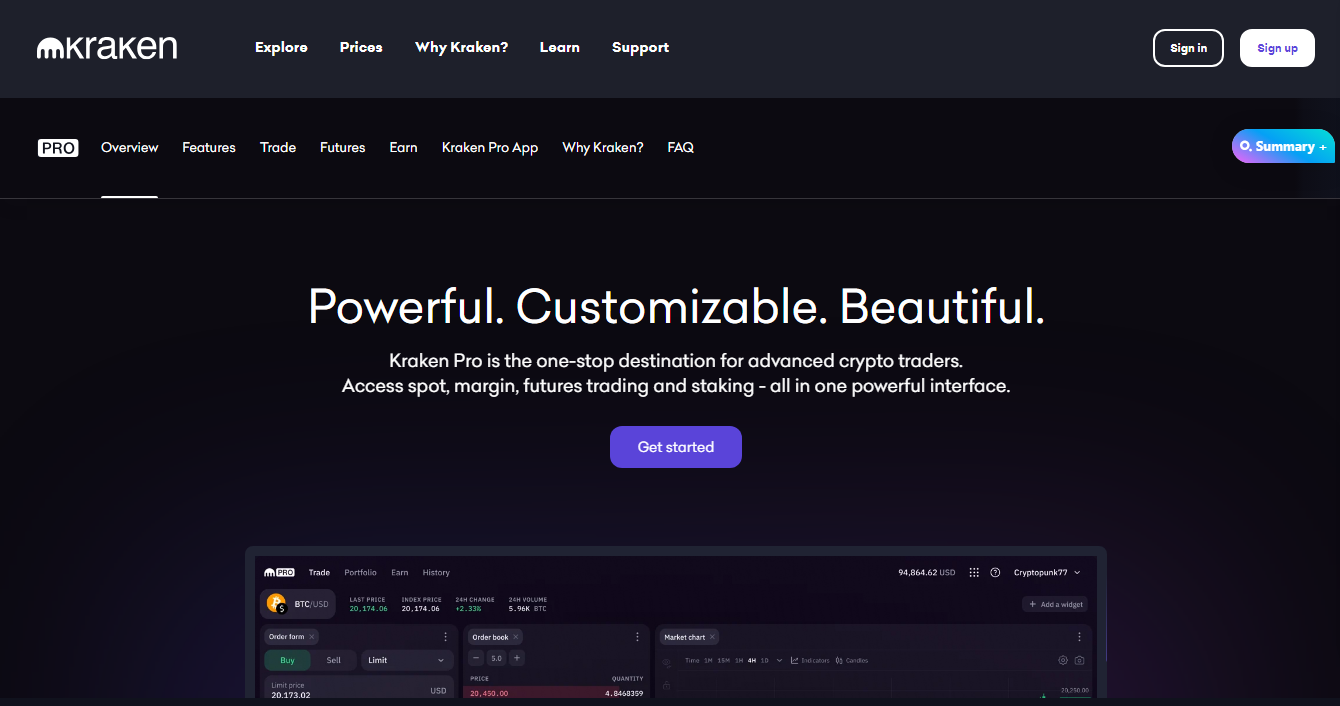 One of its key attractions is the lower fee structure than the main Kraken platform, making it an appealing choice for cost-conscious traders.
Importantly, Kraken Pro is accessible to anyone with an active Kraken account, making it a valuable option for those looking to reduce trading costs and access advanced features.
Products and Services
Kraken provides diverse products and services, catering to novice and experienced cryptocurrency traders and investors. These include:
Advanced Trading Features
Kraken stands out among cryptocurrency exchanges for its comprehensive, advanced trading features. As mentioned earlier, these include margin trading, stop orders, and the option for crypto short sales.
However, that's not all for its trading features! Instead, for experienced traders, Kraken's offerings are particularly appealing.
One notable feature is the availability of a "dark pool," which caters to high-volume investors seeking anonymity in their trades. Kraken allows users to leverage a currency pair by up to 5x, enabling the potential for multiplied gains.
Additionally, eligible professional clients can access up to $500,000 in margin for trading purposes. However, it's essential to exercise caution and understand the risks associated with margin trading.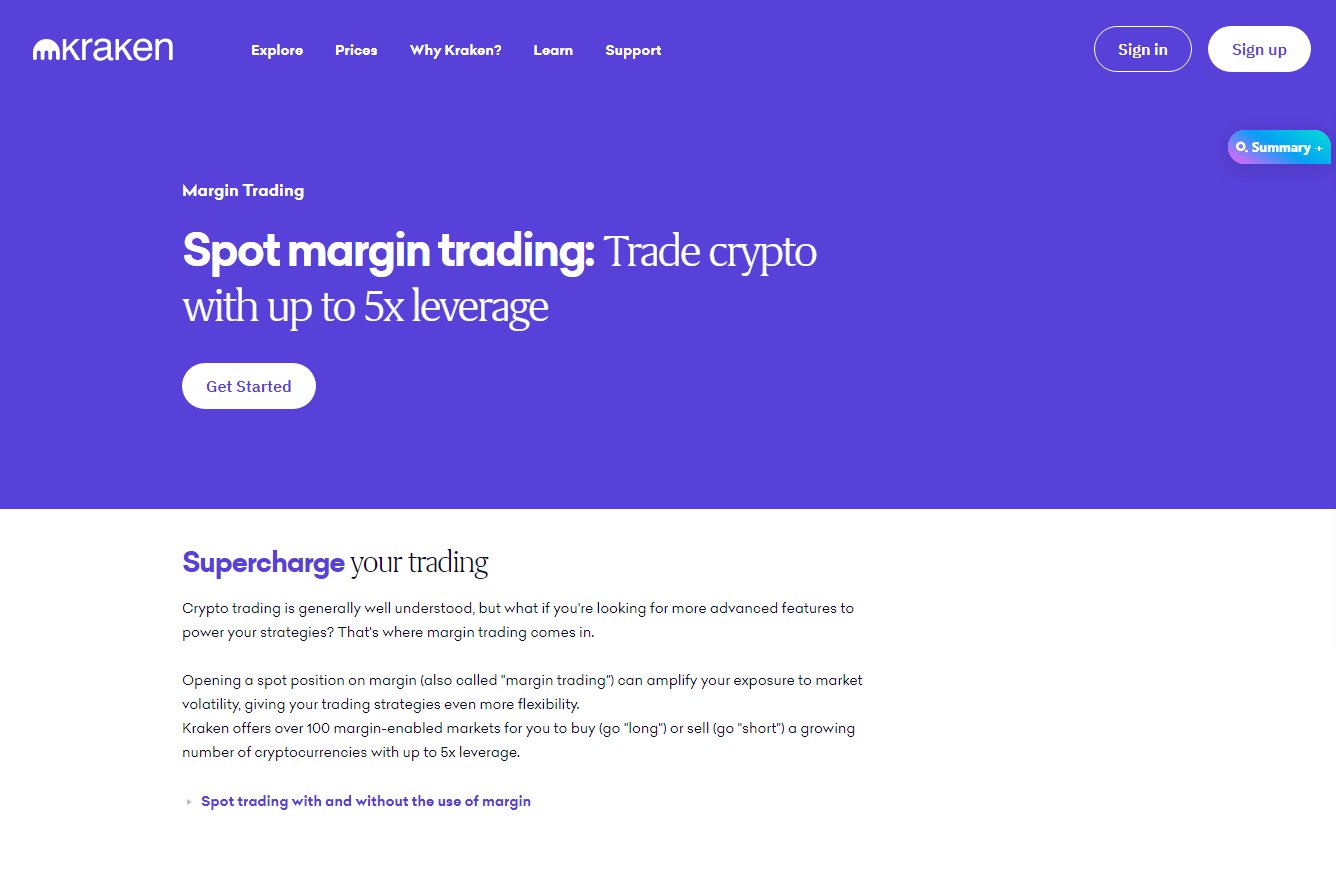 When you use margin, you're essentially borrowing money to invest. To illustrate, suppose you invest $100 in Ethereum and decide to utilize a 5x margin. If Ethereum's value rises, your gains will be magnified by a factor of 5.
Conversely, if Ethereum's value declines, your losses will also be multiplied. Cryptocurrencies are inherently volatile, and when combined with margin trading, the level of risk significantly increases.
So, you must approach margin trading with a thorough understanding of its implications and risks.
Supported Cryptocurrencies
Kraken provides access to 240 cryptocurrencies. This diverse selection includes some of the most well-known digital assets, making it a comprehensive platform for traders.
These supported cryptocurrencies include familiar names like:
Bitcoin (BTC)
Cardano (ADA)
Ethereum (ETH)
Dogecoin (DOGE)
Polkadot (DOT)
Litecoin (LTC)
Polygon (MATIC)
Stellar Lumens (XLM)
Solana (SOL)
Uniswap (UNI)
Sushi (SUSHI), etc.
Kraken also accommodates several stablecoins, including Tether USD, USD Coin, and Dai.
For added convenience, Kraken facilitates trading in eight different fiat currencies, including the U.S. Dollar (USD), Euro (EUR), and British Pound (GBP).
However, it's important to note that not all cryptocurrencies and fiat currencies are available in every country so availability may vary depending on your location.
This extensive range of supported assets makes Kraken a versatile platform suitable for a broad spectrum of cryptocurrency traders.
Staking Feature
Kraken also offers an appealing staking service that's garnered praise from many users. With over 15 cryptocurrencies available for staking, there are opportunities to earn attractive annual percentage yields (APYs).
These APYs can start from a modest 0.25% and reach impressive rates exceeding 20%. Staking involves locking up your coins to support the security and operations of a specific blockchain network.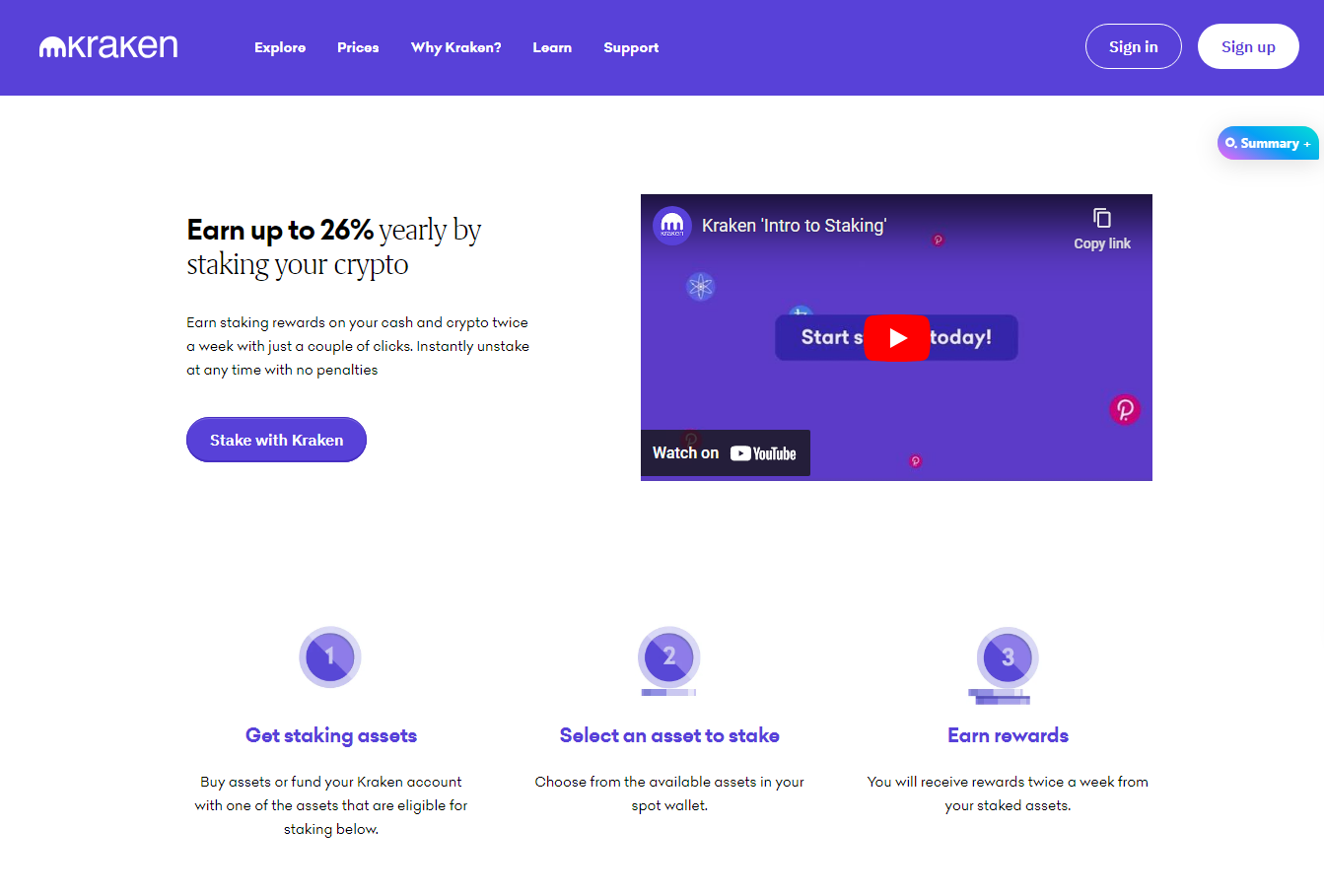 This can be an excellent way to generate passive income from your crypto holdings. By participating in staking through Kraken, you contribute to blockchain security and reap the rewards of earning while you hold your assets.
It's a win-win situation for those looking to make their crypto work.
NFT Marketplace
Another noteworthy offering by Kraken is its NFT marketplace. Kraken's NFT marketplace has expanded significantly, transforming it into a treasure trove of digital collectibles and art.
With over 250 NFTs spanning Ethereum, Polygon, and Solana blockchains, it caters to seasoned collectors and newcomers.
While iconic NFTs like CryptoPunks and Bored Ape Yacht Club are available, the platform also offers affordable gems, making NFTs accessible for under $100.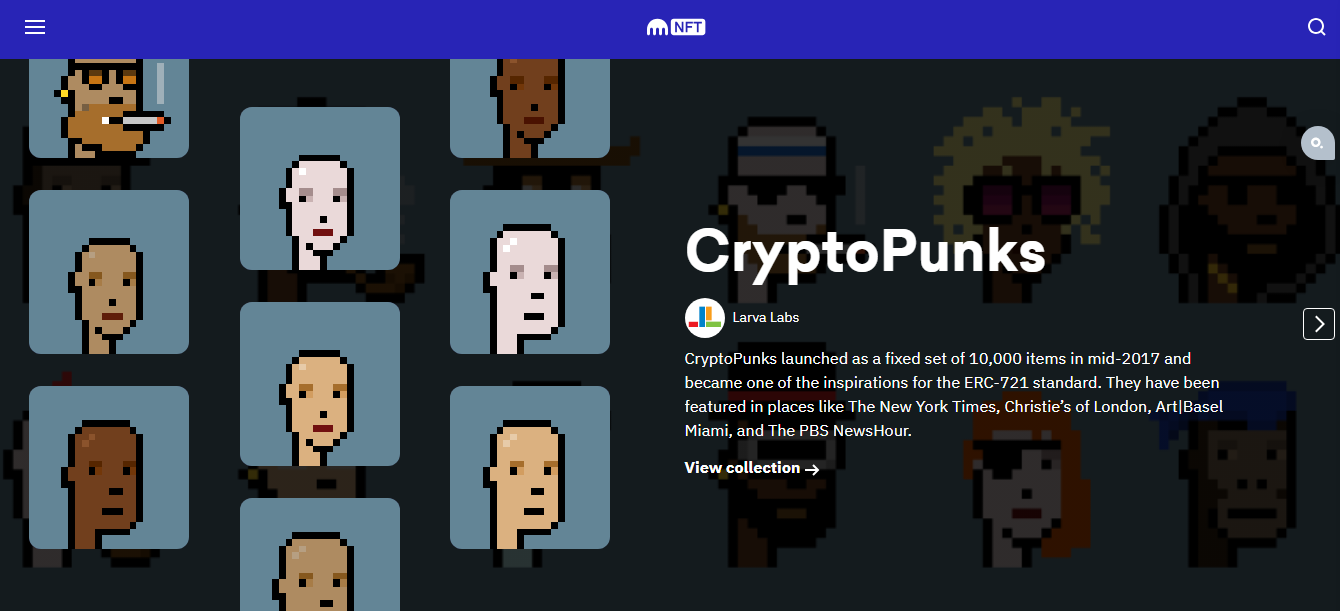 The marketplace features trending collections such as uwucrew, DigiDaigaku, Nakamigos, Solana Monkey Business, and Reddit Collectible Avatars, ensuring something for everyone.
What sets it apart is the absence of gas fees during purchases, although they may apply when transferring NFTs and other assets.
Payment flexibility is another highlight, allowing users to pay in cryptocurrency via MetaMask or Solana's Phantom wallet or opt for traditional fiat methods.
With support for over 200 cryptocurrencies and cash options, Kraken's NFT marketplace aims to be inclusive for all.
Kraken Security & Regulations
Kraken places a paramount emphasis on security, consistently ranking among the top exchanges for safety. Notably, it has maintained an unblemished record of major hacking incidents.
However, there have been isolated user complaints regarding individual account breaches, which are diligently investigated. To safeguard user assets, Kraken employs robust security measures.
Approximately 95% of deposits are stored offline in secure cold storage units distributed globally. The exchange's servers are held within highly secure facilities, constantly monitored by surveillance, armed guards, and video systems.
In addition to physical security, Kraken employs encryption techniques to protect sensitive user data at both the system and data levels. Regular vulnerability assessments of their systems are conducted to fortify security.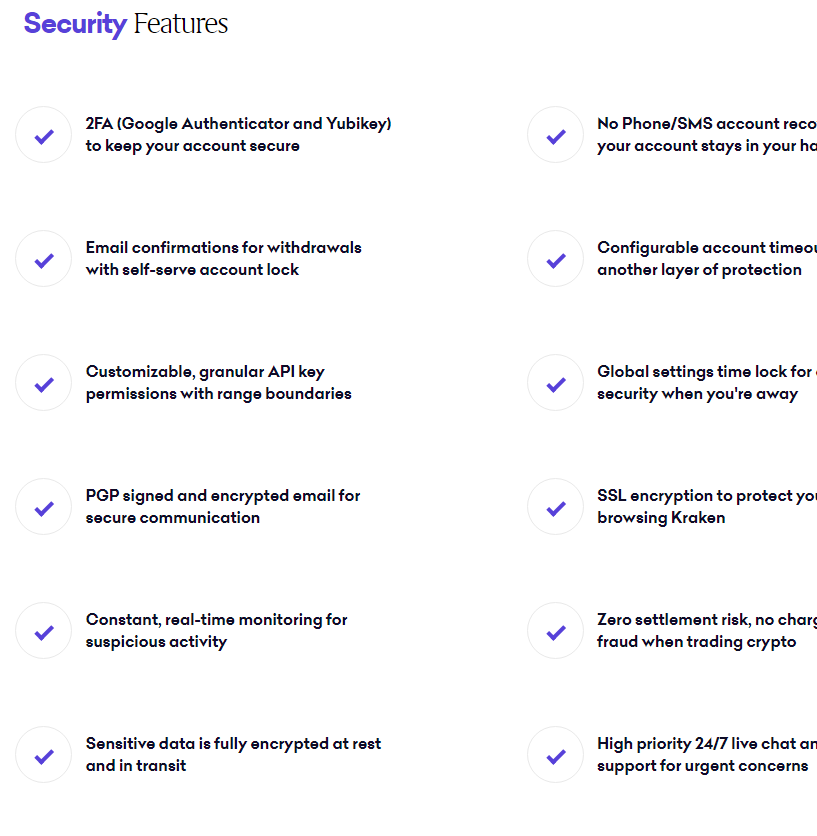 The exchange's security initiatives have been recognized with the prestigious CSO50 Award. Kraken adheres to strict regulatory standards across the globe, ensuring compliance with various authorities.
This includes the Financial Conduct Authority (FCA) in the UK, FINTRAC in Canada, AUSTRAC in Australia, and the Financial Services Regulatory Authority (FSRA) in the Abu Dhabi Global Market (ADGM).
These registrations, licenses, and approvals underline Kraken's commitment to regulatory compliance, offering users added assurance in their crypto dealings.
Kraken Pricing
The fees for depositing and withdrawing cryptocurrencies vary based on the specific digital currency. For example, withdrawing Bitcoin incurs a fee of 0.00001 BTC, with a minimum withdrawal amount of 0.00050 BTC.
The exchange supports deposits and withdrawals through seven major currencies: USD, EUR, GBP, CAD, JPY, CHF, and AUD.
Other than that, Kraken's trading fees differ based on the trading platforms it supports. Let's take a look at the fee structure for each platform.
Kraken
For basic Instant Buy, on Kraken's main platform, the charges are 0.9% for stablecoins and a flat 1.5% fee for other cryptos. Adding to it, you will also have to pay potential extra charges based on your funding method, like credit card fees.
Kraken Pro
Kraken Pro stands out with its competitive fee structure, offering significantly lower pricing than the main Kraken platform. The fees on Kraken Pro are determined by your total trading volume over the preceding 30 days.
For instance, for most 30-day spot trades with a trading volume falling within the $0 – $50,000 range, Kraken Pro imposes a 0.26% taker fee or a 0.16% maker fee.
Refer to the table below to understand the spot trading fees associated with varying trading volumes.
| 30-Day Volume (USD) | Maker | Taker |
| --- | --- | --- |
| $0 – $50,000 | 0.16% | 0.26% |
| $50,001 – $100,000 | 0.14% | 0.24% |
| $100,001 – $250,000 | 0.12% | 0.22% |
| $250,001 – $500,000 | 0.10% | 0.20% |
| $500,001 – $1,000,000 | 0.08% | 0.18% |
| $1,000,001 – $2,500,000 | 0.06% | 0.16% |
| $2,500,001 – $5,000,000 | 0.04% | 0.14% |
| $5,000,001 – $10,000,000 | 0.02% | 0.12% |
| $10,000,000 – $100,000,000 | 0.00% | 0.10% |
| $100,000,000 – $250,000,000 ** | 0.00% | 0.08% |
| $250,000,000 – $500,000,000 ** | 0.00% | 0.06% |
| $500,000,000+ ** | 0.00% | 0.04% |
For futures traders, the fee structure is also designed to be cost-effective. The lowest fees on Kraken Pro kick in at 0.0200% for makers and 0.0500% for takers, applicable to a 30-day trade volume spanning from $0 – $100,000, as illustrated in the table below.
| 30-Day Volume USD | Maker Fee | Taker Fee |
| --- | --- | --- |
| $0 – $100,000 | 0.0200% | 0.0500% |
| $100,001 – $1,000,000 | 0.0150% | 0.0400% |
| $1,000,001 – $5,000,000 | 0.0125% | 0.0300% |
| $5,000,001 – $10,000,000 | 0.0100% | 0.0250% |
| $10,000,001 – $20,000,000 | 0.0075% | 0.0200% |
| $20,000,001 – $50,000,000 | 0.0050% | 0.0150% |
| $50,000,001 – $100,000,000 | 0.0025% | 0.0125% |
| $100,000,001 + | 0.0000% | 0.0100% |
Kraken Customer Service
Kraken offers 24/7 customer support through various channels, including live chat, email, and phone.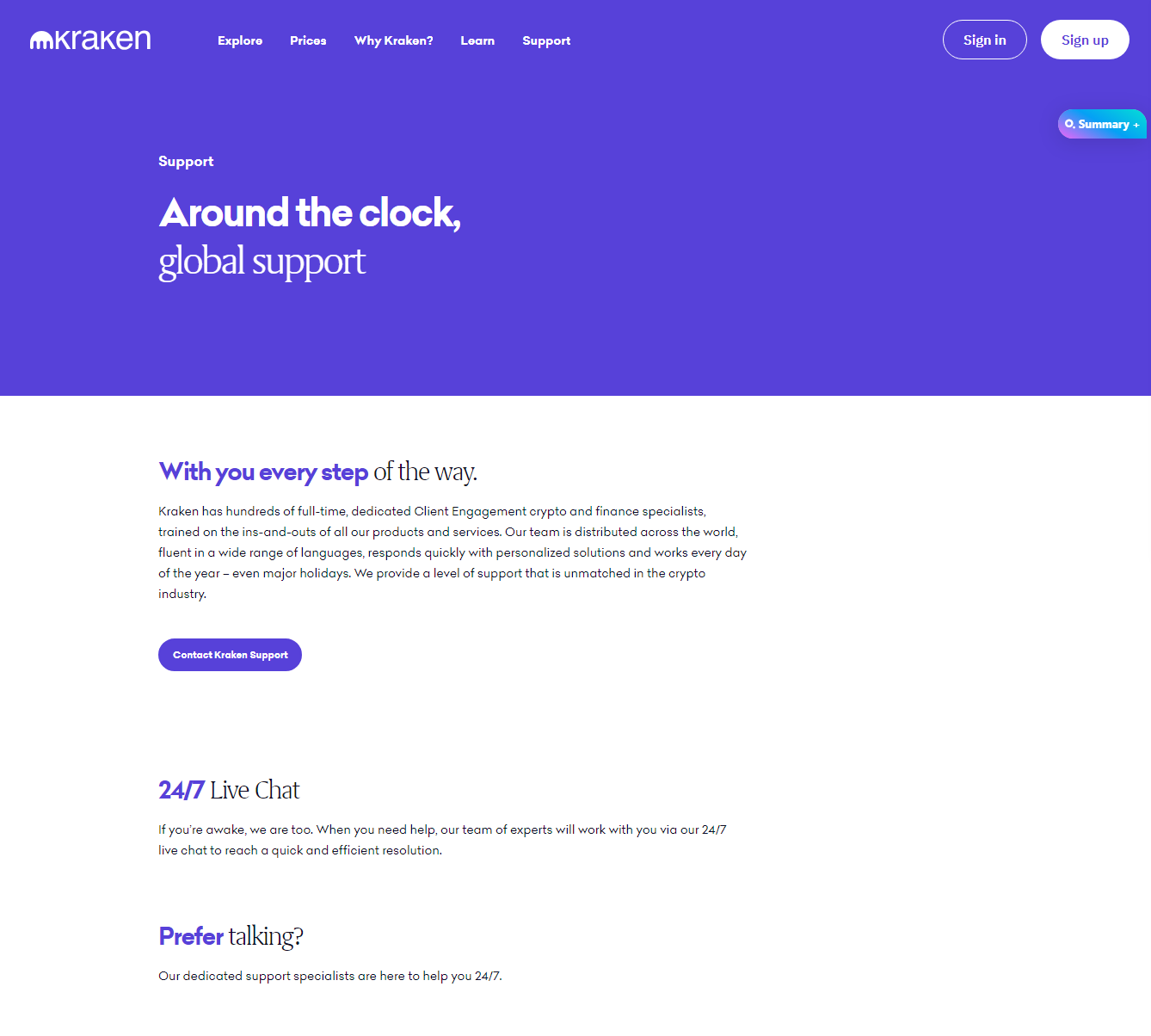 The platform's support team is known for its responsiveness and effectiveness in addressing user concerns. However, it's worth noting that user experiences with Kraken's customer service can vary.
How Kraken Works?
Kraken is a specialized cryptocurrency exchange emphasizing core functionality over additional financial services.
While users can store assets on the platform, Kraken encourages external crypto wallets for security. It offers a custodial wallet with competitive staking rates, making it attractive for staking.
As a centralized exchange, Kraken requires users to sign up by providing personal information.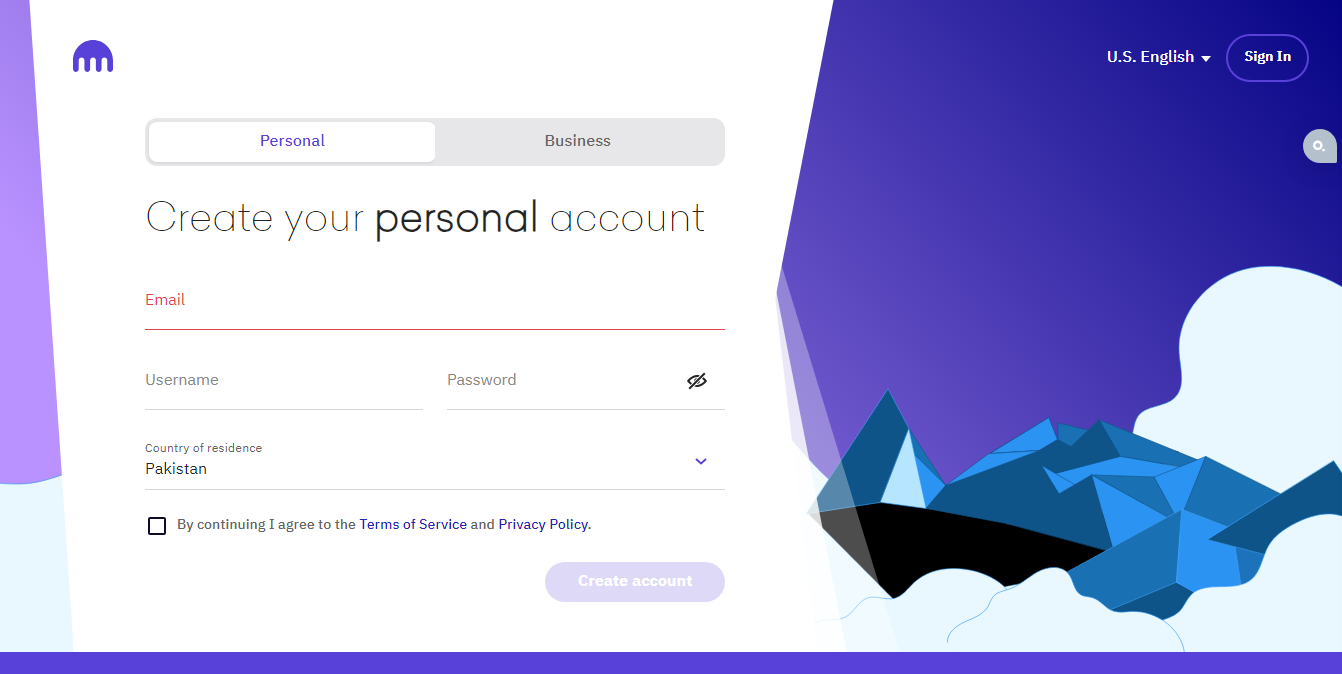 This sign-up process is followed by a verification based on one of the three tiers, as shown in the image below.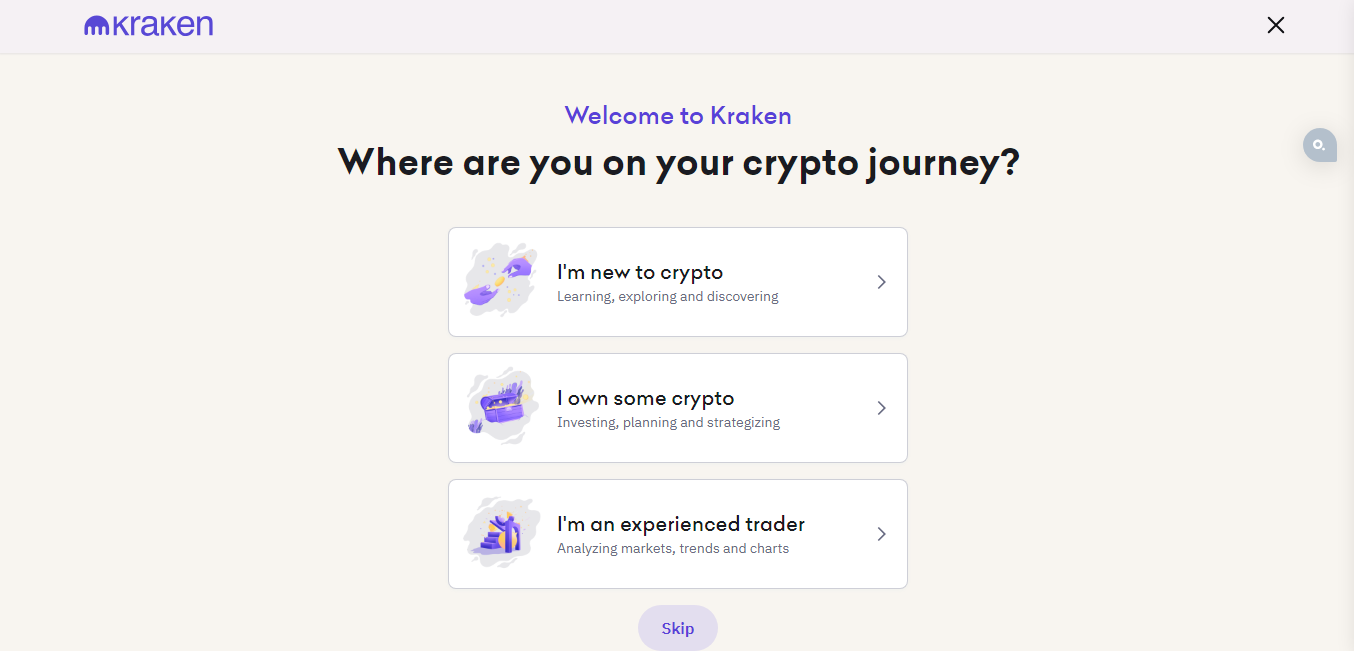 These tiers entail:
Starter: This entry-level account permits cryptocurrency deposits, exchanges, and withdrawals but doesn't support fiat currency transactions. To convert dollars into crypto, users will need to upgrade their accounts.
Intermediate: Upgrading to an Intermediate account requires a valid photo ID, proof of residence (like a utility bill), and a Social Security number or ITIN. This upgrade allows users to deposit fiat currency and trade Kraken futures.
Pro: The Pro level unlocks higher account limits and provides access to Kraken's anonymous "dark" trading pool and over-the-counter desk. The OTC desk facilitates substantial orders without causing significant price fluctuations on the public exchange.
Summing Up: Is Kraken Right For You?
In conclusion, Kraken is a versatile and cost-effective platform catering to a broad spectrum of cryptocurrency traders, from novices to seasoned experts. Its competitive pricing sets it apart, especially on Kraken Pro and futures markets.
However, the complexity of Kraken Pro's interface might pose a learning curve for beginners, making exploring alternative options (mentioned above) essential if simplicity is your priority.
All in all, Kraken stands as a commendable choice for cryptocurrency enthusiasts. Ensure a comprehensive understanding of associated costs and potential limitations when trading on Kraken.
This, coupled with robust security practices like two-factor authentication, can lead to a rewarding experience in cryptocurrency trading and investment through Kraken.
FAQ
Is Kraken reliable?
Yes, Kraken is highly reliable, ranking second in security by Crypto Exchange Ranks (CER) with an AAA rating. It maintains full reserves and undergoes semi-annual audits for added assurance.
What is Kraken Instant Buy?
Kraken Instant Buy is a convenient feature that empowers users to purchase or sell cryptocurrencies without any hassle. It's accessible to all Kraken users, but notably, it's the exclusive method available for Starter accounts.
Does Kraken Offer Staking in the U.S.?
Kraken previously provided staking services, but unfortunately, they are no longer accessible to customers residing in the United States due to regulatory changes.