Offering a seamless blend of spot and derivative trading, BYDFI presents a user-friendly interface that will make even the most novice investors feel right at home. With an extensive selection of over 400 spot crypto trading pairs and more than 100 derivative products, this platform leaves no stone unturned when it comes to catering to your investment needs. But that's not all! BYDFI goes the extra mile by offering opportunities to earn additional cryptocurrencies through engaging tasks and copy trading. Get ready to embark on a thrilling cryptocurrency journey with BYDFI and discover a world of possibilities!
Overall Thoughts on BYDFi
Established in 2019 and based in Singapore, BYDFI is making waves in cryptocurrency exchanges after rebranding from its previous name Bityard. With addresses at Paya Lebar Square in Singapore and Aurora State in the US and having regulatory licenses in multiple countries, including the USA, Australia, Estonia, and Singapore, BYDFi has strong regulatory standings. What sets BYDFi apart from other exchanges is its focus on leveraged trading instruments and its low entry barriers. They aim to provide a more straightforward and user-friendly experience compared to their competitors. This approach is refreshing for both experienced traders and newcomers alike.

Expanding its reach to over 150 countries and translating its website into eight different languages, BYDFi is a global exchange withou KYC requirements. This commitment to inclusivity and accessibility is further supported by their acceptance of more than 60 fiat currencies through partnerships with BANXA, Xanpool, Transak, Mercuryo, and Ramp. With their focus on simplicity, low fees, simple usability, regulatory licenses, and global accessibility, BYDFI (previously BitYard) is attracting traders from around the world.
BYDFi Pros & Cons
| 👍 BYDFi Pros | 👎 BYDFi Cons |
| --- | --- |
| ✅ 200x leverage | ❌ Lacks fiat support |
| ✅ Licensed in US | ❌ No staking |
| ✅ High liquidity | ❌ Lacks passive income products |
| ✅ Very beginner friendly | |
| ✅ Low fees | |
BYDFi Products & Services
When it comes to customer safety, the BYDFi trading platform knows the importance of playing by the rules. That's why they take licensing seriously and hold not just one, but multiple licenses. BYDFi is proud to have obtained dual licenses as a Money Services Business (MSB) in both the United States and Canada. It's like having an extra layer of protection for your trading experience. These licenses aren't just pieces of paper to hang on the wall; they're a testament to BYDFi's unwavering commitment to maintaining a secure and trustworthy environment for its users. With these dual licenses in place, traders can rest easy knowing that BYDFi goes above and beyond to comply with strict regulatory standards. Your funds are protected, and integrity is upheld at the highest level.
With the BYDFI mobile app, you can pull up charts, monitor your positions, and even execute trades with just a single touch. It's like having your trading platform right in the palm of your hand! Available for both iOS and Android devices, you can find it in the Apple Store or on Google Play. In the Apple store, the app boasts an impressive rating of over 4.3 stars. Users appreciate its functionality and user-friendly interface. However, over at the Play Store, the rating seems more polarized, with a rating of 3.2 stars. Some users express frustration that the app is currently only available in Chinese. While the lack of an English version may be disappointing for non-Chinese speakers, we can hope that the developers at BYDFI will take note of the feedback and release an English version soon. So, keep an eye out for future updates and improvements.
Aside from offering great trading products, BYDFi also has a generous welcome crypto bonus of over $2,888 for new users. We have a full guide on how to receive all BYDFi bonuses, which you should definitely check out if you are interested in trading on the exchange.
BYDFi Signup & KYC
If you've decided to give BYDFi a try, creating an account is the first step. You can choose to register with either an email address or a mobile number. Once you've submitted your information, you'll need to verify your email to proceed. BYDFi is a non-KYC crypto exchange, meaning you don't have to verify your identity if you don't want to. However, for the best security, you can do the KYC identity by submitting your personal information, such as a government ID or Passport.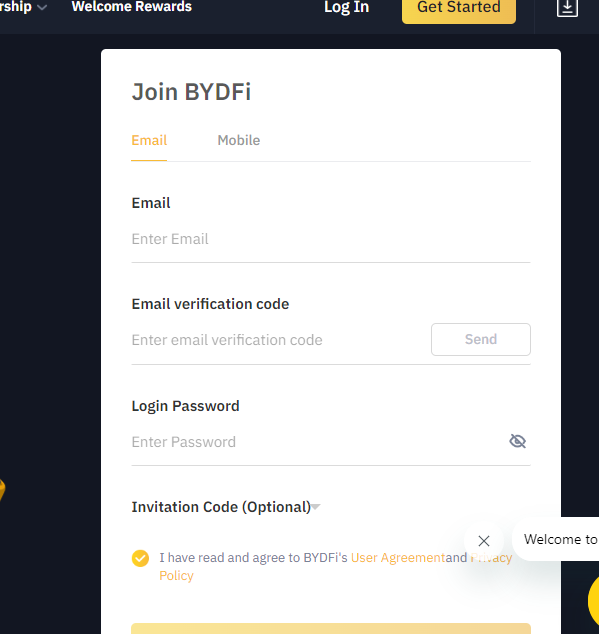 Depositing funds at BYDFi is a breeze and can be done using any cryptocurrency. Simply log in to your account and navigate to the "Assets" section.

Click on "Deposit" to access an overview where you can select the desired coin for your deposit. It's that simple!

When it comes to withdrawals, BYDFi supports withdrawals in Tether (USDT) only. Remember that there is a minimum withdrawal amount of $50 and a $2 fee will be deducted from your withdrawal. So, make sure you have at least $52 in your account to initiate a withdrawal.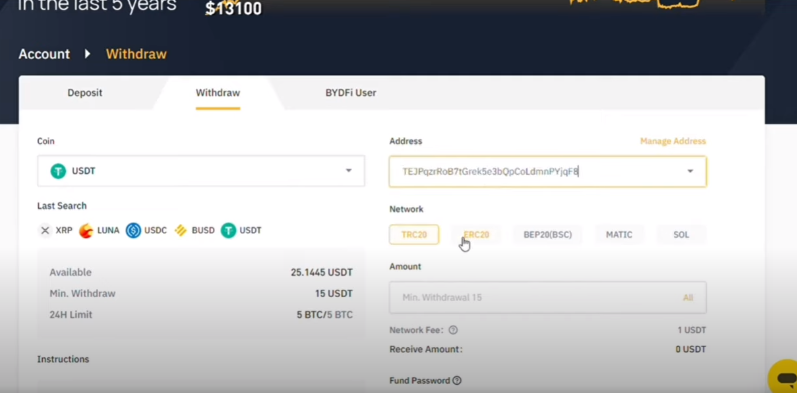 To withdraw funds, go to the "Withdraw" section and choose the type of Tether address you'll be withdrawing to. BYDFi ensures that the process is as straightforward as depositing, allowing you to effortlessly manage your funds.
BYDFi Trading Features
Spot Trading
Spot trading on BYDFi enables users to directly buy or sell cryptocurrencies at their current market price. It's like being right there on the spot, ready to seize opportunities in real time. Spot trading has got you covered whether you want to exchange Bitcoin for Ethereum or vice versa. The platform offers three versions of the spot market to cater to different trading preferences. First up is "Convert" – a user-friendly feature that allows you to convert your crypto assets with just a single click. It's the quickest way to transact on the platform, making it ideal for those who value speed and convenience.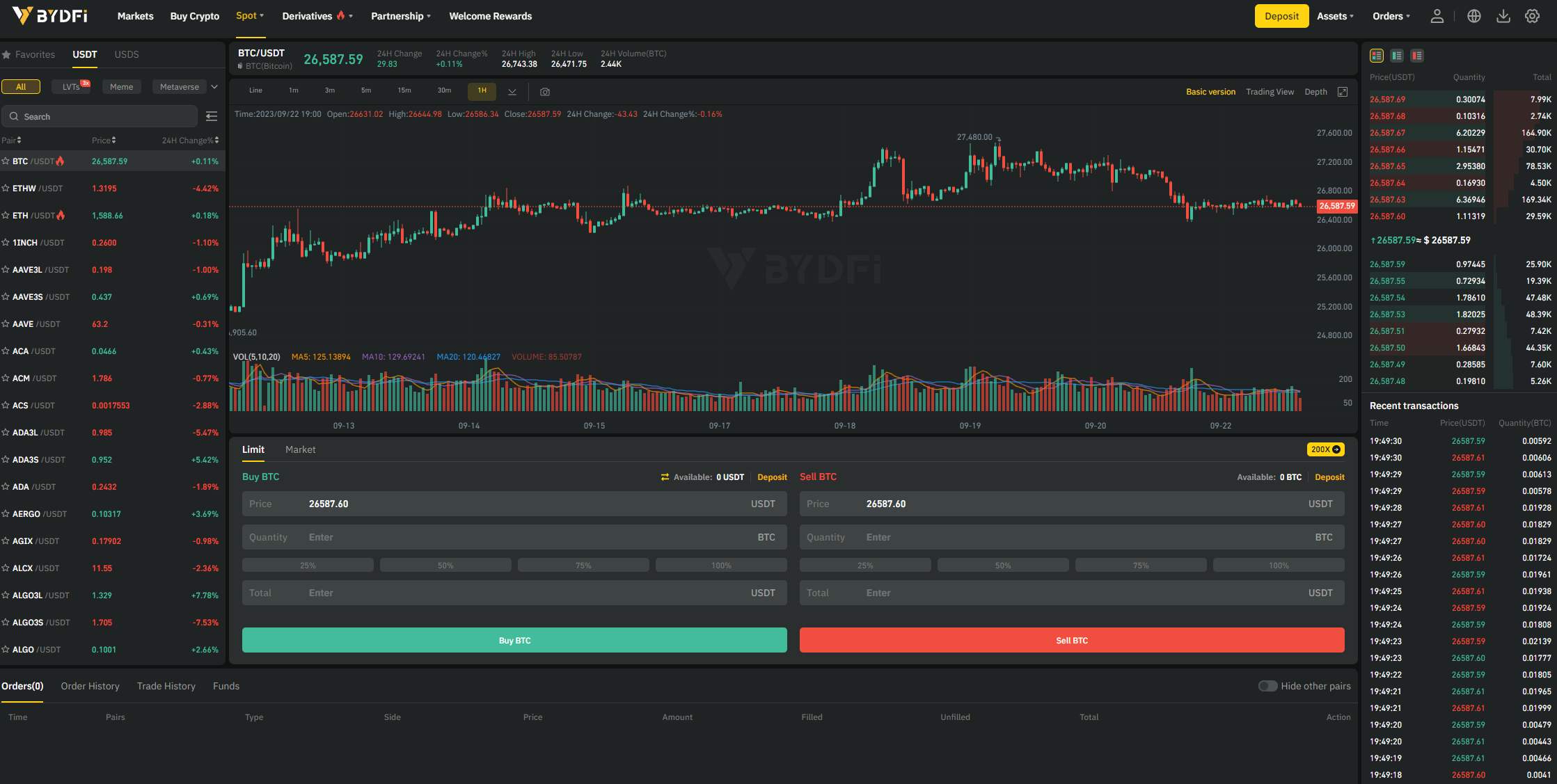 If you prefer a more traditional approach, "Classic Trading" is your go-to option. With an order book at your fingertips, you can place buy or sell orders based on your desired price. This version offers flexibility and control over your trades, allowing you to execute your strategy with precision.
For the seasoned traders out there, "Advanced Trading" takes things up a notch. This version is tailored for professionals who rely on technical analysis to make informed decisions. Packed with comprehensive charts and indicators, it allows for a detailed examination of crypto assets, helping you identify trends and patterns. Keep an eye on the market, choose your preferred version, and seize those trading opportunities with confidence.
Derivatives Trading
Derivatives trading is like riding a roller coaster of market dynamics. It's fast-paced, ever-changing, and requires a strategic approach. Let's dive into the types of derivatives available on BYDFi Exchange:
Lite Futures: These contracts are settled in USDT, a stablecoin that offers stability in volatile markets. Lite Futures allow you to speculate on the price movements of various assets without the need to hold the underlying asset itself.
Inverse Perpetual: Looking to trade perpetual futures contracts settled in cryptocurrencies like BTC, ETH, DOT, and more? Inverse Perpetual contracts offer you the opportunity to take advantage of price fluctuations in these digital assets.
USDT Perpetual: If you prefer settling perpetual futures contracts in USDT, our USDT Perpetual contracts are a perfect choice. USDT is a widely accepted stablecoin, providing stability and ease of use in your trading activities.
By offering leveraged trading, BYDFi opens up a world of possibilities for ambitious traders. With leveraged trading, you can magnify your potential gains (or losses) by borrowing from the exchange and betting more than you actually have. It's a thrilling way to capitalize on market opportunities and maximize your trading potential.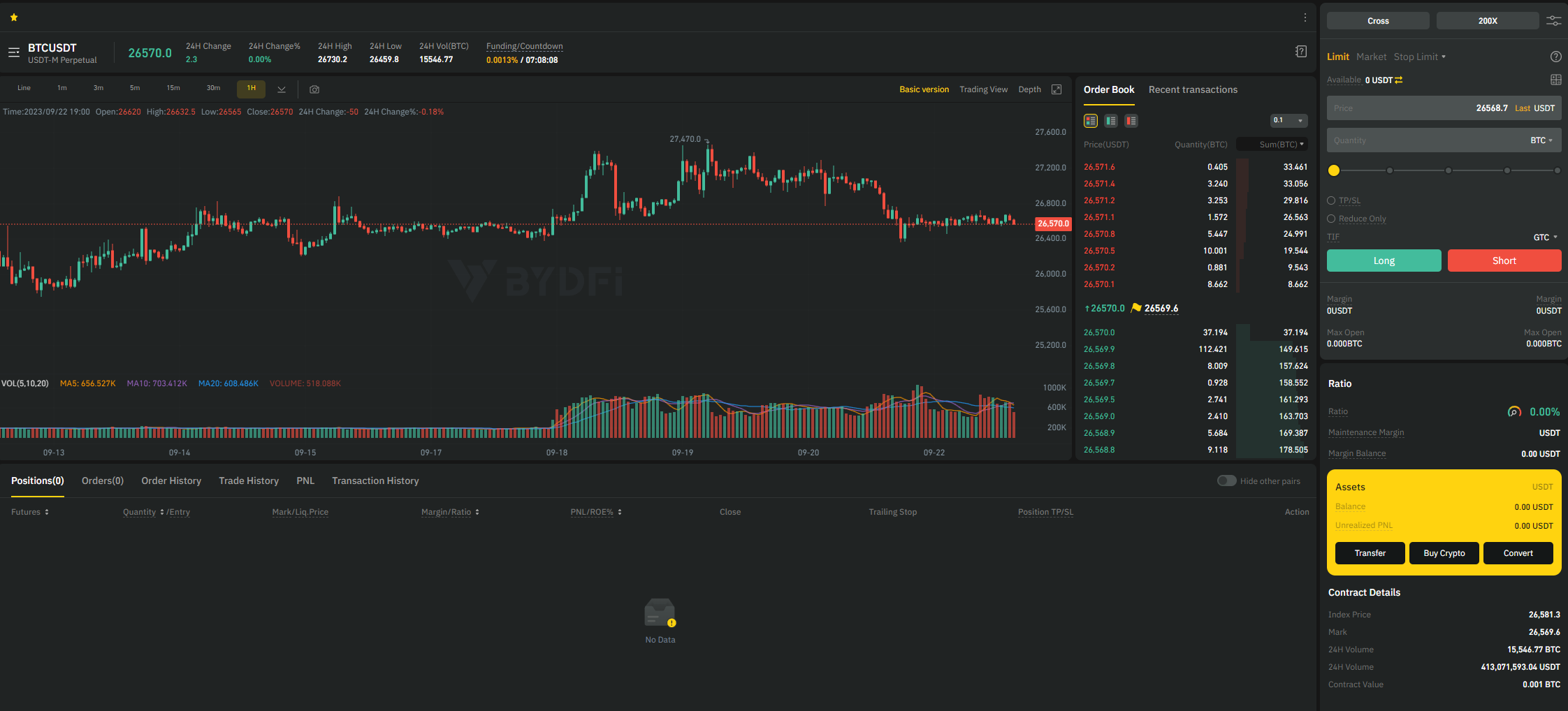 BYDFi takes it a step further by offering up to 200x leverage, providing you with incredible flexibility and potential for exponential returns. Just imagine the excitement of profiting from a significant price swing in your favorite cryptocurrency, multiplying your gains without needing to invest a large amount of capital upfront. However, it's important to approach leveraged trading with caution and a sound risk management strategy. While the potential rewards are enticing, the increased leverage also amplifies the potential losses.
BYDFI Exchange Fees
BYDFi Trading Fees
Here is BYDFi's fee structure: BYDFi offers competitive spot trading fees starting from 0.1%, competing with top exchanges like KuCoin and Binance. Derivative trading fees are also very competitive, with rates as low as 0.02% for makers and 0.06% for takers.
| Trading Type | Maker Fees | Taker Fees |
| --- | --- | --- |
| Spot | 0.1% | 0.1% |
| Futurs | 0.02% | 0.06% |
| Leveraged Tokens | 0.05% | 0.05% |
Withdrawal Fees
Crypto withdrawal fee varies on the type of token and blockchain network used to withdraw assets. Also, please note that the withdrawal fees may differ when a network has reached its capacity limit.
| Coin | Futures |
| --- | --- |
| Bitcoin | 0.0002 BTC |
| Ethereum | 0.0018 ETH |
| Solana | 0.008 SOL |
| Tether | 1 USDT |
BYDFi Security
At BYDFi, the security of your trading experience is paramount. For customer account security, dual authentication using Google Authenticator adds an extra layer of protection. This two-step verification process, known as two-factor authentication (2FA), safeguards your account from unauthorized access. When it comes to wallet security, BYDFi employs cold storage wallets that eliminate the risk of a single point of failure. With layered deterministic cold wallets, your digital assets are kept secure. Additionally, the platform utilizes multi-signature technology for transactions, providing an added layer of protection against attacks and the potential loss of access.
BYDFi Customer support
One of the most frustrating things for traders is dealing with subpar customer support at exchanges. We've all been there, waiting for days on end for those support tickets to be answered. But let me tell you about BYDFI – they've truly raised the bar when it comes to customer support. Their 24/7 live chat function is the quickest and easiest way to get in touch with them. No matter the time of day, the agent remains connected and is not only incredibly helpful but also shows a genuine desire to help. It's refreshing to see such a high standard of customer support, and other exchanges should take note.
Conclusion
BYDFi is truly a game-changer in the world of leveraged exchanges. They have successfully made complex trading instruments accessible and user-friendly for traders of all skill levels while complying with law makers and regulations in several countries, including the US. With a trading experience that boasts no slippage and liquidations, BYDFi ensures smooth and seamless transactions, allowing traders to focus on their strategies rather than worrying about technical hurdles. What sets BYDFi apart is its commitment to security. With licenses from four different regulators and advanced coin management protocols, traders can have peace of mind knowing their assets are well-protected. The exchange's rigorous risk management policies further add to its reputation as a secure platform for trading.
FAQ
Is BYDFi safe?
BYDFi implements robust security measures to safeguard client accounts, funds, and wallets, ensuring the utmost protection of user information.
Is BYDFi suitable for beginners?
Of course. BYDFi prioritizes user-friendliness, offering easy-to-use interfaces for spot and derivatives trading. Beginners can also benefit from copy trading, which allows them to mirror the trades of experienced traders and generate profits.
What is the withdrawal limit at BYDFi?
Withdrawal limits at BYDFi vary based on verification status. Unverified users can withdraw up to 0.2 BTC daily, while KYC-verified users enjoy an increased limit of 5 BTC per day.