If you want to make money and earn passive income with cryptocurrencies, the BYDFi affiliate program will be interesting for you. Crypto exchange partner programs such as the BYDFi affiliate program are some of the highest paying income options. In this BYDFi affiliate program review, we will share everything that you need to know. We will reveal the commissions, features, pros, cons, and more.
| Website: | Bydfi.com |
| --- | --- |
| CEO: | Michael Hung |
| Year Launched: | 2019 |
| Location: | Singapore |
| Users: | 4+ million |
| Supported Cryptos: | 300+ |
| Leverage: | 200x |
| KYC? | No, not required |
| Spot Fees: | 0.1% |
| Futures Fees: | 0.02% Maker / 0.06% Taker |
| Type: | Revenue Share (Commissions) |
| Affiliate Commissions: | 30% - 70% |
| Sub-Affiliate Commission: | 10% |
| Conversion Rate: | High |
BYDFi Affiliate Program Overview
The BYDFi crypto exchange, formerly known as Bityard, offers a highly converting crypto trading platform affiliate program. With over $50,000,000 in paid commissions across 150+ countries, BYDFi is a top choice for affiliate marketers in the crypto industry.
The commissions start at 30% but can rise up to 70% based on your performance and relationship with the exchange. As the commissions are settled in real-time, you don't have to worry about waiting for your payouts. You can easily pay out your BYDFi affiliate commissions on a daily basis. On top of that, you will be eligible for your invitee's commissions forever.
Aside from offering commissions from direct referrals, BYDFi also implemented a sub-affiliate system where you will earn 10% of your invitee's income. So, if your invitees invite new users themselves, you will still earn money from it. This allows BYDFi partners to scale up their income with a network of affiliates.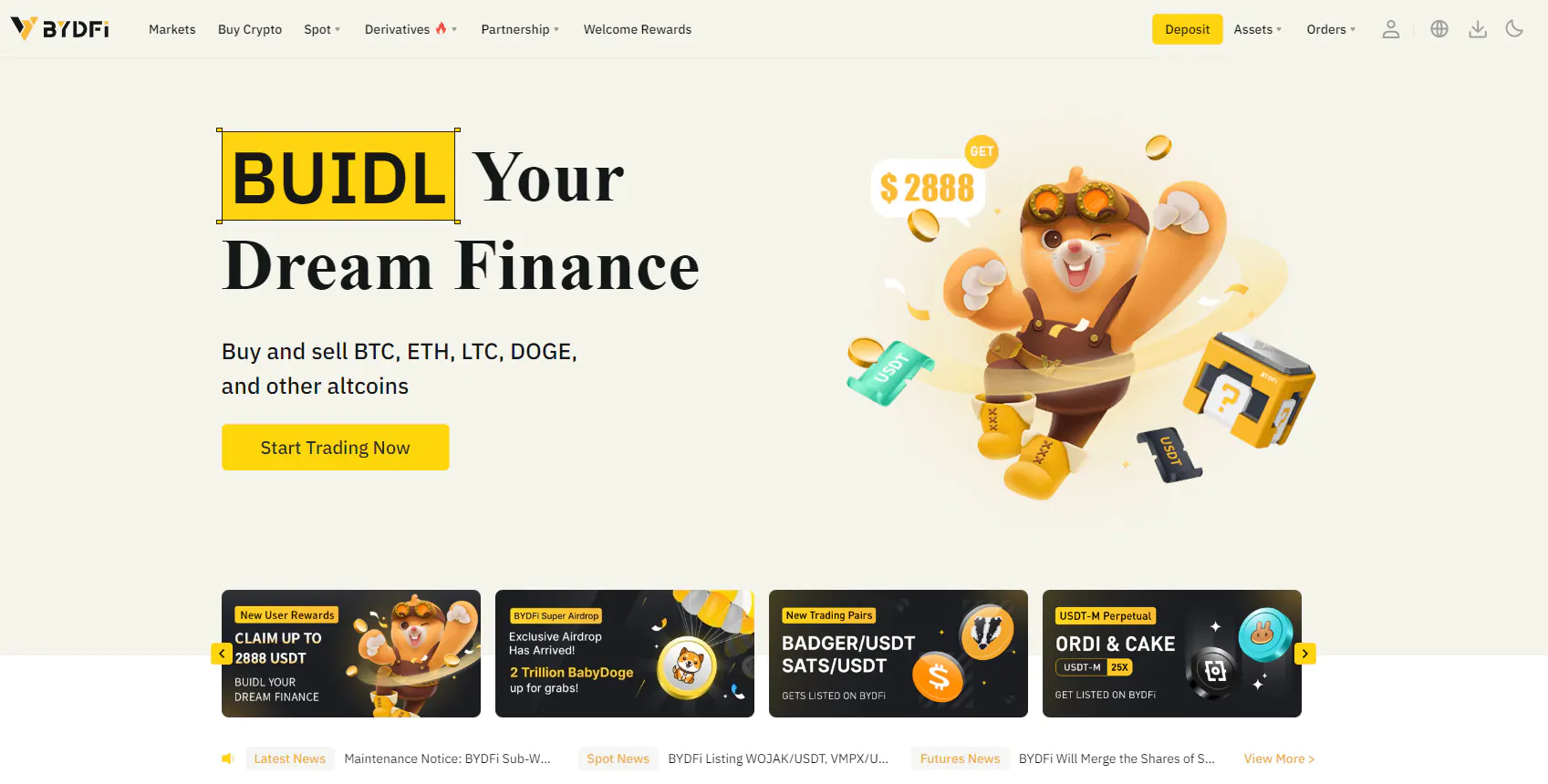 What we love most about the BYDFi affiliate program is its easy-to-use dashboard, the high commissions, and the high conversion rate. As BYDFi is a reputable crypto exchange, users from all around the world can register on the platform and start trading the spot and futures market with over 300 supported cryptos, low trading fees, and up to 200x leverage. Users from the United States will be pleased to hear that BYDFi operates in the USA with an MSB license.
How To Join the BYDFi Affiliate Program
If you want to benefit from the BYDFi affiliate program, you might wonder how to apply for it and how to make sure that you will be accepted. Luckily, joining the BYDFi partner program is simple and straightforward. All you need is a BYDFi account and a way to promote your affiliate link or referral code.
The most common way of promoting the BYDFi affiliate program is through YouTube videos or websites (just like our website). Alternatively, you can promote the exchange on other social media accounts such as Twitter, Instagram, or TikTok. Other options include learning platforms or crypto communities where you can promote BYDFi with your audience.
We recommend you have at least a few hundred followers on your social media channel or you have a done website.
Go to the BYDFi affiliate page. You can find the link in the header menu under "Partnership". Select "Global Partner" in the drop-down menu.
Fill out the details, including your name, email, location, and message. Make sure to thoroughly explain how and where you will promote BYDFi as an affiliate partner. Don't worry about the "Company" field; you don't have to register a company if you want to promote BYDFi, as they also accept individuals as partners.
Wait for your application to be approved.
Pro tip: Get in touch with us at info@cryptowinrate.com, and we will connect you with a BYDFi affiliate manager to review your application right away!
BYDFi Affiliate Commissions
When being a crypto exchange affiliate partner, you will earn a commission on the trading fees generated by your invitees. With a base commission of 30%, BYDFi offers the industry standard rate for new affiliate partners. However, in terms of maximum commissions, BYDFi has some of the highest rates.
The official maximum commission rate is 50%. But by offering exclusive promotion options to BYDFi, you can unlock up to 70% commissions for direct invitees. This makes the BYDFi partner program one of the most lucrative crypto affiliate programs in the world.
As explained earlier, you will make your money from fees generated by your invitees. That's why we also must have a look at the BYDFi trading fees.
For spot trading, the fees start at 0.1%, maker and taker. This is the industry standard and a fair rate. Where the real money will come in is futures trading. Futures traders on BYDFi will be charged 0.02% maker and 0.06% taker fees. As over 80% of orders are taker orders, the 0.06% fee will be applied most of the time. This is also the industry standard, and it's a great rate for affiliate partners while your invitees enjoy fair fees.
While futures fees are lower than spot trading fees, you should not forget about leverage. When using more leverage, the user can open positions up to 200 times larger than what he has in his account. That means he will also pay 200 times higher fees.

BYDFi Sub-Affiliate Commissions
What makes the BYDFi affiliate program stand out from the rest is its tiered affiliate system, where you will also earn up to 10% commissions from second-degree invitees. These are basically indirect referrals. When people that you invite to BYDFi will invite other users, you will also earn commissions from their income. This happens at no additional cost to your invitees or sub-invitees.
BYDFi Affiliate Program Features
The BYDFi affiliate program is very simple to use due to its simple features. Let's explore everything we can do in the BYDFi affiliate program!
Affiliate Dashboard
When logging into your affiliate account, you will be welcomed with a comprehensive overview of your data. In the BYDFi affiliate dashboard, you will see commission data, invite data, commission rates, overall invitees, and a graph visualizing your perpetual futures and spot income. On the left-hand side, you will also see the contact details of your personal affiliate manager. You can contact your affiliate manager at any time to discuss events and promotions or to resolve any other queries.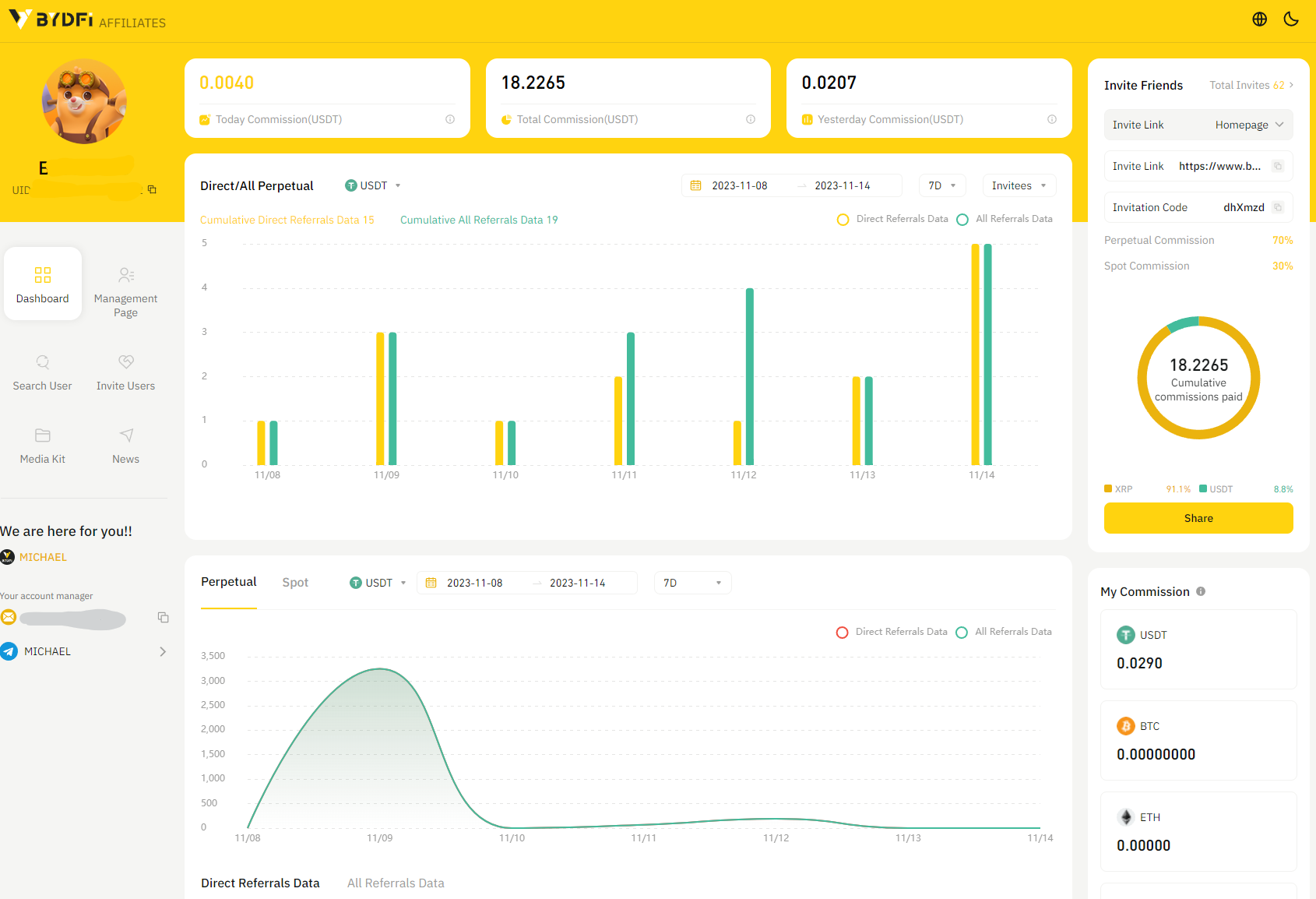 Data Analysis
The line graph displays the trading volume data of your invitees. You can separate between spot and futures volume. Additionally, you can sort by individual coins for users that trade coin-margin futures. By changing the time frame, you can see your trading volume progress over time.

Management Page
On the management page, you will see all of your invitees, their trading volume, their deposits, and their referrals (your sub-invitees). We censored the UID due to privacy reasons. By clicking on each user, you can see their individual statistics like trading volume and subordinates for sub-affiliate tracking.

Affiliate Links
In the "Invite Users" section, BYDFi affiliate partners can create up to 100 affiliate tracking links. This is perfect for professional affiliates who need to know exactly where their conversions come from. You can assign different parameters (sources) to each affiliate link to simply track everything.

Media Kit and News
Last but not least, BYDFi shares relevant media such as logos, designs, banners, and news with BYDFi affiliate partners. That way, you are always up to date with the latest changes and events, so you can get the most out of the BYDFi affiliate program.
BYDFi Sign Up Incentives
Many crypto exchanges offer new user incentives to improve the conversion rate. This usually happens with crypto bonuses.
BYDFi offers generous new user bonuses of up to $2,888. This is the maximum bonus that can be obtained by your invitees by depositing, trading, and doing tasks. We shared all the requirements for the incentives in our BYDFi bonus guide.
Users can also check all bonus requirements in the "Welcome Rewards" section in the top header of the website.