Bybit is one of the largest cryptocurrency exchanges, serving over 20 million traders from over 170 countries. However, as Bybit is a legitimate crypto trading platform, it complies with local laws and regulations and is registered as Bybit Fintech Limited in the British Virgin Islands and has its headquarter in Dubai, UAE.
Therefore, Bybit is not available in countries like the United States, Singapore, China, Cuba, and a few more.
In this quick guide, we will go over the list of Bybits-supported and restricted countries. In the end, we will also uncover the best Bybit alternatives if you are from banned areas such as the U.S. or Singapore.
Let's answer the common question: Which countries does Bybit support or restrict?
Bybit Restricted & Banned Countries
Currently, Bybit is not available in the 10 countries from the following list according to Bybits official statement and terms of service. Due to constraints and regulatory uncertainty, Bybit is not available in the following countries:
United States (U.S)
Canada
China
Singapore
North Korea
Cuba
Iran
Uzbekistan
Syria
Russian-controlled areas in Ukraine

Crimea, Donetsk, Luhansk regions
Crypto enthusiasts from these countries are currently not allowed on Bybit. Additionally, Bybit does not serve customers to individuals or entities from the:
"U.S. Treasury Department's List of Specially Designated Nationals or Blocked Persons, the EU's Consolidated Financial Sanctions List or the UK Sanctions List, or any entity that is owned or controlled (50 percent or greater) by a person or entity on such lists (hereinafter "Prohibited Parties"), or offer services that involve or otherwise benefit Prohibited Parties.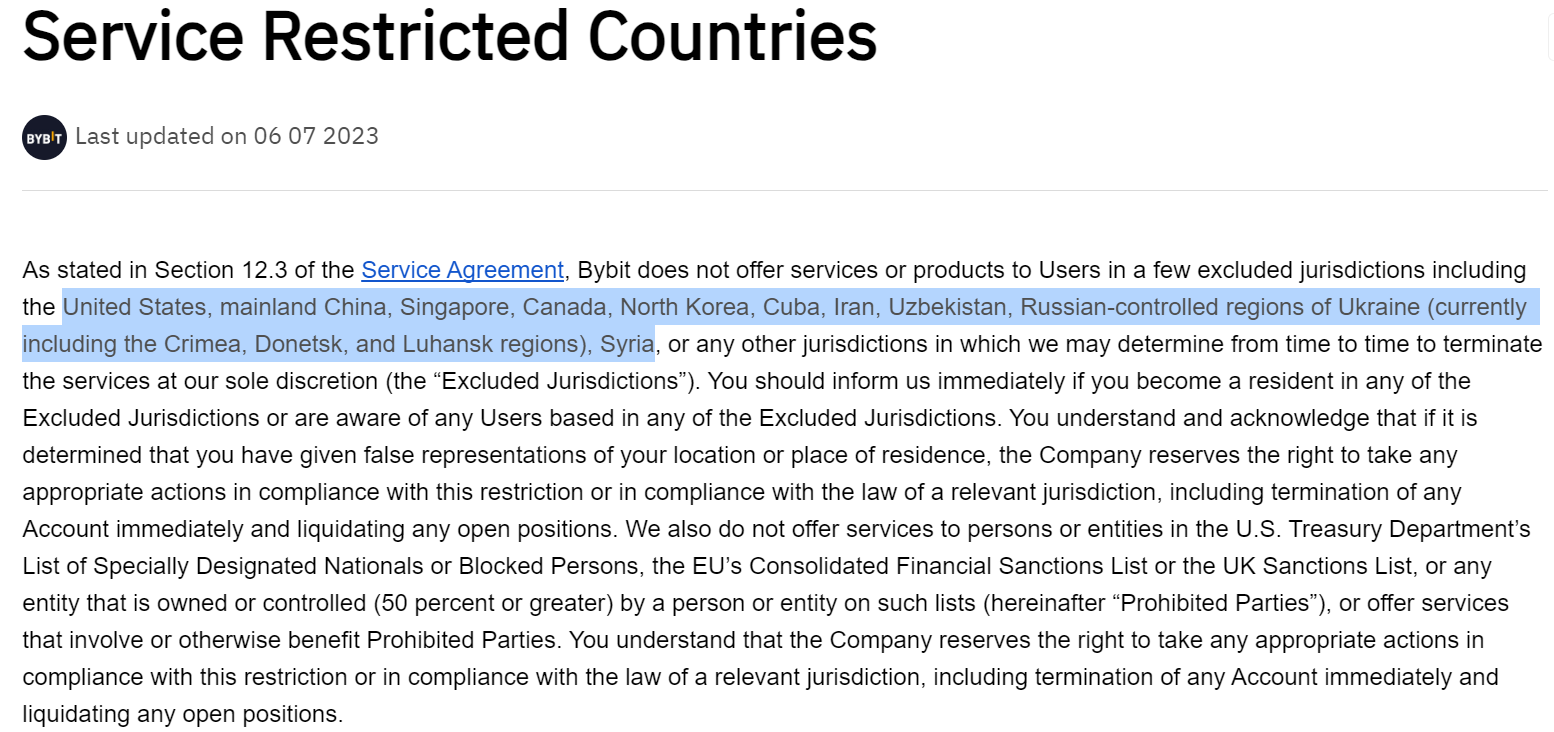 Which Countries Does Bybit Support?
The list of supported countries on Bybit is very long, meaning that most users can use the platform's services. Over 170 different countries are allowed on Bybit. You can check the official list of supported countries on Bybit here.
Is Bybit Legal in the United States?
No, Bybit is not legal in the United States. Even with a VPN, you can not access Bybit as KYC verification is mandatory for trading and withdrawing. As the USA is a restricted area on Bybit, US documents are not supported.
Lastly, Bybit is not licensed by any US authority such as FinCEN and therefore can not legaly offer its services in the United States.
Does Bybit require KYC?
Yes, Bybit requires KYC. In March 2023, Bybit made KYC mandatory. Users must verify their identity with an ID or Passport. These must be issued from governments from the list of supported countries.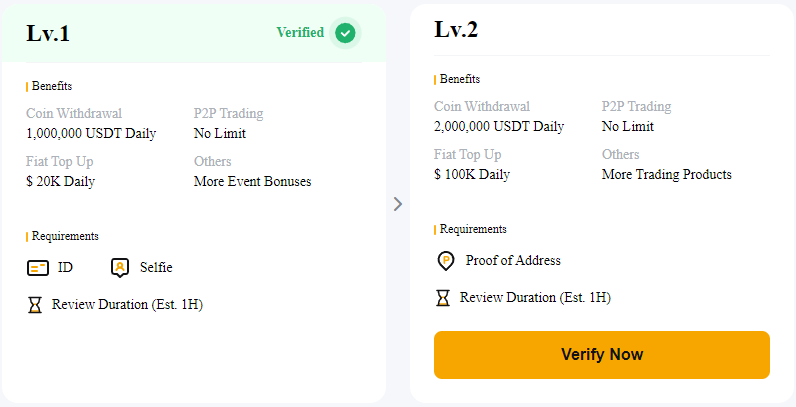 Can I use Bybit with a VPN?
You only use Bybit with a VPN if you are not a citizen of a restricted country. As long as you can provide a government document from Bybits supported countries, you access Bybit.
However, if you are a citizen from a banned area, you can never access Bybit, not even with a VPN. As Bybit requires KYC verification in order to trade, using a VPN as a citizen from a restricted area will not help.
Bybit Alternatives
If you are a citizen in one of Bybits restricted countries, we highly recommend you check out other crypto exchanges.
Some of the best alternatives for customers from the US is BYDFi. The platform is licensed and allows customers from the United States.
For other, non U.S areas where Bybit is restricted, we recommend Bitget and OKX. These crypto exchanges have low fees, and high trading volume, and are overall great choices.
Final Thoughts
Bybit officially restricts customers from the following 10 countries: the United States, China, Singapore, Canada, North Korea, Cuba, Iran, Uzbekistan, Syria, and Russian-controlled areas in Ukraine. Additionally, Bybit does not allow customers from sanctions lists.
As Bybit made KYC verification mandatory, there is no workaround to access Bybit from banned countries. Make sure you check out our best Bybit alternatives if your country is restricted from using Bybit. The best alternatives are Bitget, BYDFI, OKX, and BingX. Note, that US customers are only allowed on BYDFI, BingX, and partially MEXC.
Overall, Bybit is an excellent crypto exchange with low fees, a lot of coins and even great bonuses. If you want to learn more about Bybit, make sure you check out our in-depth Bybit review.