ByBit is a KYC exchange, which means you require KYC verification on ByBit to perform normal operations like trade and withdrawals. The platform was initially a great non-KYC crypto exchange, but it requires users to complete the Know Your Customer Verification since May 2023 . So, you cannot enjoy the leverage of anonymity while trading here. But is it still that great?
Here, we will discuss how ByBit is after its mandatory verification policy and what makes it stand out from other KYC exchanges. Moreover, you will learn about the platform's security and customer support while also the steps to verify yourself. So, let's start!
Is ByBit Safe to Use with KYC?
ByBit is a legitimate crypto platform, operating since March 2018. It was a safe platform before the mandatory KYC policy and is still a secure option to trade crypto while using its other features. Also, the platform has never been hacked since its inception, indicating the security measures are top-notch.
So, you can easily buy, sell, trade, deposit, withdraw, andstake crypto on ByBit. Moreover, their compulsory KYC verification has further increased the protection, as it reduces the chances of hackers and scammers getting on the platform and stealing others' assets. That's why more than 10 million users trade peacefully on ByBit.
Lastly, Bybit offers great rewards and bonuses up to $30,000, enhancing the trading experience even further.
Is ByBit a Good KYC Exchange?
Having KYC security isn't the only factor that should make you use ByBit. It also has many other features that make it unique from various crypto exchanges like Binance and Bitget, and are the reasons why you should consider it for your crypto trades.
Various Trading Opportunities
Different crypto trading platforms offer only spot, futures, and contract trading. However, ByBit has a diversified range of trading opportunities you can explore and benefit from. The major ones include:
Spot & Contracts: You can perform traditional spot and perpetual contract trading. The Futures contracts include USDT and USDC as collateral, bringing stability to the trades and increasing trust.
Margin & Leverage: As a derivative of Futures trading, you can boost your opening position's power with margins and leverage. Many other exchanges provide these under one Futures trade, while ByBit offers separate options for everyone's preference.
Options Trading: Talking about options, you can perform options trading, which is unavailable on many platforms. ByBit allows you to trade options taking USDC, BTC, ETH, and SOL as collateral for positions.
Copy Trading: Copy trading is getting popular as many platforms offer this format. However, ByBit uses a simple, elegant, minimal, and efficient process for the ease of followers copying their expert traders.
Trading Bots: Additionally, you can use trading bots to automate your trades and forget the hassle of checking the market every now and then. Create a bot for opening and closing a position when the price hits a determined value. It will do the rest for you.
MetaTrader4: MetaTrader4 is the new auto-trading option, designed by Forex traders for simplicity. You can use Contract for Differences (CFD) to trade stock, forex, indices, and commodities here.
Benefits of Bybit KYC Levels
At ByBit, you can get two levels of KYC certifications for a personal account or a single certification for a business account. Although the platform mentions a withdrawal limit at the non-KYC stage, that is not applicable until you verify your identity. Hence, those daily 20K and monthly 100K USDT withdrawal limits are meaningless.
KYC level-1 requires your personal information and a live photo (selfie) and takes nearly 15 minutes to complete. After verification, you unlock all the platform features (except the ByBit Debit Card). Also, you can withdraw up to 1 million USDT daily.
KYC level-2 requires your residential proof, and its verification can take 48 hours at max. You can get the ByBit Card in addition to all the other features. Also, the daily USDT withdrawal limit increases to 2 million. You can enjoy unlimited monthly withdrawals at both KYC levels.
These levels are for personal accounts, which also has an additional benefit. You can enroll in their VIP program, where the withdrawal limits further increase and your VIP level increases. You can get a higher level by trading more. At the max level (Supreme VIP), the withdrawal limit reached 12 million USDT/day.
Apart from these, you can also complete the KYC-Business verification if your account belongs to a company. In this case, you will miss out on some exciting features, like Fiat deposit & withdrawal, Launchpool & Launchpad, their earning products, and the ability to buy crypto. However, your crypto withdrawal limit will be 100 BTC/day.
Exchange Security
ByBit doesn't only have the KYC as their firewall against malicious activities and to gain customers' trust. It also practices many security measures to protect users' data and assets, making it one of the leading crypto exchanges and a secured platform.
Protocols, Regulations & Proof of Reserves
It has to grade SSL certification issued by DigiCert Inc, a leading SSL digital certification authority. However, the platform is not regulated by any authority. But it doesn't make the platform an insecure choice.
The transparency of their Proof of Reserves confirms a 1:1 ratio of holding users' assets and data. Moreover, you can verify your asset's location anytime through their open-source tools. You can also view the ByBit reserves ratio anytime on the Proof of Reserves page.
Account Security
On the user's end, the platform offers numerous security levels by which you can protect your account and assets on your devices. These include setting up device codes, passwords, email and message authentication, and anti-phishing codes.
You can also increase the security level by binding Google and YubiKey Authenticator. Furthermore, you can set a unique Fund Password, different from your login and account password, and use it while withdrawing funds.
Customer Support
ByBit has the Zendesk live chatbot on the platform. It redirects you to one of the guides from their well-equipped Help Center for common issues or connects you to a live agent almost instantly. The support team is available 24/7 for queries or problems in numerous languages.
How to Complete KYC Verification on ByBit?
Since ByBit requires KYC verification, you must perform it to operate freely on the platform. Verify yourself by following the steps mentioned below:

First, login to your account. Hover over your profile icon at the top right corner and click Account & Security.

Step 1: Scroll down to Identity Verification and click Verify Now.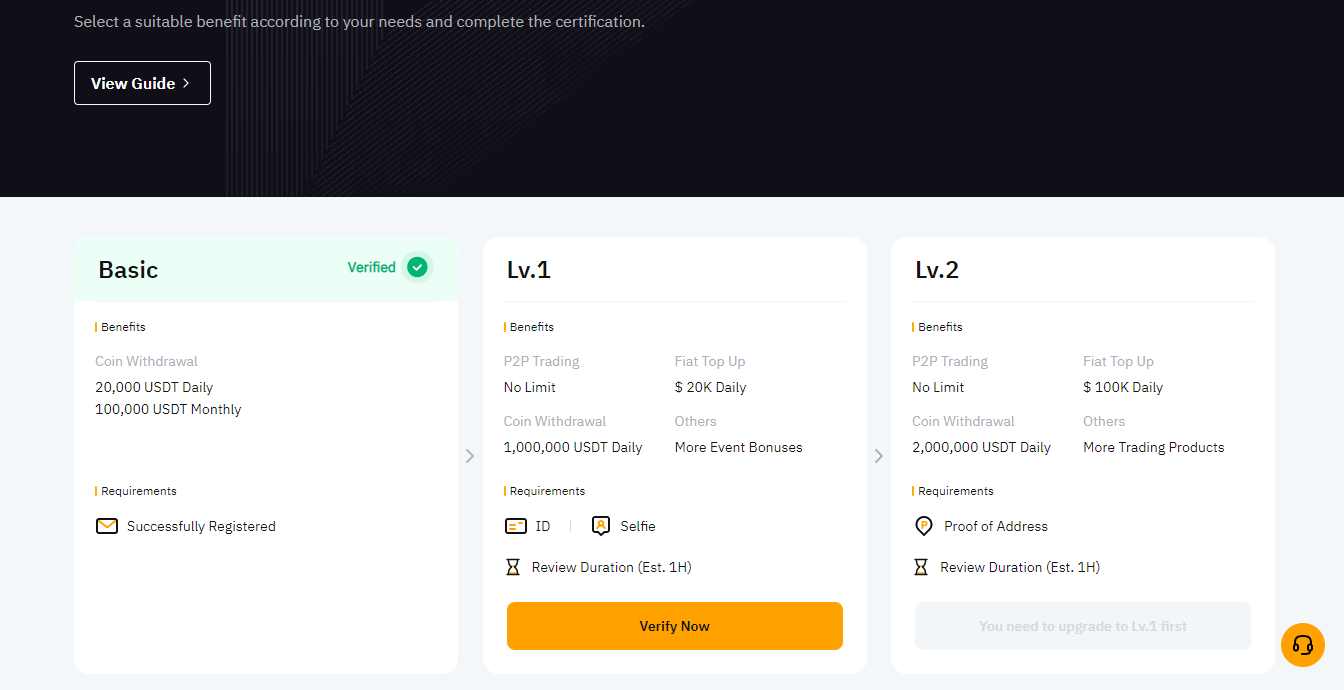 Step 2: Click Verify Now under the Level 1 section. It will require your ID Card and live photos.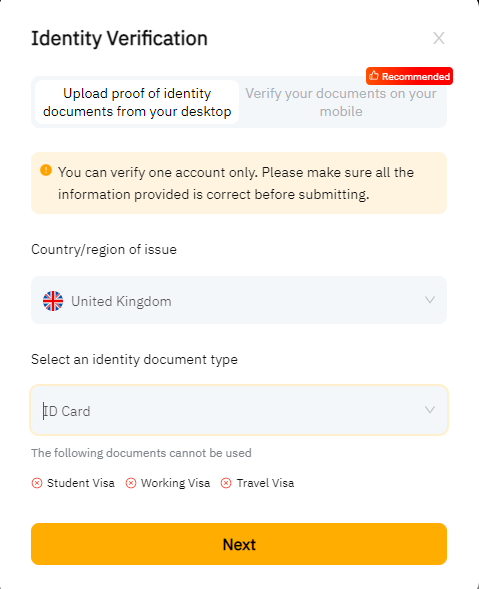 Step 3: Choose your country and verification card type, click Next, and get your webcam ready. You can also verify images from our mobile if you don't have a webcam. Just toggle the button at the top to Verify Your Documents on your Mobile and scan the QR Code.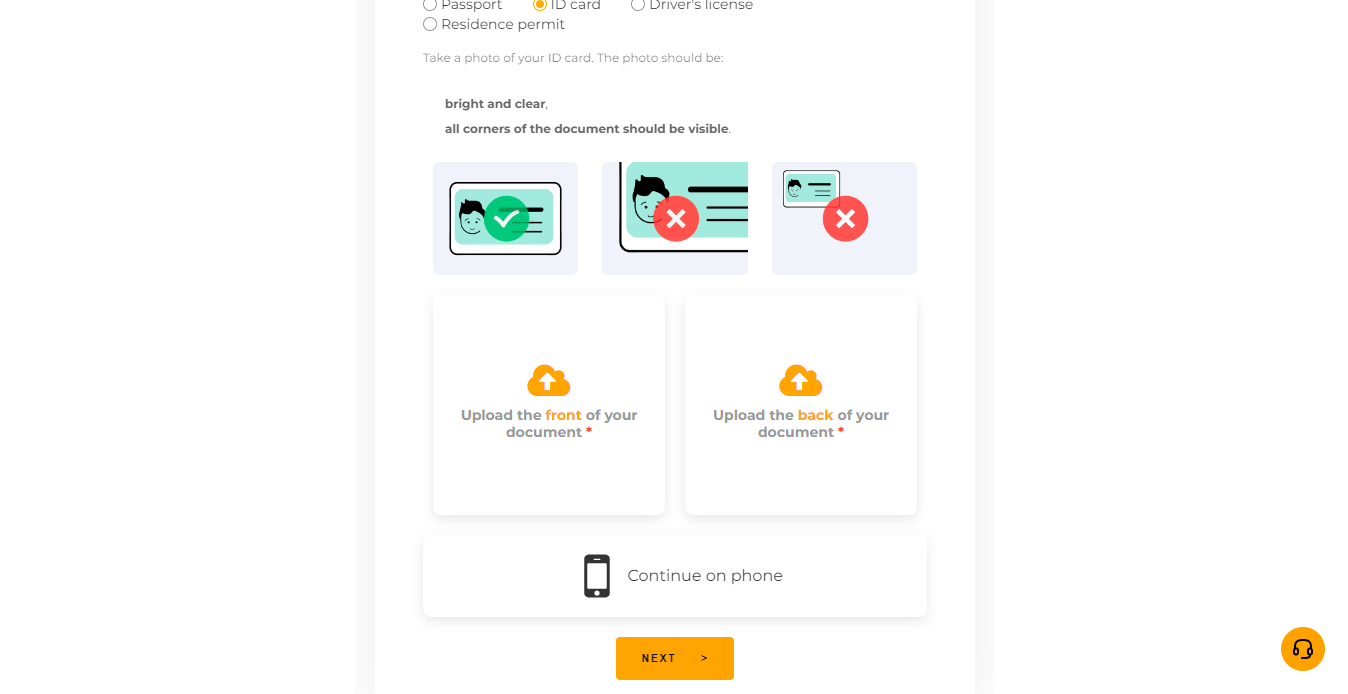 Step 4: On the next pop-up screen, either take the card's images or manually upload the front and back sides.
Step 5: Next, capture the live selfie through your webcam/laptop camera. Your verification will start automatically once you complete the process. It will take no more than an hour.

Step 6: You can complete Level 2 verification for higher limits and get a ByBit Card. Click Verify Now in the Level 2 section of Identity Verification.
Step 7: Provide the pictures of your residential proof. These documents can be utility bills, bank statements, or government-issued residential proofs. Ensure the document is issued within the three months.
Step 8: After submission, the process will automatically get into verification. You will be notified once verified.
Final Note
ByBit is an excellent crypto exchange that has recently turned into a mandatory KYC platform. Although you cannot trade anonymously, it has many benefits after verification, like the NFT marketplace and ByBit Card, that set the exchange apart from its competitors.
And besides that, we will advise you to complete the KYC verification of any crypto exchange, whether it is compulsory or not. So, go and verify yourself on ByBit and enjoy its outstanding perks.
FAQs
Does ByBit Require KYC?
Yes, ByBit requires KYC for crypto and fiat deposits, trades, and withdrawals.
Does ByBit Require KYC to Withdraw?
Yes, ByBit requires KYC to withdraw crypto and fiat currencies.
Does ByBit Require KYC to Deposit?
Yes, ByBit requires KYC to deposit crypto and fiat currencies.