Best Crypto Options Trading Exchanges 2023
If you want to trade crypto options, there are a couple of important factors to look out for. Some key factors include options style, fee structure, value for money, supported trading pairs, liquidity, and which crypto can be used as collateral.
Finding the best crypto options exchange can be tricky. That's why we have researched and compiled a list of the 5 best crypto options trading platforms for you. These exchanges not only offer valuable features but also provide you peace of mind during trades. So, without further waiting, let's begin!
Spoiler: If you are a US citizen, you can only use Robinhood for crypto options trading as the other exchangesdon't support users from the United States of America.
Top Crypto Options Platforms Reviewed
Our team of options traders has tested the 20 best cryptocurrency options trading platforms to compile a list of the top 5 choices. We considered all key factors, such as security, fees, supported assets, functionalities, and more. Read on to learn more about the best crypto options trading platforms!
1. Binance Options Trading
Binance is one of the world's leading crypto exchange platforms that hold digital assets worth billions of dollars. The platform introduced options trading in September 2022, which you can perform via their website or mobile application. Trading crypto options on Binance is very simple and straightforward.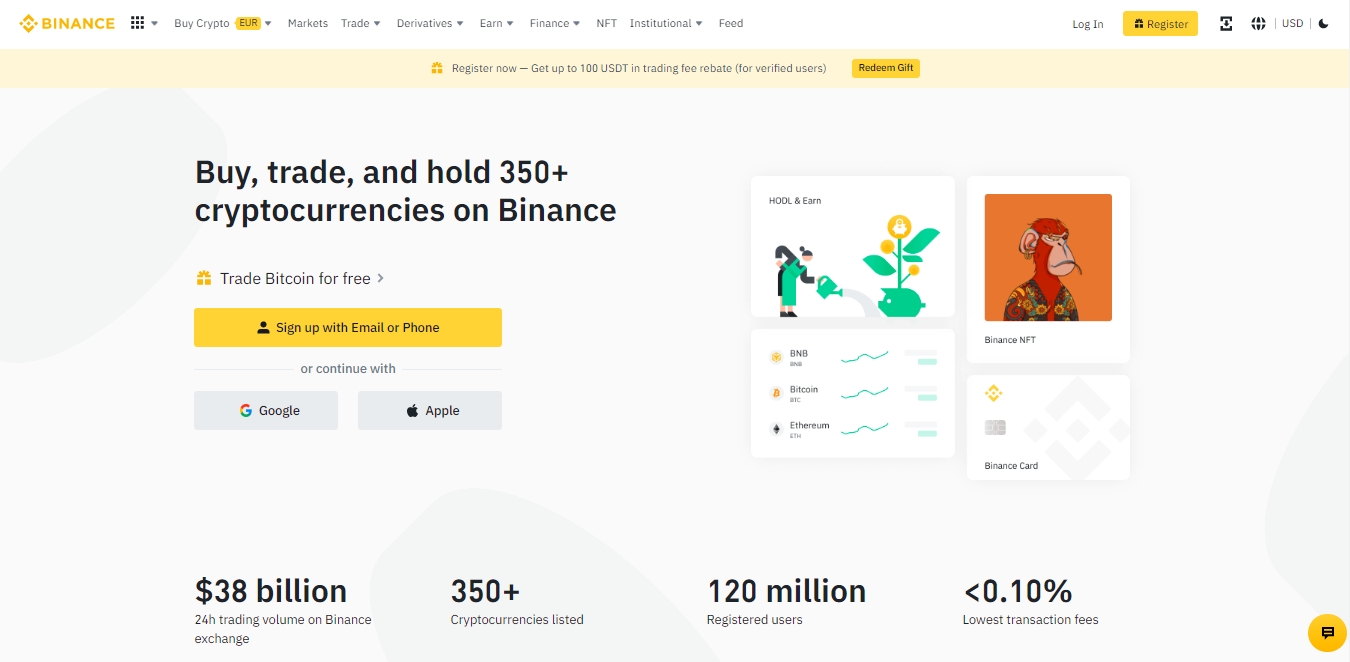 Reasons to Choose Binance Options Trading
5 Supported Options: On Binance, traders can access crypto options trading for five assets, including Bitcoin, Ethereum, Binance Coin, Doge Coin, and Ripple. The margin currency for the options trading pairs is USDT.
Low Transaction Fees: Binance Options trading fees are impressively low, only 0.02% of the total transactions. Moreover, their exercising charges (fee holders pay while exercising a call or put option) are also low at 0.015%.
American & European-Style Margined Contracts: Unlike many other crypto platforms, Binance offers these smart contracts in both American & European styles. So, you can either exercise the contract either before or on expiration.
USDT Settlements: To perform a successful options trade without any complication due to the crypto's volatility, Binance uses USDT, a stablecoin whose value remains at $1. Utilizing Tether for the process increases the confidence of traders and improves security.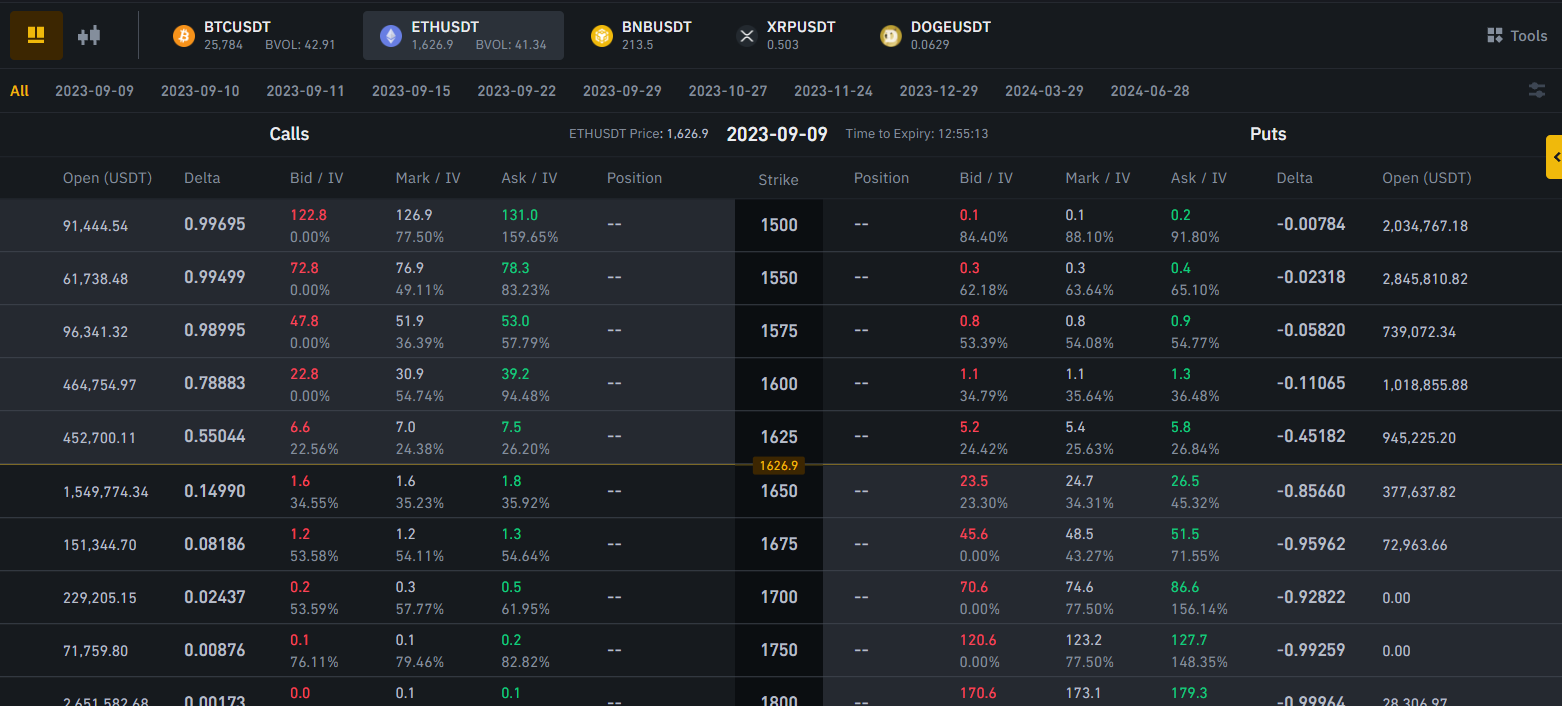 Binance Options Trading Limitation
American-Style Options Expire Early: Although you can trade American-style options contracts, these options mostly expire the same day. It means you either have to let go of the trade if you don't feel it worth exercising and lose your premium or execute it within 24 hours (which may be uncomfortable for some users).
Bottom Line
Binance Options trading is great for everyone, whether beginner or professional, due to their low fees and reputation (that provides authenticity). The Binance options trading platform is also more versatile than the competition because you can exercise these smart contracts in American and European styles. With 5 options contracts, Binance offers a versatile environment for crypto enthusiasts. We consider Binance to be the best crypto options trading platform.
You can read our full Binance review here to learn more about the platform.
Crypto Options: BTC, ETH, BNB, XRP, DOGE
Collateral: USDT
Transaction Fees: 0.02%
Exercise Fees: 0.015%
Option Styles: European Style Options & American Style Options
KYC Verification: Required
2. ByBit Options Trading
ByBit is another reputable and among the best crypto options trading platforms that offers numerous trading perks. It started offering options in April 2022 and resembles Binance in many factors. But it also provides other features that differentiate ByBit from many platforms.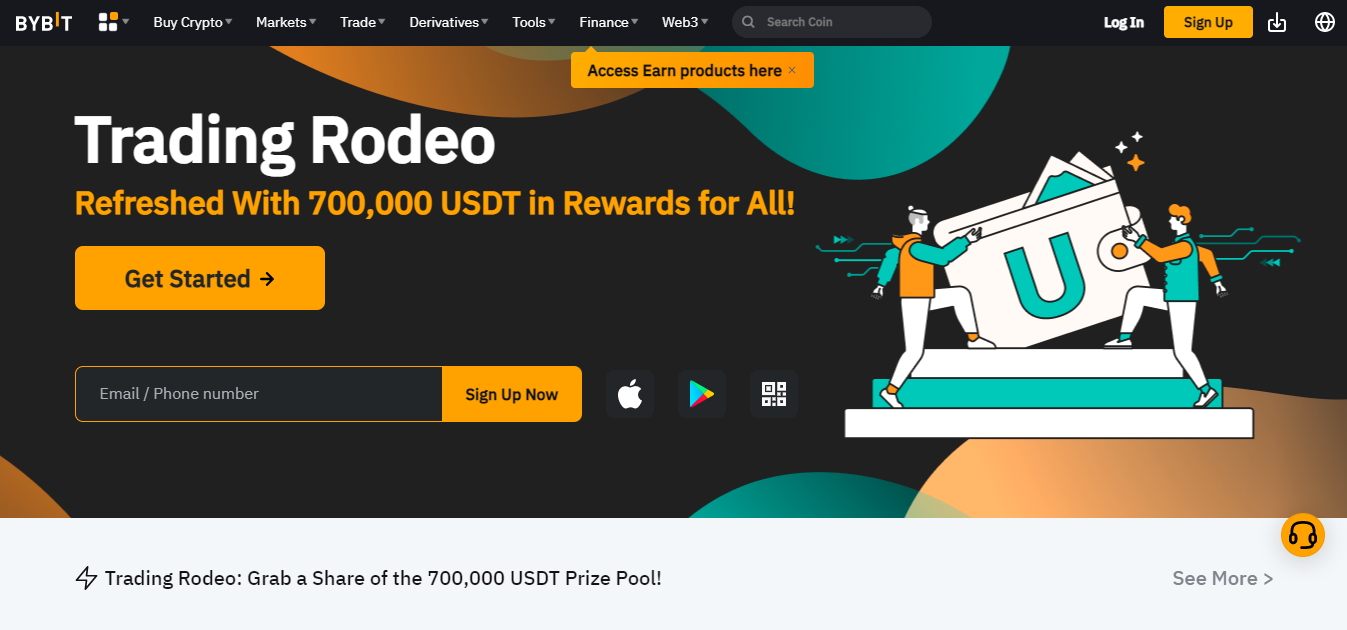 Reasons to Choose Bybit Option Trading
Free Demo Account: Upon new account creation, ByBit offers you a free demo account with $50,000 virtual money to test your trading skills and get used to the platform. It is extremely helpful for new users who can understand options trading dynamics without worrying about loss.
Portfolio Margin: Another highlight of ByBit's success is its Portfolio Margin, which allows you to analyze margins for various positions and investments. It helps in risk management and gives better insight into the application of a strategy. Traders can also maximize their profit if they utilize the feature carefully.
USDC Settlements: Like Binance, ByBit also uses a stablecoin to minimize the crypto market's volatile effect on the returns and reduce the complexity of profit or loss calculation. However, it uses a more stable and transparent USDC instead of USDT.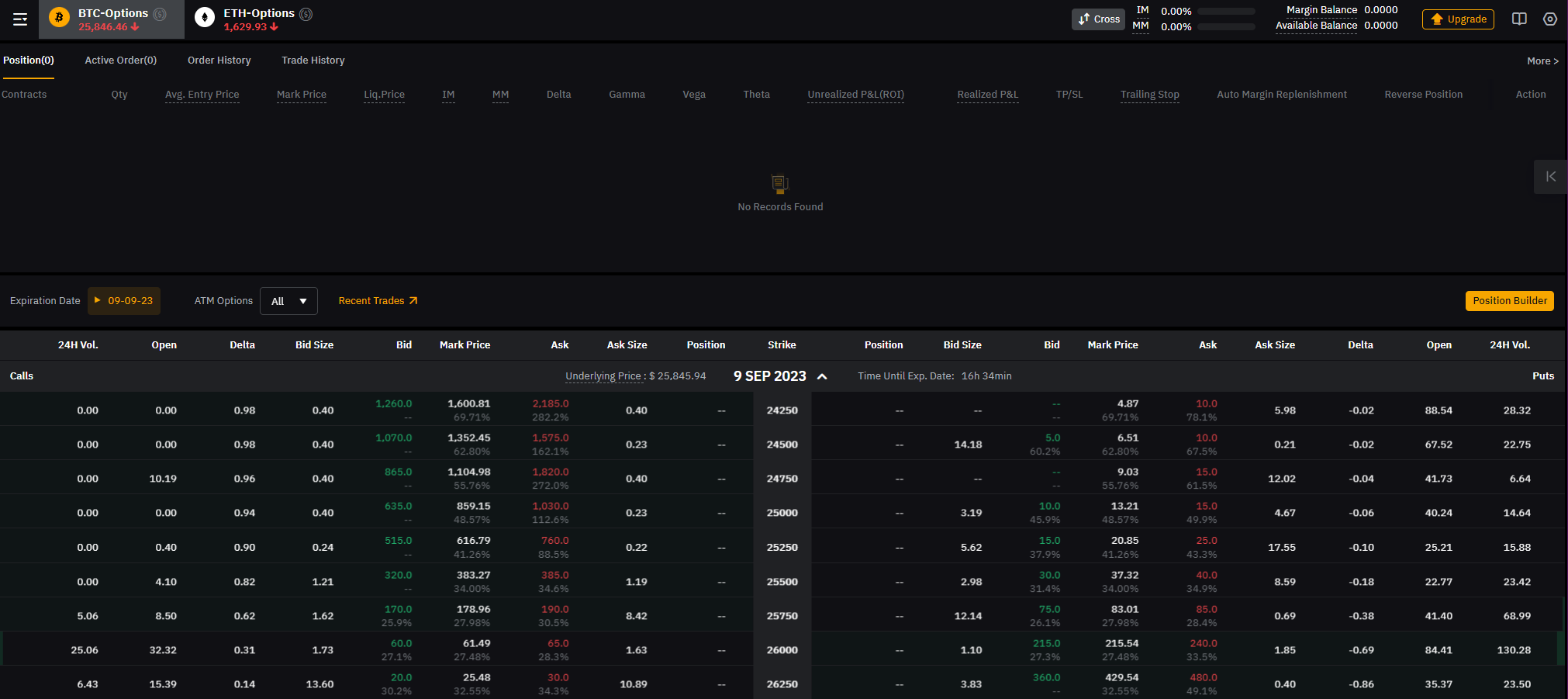 Bybit Options Trading Limitation
Can Confuse Beginners: Although ByBit allows a free demo account so beginners can understand the exchange's working and trading, it presents all the information at once. So, for a newbie, this sudden presentation of numerous calculators, charts, metrics, graphs, and analytical numbers may be easily overwhelming (or confusing).
Low amount of coins: Bybit only lets you trade crypto options on two digital assets, Bitcoin and Ethereum options.
Only European style options: If you trade options on Bybit, you can only exercise when a contract expiration date is met.
Bottom Line
ByBit is particularly useful due to its demo account and portfolio margins. So, they are a better choice for traders with prior options trading knowledge or newcomers who are (at least) familiar with the terms. Bybit is a top choice as one of the best crypto options trading platforms supporting USDC.
If you want to learn more about the platform, you can read our full ByBit review here.
Crypto Options: BTC, ETH
Collateral: USDC
Transaction Fees: 0.03%
Exercise Fees: 0.015%
Option Styles: European Style Options
KYC Verification: Required
3. Deribit
Deribit quickly became popular after its creation because it was launched as a crypto-oriented options trading website. The crypto exchange is one of the initial purpose-built crypto trading platforms that announced options trading in May 2022. It is better known for high liquidity, flexibility, and leverage. With its deep liquidity, Deribit is one of the best exchanges for crypto options trading.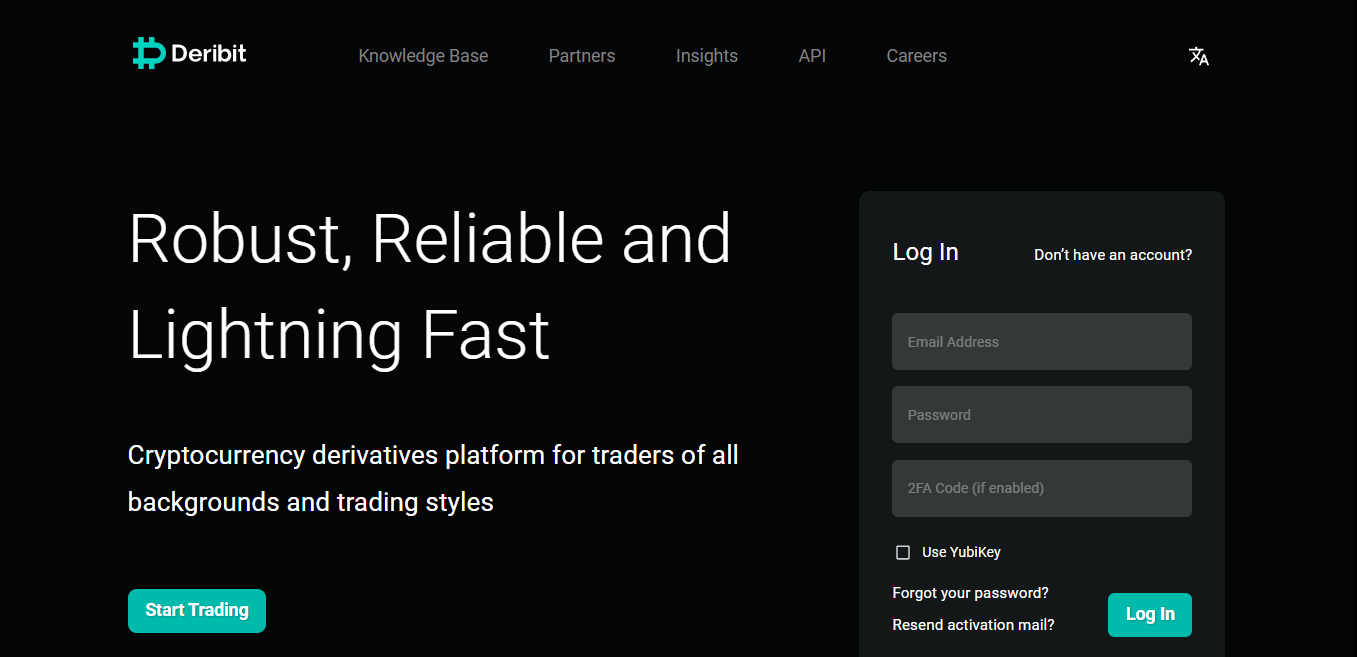 Reasons to Choose Deribit Options Trading
Leverage up to 10x: Options trading is more commonly known for the leverage it gives to traders. Options leverage is the quantity of return you get on your purchased shares (minimum 100 shares) after investing in them at lower rates. Deribit offers this leverage up to 10x, which means you can get $100K on a $2,000 investment if the price of a stock rises from (presumably) $60 to $70.
Experts-Oriented: Since the platform is delicately launched for crypto traders, it uses many detailed, insightful, and sophisticated charts and graphs for better analysis. So, the Deribit exchange is well-suited for expert and professional crypto options traders.
Option Wizard: Deribit has created the perfect tool for crypto options trading where you can test your options trading strategies: The Option Wizard. If you are a beginner and you want to trade options, we highly recommend you check out this strategy calculator. You can read more about the Deribit options trading strategy tester here.
Combo Options: If you are an advanced crypto options trader, you can even enjoy free combo option trading. The option combo trading fees are reduced by 100%.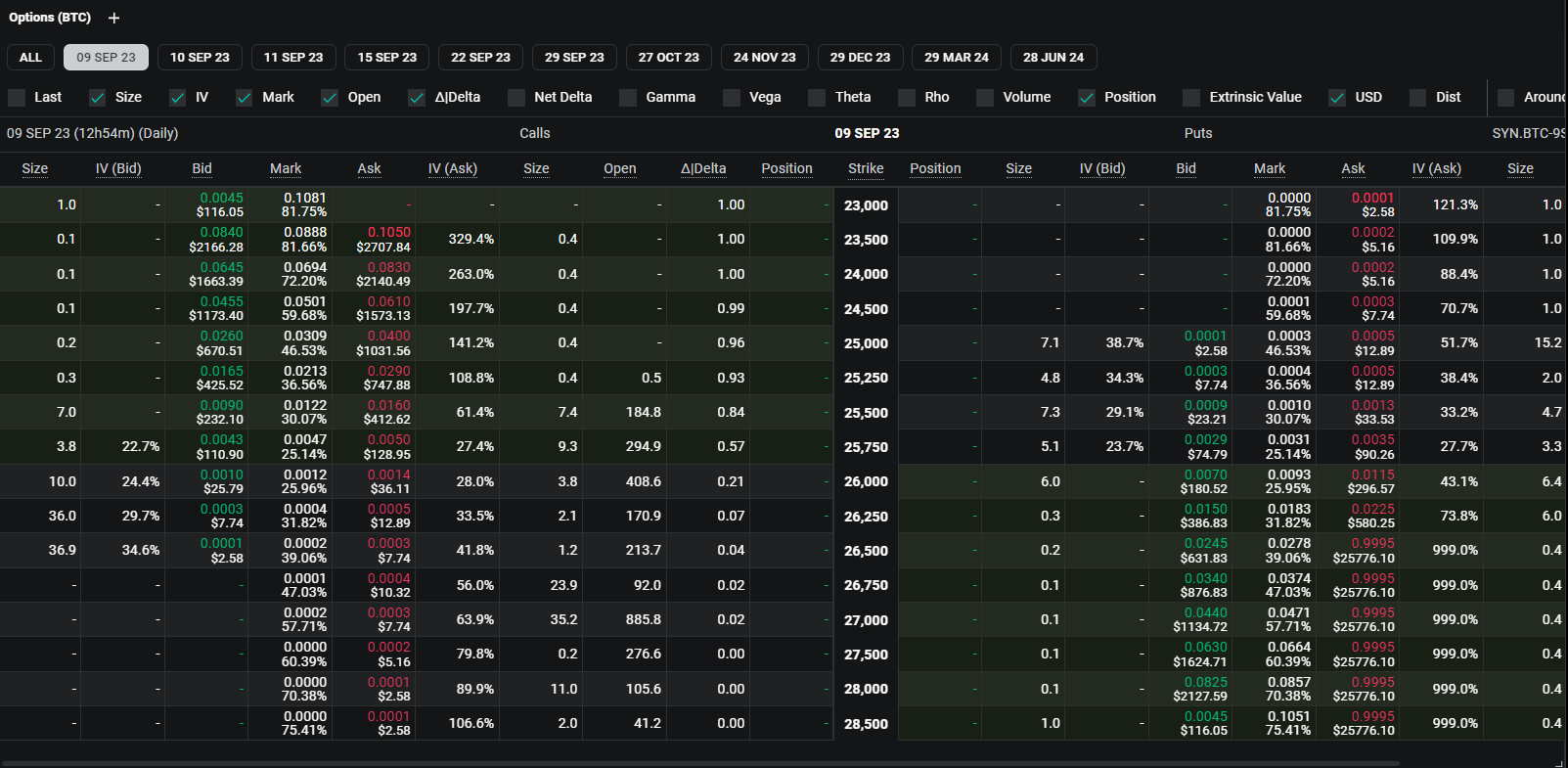 Deribit Options Trading Limitation
Not Available to US Citizens: Being an excellent choice for crypto options traders, the platform doesn't operate in the US. It hasn't got the license to provide its service in America. However, users outside the USA can easily create and access their accounts.
Bottom Line
Since Deribit has advanced metrics, charts, and tools for in-depth and updated market analysis, it is best for crypto veterans and professional users. Traders with mediocre knowledge can also use the platform, but it is not recommended for beginners due to its complexity. Overall, Deribit is one of the best exchanges to trade crypto options for European style with deep liquidity for options trading.
Crypto Options: BTC, ETH
Collateral: USDT
Transaction Fees: 0.03%
Exercise Fees: 0.03%
Option Styles: European Style Options
KYC Verification: Required
4. Delta Exchange Crypto Options
Delta Exchange, commonly known as Delta X, is also recognized among the best crypto options trading platforms. It is also called the "home of crypto options" due to its diversified supported altcoins. Moreover, the exchange has no minimal deposit limitation, attracting more than 200,000 registered users.
What we love most about Delta Exchange's crypto options trading platform is the fact that you can build trading strategies. The Delta Exchange options trading strategy builder is a great tool for improving your profitability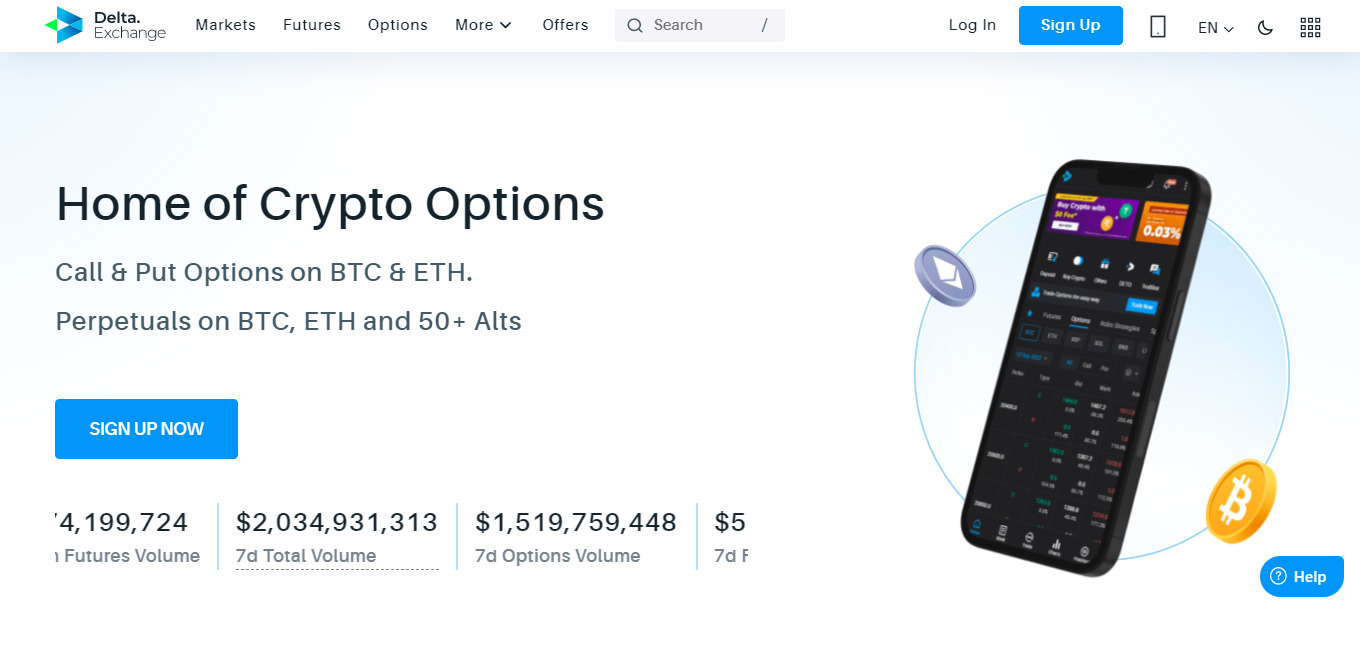 Reasons to Choose
Eight Coins to Trade: Delta X offers eight crypto coins for options trading, higher than many crypto platforms. Also, it uses BTC along with USDT to offer smart contracts but uses only USDT for calculations. You can test these cryptocurrency option trades on its demo account. No KYC Requirement: Unlike many platforms, Delta X is not so strict with KYC verification, which means you can trade your call and put options without providing many personal details. However, if your daily trade exceeds 2 BTC or you hold above 5 BTC, you must provide some identity verification.
Mobile App: If you want to trade crypto options on your phone, Delta Exchange is the perfect option for you. With a very well-designed app supporting crypto options trading, you can trade options contracts with Delta X wherever you are.
Limitation
Low Liquidity: Despite multiple altcoins' availability for trades, Delta Exchange has relatively lower liquidity. It can impact your transaction speed and other metrics. That's why trading on the platform is also slightly pricier.
Bottom Line
Delta X is a great place for beginners and traders who want to diversify their options trading portfolio. The platform is also excellent due to no minimum deposit and a free demo account, especially for newbies. However, low liquidity may irritate them sometimes.
Crypto Options: BTC, ETH, SOL, BNB, XRP, LINK
Collateral: USDT
Transaction Fees: 0.03%
Exercise Fees: 10% of Premium
Option Styles: European Style Options
KYC Verification: Required
5. Robinhood
Robinhood has been in the industry for over a decade and still offers multiple crypto-related services for free. The platform began offering options trading in December 2017, and since then, it has not charged any commissions, contract fees, regulation fees, or trading fees. That's why about 13 million users come to Robinhood every month.
If you are a US citizen and you want to start with crypto options trading, then Robinhood is the best choice for you.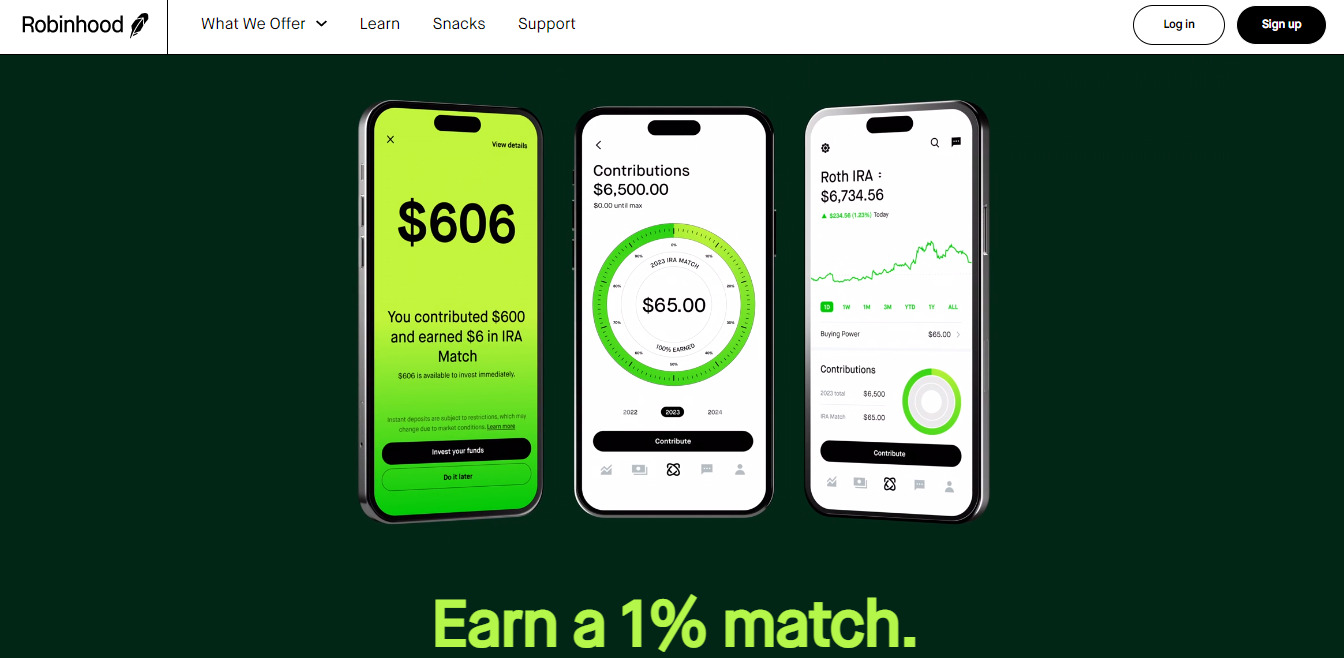 Reasons to Choose
Completely Free: The most significant reason is the free nature of the platform. Robinhood is one of the very few exchanges that offer free options trading. They don't even charge you the Options Clearing Corporation (OCC) clearing fee. Robinhood Options Chain: Another great factor is getting all the necessary details about an option right before investing in it. When you select an option, it provides many details that can help you understand it and purchase a put or call accordingly.
Limitation
Fewer Features: Apart from free trading, you won't get lots of features and metrics to analyze your trades progressively. So, if you are shifting from any other options trading platform because Robinhood is free, you'll notice the unavailability of some important tools. However, it still has some valuable features that are sufficient for beginners.
Bottom Line
Robinhood is a decent option if you want options trading free of cost. It is also excellent for beginners because the platform doesn't overload them with all tools and information. However, intermediate and professionals would consider another platform because of the same unavailability of vital features. Overall, Robinhood is one of the best places for crypto options trading for users from the US.
Founded: April 2013
Crypto Options Available: Bitcoin, Ethereum
Fees: Free
KYC Verification: Required
Is Trading Crypto Options Legal?
There is no right answer to this, as every country and state has different laws regarding cryptocurrencies. While most countries allow trading crypto options, it is important to look out for safe and secure exchanges that comply with local laws and regulations such as AML laws. We highly recommend you get familiar with your local laws and regulations before joining a crypto exchange.
For example, Binance, Bybit, Deribit, and Delta Exchange allow support from traders from the United States. Therefore, one of the few legal crypto options trading platforms for US citizens is Robinhood.
The Future of Crypto Options Trading
Influx of Institutional Options Traders
We expect that in the future, more institutional cryptocurrency trading firms will join the options market for digital assets. This will also lead to better liquidity and more improvements in options products on crypto exchanges.
Improved Crypto Options Products
The influx of new options traders also means the options products of crypto exchanges will get a lot better and more efficient over time due to greater demand, not only by retailers but also by institutional crypto investors. Lastly, this will also lead to lower option trading fees for crypto contracts, as competitive fees will be the key to attracting new users to join a platform.
More Cryptocurrency Options Exchanges
While there are not so many crypto options exchanges yet, we think that the demand will steadily rise. In the future, we expect more crypto exchanges to offer crypto options trading as well as more supported coins. Right now, most crypto options providers only support major cryptos such as BTC, ETH, or XRP. We expect that the supported assets will expand, too, as there is a lot of potential to be discovered in the crypto options trading space.
Decentralized Crypto Options Trading
Especially in the decentralized crypto exchange space (DEX), there are some serious players to consider for crypto options trading. Based on our analysis, the decentralized crypto trading protocols will rise in the future.
Premia Finance is a great example of one of the best-decentralized crypto options exchanges. The DEX supports options trading on four different chains, including Ethereum, Arbitrum, Optimism, and Fantom. On Premia, crypto options traders can access ETH, ARB, BTC, YFI, and LINK put and call options.
With an intrusive design and several supported networks and coins, we consider Premia Finance to be a great alternative crypto options trading app. As the platform is decentralized, you just have to connect your wallet, and no signup or KYC is required.
Final Thoughts: Crypto Options Trading Platforms
Overall, the best crypto options exchange is Binance due to its low fees, different style options, supported options contracts, and supported digital assets. If you want to start trading crypto options, Binance is a great place to start.
Some other top crypto options exchanges are Deribit and Delta exchange due to their free options strategy tester.
Options trading demands high skill, which is best if left to the professionals. But if you are a beginner and want to begin this career, start by practicing on demo accounts, then turn to actual trading when you feel ready. However, if you are already experienced enough and searching for the platforms, selecting one of the above-mentioned best crypto options trading platforms will be excellent.
A couple of them also offer you that demo account for practice. So, create an account on the platform you feel most comfortable with and start trading options.