Shiba Inu has been outperforming its rival meme coin, the Dogecoin Killer. Numerous people are investing in SHIB due to its rewarding Proof-of-Stake consensus mechanism. So, how can you get that reward too?
Perhaps, intrigued by its increasing popularity, you're looking for some best platforms for staking. However, finding a suitable platform with great APY and flexibility can be challenging. But worry not, as we've done the research for you.
Below, we will compare the top staking platforms and explain how to stake Shiba Inu on each one. So, read till the end and learn how you can benefit from this rewarding meme coin. Let's get started!
Brief Comparison of Platforms to Stake SHIB
| | | | |
| --- | --- | --- | --- |
| Specifications | Binance | ByBit | ShibaSwap |
| Founded | July 2017 | March 2018 | July 2021 |
| APR (Fixed) | 0.36 – 0.67% | 0.55% | 0.66% |
| Flexible Staking | 0.3% | 0.55% | 0.33% |
| Min Locked Limit | 1 million | 2 million | 2 million |
| Staking Duration | 30, 60, 90 & 120 Days | 30, 60 & 90 Days | 6 Months |
| KYC Verification | Required | Minimal Required | Required |
| Welcome Bonus | 100,000 – 308,000 SHIB | Up to 1,000,000 SHIB | N/A |
1. Binance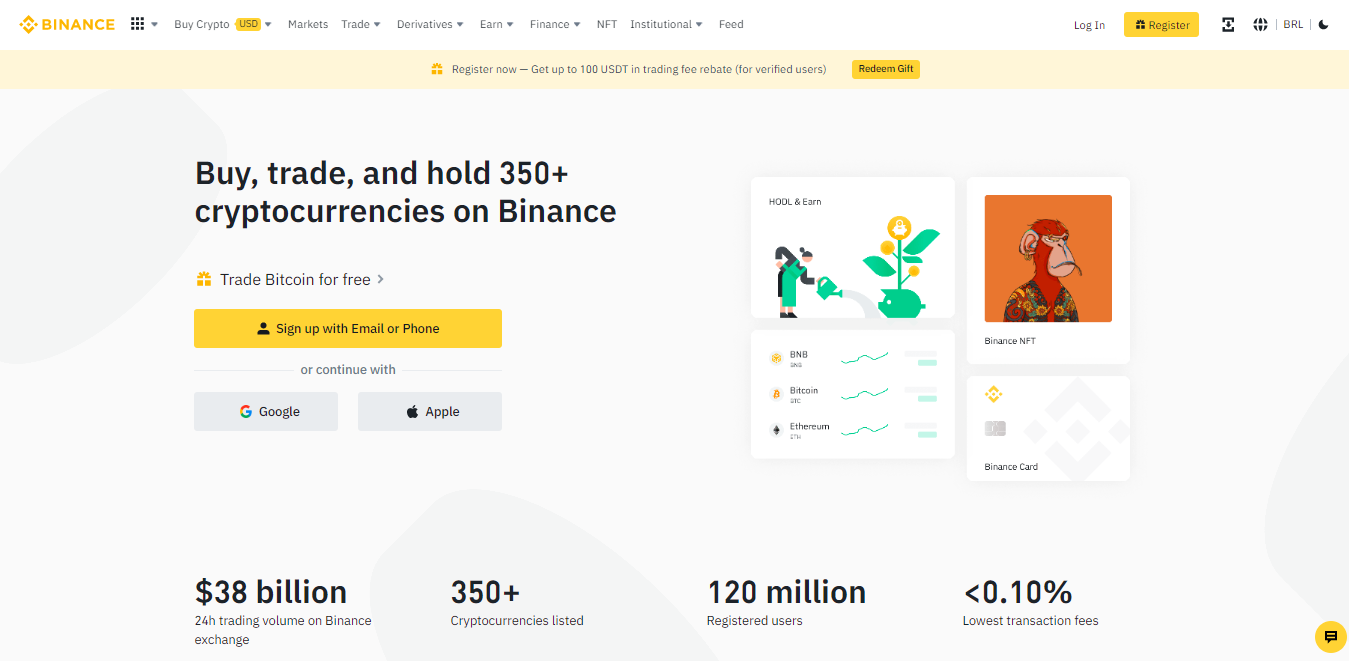 Binance is a giant in the cryptocurrency trading industry and one of the top crypto exchange platforms. Currently, it has a trading volume worth almost $12 billion, which indicates the user's trust in Binance and the high liquidity of the platform.
Binance initiated staking Shiba Inu on July 22, 2021 and soon became popular among SHIB holders. The platform offers a wide range of APY for different durations, where interest will be payout daily. However, if you choose the fixed staking option, you cannot take out your staking SHIB before the duration ends.
How to Stake Shiba Inu on Binance?
Staking on Binance is super convenient for any crypto coins; anyone can do it, regardless of their experience. It is due to its easy-to-use interface and straightforward process. If you wish to start staking Shiba Inu on Binance, follow the steps below:
Step #1: Create & Verify Your Binance Account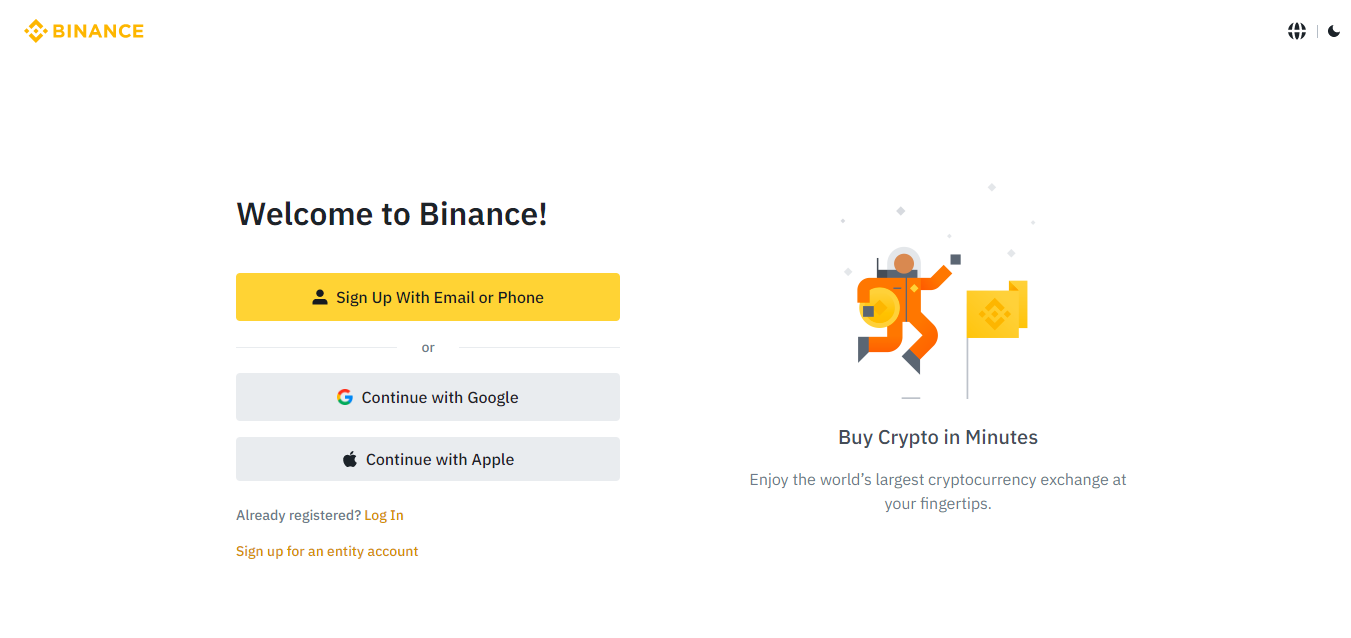 If you are new to Binance, create an account first. Go to your browser and open Binance.com (US residents search Binance.US). Click on the Sign-Up button and fill in the fields. You can also create it via your Google Account or Apply ID. After you complete the form, checkmark the Terms & Conditions box and click on Create Account.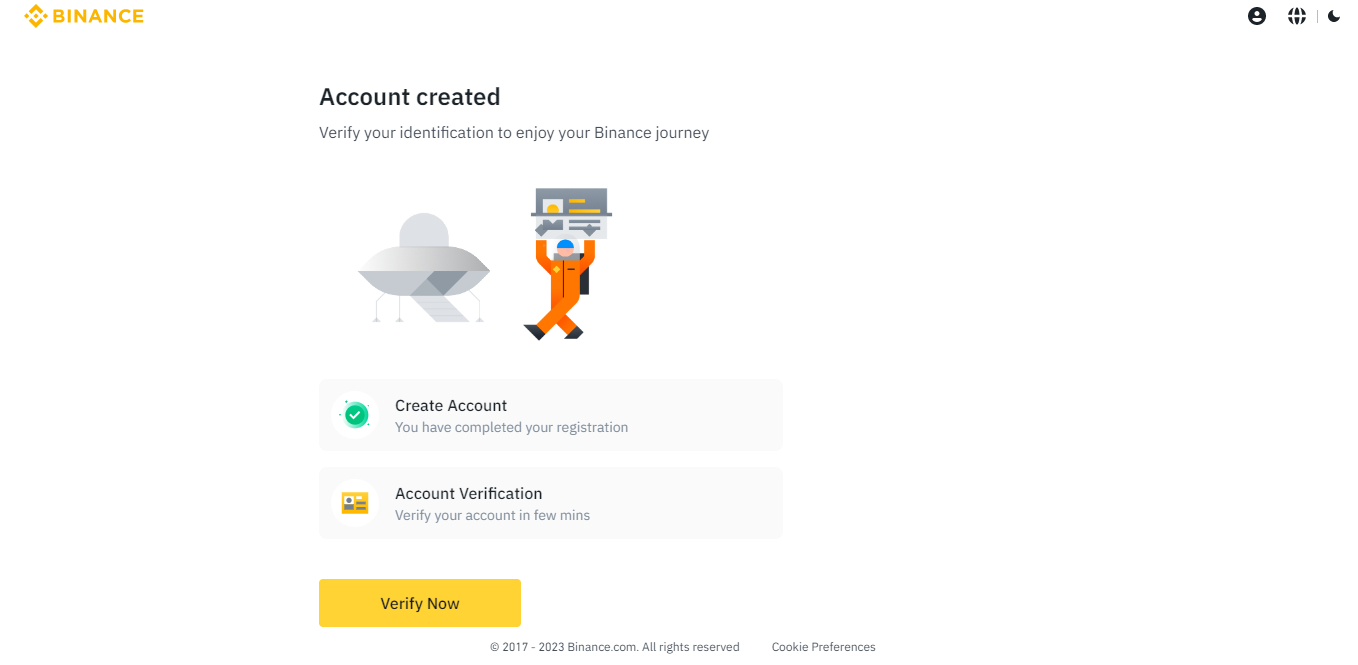 Now, enter the phone number or email to receive a six-digit code for account verification. Once your account is created, complete the Know Your Customer (KYC) verification. Since KYC verification is necessary on Binance, you cannot stake SHIB freely if unverified. It will only take a few minutes to complete the form and upload documents, which include the following:
Your personal information
Passport/Government-Issued ID/Driver's License
Your freshly-taken photo
Step #2: Buy SHIB Coins on the Platform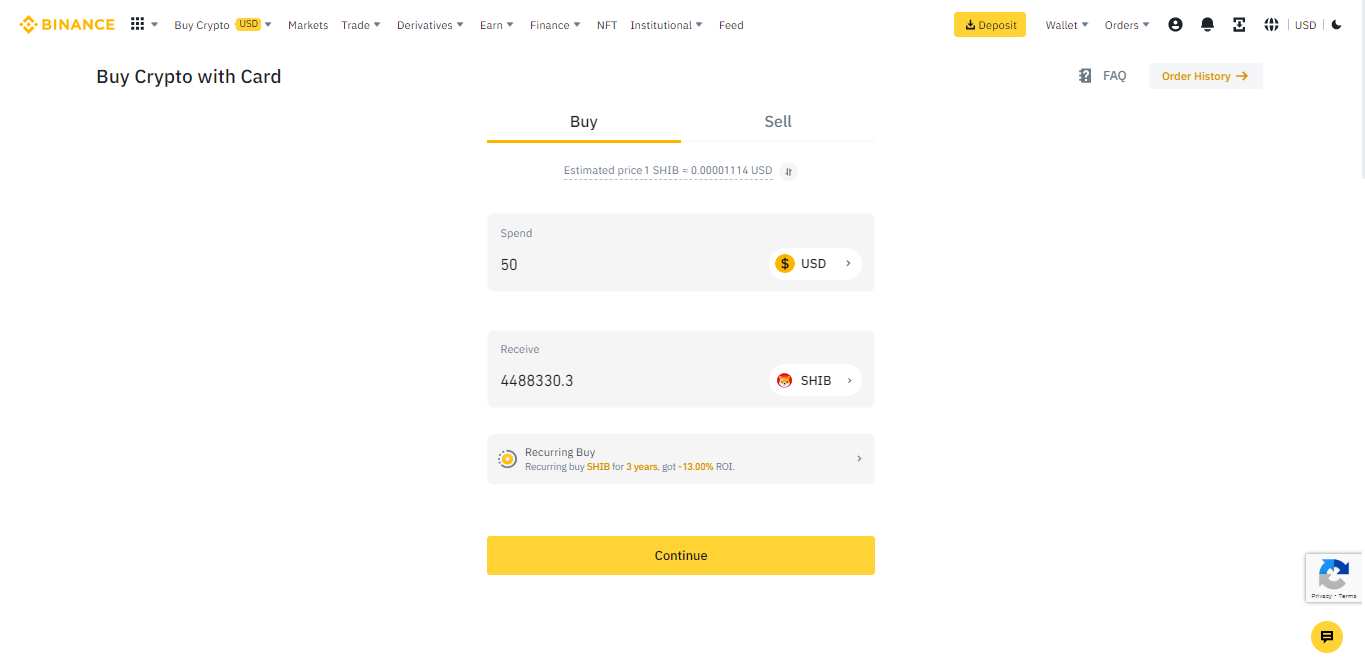 After finishing the account creation and verification, you can uninterruptedly buy, sell, trade, or stake crypto coins on the platform. Moving on to learn "how to stake Shiba Inu," you must buy some Shiba Inu first. Binance allows you to either deposit fiat currencies to your account to buy SHIB or purchase the staking coin directly from your credit card.
Step #3: Start Staking Shiba Inu
After you purchase the desired SHIB coin: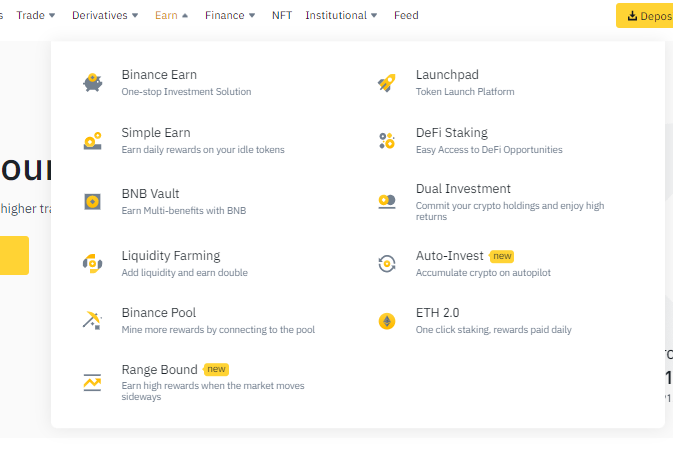 Go to the Earn section in the top menu.
Click on Binance Earn to open the available list.

Search for Shiba Inu, then click Subscribe.
Step #4: Select Staking Amount & Duration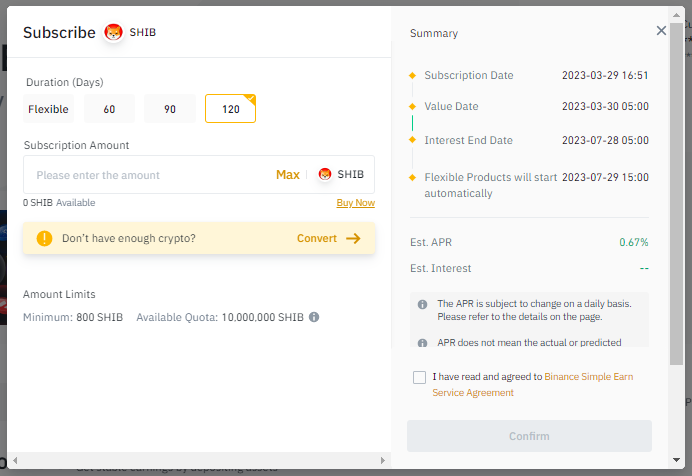 Enter the SHIB tokens you want to stake, and select a duration. You can opt for a flexible duration where you can stake out anytime, with an APR of 0.3%. On the other hand, you can select a staking duration of 30, 60, 90, or 120 days. Each one has a different Annual Percentage Yield (APY), as mentioned below:
| | | |
| --- | --- | --- |
| Duration | APY | Max Staking Limit |
| 30 Days | 0.52% | 5,000 million SHIB |
| 60 Days | 1.12% | 1,000 million SHIB |
| 90 Days | 1.52% | 500 million SHIB |
| 120 Days | 4.29% | 30 million SHIB |
Step #5: Confirm & Sit Back
Once you are satisfied with everything, Click on Confirm. Now, just sit back and relax. Your reward will keep on building over time. Remember, if you've chosen fixed staking, you can only take out your reward after the duration ends. However, the wait will be worthwhile.
Pros
High APR on Fixed Staking
Staking Duration of up to 120 days
Minimum Staking Limit of only 1 Million SHIB
Easy Purchasing of SHIB
Easy to Set Up
Cons
Relatively lower APR for fixed staking
Cannot stake without KYC verification
2. ByBit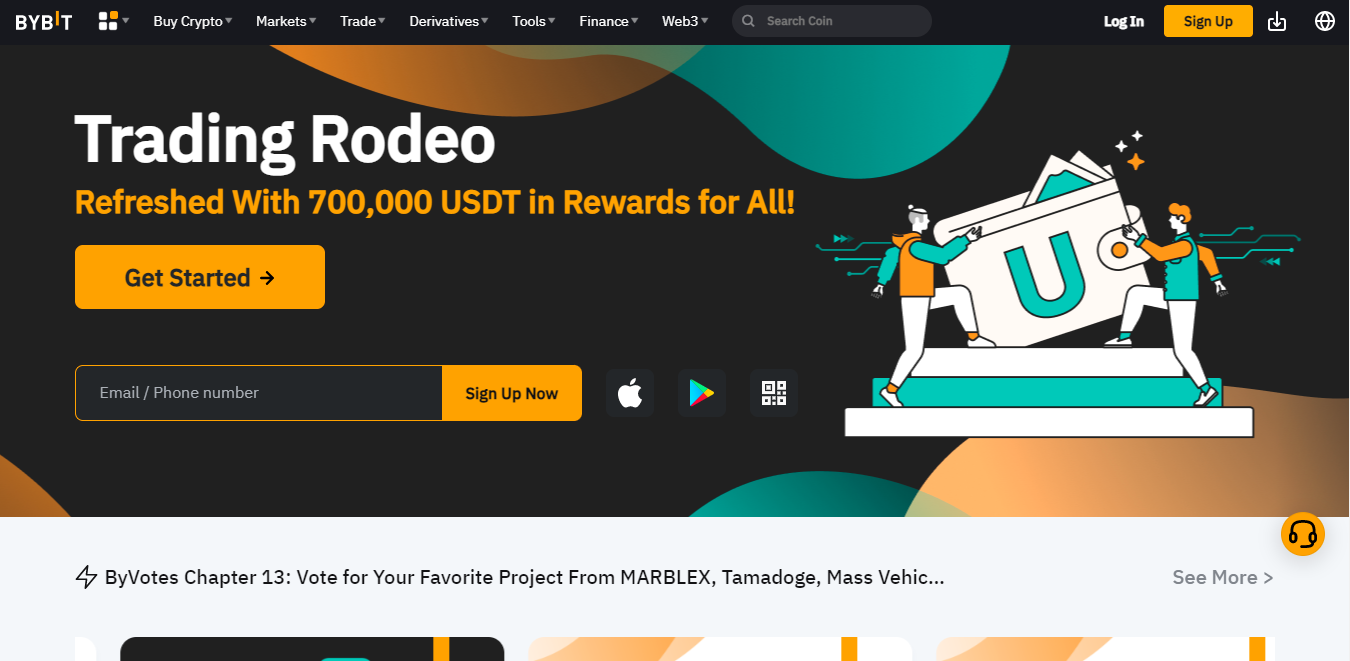 ByBit is another rapidly growing crypto exchange, more famous for its futures trading and margins trading facility. Moreover, the platform is well known for its exceptional customer care service, which is why more than 10 million people are trading 270+ crypto assets across 170+ countries.
ByBit allowed staking Shiba Inu for its users in 2021 through its ByBit Earn initiative. The new function attracted millions of users to earn a passive income via staking the crypto assets. The platform offers an amazing 0.55% APR on flexible staking. However, you have to assign a minimum of 2,000,000 SHIB for staking.
How to Stake Shiba Inu on ByBit?
Although staking on Binance is convenient and recommended for fixed options, ByBit is better for flexible staking Shiba Inu. The process is also easy and requires less hassle since it doesn't want you to completely apply for the KYC verification. Follow the steps below to start earning rewards on SHIB.
Step #1: Create Account & Complete Level 1 KYC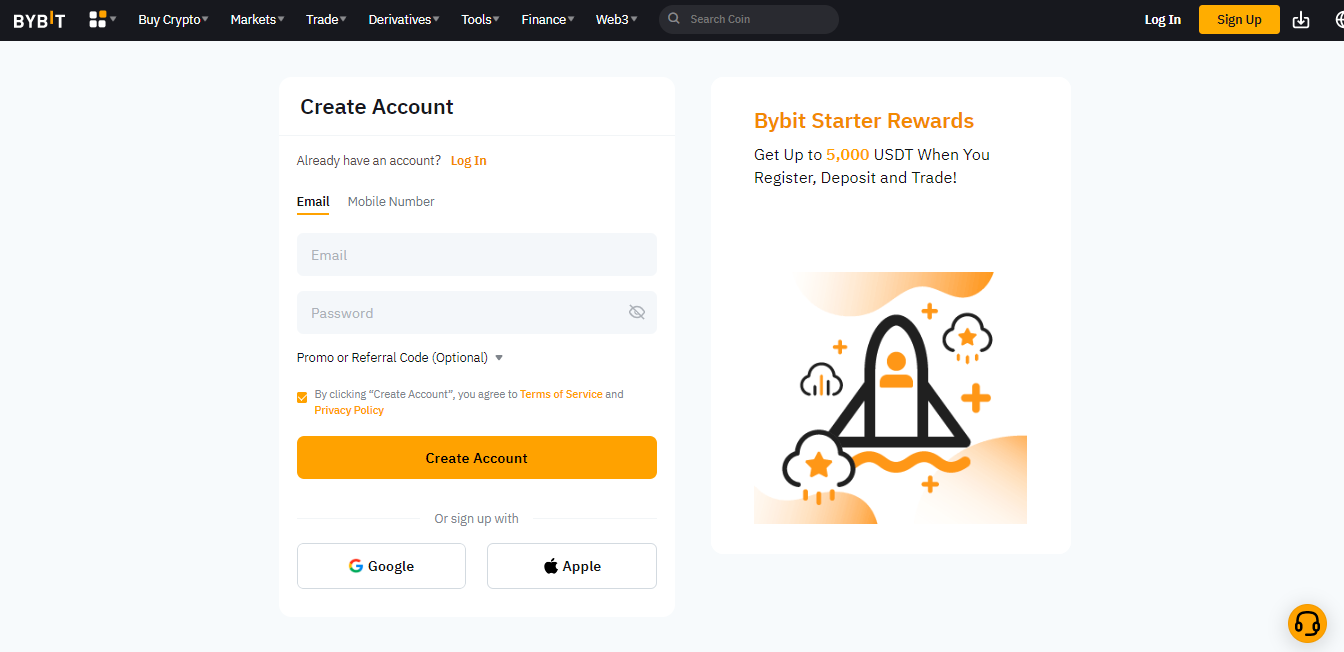 Open your browser, go to ByBit.com, and Sign up to create an account. The process is pretty simple, as you only require to enter your email or phone number and set a strong password. You can also sign up via your Google account or Apple ID. Lastly, enter the code you receive via email/message.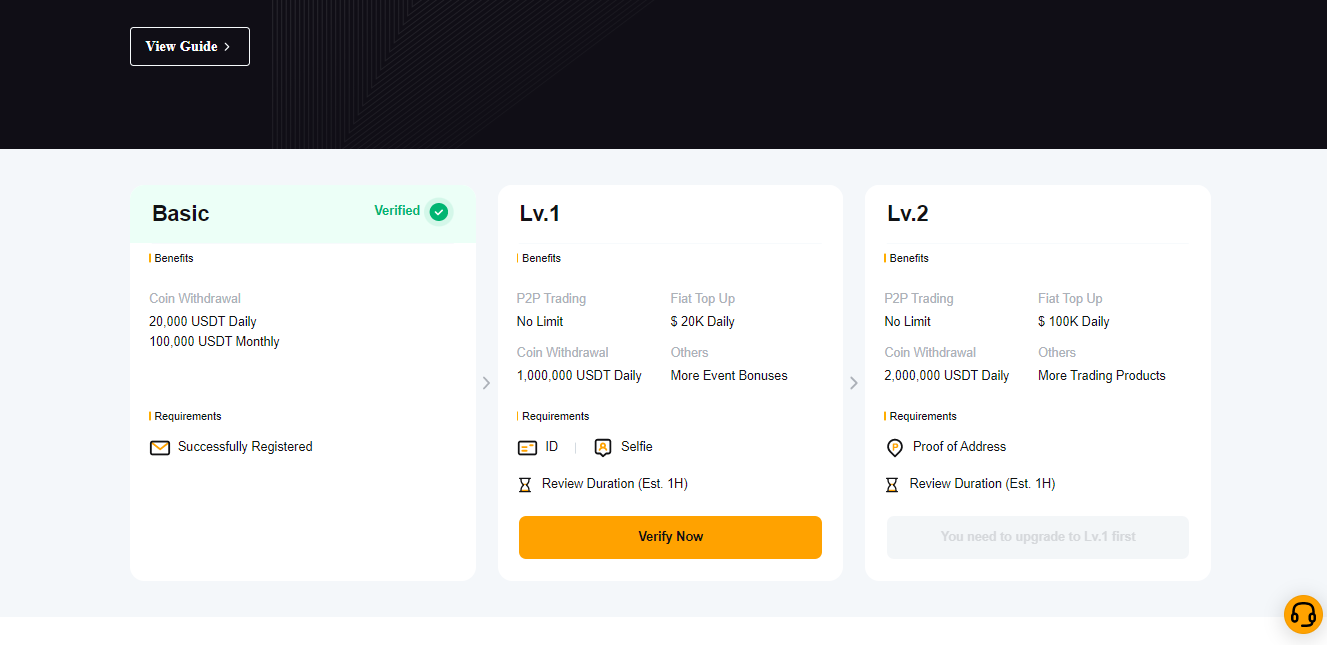 Registering will take only 5 minutes; after that, click on Account & Security from your ID at the top right corner. Scroll down to Identity Verification and click on Verify Now. Verify for the Level 1 KYC by providing the following:
It will be enough to allow you to stake Shiba Inu on the platform. This process will be completed in approximately one hour.
Step #2: Buy Shiba Inu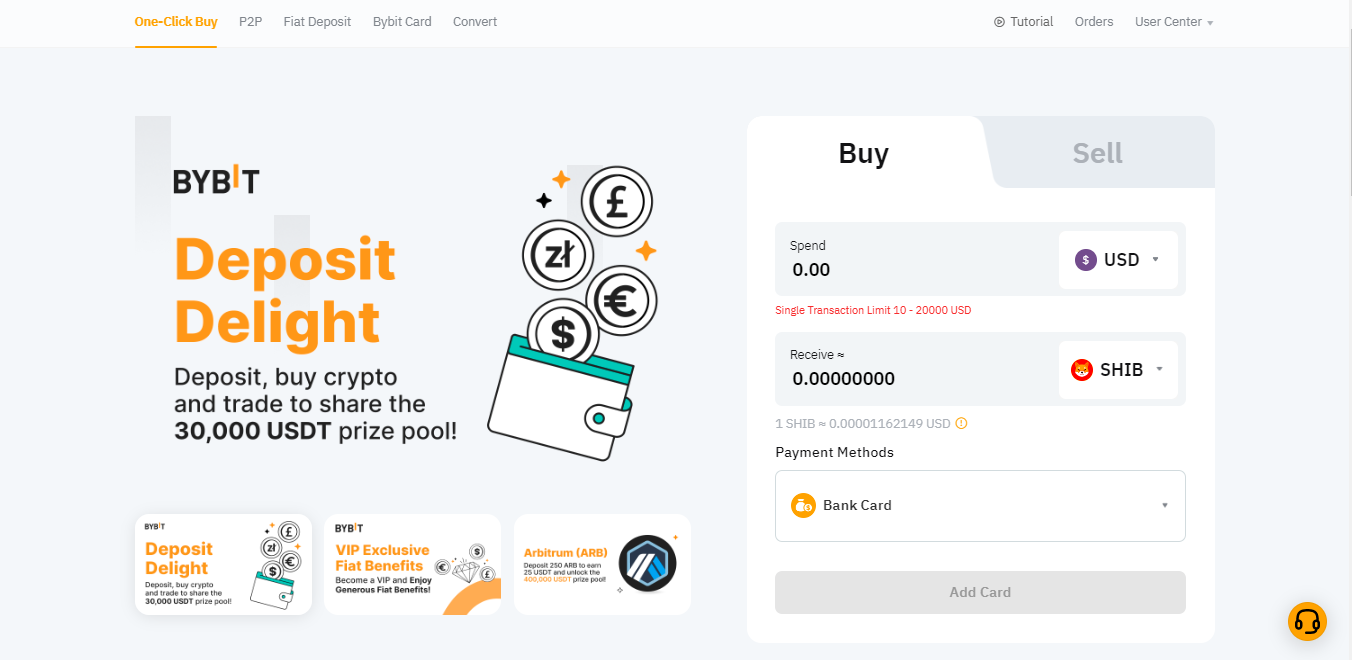 When your account is verified, buy some SHIB to earn passive income from the coin. You can buy Shiba Inu with credit or debit cards or get them from Peer-to-Peer trading. Once you get the SHIB, it will be shown on your ByBit Wallet.
Step #3: Select SHIB for Staking

Click on the Assets in the top right corner and select Earn from the dropdown menu. It will show all your passive income via staking crypto coins. Click on Go Earn at the top right and search for SHIB from all staking coins' lists. Select Buy Now, scroll down a little, and click Stake Now.
Step #4: Enter the Details & Confirm
On the confirmation page, fill in the amount you want to stake, its inception time, and duration. Since the platform allows you flexible staking, you can take out your staked coins anytime. Currently, ByBit doesn't allow you fixed staking; however, it will be introduced soon.
When satisfied with the entered details, click Confirm to earn passive income over time. You can check the staked amount anytime from Assets > Earn.
Pros
Comparatively High Flexible Staking APR
Easy Account Creation & Setup Procedure
Minimal Requirement for KYC Verification
Chances to Get up to 1 million SHIB on Account Creation
Stake Out Anytime
Cons
Minimum staking limit of 2 million SHIB
APR is fixed at 0.55% due to the unavailability of fixed staking
3. ShibaSwap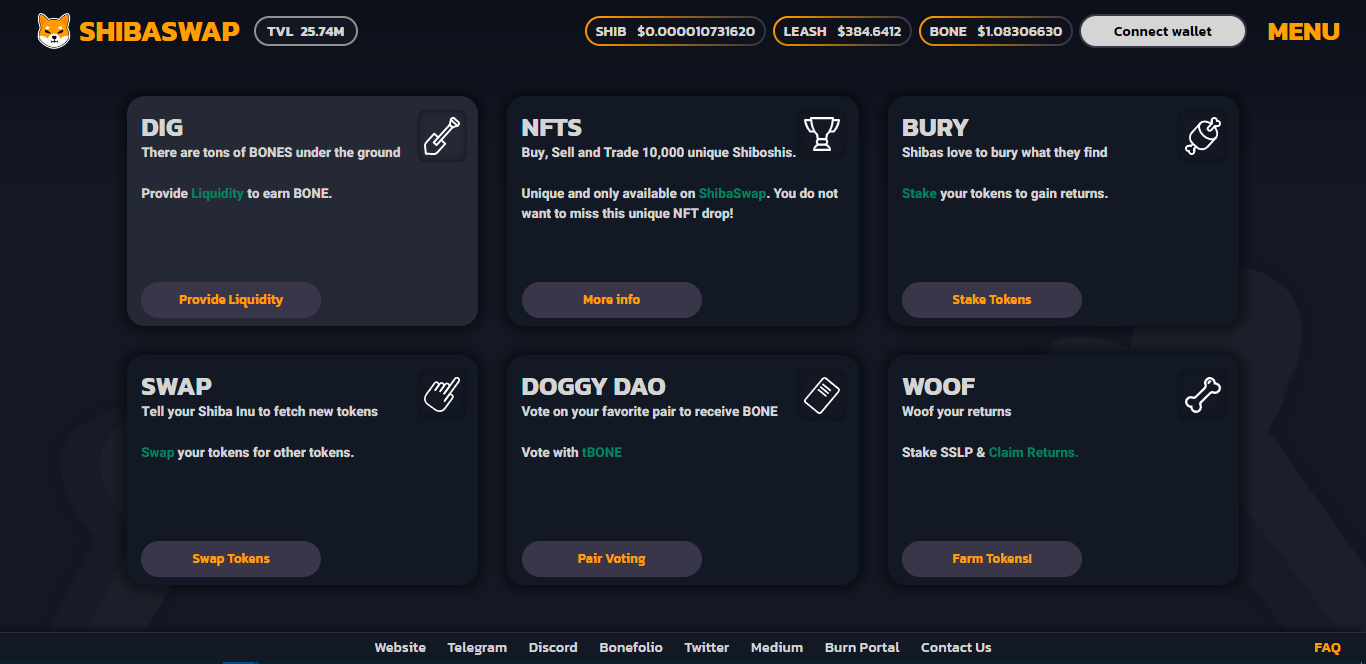 ShibaSwap is a dedicated platform in the Shiba Inu Ecosystem, which consist of SHIB, BONE, and LEASH tokens. It is the decentralized exchange (DeX), which runs on ERC-20 standards. Hence, you can attach any Ethereum-based wallet to store your SHIB.
(Pseudonymous) Ryoshi started ShibaSwap in August 2020 with one quadrillion SHIB. Later, he sent half the tokens to the Ethereum owner. ShibaSwap terms staking Shiba Inu as BURY while claiming your reward as WOOF. The platform is a great way to get beneficial Shiba Inu rewards due pool's high liquidity and decentralized nature.
How to Stake Shiba Inu on ShibaSwap?
ShibaSwap allows you to have fixed and flexible staking simultaneously. When you BURY (stake) SHIB on ShibaSwap, you can get 33% WOOF (return) which can be withdrawn anytime. But if you stake out after six months of Burying, you will get a 66% WOOF, higher than many other platforms. Learn how to stake Shiba Inu on ShibaSwap by following the steps below:
Step #1: Register on an Ethereum Wallet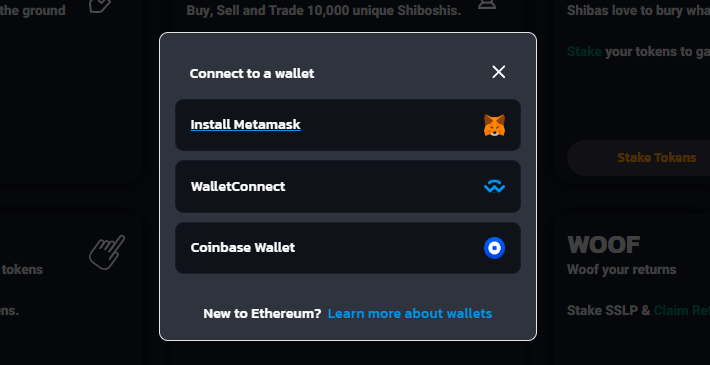 Since the platform doesn't have any dedicated integrated wallet, you will need to make an account on an Ethereum-based digital wallet. ShibaSwap allows you to connect with Coinbase Wallet, Metamask, and WalletConnect. So, choose any one of these three options, and complete a straightforward registration process.
Step #2: Buy SHIB & Connect it to ShibaSwap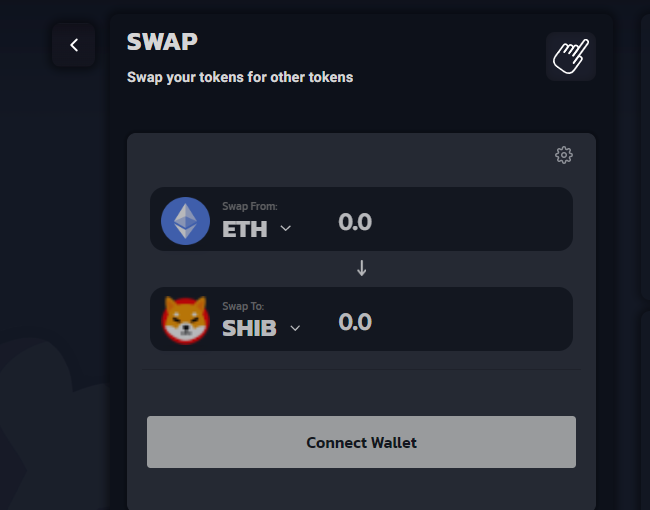 When you have created the wallet, buy Shiba Inu tokens from an external exchange (preferably above 2 million) and connect it with ShibaSwap. If you already have other tokens in your wallet, you can swap them with SHIB from the swap section. Just click on Swap Tokens from the home screen and select the coin you want to swap with SHIB.
Step #3: BURY SHIB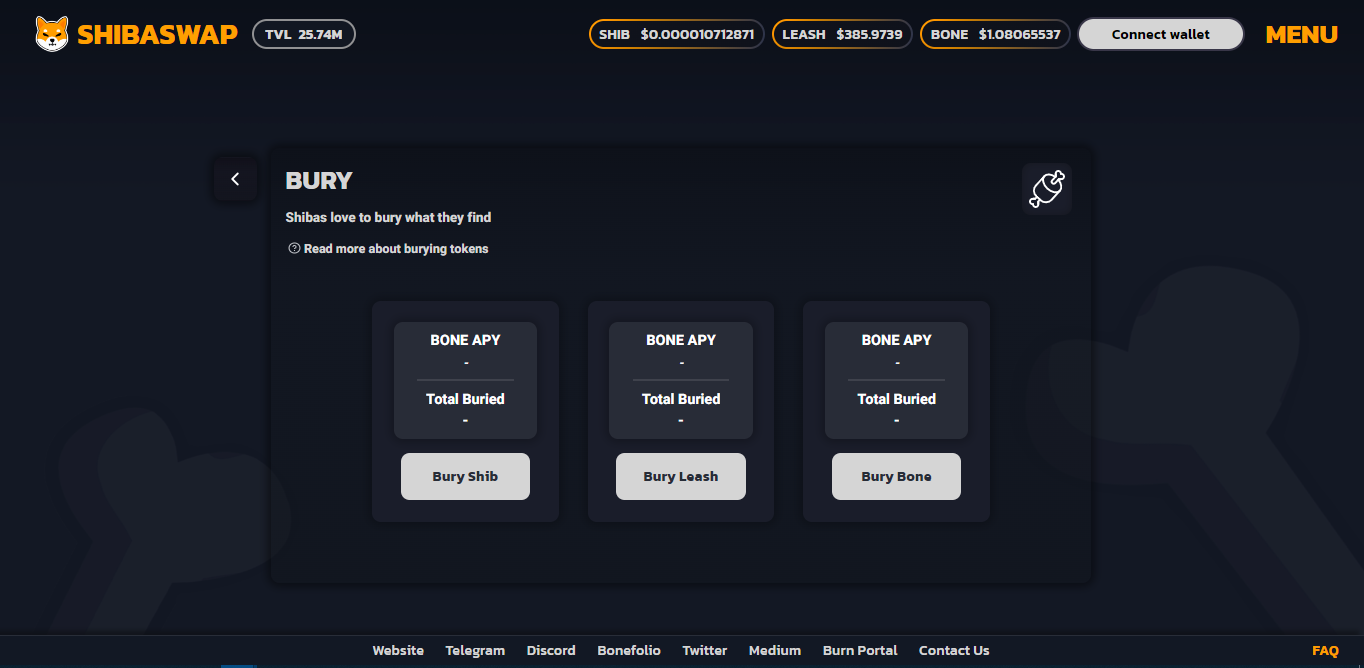 After you have enough SHIB coins, it is time to BURY them. Go to the home screen and click Stake Tokens under the BURY section. Check out the current APY and then click on Bury SHIB (you can also stake LEASH and BONE tokens).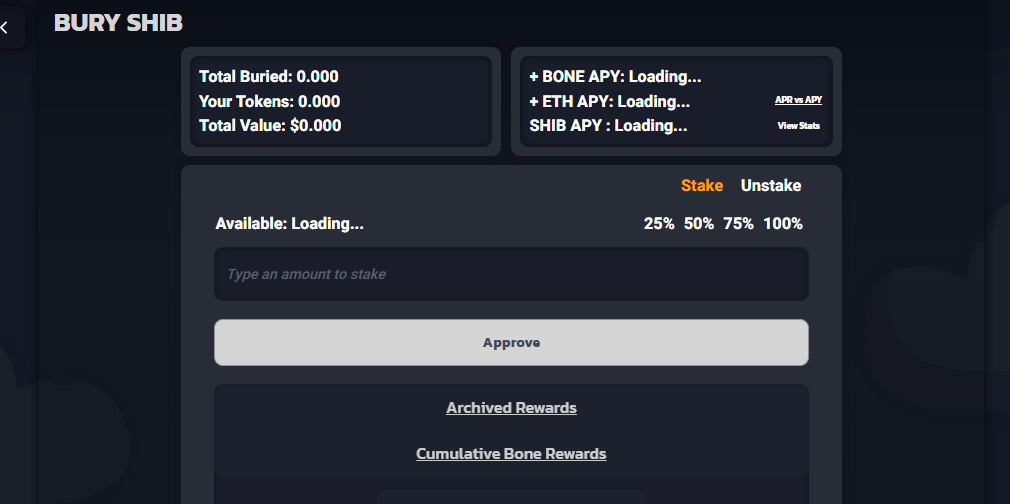 The top section will show the buried tokens (if you've buried some tokens before), your total tokens, and the total value of your asset. In the box below, enter the amount you want to stake. You can also quickly select a percentage to stake from the options on the right, i.e., 25%, 50%, 75%, and 100%.
Step #4: Wait & WOOF
Once you have entered all the details, click Approve to start the burying process. Now, you only have to wait, as the reward will keep on collecting. To Unstake them, again go to the Bury tab, select Unstake above the percentages, and enter the amount (or percentage) you want to stake out.
Remember, if you unstake before six months, you will get only a 33% added bonus on your actual amount. But if you stake out after six months, it will be doubled to a 67% additional bonus.
Pros
High Fixed APY
Easy Wallet Connectivity
Can Swap Other Tokens with Shiba Inu
Completely Decentralized Exchange
Add Liquidity to DeX for Increased Benefits
Cons
Doesn't have any dedicated wallet
Major Woofable tokens are fixed for six months
Endnote
Staking Shiba Inu is a great way to expand your portfolio and generate a passive income. Among many available options, Binance, Bybit, and ShibaSwap are highly recommended. They are beginner-friendly, easy to use, highly rewarding, and offer extraordinary security.
Binance is an excellent option for fixed staking, while ByBit offers greater flexible staking rewards. You can choose SHIB's own DeX, ShibaSwap, to experience both types. So, register on a platform, stake in your Shiba Inu tokens, and enjoy earning tokens without doing anything.
FAQs
How is Staking Shiba Inu Profitable?
Staking Shiba Inu is profitable because:
It provides passive income, as you earn an annual yield on your staked coins.
It helps diversify your portfolio.
Cryptocurrency has high liquidity.
It offers a decent APR due to its large market capitalization.
What is the Average APR of Staking Shiba Inu?
Usually, it depends on the exchange you are staking on. However, the average annual percentage rate ranges from 3% to 5%. It also varies for the staking type, whether you select flexible staking or fixed.
Which Wallet is Best to Hold SHIB?
Typically, any Ethereum wallet will be great for storing and holding Shiba Inu. However, if you persist, MetaMask and Coinbase Wallets are decent choices in software wallets. On the other hand, if you prefer a hardware wallet, you can go for Trezor Model T or Ledger Nano X.
Is Shiba Inu a Good Investment?
Meme coins are always a risk to invest in as people hardly take them seriously. However, Shiba Inu can be a good investment due to its staking mechanism. If you stake now and the coin also increases in popularity, you can get huge rewards for your investment.