As one of the rapidly growing cryptocurrency exchanges since its establishment in 2018, Bybit has garnered a substantial user base by providing a platform for trading various digital assets.
As per our detailed Bybit review, this exchange platform also features derivatives like perpetual contracts with significant leverage options.
Despite its popularity and stellar features, there are instances when users may choose to part ways with their Bybit account. If you find yourself in a similar situation and no longer require your Bybit account, this article will guide you through the process of closing it.
By following these instructions, you can ensure a seamless and trouble-free account closure experience.
Reasons to Close Bybit Account
There are several reasons why you might want to close your Bybit account. These reasons can include:
You no longer need or use the Bybit exchange.
To make sure your money and personal information stay safe.
If you find another cryptocurrency exchange that fits your needs better.
To simplify and manage your cryptocurrency accounts more easily.
If you face any problems with the platform and want to try different options.
What To Consider When Closing Bybit Account?
When you're ready to say goodbye to your Bybit exchange account, make sure you don't have any money or transactions still going on there. If there is any remaining money in your account, to a safe wallet, make sure to first move it to a safe wallet like Metamask.
If you're looking for another exchange, we suggest the BingX exchange. It's a top-rated platform licensed in multiple countries, offers a wide selection of trading services, plus it puts robust security measures into action.
Before you close your Bybit account, contact their customer support to confirm that all your ongoing transactions are sorted out. Don't leave any loose ends because you will be disconnecting with the exchange altogether.
Remember that sometimes, orders you've placed might not be completed on the exchange, and those unfinished orders won't show in your balance. So, make sure you close any open orders you have before moving on.
How To Delete Bybit Account?
If you have decided to delete your account on Bybit, here's a simple guide on how to close your Bybit account:
Step 1: Log in to the Account
Start by opening the Bybit.com website on your preferred web browser on your computer. You can also open your account on Bybit's iOS or Android app.
Then enter your login credentials (email/username and password) to access your Bybit account.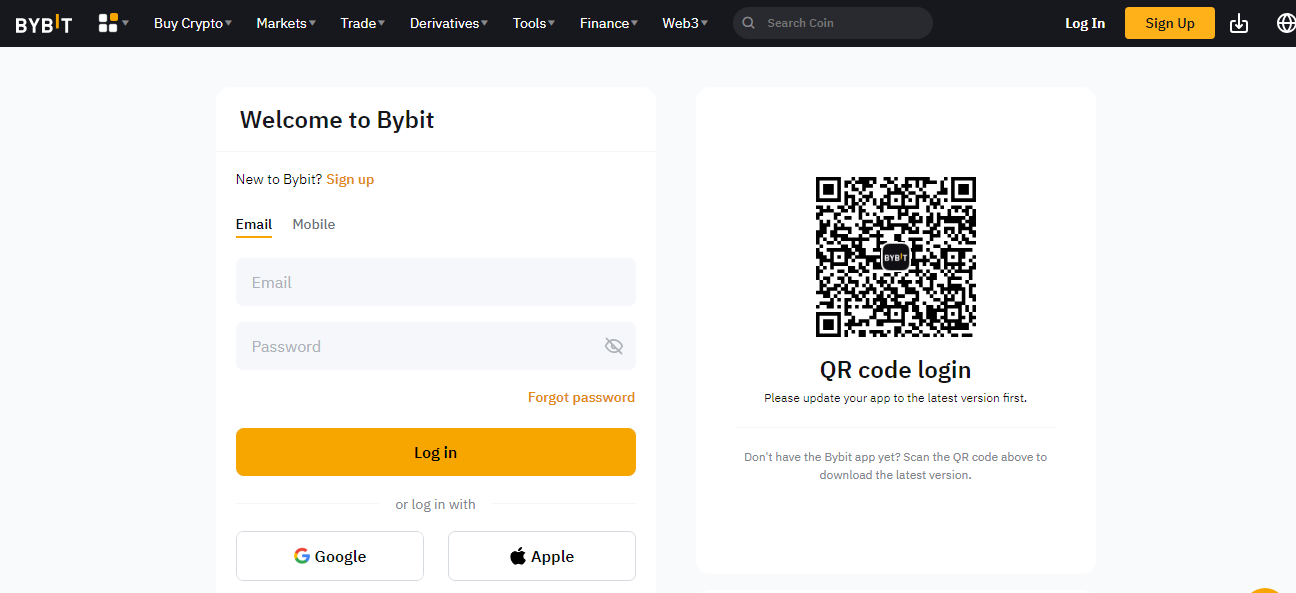 Step 2: Go to the Account and Security Page
After logging in, locate the small icon or your account name, which will be at the top-right corner of the screen.
When you move your mouse or click on that icon, you will see a dropdown menu. Find and click on the "Account & Security" option from the dropdown menu or the profile page.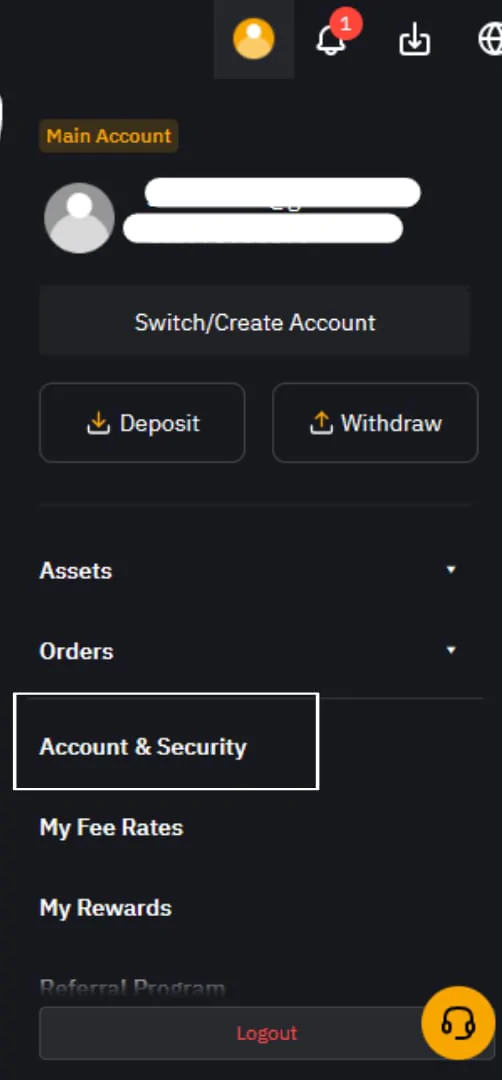 Step 3: Click on Deactivate an Account Option
Once you are on the "Account & Security" page, scroll to the bottom.
This is where you will find the option to click on Deactivate an Account. Click on this option.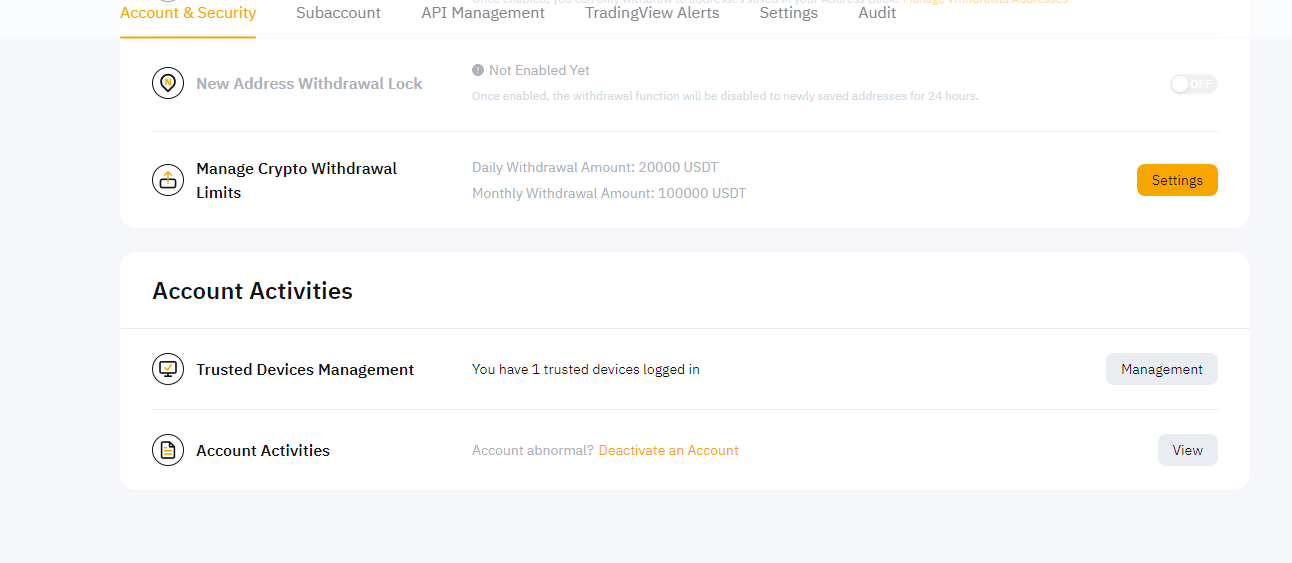 Step 4: Choose a Reason for Deactivation
When you select the account deactivation option, a new page will open. On this page, you will see several options listed under the "Account has been disabled due to:" heading.
Now select the reason that best fits your situation. If you want to provide feedback or don't find the reason behind your decision to delete your Bybit account, you can choose the Other option and write your reason.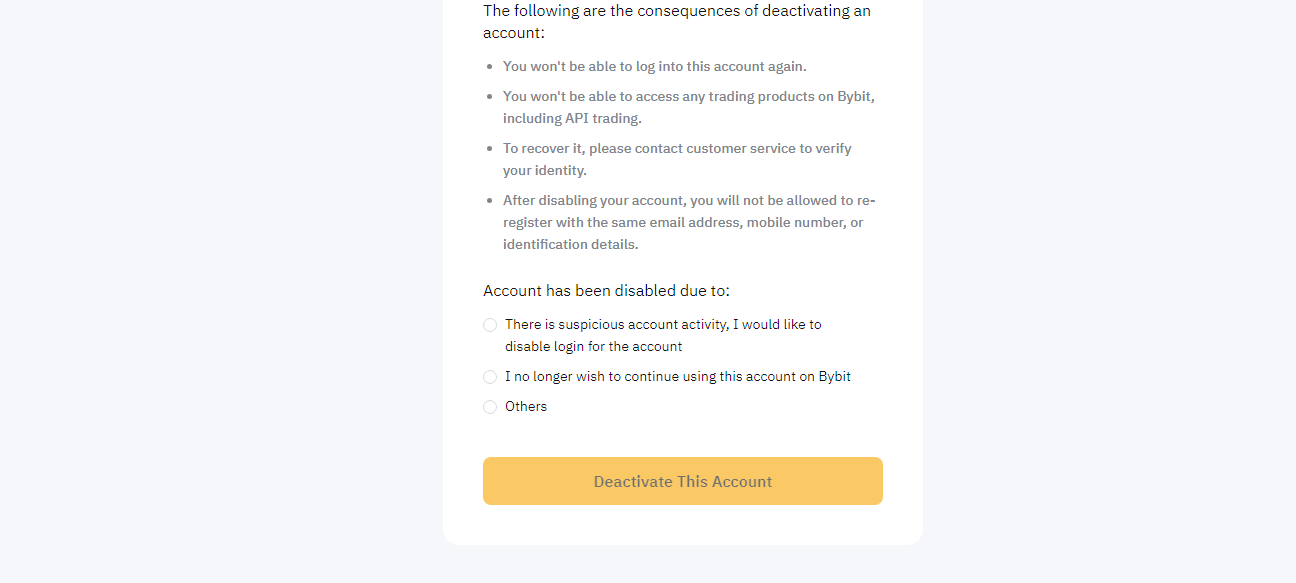 Step 5: Confirm and Close Account
After choosing the reason, click on "Deactivate This Account" again.
A confirmation tab will appear, asking you to confirm the account closure. Read the information carefully to ensure you understand the consequences.
If you are sure about closing your account permanently, click the "Confirm" button. Keep in mind that this process is irreversible when confirming the deactivation of your account.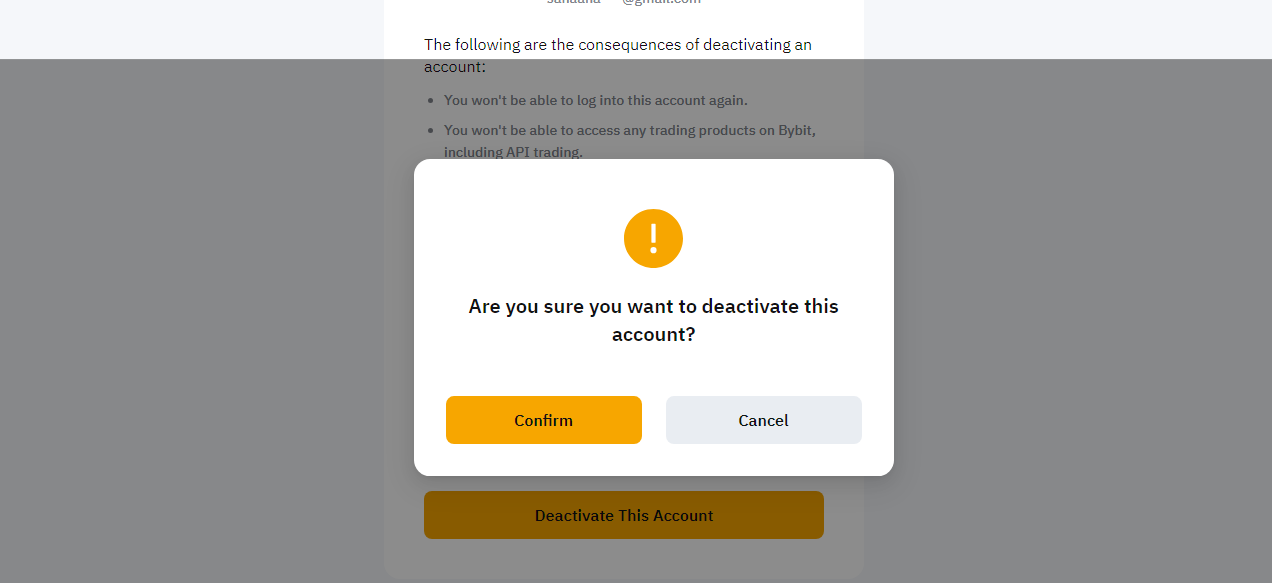 In the end, make sure to take the necessary precautions before closing your account. For instance, you must ensure that your account balance is zero and that there are no pending transactions or support tickets.
What to do if Bybit Doesn't Remove Your Account?
If Bybit doesn't remove your account despite your request, here's what you can do:
Contact Customer Support again, providing all relevant details.
Review Bybit's Terms of Service to ensure you followed the closure procedures correctly.
If needed, escalate the issue within the company, asking to speak with a higher authority.
Consider submitting a formal complaint through their official channels or relevant consumer protection agencies.
If necessary, seek legal counsel for guidance.
Contact financial regulatory authorities in your location for further assistance.
When closing your Bybit account, remember to keep records of all communications and relevant documentation for a smoother resolution process. In a nutshell, persistence and patience are key.
Summing Up!
In conclusion, closing your account on Bybit is straightforward if you follow this step-by-step guide. While deleting your Bybit account, don't forget to withdraw your funds, clear any pending transactions, and cancel open orders before initiating the account deletion.
Additionally, it is crucial that you resolve all pending matters with the exchange by contacting their customer service. This will help you safely and confidently delete your Bybit account. Being well-informed and attentive throughout the process ensures a smooth and secure account closure.
If you have any questions or need assistance, you can always seek help from the exchange platform's customer service team. We wish you a trouble-free account closure experience!