If you want to make money with crypto affiliate programs, you might have come across the Bybit referral and affiliate program. Bybit is one of the largest crypto exchanges in the world, with over 25 million users. With its simple interface and a wide variety of products and features, Bybit is an attractive crypto exchange for new users. Therefore, the Bybit affiliate program seems to be a promising option due to the high conversion rate. But how does the Bybit affiliate program work? How much will you earn and how can you join it? Read our full Bybit affiliate program review to learn how you can get the most out of crypto affiliate programs.
| Website: | Bybit.com |
| --- | --- |
| CEO: | Ben Zhou |
| Year Launched: | 2018 |
| Location: | Dubai and Singapore |
| Users: | 25+ Million |
| Supported Cryptos: | 420+ |
| Leverage: | 100x |
| KYC? | Yes, Required |
| Spot Fees: | 0.1% |
| Futures Fees: | 0.02% Maker / 0.055% Taker |
| Type: | Revenue Share (Commissions) |
| Affiliate Commissions: | 33% - 50% |
| Sub-Affiliate Commission: | 10% |
| Conversion Rate: | High |
Bybit Affiliate Program Quick Overview
Bybit was the first crypto exchange to implement an affiliate program in 2018. Through its cooperation with top-tier influencers, the Bybit affiliate program has become one of the highest-paying crypto affiliate programs in the world. With over $1 billion paid out in commissions, it is safe to say that joining the Bybit affiliate program is a good choice. We even awarded Bybit as one of the best crypto affiliate programs.
In crypto exchange affiliate programs, you will get a commission from your invitee's generated trading fees. Bybit has average fees of 0.1% for spot trading and for futures, the fees are 0.02% maker and 0.055% taker. Due to the use of leverage of up to 100x, the paid fees can be a lot higher.
With starting commissions of 33%, Bybit has an industry average rate. However, the more users you bring in, the higher your commissions can get. The maximum Bybit affiliate commission is 50%. Additionally, you will earn up to 10% from your sub-affiliates.
What makes the Bybit affiliate program stand out most is the high conversion rate. This is due to the great reputation of the Bybit crypto trading platform. With over 400 supported coins, various payment methods, relatively low fees, and a dedicated trading market, Bybit is the perfect crypto exchange for traders.
If you want to learn more about the crypto exchange, make sure to check out our comprehensive Bybit review.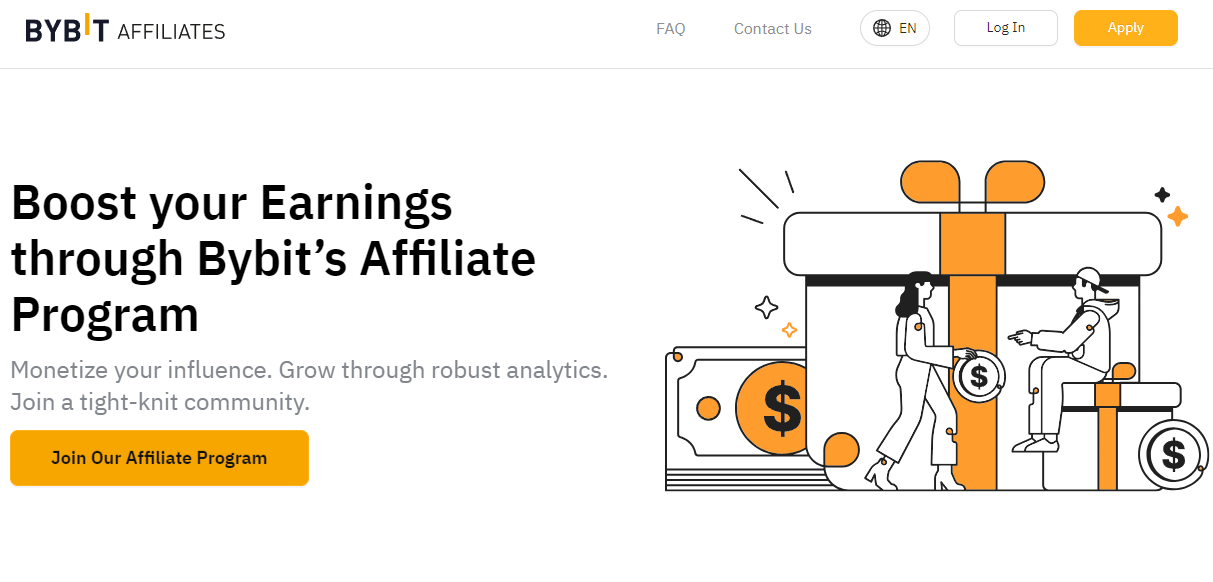 How to Join the Bybit Affiliate Program
Now that you have decided that you want to join the Bybit affiliate program, you must make sure to meet all the requirements. Luckily, Bybit is fairly generous when it comes to accepting new affiliate partners. There are several ways you can get accepted. One of the most popular options is being active on Twitter or YouTube. With as few as 1000 followers on Twitter, you can be sure to be accepted into the Bybit affiliate program. For YouTubers, we recommend a size of at least 300-500 subscribers and consistent views of 100+ per video.
Alternatively, you can create a blog website for the crypto space. Upload some articles and apply for the Bybit affiliate program. As long as you can show them where you will promote them, you are most likely to be accepted!
If you want to join the Bybit affiliate program, you must first create a Bybit account. Your Bybit trading account will be linked directly with your Bybit affiliate account.
Create your Bybit account on the official Bybit website.
Verify your identity in the KYC process.
Go to the Bybit affiliate page (click here).
Click on "Join Our Affiliate Program" or "Apply".
Log in and connect with your Bybit account.
Add all details such as your YouTube, Twitter, website link, or any other method of how you want to promote Bybit.
Wait for your application to be approved. This usually takes no longer than 7 days.
Bybit Affiliate Commissions
In crypto exchange affiliate programs, the main income stems from trading fees. Bybit charges 0.1% maker and taker fees for spot trading. For futures trading, the fees are 0.02% maker and 0.055% taker, which is around the industry standard. As over 80% of orders are taker orders, 0.55% fees will apply to most transactions. (taker orders are also known as "market orders")
The starting commission on Bybit is 33% for every single transaction. However, based on your invitee's generated trading volume, you can increase your commission rate to 50%.
If one of your invitees opens a futures trade worth $100,000, he will pay $55 in trading fees (assuming it is a taker order). With a base commission of 33%, you will receive a commission of $18.15 when he opens the trade and around $18 again when he closes the trade.
Due to the Bybit leverage feature, opening a $100,000 position is not uncommon. All a trader needs is $1,000 and 100x leverage.
What makes the Bybit affiliate program special is the fact that you will also earn 5% commissions from "Earn" products such as staking and lending. Only very few affiliate programs have this feature.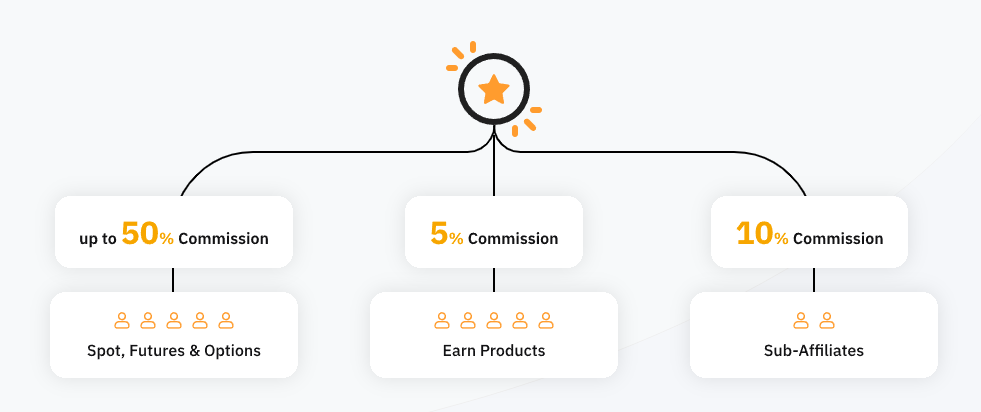 Bybit Sub Affiliate Commissions
Aside from earning from first-level invitees (users that used your affiliate link), you can also earn from sub-affiliates. That means if your invitees invite users themselves, you will earn a 10% commission on your invitee's affiliate income. This is a great opportunity for long-term scaling. So, if you have friends or know people in the crypto industry who could be interested in becoming a crypto affiliate themselves, make sure to let them sign up with your affiliate code. Whenever they earn, you will earn, too.
Bybit Affiliate Program Features
The Bybit crypto affiliate program is one of the most comprehensive programs out there, with many features to get the most earnings.
Affiliate Dashboard
In the Bybit affiliate dashboard, you can see basic data such as sign-ups, trading volume, deposits, and traders. On the right-hand side, you can see your account balance, where you can also request your payouts. You can pay out your Bybit affiliate partner program profits on a daily basis.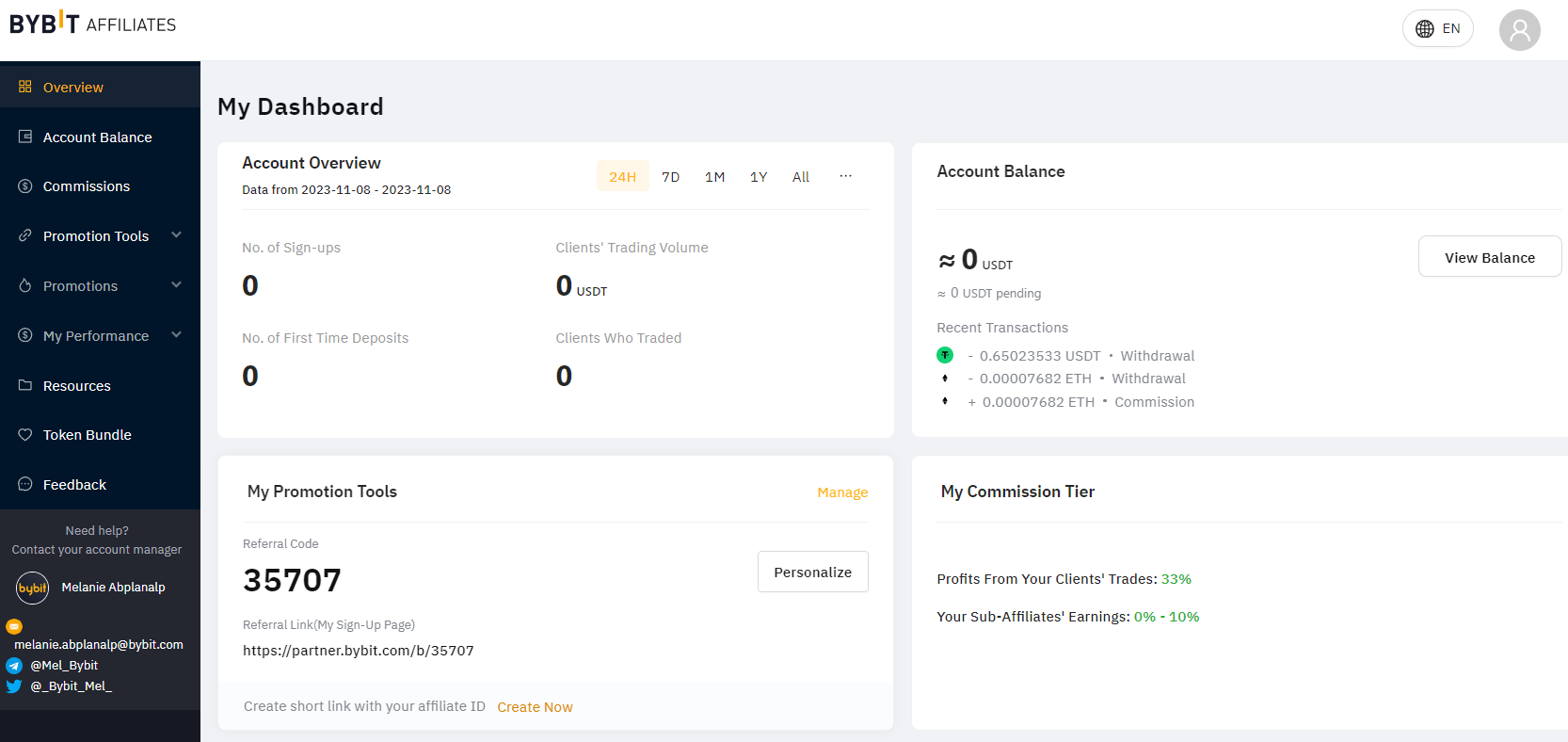 Analyze Affiliate Data
When scrolling down, you can also analyze your data with line graphs. This is great for visualizing your process over a selected period of time. You can analyze sign-ups, first-time deposits, commissions, sub-affiliate commissions, and trading volume. For more accurate data, you can even specify which coins you want to analyze. (e.g., only show commission data from Bitcoin trades.)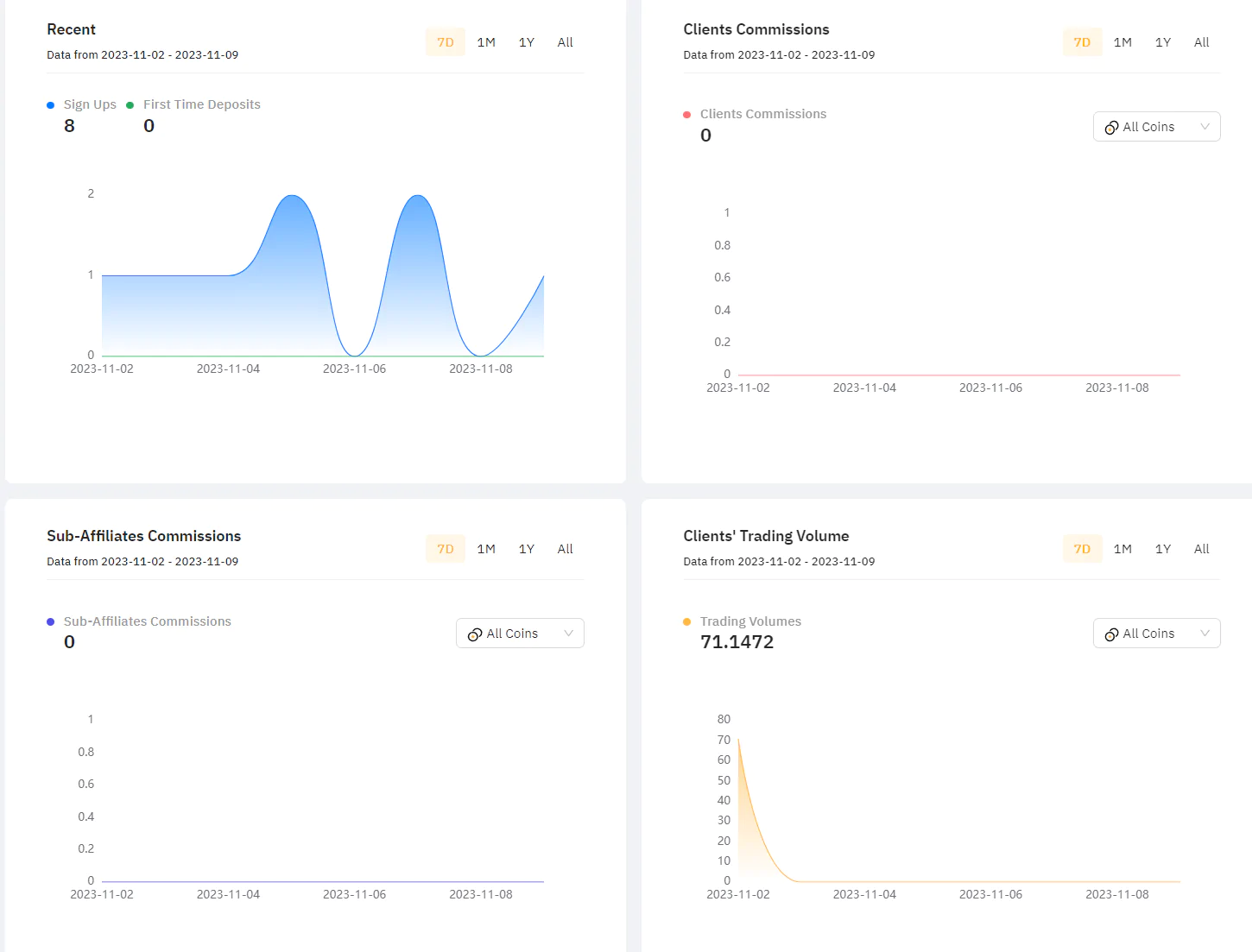 Bybit Referral Codes
On the left-hand side, you have a menu with different options. One of the most important options is the "Referral Code" option, which you can find under "Promotion Tools". In this section, you can create your referral codes and partner links. Whenever someone uses your link or code, they will be counted as your invitee. You can create up to 20 different affiliate links to track your progress across different traffic sources.

Custom Sign-Up Page
The "My Sign-Up Page" in the Bybit affiliate program is a complete game changer. Affiliate partners can create their custom landing page with their logo and a welcome text. This will cater to your community and, therefore, increase the conversion rate.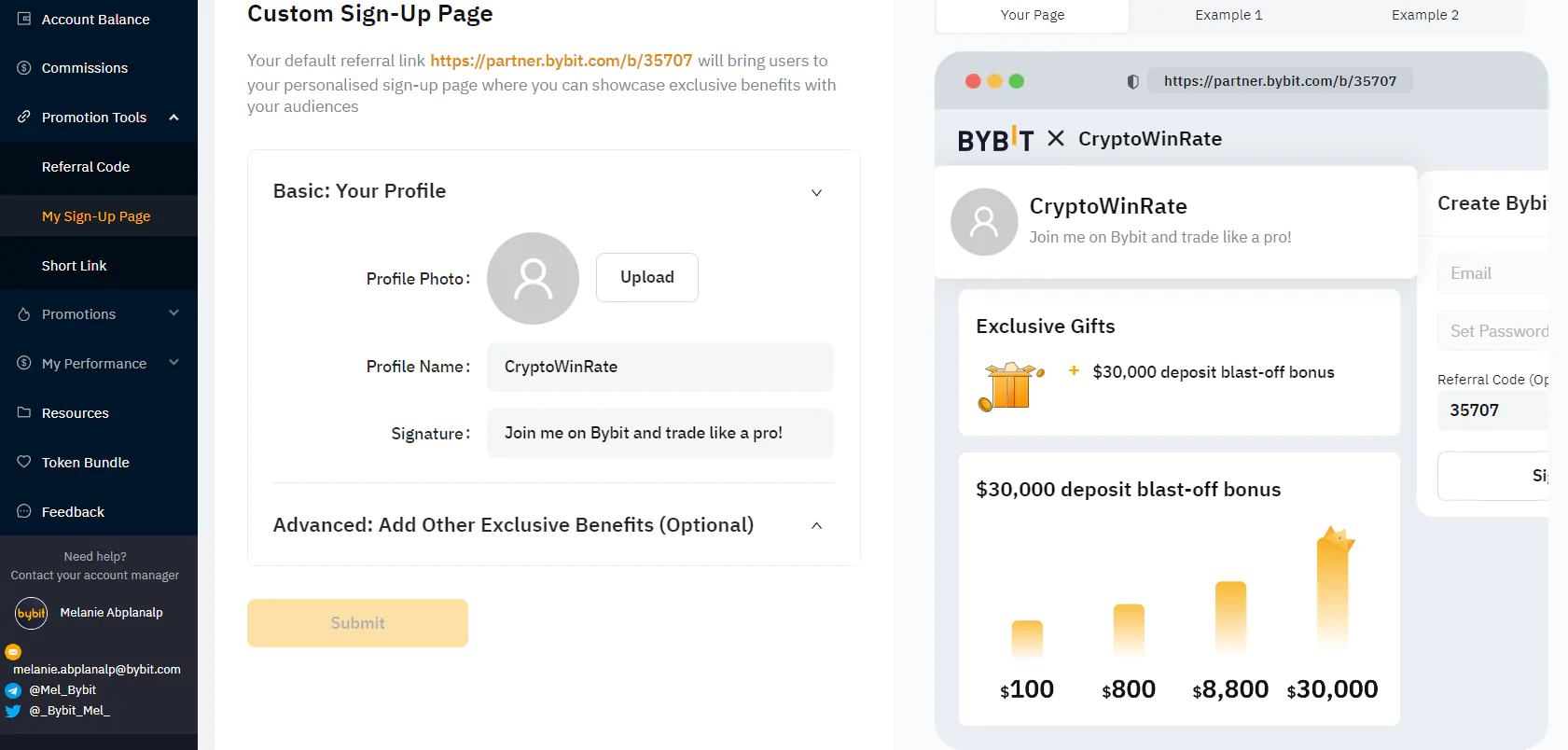 Analyze Performance
To get an in-depth performance analysis, you can check out the data of every single invitee in the "My Performance" section. You can see how much each individual invitee traded, you can analyze your sub-affiliate's performance, and you can analyze every specific referral code that you created. This is great for fully optimizing your Bybit affiliate promotion plan.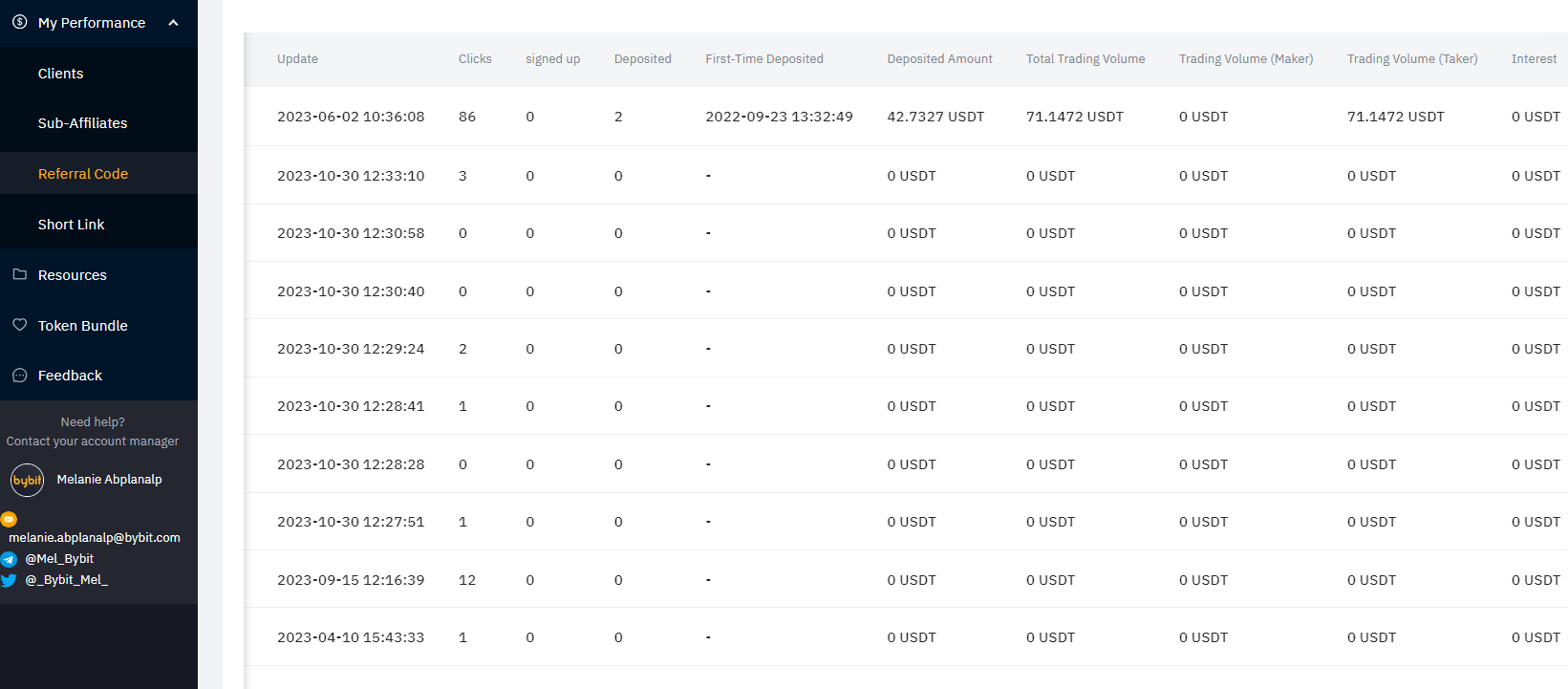 Bybit Affiliate Sign-Up Incentives
What makes the Bybit affiliate program so highly converting and lucrative is its new user incentive. When visiting Bybit with an affiliate link, users unlock a $30,000 bonus (in USDT), which they can use for trading.
This bonus is unheard of in the crypto industry, and hardly any other crypto exchange can compete with this. All your invitees have to do to receive the bonus is deposit and trade.
When visiting the Bybit website without an affiliate link, this bonus is not accessible. Therefore, signing up on Bybit with an affiliate link pays off big time!
You can learn more about the Bybit new user incentive in our full Bybit bonus guide.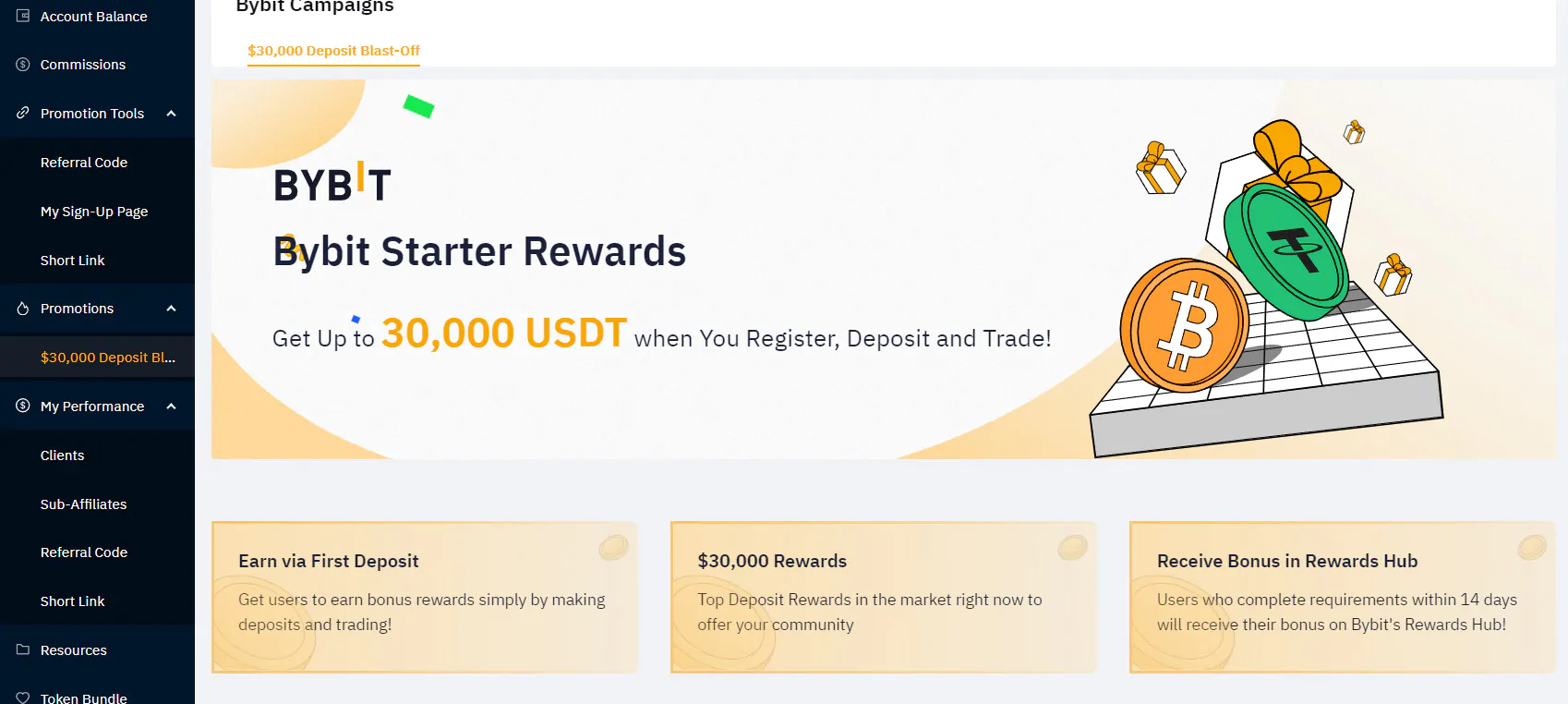 Bybit Affiliate vs. Referral Program
If you are a Bybit user, you might have seen that there is a referral program for everybody available in the Bybit dashboard. However, the Bybit referral program is different from the Bybit affiliate program.
First and foremost, the Bybit referral program is available for everybody, no matter if you have a big audience or not. And most importantly, the referral program has lower commissions. Additionally, the Bybit referral program lacks features compared to the Affiliate program.
The Bybit affiliate program is reserved for people with an audience, such as YouTube or Twitter influencers, websites, or learning platforms. Bybit affiliate partners will unlock tons of advanced features and analytical data in the Bybit affiliate dashboard. And most importantly, the Bybit affiliate program commissions are much higher compared to the referral program.