Are you a Canadian looking for a trusted and regulated cryptocurrency exchange? Look no further than VirgoCX, a leading trading platform in Canada. In this VirgoCX review, we will explore why it's considered one of the best Canadian crypto exchanges.
Based in Toronto, VirgoCX offers a platform that empowers both institutional and retail investors through its superior liquidity, exceptional security measures, and cutting-edge technology. With a global network, VirgoCX ensures that Canadian traders have access to a world-class trading experience.
To protect users' funds, VirgoCX employs robust security measures, including two-factor authentication, SSL technology protocols, and a ledger vault. This ensures that your assets are safeguarded and your peace of mind is prioritized. Get ready to discover why VirgoCX is a top choice for Canadian cryptocurrency traders.
VirgoCX: Overall Thoughts on Exchange
VirgoCX is a cryptocurrency exchange based in Canada that has made a name for itself in the world of digital assets. With a user-friendly web interface and a mobile app available on both the App Store and Google Play, VirgoCX offers convenience and accessibility to its users. The exchange boasts a diverse selection of over 30 popular coins, allowing traders to explore various investment opportunities.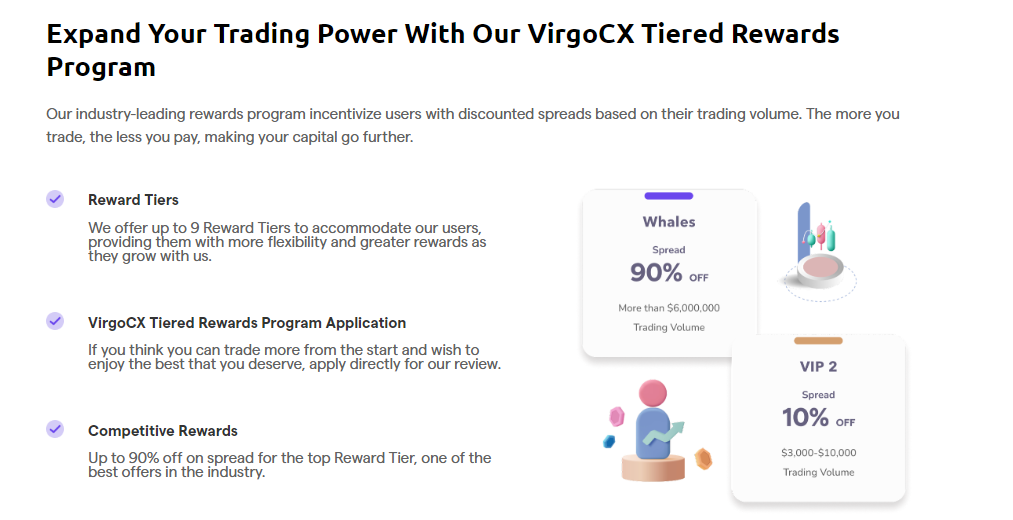 What sets VirgoCX apart is its commitment to regulatory compliance. Being registered with the Financial Transactions and Reports Analysis Centre of Canada (FINTRAC) as a Money Service Business (MSB) ensures that users can trade with confidence, knowing that their transactions are being conducted in a regulated environment.
In addition to its cryptocurrency trading services, VirgoCX expanded its offerings in 2021 by introducing Non-Fungible Tokens (NFTs) brokerage services. This move demonstrates the exchange's adaptability and its desire to cater to the evolving needs and interests of the crypto community.
VirgoCX Pros
Extensive variety of coins and tokens.
Convenient free fiat deposits and withdrawals.
Supports both Canadian and U.S. dollars.
Ideal for both beginners and experienced crypto traders.
Strong referral program.
Versatile platform that caters to OTC, NFT, and FX transactions.
Registered with FINTRAC for added security and compliance.
Mobile app for on-the-go trading and monitoring.
VirgoCX Cons
Fiat funding only in CAD and USD
Operates only in Canada
Services Offered on VirgoCX
Supported Currencies
When it comes to supported currencies, it's important to understand the limitations and offerings of different exchanges. In the case of Coinberry, the focus is on deposits in Canadian dollars (CAD) and United States dollars (USD) from Canadian banks and financial institutions.
This means that payments in other currencies like Euros or British Pounds are not supported.

However, VirgoCX stands out as a broker with a broader selection of cryptocurrencies. With 37 different cryptocurrencies available for trading against CAD, it surpasses the offerings of Bitbuy (9) and NDAX (24) in terms of variety. While USD trading is limited to Bitcoin and Tether, VirgoCX's range of options sets it apart.
| Ethereum (ETH) | Bitcoin Cash (BCH) | Uniswap (UNI) |
| --- | --- | --- |
| Solana (SOL) | Dogecoin (DOGE) | Filecoin (FIL) |
| Avalanche (AVAX) | USD Coin (USDC) | Stellar (XLM) |
| Curve DAO (CRV) | Kyber Network (KNC) | Enjin Coin (ENJ) |
| ATOM | EOS | SushiSwap (SUSHI) |
| Loopring (LRC) | Pax Gold (PAXG) | The Graph (GRT) |
| Compound (COMP) | Chiliz (CHZ) | Polygon (MATIC) |
Over The Counter Trading(OTC) Service
Over-the-counter (OTC) trading services provide a seamless and efficient way for institutional buyers and sellers to conduct large-scale trades in the cryptocurrency industry. At VirgoCX, two types of OTC services are offered to cater to the diverse needs of financial institutions.
OTC Direct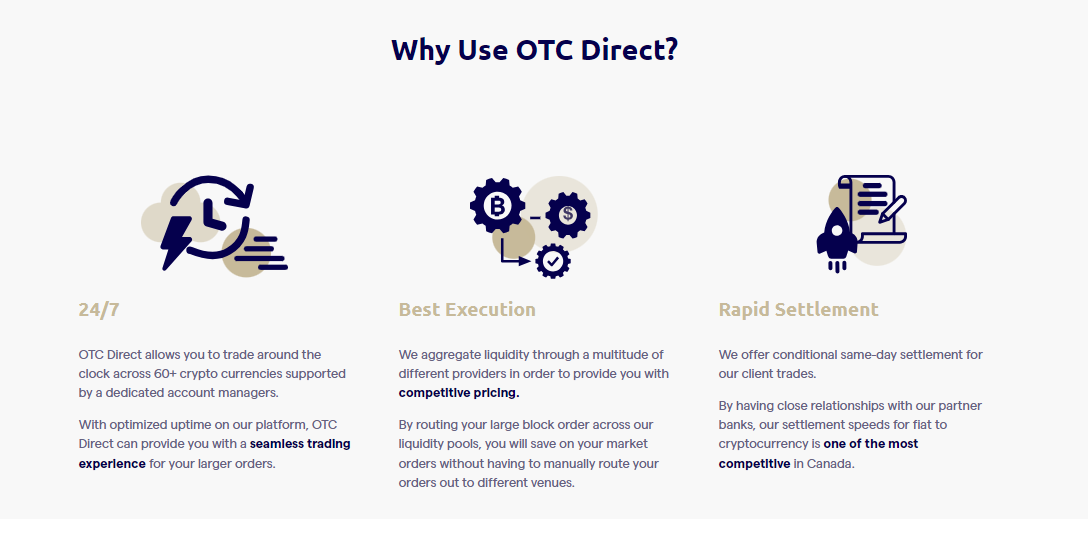 OTC Direct enables secure and hassle-free execution of enormous block transactions, ensuring seamless settlements. This service ensures that financial institutions can carry out trades without any hindrances or complications, offering a reliable and efficient platform for high-volume transactions.
OTC Chat Broker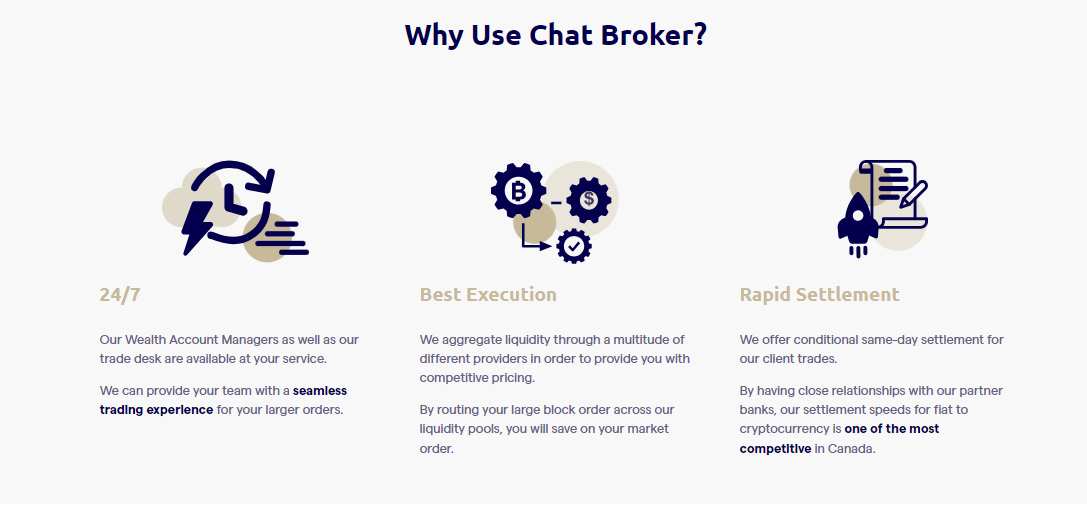 Meanwhile, the OTC Chat Broker option provides individualized service for institutions engaging in massive block transactions. The VirgoCX OTC trade team assists clients with their trade requests, attracting more institutional and high-net-worth clients through the OTC RFQ mechanism.
By leveraging the VirgoCX OTC desk, clients benefit from a connection between the cryptocurrency markets and traditional financial services. Not only do they enjoy specialized OTC account managers and individualized service, but they also gain access to deep liquidity pools.
When utilizing the OTC service at VirgoCX, clients are not required to pay any trading fees. This attractive feature, combined with the platform's expertise in facilitating large-scale transactions, makes it a preferred choice for institutional buyers and sellers seeking liquidity and reliability in the cryptocurrency market.
NFTs Brokeage Service
VirgoCX, a prominent brokerage service, has recently entered the Non-Fungible Token (NFT) arena, offering traders a platform to discover, trade, and collect a wide range of NFTs, including art, music, collectibles, trading cards, and games.
Managed on a blockchain network, this marketplace provides an opportunity to purchase NFTs without the need for auctions or bids.
While it caters to those new to the NFT space, experienced traders may find limited benefits compared to platforms like Nifty Gateway, OpenSea, or SuperRare, where direct buying and selling of NFTs are more prevalent.
Mobile App
The VirgoCX mobile app is a must-have for traders looking to stay connected and trade crypto on the go. With its user-friendly interface and engaging design, the app ensures a seamless trading experience.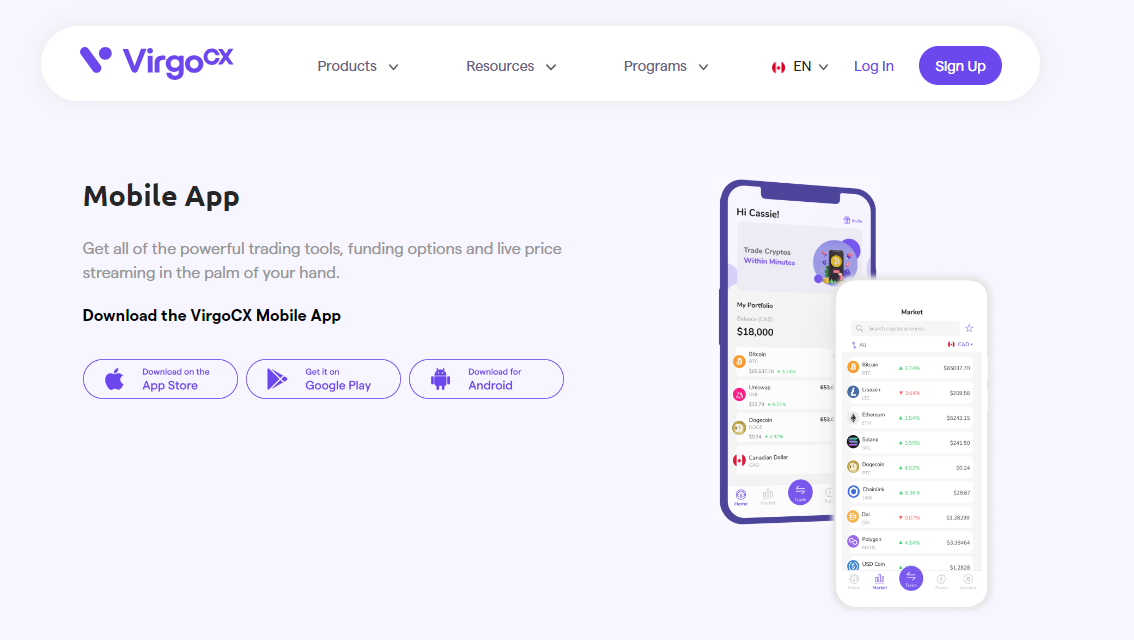 Stay updated with cryptocurrency market trends, access live streaming prices for Bitcoin and other cryptocurrencies, and use USD and CAD to execute trades effortlessly.
The app also provides convenient funding options such as wire transfers, Interac, and e-transfer. Download the VirgoCX app from the Google Play Store or the App Store for Android and unlock the power of all-in-one trading tools, live price streaming, and easy access to your crypto funds.
VirgoCX Trading Features
When it comes to selecting a cryptocurrency platform, the trading interface plays a crucial role for many investors and traders. It's where you'll spend most of your time analyzing charts and seeking trading opportunities. VirgoCX understands this and offers an advanced trading portal with a user-friendly Quick Trade feature for seamless fiat to crypto trading.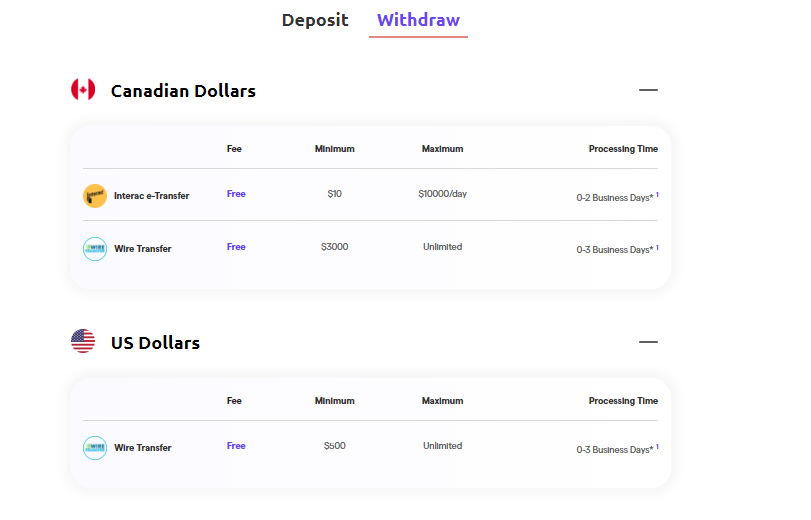 The user interface of VirgoCX boasts a modern charting package powered by the reputable TradingView software. With its minimalistic design and responsive layout, navigating the trading platform becomes a breeze.
The order entry box allows for limit and market orders, catering to the basic needs of most traders. However, it may fall short for experienced traders who rely on advanced order types like stop-market and stop-limit.
For each trading pair, clear buy and sell prices are displayed, allowing users to calculate the spread easily. The platform also provides the option to enter orders using pre-populated percentages of available funds, which proves to be a convenient feature. Active positions are neatly shown beneath the charts, ensuring you stay updated on your trades.
VirgoCX Exchange fees
Spot Trading Fees
Unlike traditional platforms, VirgoCX doesn't charge commissions on cryptocurrency trading or impose fees on Canadian Dollar deposits and withdrawals. Instead of a flat or tiered fee structure, VirgoCX covers its operating expenses by implementing a spread charge.
This charge is determined by the difference between the bid price and the ask price, ensuring fair and competitive pricing. The market pays the spread charge through VirgoCX's liquidity partners, promoting transparency and cost-effectiveness.
Withdrawal fees (FIAT)
The platform has no extra commission fees, and fiat withdrawals are also free.
| Funding Method | Withdrawal | Fees | Processing Time |
| --- | --- | --- | --- |
| Interac e-Transfer | $10 minimum; $10,000 maximum | Free | Instantaneous |
| Wire Transfer (CAD) | $3,000 minimum; No maximum | Free | Up to 24 hours (typically within 24 hours) |
| Wire Transfer (USD) | $500 minimum; No maximum | Free | Up to 24 hours (typically within 24 hours) |
Withdrawal fees (Crypto)
There are some fees associated with crypto withdrawals. Among them are:
| Crypto | Fee | Minimum Withdrawal |
| --- | --- | --- |
| Bitcoin | 0 BTC | 0.001 BTC |
| Ethereum | 0.002394 ETH | 0.006 ETH |
| Litecoin | 0 LTC | 0.04 LTC |
| Bitcoin Cash | 0 BCH | 0.01 BCH |
| EOS | 0 EOS | 0.5 EOS |
| Stellar | 0 XLM | 0.02 XLM |
| Dogecoin | 0 DOGE | 40 DOGE |
| Uniswap | 1.126615 UNI | 1.2 UNI |
| Curve | 4.919524 CRV | 7.5 CRV |
| Polkadot | 0 DOT | 0.2 DOT |
Sign Up On VirgoCX Exchange
Opening a VirgoCX account is a straightforward process. Follow this step-by-step guide:
Step 1: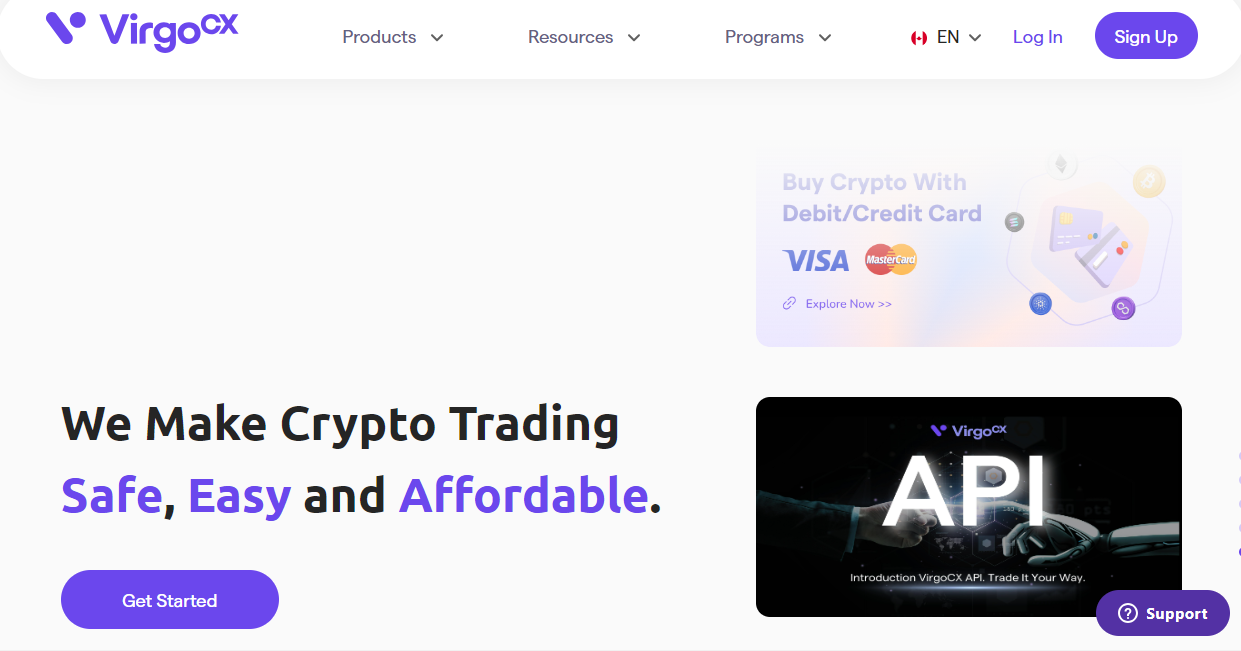 Join VirgoCX – To get started, simply visit the VirgoCX website or download their Android or iOS mobile apps.
Step 2: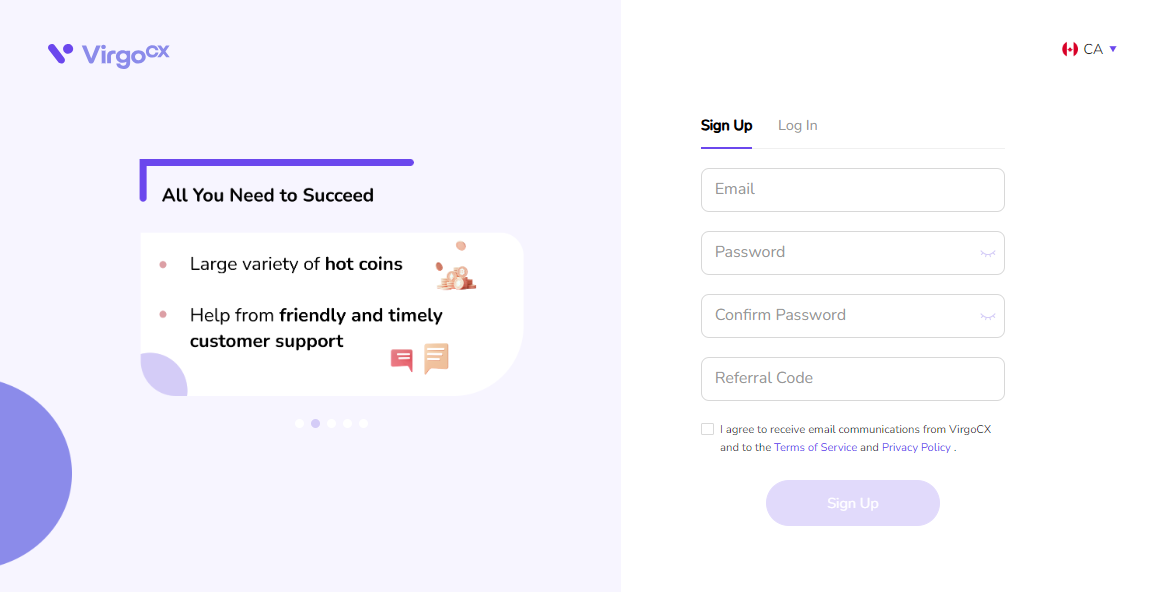 Enter General Information – Fill in the required details, including your email address, password, and referral code (if applicable). Take the time to carefully read and agree to the Terms of Service and Privacy Policy.
Step 3: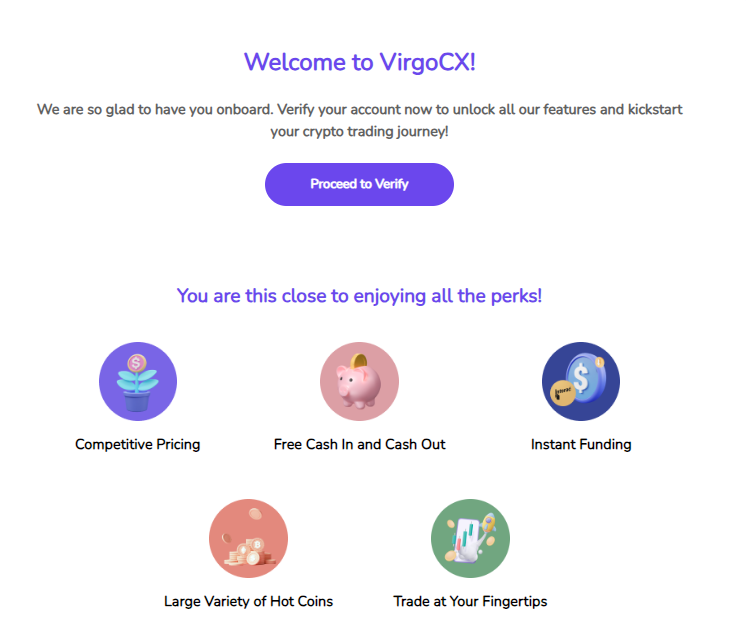 Verification and Deposits – Once you've completed the initial registration, follow the verification process as instructed. After your account is verified, you can proceed to deposit funds using INTERAC e-Transfer, wire transfer, or other available methods.
VirgoCX Security
At VirgoCX, security is of utmost importance. As a fiat-to-crypto trading exchange based in Toronto, Canada, VirgoCX prioritizes the safety and protection of its users' assets. With its commitment to global crypto trading technology, the platform ensures a secure environment for both institutional and retail clients.
VirgoCX is registered with FINTRAC, demonstrating its compliance with regulatory standards. This provides users with peace of mind, knowing that they are operating within legal boundaries. The platform offers top-notch user experience, liquidity, competitive pricing, and institutional-class custodianship, establishing itself as a reliable destination for crypto trading.
To maintain its status as a trusted exchange, VirgoCX has set a long-term goal of becoming the world's leading crypto exchange platform. To achieve this, the platform engages trusted third parties to conduct regular audits for enhanced security.
VirgoCX Customer support
VirgoCX provides exceptional customer support through various channels, ensuring that users receive prompt assistance. To get in touch with the customer service team, users can utilize the ticket system or send a direct email to the dedicated customer support address.
Additionally, there is the option to contact the team directly via phone or take advantage of the 24/7 multilingual live chat feature. When submitting a request, users can include relevant details such as their email, subject, and optional information like E-transfer Amount, Transaction Hash, or Attachments.
In case users encounter difficulties, they can refer to the support guidance page on the VirgoCX website. For general inquiries, users can reach out to info@virgocx.ca. With VirgoCX, customer support is readily available and committed to providing a friendly, engaging, and clear communication experience.
Conclusion
VirgoCX stands as a promising contender in the realm of Canadian crypto exchanges. With its deep liquidity, dedicated OTC trading desk, and personalized services, it offers traders an enhanced trading experience. The platform's commitment to ease and safety is evident through its regulated nature and seamless interface.
By prioritizing higher liquidity, security measures, and leveraging world-class technology, VirgoCX ensures that users can trade with confidence. Whether you're a seller, institutional buyer, or simply someone looking to dive into the world of cryptocurrencies, VirgoCX presents itself as a reliable and user-friendly option.
Discover the benefits of this Canadian crypto exchange and embark on your trading journey with ease and peace of mind.
FAQs
Is VirgoCX a safe platform?
VirgoCX provides a secure platform for Canadian users to easily and safely buy, sell, and trade cryptocurrencies. It utilizes advanced technologies to protect users' information and funds, offering a reliable investment experience.
How can I withdraw from VirgoCX?
To withdraw currencies from VirgoCX, simply choose the cryptocurrency you want to withdraw, click on the 'Withdrawal' button, and paste the destination address. You'll receive a confirmation email at your registered email address.
Is VirgoCX a trustworthy exchange?
VirgoCX prioritizes security and requires account identity verification for financial transactions. It complies with KYC, AML, and anti-terrorist finance policies, ensuring a secure trading environment.