Binance is a KYC exchange, which means you must complete the KYC verification on Binance in order to proceed. Since Binance is a leading name in the world of crypto exchanges, its concern with customer verification is understandable in controlling fraudulent activities. However, is this leading platform a great choice for you, let's find out here.
In this guide, you will learn how Binance became the most popular KYC cryptocurrency exchange and what benefits you will get for using the platform. Moreover, we'll give you its deposit and withdrawal limits and the procedure for verification. So, let's get into the details!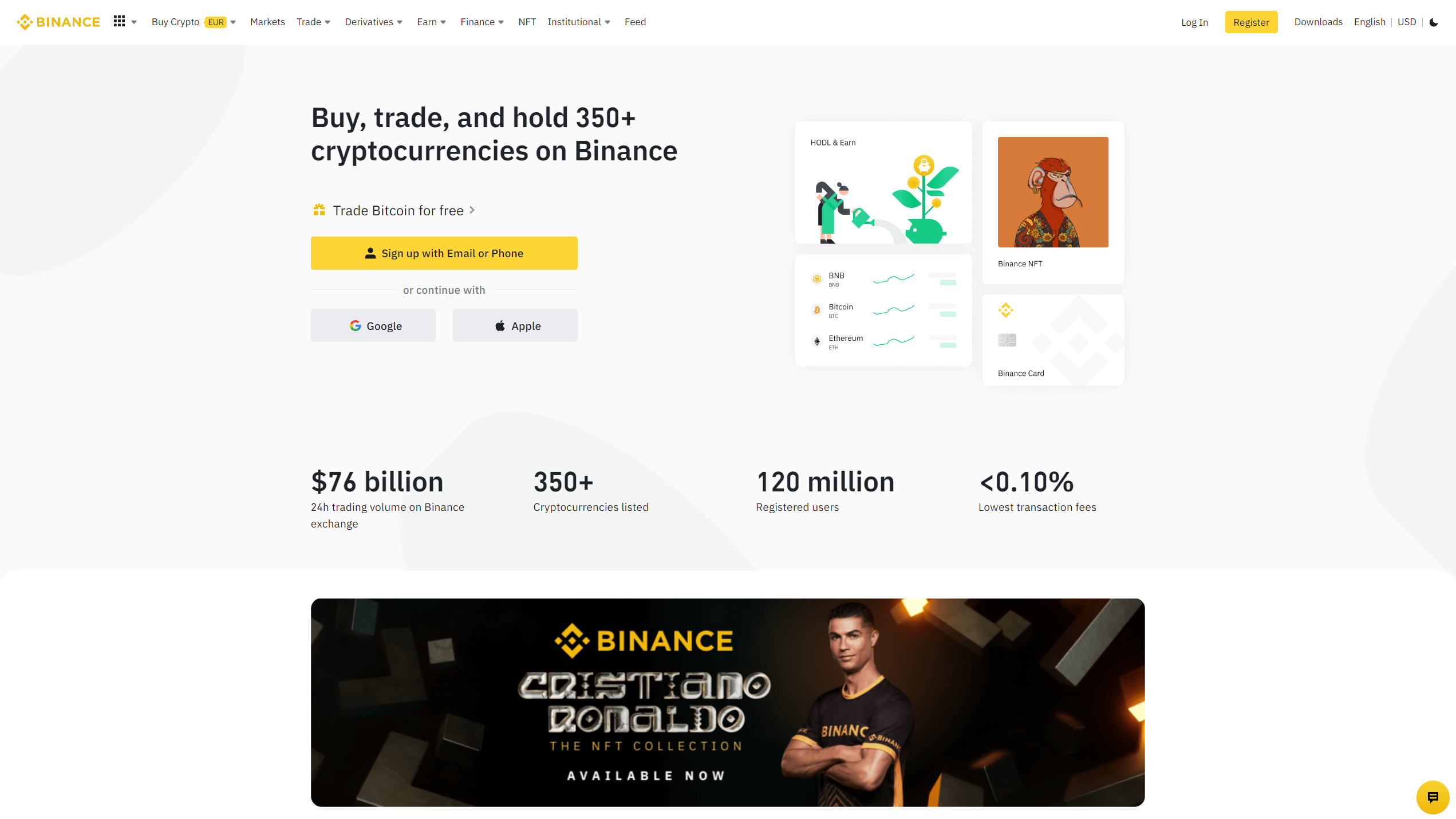 Is Binance Safe to Use With KYC?
Of course, you can securely use Binance after verification since it was made mandatory in the first place for this reason. To protect its users from fraudulent attempts and discourage the heinous act of money laundering, Binance made KYC compulsory for its users in August 2021. Since then, the platform has received a slight decline in its users. However, it has helped this exchange a lot in controlling suspicious activities.
Withdrawal Limits
Since Binance is a KYC crypto exchange, you cannot withdraw funds from the platform without verification. The platform mentions you can withdraw up to 0.6 BTC after basic verification, which verifies only your email or phone number. However, the limit is pretty useless, as you cannot trade or earn from the platform.
On the other hand, if you verify your identity, you can withdraw up to 100 BTC daily. In terms of fiat withdrawals, you can cash out up to $50,000 per day. But it increases to $2 million daily if you complete the level 2 KYC verification, which requires proof of address.

Binance KYC & VIP Levels
Binance only has two tiers of KYC verification. Those who complete Level 1 are called Verified Users, and the process requires basic information, ID Card, and a selfie. While the Level 2 ones are called Verified Plus Users, who provide proof of their address additionally. Besides the different withdrawal limits, these levels don't have any specific advantage.
You can enroll in the Binance VIP program only if you are KYC-verified. The criteria for enrollment is trading 1 million BUSD in spot or 15 million BUSD in futures trading within a month. You can also start your VIP Level 1 by holding 25 BNB for 30 days. VIP level will unlock various benefits, including:
0% Trading Fee on BTC Pairs
0% Maker Fee on BUSD Pairs
2000 BUSD Daily Withdrawal Limits
BNB Fee Discounts
Ability to Create Sub-Account
Is Binance a Good KYC Exchange?
Several reasons make Binance a great KYC exchange, which makes it way better than non-KYC crypto exchanges. Below are the reasons that make the platform unique, and include some benefits you can only find on Binance.
Largest Crypto Exchange
Binance is a leading and largest crypto exchange with around daily crypto transactions worth $50 billion. Since more than 90 million users are already registered on the exchange, it has a large community and high liquidity. As a result, you can trade more conveniently than on other trading platforms while also seeking help is easier from its high user base.
Low Fees
Binance is among the most affordable crypto exchanges, with its spot trading fee at 0.1% for both makers and takers. However, if you use the native Binance Coin (BNB), you will get a 25% discount, making it 0.075%. On the other hand, it also offers a 0% fee for trading the BTC/TUSD spot pair or to the TUSD makers.
Taking about Futures trading, you can enjoy a maker/taker fee of 0.02% and 0.04% for USD-M Futures. But if you use the balance from the Futures account for trades, you can further enjoy an additional 10% discount. The Coin-M Futures trading fee is 0.01% for makers and 0.05% for takers.
Diversified Binance Earn Products
Binance Earn platform offers multiple earning opportunities, making it distinct from other platforms. Some of its Earn products are:
Binance Earn: You can stake multiple crypto coins on Binance Earn and earn passive income over time. You can assign a flexible duration where you can stake out any time, but the APY will be relatively lower. Or start fixed staking where you cannot take out your profit until the duration session ends. However, the APY can reach up to 18%.
Launchpad: Binance Launchpad allows you to earn or buy new tokens directly from the platform through staking. The APY for these coins can get extremely high, sometimes even 300% plus.
DeFi Staking: Apart from directly staking coins, you can also stake DeFi assets on the platform for additional earning power. It targets specific cryptocurrencies and offers higher annual percentage yield (APY) through smart contracts.
Dual Investment: This earning product allows you to buy crypto assets at low or sell them high for valuable profits. The process is a risky maneuver and often suitable to the experts. But if you are experienced enough, you can easily earn huge profits from your investments.
Auto-Invest: Automate your crypto purchases and constantly invest in the coin regularly through a bot. The process requires a high investment pool but can accumulate into a magnificent passive income source when it starts paying out.
ETH Staking: After Ethereum's conversion to the Proof-of-Stake mechanism, you can stake ETH 2.0 on Binance with an APR of around 4.0%. Binance also gives you BETH tokens for staking ETH 2.0, which you can use to redeem multiple rewards.
BNB Vault: You can also stake Binance native tokens on BNB Vault, which you can utilize for exclusive rewards. You can deposit BNB tokens on the Vault earned from Launchpool and Simple Earn.
Exchange Security
Besides KYC verification, the platform provides great security measures to protect users' data and assets. Its high security is also one reason Binance is a leading crypto exchange. Below are some aspects indicating the authenticity and secure trading options.
Protocols & Proof of Reserves
Binance holds a top-grade version 3 SSL certification issued by DigiCert Inc, a leading SSL certificate provider. It also stores the user's data 1:1, bringing transparency to the system. Moreover, you can get the code to its Merkle Tree on the Proof of Reserves page, where you will also find the reserve ratio of its other supported crypto coins.
Audits & Regulations
Binance generates a detailed Merkle Tree with multiple third-party auditors to audit the report. However, four of its major auditors (including Mazars Group) cease auditing the platform. But still, many firms are attached securing the users' data and assets.
On the other hand, it was first considered regulated by Malta, but MFSA stated in February 2020 they are not regulating the exchange. It causes a trust issue among its users. However, the exchange is fully regulated and legally operates in many regions like France, Italy, Spain, Poland, Abu Dhabi, Dubai, Australia, Canada, New Zealand, and more.
Account Security & Funds
The platform provides complete security on the user's end, providing them to enable login passwords and device codes on their mobile applications. You can also enable 2FA and bind Google Authenticator for maximum security. But still, if you unfortunately suffer a hack (like in December 2022), Binance has a Secure Asset Fund for Users (SAFU) to protect losses during malicious activities.
Customer Support
Binance provides impressive online customer support, available at the bottom right corner. Although you can access FAQ articles and guides through the button, taking to the live agent requires (agian) KYC-Verification. However, if verified, you will connect immediately, and their response is great with 24/7 chat support. You can also contact them through social media channels like Facebook, Twitter, Instagram, Telegram, Discord, Reddit, TikTok, and others.
How to Complete KYC Verification on Binance?
As you know by now, Binance requires KYC for almost every operation on the platform. So, you should complete the verification immediately after creating the account. Follow the steps below to be verified:
Step 1: Login & Go to Verifications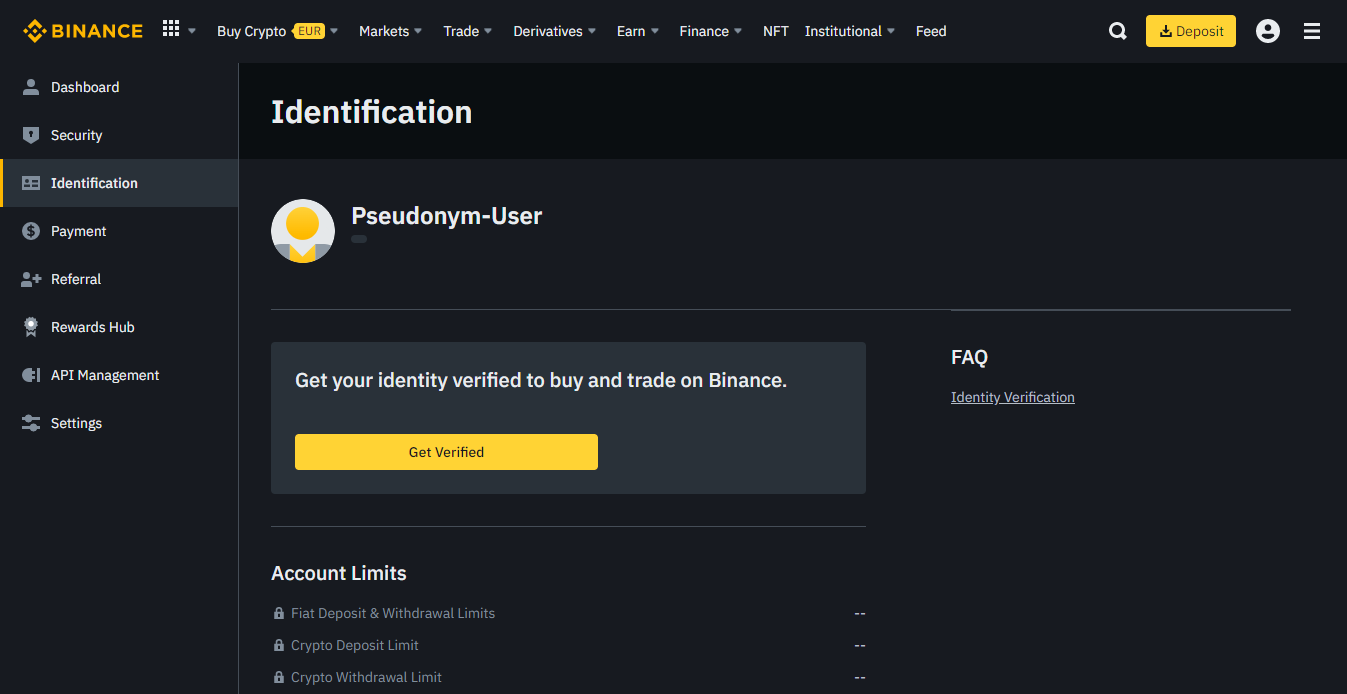 Create your Binance account and log in to your account. Click on the Profile Icon at the top right corner. From the right column, select the Verification tab.
Step 2: Provide Personal Information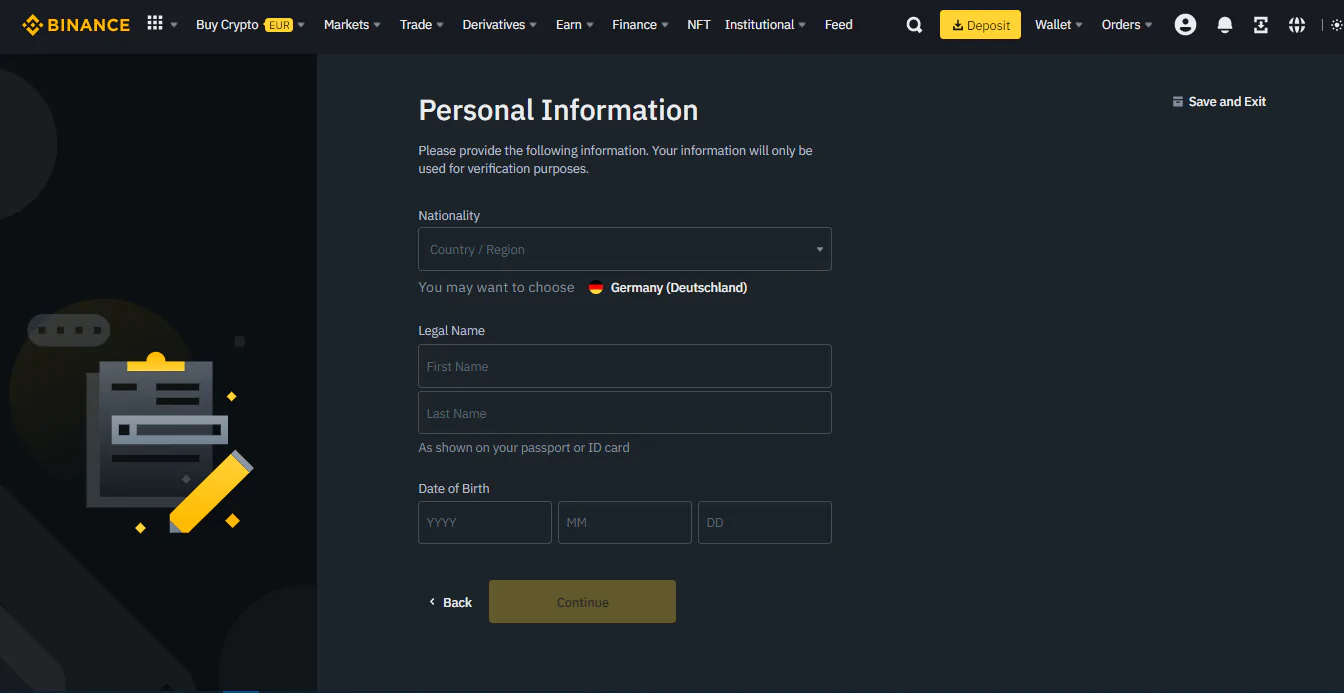 Click Get Verified to start the KYC process. First, enter the country, then provide the basic information, all according to your ID Card details. Click Next after double-checking the information.
Step 3: Upload ID Card Images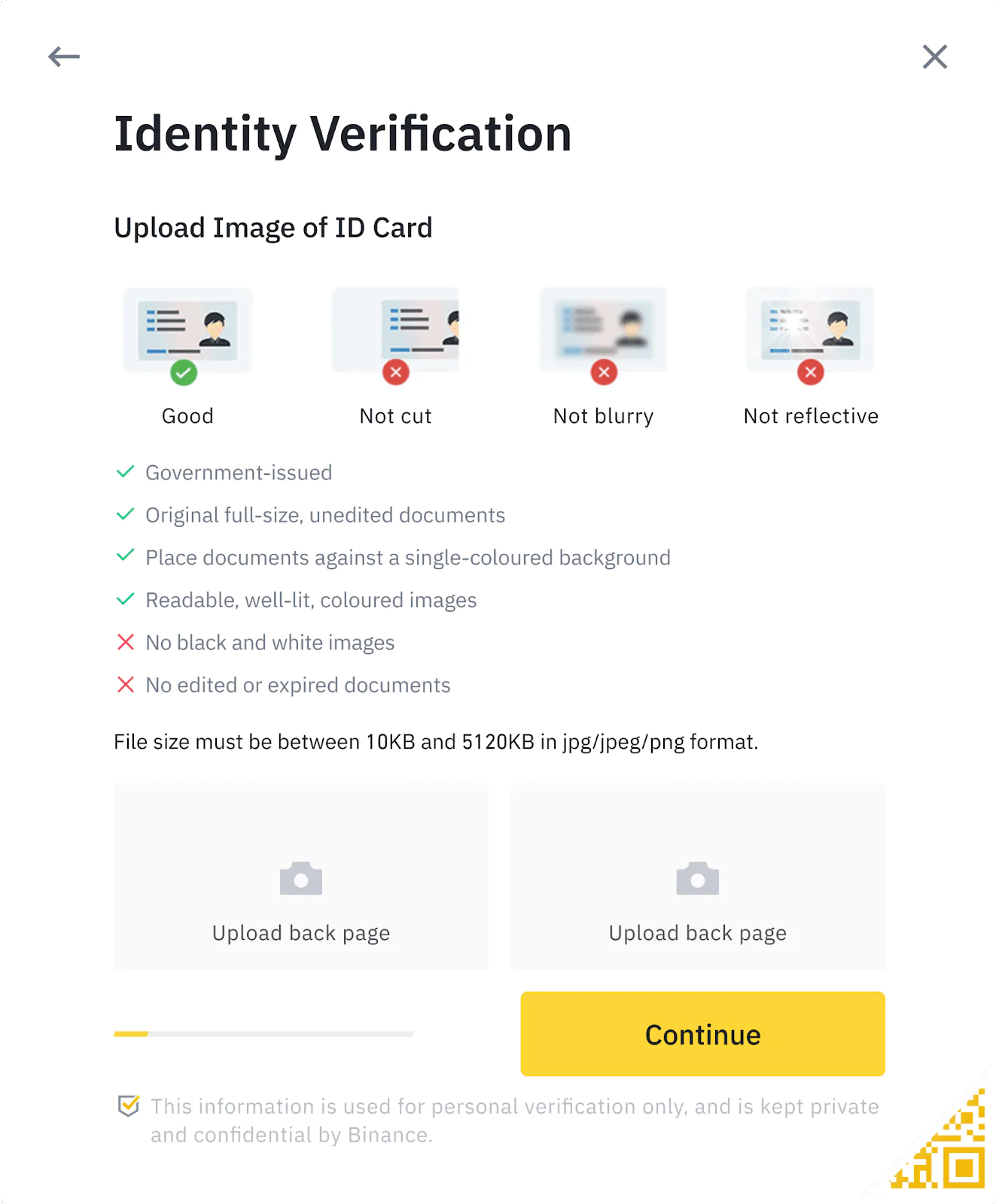 Select your preferred ID Card and upload its images from the front and backside. You can select the Government-Issued ID Card, Passport, or Driving License.
Step 4: Provide a Selfie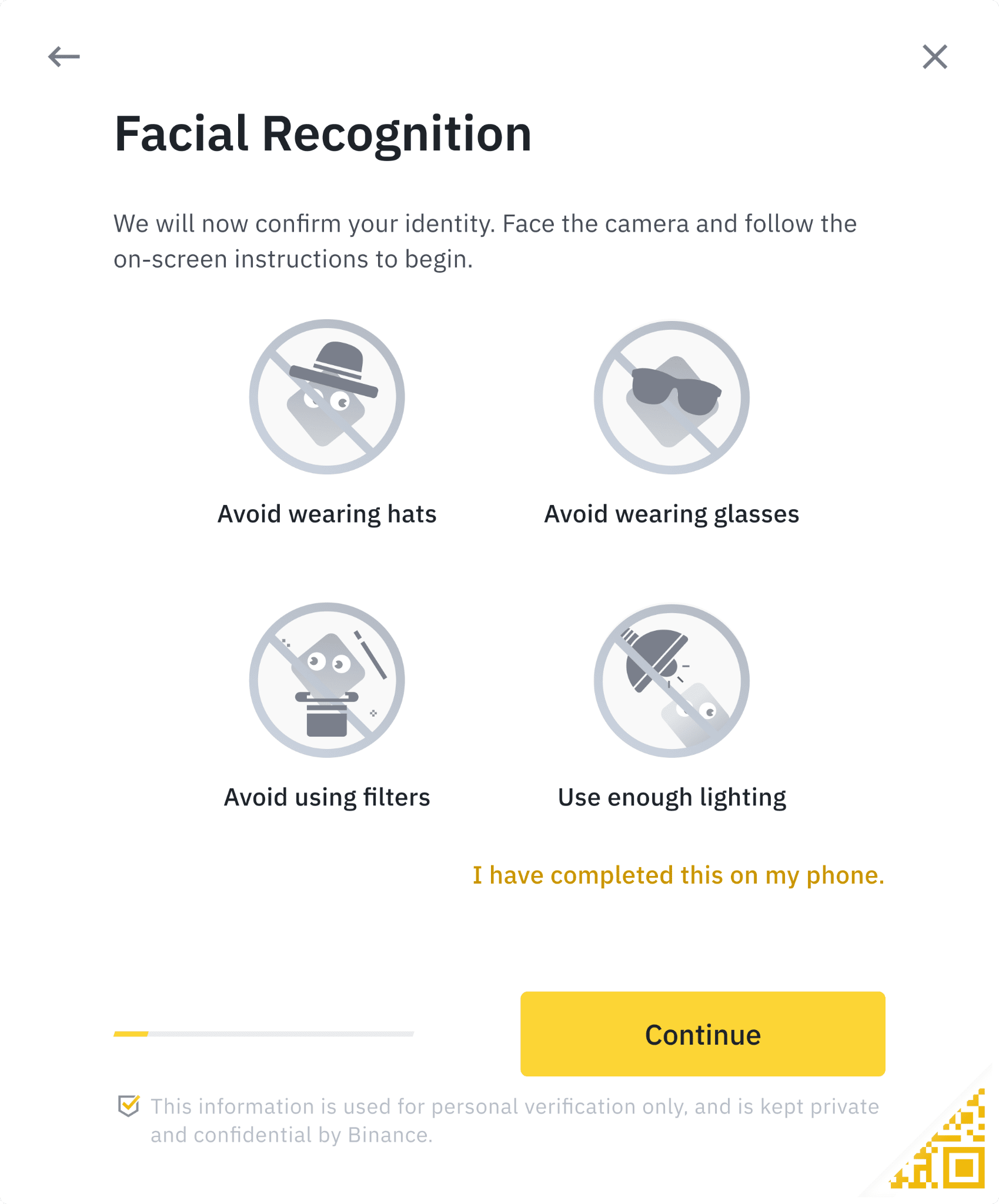 Next, take a selfie using your computer's webcam. You can also complete the process through your phone camera if you don't have a webcam. Install Binance mobile application and log in to your account. Click the QR Code button on your computer screen, and scan the code via phone. Capture your picture through your phone and finish the process.
It will automatically start the verification process. You will be notified once you are verified.
Step 5: Upload Residential Proofs (Optional)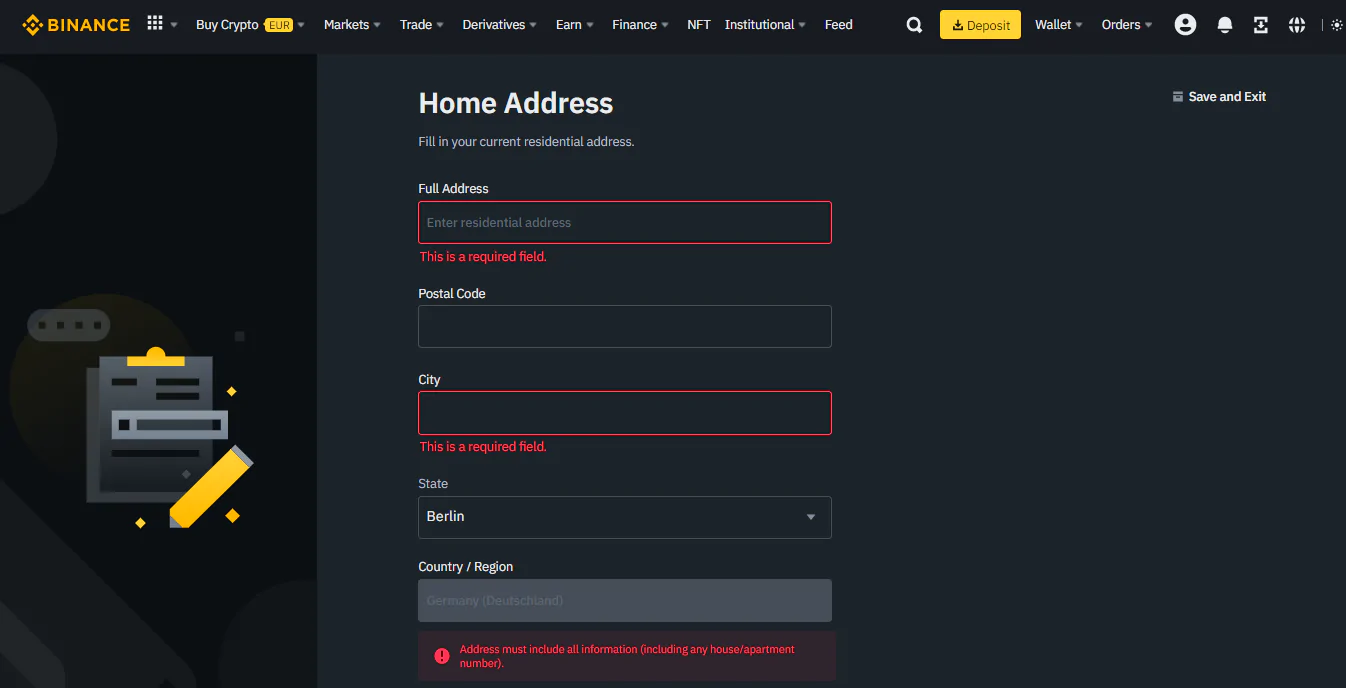 Completing KYC level 2 is not mandatory, but this verification will unlock more withdrawal limits. Click Verify Now on the Verification tab. Enter the correct information and upload pictures of your proof of residence. It can be a utility bill or your bank statement. Click Confirm after completing the process and wait patiently. You will be notified soon.
Final Note
Binance is the largest and the leading crypto exchange which requires KYC verification to operate on the platform. Although the process may irritate some people, it is the best practice of exchange to save its users from fraud and restrict money laundering. If you are also fascinated by the high user base of Binance, create an account now and verify yourself. The platform will be a top pick due to its amazing features, low fees and high liquidity.
FAQ
Does Binance Require KYC?
Yes, Binance requires KYC from its users to operate on the platform.
Does Binance Require KYC to Withdraw?
Yes, Binance requires KYC to withdraw fiat and cryptocurrencies from the platform.
Does Binance Require KYC to Deposit?
Yes, Binance requires KYC to deposit fiat and crypto coins from the platform.