If you plan to use Binance, you should know that Binance is a KYC crypto exchange. That means you must verify your identity in order to use any Binance service. Normally, the process is simple and takes 5-15 minutes, but there are cases where the Binance verification may take longer. In this guide, we will cover exactly what to take care of to make sure the Binance verification goes through as quickly as possible!
How long does Binance verification take?
On average, the Binance verification takes 10-15 minutes. Note, that this is only the case for Level 1 verification which is called "Verified".
The level 2 verification "Verified Plus'' on Binance can take up to 3 days. In the next sections, we will cover which information is required for the Binance verification and how you can speed up the process.
Another thing to consider is the current capacity of the Binance team. During the bull market in 2021, the Binance verification process could take up to 2 weeks because nobody was prepared for the sudden surge of new customers. We highly recommend verifying your identity on all crypto exchanges you consider useful as soon as possible so you are prepared for the craziness the bull market has to offer!
What is required for Binance verification?
For level 1 verification you must submit a government-issued ID such as your Passport or ID card. Furthermore, you must scan your face with a facial recognition device. This can be for example for your mobile phone or a computer webcam.
Government Issued ID: As of 2023, Binance accepts ID, Passport and in some cases even your driver's license, depending on which country issued it. You must take a clear picture of your chosen document.
Facial recognition: Binance requires you to take a photo and perform a video check. This is automated by the Binance software and you will have to turn your head around so everything gets scanned.
For Level 2 verification you must submit your proof of address. For this, Binance accepts utility bills and bank statements no older than 3 months. The bills or statements must display the exact same name as your government-issued ID from Level 1 verification as well as your full address (Province or City, ZIP Code, Street, Street number, and Apartment if applicable).
Proof of address: For level 2 KYC, BInance requires you to verify your address. You can use a Utility bill or Bank Statement for this. Make sure that all required information is included and everything is clearly readable.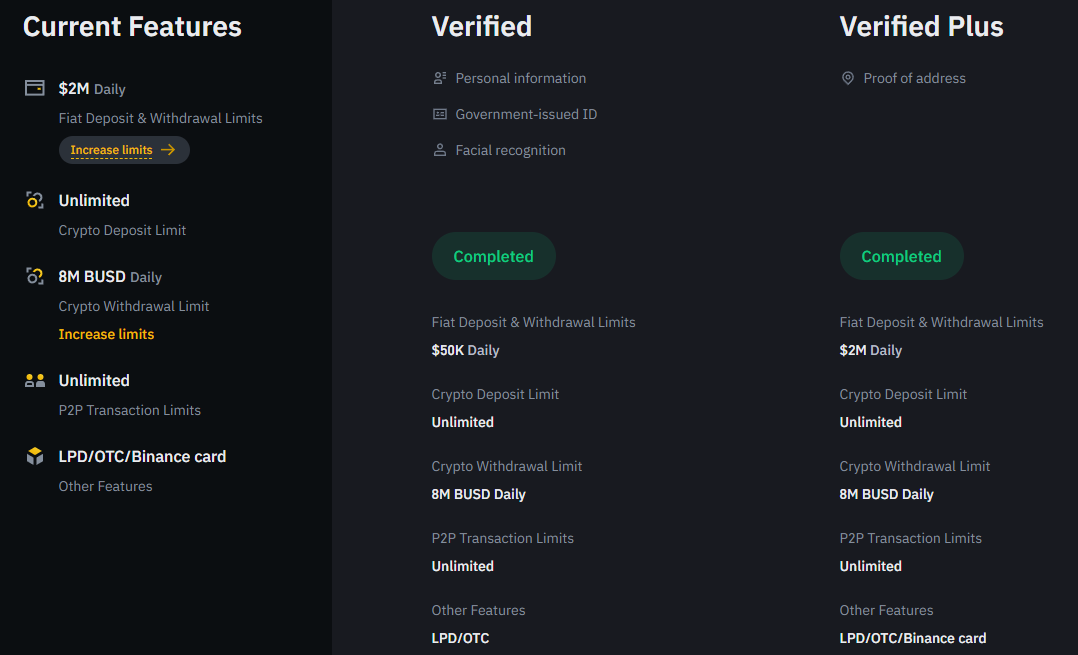 How to speed up Binance verification
There are a few things you can do to make sure your Binance verification goes as smoothly as possible.
First and foremost, use a device with a high camera resolution so that your government-issued ID is readable. Level 1 KYC requires you to take a photo of your ID or passport. Ensure that the quality of the image is high and everything is readable. For the facial recognition part, make sure your lighting is good and you don't wear any accessories such as hats, or other gear such as headphones.
For level 2 KYC you should make sure that the text of all documents is in the Latin alphabet. Bills and statements in Greek or Russian can take longer to be processed.
Use a high quality camera
Make sure the lighting is good
Make sure all details are readable
Make sure you look like your ID
Make sure your bill or bank statement includes your legal name and full address
Why Should I Verify My Binance Account?
You not only should verify your identity on Binance, but you actually must verify it. Otherwise, you will not be able to use any Binance feature, service, or product. Binance is a legitimate crypto exchange and requires its customers to verify their identity due to AML laws and regulations.
By completing your Binance Level 1 verification, you can start trading, depositing, and withdrawing. The daily deposit and withdrawal limit for Level 1 KYC is up to $50,000 for FIAT and $8,000,000 for crypto.
Level 2 verification unlocks a daily FIAT transaction limit of $2,000,000. If you want to learn more about Binance KYC verification and withdrawal limits, make sure to check out our Binance KYC Guide here.
Comply with laws and regulations
Increase withdrawal limits
Access all Binance features and products
Secure your account
Binance Verification FAQ
How long does Binance verification take?
Binance level 1 verification usually just takes up to 15 minutes. If things are unclear, this process can take up to 48 hours, however, this only happens in very rare cases. Level 2 KYC usually takes 1-3 days.
Is verification on Binance required?
Yes, Binance requires all users to verify their identity. This is mandatory due to regulatory compliance and AML laws.
Can I speed up my Binance verification?
Yes, you can speed your Binance verification up. Use a high-quality camera and make sure the lighting is good. Furthermore, make sure that all provided details are correct and that all required information is included.
Which exchange does not require verification?
The best option for non-KYC exchanges is MEXC, which is one of the largest crypto exchanges without verification.