KuCoin is a popular non-KYC crypto exchange. That means you can sign up to Kucoin and trade without having to do any KYC verification (Know Your Customer). The trading platform was launched in 2017 and quickly became a shining star in the crypto space. With low fees, many amazing low market cap cryptos, and a great user interface, Kucoin offers its users many ways to capitalize on the crypto hype.
Is it Safe to Use Kucoin Without KYC?
Yes, Kucoin is a safe cryptocurrency exchange to buy, sell, send, and trade your digital assets, even without KYC. You have all the major features, such as depositing and withdrawing cryptos, as well as trading.
While Kucoin seems like an overall secure choice for crypto trading, we never recommend keeping cryptos on an exchange except for trading. Self-custody through wallets such as the Ledger is always the safest option. Still, Kucoin offers traders an amazing place to execute their transactions and buy cryptocurrencies without KYC.

Why is Kucoin a Good Non-KYC Exchange?
Kucoin is a well-established name in the crypto space. Over the years, Kucoin has developed a very advanced crypto trading platform and is now even considered a Tier 1 centralized crypto exchange, ranking number 4 on coinmarketcap.

Many other exchanges require personal information for trading, depositing, and withdrawing. However, Kucoin lets its users trade, deposit, and withdraw cryptos without having to do any KYC. For this reason alone, Kucoin is already a top choice for crypto traders that choose to stay anonymous and don't want to reveal any personal information.
Allows Deposits, Withdrawals & Trading
You can even access the futures trading platform on Kucoin, where you can trade with low fees (0.02% maker and 0.06% taker) and up to 100x leverage to accelerate your gains. As mentioned earlier, Kucoin also has some of the best low market capitalization cryptos. While these are generally more risky, they also offer much higher upside potential. These cryptos are so-called "small caps" or "altcoin gems".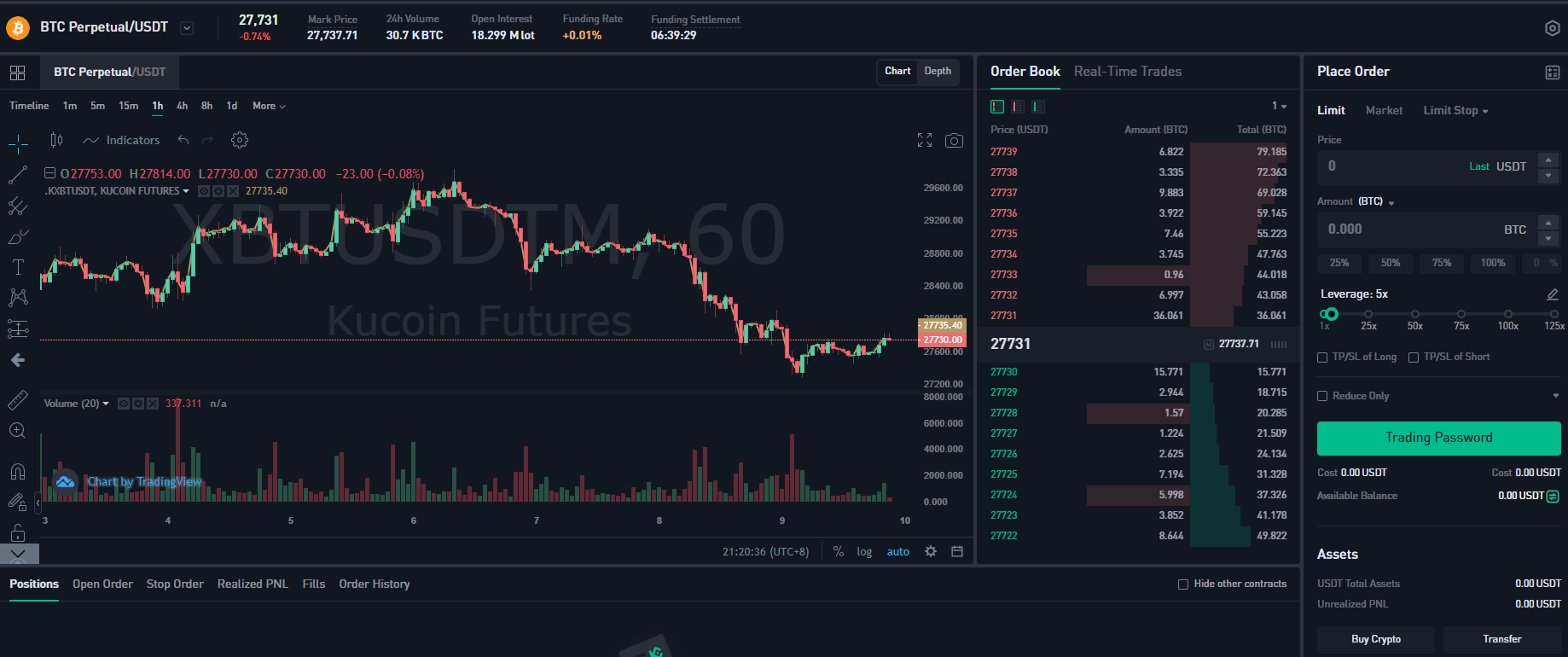 You can also deposit all cryptos, such as BTC, ETH, and USDT. And when you are done with your trading, you can withdraw your cryptos without KYC.
High daily Withdrawal Limit
Many non-KYC crypto exchanges heavily limit the daily withdrawal limits for unverified users. However, on Kucoin, you can withdraw up to 20 BTC (~$400.000 as of May 2023) every single day. This is a lot and would only affect whales. There is no monthly limit, but if you would withdraw the full 20 BTC limit per day, that would enable you to withdraw $12.000.000 per month from Kucoin, which is a very large sum!
The "Basic Features" are automatically included after creating your Kucoin account without having to submit any personal data.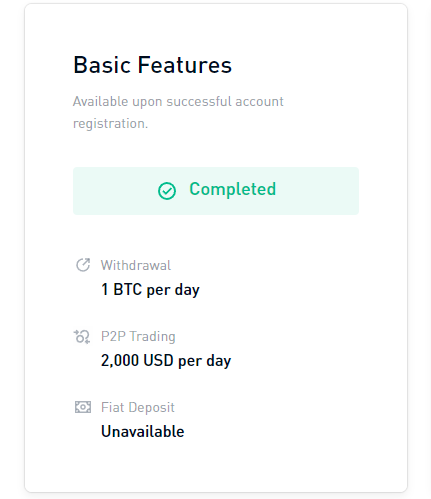 Overall Security
Even though Kucoin is an unregulated exchange (which is very common in the crypto space) that does not require KYC, they seem to be an overall secure trading platform. While Kucoin has been hacked in the past, they have taken drastic measures to level up its security protocols and now fully supports cold storage of crypto funds. Another thing worth noting is that in April 2020, Kucoin partnered with the custody platform Onchain Custodian to secure users' funds. Ever since Kucoin has not experienced any hacks and data breaches.
Account Security
Aside from just using a password, you can set up 2FA (Two Factor Authentication) via Google Authenticator, SMS verification, Email verification, which can then be required for logging in. You can also set up a trading password so that nobody can trade on your account without the unique trading code.
Kucoin even supports anti-phishing codes. These will be shown in official emails by Kucoin as well as their official login page. That way, you always know you are on the real Kucoin website and not a fake website that is trying to steal your login information.
None of these features require KYC, and they add further layers of security, and we highly recommend you do that right away in the "Account Security" section.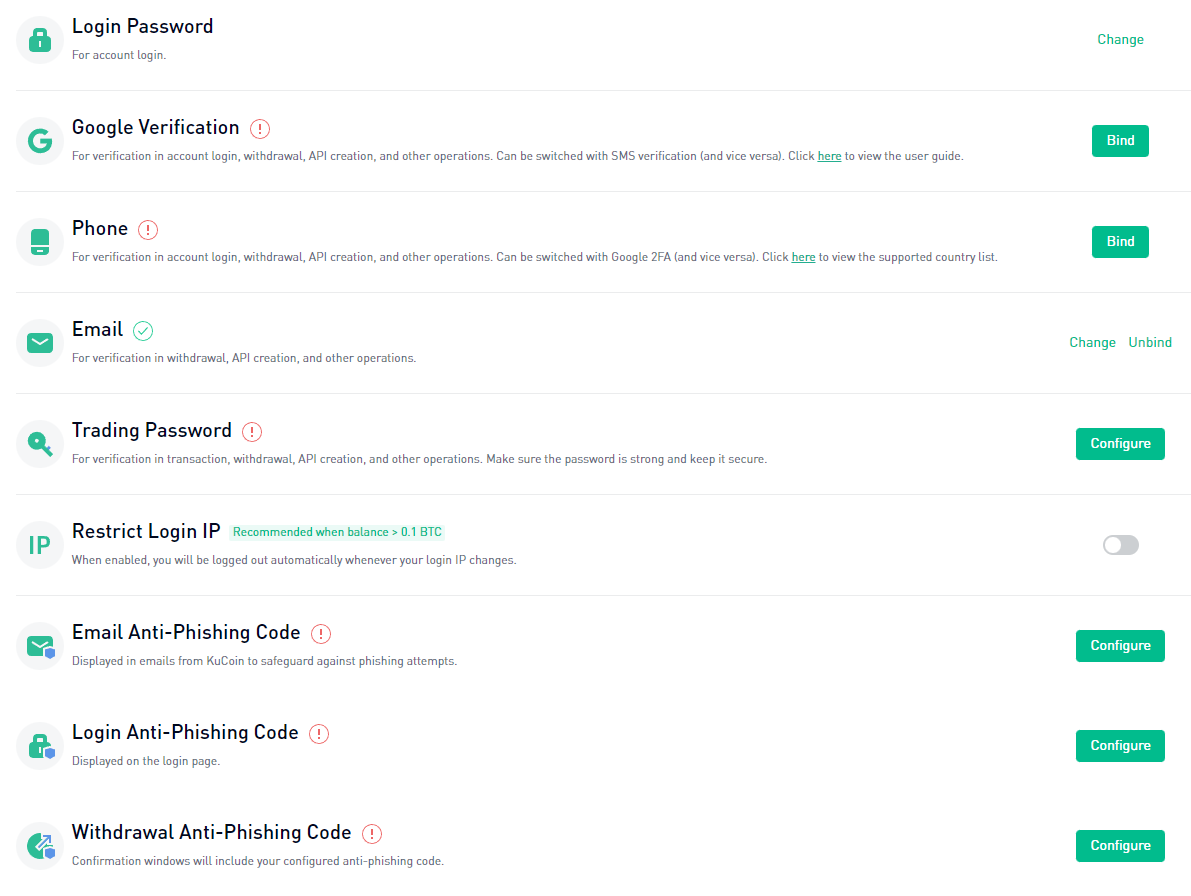 Customer Support
When trading cryptos, you might encounter problems, or you would just like to ask questions. Kucoin offers 24/7 customer support via email and live chat, also for users without KYC.
Limitations of using Kucoin without KYC
While you can do all main activities without KYC, using Kucoin without any verification comes with a few limits. One major point is the daily withdrawal limit. Verified users can withdraw 200 BTC per day, while users without KYC can only withdraw 20 BTC per day. As of May 2023, that is equal to $400.000 per day, so this would only affect really big traders with a lot of capital.
Furthermore, unverified users can only participate in P2P trading up to 2000 per day. Please note that you can still trade on the spot and futures market as much as you want. This limit only refers to the Peer 2 Peer market.
Lastly, you can not onramp FIAT currencies (only cryptocurrencies!) without verification via credit cards or bank wires. That means you would have to use other services and platforms where you can onramp FIAT currencies such as EUR or USD. Then you can simply buy USDT and send it over to Kucoin to trade and buy cryptos anonymously.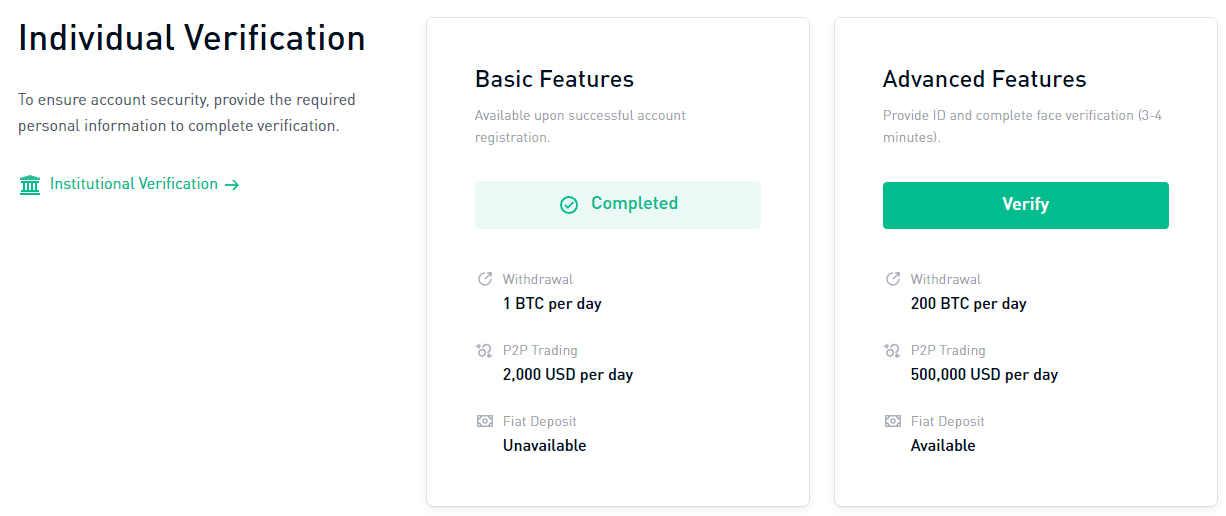 How to Complete KYC Verification on Kucoin?
If you feel like Kucoin is the right choice for your crypto trading and you would still like to verify your identity for higher withdrawal limits, you can follow our step-by-step guide for the Kucoin KYC verification below.
For the KYC verification on Kucoin, you need:
Personal name (first and last)
Passport, ID card or drivers license
Working camera (e.g. computer webcam or phone camera)
Step 1: Sign up to Kucoin, go to the homepage, and click on your Profile in the top right corner.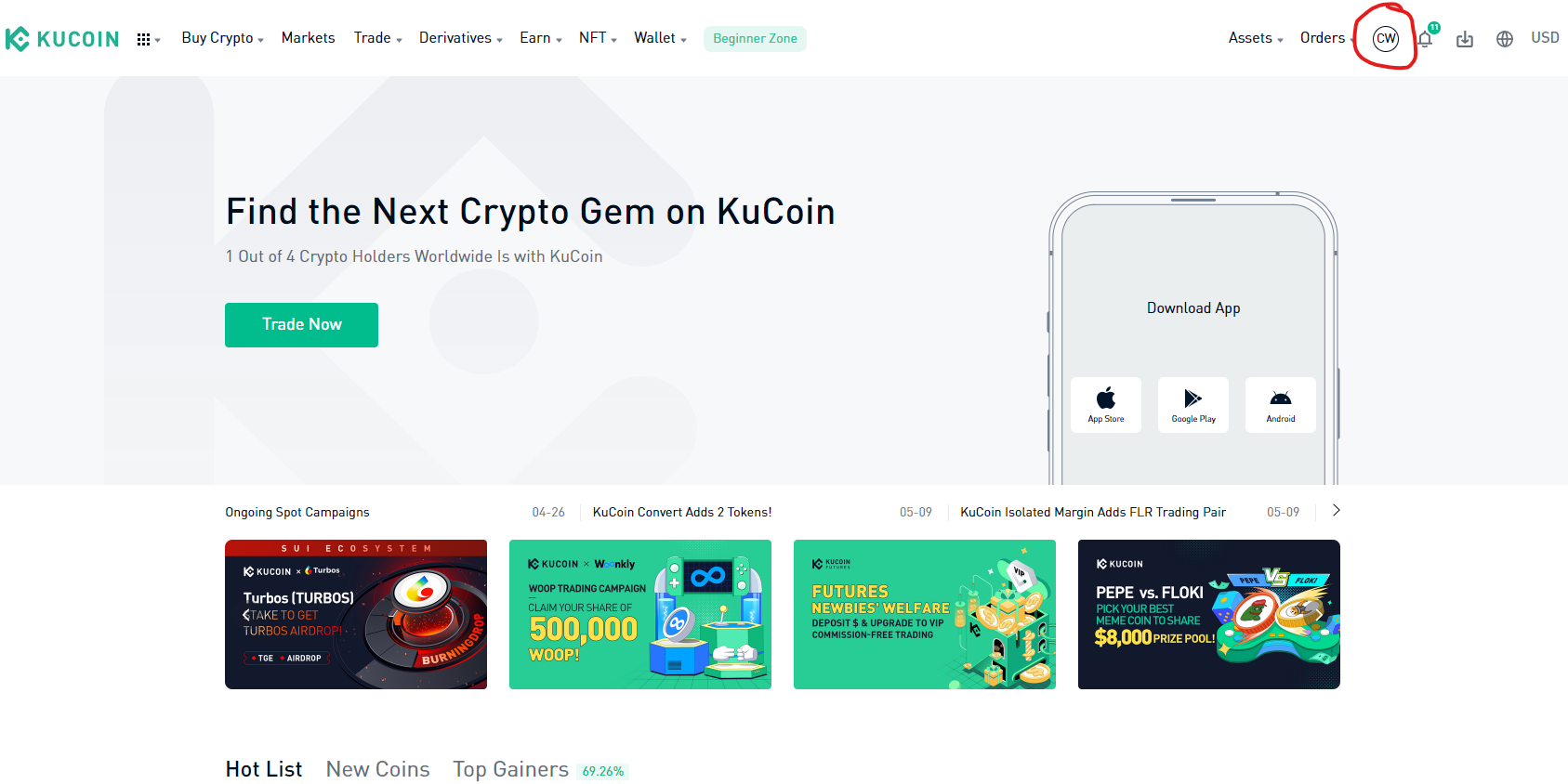 Step 2: Click on "Identity Verification".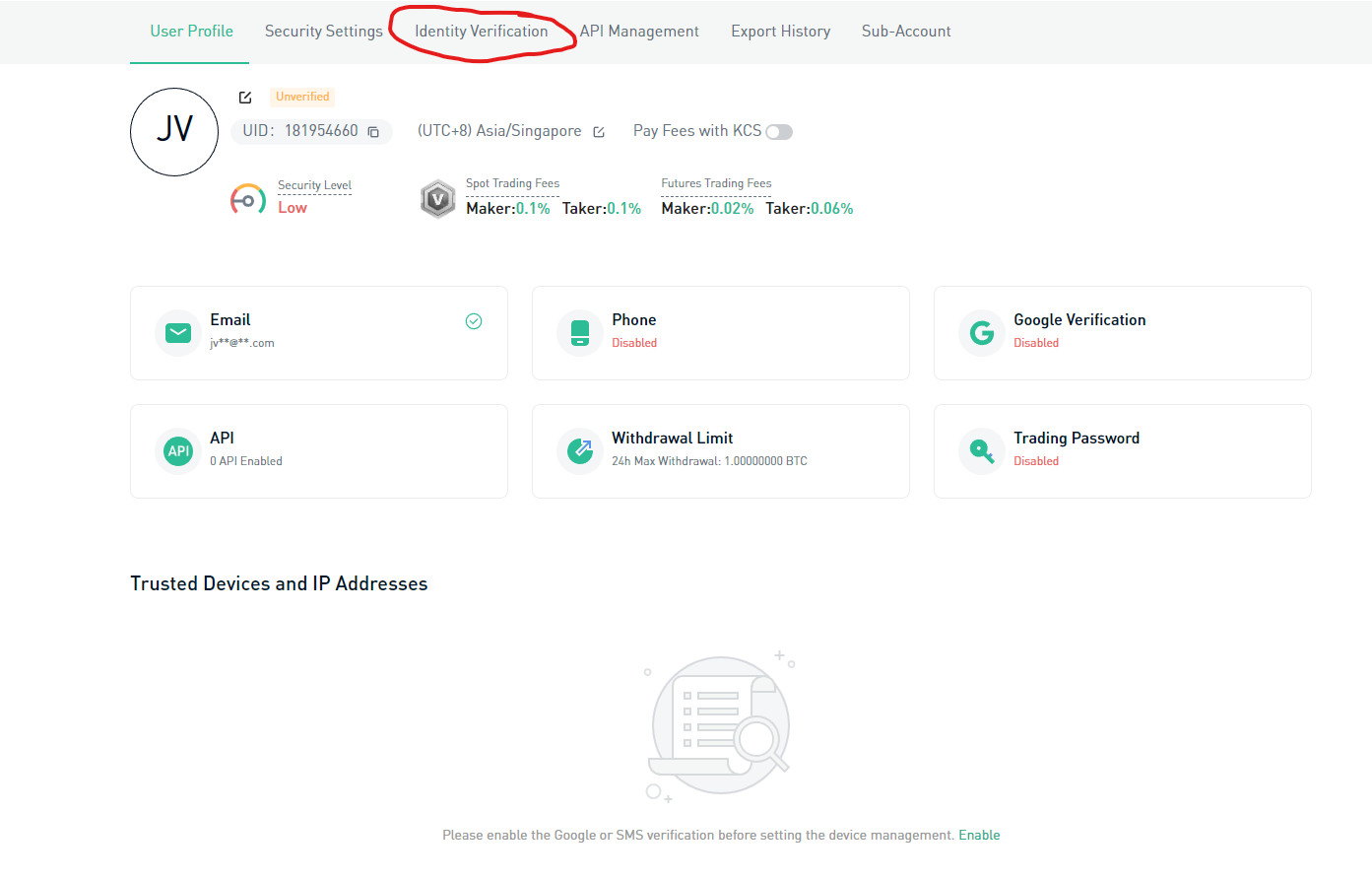 Step 3: Choose the type of verification you want to do. For personal traders, you want to select the option for "Advanced Features". If you are working as a company, you will have to choose "Institutional Verification".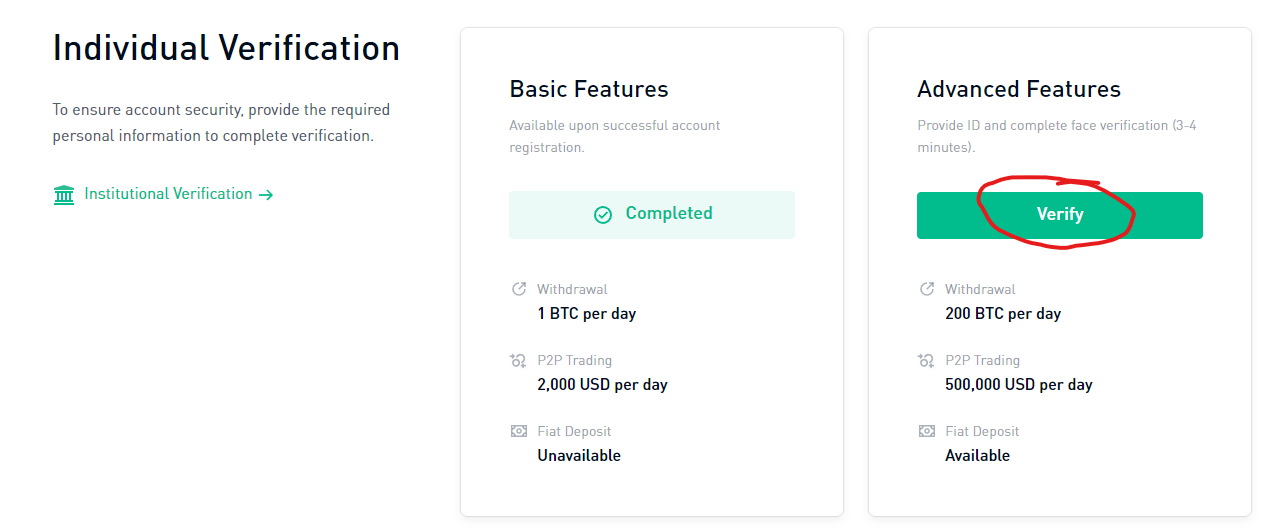 Step 4: You can finish the Kucoin KYC verification with your phone or on your computer. Just note that you need a working camera. So if your laptop or PC does not have a camera, you must use your phone.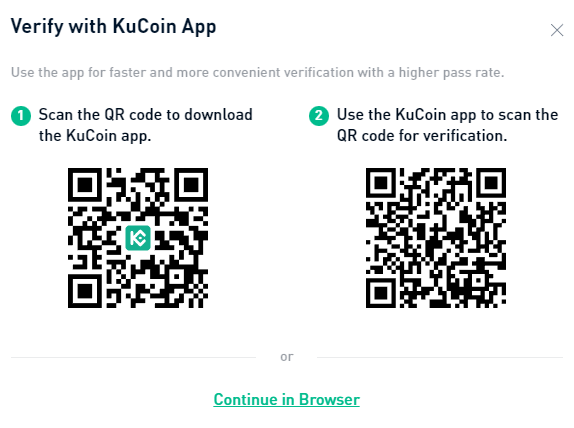 Step 5: Select your country and the type of ID you want to use (e.g. Passport, ID Card, or Drivers license). Also, if you can not find your country (such as the United States), your country is restricted from using Kucoin, so you can not finalize the KYC verification.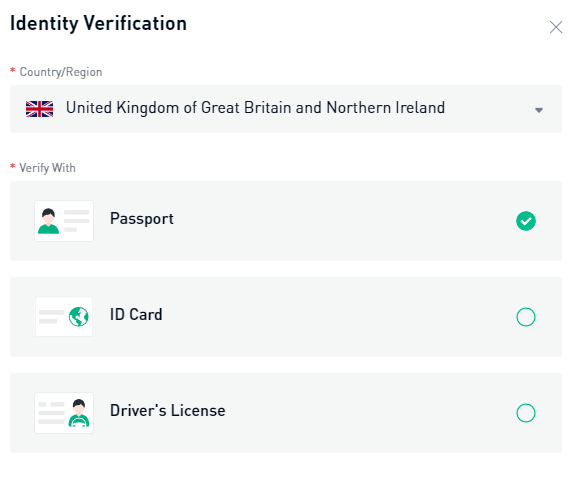 Step 6: Next, enter your first and second name, as well as your ID number.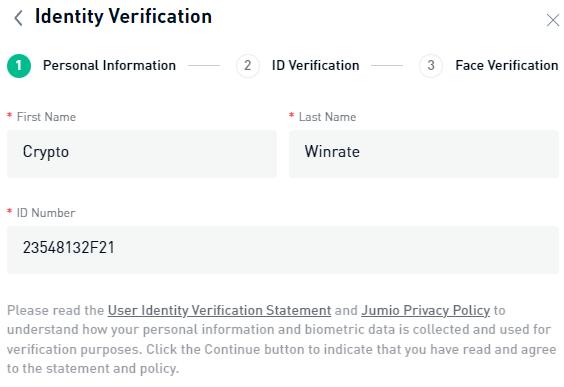 Step 7: In the last step, you have to hold your ID into your camera as well as scan your face. This step from Kucoins' KYC verification process requires a working camera. You can use your webcam or phone for this.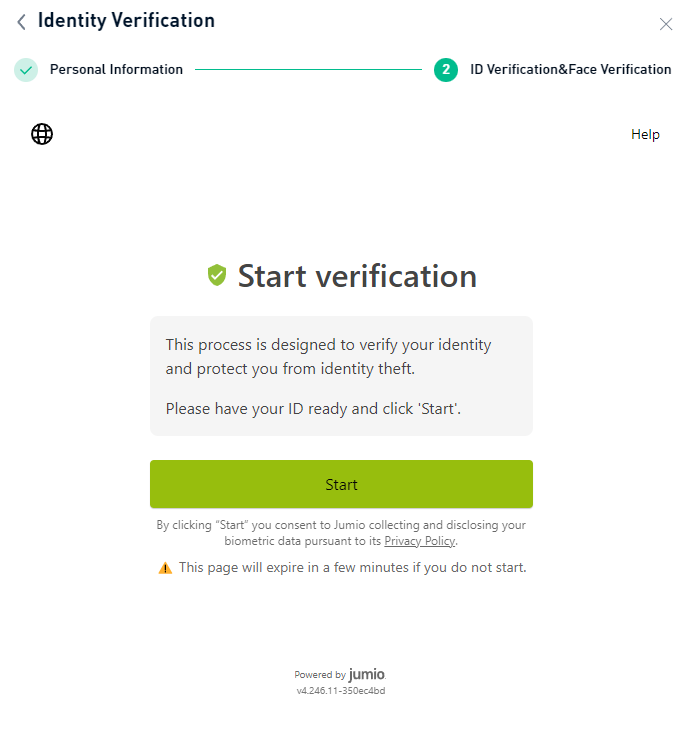 After you have finished all steps, you just have to wait for the verification to be processed and approved. This can take a few minutes up to a few hours.
Final Note
Kucoin offers crypto traders a great platform where they can stay anonymous without having to do any KYC verification or personal identification. Traders can buy, sell, deposit, and withdraw cryptos on Kucoin without KYC. You also get full access to the futures market, where you can trade with low fees and up to 100x leverage.
Furthermore, Kucoin even offers a very generous daily withdrawal limit of 20 BTC (over $400.000). That means you can withdraw over $12.000.000 per month from Kucoin without any KYC verification.
If you still wish to verify your identity, you can simply follow our step-by-step guide. Doing so will increase your daily withdrawal limit by 10 times to 200 BTC per day.
Kucoin KYC FAQ
Does Kucoin require KYC verification?
No, Kucoin does not require KYC. You can deposit, withdraw and trade without submitting any personal information.
Can I buy Cryptos on Kucoin without KYC?
Yes, you can buy cryptos on Kucoins spot market without KYC. However, Kucoin does not offer credit card and bank payments for direct crypto payments. So you would have to send cryptos such as USDT from other platforms to Kucoin so you can buy cryptos on Kucoin.
Is Kucoin legal?
Yes, Kucoin is a legal crypto exchange operating in over 100 countries. However, some countries are restricted from using Kucoin due to regulations. We do not recommend using Kucoin from restricted areas.