After making some profits from your crypto trading, you might wonder how to cash out profits from Bybit to your bank account. Luckily, Bybit does not only offer crypto withdrawals but also FIAT withdrawals. That means you can convert your cryptos on Bybit to native FIAT currencies such as EUR, GBP, USD, RUB, TRY, and more. Currently, Bybit supports 10 FIAT currencies for withdrawals. However, it is important to note that Bybit requires KYC verification for withdrawals. Below we will show you which withdrawal methods are available, and what the fees are and we will of course show you how to withdraw money from Bybit to your bank account.
Bybit Available Withdrawal Methods
Bybit supports different payment methods for each FIAT currency. As of 2023, Bybit supports FIAT withdrawals for 10 different currencies. The main payment methods are Advcash and ZEN.
Note that you must create an Advcash account to receive the funds. The following FIAT currencies are handled through Advcash Wallet with 0% fees and instant processing:
BRL is handled through the payment methods PIX, and PLN is handled through ZEN. Some FIAT currencies also support Bank transfers additionally.
All Bybit withdrawal methods are free of charge, meaning the Bybit withdrawal fees are 0%.
How to withdraw Money from Bybit to a Bank account
When you want to send money from Bybit to your Bank account, the first thing you have to do is transfer your crypto from your spot or futures account into your funding account. And then we will convert your cryptos into your local FIAT currency.
Step 1: Head over to your wallet by hovering over the "Asset" drop-down in the top right corner and then selecting "Spot" or futures, depending on where you have your assets currently stored. In the end, we must move them over to the funding account.

Step 2: Transfer your cryptos into your funding wallet. In my case, I transfer my USDT from my spot account to my funding account.

Step 3: Confirm that you want to transfer cryptos into your funding account.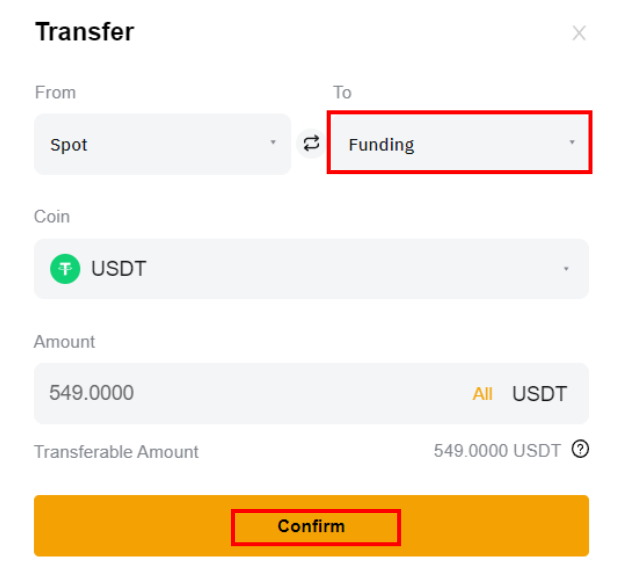 Step 4: Now we have transferred our cryptos into the funding account. Make sure you head over to your funding account. Now convert your cryptos into FIAT. In this case I convert my $549 USDT balance into EUR, as EUR is the currency of my bank account.

Step 5: Select the crypto you want to convert and select which FIAT currency you want to receive. Approve the conversion of your crypto to FIAT.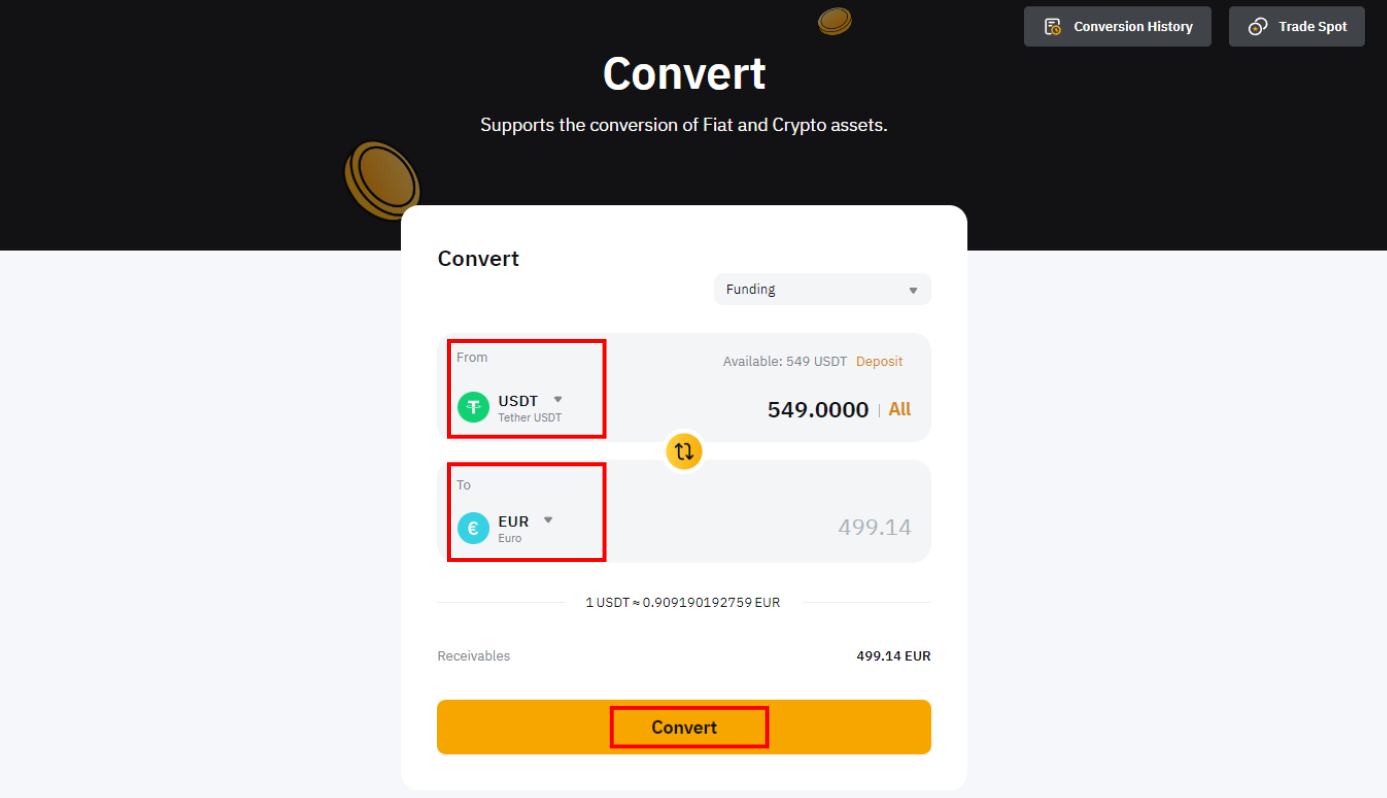 Step 6: Now we finally have the FIAT currency we wish to withdraw from Bybit. Go back to your funding account and now select the FIAT tab instead of the Crypto tab. Then click on withdraw.

Step 7: Select your Bybit withdrawal method, type in the amount you wish to withdraw from Bybit, and click on continue.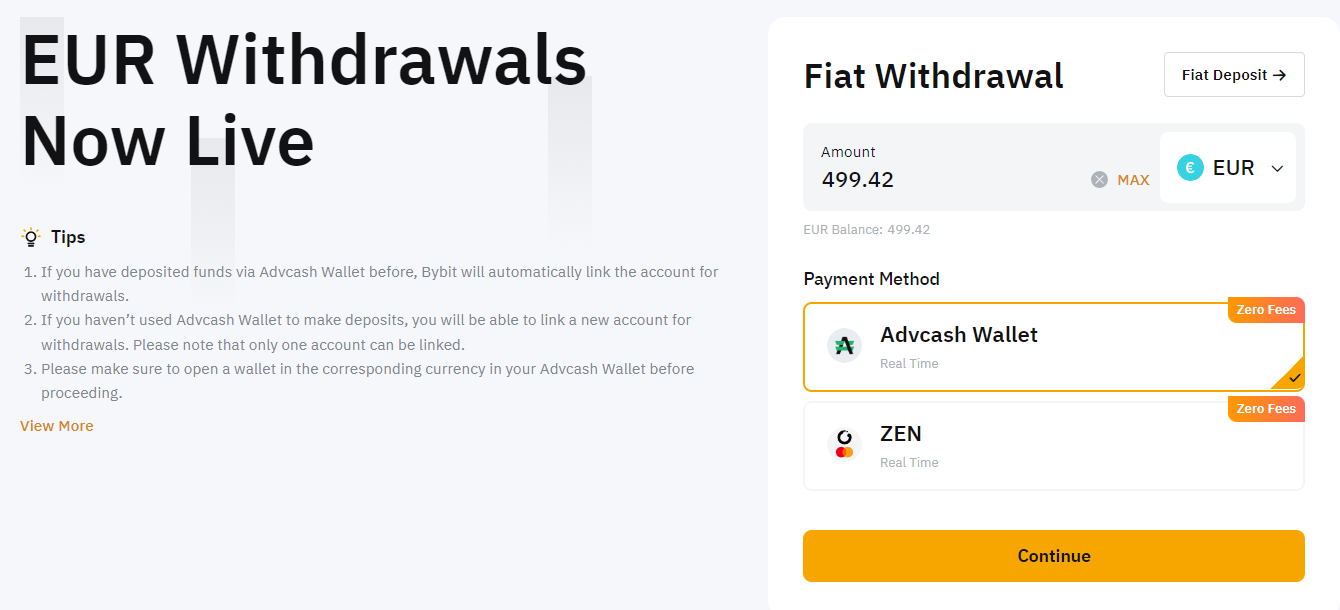 Step 8: Add your Advcash account and finalize the transaction!
FAQ – Bybit Withdrawals
Can I withdraw FIAT from Bybit to my bank account?
Yes, you can withdraw FIAT currencies from Bybit to your bank account. Bybit supports withdrawals for 10 FIAT currencies which are mainly processed by Advcash.
Can I withdraw from Bybit without KYC?
No, Bybit is a KYC exchange. That means you must verify your identity before using any of their services.