Prime XBT has quickly gained recognition and respect in the industry since its founding, catering to clients from over 150 countries. But what sets Prime XBT apart? One of their main selling points is the ability to leverage trade across a range of assets.
With 41 cryptocurrency pairs offering up to 200x leverage and forex/commodity assets with leverage up to a staggering 1,000x, PrimeXBT empowers traders to amplify their potential gains.
Moreover, PrimeXBT stands out by pooling liquidity from over 12 exchanges, ensuring traders never have to worry about market liquidity. Join us as we explore the exciting world of Prime XBT and what it has to offer.

Overall Thoughts On Prime XBT
When it comes to trading platforms, Prime XBT stands out for its key attributes that make it a favorite among traders. From the moment you sign up, you'll notice the fast and easy registration process, allowing you to dive into the exciting world of trading in no time.
Low fees make trading with Prime XBT more cost-effective and maximize your potential returns. Trading shouldn't break the bank, and Prime XBT understands that.
Another aspect that sets Prime XBT apart is its support for both long and short trading with leverage. This flexibility empowers you to implement a range of trading strategies that suit your preferences and risk appetite.
But it doesn't stop there. Prime XBT offers a diverse range of asset classes to trade, including cryptocurrencies, forex, commodities, and equities, all through CFDs. With such variety at your fingertips, you can explore different markets and opportunities.
Prime XBT supports credit/debit cards as well as SEPA transfers. And for those seeking alternative purchase methods, the platform offers options through Paxful's peer-to-peer network.
Lastly, Prime XBT understands the importance of customer support. The highly responsive customer support team is just a Live Chat away, ready to address your concerns and answer your questions promptly. After all, trading is not a solo endeavor, and having reliable support makes a world of difference.
Prime XBT Pros
When it comes to trading platforms, Prime XBT stands out for its array of advantages that can elevaur trading experience. Here are some reasons why Prime XBT is a popular choice among traders:
Copy-trading for shared expertise and earnings
Responsive Live Chat customer support
Multiple payment options (cards, SEPA, PAXFUL)
Competitive and low fees
Diverse trading options (forex, crypto, commodities, indices)
Strong security (2FA, notifications, cold wallets, login logs)
Trade cryptos, foreign currencies, major stock indices, and commodities
An innovative covesting mechanism
Tools and charts for robust technical analysis
Prime XBT Cons
Here are some cons to keep in mind:
No Demo Account
Withdrawals limited to cryptocurrencies only
Limited deposit options
Not available in 14 countries including the U.S., Canada, and Japan
No lending or staking services
Services offered on Prime XBT
Supported Asset Classes
At PrimeXBT, you'll find a selection of asset classes that cater to various trading preferences. Let's explore the supported asset classes and discover their exciting opportunities:
Get ready to dive into the world of cryptocurrencies with 41 tradeable markets. From popular options like Bitcoin (BTC) and Ethereum (ETH) to altcoins such as Cardano (ADA) and Solana (SOL), you can explore a variety of Crypto-Fiat and Crypto-Crypto pairings.
Margin trading with crypto-fiat pairs like BNB/USD or ADA/USD allows for enhanced trading flexibility.
With 51 tradeable currency pairs, including majors, crosses, and exotics, the forex market is at your fingertips. Whether you prefer trading AUD/USD, EUR/USD, or GBP/USD, you'll find ample opportunities to capitalize on the dynamic forex market.
5 tradable commodities include Brent, crude, gold, natural gas, and silver.
Engage with the performance of global markets through 11 tradable indices. From the ASX200 and S&P500 to the Nikkei225 and FTSE100, you can participate in the growth and movements of major stock market indices worldwide.
Charts
PrimeXBT offers traders interactive charts on the Trade and Analysis pages, enabling them to conduct technical analysis using drawings and indicators. Users can access various technical indicators and view charts across various time intervals.
The platform supports multiple chart types, including candles, hollow candles, Heikin Ashi, bars, lines, areas, and baselines. To view the chart for a specific trade pairing, navigate to the Trade page and select the desired asset pairing from the dropdown menu on the left-hand side of the chart.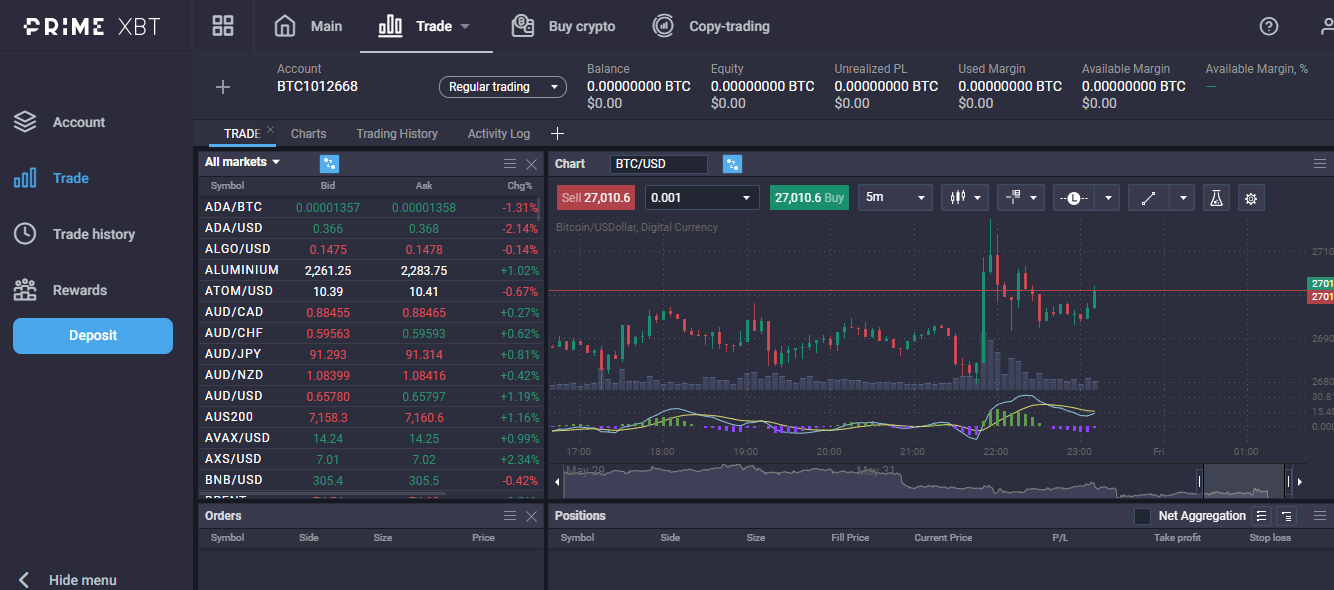 Trading
The PrimeXBT trading platform offers a user-friendly interface and a wide range of tools for traders of all skill levels. With its own advanced trading technology, the platform is robust and packed with features.
To access trading histories, simply visit the Trade page and navigate to the Trading History section or the Trade History page.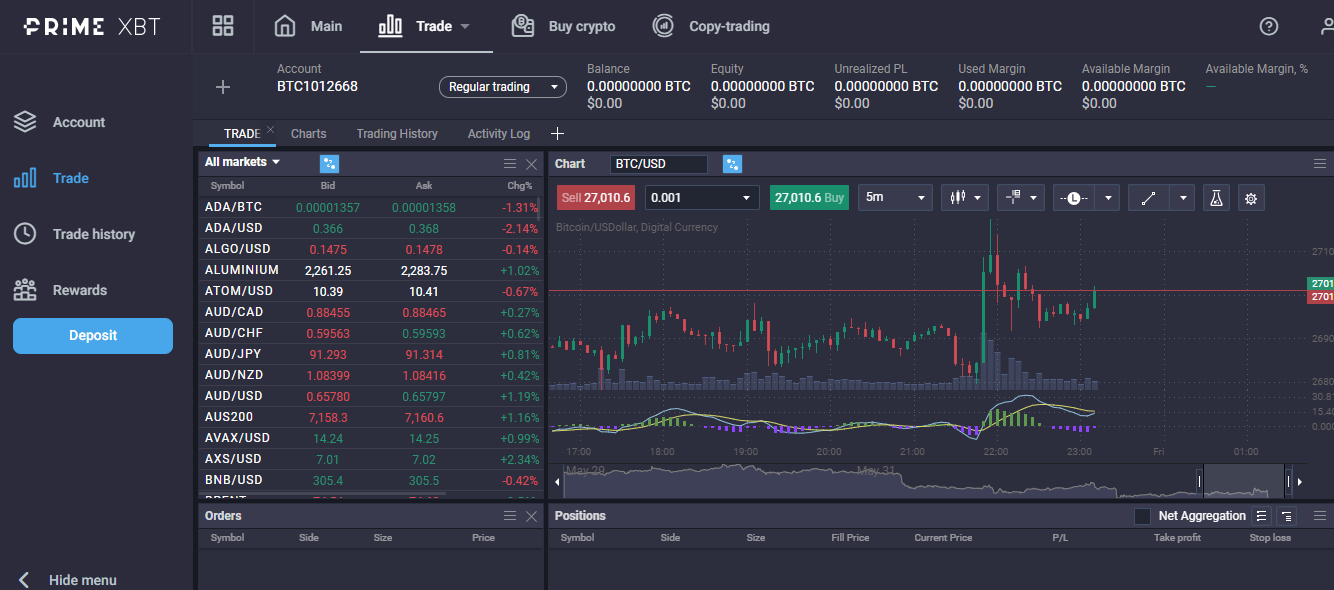 These sections provide comprehensive information such as date/time, symbol, side, amount, price, settled P/L (%ROI), %ROI on Margin, Commission, and Order ID, ensuring traders have all the necessary data at their fingertips.
Wallet
On the Dashboard, users can easily locate their crypto wallets and access various functionalities. They can deposit, withdraw, exchange, or buy cryptocurrencies. The Dashboard also provides information on individual wallet balances in both crypto and dollar equivalents, as well as transfer history.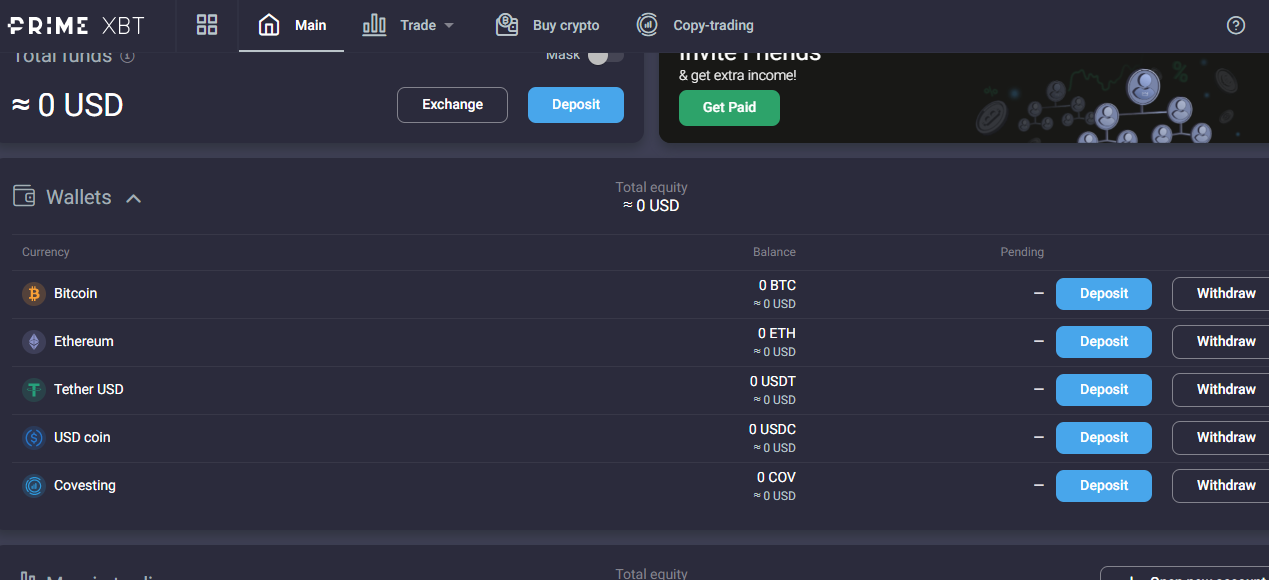 While PrimeXBT ensures robust security measures, it is advisable for users to transfer idle cryptos to external private wallets for added security.
Cryptocurrencies
You can deposit and withdraw cryptocurrencies by following these steps:
Deposits
To deposit your externally held cryptocurrencies, navigate to the Dashboard page and click on the Deposit icon.
Choose the desired cryptocurrency and either scan the provided QR code or copy the PrimeXBT wallet address.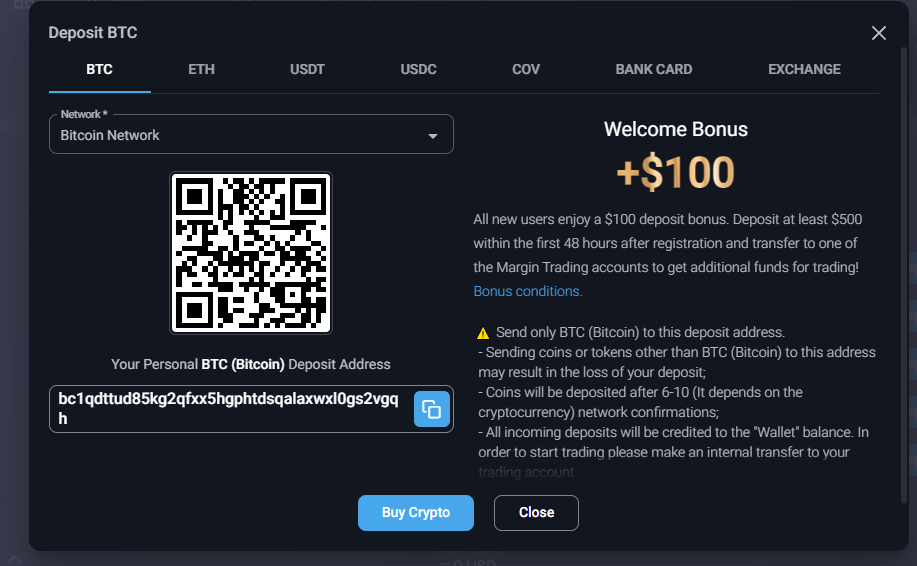 It's crucial to double-check the address before transferring funds to avoid any loss.
While there is no individual minimum deposit, ensure you have enough cryptos to meet the minimum margin requirements for trading. For a seamless transfer, we recommend scanning the QR code from your private wallet to your PrimeXBT wallet.
Withdrawals
To initiate a withdrawal, navigate to the Dashboard page and click on the Withdraw icon for your desired cryptocurrency.
Follow the instructions to add your external wallet address.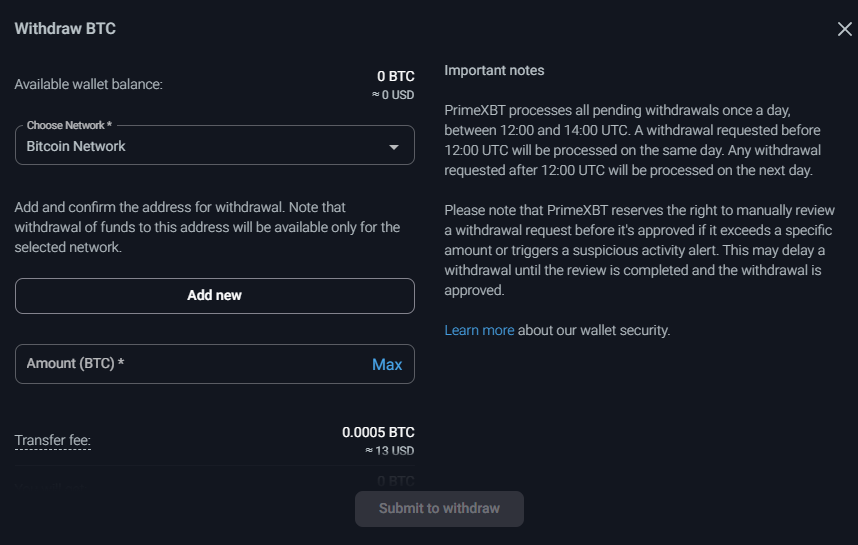 Enter the amount of coins you wish to withdraw and click the Submit button.
It's essential to double-check all the provided information, as incorrect details could result in the irreversible loss of your crypto assets. Take note of any associated fees and processing times to ensure a smooth withdrawal process.
PrimeXBT Covesting
Covesting is a unique feature on the PrimeXBT platform that empowers users to mirror the trades of top traders effortlessly. If you're new to trading or simply don't have the time or expertise, Covesting offers a fantastic opportunity to passively earn profits.
By following the trades of experienced and successful traders, you can replicate their trading decisions and potentially achieve similar results.
Additionally, covesting also allows you to showcase your skills by setting up your own portfolio and trading strategy for others to follow. As a Covesting leader, you can attract followers and earn rewards.
The minimum personal funds required to become a Covesting leader depend on the currency: 0.05 BTC, 1.2500 ETH, 2,500 USDT, or 2,500 USDC.With Covesting, trading success and passive profit are within your reach.
PrimeXBT Turbo
Experience the captivating PrimeXBT turbo feature, offering the potential for over 70% returns in just minutes. Predict the short-term price movements of assets like Bitcoin, Gold, S&P 500, Oil, and EUR/USD. Select your prediction duration based on the asset, ranging from 1 to 15 minutes.
In case of an incorrect prediction, the loss is limited to the pledged amount. Take advantage of this exciting opportunity to maximize your investment gains with the preset potential returns of the turbo feature.
Order Functionality
For traders who prefer a more technical approach, having a range of order types and functionality is essential. These order types allow traders to define specific levels for entries and exits, serving as crucial risk management tools, especially in leveraged trading scenarios.
PrimeXBT offers a comprehensive selection of order types, catering to the diverse needs of traders. The platform supports standard order types and includes additional protection orders. Let's explore some of these order types:
Market Order: This traditional order type is executed immediately at the prevailing market price, enabling instant buying or selling.
Limit Order: Traders can place orders to buy or sell assets at pre-specified levels away from the market. Once the market reaches the specified level, the order is executed.
Stop Market Orders: These orders automatically convert to market orders when a specific level is reached. Traders utilize them to limit losses as stop-loss orders or to secure profits on positive positions.
Protection Orders: PrimeXBT offers additional protection for existing positions or orders. Traders can set up protection orders alongside their main orders, providing an added layer of risk management.
One-Cancels-the-Other (OCO): This set of orders ensures that the execution of one order automatically cancels the other. The main order, labeled as "1," triggers the cancellation of the accompanying order.
PrimeXBT Mobile App
If you're constantly on the move and need to stay connected to your trading activities, PrimeXBT has got you covered with their mobile apps. The PrimeXBT and PrimeXBT Futures Pro apps, available for both iOS and Android, allow you to trade and monitor your positions on the go.
While trading on a smaller screen may pose challenges for technical analysis, the app offers charting tools, easy order execution, and account management features. One standout feature is the ability to customize your layout, tailoring it to your trading preferences.
Additionally, the app provides a wide range of order options, surpassing what we've seen in other mobile trading apps. So, even if you have big fingers, you'll still have a user-friendly and efficient trading experience at your fingertips.
PrimeXBT Tutorials & Guides
PrimeXBT goes the extra mile to provide a seamless trading experience. Their extensive self-help and FAQ section offers valuable insights into platform features, product offerings, and navigation tips.
For visual learners, PrimeXBT offers a range of professionally crafted video tutorials accessible within your account. These tutorials cover essential topics like trade placement, stop-loss and protection orders, account funding, and leverage utilization.
To further enhance your trading knowledge, PrimeXBT's unique Medium blog offers additional information on futures trading and broader trading disciplines such as Technical and Fundamental analysis. With PrimeXBT's comprehensive resources, you can trade like a pro while enjoying a user-friendly and informative platform.
Prime XBT Exchange fees
Deposit Fees
There are 0% deposit fees.
Trading Fees
PrimeXBT charges different trading fees based on the type of asset.
| | | | | |
| --- | --- | --- | --- | --- |
| Fee | Cryptocurrencies | Stock Indices & Commodities | Gas And Oil: | Forex & Metals: |
| % of transaction amount | 0.05% | 0.01% | 0.01% | 0.001% |
Covesting (Copy Trading) Fees
Using the Covesting feature is free to set up, but a commission is taken on your profits. 20% goes to the trader you're following, while PrimeXBT receives a percentage based on your initial investment. Commission details are provided in the table below.
| | | | |
| --- | --- | --- | --- |
| Invested amount | Your percentage | PrimeXBT | Trader |
| B0.001 – B0.02 | 60% | 20% | 20% |
| B0.02 – B0.05 | 65% | 15% | 20% |
| B0.05 – B0.1 | 70% | 10% | 20% |
| B0.1 (max limit) | 75% | 5% | 20% |
Withdrawal Fees (FIAT)
There is no support for withdrawals of fiat currencies on PrimeXBT.
Withdrawal Fees (Crypto)
Depending on the coin, there is a flat fee for cryptocurrency withdrawals, as shown in the following table.
| | |
| --- | --- |
| Cryptocurrency | Flat Fee |
| USDT | 20 USDT |
| USDC | 18 USDC |
| COV | 5 COV |
| BTC | 0.0005 BTC |
| ETH | 0.01 ETH |
Prime XBT Security
At PrimeXBT, security is a top priority. With a robust set of key security features, you can trade with confidence, knowing that your assets are well-protected.
1. 2FA (Two-Factor Authentication)
To ensure account security, PrimeXBT implements 2FA, an additional layer of protection that adds an extra step to the login process, requiring users to verify their identity through a secondary device or application.
2. Cloudflare Protection
PrimeXBT leverages Cloudflare, a powerful web security platform, to safeguard against potential distributed denial-of-service (DDoS) attacks. This helps maintain the platform's availability and protects it from malicious traffic.
3. Manual Verification
To maintain a secure trading environment, PrimeXBT employs manual verification procedures. All incoming and outgoing transfers are carefully reviewed to detect and mitigate risks such as money laundering, suspicious trading activity,
and other patterns.
4. Wallet Security
The majority of customer digital assets at PrimeXBT are stored in an offline cold wallet storage system, providing an extra layer of protection against potential cyber threats. Only a small proportion of digital assets are held in an online hot wallet for immediate accessibility.
5. Withdrawal Address Whitelisting
PrimeXBT offers withdrawal address whitelisting, allowing customers to whitelist specific addresses for withdrawals. This added measure ensures that withdrawals can only be made to pre-approved, trusted addresses, reducing the risk of unauthorized transfers.
Prime XBT Customer Support
When it comes to trading, timely customer support is crucial, and PrimeXBT understands this. They prioritize prompt responses to ensure traders' questions and concerns are addressed quickly, without jeopardizing their open trades or funds.
Unlike exchanges that burden their customer support with lengthy KYC verifications, PrimeXBT only conducts them when necessary, freeing up valuable time for their agents to focus on assisting traders. Their customer service is impressive, especially through the convenient live chat feature that is accessible directly from the trading platform.
For account management, or product-related inquiries, you can also reach out to their team at support@primexbt.com. With PrimeXBT, you can expect responsive and reliable customer support that adds to your trading experience.
Conclusion
PrimeXBT offers a user-friendly trading platform with access to cryptocurrencies, fiat money, indices, and commodities. With margin trading and the ability to go long or short, you can profit from both rising and falling markets.
What sets PrimeXBT apart is its attractive fees, global presence, and ability to leverage across different asset classes.
Plus, you can sign up without KYC or ID verification, ensuring privacy. If you're seeking a leveraged cryptocurrency exchange with advanced technology, transparent fees, and strong security, PrimeXBT is definitely worth considering.
FAQ
Is PrimeXBT a trustworthy trading platform?
Absolutely. PrimeXBT prioritizes the security of customer assets with a robust cyber-security framework. Their trading engine adheres to the highest industry standards, ensuring minimal latency and fast order execution.
Risk management systems continuously monitor factors like buying power, order size, and position size to maintain a secure trading environment.
Can I start trading without providing documents?
Once you register an account by providing documents and deposit funds, you can start using the services right away if you reside in an accepted jurisdiction. Verifying your account not only extends your 24-hour withdrawal limit but also unlocks additional rewards.
Please keep in mind that in certain situations, PrimeXBT may require you to undergo a Know Your Customer (KYC) verification process.
Is PayPal accepted deposit method?
Yes, PayPal is an accepted deposit method for certain cryptocurrency purchases. You can use third-party P2P services like Paxful, found in the alternative deposits section of your account, to locate merchants who accept PayPal for buying cryptocurrencies.
What is the legitimacy of PrimeXBT?
While PrimeXBT currently operates without stringent KYC requirements, this approach may face future regulatory challenges. It's worth noting the potential risks associated with trading on a platform that lacks robust regulatory oversight.
Traders should exercise caution and thoroughly research the platform before engaging in any transactions. Being informed about the potential drawbacks can help individuals make informed decisions regarding their choice of trading platform.