Launched in 2017, the crypto exchange CoinEx puts its focus on spot and futures trading. With low fees and a wide range of tradable cryptocurrencies, it offers customers many opportunities to capitalize on the market.
In this CoinEx review, we will dive deep into everything you need to know about the platform. Together, we will uncover key features, trading fees, supported cryptos, volume, liquidity, security, customer service, and more. As CoinEx offers a comprehensive service we have quite a bit to cover, so let's just get right into it.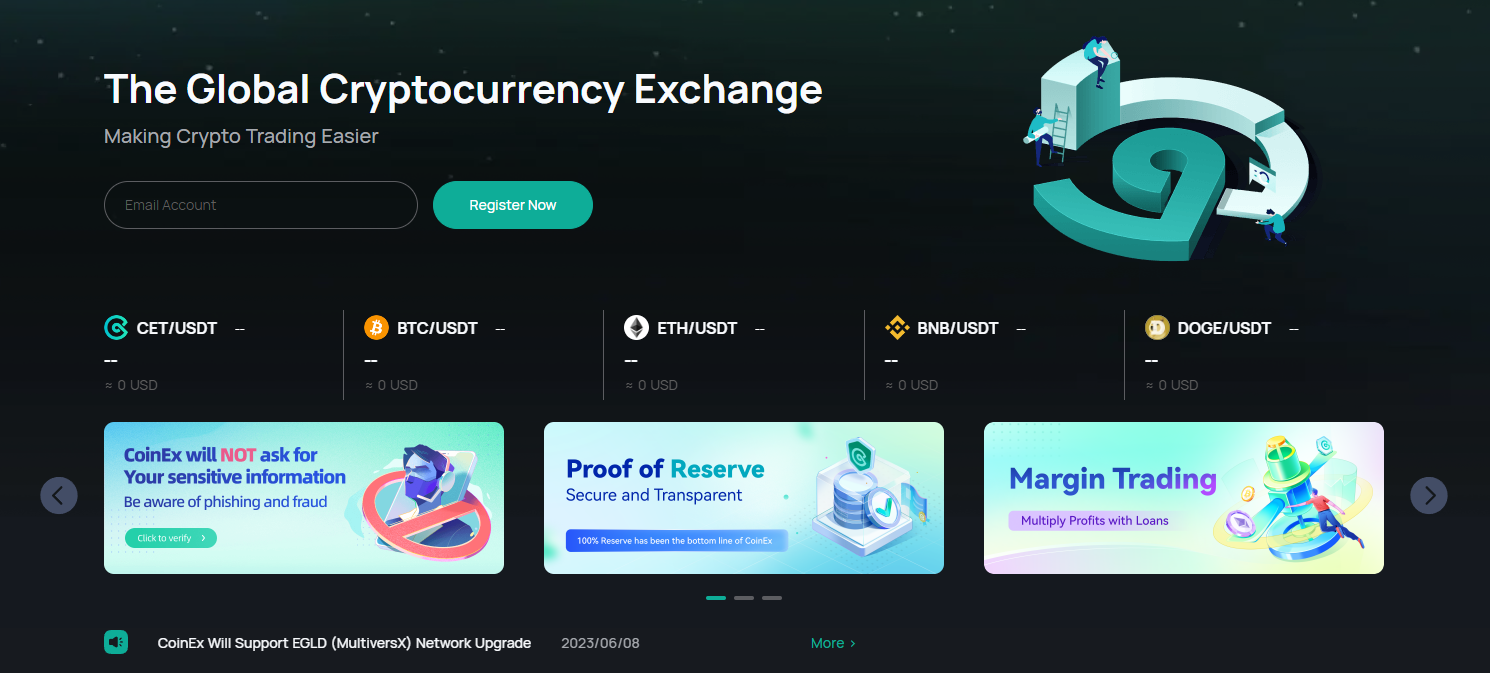 CoinEx Quick Overview
We found Coinex to be a great and reliable choice for beginners and small traders. With over 1000 trading pairs, fair fees, leverage up to 100x, and a great design, CoinEx made buying and selling various cryptos on their exchange very simple. The beginner-friendly UI allows you to easily navigate through the dashboards. And if you don't own any cryptos yet, you can buy them directly on the CoinEx platform via credit cards or bank transfers.
Aside from just spot and futures trading, crypto enthusiasts can enjoy additional services and features such as trading bots and finance products for passive income.
For beginners, CoinEx has prepared an easy-to-understand and follow guide section where everything is explained step-by-step.
The customer support on CoinEx is available through email and is knowledgeable enough to solve your queries.
CoinEx Pros and Cons
Pros
Low Fees
1000+ trading pairs
High spot volume
Good customer support
High security, never hacked
Cons
Outdated proof of reserves (December 2022)
Low futures trading volume
No FIAT withdrawals
No live chat support
Trading on CoinEx
Spot Trading
The largest market of CoinEx is the spot market. With over $60 million being traded every single day, CoinEx is one of the smaller crypto spot markets. But where CoinEx really prides itself is the number of tradable assets. With over 600 different cryptos and 950 different trading pairs on the spot market, you will not have a boring day on the platform!
With spot fees starting at 0.2%, CoinEx is slightly more expensive than the competition. One thing to note here is that you can reduce your spot trading fees by 20% when you are holding the native token of CoinEx "CET".
Navigating through the spot interface is fairly easy, also for beginners. The developers of the platform have done a great job designing and delivering a responsive and simple interface. When trading on CoinEx, we did not encounter any lags, bugs, or other network issues. The platform remained stable and we could trade cryptos with ease.
If you want to accelerate your gains, you can even borrow margin on CoinEx up to 10x what you own. However, this requires advanced knowledge and we recommend beginners to stay away from it.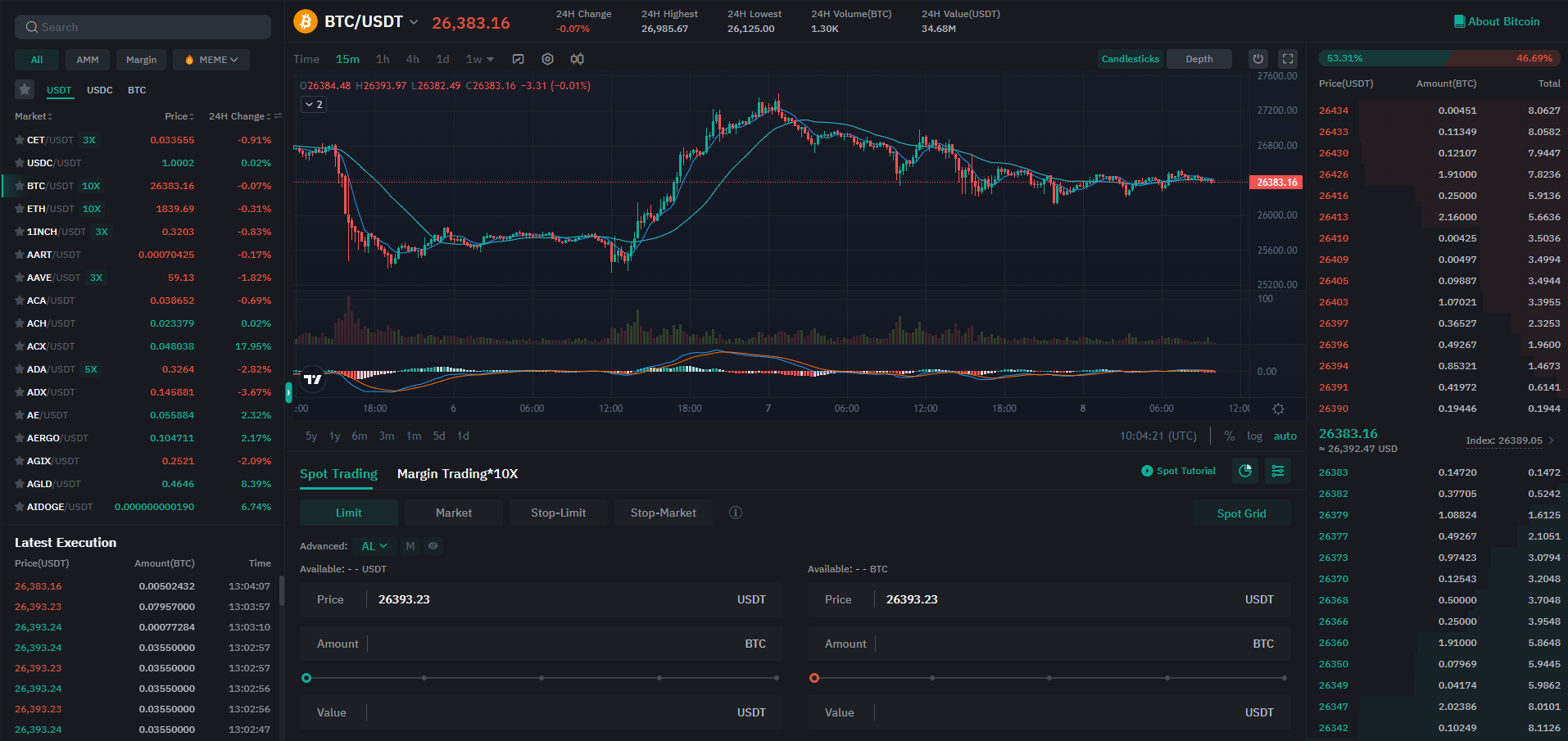 Futures Trading
For futures traders, CoinEx offers 120 different cryptos to choose from. With low trading fees of 0.03% maker and 0.05% taker fees, CoinEx charges around average trading fees. The maker fees are slightly higher and the taker fees are slightly lower than the industry standard of 0.02%/0.06%.
When analyzing the futures activity, CoinEx reaches a daily trading volume of $300 million making it one of the larger exchanges. However, it can become tricky for big traders to blend in with CoinExs futures market. The liquidity is also fairly low on CoinEx, making it hard to enter large positions.
You get access to basic orders such as limit, market, spot-limit and spot-market orders as well as advanced order types such as Immediate or Cancel and Fill or Kill. Unfortunately, CoinEx does not support more advanced order types such as trailing stops and multiple TPs. The interface is kept simple, but you can not really customize it like on other exchanges where you can drag and drop the interface to your liking. While the design is good, we would like to see more customizable features for the CoinEx trading interface.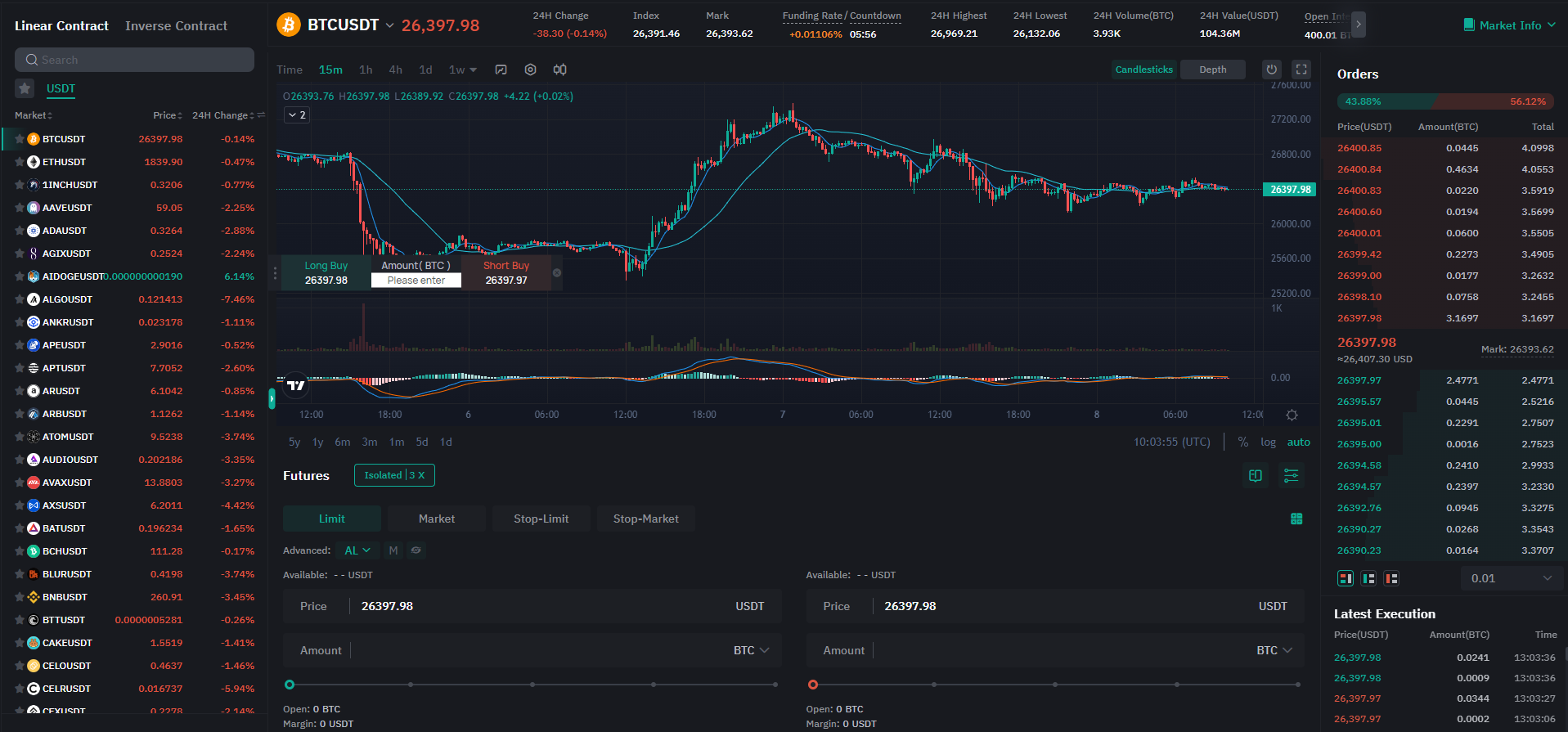 Strategic Bot Trading
If you are looking to make some passive income on CoinEx, the strategic trading section might be for you. You can set up auto-investment plans where you automatically purchase cryptos over a period of time based on preset parameters.
Additionally, you can set up a spot grid trading bot which is great, especially for ranging markets. You can create trading strategies on CoinEx with just a few clicks, the setup is kept fairly simple and easy to understand for beginners.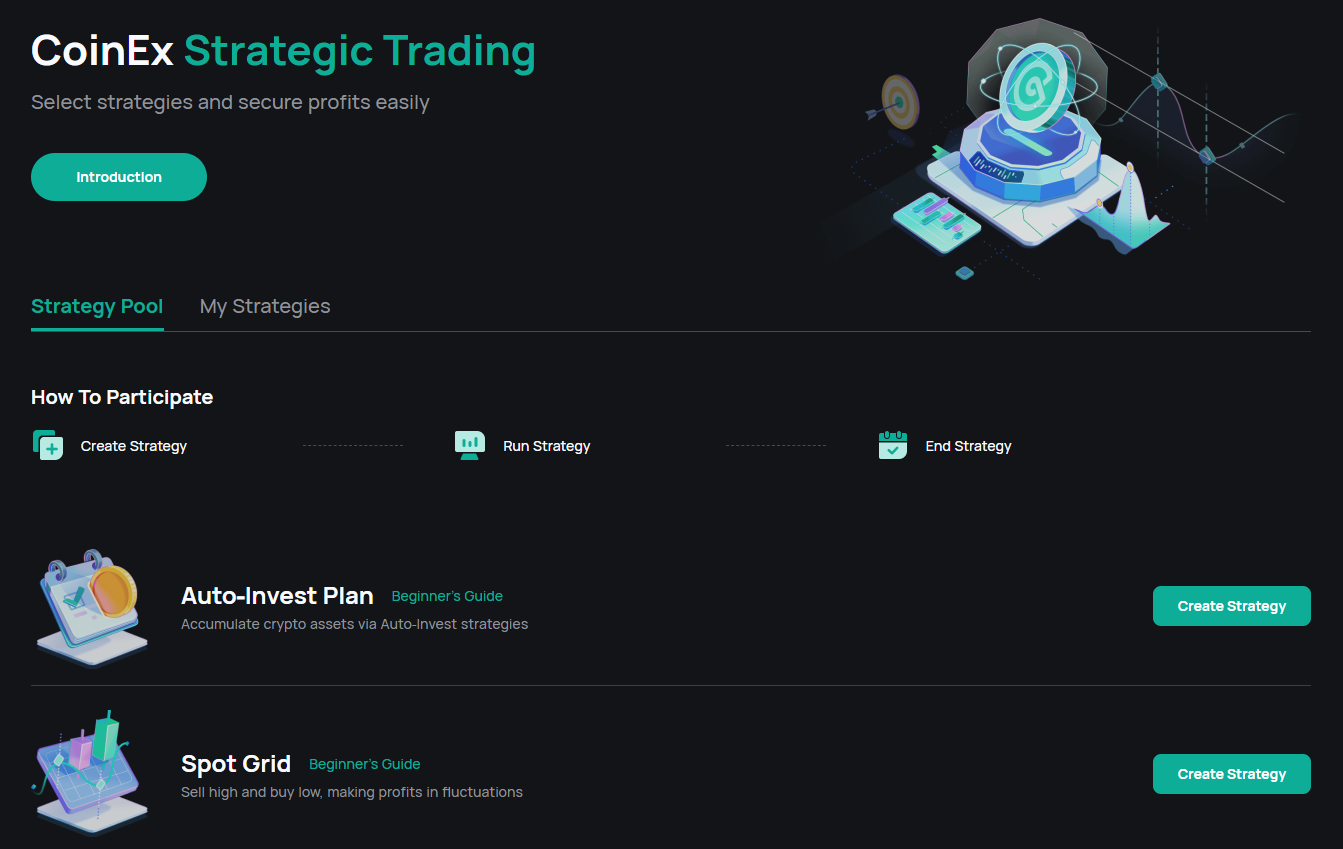 Fees on CoinEx
Spot Fees
The spot fees on CoinEx start at 0.2% for makers and takers. However, if you are holding the CET token, which is the native token of CoinEx, you will receive a 20% fee discount, lowering your spot trading fees to 0.16%. This is still higher than the industry standard of 0.1% spot trading fees.
Based on your VIP level, which is based on your CET holdings, you can lower your spot trading fees to 0.08% for makers and takers. Unfortunately, CoinEx does not offer fee discounts based on your 30-day trading volume. Another downside for traders with large position size and a lot of trading volume.

Futures Fees
The futures fees on CoinEx start at 0.03% maker and 0.05% taker fees. Like on the spot market, you can lower your trading fees based on your CET holdings. While there are no instant discounts, you have to climb up the VIP ladder by accumulating more CET tokens. At VIP 5 you must hold >1,000,000 CET tokens to receive 0.02% maker and 0.04% taker fees. Not the best deal. For beginners, this should be fine, but yet again, large traders will take a huge hit with these trading fees.

Deposit Fees
For crypto deposits, CoinEx does not charge any fees. If you wish to purchase cryptos via credit card, you pay between 1-4% in fees (depending on your payment method and currency) which is the average rate.
CoinEx has done a great job onboarding some of the best third-party payment providers for crypto purchases. You can use Simplex, Mercury, Banxa, MoonPay, and Advcash which are some of the some of the most popular and reliable crypto direct purchase providers. You have the option to directly pay with your Visa or Mastercard, but you can also choose to pay with Apple Pay, Google Pay, Bank Transfer, or SEPA.
As of 2023, CoinEx offers crypto purchases via 50+ different FIAT currencies, inducing EUR, USD, GBP, AED, AUD and so much more!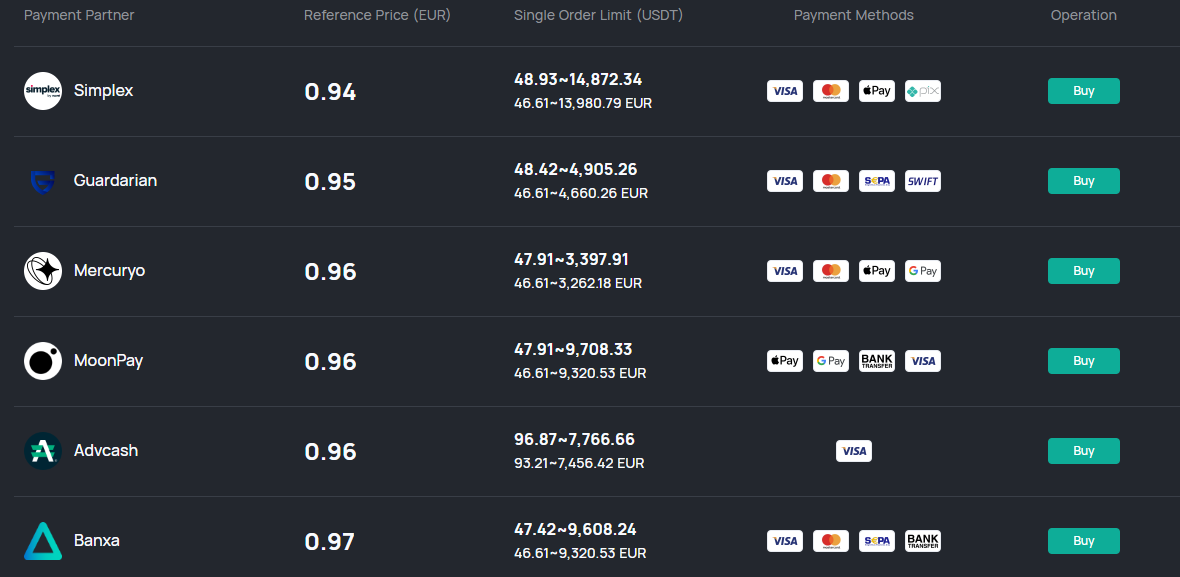 Withdrawal Fees
CoinEx does not offer FIAT withdrawals. For crypto withdrawals, you pay the typical network fees. One of the cheapest ways to send cryptos is USDT via the TRC20 network with a fee of $0.5 – $1. Each cryptocurrency has a different range of available networks. Always check which networks are available. Also, based on the capacity of the network, the withdrawal fees can be higher. CoinEx has no impact on network fees.
CoinEx Design and Reliability
One key thing where CoinEx was performing very well was reliability. We did not encounter any issues when testing the exchange. The trading platform remained stable and there were no network issues or other bugs.
The homepage is kept very simple with the most important information at a glance. In the header section, you can easily navigate to the area you want to go to. As CoinEx does not have the widest range of products and services, it will be hard to get lost on the platform.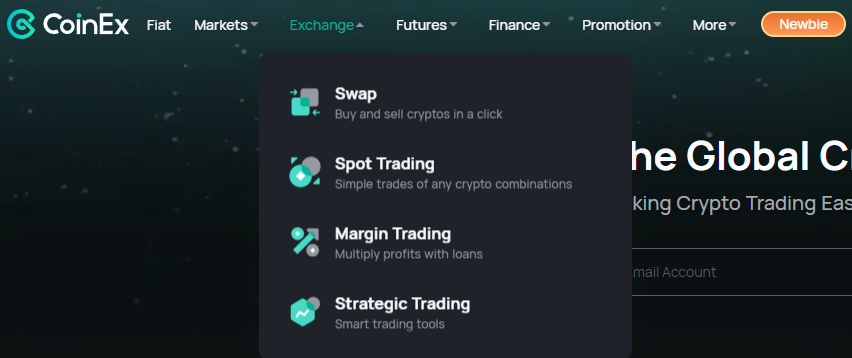 Services Offered on CoinEx
Aside from a dedicated spot and futures trading market, CoinEx is offering additional services to its customers.
Swaps
For beginners, CoinEx offers swap trading. This is the simplest form of trading available. There are no order types, charts, or other advanced features. All you do is swap one crypto directly for another. One key thing here is that you receive the exact amount displayed before you execute the swap as there is no slippage.
The process is very simple and straightforward and great for just buying and holding. Crypto swaps are not suitable for active trading.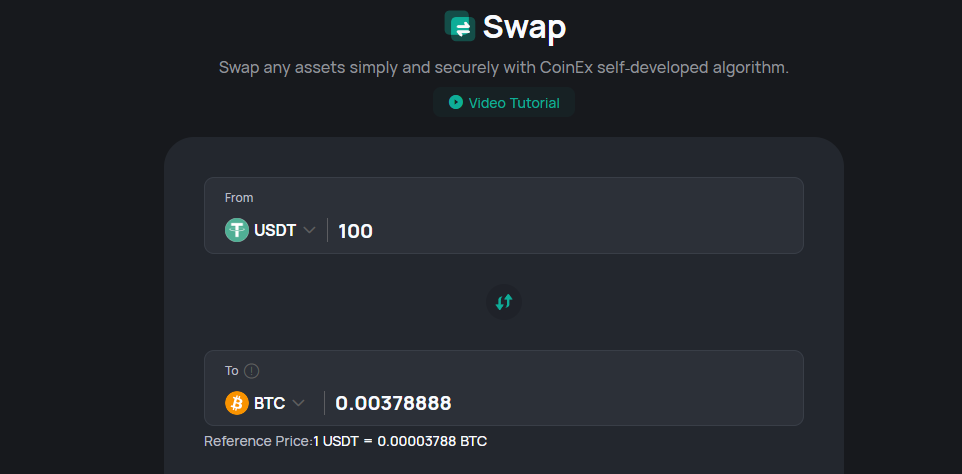 Finance
If you wish to earn passive income, CoinEx offers you exactly that in the Finance section. You can earn compound interest with idle assets, and 50% fee income with the AMM program. AMM refers to automated market making. As a market maker, you provide liquidity to the order book, enabling traders to execute trades. This is an automated process and once set up, you can receive passive income with it.

Affiliate Program
40% in referral commissions can be received when referring traders to CoinEx. That means whenever someone is using your link or referral code to register for an account on CoinEx, you will receive 40% of their trading fees. This takes some time, but it is a great way to build a passive income stream on the side. So if you are happy with the services on CoinEx, you can share your referral code with other traders, friends, and family and earn commissions.

CoinEx Token CET
Just like many crypto exchanges, CoinEx has also developed its own token which offers utility to its holders on the CoinEx platform. As of 2023, the CET token has a market cap of $24 million and an average daily trading volume of $1 million. The token is only available on CoinEx where also the most volume is traded as well as AscendEX.
CoinEx Token holders receive exclusive benefits on the crypto exchange such as fee discounts as covered in the Fee section earlier. Furthermore, the CoinEx Token serves as a gas payment token on the platform, lowering the supply over time. However, so far the circulating supply of CET only reached 7%, meaning that the full diluted value is over 10x higher. This can be an issue for long-term investors as new tokens can be mined which will lower the price.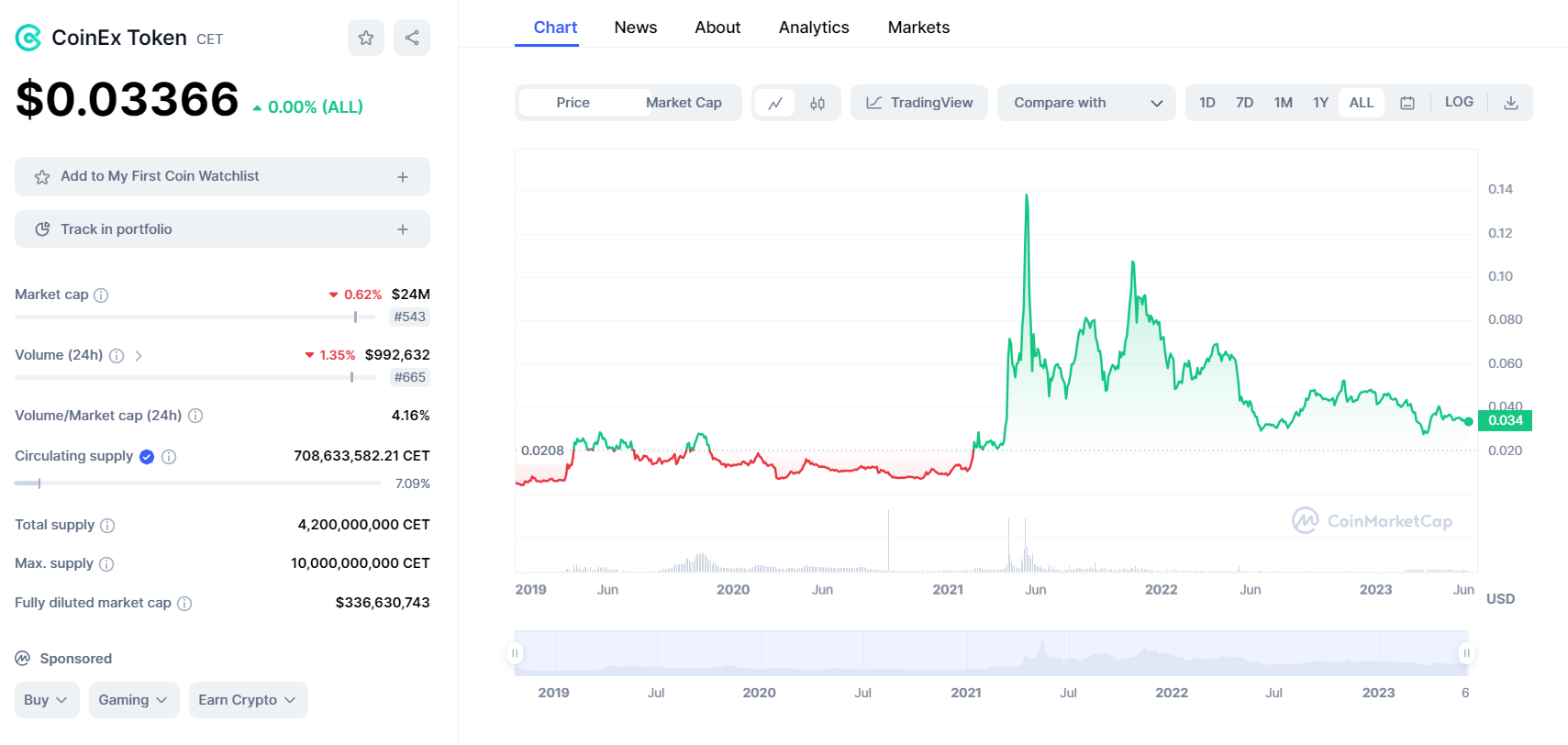 CoinEx Security
The security on CoinEx appears to be top-notch. The crypto exchange has never suffered any hacks, exploits, or data breaches and the customer funds stayed safe. To secure customer funds and ensure full protection, CoinEx stores the holdings in multisig cold storage. These are offline wallets that have no access to the internet and also require multiple signatures to unlock them. This makes it near impossible to access these wallets.
Furthermore, CoinEx provides full proof of reserves. That means that the customer funds are backed 1:1 on the exchange. However, the last update of CoinExs proof of reserves was in late 2022.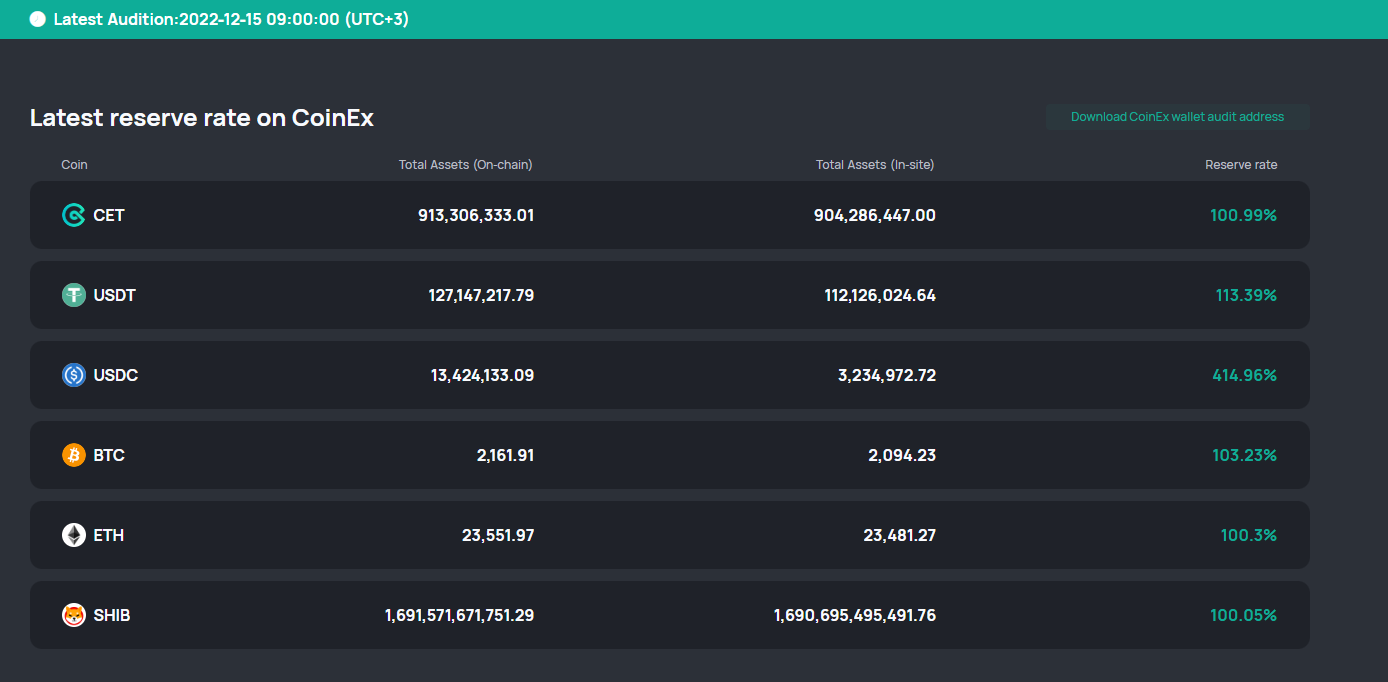 To stay up to date, CoinEx offers a bug bounty program, encouraging developers to find any issues on the platform, report it to CoinEx, and be paid generously in return.
When it comes to account security, CoinEx offers multiple ways to secure your account. Aside from just having a password for the login, you can (and should) connect Google Authenticator and SMS verification to your account. This is also called 2-factor authentication (2FA). Every time you want to log in or make withdrawals, you will require a 6-digit code from your 2FA options. This ensures that hackers do not just require your password to access your account, but also a unique 6-digit code which is pretty hard to get.
CoinEx Customer Support
Unfortunately, CoinEx does not offer 24/7 live customer chat support. If you need help on the platform, you must reach out to CoinEx via email or social media channels such as Twitter. The response time is up to 24 hours, making the support process relatively slow, considering the industry standard is 24/7 live chat support.
If you want to figure things out on your own, you can check out the CoinEx help center where numerous frequently asked questions and queries are covered.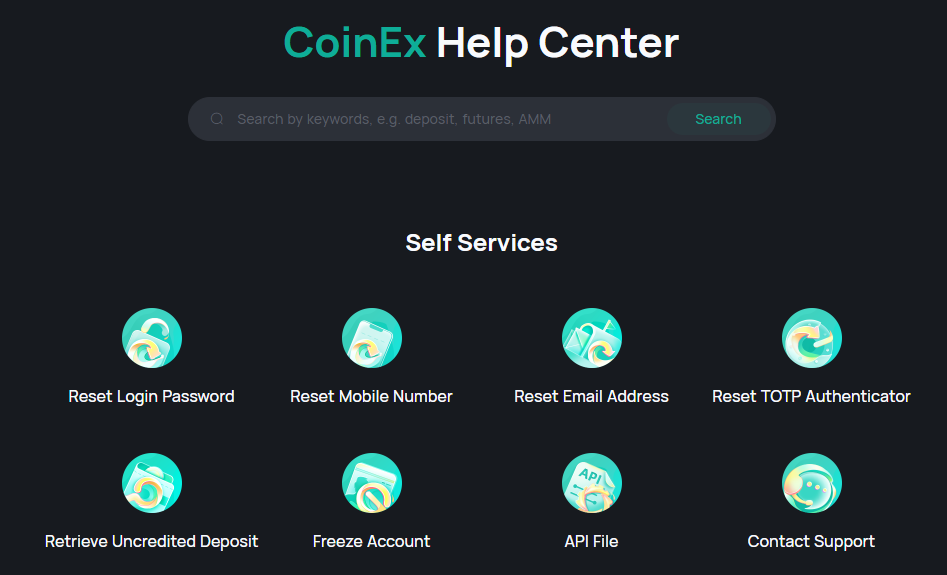 Conclusion
CoinEx is a secure and reliable trading platform and a good place to start for beginners. While the spot fees are relatively high, the futures fees are fair. With a decent 24-hour trading volume and a very user-friendly design and interface, new traders will not have any issues trading on the exchange. However, we do not recommend CoinEx for seasoned traders, especially when trading with size. If you want to learn more about the best crypto exchanges for active crypto traders, we recommend you check out our guide for the top exchanges for day traders here.
FAQ
Does CoinEx require KYC verification?
No, CoinEx does not require KYC verification or other identification methods. You can deposit, trade and withdraw on Coinex without verifying your identity.
Is CoinEx safe?
Yes, CoinEx appears to be a safe and secure exchange. The platform holds customer funds in multisig cold storage and also provides proof of reserves (though, they were updated last in December 2022). CoinEx has also never been hacked and has a clean track record.
What are the CoinEx fees?
Spot fees on CoinEx start at 0.2% for makers and takers but can be lowered to 0.16% when activating the CET discount. The futures trading fees start at 0.03% for makers and 0.05% for takers.
How many cryptos does CoinEx support?
CoinEx offers over 1000 different trading pairs on its spot and futures market, making it one of the largest exchanges in terms of available crypto trading pairs.
Can I withdraw cash and FIAT?
No, CoinEx does not support FIAT withdrawals. If you wish to send your profits to your bank account, you must send your cryptos to another platform that supports FIAT withdrawals.