Okcoin Review
OKCoin has been around since 2013 and operates in over 192 countries, making it one of the oldest and most popular crypto exchanges worldwide.
What makes this exchange stand out is its user-friendly platform that's perfect for beginners. In fact, it's a great platform for anyone looking to dive into the world of crypto trading.
Want to know more about the OKCoin exchange? This detailed review will help you explore all the ins and outs of this crypto exchange, allowing you to make the most of the platform.
Overall Thoughts on OKCoin
OKCoin is a global cryptocurrency exchange that wants to give you the best trading experience. The exchange has offices in cities like San Francisco, Malta, Hong Kong, Singapore, Japan, and Korea and is available in over 190 countries.
This wide availability makes OKCoin a global platform. Furthermore, the exchange boasts a community of over 100,000 active investors and traders, so you'll be part of a lively group of crypto enthusiasts.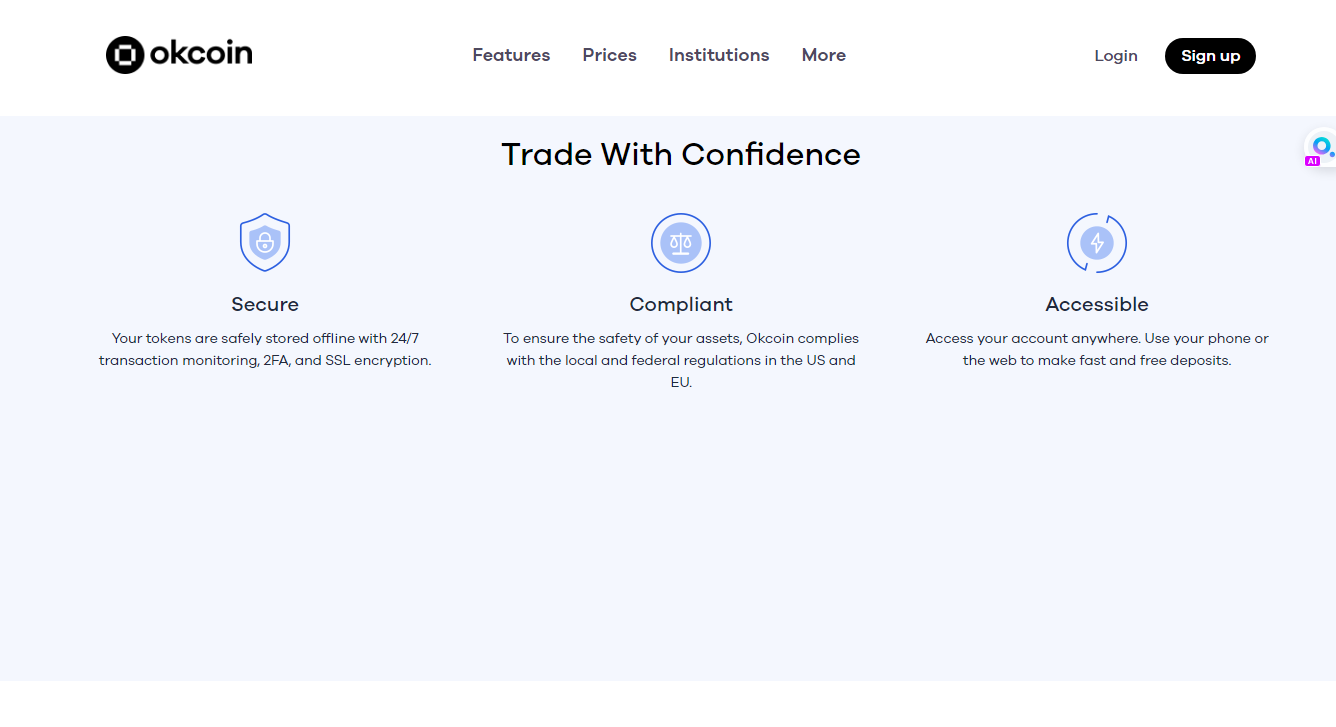 Additionally, OKCoin is a versatile platform that appeals to traders of all levels, providing a user-friendly interface for beginners and advanced users. With open arms, it welcomes US traders and investors, ensuring accessibility for many users.
Depositing funds is also easy on the exchange, with multiple options such as wire transfer, SEPA, and ACH. What's more? OKCoin features convenient recurring orders, TradingView charting for technical analysis, and an OTC desk for large orders.
Pros
User-friendly interface
Supports staking & lending
Has an interactive mobile trading app
Dedicated customer support team
Cons
Charges a higher trading fee compared to most competitors
Only accepts Visa cards to fund credit card
Does not offer any promotions or bonuses
OKCoin Services Offered
Staking and Lending
Okcoin also makes it easy for you to earn rewards on your crypto holdings through staking and lending.
All you need to do is deposit your crypto into their staking/lending pool, and you'll start earning rewards. Okcoin supports over 10 cryptocurrencies for this, so you've got options!
The best part? The interest rates they offer are competitive and attractive. Some cryptocurrencies have an Annual Percentage Yield (APY) of over 5%, and even a few gems offer over 10% APY.
By staking or lending your crypto with Okcoin, you can sit back and watch your rewards grow. It's a win-win situation!
Ease of Use
As a popular and trusted exchange platform, OKCoin has an awesome design and layout that's super user-friendly, especially if you're new to crypto. In fact, everything is nicely labeled and easy to understand.
From the homepage, OKCoin guides you on setting up an account and buying cryptocurrencies. It's all right there, making it a breeze to get started.
Additionally, the exchange has a detailed help center to answer all your burning questions. Plus, they categorize different types of cryptocurrencies on their trading platform. So if you're interested in major cryptos, decentralized finance (DeFi) projects, or stablecoins, you can easily jump right into those sections without any hassle.
Mobile App
Another solid feature backing up the OKCoin exchange is its interactive mobile trading app. OKCoin app is available for both Apple and Android users. These apps are highly rated, so you know you're getting quality.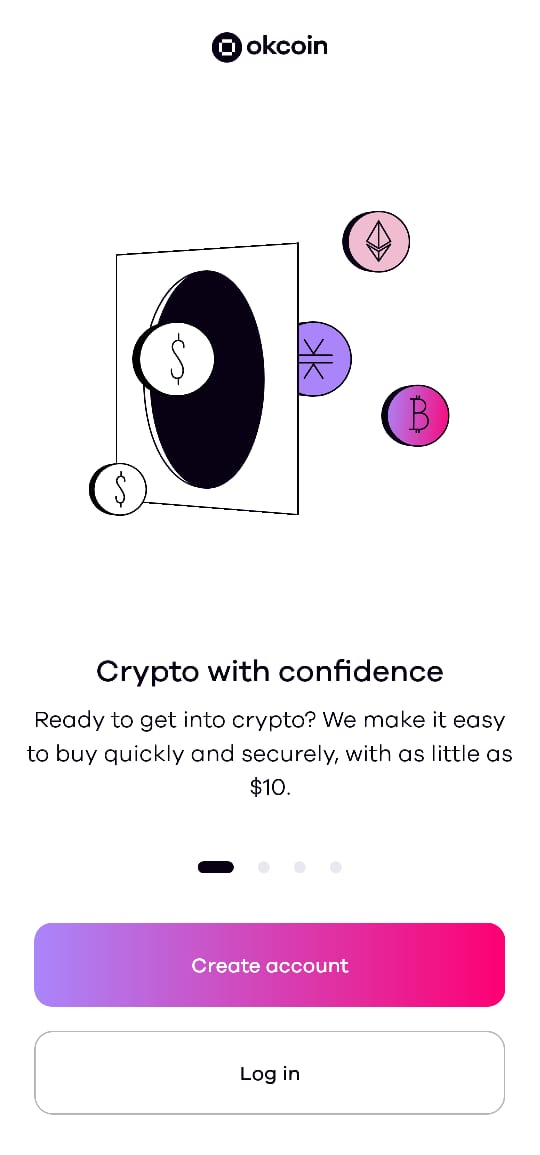 Source: OKCoin Mobile App
Above all, the OKCoin mobile app gives you all the same features as its web platform. That means you can make crypto trades, stake your assets, make deposits, and even withdraw funds from your phone.
OKCoin API
So, what is special about OKCoin's API? Simply put, OKCoin's exchange has three types of APIs: account, trading, and market trends.
The account and trading APIs require an API key for verification. These APIs let you do things like placing or canceling orders, checking your order status, and viewing your account information.
Now, the market data API is open to everyone. It gives you access to market data, such as previous prices of trading pairs. Once you sign up for an account, you can create API keys with different permissions. This means each API key can have its own specific functions.
And guess what? OKCoin also provides REST and WebSocket APIs. You can use these to get market data, trade, or withdraw.
Supported Currencies
OKCoin supports 75 cryptocurrencies for trading, which gives users a decent range of options.
While this may be a decent feature for beginners, it's worth mentioning that other exchanges like Binance offer a much wider selection of digital assets, providing all types of traders with more opportunities to explore and invest in emerging projects.
So, if you're looking for a greater variety of cryptocurrencies, you might want to consider alternative platforms from our 2023's top picks that better cater to your trading preferences.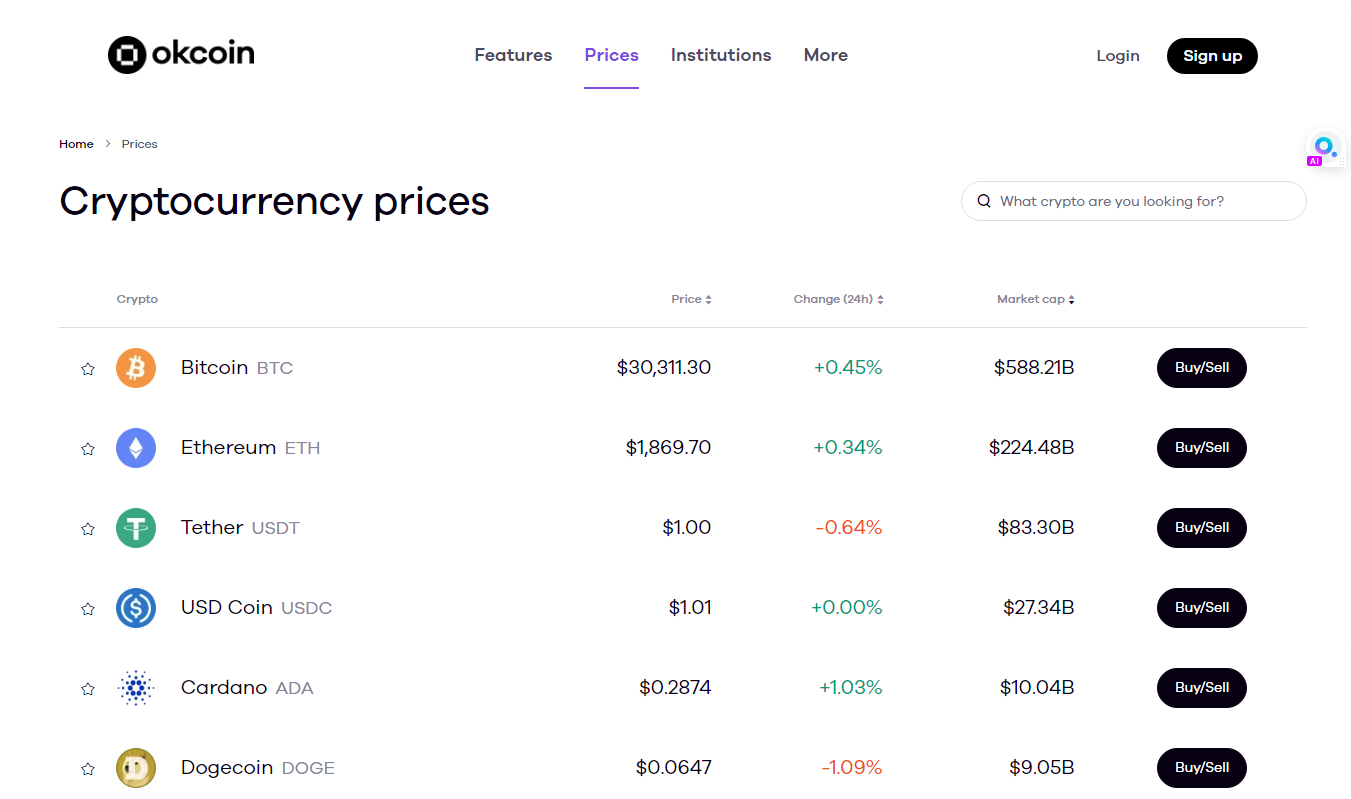 Despite its limited range of supported cryptocurrencies, OKCoin does handle a mind-blowing 16 million Bitcoin transactions monthly by its users. Now here's the cool part: OKCoin is the first exchange in the US that lets you buy Bitcoin in satoshis.
So you can grab those tiny units of Bitcoin instead of dealing with fractions. It's a nifty option that some investors find super appealing.
Country Availability
OKCoin is truly global, serving traders in 192 countries, including the United States, Canada, Singapore, the United Kingdom, and Australia. It's a regulated platform that offers a premium trading experience for buying and selling cryptocurrencies.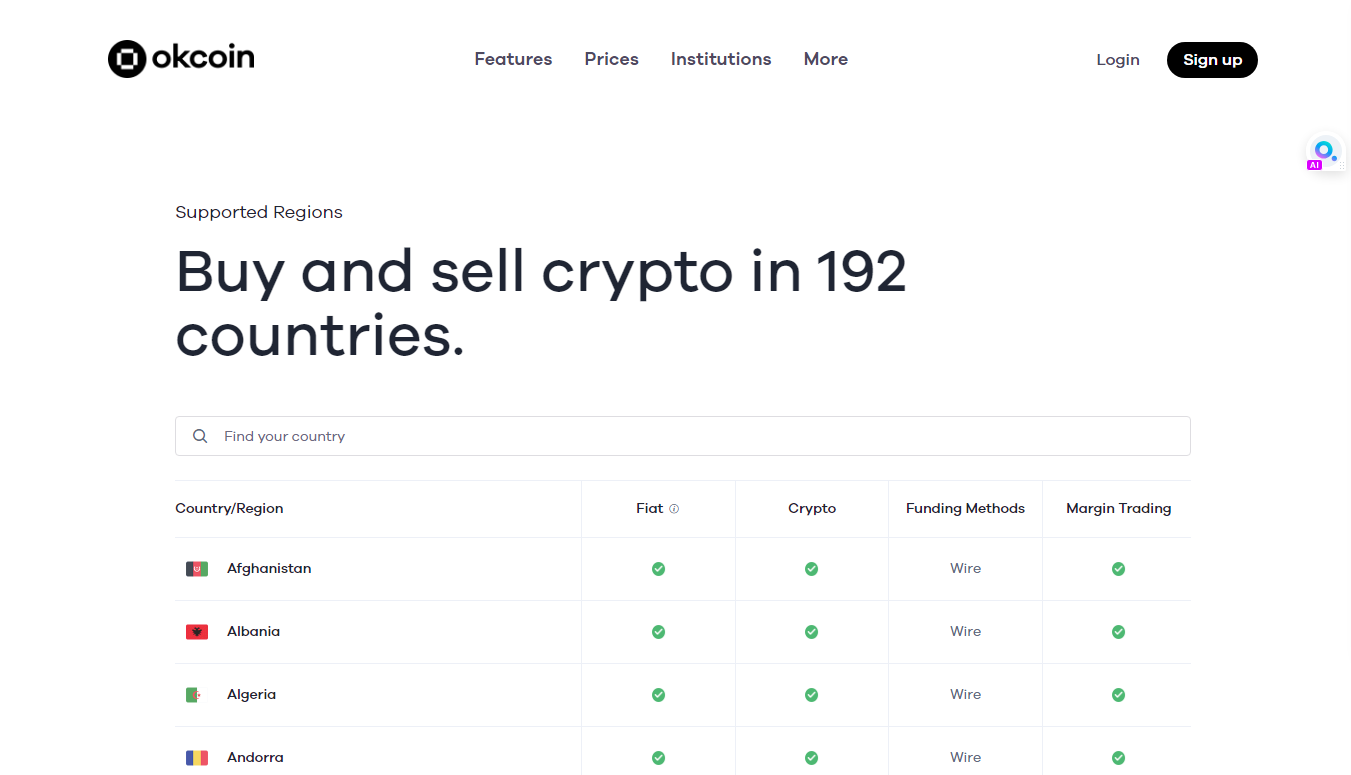 However, it's important to note that OKCoin is unavailable for residents of certain countries like Cuba, Crimea, Syria, Iran, North Korea, Sudan, Bangladesh, Malaysia, Bolivia, Ecuador, and Kyrgyzstan.
Deposit and Withdrawal Methods
When depositing funds into your OKCoin account, you have options:
First, link your bank account. Then, choose ACH transfers for immediate access. However, this method may lead you to a 10-day withdrawal restriction.
For wire transfers, OKCoin supports bank accounts, SEPA, or Prime X. You can initiate the transfer using OKCoin's wire details.
The exchange also accepts credit and debit cards. Whereas, if you already have crypto, deposit it using your OKCoin wallet's crypto address. It's all there for you! Yet, it's worth noting that each method has different deposit limits.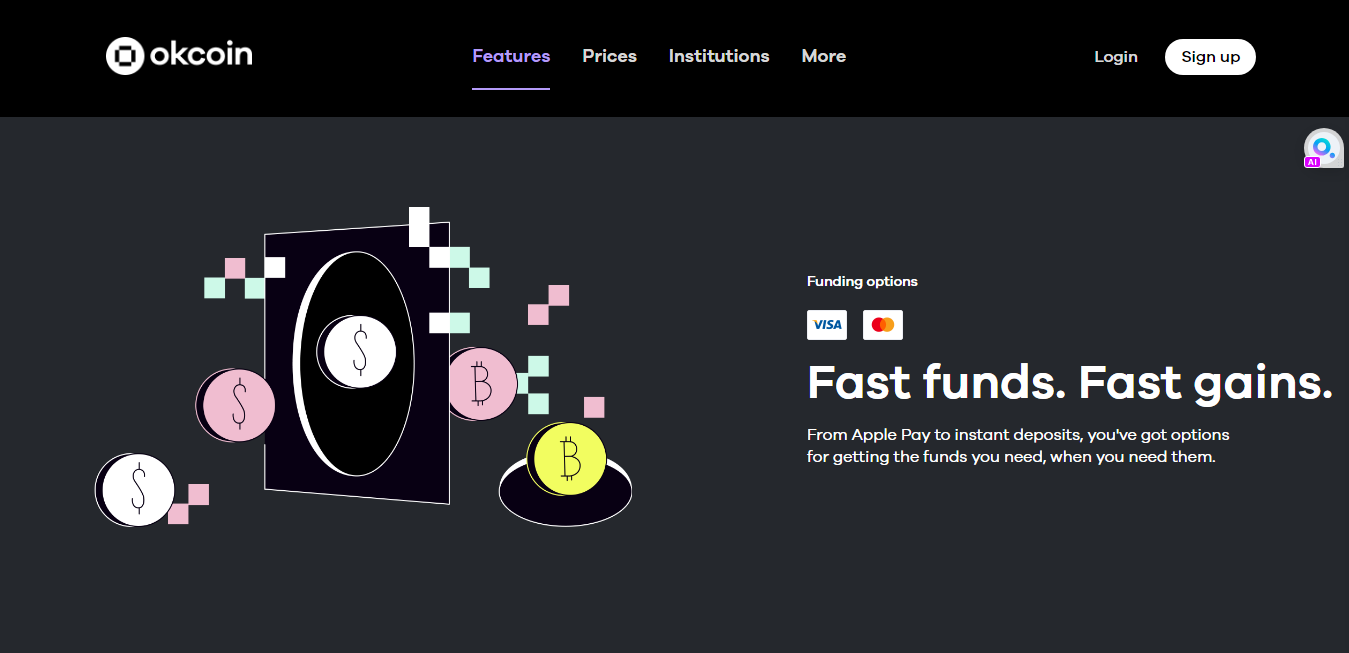 Educational Content
Regarding OKCoin's educational content, the exchange covers all the basics. Precisely, it has a blog that covers various crypto topics, which is helpful.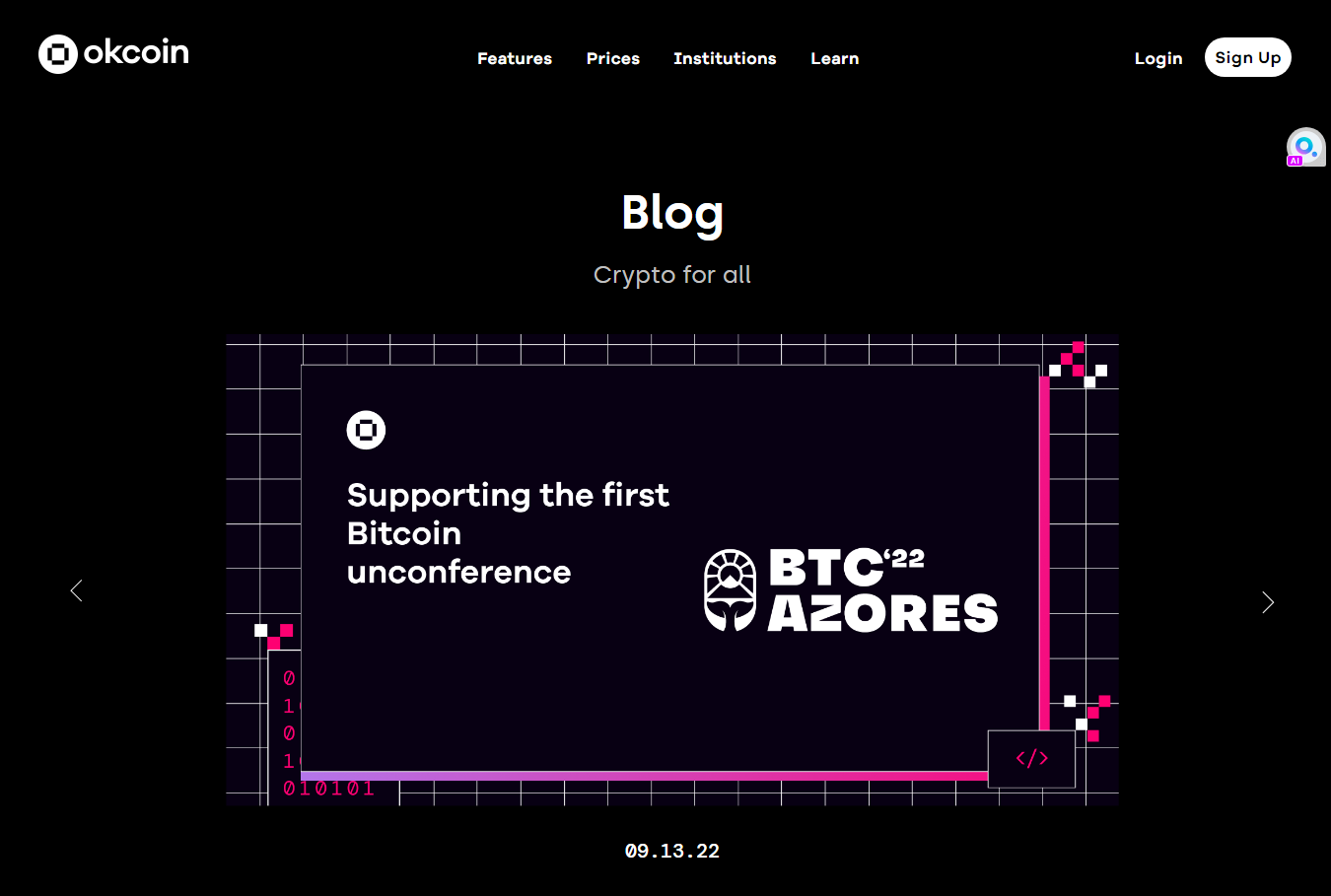 Additionally, on the price pages for each cryptocurrency, they provide a short description and links to the official website, white paper, and Twitter account of that specific cryptocurrency.
OKCoin Sign-Up & KYC
Signing up for an OKCoin Exchange account is a breeze! Just follow these simple steps:
Go to the OKCoin homepage and click "Sign Up."
Enter your email and create a password. Alternatively, you can sign up using your Google or Telegram account.
Check your email for the verification code and enter it on the sign-up page.
Select "Individual Account."
Provide your personal information, which should match your government ID. Then, click on "Submit Personal Info."
Ta-da! You've completed Level 1 Verification, which allows you to deposit and withdraw up to $2000 daily.
But wait, there's more! If you want to unlock higher limits, you can go for Level 2 Verification. To do this, simply upload a photo of a government ID that matches the information you provided.
And hey, if you're looking to go all the way and enjoy unlimited limits, Level 3 Verification is what you need. For this, you'll need to provide proof of address, such as a utility bill, bank statement, or another form of ID.
No matter which verification level you choose, you'll need to add funds to your account. You can do this by depositing fiat currency, cryptocurrency, or even purchasing some using a Visa credit card.
That's it! Easy peasy. Now you're ready to get started with OKCoin Exchange!
OKCoin Trading and Other Features
Earn Interest on Funds
With earning interest on your crypto being all the rage these days, thanks to the rise of decentralized finance (DeFi) platforms like Nexo and Crypto.com, Okcoin is nowhere behind in the competition.
Instead, this exchange lets its customers earn up to 10% interest on their crypto holdings. That's right, you can make your crypto work for you! For instance, OKCoin has a flexible term for Polkadot (DOT) with an estimated return of 8% APY.
Furthermore, Okcoin supports this feature without charging transaction fees, network gas fees, or ongoing maintenance fees.
Margin Trading
OKCoin also serves as a super cool margin trading platform for its users. This means you can go beyond just buying and selling crypto. With margin trading, you can long or short-sell Bitcoin and other cryptocurrencies using leverage up to 10 times!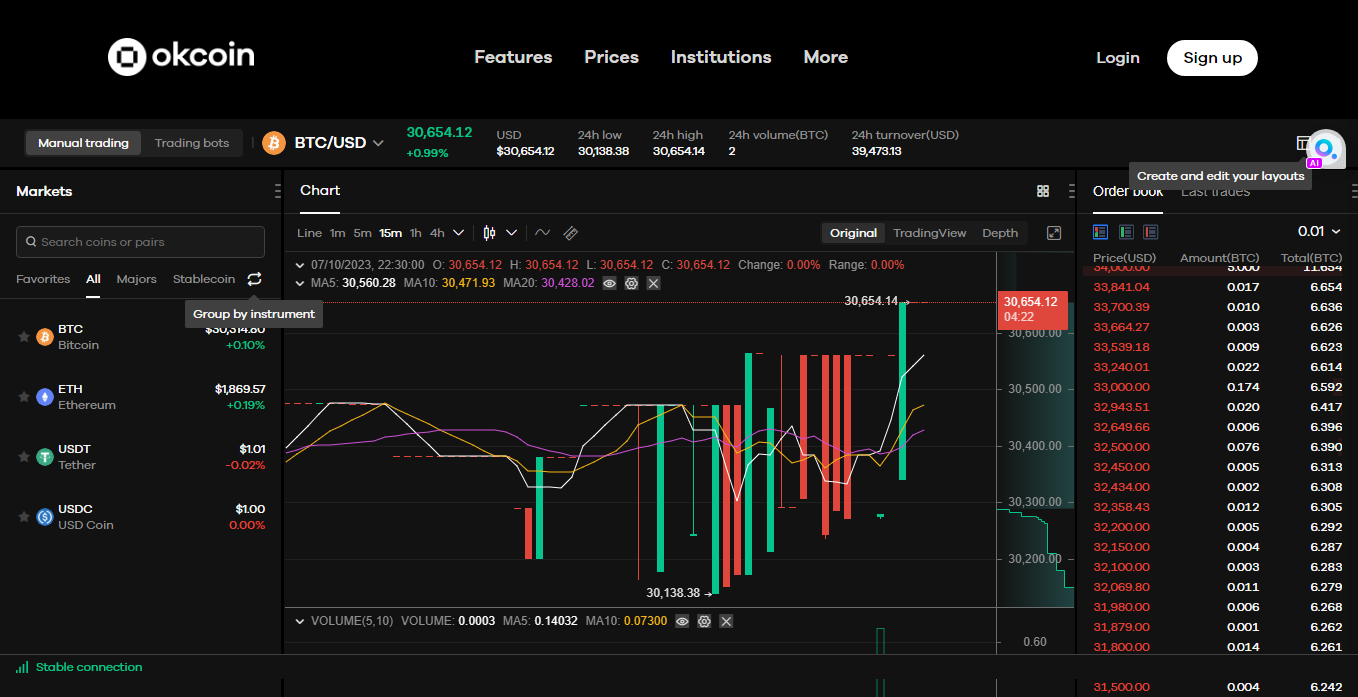 And here's the exciting part: Okcoin offers a bunch of pairs that you can trade with leverage. Think BTC/USD, LTC/USD, and ETH/USD. So, if you're up for some high-powered trading action, Okcoin's got you covered!
Dollar-Cost-Averaging
One stand-out feature of this exchange that expands the earning opportunities for its users is the crypto investment feature: dollar-cost-averaging (DCA). Okcoin makes it easy for users to use DCA to build their crypto holdings gradually over time.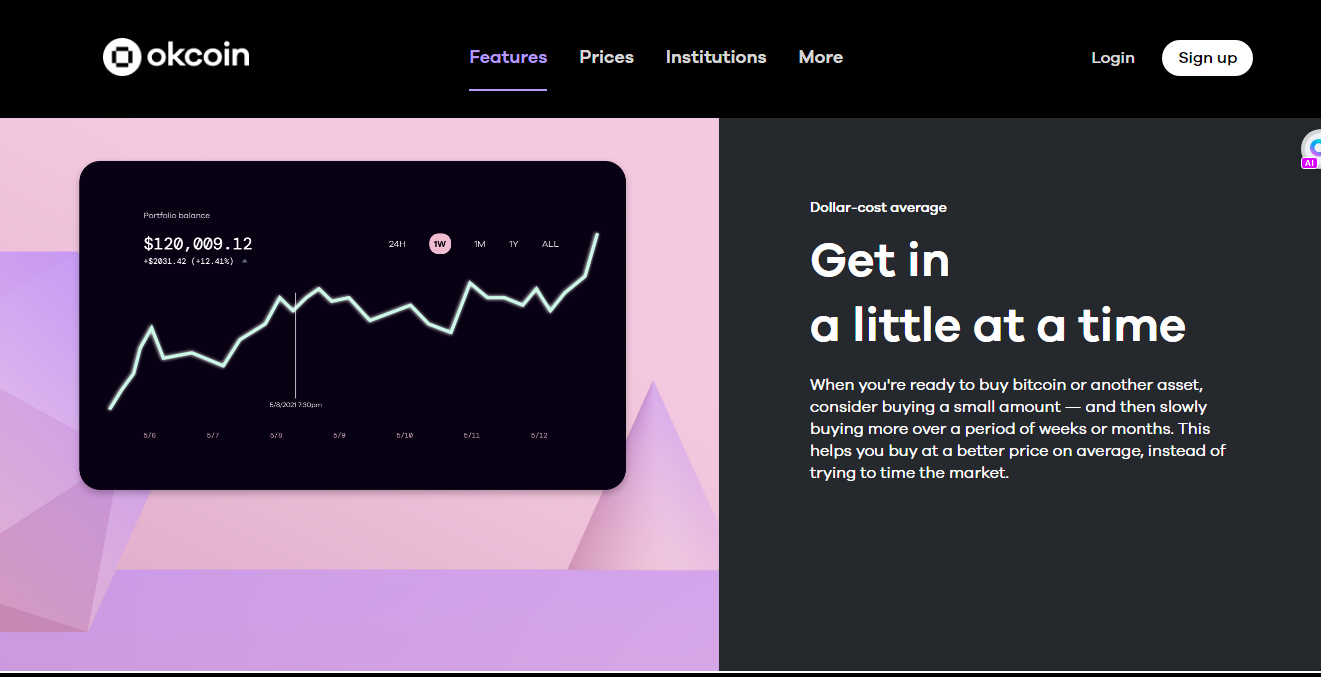 Here's how it works: Instead of trying to time the market and buy when the prices are low, with DCA, you can purchase a small amount of crypto regularly, whether it's daily, weekly, monthly, or every two months.
This approach helps you average the price over time and can be especially useful in a volatile market. It's a smart strategy for investing during a bull market. So, if you're looking for a straightforward way to invest in crypto, DCA with Okcoin is worth considering!
OKCoin Premier
Last but not least, OKCoin Premier is an exclusive program for experienced traders and business partners. Premier account holders enjoy instant funding, liquidity options, lower transaction fees, and round-the-clock customer service.
Precisely, this feature is designed to cater to the needs of seasoned traders and valued partners.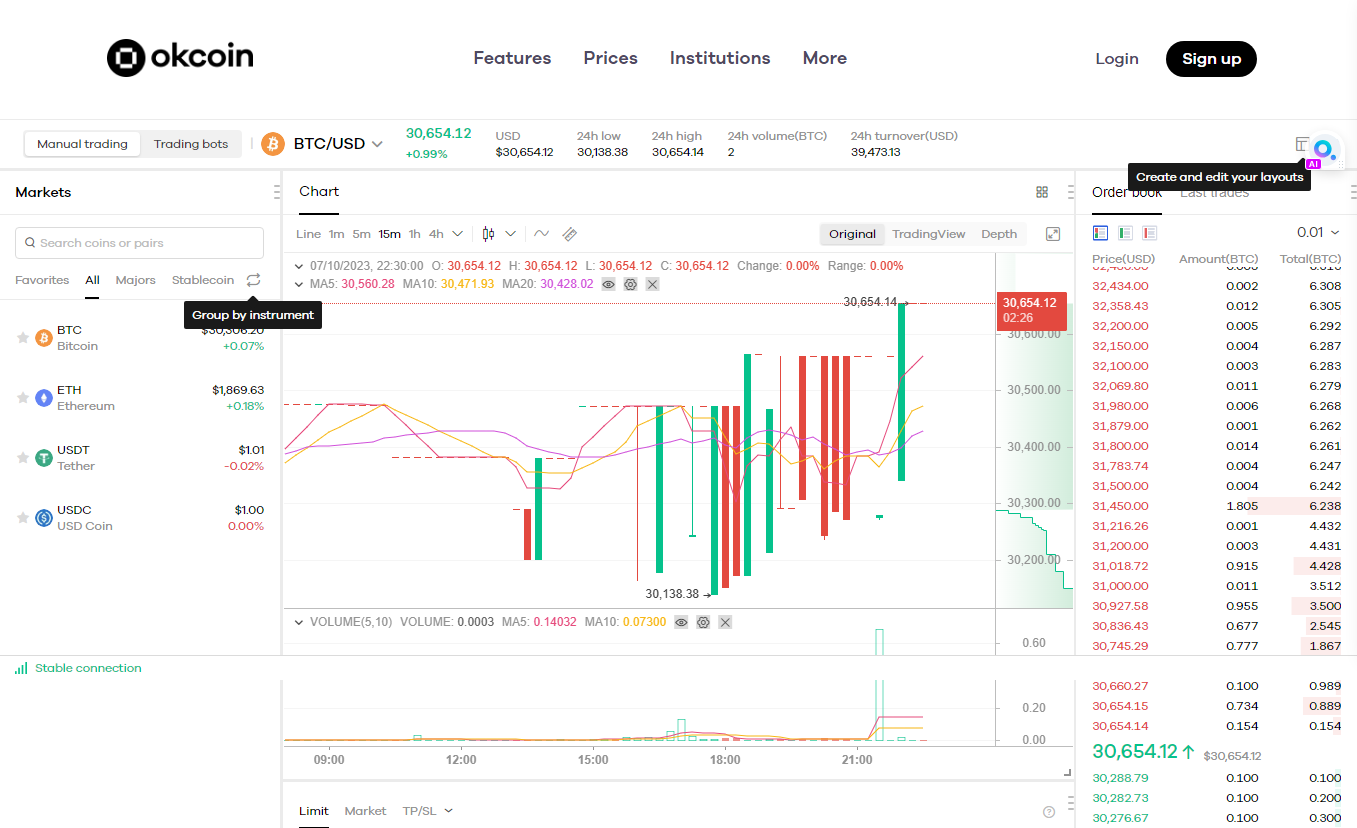 OKCoin Exchange Fees
Trading Fees
OKCoin's trading fees are structured into 11 tiers, ranging from P0 to P10, based on your 30-day trading volume and the specific cryptocurrency you trade.
However, considering the fee in different tiers, it is worth noting that this exchange charges higher fees than the industry standard. So if you're looking for an exchange with low trading fees, we suggest opting for better alternatives like MEXC Global, Binance, and KuCoin.
The table below portrays the fee structure of OKCoin in different tiers:
| User Tier | 30-day Trading Volume (USD) | Maker Fee | Taker Fee |
| --- | --- | --- | --- |
| P0 | Under $100,000 | 0.10% | 0.20% |
| P1 | $100,000 to $499,999.99 | 0.09% | 0.18% |
| P2 | $500,000 to $999,999.99 | 0.07% | 0.16% |
| P3 | $1,000,000 to $4,999,999.99 | 0.04% | 0.14% |
| P4 | $5,000,000 to $9,999,999.99 | 0.02% | 0.10% |
| P5 | $10,000,000 to $24,999,999.99 | 0.00% | 0.08% |
| P6 | $25,000,000 to $49,999,999.99 | 0.00% | 0.06% |
| P7 | $50,000,000 to $99,999,999.99 | 0.00% | 0.05% |
| P8 | $100,000,000 to $249,999,999.99 | 0.00% | 0.04% |
| P9 | $250,000,000 to $499,999,999.99 | 0.00% | 0.03% |
| P10 | $500,000,000 or more | 0.00% | 0.02% |
Withdrawal Fees
The exchange provides users with various options for secure fund withdrawals, including bank transfers, Epay, and Prime X account transfers. Out of all these options, however, bank transfers are the most affordable and widely-used method for transferring funds.
Now, withdrawal fees for fiat currencies on Okcoin are mostly free. However, there are a few exceptions that should be considered before opting for a certain withdrawal option. These exceptions are mentioned in the table below.
Source
Deposit Fee
Withdrawal Fee
Deposit (Minimum)
Signature Bank (Bank Transfer)
Free
Free
Corporate: from USD 100

Individual: from USD 50,000

Silvergate Bank (Bank Transfer)
Free
Free
From USD 100 (US users only)
Prime Trust (Bank Transfer)
Free
USD 35/transaction
From USD 100
Epay Account Transfer
OKCoin charges 1%
Free
No limit
Prime X Transfer
Free
Free
From USD 100
Security
While the exchange may not be the best option for most traders in terms of its high fee structure, OKCoin do take the security of its platform seriously!
Simply put, the exchange partners with cybersecurity experts, conduct internal audits and use a microservices architecture to verify and authorize every account request, protecting your identity.
It also offers multi-factor authentication for extra safety during deposits, withdrawals, and trades. OKCoin safeguards your data with masking, SSL encryption for transmission, and AES encryption for storage.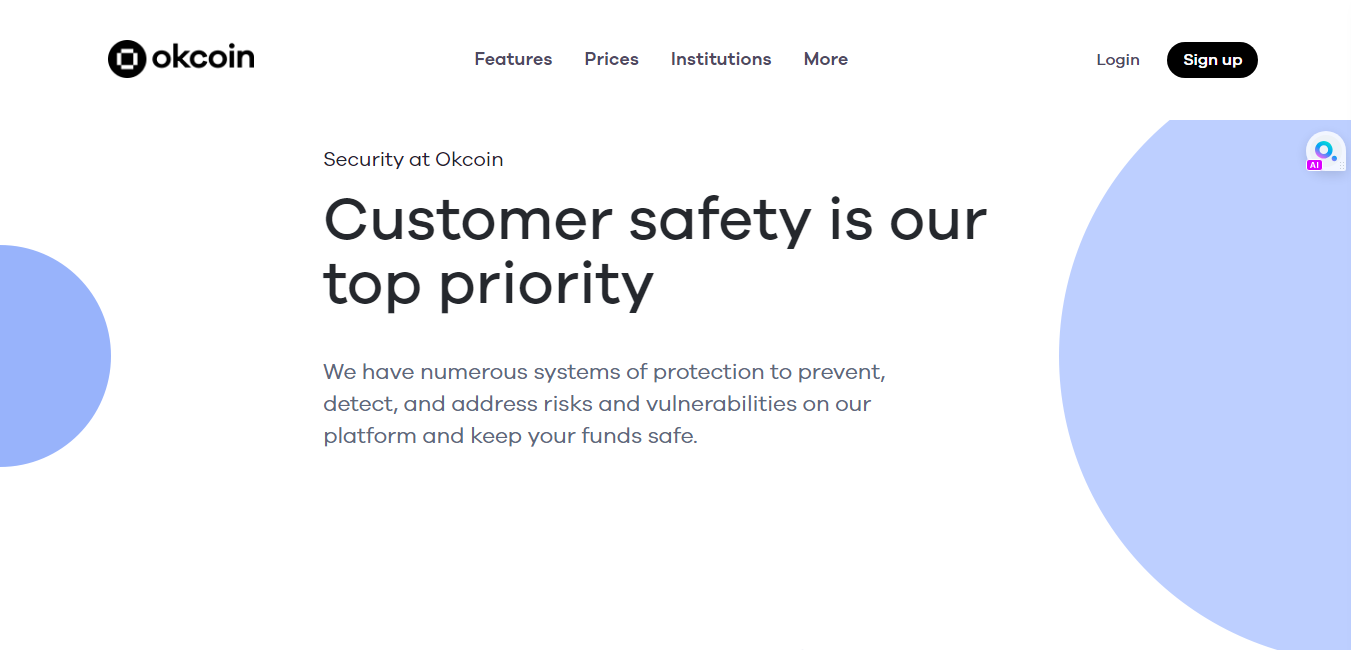 Further adding to its security approach, the exchange stores over 95% of your crypto assets in offline wallets (cold storage) and the rest in a multisig hot wallet requiring multiple transaction signatures.
All these security features ensure that your crypto and personal info is well-protected with OKCoin.
OKCoin Customer Support
Okcoin has your back when it comes to getting in touch with them! You can contact them through email, live chat, or phone. They've got multiple ways to connect!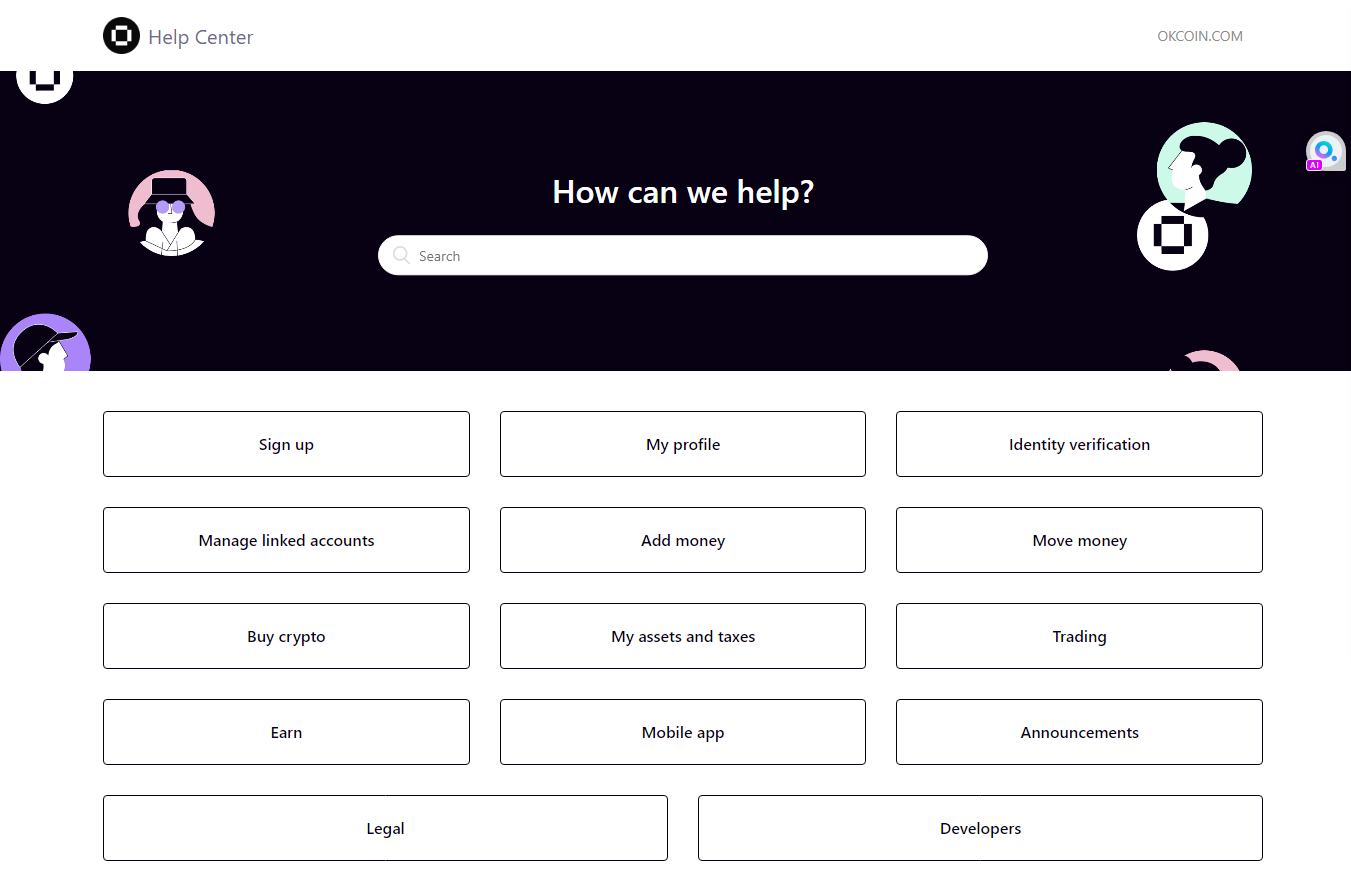 Source: OKCoin Help Center
If you have questions or need guidance, they've got an extensive Help Centre and FAQ page. You'll find answers to common questions about creating an account, verification, deposits, withdrawals, and trading. It's like having a helpful guide at your fingertips!
OKCoin Limitations
Availability in Some States
While Okcoin holds a license to operate in the United States, the exchange is still not currently accessible in several states and territories. These states include:
Nevada
Hawaii
West Virginia
New York
All U.S. territories (except Puerto Rico)
Supported Cryptocurrencies
Okcoin offers approximately 76 cryptocurrencies on its platform, which is relatively lower than many other prominent crypto exchanges like our 2023's top pick, Binance, which supports 350 cryptocurrencies.
This means that if you're interested in popular and well-known cryptocurrencies, it's not a problem. However, if you're specifically looking for new and emerging coins before they become available on other exchanges, chances are you won't find them on Okcoin.
Trading Fees:
While OKCoin offers a range of trading options and features, it's important to know that the fees associated with trading on the platform may be higher than what you would find on other top exchanges like MEXC Global.
Traders who prioritize lower fees as a key factor in their trading strategy may want to explore alternative platforms that offer more competitive fee structures.
Conclusion
In conclusion, OKCoin exchange proves to be a commendable choice for beginners entering the cryptocurrency space. Its user-friendly interface, extensive educational resources, and straightforward trading features provide a supportive environment for those new to trading.
However, for serious traders seeking advanced tools, liquidity, lower fees, and robust trading options, OKCoin may not meet their specific requirements.
Hence, seasoned traders can consider better alternative platforms that cater to their needs for more sophisticated strategies and market analysis. Our top picks in this regard include Bybit, Bitget, and KuCoin.
OKCoin FAQ
Is OKCoin regulated?
Yes, it is regulated in the United States, allowing users to buy and sell digital assets using fiat currencies.
Is OKCoin safe to use?
Yes, OKCoin is safe to use. It has robust security measures like cold wallet storage, multi-sig hot wallets, two-factor authentication, real-time account monitoring, email and SMS notifications, and PGP encryption for email correspondence.
Does Okcoin Have A Referral Program?
Yes, Okcoin has a referral program. Users can earn $10 in Bitcoin by referring new customers who deposit or trade $100 or more on the platform. New users must complete verification level 2 to qualify for this referral program.