KuCoin vs Coinbase
In the world of cryptocurrency trading, KuCoin and Coinbase are two prominent platforms that have garnered immense popularity. With over 20 million users worldwide, KuCoin stands as one of the largest and most widely-used crypto trading platforms.
Offering a staggering range of 700 coins and a diverse array of trading markets, KuCoin appeals to experienced traders seeking advanced features and a wide selection of cryptocurrencies.
On the other hand, Coinbase, as the largest US-based crypto exchange, focuses on simplicity, making it an ideal choice for beginners looking to enter the crypto market. With a user-friendly interface, multiple deposit methods, and seamless withdrawal of fiat currencies, Coinbase offers a hassle-free experience for those new to the world of cryptocurrencies.
In this blog post, we will delve into the differences between KuCoin and Coinbase, analyzing their strengths and weaknesses to help you determine which platform aligns with your specific needs.
We compared all key measures such as fees, trading features, supported assets, FIAT support, security, and more. After this comparison, you will know if you should go with Kucoin or Coinbase! We will start this guide with a table where you can see all key measures of the two exchanges at a glance.
This table compares all key measures of Coinbase and Kucoin, the two largest crypto exchanges in the world
Overview of Kucoin
KuCoin, launched during the 2017 cryptocurrency bull market, has gained a significant international following, as demonstrated by its daily trading volume surpassing $2 billion.
With a homepage proudly stating that "1 out of 4 crypto holders worldwide is with KuCoin," the platform has established itself as a popular choice among cryptocurrency enthusiasts.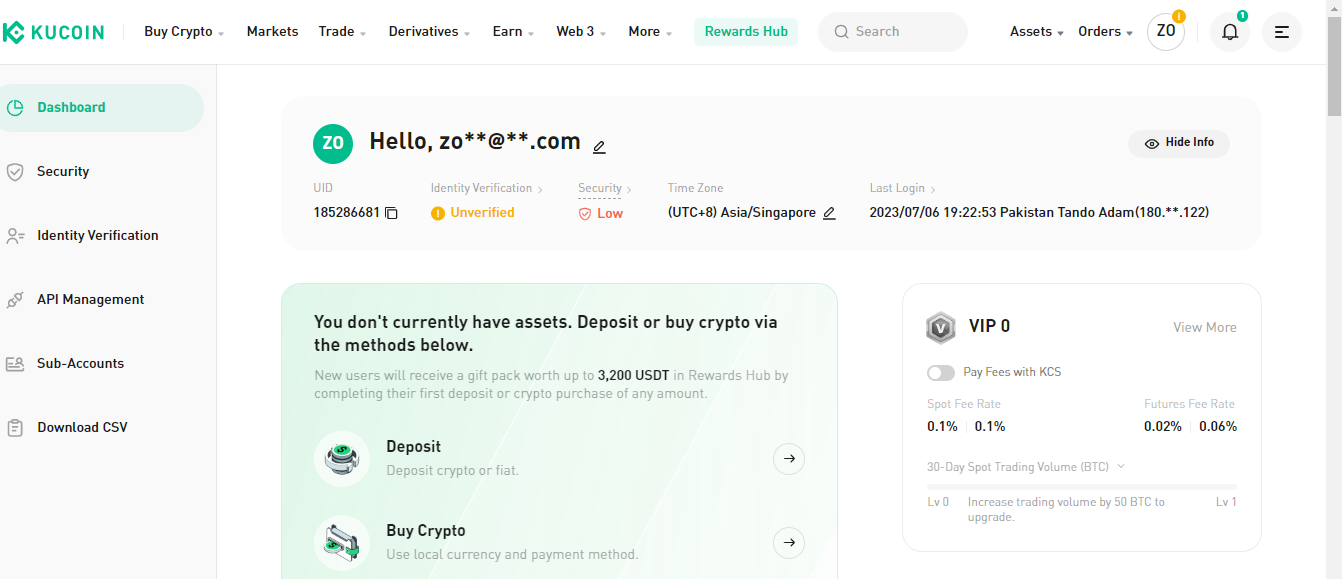 Originally based in China, KuCoin had to relocate to Hong Kong due to the Chinese government's crypto restrictions. While it operates largely unregulated in most countries, the platform has implemented stringent security measures and insurance funds to ensure customer protection.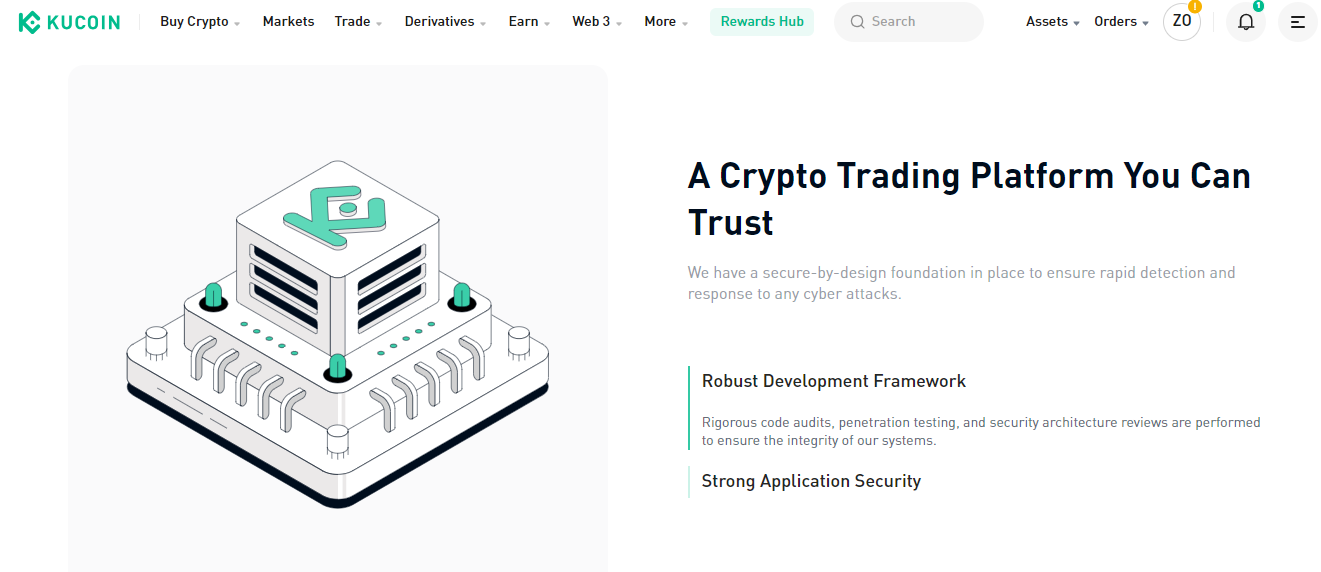 Although a 2020 hack occurred, KuCoin promptly reimbursed customers for any lost funds, solidifying its reputation as a trustworthy exchange.
Pros
20 million users worldwide
Extremely low fees
Mobile app for iOS and Android platforms
Wide selection of 700+ cryptocurrencies available
Additional features like crypto lending, trading bots
Cons
High fees when buying crypto with fiat (3%-5%)
No live chat support
Overview of Coinbase
Coinbase, founded in 2012 by Brian Armstrong and Fred Ehrsam, is a renowned cryptocurrency exchange that has been at the forefront of the industry for almost a decade.
With a user base exceeding 100 million, the platform has earned a stellar reputation for its simplicity, security, and innovative offerings.
Coinbase provides investors with an effortless way to diversify their portfolios by buying popular cryptocurrencies like Bitcoin and altcoins.
Its user-friendly interface, coupled with support for a wide range of fiat currencies and an earning feature, makes it a go-to platform for both newcomers and seasoned investors.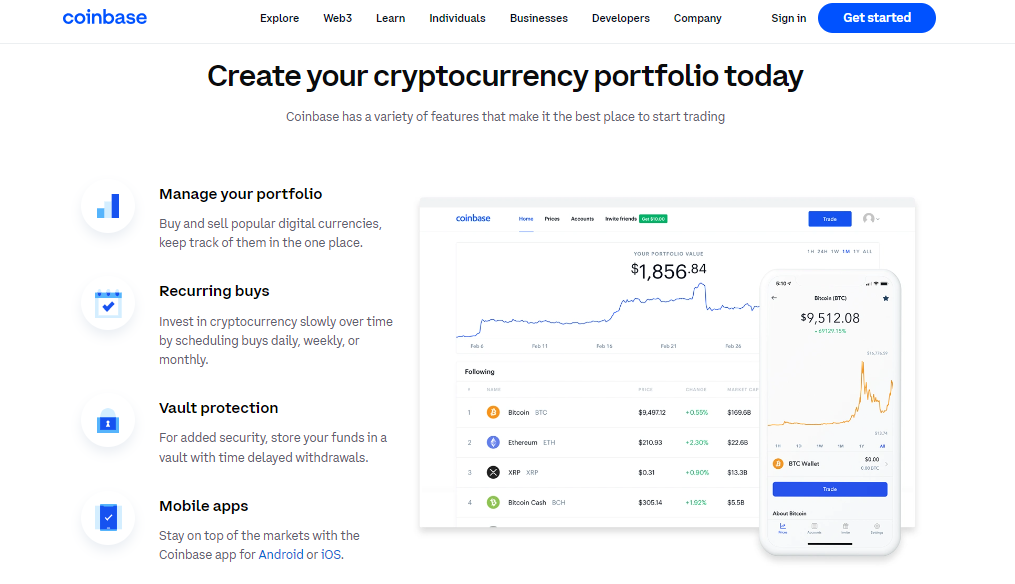 Additionally, Coinbase offers a convenient third-party wallet app called Coinbase Wallet, ensuring a seamless and comprehensive crypto experience.
Pros
Simple and advanced trading tools are available
User-friendly interface
Takes a few minutes to register and start trading
Over 160+ cryptocurrencies available
Secure and trusted platform
Cons
Doesn't support fiat deposits, and withdrawals
Complicated fee structure and higher fees
Key Features of Kucoin vs Coinbase
Cryptos Available
When it comes to the range of cryptocurrencies available for trading, KuCoin stands out from the crowd. With over 600+ cryptocurrencies supported, KuCoin offers an extensive selection that caters to both novice and seasoned investors.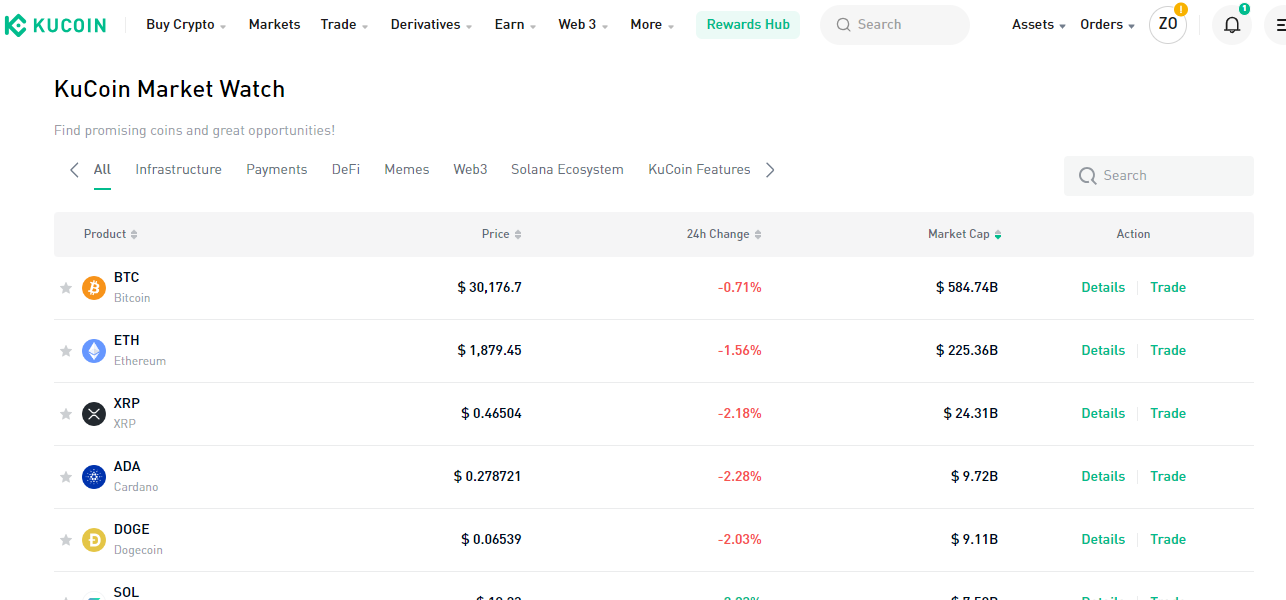 Whether you're looking for well-established digital assets or emerging coins, you'll likely find them on KuCoin. The platform even features a Spotlight section that highlights new and promising cryptocurrencies, ensuring you stay ahead of the curve.
On the other hand, Coinbase offers a more limited selection, with approximately 160 cryptocurrencies available for trading. Coinbase focuses primarily on conventional coins like Bitcoin, Cardano and Ethereum, and doesn't frequently add new digital assets to its list.
While Coinbase Pro expands the options, the supported altcoins remain limited to popular choices such as Bitcoin Cash and Litecoin.In the battle of cryptos available, KuCoin emerges as the go-to platform for those seeking a wide range of cryptocurrency options.
Wallets
When it comes to wallets, both KuCoin and Coinbase offer custodial options for their customers. With a custodial wallet, the exchange manages the keys to your crypto assets. While this provides convenience and assistance in case of a forgotten password, it also means that your assets are at risk if the platform experiences a hack.
For those who prefer not to worry about password security, custodial wallets can be appealing. However, if you desire total control over your crypto assets, you may opt for an external non-custodial wallet.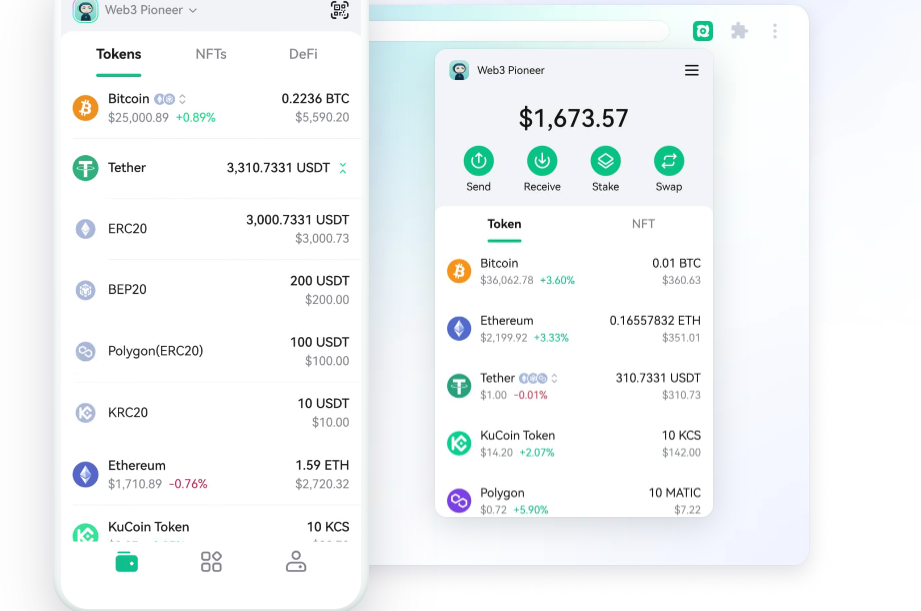 If you have an external hardware or hot wallet, both KuCoin and Coinbase allow you to transfer funds into it. However, it's important to note that withdrawal fees may apply for these transactions.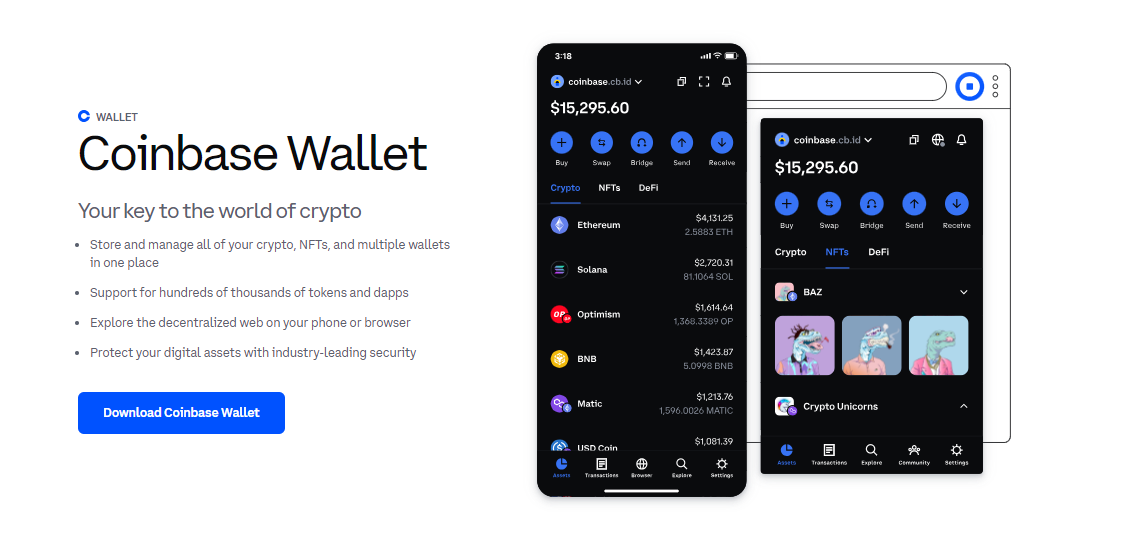 Notably, Coinbase offers a separate Coinbase Wallet, which is available to both Coinbase account holders and non-account holders. This standalone wallet provides an additional layer of security and control. Connecting your Coinbase account to the Coinbase Wallet is seamless. On the other hand, KuCoin does not have a separate wallet feature like Coinbase.
Deposit Methods
When it comes to deposit methods, both KuCoin and Coinbase offer a variety of options to cater to users from all corners of the globe. Both exchanges accept popular methods like bank transfers (SEPA), PayPal, credit cards, debit cards, Apple Pay, and cryptocurrencies.
However, KuCoin has an edge with the inclusion of Skrill as a payment method, which is not available on Coinbase.
On the other hand, Coinbase supports additional payment methods that KuCoin doesn't offer. These include bank transfers (ACH), Fedwire, SWIFT, and SOFORT/iDEAL. This wider range of payment options on Coinbase gives users more flexibility in choosing the method that suits them best.
Buying & Selling NFTs
Coinbase, known for its well-curated NFT marketplace, has dedicated time and effort to refine its platform. Customers can explore a variety of blue-chip NFT collections, including popular ones like Terraforms and pumpkins. With a focus on quality and selection, Coinbase ensures a diverse range of NFT options for users to discover and invest in.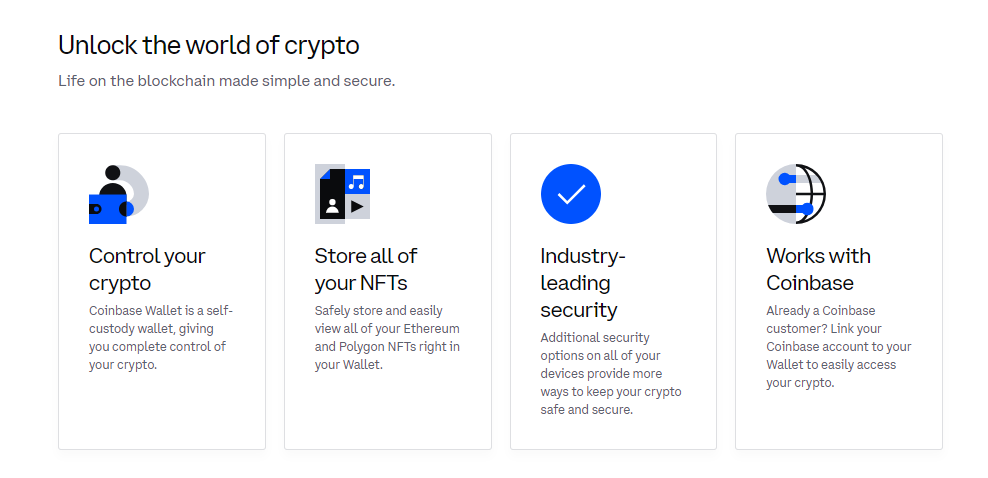 On the other hand, Kucoin's NFT hub is equally impressive, thanks to its partnership with Windvane. This collaboration allows customers to access some of the most sought-after NFTs available. However, what sets Kucoin apart is its introduction of "Fractional NFTs."
This innovative feature allows investors to own a fraction of high-value NFTs that were previously out of reach. For example, instead of missing out on a Bored Ape NFT valued at $500k, someone can now buy 1/10th of it. This fractionalization trend has gained popularity as it opens up opportunities for a broader audience to invest in coveted NFTs.
Both platforms offer unique advantages when it comes to the world of NFTs. Coinbase focuses on a curated selection of NFT collections, ensuring a refined and trustworthy marketplace. Kucoin, on the other hand, brings a groundbreaking feature of fractionalizing NFTs, democratizing access to high-value assets.
Mobile App
When it comes to mobile apps, both Kucoin and Coinbase have stepped up their game. Coinbase's mobile app is hailed as one of the best in the business, boasting a sleek and modern aesthetic that matches its desktop counterpart. With this app, you can effortlessly keep track of your portfolios and monitor your assets on the go.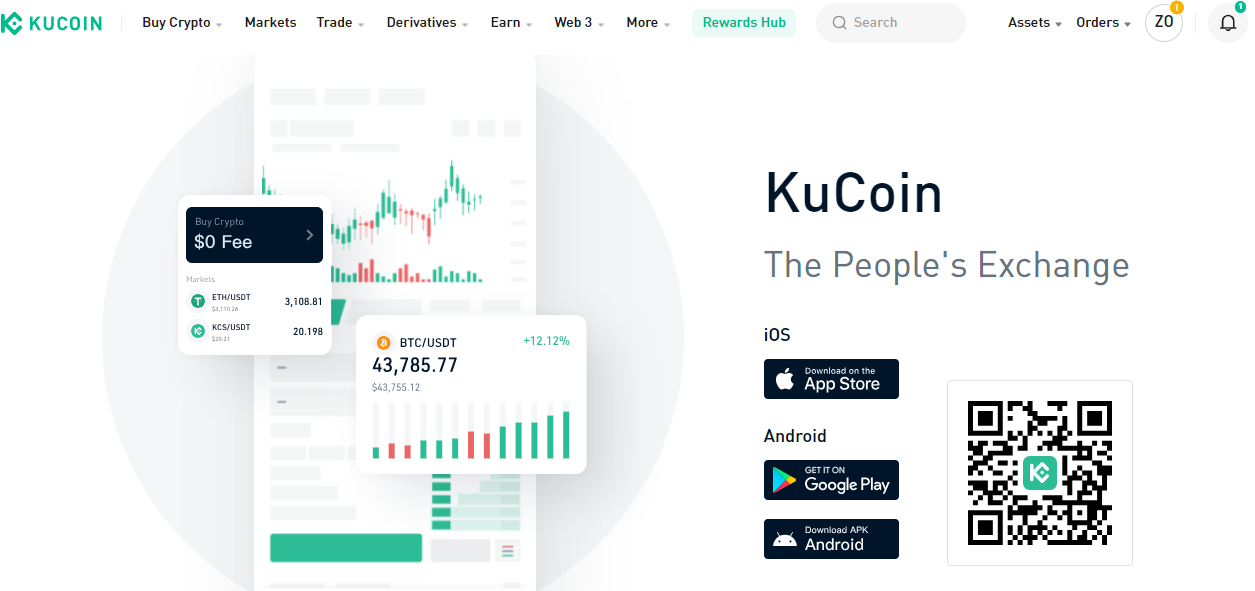 On the other hand, Kucoin's mobile app provides desktop users with all the features they would expect from the exchange. Whether it's live trading, portfolio management, or earning programs, you can access them all from the palm of your hand.
While the app's interface may appear a tad cluttered, it still offers simplicity in navigation, making it relatively easy to use. Customers seem to agree, as evidenced by the app's impressive average star rating of 4.5/5 across both Google and Apple app stores.
Exchange Fees
When it comes to trading fees, KuCoin and Coinbase have different approaches.
Let's break it down in a simple and engaging way:
KuCoin: The maker/taker fee structure on KuCoin is tiered, ranging from 0.0125% to 0.1% based on your tier level. However, here's a neat trick: when you pay using their native coin (KCS), the 1% trading fee is reduced by 20%, resulting in a fee of just 0.08%.
Keep in mind that KuCoin also imposes withdrawal fees that may change based on market performance. While KuCoin accepts free deposits, the availability of fiat deposit options is currently limited.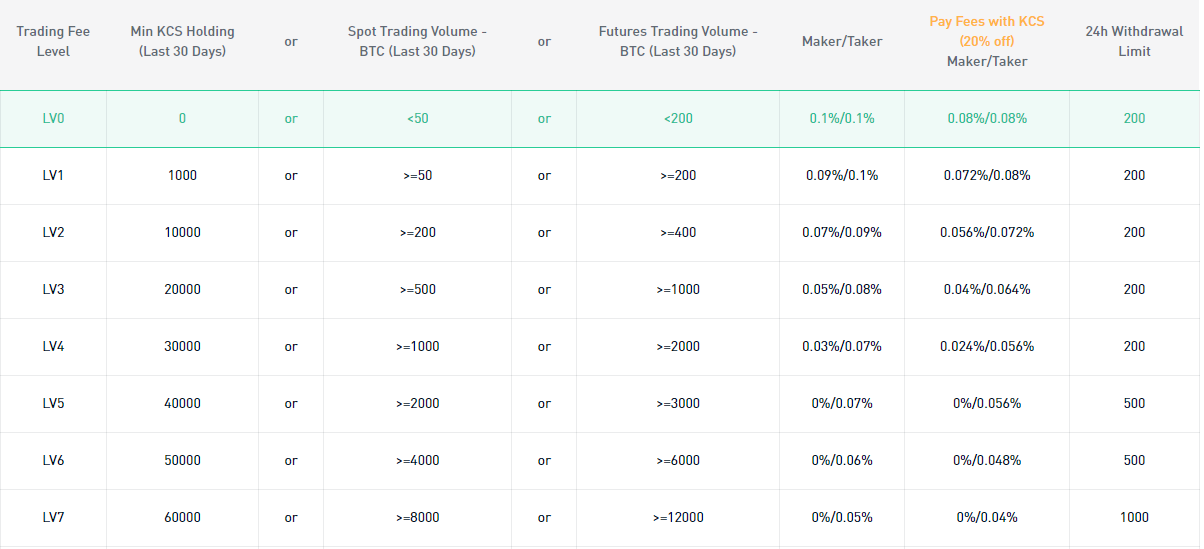 Coinbase: Now, let's dive into Coinbase's fee structure, which can be a bit confusing. It includes margin or spread fees and Coinbase fees. The flat or variable fee per transaction depends on factors such as region, product, and payment method.
Flat Fee:
| Transaction value | Fee |
| --- | --- |
| $10 or less | $0.99 |
| $10 to $25 | $1.49 |
| $25 to $50 | $1.99 |
| $50 to $200 | $2.99 |
Withdrawing fiat money from Coinbase incurs fees that vary based on region and payment method. For example, bank transfers have a fee of $0.15, while US wire transfers are charged $25. It's important to note that Coinbase doesn't support crypto sales in Singapore and Australia, meaning you cannot withdraw fiat money in those countries.
Variable Fee:
| Payment/Payout Method | Conversion Fee |
| --- | --- |
| US Bank Account | 1.49% |
| Coinbase USD Wallet | 1.49% |
| Debit Card or PayPal | 3.99% |
| Instant Card Withdrawal | up to 1.5% (minimum $0.55) |
Understanding the fee structures of KuCoin and Coinbase can help you make informed decisions based on your trading preferences and needs. Be sure to consider the specific fees associated with each platform and assess how they align with your trading strategy.
Security
In terms of security, both Coinbase and KuCoin have taken measures to protect their users' funds. Coinbase, with its decade-long presence in the crypto scene, has established a solid reputation for security. The platform employs bank-like security protocols, including cold wallet storage, data encryption, and 2FA.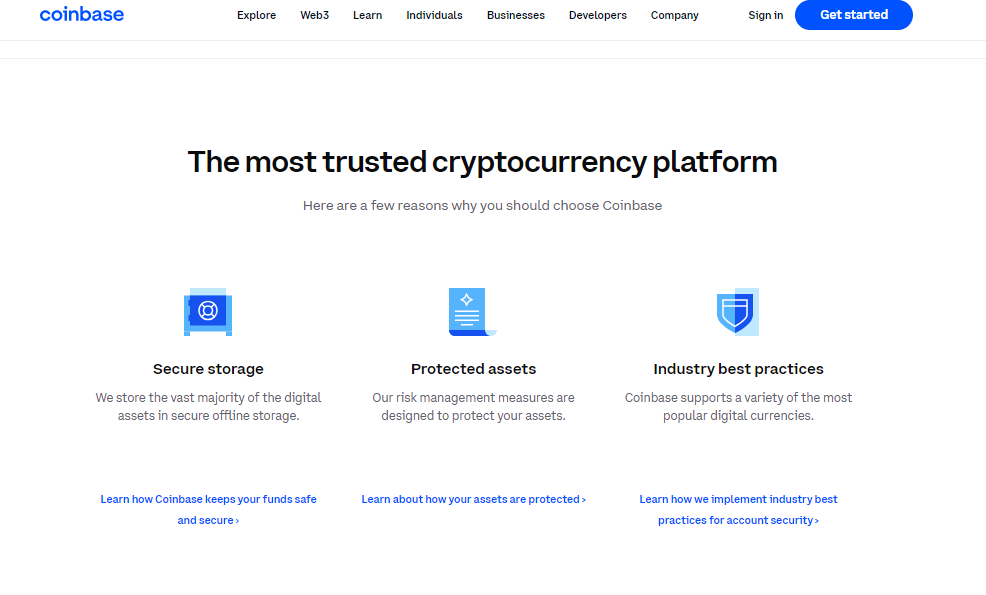 Its ISO 27001 certification further validates its commitment to maintaining a secure environment. While Coinbase is considered one of the most secure platforms, it's always recommended to store cryptocurrency in a third-party hardware wallet for maximum safety.

On the other hand, KuCoin, though lacking regulatory oversight, offers industry-standard security features like 2FA, address whitelisting, and cold wallet storage. While the platform experienced a hack in 2020, customers were reimbursed thanks to an insurance fund, preventing any financial losses.
Customer Service
When it comes to customer service, there are distinct differences between Kucoin and Coinbase. Coinbase, being beginner-friendly, has made significant strides in improving its customer support. Their knowledge center offers a wealth of articles and guides to address common queries.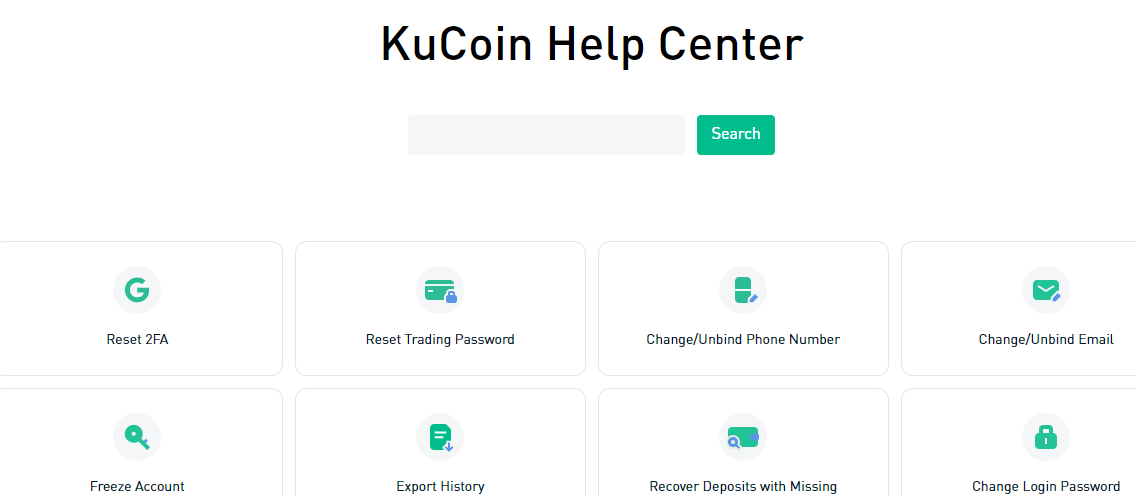 Users can reach out to customer support via phone lines and email forms and live chat ,although the high user base can make it challenging to receive prompt assistance. On the other hand, KuCoin's customer support reputation isn't stellar.
While they provide various options like an extensive FAQ center 24/7 live chat and ticket submission, contacting representatives can be difficult, and language barriers may hinder their effectiveness.
Overall Winner: Kucoin or Coinbase?
Kucoin is superior to Coinbase. Not only does Kucoin have lower fees, but the platform also has more tradable coins, better liquidity, and more advanced trading features, making Kucoin the best choice for active crypto day traders. While Coinbase only supports 180 coins, Kucoin offers over 700 different cryptos that you can trade. There is just a big downside for US customers as Kucoin does not allow citizens from the United States. If you are from the US, we highly recommend you check out MEXC, which is one of the best crypto trading platforms for US traders!
While Coinbase is not suitable for trading at all due to incredibly high fees and poor liquidity, the platform is very user friendly, making it a great platform for beginners that just want to buy and hold cryptos.
FAQs
Is KuCoin trustworthy?
KuCoin, operating since 2017, is generally considered a relatively safe cryptocurrency exchange, though all exchanges carry risks.
Which is better, Coinbase or KuCoin?
For skilled traders, KuCoin offers advanced features like free trading bots, futures, and margin trading. However, KuCoin may be more complex for beginners compared to Coinbase.
How many countries use KuCoin?
KuCoin has a global presence, serving over 200 countries. With a user base of over 20 million people, it has gained popularity and trust among traders.