Closing your Kraken account is a decision that some users eventually consider, whether it's to explore new exchange platforms or for personal reasons.
Kraken, a cryptocurrency exchange based in San Francisco, was founded in 2013 and offers various digital assets, including Bitcoin, Ethereum, and smaller, less popular cryptocurrencies.
This article aims to assist you with a user-friendly, step-by-step guide on securely deleting your Kraken account.
Let's embark on this path together and easily navigate the account deletion process!
What You Need To Do Before Closing A Kraken Account
Closing your Kraken account? Here's what you need to do first:
Clear Balances: Ensure you have no remaining balance or pending transactions on the platform. If you have funds, transfer them to a hardware wallet or a software wallet for safekeeping.
SEPA Support: Kraken allows direct bank account withdrawals through SEPA. So, if you need to withdraw fiat currencies (USD, EUR, CAD, AUD, GBP, CHF, or JPY), make sure to do so before closing your account.
Seek Support: Before the final farewell, reach out to Kraken's support team and generate a support ticket for any pending transactions or unresolved matters. This ensures a smooth closure and severs all connections with the exchange.
Explore Alternatives: If you're looking for another top-notch cryptocurrency exchange, consider Binance, Bybit or BYDFi.
How To Delete Your Kraken Account
If you've decided it's time to bid farewell to your Kraken account, we've got you covered with this detailed step-by-step guide for how to delete your Kraken account.
Step 1: Log in to Your Kraken Account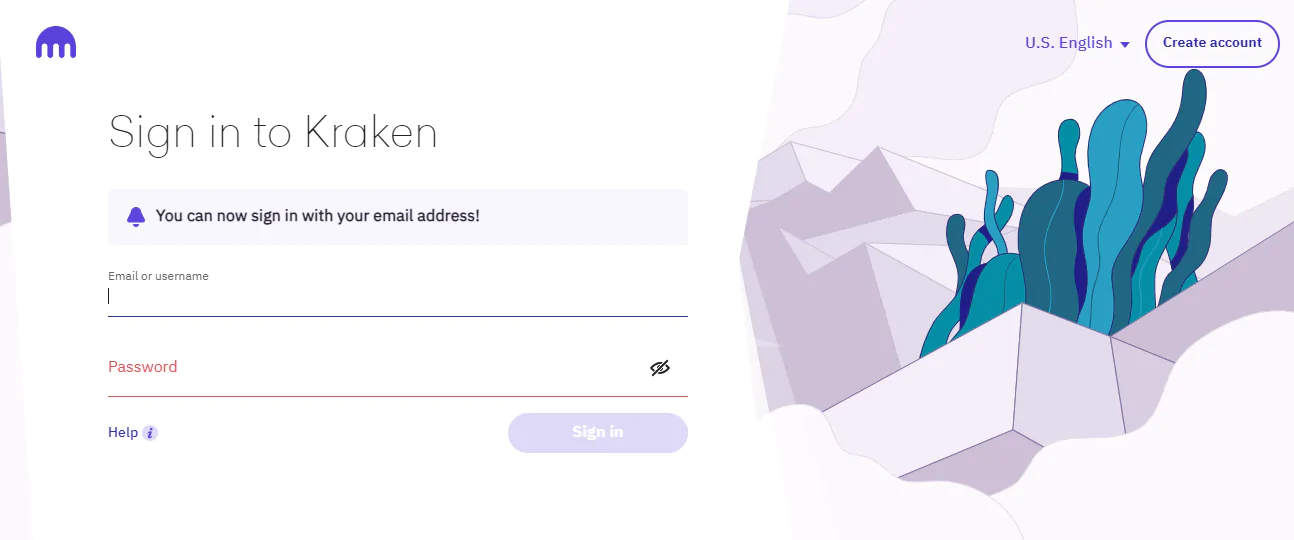 Start by logging in to your Kraken account through a desktop browser or mobile application.
Step 2: Click the Support Tab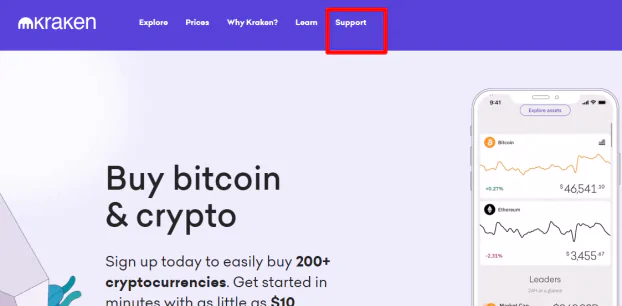 After successful login, you'll be greeted with a screen displaying various options. Click on the "Support" tab located in the top bar of the screen.
Step 3: Click the "Contact Us" Tab

On the Support page, look for the "Contact Us" tab in the upper right corner, and click on it.
Step 4: Select "Other Questions"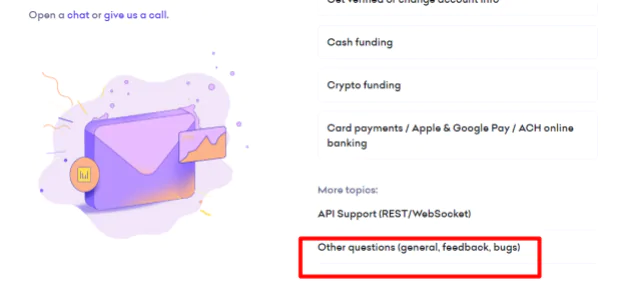 Scroll to the bottom of the page and find the button labeled "Other questions (general, feedback, bugs)." Click on it.
Step 5: Choose "Close Account"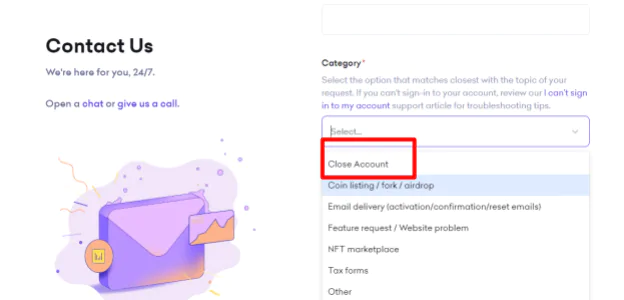 A new window will open, presenting a dropdown list under "Category." From this list, select "Close Account."
Step 6: Confirm Account Closure
Once you select "Close Account," a screen with checkboxes will appear. Ensure you tick all the boxes to confirm the following: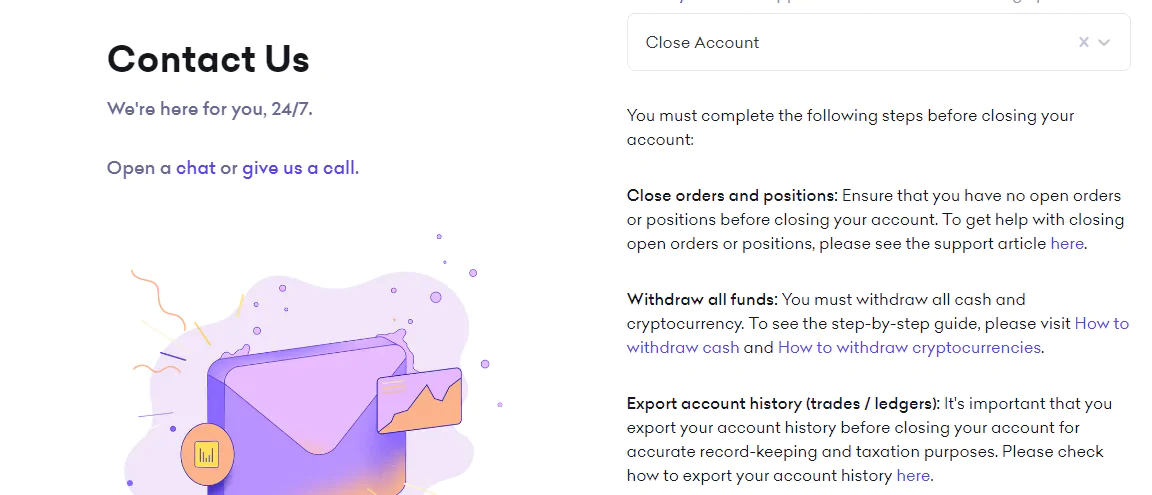 All balances in the account have been withdrawn.
Exports of trade history and ledgers have been performed, and you acknowledge that no future exports will be provided.
The account has been closed for all orders and positions.
Additionally, choose a reason for closure from the list provided. You may select multiple options if applicable.
Step 7: Submit and Bid Farewell
Finally, click the "Submit" button to permanently close your Kraken account. That's it! You've successfully navigated the account closure process.
Can You Create A New Kraken Account After Deletion?
Absolutely. Creating a new Kraken account after deletion is possible and quite convenient. Kraken stands out from other crypto exchanges by allowing users to create new accounts, even after deleting your inital one.
This unique feature opens up endless possibilities, enabling you to have distinct accounts for various trading strategies or even one for your trading bot. However, it's important to note that these accounts cannot be linked as sub-accounts.
So, to make the most of each account, you'll need to deposit funds separately.
Best Kraken Alternatives
If you're searching for reliable alternatives to Kraken, look no further! Binance, one of the largest and most respected cryptocurrency exchanges, is a fantastic option.
Bybit is one of the best alternatives to Kraken. Bybit offers a user-friendly mobile app, ensuring seamless trading on the go, and it's available to residents of over 170 different countries. Unfortunately, Bybit is not available in the United States. You can read our full Bybit review here, or you can sign up for a Bybit account right away.
If you are from the U.S, you migh want to look into BYDFi. The exchange us licensed in the United States and operates in (almost) all states. Only New York is excluded.
Another excellent choice is KuCoin, an emerging leader in the market. Unlike Kraken, KuCoin requires KYC, in order to access trading for users who prefer a hassle-free process. Unfortunately, for US residents, there are IP address-based restrictions.
Based on your location, these Kraken alternatives have got you covered. So, take your pick and embark on an exciting crypto trading journey easily and confidently!
Final Words
Deleting and closing your Kraken account is a straightforward process, as this detailed guide outlines. However, it's essential to understand that account deletion is permanent, and once completed, there's no way to recover your account or access any associated services.
Before proceeding with the deletion, ensure that you don't have any pending transactions with Kraken customer service for a smooth and secure closure.
If safety concerns prompt you to avoid storing your cryptocurrency on exchanges, consider using a cryptocurrency hardware wallet as an ideal solution. These measures allow you to confidently manage your crypto assets while prioritizing security and peace of mind.
Remember, keeping your investments safe is paramount in the world of cryptocurrencies.