Huobi is a prominent cryptocurrency exchange founded in 2013, serving the Asian market. Under the leadership of Leon Li. Since its debut, Huobi has established itself as a major player, offering a diverse selection of major cryptocurrencies and over 700 altcoins for trading.
However, even with the comprehensive range of services, there may come a time when you find it necessary to close your Huobi account. You may want to delete your Huobi account at any time for personal reasons or to explore alternative platforms like Bybit and Bitget.
To help you with that, this article will provide step-by-step instructions on securely deleting your Huobi account.
What You Need to Do Before Closing Your Huobi Account?
Before you go ahead and delete your Huobi account, remember to:
Check your balance and wrap up any unfinished transactions.
And don't forget! Before saying goodbye to Huobi, contact their support team to sort out any pending transaction matters.
Once everything's settled, you can happily bid farewell to Huobi and embark on exciting new crypto adventures. Just make sure to close any open orders before you take off.
How To Permanently Delete Huobi Account?
Ready to part ways with your Huobi account? Follow this straightforward step-by-step guide:
Step 1: Sign In
Log in to your Huobi account using your email address and password.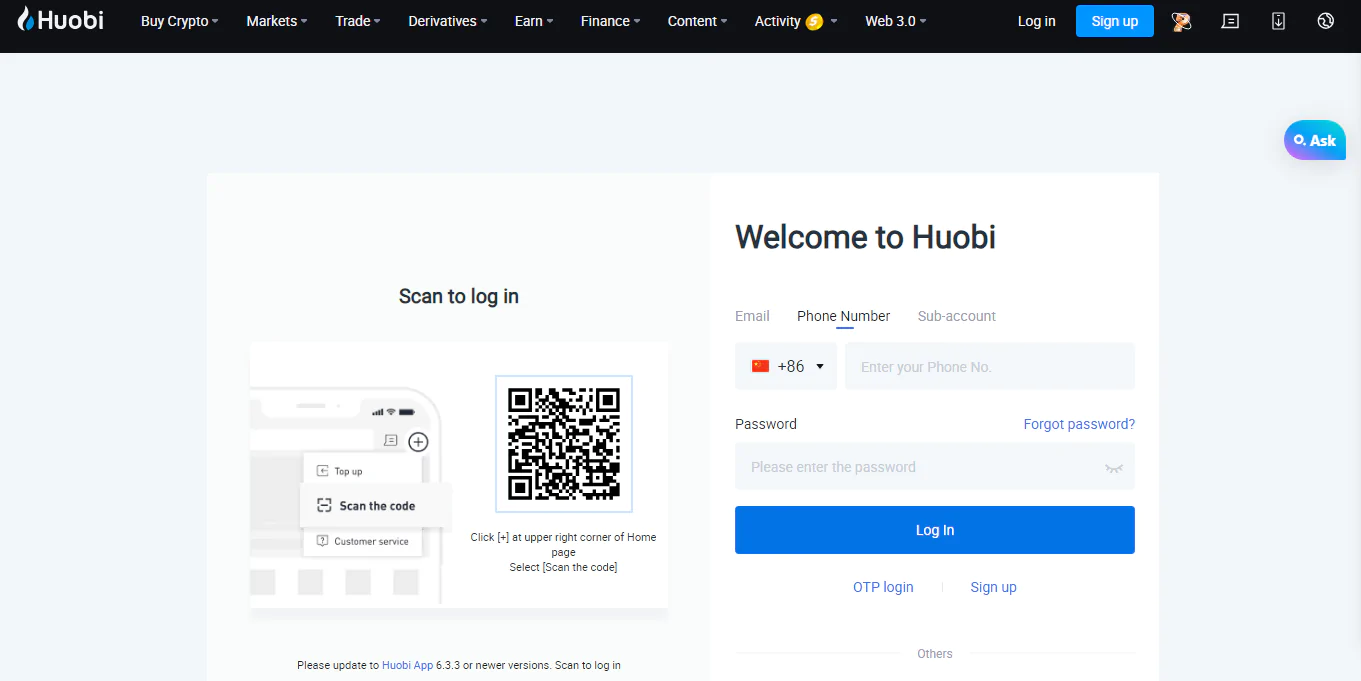 Step 2: Access Customer Service Center
Once logged in, head to the 'Customer Service Center' by clicking the round bot icon at the right bottom of the screen.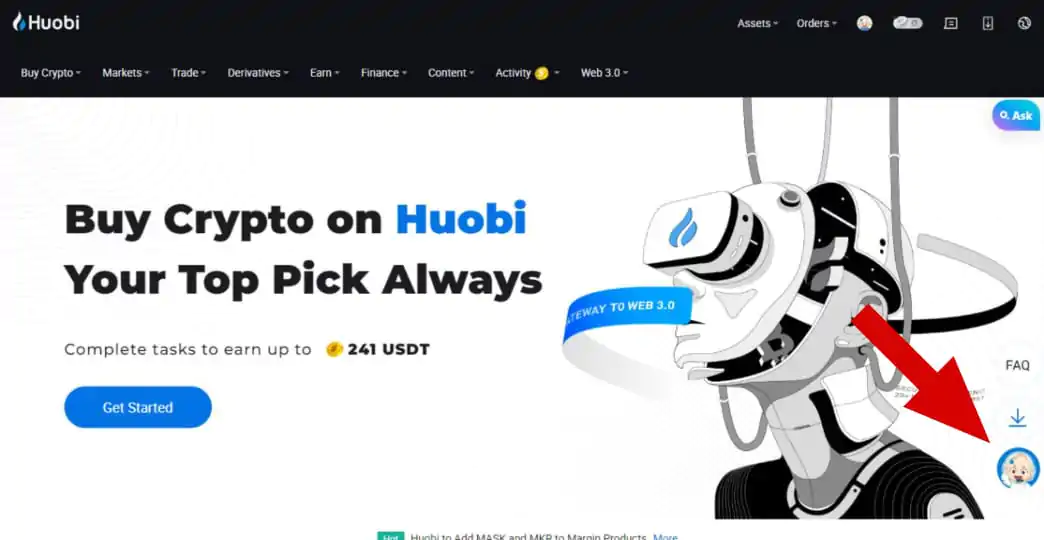 Step 3: Initiate Deletion Request
Connect to Customer Service Center and type "How to Delete Account" in the chat. Send the message to receive further instructions.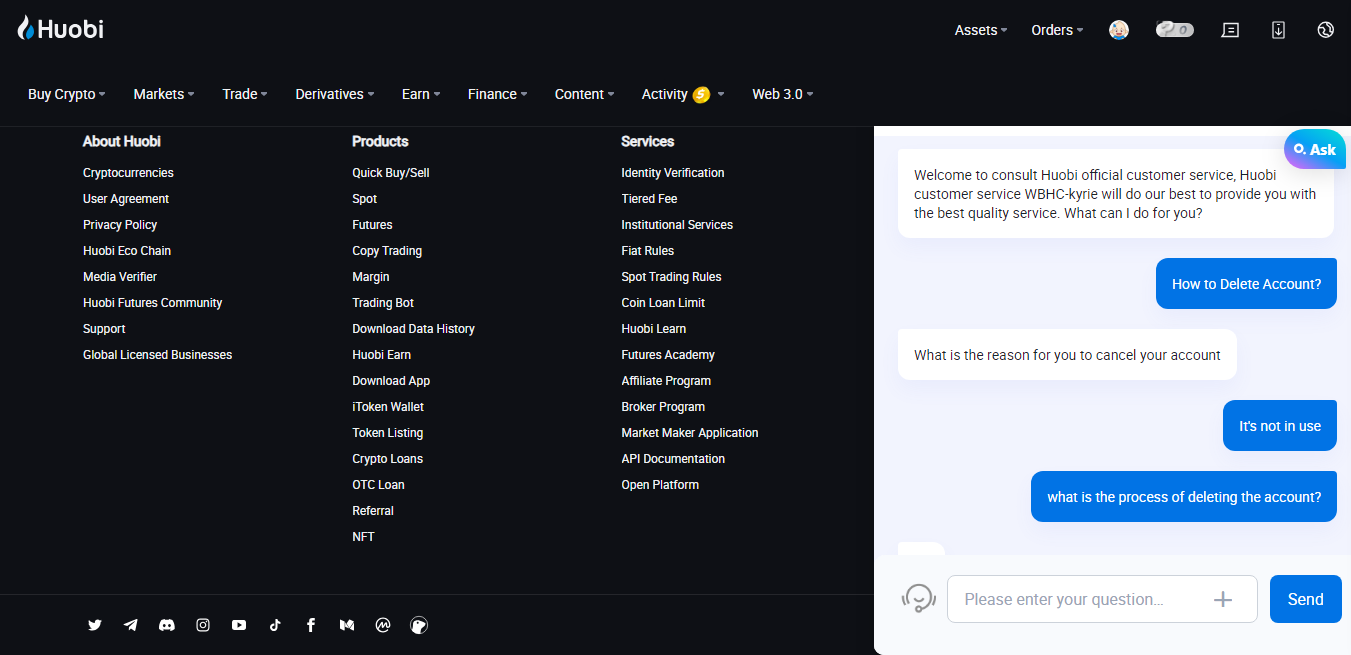 Step 4: Choose the Right Option
Among the answers given, select the option that mentions submitting a request for account deletion. Click the link provided or copy and paste it into your search bar.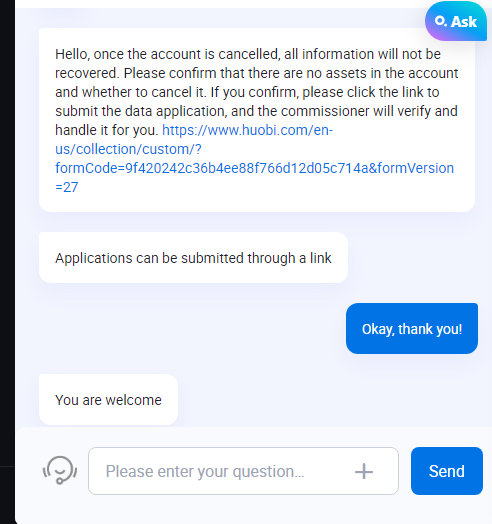 Step 5: Provide Details
Enter your email and phone number on the page that opens next. Verify your email address by entering the sent code and clicking 'Next.'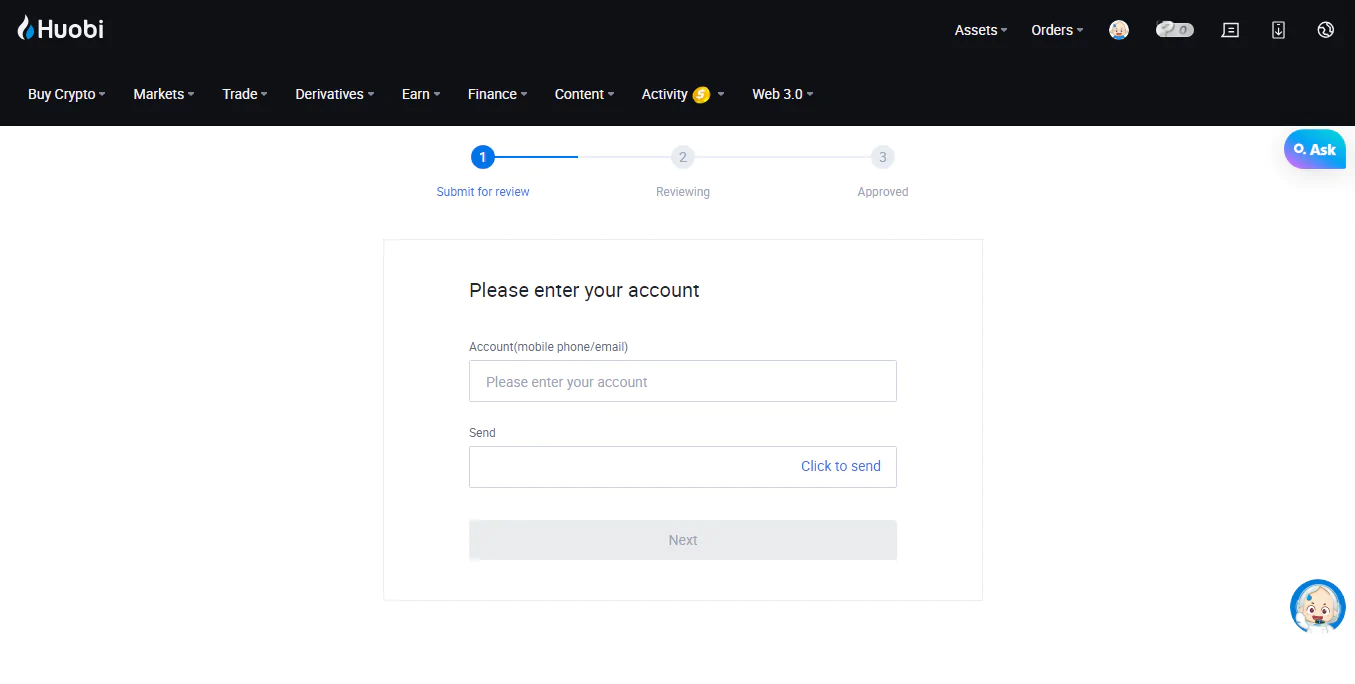 Step 6: Complete the Deletion Process
Answer the detailed questions, confirm your decision, and upload the required documents. Click 'Submit' to complete the account deletion process.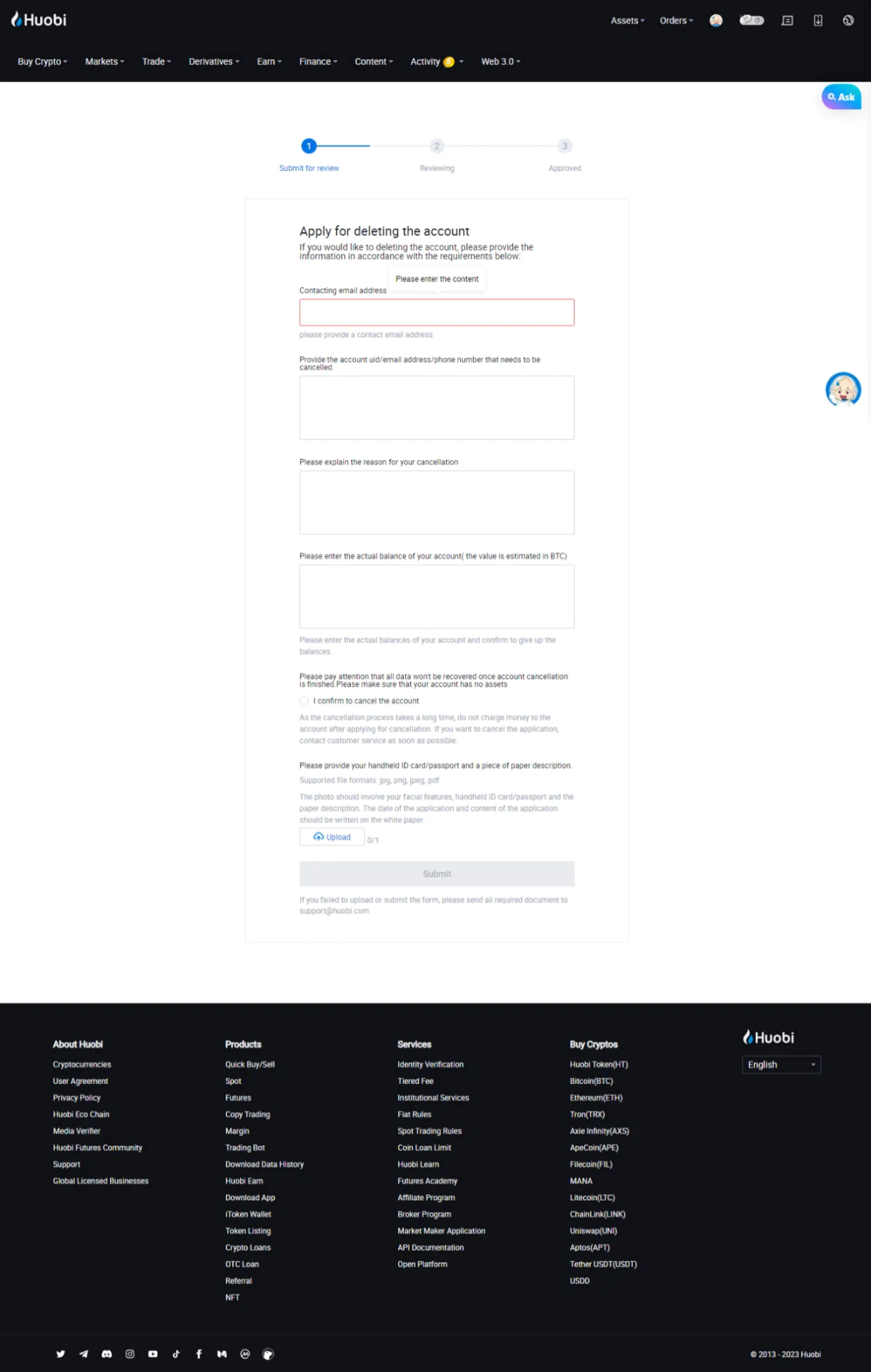 Note: Remember, Huobi account deletion is permanent and irreversible. Once you delete your account, you won't be able to use any associated services or recover the account. Take your time to review the reminders carefully before proceeding.
Reasons to Close Huobi Account
Despite being a prominent cryptocurrency exchange, Huobi users may find themselves having to close their Huobi accounts. Some such instances include:
Security Concerns:
Keeping crypto safe is a big deal; some users may feel anxious about leaving their money and info on an exchange. They bid farewell to their Huobi account to protect themselves from potential risks.
User Dissatisfaction:
Not everyone vibes with every platform. Some users aren't thrilled with Huobi's offerings, fees, or support. In this regard, waving goodbye to Huobi becomes the natural move if they're planning to switch to better alternatives like Bybit or Bitget.
Regulatory Changes:
If the rules change or there are legal worries in an area, closing the Huobi account might be the right move for user's to follow the local laws.
Diversifying the Portfolio:
Most investors and traders prefer diversifying their holdings across various exchanges to limit the effect of crypto volatility and the risk of losses if an exchange fails. This often leads users to close accounts on exchanges they may find less secure or inaccessible due to limited features.
Simplifying the Finances:
Life gets busy for everyone. Therefore, users that are not actively using Huobi for trading may find it easier to manage their finances by saying goodbye to the account.
Inactive Account Fee:
If a Huobi account isn't used for live buy or sell orders in several months, it could be marked dormant and locked. Huobi charges inactivity fees for these dormant accounts. In this situation, users that don't plan to return to their account may want to avoid this fee by closing it.
Summing Up!
Deleting your Huobi account is pretty straightforward. Just remember to clear any pending support tickets and ensure your account balance is zero before starting the process. There's no going back once you hit that delete button, so keep that in mind.
Managing your assets wisely and transferring funds to a secure wallet beforehand is crucial. And, of course, don't forget to review all the instructions and reminders from Huobi during the deletion process. So, be cautious and take your time before you say goodbye to your Huobi account!