Are you looking for an exciting and lucrative way to enjoy your favorite casino games while also delving into the world of cryptocurrency? Look no further than Rollbit – the online crypto casino that promises endless entertainment and big wins.
But with so many scams out there, it's only natural to be skeptical of new platforms like Rollbit. That's why we've put together a comprehensive review of Rollbit so you can make an informed decision before diving in. Read on to find out if this crypto casino is worth your time or if Rollbit is just another scam waiting to happen.
Introduction to Rollbit
Rollbit is a licensed and legitamate online casino that offers a unique twist on traditional gambling games. Rather than betting with fiat currency, you can use Bitcoin and other cryptocurrencies to play their games. This makes for an exciting experience, as you can win or lose crypto without ever having to convert it to cash. In this Rollbit review, we'll take a look at what the site has to offer and whether it's worth your time.
The first thing you'll notice about Rollbit is the sleek, modern design. The homepage features a banner with the latest promotions, and below that, you'll find the games divided into categories. There are slots, table games, live dealer games, and more. You can also search for specific games by name.
In 2022, Rollbit expanded their services and integrated a comprehensive cryptocurrency futures trading platform with low fees and up to 1000x leverage, which is a dream for every high frequency crypto trader. On top of that, Rollbit added a gas-less NFT marketplace to their website.
Overall, Rollbit is a solid option for those looking for a different kind of gambling experience. The site is well-designed, the games are plentiful, and deposits are easy to make with crypto coins. If you're looking for a new place to play, Rollbit could be worth checking out.
One thing to keep in mind is that Rollbit does not accept fiat currency deposits. This means that if you want to play with real money, you'll need to purchase cryptocurrency first. Fortunately, there are plenty of ways to do this these days.
To get started, you'll need to create a Rollbit account and deposit some funds. Once you've done that, you can start playing the games for real money. There are plenty of options to choose from, so you should be able to find something that appeals to you.
Once you have your crypto coins, simply send them to your Rollbit wallet address, and you're ready to go. Alternatively, you can also buy cryptos directly from the Rollbit website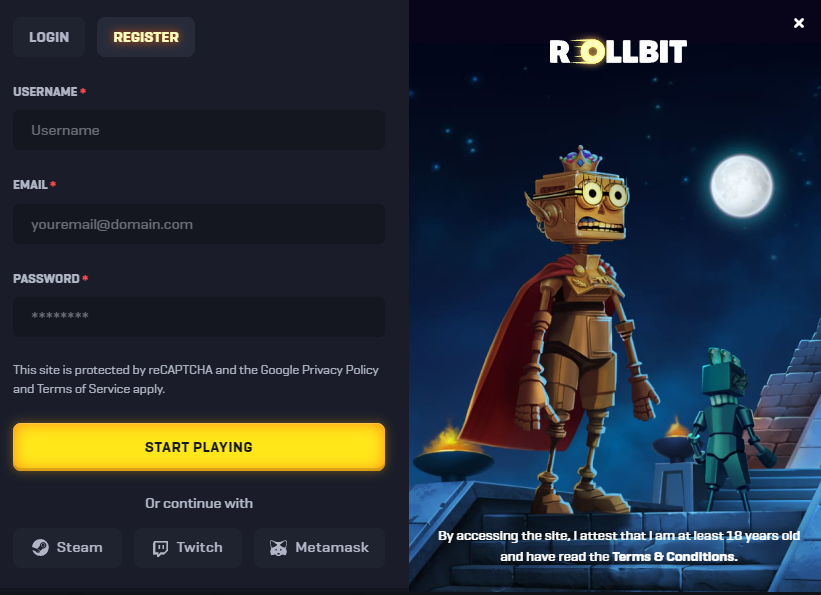 How Does Rollbit Work?
Rollbit works similarly to other crypto casinos. To start playing, you need to create an account and deposit cryptocurrencies into your Rollbit wallet.
The platform supports a wide range of cryptocurrencies, including Rollbit Coin, Bitcoin, Ethereum, Litecoin, Dogecoin, and more. Once you have funds in your account, you can choose from a variety of games and start playing.
Rollbit uses a proprietary algorithm to ensure that all games are fair and transparent. The platform's random number generator (RNG) is regularly audited by independent third-party companies to ensure that it produces genuinely random results. Additionally, Rollbit uses SSL encryption to protect player's sensitive information and transactions.
Pros of Using Rollbit
There are a few reasons why you might want to consider using Rollbit over other crypto casinos. First, they offer a very generous welcome bonus – up to 1 BTC.
Second, they have a wide variety of games to choose from, including slots, table games, and live dealer games.
And third, they offer 24/7 customer support in case you run into any problems while playing. Overall, Rollbit seems like a solid choice for anyone looking for a new place to gamble with their cryptocurrency.
Cons of Using Rollbit
Rollbit does not accept traditional currencies like Dollars or Euros for playing games, but only cryptocurrencies.
This means that users have to acquire cryptos like Rollbit Coin, Bitcoin, Ethereum, and USDT before they can start playing. But if you do not own any cryptos yet, you can purchase them directly on Rollbit.
Secondly, there is no customer phone number if you encounter problems while using the site. You will need to submit a support ticket and hope that someone gets back to you in a timely manner.
The main downside to using Rollbit is that they do not accept players from the US unless you use a VPN.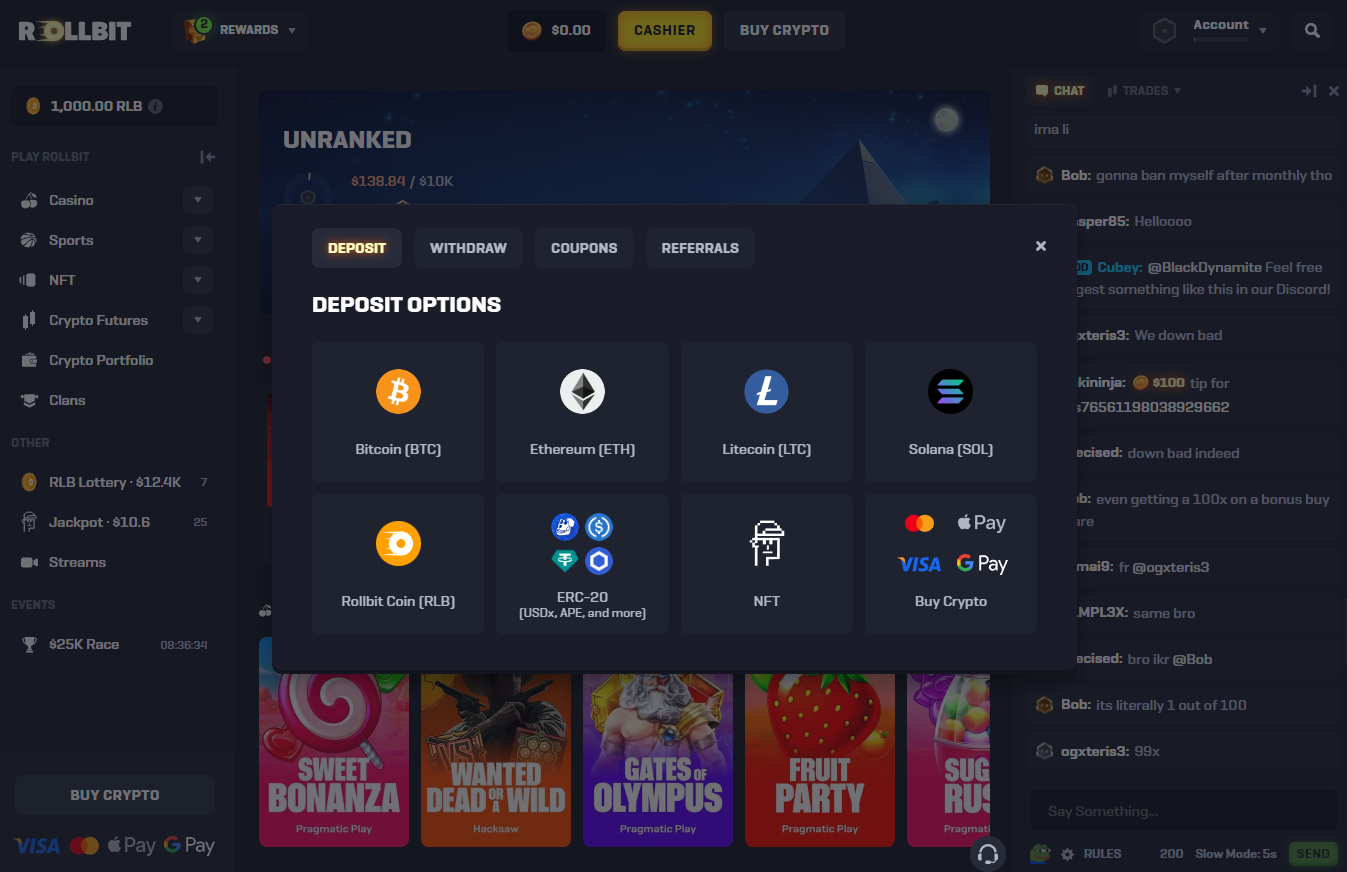 Security and Licensing
Rollbit is a licensed and registered cryptocurrency casino and gaming platform. The company behind Rollbit is registered and licensed in Curacao.
The site uses the latest security technologies to protect your personal and financial information. All data is encrypted and stored on secure servers. Rollbit also uses two-factor authentication to protect your account.
Rollbit is also licensed by the Curacao eGaming authority. This ensures that the games offered on the site are fair and that the site itself operates legally.
Return to Player Rates
When it comes to online gambling, one of the most important factors to consider is the return to player (RTP) rate. This is the percentage of money that is returned to players over the long run. The higher the RTP, the better the chances of winning.
Rollbit has a very impressive average RTP rate of 97%. This means that for every $100 you bet, you can expect to win back $97 on average. That's a very good return, and it's one of the main reasons why we recommend this casino.
Of course, it's important to remember that RTP is only an average. Your actual results may vary from session to session. But over the long run, if you play at a casino with a high RTP like Rollbit, you can expect to come out ahead.
Gamble Games Available on Rollbit
There are a variety of games available on Rollbit, ranging from slots and table games to live dealer games. The selection of games is impressive, and there is something for everyone. The slots offering includes classic 3-reel slots, video slots, and jackpot slots. Table game fans will find plenty to keep them occupied with all the classics available, including blackjack, roulette, baccarat, and more.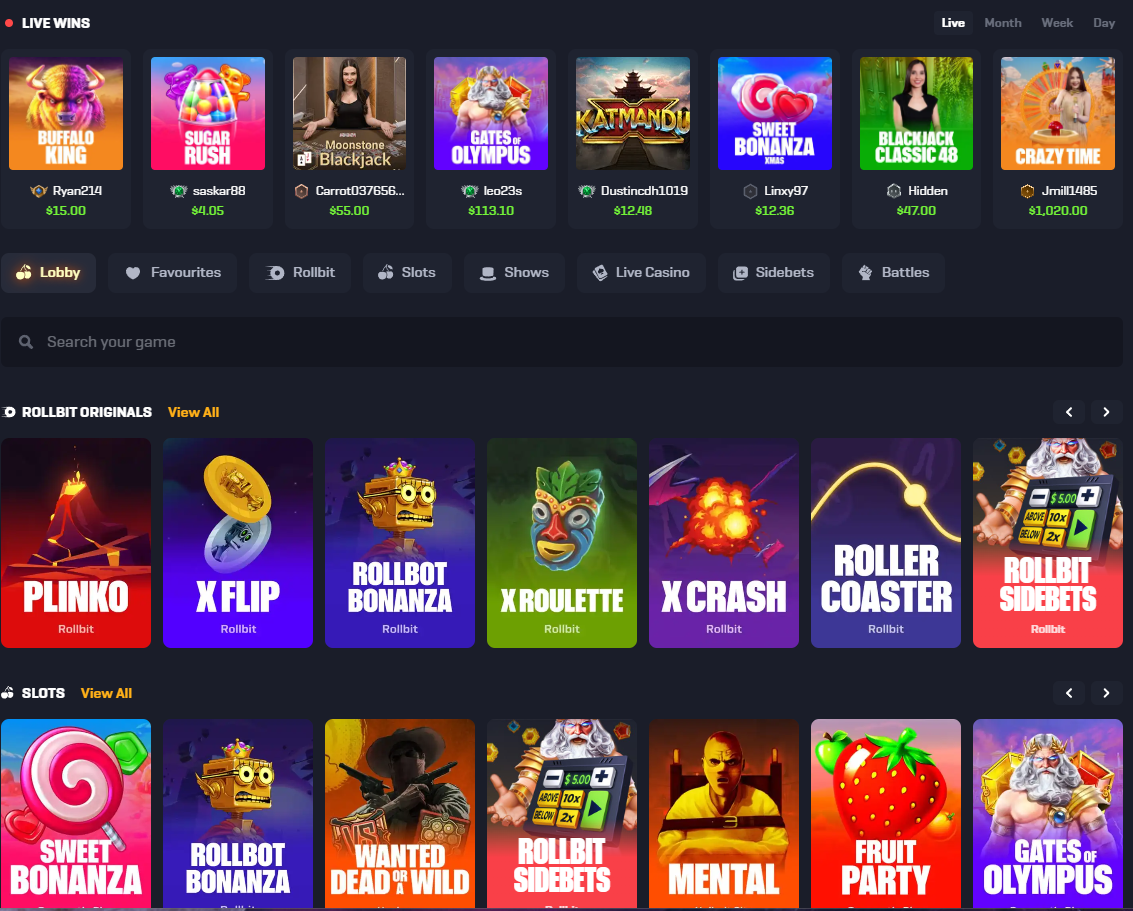 For those looking for a more immersive experience, there are also live dealer games available. These are broadcast in high definition and feature real dealers dealing real cards or spinning real roulette wheels.
There is also a good selection of sports betting markets available on Rollbit. You can bet on all the major sports, including football, basketball, baseball, hockey, and more.
Rollbit even offers plenty of niche sports markets such as Counter-Strike, FIFA and other eSports games if you're looking for something different to bet on. Overall, the selection of games on Rollbit is very good and should cater to most players' needs.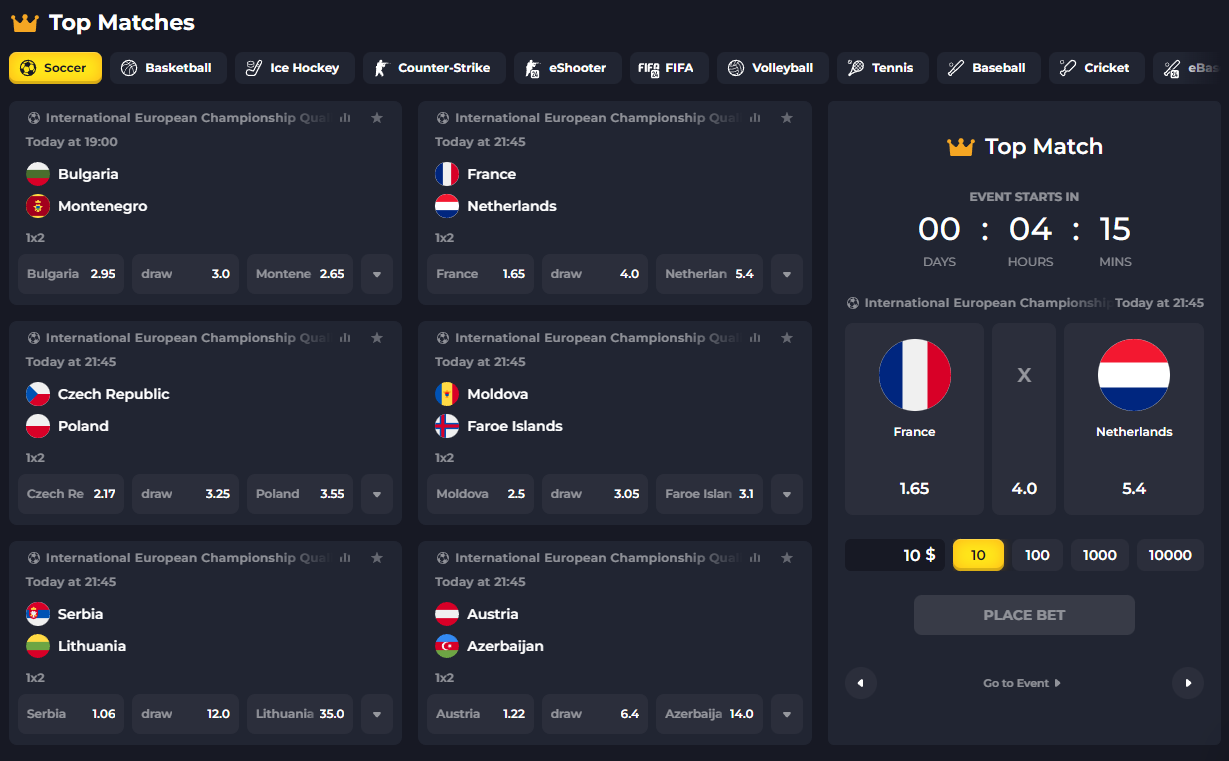 Crypto Futures Trading Platform
With the rapid rise of Bitcoin and other cryptocurrencies, there has been a big increase in the number of crypto trading platforms. These platforms allow users to buy and sell cryptocurrencies, as well as speculate on their price movements.
One such platform is Rollbit. In this section of our Rollbit review, we'll take a look at what the platform has to offer for traders, as well as whether or not it is a legitimate option for those looking to trade cryptocurrencies.
Rollbit is no longer just a gambling website but now even a cryptocurrency trading platform with a comprehensive futures section. Their trading platform offers a wide range of features, including high leverage of up to 1000x with low fees, which is unheard of! This is great, especially for high frequency traders that are quick in and out of the market.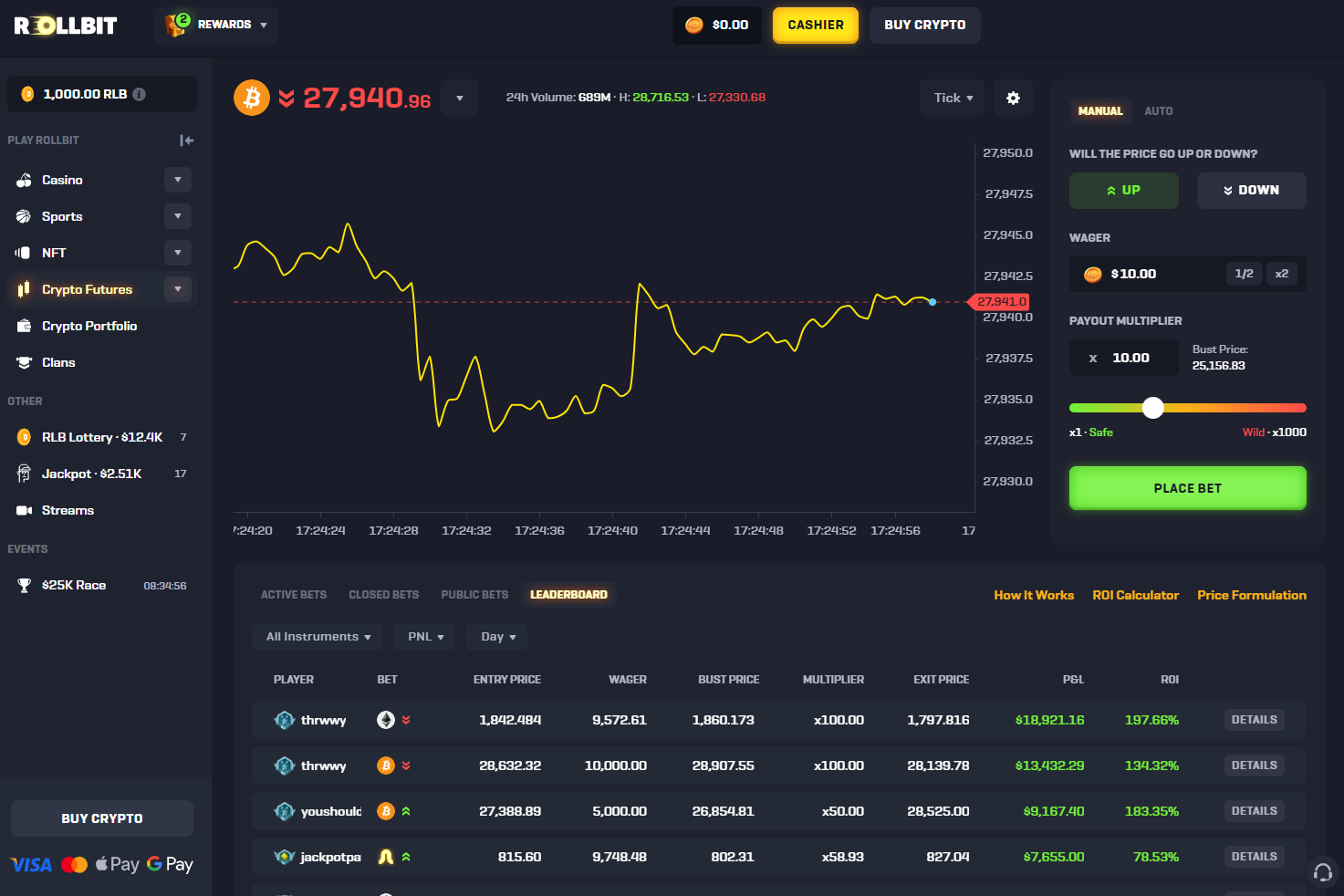 Rollbit also has its own native token, called the Rollbit Coin (RLB). RLB is used to pay fees on the platform and can also be staked to join Rollbit's daily lottery, where they share 20% of their profits with their users. No other crypto casino has such a generous feature. In order to participate in the lottery, you must stake at least 10 Rollbit Coins on their website. We have a full guide on how to buy and stake the RLB token here. Rollbit also offers a loyalty program for users who hold larger amounts of the token.
One thing to note about Rollbit is that it does not support fiat currencies as it is a cryptocurrency casino. This means that you can only deposit and withdraw cryptocurrencies on the platform.
Deposits and withdrawals are processed quickly. There are no fees for deposits and small fees for withdrawals, which is totally normal in the crypto space.
Overall, Rollbit is a feature-rich cryptocurrency trading platform that offers something for everyone. Whether you're looking to trade spot markets or derivatives, Rollbit has you covered. And with its own native token, there are plenty of benefits.
A Comprehensive Look at the User Interface
The user interface of an online casino is important for a number of reasons. First, it needs to be easy to use and navigate. Second, it needs to be visually appealing and inviting. Third, it needs to offer a variety of features and options that make playing the games fun and exciting.
Rollbit meets all of these criteria. The homepage is clean and uncluttered, with easy-to-find links to the different sections of the site. The games are divided into categories, making it easy to find the type of game you want to play. And there are plenty of features to keep you coming back, including a live chat function, a loyalty program, and a variety of bonus offers.
Customer Support Services
If you're looking for a crypto casino that offers great customer support services, then Rollbit is definitely worth checking out. The customer support team is very responsive and always willing to help out with any issues or questions you may have.
They offer live chat support 24/7, so you can always get in touch with someone if you need assistance. Overall, the customer support services offered by Rollbit are excellent, and we highly recommend them to anyone looking for a great crypto casino experience.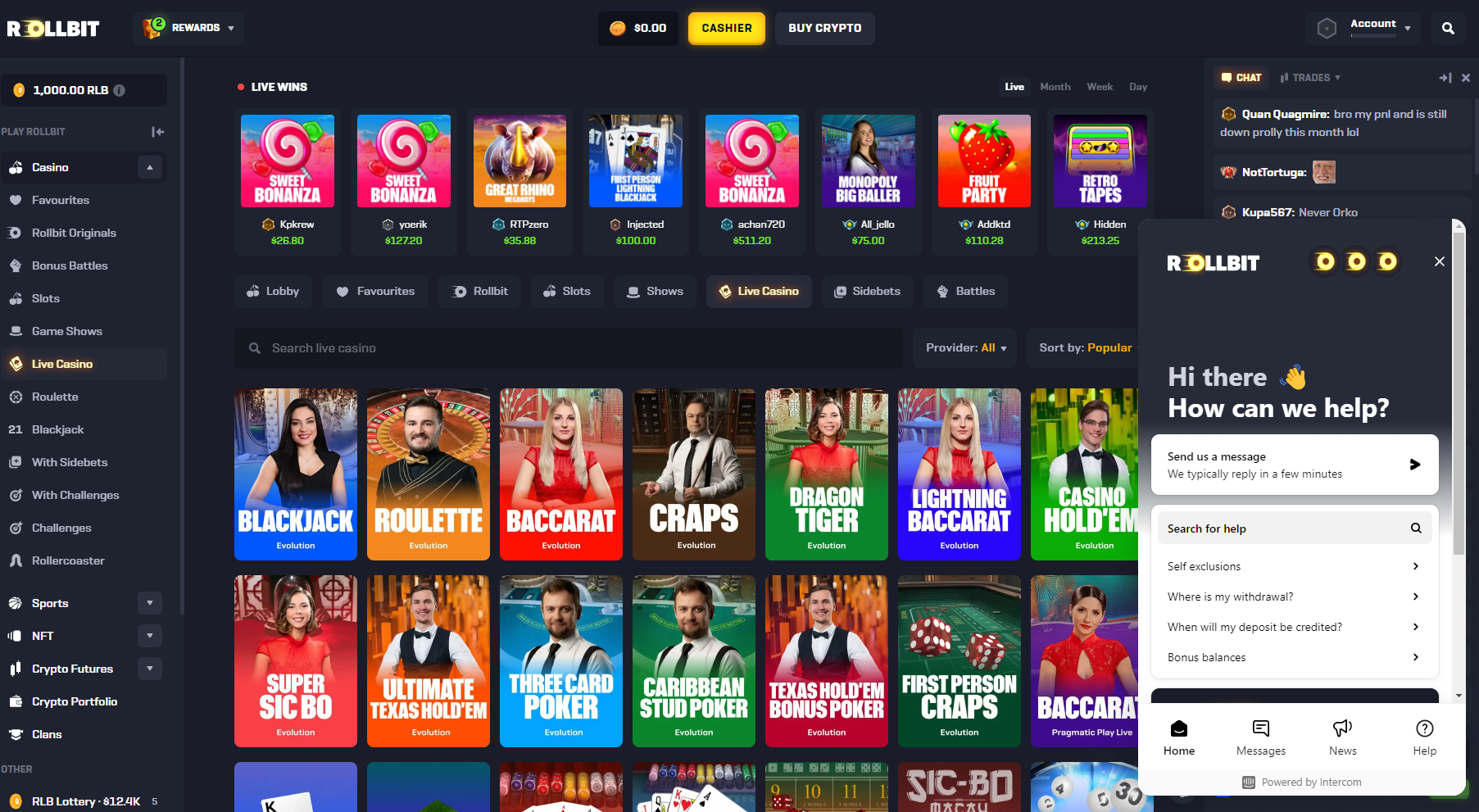 Conclusion
In conclusion, Rollbit is a legitimate cryptocurrency casino that offers some great features, such as an impressive selection of games, an intuitive interface, and excellent customer service. It also has a good level of security in place to ensure your deposits are kept safe.
Rollbit is an excellent option for those looking for a fair and transparent crypto casino experience. With a wide range of games, fast and secure transactions, and a VIP program that rewards loyal players, Rollbit has everything you need to enjoy online gambling and crypto trading. Overall, if you're a crypto enthusiast looking for a new gambling platform to try your luck, Rollbit is definitely worth checking out.
So what are you waiting for? Sign up to Rollbit today and see for yourself why Rollbit is quickly becoming one of the top online casinos around!
FAQ About Rollbit
Is Rollbit a scam?
To the question if whether Rollbit is a scam, we can confidently say: No, Rollbit is not a scam. They are a legitimate and licensed crypto casino with millions of players.
Does Rollbit require KYC?
No, Rollbit does not require KYC (Know your customer). That means you don't have to provide any personal information, and you can remain completely anonymous!
What is Rollbit
Rollbit is an all-in-one crypto casino and trading platform. They offer customers the convenience of trading and gambling with cryptocurrencies, as well as a range of other services, including sports betting, live casino games, and virtual currency tournaments,
Which cryptos does Rollbit accept?
Rollbit supports mainstream crypto coins such as USDT, Bitcoin, Ethereum, and Litecoin. They also support dozens of smaller altcoins and tokens such as ApeCoin or Rollbit Coin. You can find the full list of cryptocurrencies supported on the Rollbits website.
Can I use FIAT currency to play or trade on Rollbit?
While you can't use FIAT currencies to play games, you can use FIAT to purchase cryptos on Rollbit to then play games or trade cryptocurrencies.
How secure are my personal information and funds on Rollbit?
In addition to encrypting your data and storing it on secure servers, Rollbit monitors all transactions for suspicious activity to ensure your personal information and funds are protected. In addition, we have a number of fraud detection measures in place to ensure that you are always safe and secure when you interact with us.