If you are active in the cryptocurrency space, you might have heard of Rollbit. Especially on Twitter, many people started talking about Rollbit. But it's not just gamblers that are talking about the innovative crypto casino; even well-known cryptocurrency traders are talking about it. Rollbit is getting a lot of traction recently, as they added a cryptocurrency futures trading feature with up to 1000x leverage and 0 fees to their website. No other trading platform offers this.
Aside from being a casino, cryptocurrency trading platform, and NFT marketplace, Rollbit also has its own cryptocurrency token, called Rollbit Coin $RLB.
As the interest in online gambling rises and the casinos add new features such as the new trading option, it is a very likely scenario that the Rollbit Coin can also see a big increase in price. In this article, we will show you the best place to buy and store $RLB, and we will cover the question: Is Rollbit safe or a scam? Let's go!
What is Rollbit
Rollbit is one of the biggest online cryptocurrency casinos and trading platforms, and they now even integrated a fully functioning trading platform for cryptocurrencies. Rollbit is licensed in Curacao and is a legitimate and trusted website with over 5,000,000 website visits per month, according to similar web.
Compared to other gambling websites, Rollbit strives to bring new innovations to the industry with new offerings such as bonus battles, free spins, NFT betting, and rebates, as well as a groundbreaking cryptocurrency derivatives platform. Furthermore, they also launched a gas-less NFT marketplace, making it easier to trade NFTs while also cutting the cost to zero, which is a huge deal as gas fees can really eat your profits up when trading NFTs.
Users can deposit their cryptocurrencies like Bitcoin or USDT to have fun with games like "Wanted, dead or a wild" and crypto futures with up to 1000x leverage. Rollbit also offers the option to buy cryptos directly on their website via moon pay, paybis, and chainbits to ensure a seemingly easy process.
The special thing about Rollbits cryptocurrency futures market is that they don't charge any fees, nor do you pay for bid and ask, so there is no spread. This is a dream for all traders, as fees are a big issue when trading with high leverage. Especially for scalpers, Rollbit is definitely a platform to consider looking into as a legitimate trading option, now even reaching days with over $1 billion USD in trading volume. You can trade up to 30 cryptocurrencies, including Bitcoin, Ethereum, Cardano, Shiba Inu, Ripple, and more! It is safe to say that Rollbit is now a well-respected platform for cryptocurrency trading.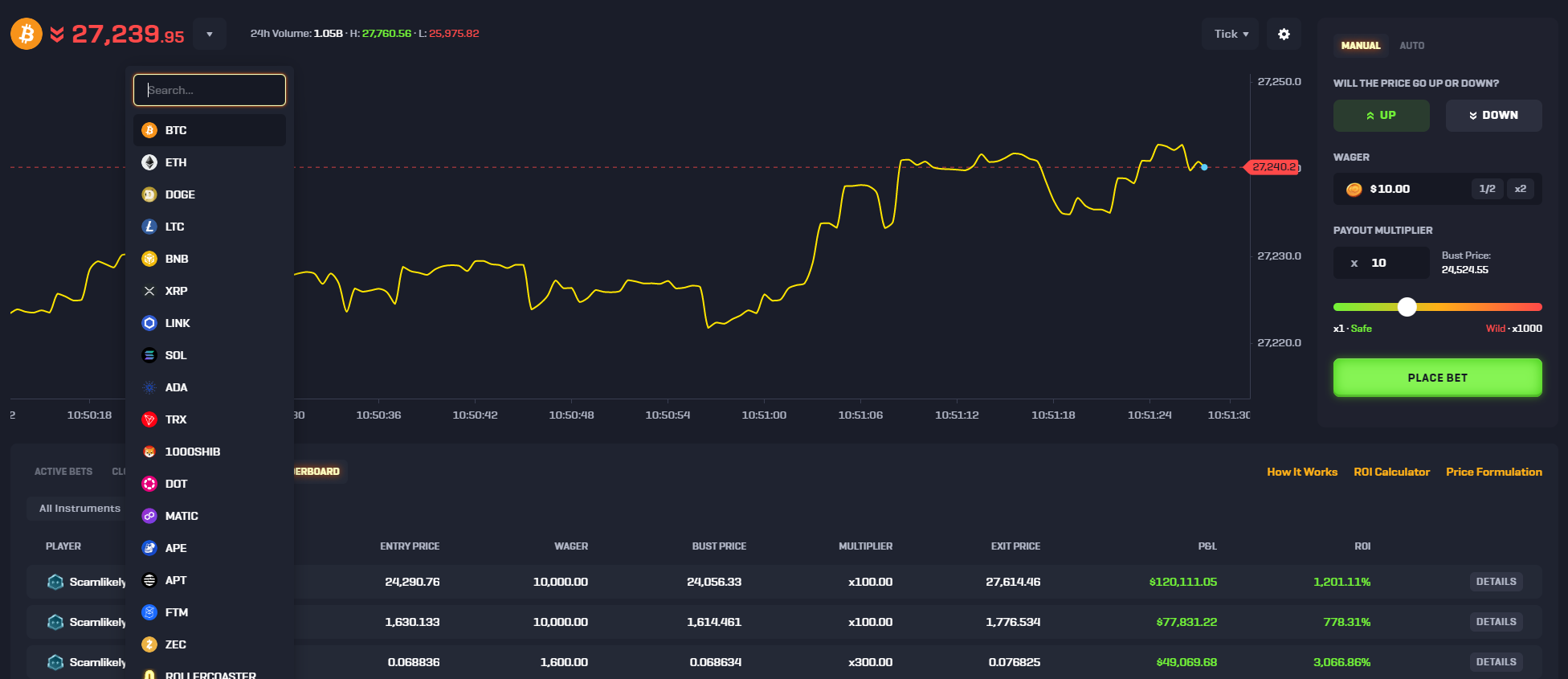 What is Rollbit Coin?
Rollbit Coin $RLB is the native token of Rollbit.com. The token runs on the Solana chain as it is fast and very cost-efficient compared to other chains like Bitcoin and Ethereum. $RLB is the first token launched by a crypto casino that runs on the Solana chain. The utility of the Rollbit Coin is the usage on Rollbit.com. $RLB is used as a unique lottery ticket. Rollbit shares 20% of its daily profits with its users in a lottery. To enter, you must stake at least 10 $RLB tokens. The more $RLB you stake, the higher your chances of winning the lottery. So far, over 50 million Rollbit Coins have been distributed to the users.
On top of that, Rollbit Coin is deflationary; the 0.2% staking fee is burned (permanently removed from the supply), while the maximum supply of $RLB is capped at 5 billion tokens. That way, Rollbit makes sure their token can not fall victim to inflation, helping the token to grow over time as the supply decreases.
Furthermore, when investing in $RLB, you are buying the token of a well-established brand in a rapidly growing industry with millions of customers and high revenue. This is very rare in the cryptocurrency space. Many projects are just based on hype without having any customers or revenue. This fact makes buying Rollbit Coin even more attractive.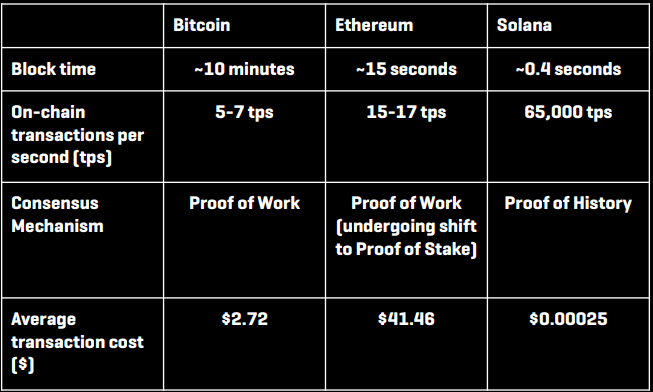 Where can you buy Rollbit Coin
Currently, you can buy Rollbit on the decentralized platforms Jupiter, Raydium, and Orca. That means there has not been any major exchange listing yet. For this reason, many people expect the Rollbit Coin to reach much higher prices once it is listed on major exchanges such as KuCoin, MEXC, ByBit, or Binance.
Buy Rollbit Coin step by step
Now let's go over the process of how to buy and stake the Rollbit Coin step by step. First of all, let's sum up what you will need in order to buy Rollbit Coin.
Solana Wallet (like Phantom wallet)
Funds on your Solana Wallet
raydium.io connection with your Wallet
Rollbit account
First, you need a Solana wallet. For this, we will use the Phantom Wallet. You can download and activate your Phantom wallet directly from the official Phantom website. The process is very simple and straightforward. Select the device or browser you want to use the Phantom wallet on. You can use the wallet on Android and iOS devices, as well as Chrome, Brave, Firefox, and Edge browsers. I am on my PC with google chrome, so I choose "Phantom for Desktop" with chrome.2. Next, add the extension to your browser.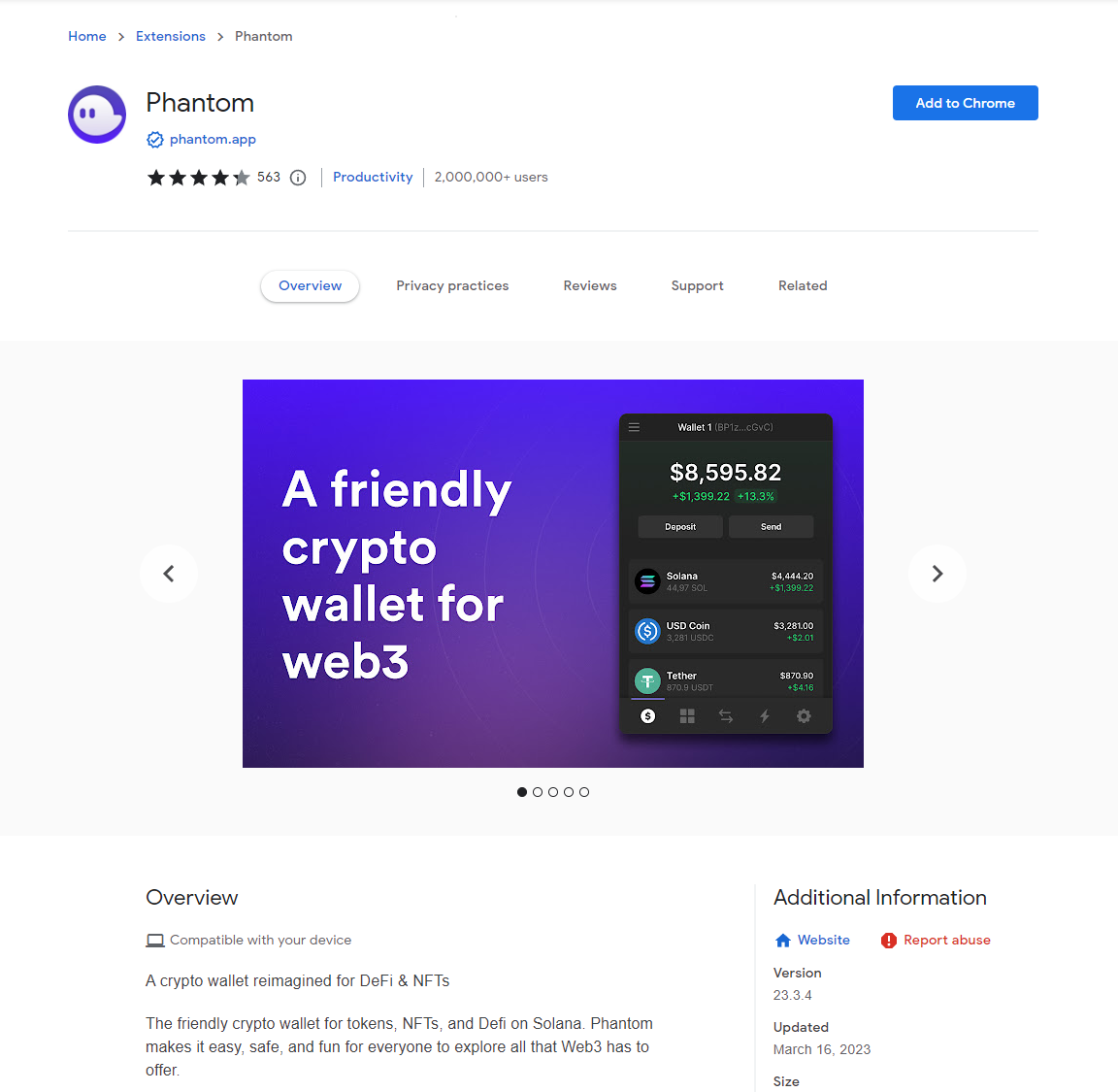 3. Create your account. Make sure to select a strong and unique password. Also, don't forget to secure your seed phrase, consisting of 12 random words. This will be used as a backup in case you forget your password or lose access to your wallet.
4. Next, we will fund your Phantom wallet with Solana $SOL. You can buy Solana directly in your Phantom wallet with your credit card via moon pay and Coinbase. Alternatively, if you already have Solana in another wallet, you can simply send it to your Phantom wallet by clicking on "Deposit."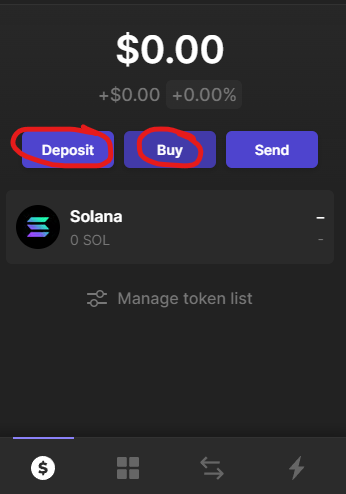 After clicking on "Deposit", select Solana and copy the address.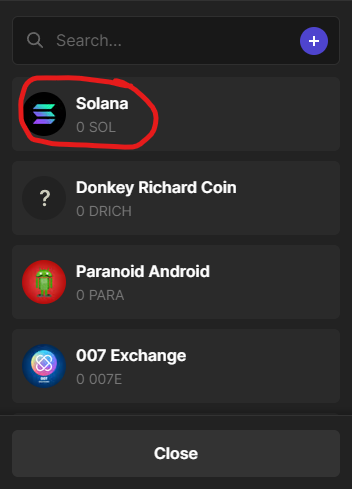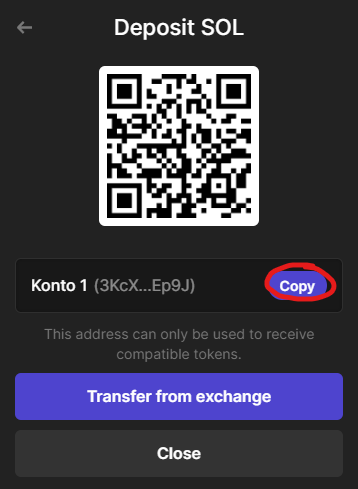 Then, simply send the Solana in your other wallet to your Phantom wallet using the SOL network. Make sure to double-check the deposit address (even when you copied it).
5. Go to raydium.io and connect your Phantom Wallet.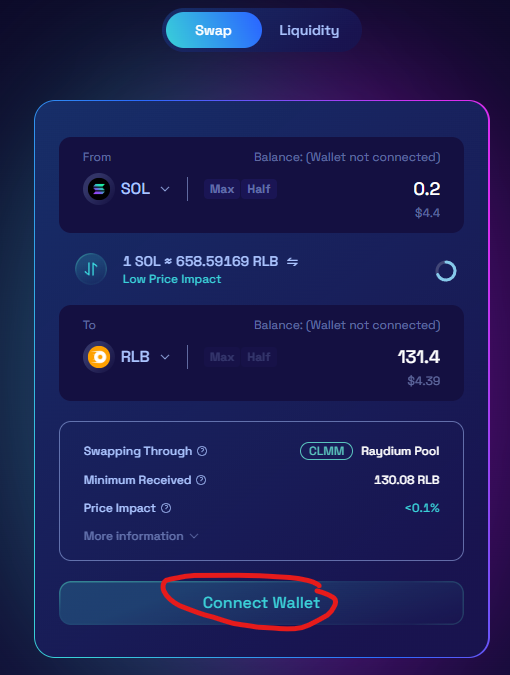 Click on "Connect Wallet", then select "Phantom"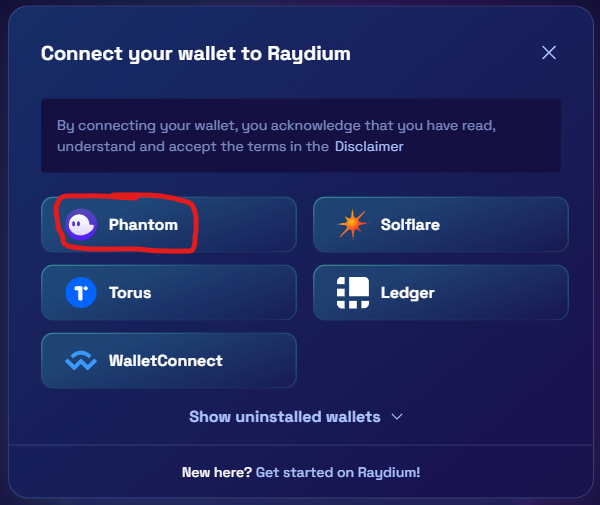 6. Your Phantom wallet should now pop up in the top right corner. Click on "Connect"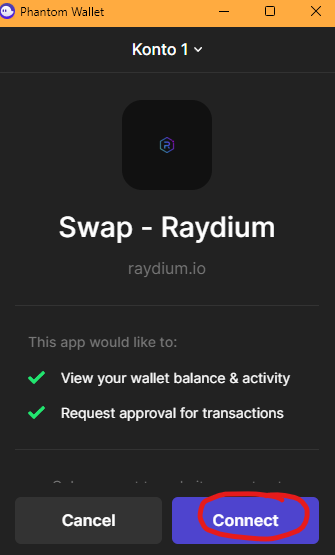 7. Make sure you select the correct token. The official contract address for the Rollbit Coin is RLBxxFkseAZ4RgJH3Sqn8jXxhmGoz9jWxDNJMh8pL7a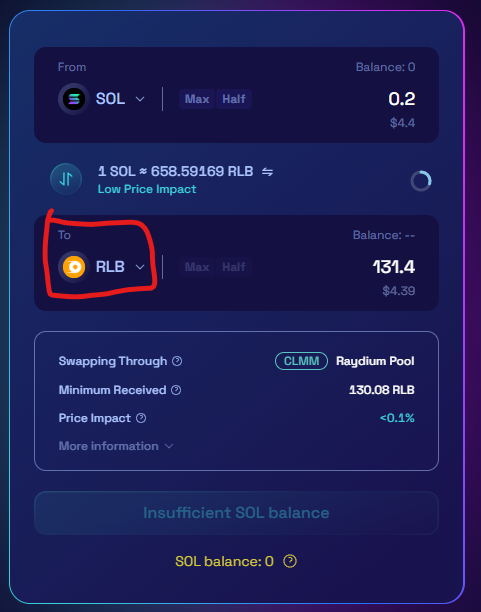 8. Now select how many Rollbit Coins you want to purchase and click on "Swap"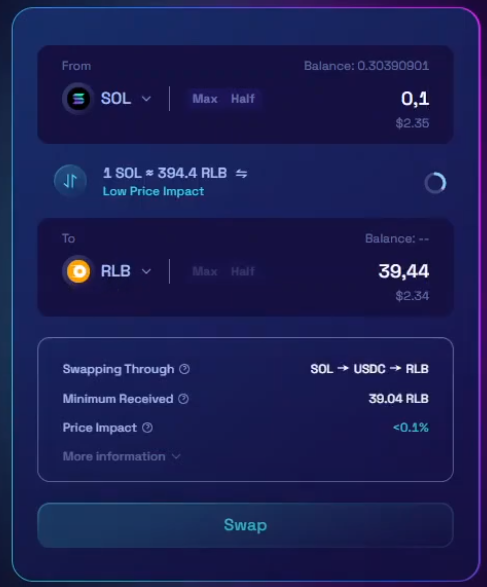 8. Approve the transaction in your Phantom Wallet pop up, by clicking "Approve"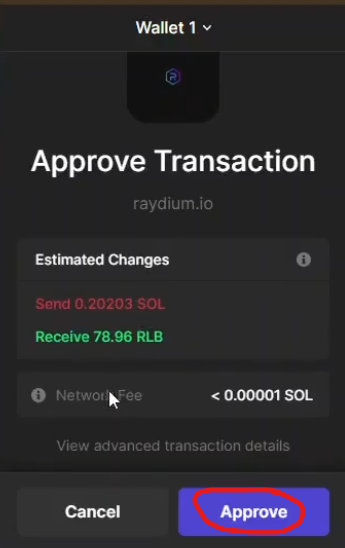 9. After a couple of seconds, the transaction is confirmed and we have the Rollbit Coin in our Phantom Wallet.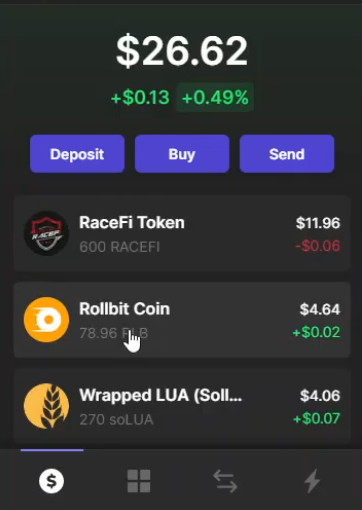 10. You can create your Rollbit Account here. Choose your username, password and put in your email.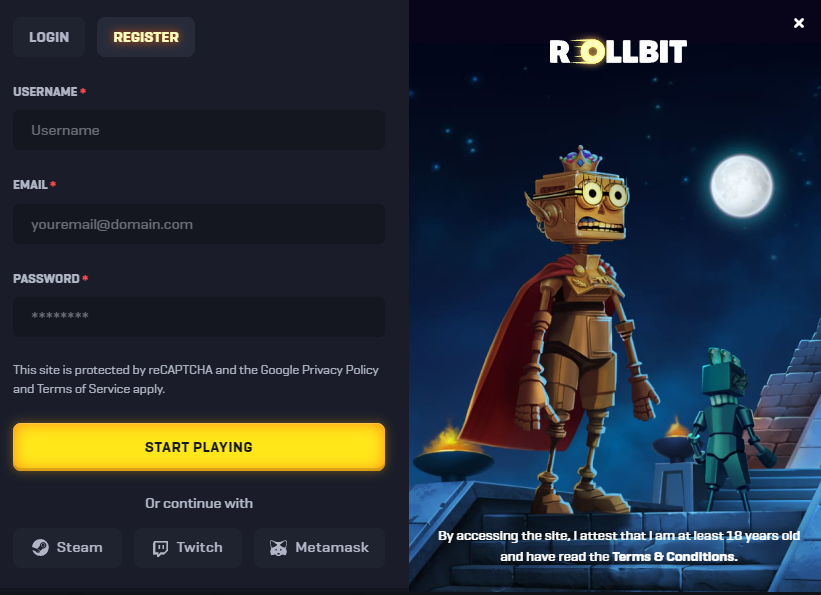 11. Deposit your Rollbit Coin to your Rollbit account.Go to the top middle, and click on "Cashier". Then go to the "Deposit" section and select Rollbit Coin [RLB]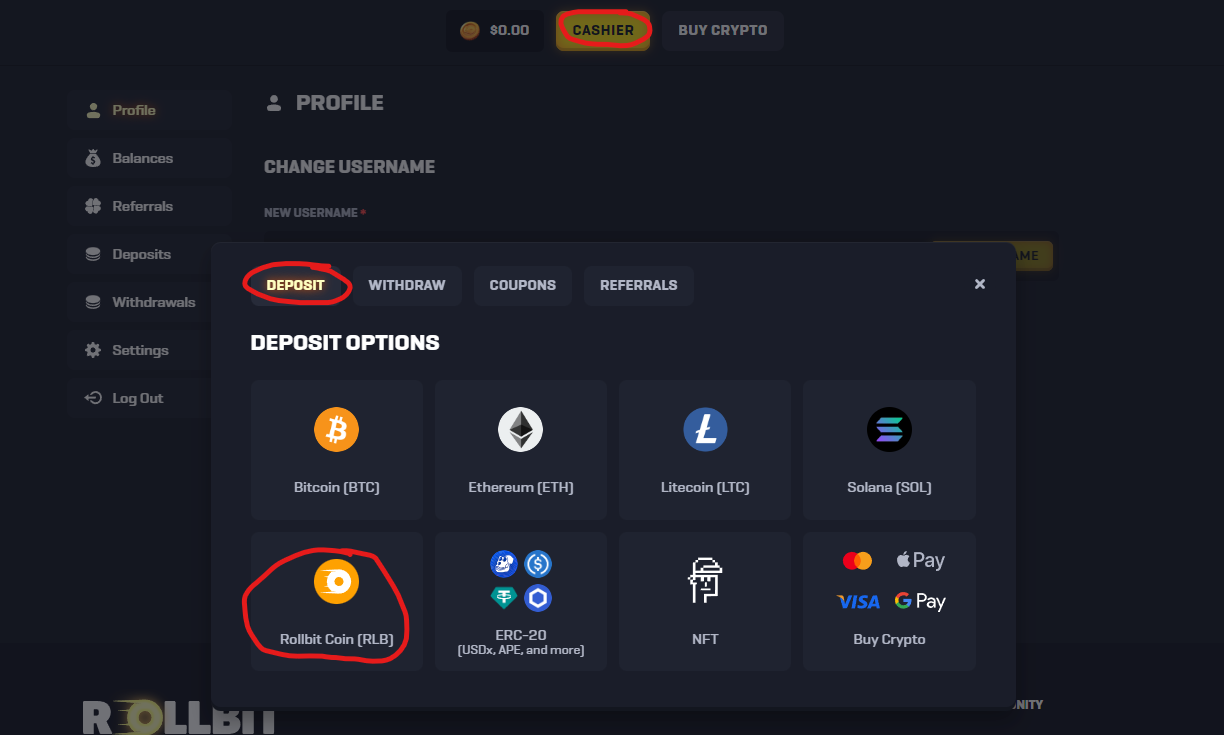 13. Copy your $RLB token address. It is important to keep in mind that the Rollbit Coin runs on the Solana network. Don't choose other networks, such as BNB or BSC. You must select "SOL" as the network if you send your tokens. As Phantom is an only-Solana Wallet, you don't really have to worry about this.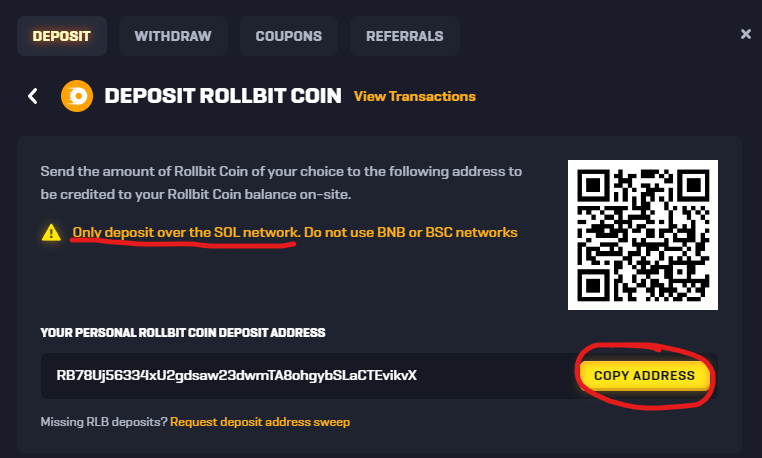 14. Go back to your Phantom Wallet, select Rollbit Coin, and click on "Send"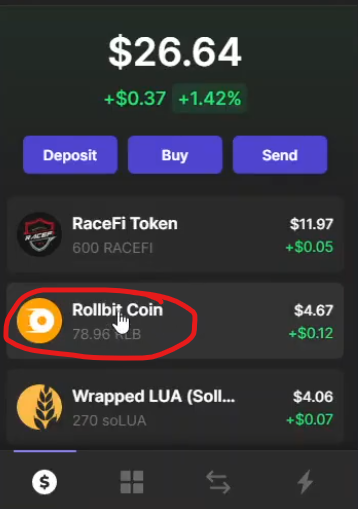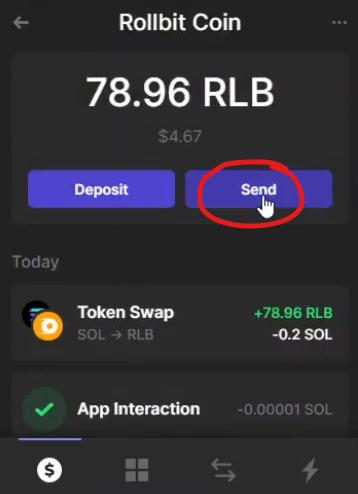 15. Paste your Rollbit Coin address from Rollbit.com and choose how many Rollbit Coins you want to send to your Rollbit account. As Phantom is a Solana wallet, you don't have to select any network. It is preset to $SOL and you can't change it, which is perfect for this case.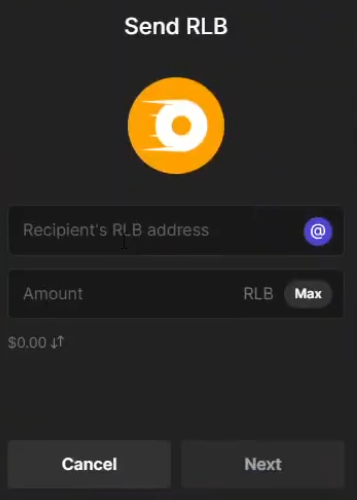 16. Once your Rollbit Coins arrived, you can finally stake them on Rollbit to join the daily lottery. Click on "RLB Lottery" in the left sidebar section.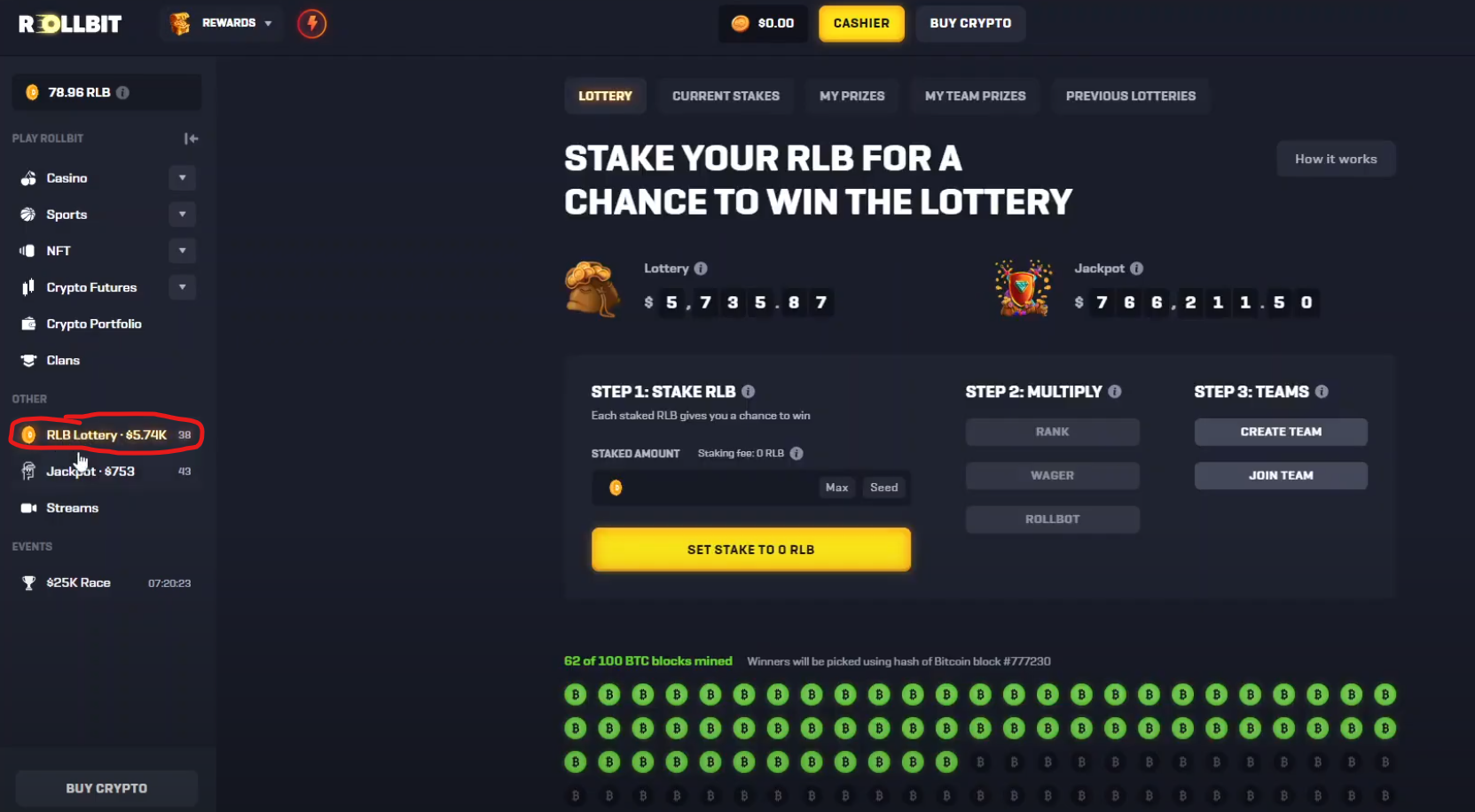 17. Decide how many Rollbit Coins you want to stake. Remember that the more coins you stake, the higher your chances of winning will be.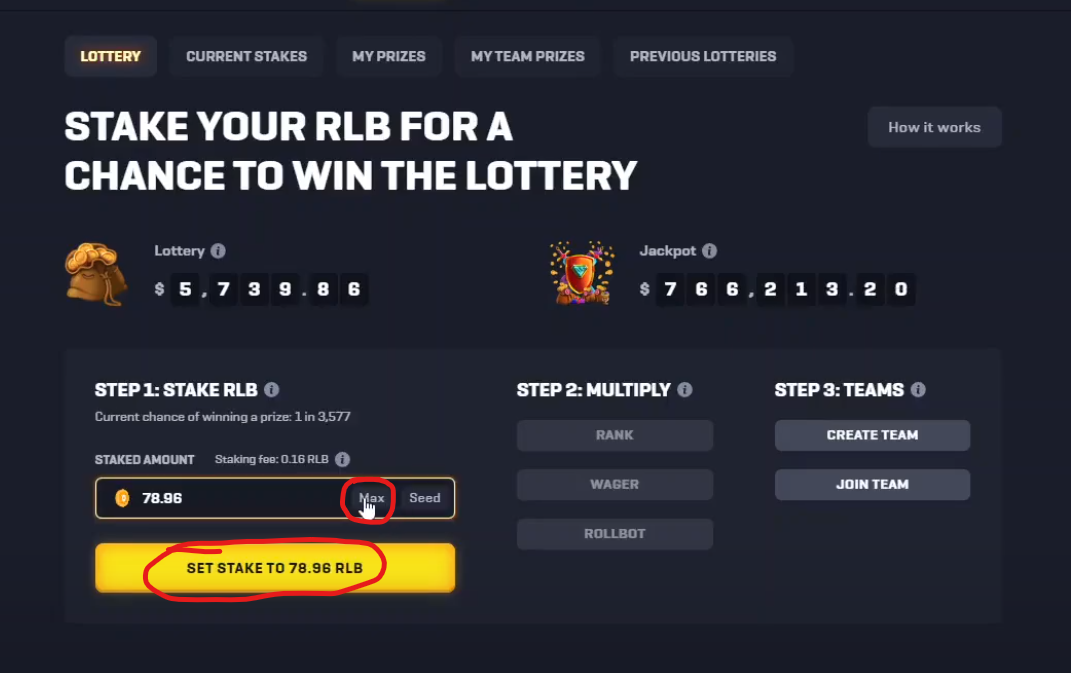 That's it! Now you successfully set up your Phantom wallet, purchased RLB and staked them on the Rollbit website to participate in Rollbits daily lottery.
Conclusion – Buying and staking Rollbit Coin
While buying cryptocurrencies can be confusing at first, being an early investor can give you an unfair advantage compared to people that join the trend later. As Rollbit Coin is not yet listed on a major exchange, many investors expect the token price to reach much higher prices in the future. In this guide, we went over the full process of buying RLB and staking it in order to participate in Rollbit's lottery to win amazing cash prizes every single day. Rollbit is, without a doubt, the leading crypto casino in terms of innovations. While some people might just want to have fun gambling, others are taking their trading to another level by utilizing Rollbit's unique crypto futures and derivatives market without fees for opening and losing trades.
We are excited to see what Rollbit comes up with next! What are your thoughts and experiences with Rollbit? Let us know in the comments below!
FAQ:
Is Rollbit legit or a scam?
Rollbit is not a scam. It is one of the biggest and most respected crypto-gambling websites. They are also fully licensed and operate according to the law.
What is Rollbit?
Rollbit is an online crypto casino offering games like slots, roulette, and much more. They even have an NFT marketplace and a crypto trading platform without fees!
What is Rollbit Coin?
Rollbit coin is the cryptocurrency of the Rollbit website. Its main utility is access to a unique daily lottery.
How can I join Rollbit's daily lottery?
In order to join Rollbits daily lottery, you must stake at least 10 $RLB tokens on the official Rollbit website. We have a full guide on how to buy Rollbit Coin to stake in on their website above.
How can I buy Rollbit Coin?
You can buy Rollbit Coin on Orca, Jupiter, and Raydium with your Phantom wallet. In our guide, we show you step-by-step how to buy RLB on Raydium.
Is it safe to buy Rollbit Coin?
While many people think that RLB can reach much higher prices, it is still a risky investment. Just like any other cryptocurrency, Rollbit Coin is very volatile. Please never invest more than what you can afford to lose, and consult with an advisor before taking any action.