In early 2023, Kucoin did a massive upgrade of its affiliate program. In this Kucoin affiliate program review, we will show you everything that you need to know. At the end of this Kucoin partner guide, you will know exactly if the Kucoin affiliate program is right for you or not.
| Website: | Kucoin.com |
| --- | --- |
| CEO: | Johnny Lyu |
| Year Launched: | 2017 |
| Location: | Seychelles |
| Users: | 30+ Million |
| Supported Cryptos: | 700+ |
| Leverage: | 100x |
| KYC? | Yes, Required |
| Spot Fees: | 0.1% |
| Futures Fees: | 0.02% Maker / 0.06% Taker |
| Type: | Revenue Share (Commissions) |
| Affiliate Commissions: | 40% - 60% |
| Sub-Affiliate Commission: | 5%+ |
| Conversion Rate: | High |
Kucoin Affiliate Program Overview
The Kucoin exchange has a generous affiliate partner program with high commissions and weekly payouts. You will earn 40-60% lifetime commissions from your invitees' generated trading fees of spot and futures trading. Additionally, you can earn 5% in sub-affiliate earnings. This allows for great scalability of the Kucoin affiliate partner program income.
Over $100 million in commission was paid out to affiliates of over 200 countries in the Kucoin partner programs, making it one of the most lucrative crypto exchange affiliate programs in the world.
Due to the high number of 700 supported cryptos, fair fees, 100x leverage, and multiple passive income products, the Kucoin affiliate program is highly converting and retains crypto traders for a long time.
In crypto exchange affiliate programs, you will earn your commissions of trading fees generated by your invitees. The Kucoin trading fees are around the industry standard, which means that you will get a decent amount of the volume traded. Spot fees start at 0.1% maker and taker, while futures fees start at 0.02% maker and 0.06% taker.
If you want to learn more about the Kucoin crypto exchange, you can read our comprehensive Kucoin review.

How to join the Kucoin Affiliate Program
If you want to join the Kucoin affiliate program, you should have some sort of audience where you can promote Kucoin. The requirements are defined by Kucoin as follows:
Youtuber, community leader, writer, software providers
Social media accounts with over 5,000 followers
Communities with over 500 members
Crypto websites (just like our website!) can also apply and join the Kucoin affiliate program.
If you meet these requirements, you can apply for the Kucoin affiliate program. Follow our step-by-step guide on how to become a Kucoin affiliate partner below:
Register on Kucoin and verify your account (KYC is required).
Go to the Kucoin affiliate page (in the top header menu) and click on "Apply Now".
Fill out all details.
Wait for your application to be approved.
Kucoin Affiliate Commissions
Kucoin is one of the most generous crypto affiliate programs in terms of payouts to its partners. With a starting commission of 40%, even new Kucoin affiliates will earn a great amount of money. The highest commission for Kucoin affiliates is 60%, which can be unlocked based on your performance. The more traders you invite and the more your invitees trade, the higher your commissions will be. Level 3 is the highest tier, where you will earn 60% commissions.
The commission rates are separated into different levels, which will be evaluated every quarter.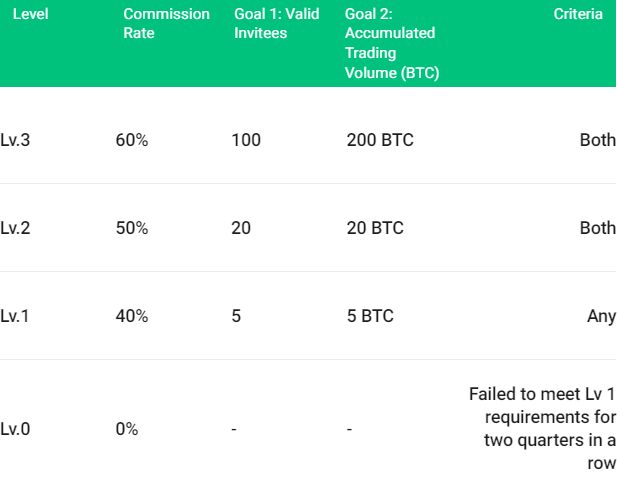 Kucoin Sub-Affiliate Commissions
One key aspect to keep in mind when choosing a crypto affiliate program is the availability of sub-affiliate programs. Whenever one of your invitees joins the Kucoin affiliate program, he will be a sub-affiliate of yours. Kucoin offers at least 5% commissions on everything your sub-affiliates earn. So, if one of your sub-affiliates earns $1,000, you will receive $50, too, at no additional cost to your sub-affiliates or their invitees. Kucoin simply shares its profits with you.
Kucoin Affiliate Program Features
What we love about the Kucoin affiliate program is that it was completely revamped in early 2023. With new features and an amazing design and layout, the Kucoin affiliate program has quickly become one of our favorite ones!
Affiliate Home Dashboard
In your home dashboard, you will be prompted with all the key facts, such as your affiliate level, your commission rates, your previous day's stats, and your referral code settings. When scrolling down, you can also filter for historical data such as last week, last month, or a custom date range.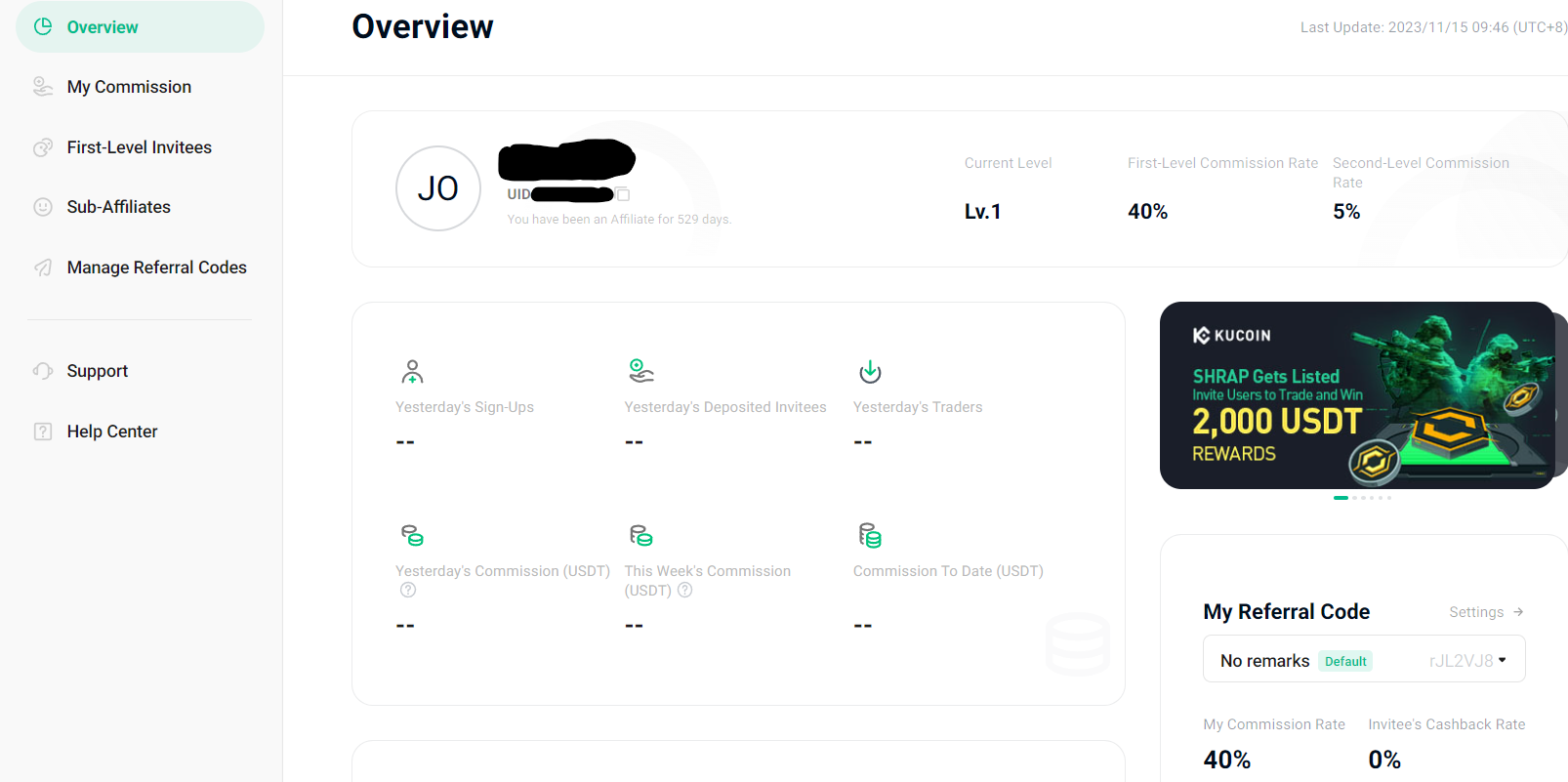 Invitee Analysis
In the "First-Level Invitees" section, you can analyze the data of individual referrals. You can check their registration time, your commission rate, your trading fees, and your commissions. We blurred out the user data due to privacy reasons.

Referral Code Management
In the "Manage Referral Codes" section, you can create new, custom invite codes to track your performance across multiple traffic channels. You can even create custom referral codes with a fee cash back for your invitees. We will share more about how the fee cashback works in the "New user sign-up incentives" section later in the review.
Sub-Affiliate Management
If you have invited sub-affiliates, you can check their data in your sub-affiliate section. You can see when they became a Kucoin affiliate partner, invitees, commission rate, trading fees, and commissions in USDT. This helps you better understand which of your sub-affiliates perform best.
Kucoin New User Sign-Up Incentives
Kucoin offers great bonuses and rewards to new users signing up for the crypto exchange with affiliate links. This significantly increases the conversion rate of sign-ups, as everybody loves some perks and rewards when signing up on a new platform.
The highest bonus Kucoin offered was $3200. However, the bonuses and rewards always change, so we highly recommend you check out Kucoin's latest events and promotions. We have made a detailed Kucoin bonus guide, which you can check out to see possible incentives that Kucoin has to offer.
Aside from offering USDT trading bonuses, Kucoin allows affiliates to activate free cashback. If your commission rate is 40%, you can, for example, activate a 20% fee cash back for your invitees. This will reduce your commission to 20%, but your invitees will enjoy massive trading cashback, which will make them stick around and trade more on Kucoin.