HTX, formerly Huobi, offers great sign-up bonuses with the referral code abx78223. With this code, you will unlock a 30% fee discount, and you are eligible for a $241 bonus. In this HTX or Huobi referral code guide, we will show you exactly how to receive the highest bonuses on the crypto exchange by using an exclusive bonus code.
What is the HTX referral code?
The HTX referral code is abx78223. This promo code grants you access to a cash bonus of $241. Additionally, you will unlock a lifetime trading fee discount of 20%. You won't find this feed discount offer anywhere else.
How to apply the HTX referral code
If you want to get the best value for money from HTX or Huobi, you must make sure to properly apply the HTX referral code. Otherwise, you are not eligible for the perks. Follow our simple step-by-step guide below.
Step 1: Visit the official HTX website (click here).
Step 2: After clicking the HTX link on our website, you will be on the signup page. Click on the "Do you have Referral Code" field to see if the code abx78223 is applied. When the referral code is applied, you will also see your fee rebate of 20% spot and 10% futures.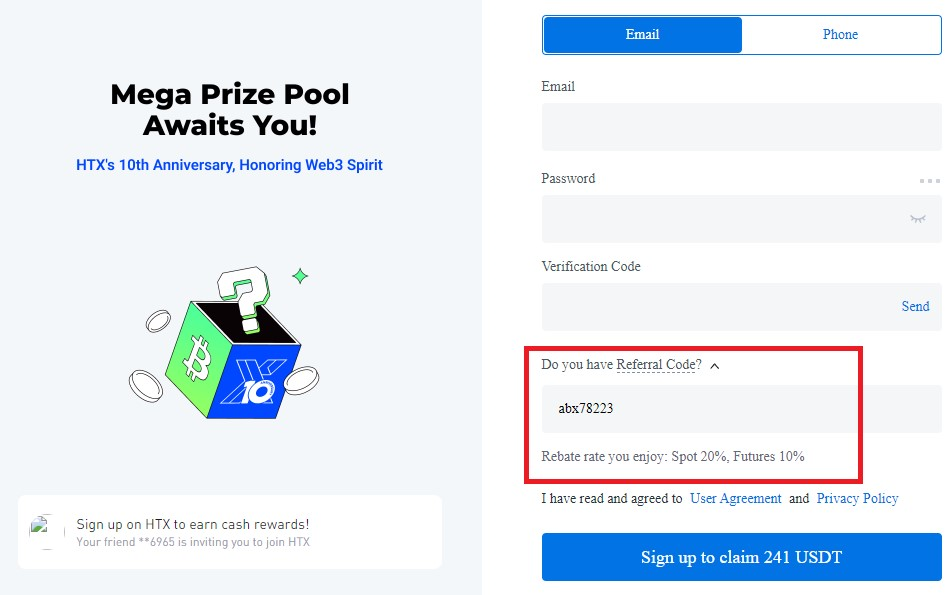 Step 3: After making sure that the HTX referral code is applied, you can proceed to create your account with your email or phone number, password, and verification code that will be sent to your email or phone number.
Step 4: The fee discount is applied automatically. To claim your $241 cash bonus, you have to do a few simple tasks. Read on to see the exact requirements for the highest HTX or Huobi bonus.
HTX All Bonuses
Now that you have registered on HTX with the invitation code, you can start claiming your bonuses and rewards. First of all, the cumulative fee discount of 30% is applied automatically when using the HTX referral code abx78223. It is distributed as a 20% spot and 10% futures discount. This will save you a lot of money trading cryptos on HTX. If you did not use the referral code, you will not receive the fee discount.
For the other bonuses, see the requirements in the following sections. You can also see the $241 cash bonus requirements in your own rewards hub. These bonuses don't require a referral code, as they are available to everyone in the reward center.
HTX Welcome Gift – $9
The first bonus on HTX is a $9 welcome bonus. This is perfect for new traders without large sums of capital.
| Requirement | Bonus |
| --- | --- |
| Sing up | $2 |
| Lv 1 ID Verification | $2 |
| Deposit any amount | $5 |

HTX Futures Reward – $102
For serious crypto traders, HTX offers the HTX futures deposit and trading reward. This bonus is perfect for everybody who has some experience with derivatives trading. The requirements are still fairly easy to reach, and the bonus can be used for trading futures.
| Requirements | Bonus |
| --- | --- |
| Deposit over $200 into your futures account | $2 |
| Open a futures trade worth over $500 | $100 |

HTX Spot Trading Bonus – $130
Spot traders will be pleased to hear that HTX also offers rewards for simple trading on the spot market. Up to $130 in spot trading bonuses can be claimed through reaching a certain amount of trading volume.
| Requirements | Bonus |
| --- | --- |
| Complete your first spot trade | $100 |
| Reach a spot trading volume of over $1,000 | $30 |

Best Crypto Futures Trading Platform
Bybit excels as the go-to platform for crypto futures trading, combining competitive fees, robust security, a diverse 770+ asset portfolio, and a daily trading volume of over $4 billion.
Futures, options and spot trading on 500+ crypto assets.
Maker fees 0.02% and Taker fees 0.055%.
Up to 125x leverage with USDC or USDT.