KuCoin, established in 2017 and headquartered in Seychelles, has become a popular choice among cryptocurrency traders, particularly for its extensive selection of altcoins.
Offering access to over 700 cryptocurrencies for buying, selling, and trading, KuCoin has carved a niche in the digital asset market. Primarily utilizing stablecoins, the exchange also facilitates cryptocurrency purchases through credit and debit cards.
If you find yourself considering other cryptocurrency exchanges or simply wish to part ways with your KuCoin account, this article is your go-to resource. Follow these instructions to ensure a smooth and hassle-free account closure process.
Reasons to Close a KuCoin Account
Closing a KuCoin account is a decision that many users make for various reasons.
One common motive is the desire to switch to a different cryptocurrency exchange and move funds elsewhere.
Negative experiences, such as dissatisfaction with customer support or security measures, can also prompt users to seek closure.
For those relocating abroad or temporarily leaving the country, the need to suspend access during their absence may lead to closing the account.
Moreover, some users opt to delete their KuCoin accounts to create a new one using a different email address.
Whatever the reason, closing a KuCoin account allows users to make informed decisions regarding their crypto journey.
Things To Know Before Deleting Kucoin Account
As a valued Kucoin user, there are essential factors to keep in mind before proceeding to delete your account.
Firstly, by doing so, you'll lose access to log in and enjoy Kucoin's efficient trading services. Additionally, the convenience of using deposit and withdrawal services will no longer be available.
Moreover, all APIs linked to your account will be deleted, and any device information associated with it will be erased. Your trading records will also be permanently removed, making them irretrievable once the account is deleted.
Lastly, bear in mind that a deleted account cannot be recovered, and the email and phone linked to your current account cannot be used to register or bind a different Kucoin account in the future.
How To Delete Kucoin Account?
If you've decided to delete your Kucoin account, follow this simple step-by-step guide to ensure a smooth process:
Step 1: Open Kucoin App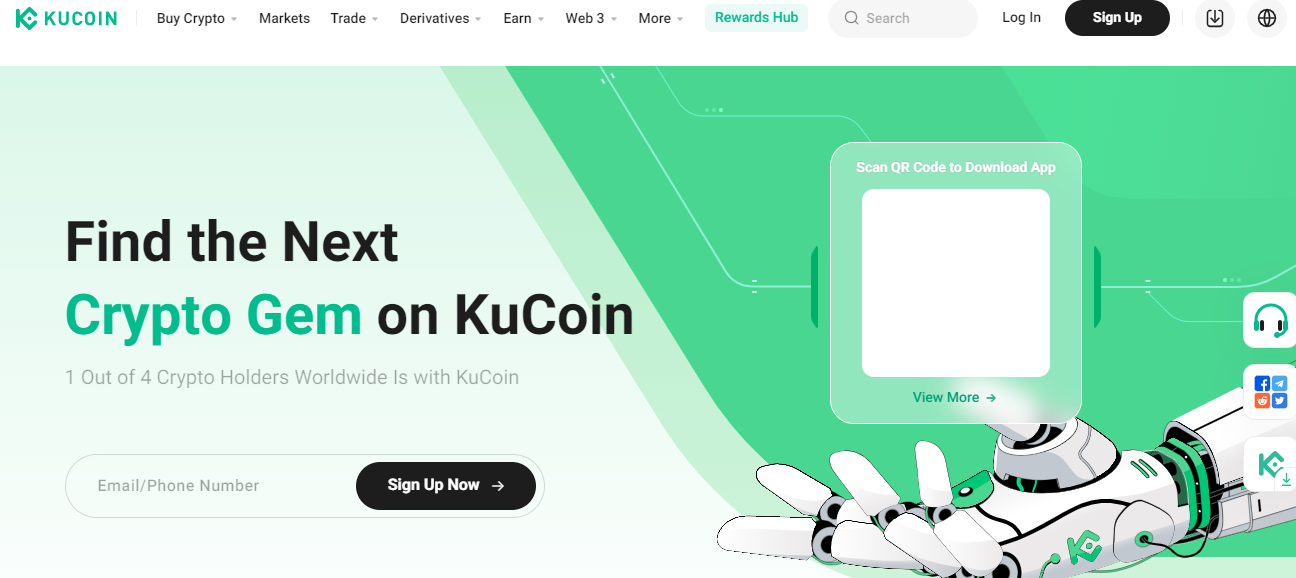 Start by opening the Kucoin app and logging in to your account.
Step 2: Click on Profile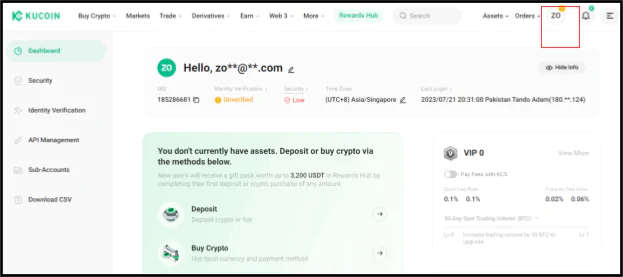 Once you're logged in, locate the profile icon at the top left corner of the app. Click on it to access your account settings.
Step 3: Access Security


In the account settings, scroll down and click on the "Security" option at the bottom of the page. You will be redirected to the security settings.
Step 4: Choose "Delete Account"
Within the security settings, look for the "Delete Account" option at the bottom of the page. Click on it, and take a moment to read the provided reminders before proceeding.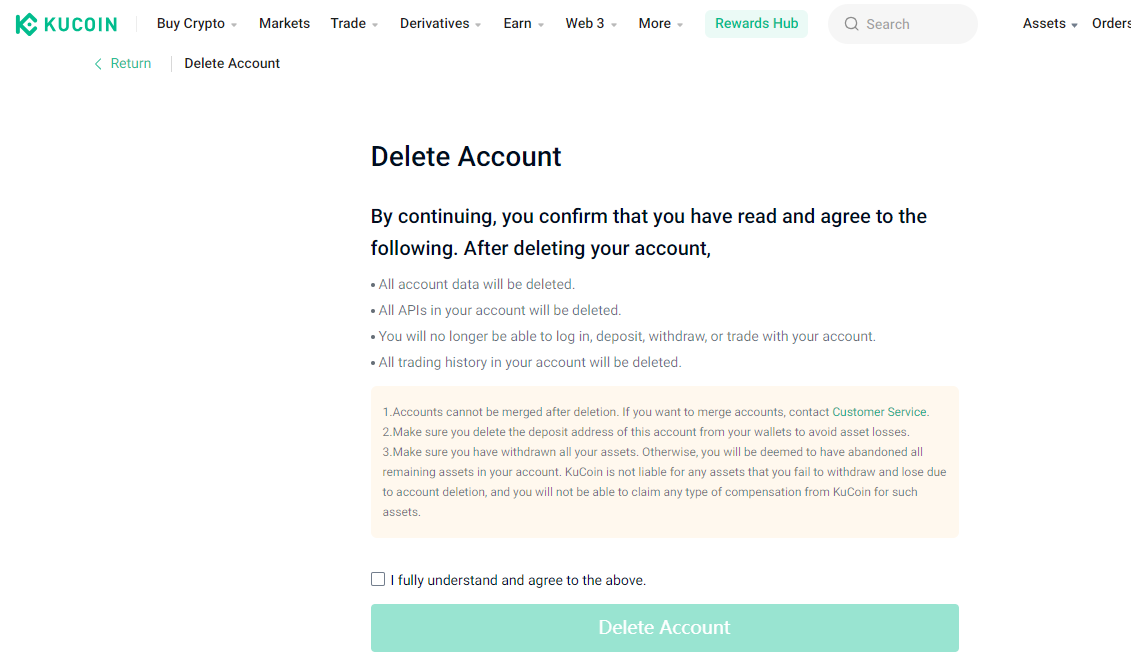 Kucoin will inquire about the reason for deleting your account. Select an appropriate reason, then click on "I agree" and proceed by clicking "Delete Account."
Step 5: Confirm Your Decision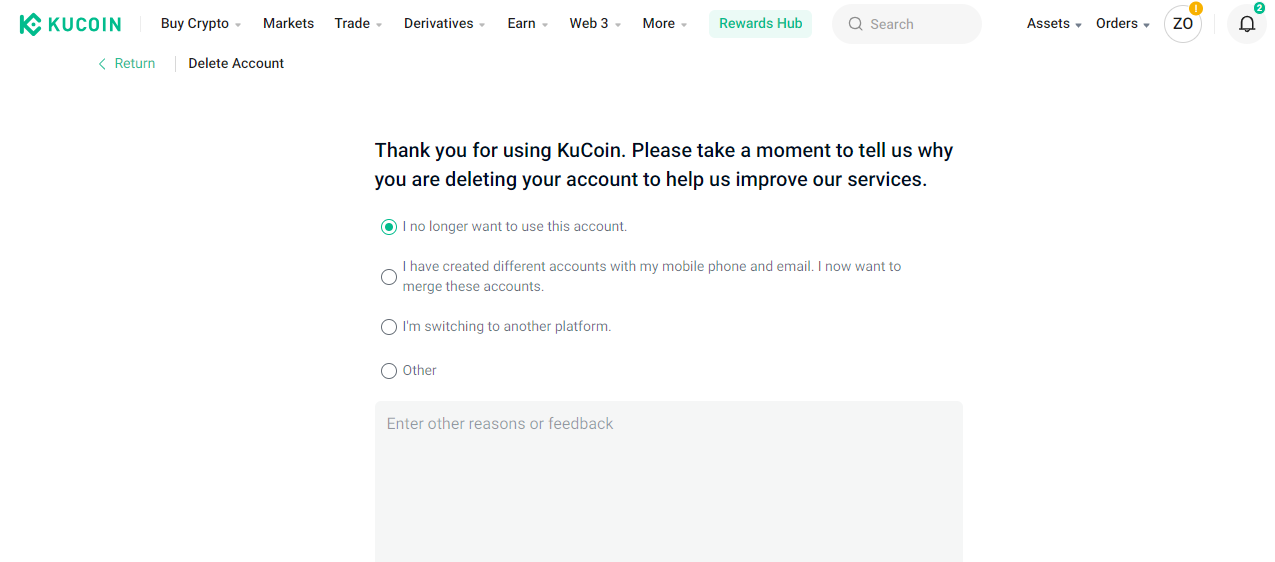 Kucoin will display your account balance and reconfirm your intention to delete the account. To proceed, click "Delete" to advance to the confirmation page.
On the confirmation page, you'll need to enter the following information to finalize the deletion:
Your trading password
Email verification code
2FA code (if applicable)
After entering these codes, click on "Done" to confirm the deletion of your Kucoin account.
Following these steps will enable you to successfully delete your Kucoin account and ensure a seamless process. Always exercise caution and consider the implications before making this decision.
What to Do if KuCoin Doesn't Remove Your Account?
If KuCoin doesn't remove your account and you're eager to have it deleted, there are a few steps you can take to address the issue. Firstly, be patient and consider waiting a few days before trying again.
KuCoin may experience a high volume of requests, causing delays in response times. If you know anyone who uses KuCoin, seeking their assistance in getting your account deleted might be helpful.
If the first approach doesn't yield results, reach out to KuCoin's online support team directly. Politely explain your situation and request their assistance in deleting your account.
Some exchanges require multiple steps for account deletion, so ensure you follow each one carefully. By staying persistent and following these steps, you can increase your chances of successfully removing your KuCoin account.
Wrapping Up!
If you wish to delete your KuCoin account, follow this detailed guide we have prepared for you. Keep in mind that this process is permanent and irreversible. Once you complete the account deletion, all associated services will be unavailable, and account recovery will not be possible.
Before proceeding, ensure you have no pending transactions with KuCoin customer service. By following these steps, you can confidently close your KuCoin account and move forward with your decision.
Remember, a well-informed approach ensures a smooth and secure account closure.