Gemini, recognized for its unique Gemini dollar (GUSD) cryptocurrency pegged to the U.S. dollar (USD), offers a range of services to diverse users, from crypto novices to experienced traders.
Whether you're stepping away from the platform or exploring new horizons, understanding the account deletion process ensures a smooth transition.
In this blog post, we'll walk you through the steps required to close your Gemini account, highlighting the necessary precautions and actions.
Let's delve into this simple yet crucial process to ensure your Gemini journey ends on a well-informed note.
How To Delete Gemini Account
If you're considering saying goodbye to your Gemini account, rest assured that the process is straightforward. Here's a step-by-step guide to walk you through it:
Step 1: Login to Your Account
Log in to your Gemini account using your login credentials to begin the process.
Step 2: Access Your Account Settings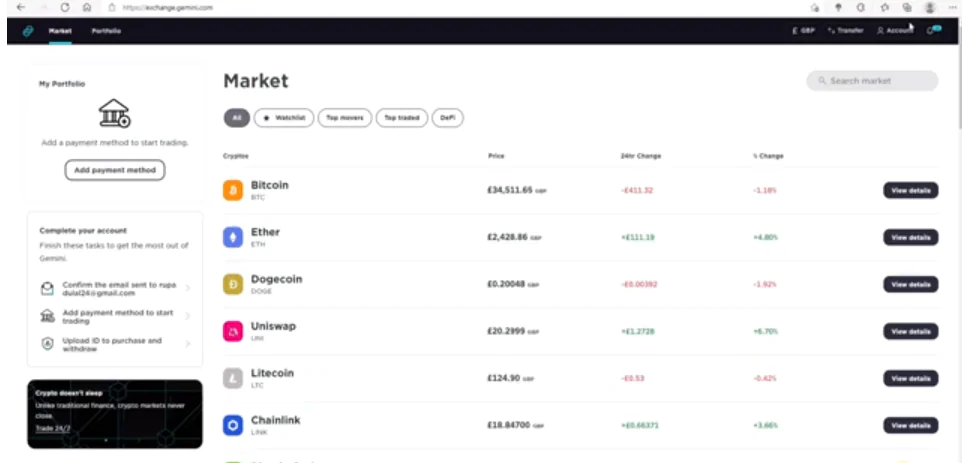 Once logged in, head to your account settings or profile section. Gemini strongly emphasizes security, so be prepared for a verification step to ensure that only authorized individuals can proceed with account deletion.
Step 3: Initiate Account Deletion
Upon completing the verification, you can initiate the account deletion process. Look for the "Close your Gemini account" button located at the end of the page within the account closure section.
Step 4: Confirm Account Deletion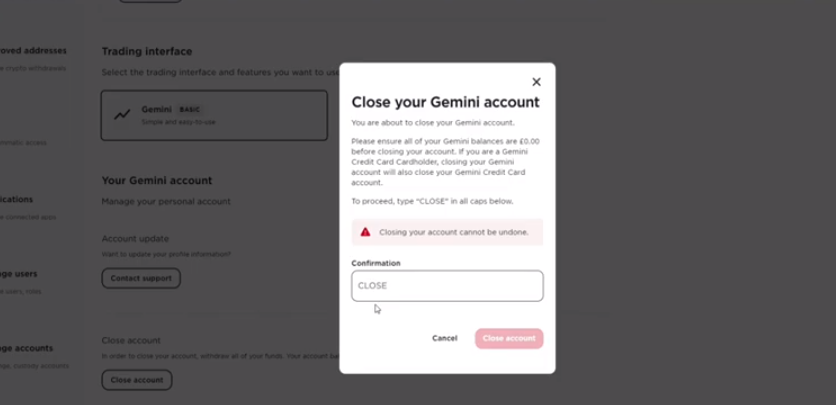 After clicking the account deletion button, you'll be prompted to complete the process by typing in the word "CLOSE" in capital letters. Ensure accuracy and click "close account."
Before finalizing, take a moment to review and confirm that Gemini has successfully closed your account. It's crucial also to check that you've transferred or withdrawn any remaining funds or assets linked to the account.
By following these simple steps, you'll easily navigate the account deletion process. Remember to complete all necessary financial transactions before bidding farewell to your Gemini account.
Potential Challenges and Considerations
While deleting your Gemini account is a simple procedure, a few crucial factors deserve your attention:
1. Secure Withdrawal of Funds
Prior to initiating your account deletion, ensure that you've withdrawn any funds or cryptocurrencies from your Gemini account. Failing to do so could lead to the unfortunate loss of your assets.
2. Data Retention Awareness
Although Gemini erases your personal information upon account deletion, certain data might be retained for legal or regulatory purposes. Take a moment to acquaint yourself with Gemini's privacy policy, gaining insight into how your data is managed.
3. Irreversible Account Deletion
Once your Gemini account is deleted, recovery may not be feasible. If you're uncertain about the deletion, ponder temporarily disabling your account or seeking advice from Gemini's support team. Balancing the ease of deletion with these considerations ensures a well-informed decision.
Best Gemini Alternative
Looking for a Gemini alternative? Bybit is a solid choice. With user-friendly features for beginners and advanced trading options, it's a versatile platform accommodating traders of all levels. Buy, sell, and swap cryptocurrencies with ease. If you want to learn more about Bybit, you can read our full Bybit review. Furthermore, you can see how Gemini vs Bybit compare.
FAQs
Q. Can I temporarily disable my Gemini account instead of deleting it?
A. No, Gemini doesn't offer a temporarily disabled option. If you're unsure about permanent deletion, you can contact their support team for guidance.
Q. Can I recover my Gemini account after deletion?
A. Generally, deleted Gemini accounts can't be recovered. It's vital to withdraw funds and ponder your decision thoughtfully before taking this step.
Conclusion
Following the simple steps in this guide, you can confidently delete your Gemini account without complications. Remember to withdraw any remaining funds, acquaint yourself with data retention guidelines, and carefully decide before initiating the deletion.
Should queries arise or you require additional assistance, the Gemini support team is readily available at support@gemini.com to provide guidance. Your journey toward a streamlined online presence starts with secure account management.