CoinW is a crypto platform that provides spot, futures, and ETF trading services. Since its inception in 2017, the platform has grown widely accepted. However, before you trade on CoinW, you should comprehensively understand the exchange. For this reason, this review will provide everything you need to know about CoinW, including its features, services, trading fees, security measures, and more.
CoinW Overview
CoinW is a crypto trading platform founded in 2017. The company has its head office located in the British Virgin Islands. They also have other offices in Europe, the Middle East, and Africa, with an employee size of about 200 – 500.
As a crypto exchange, they provide spot, futures, and ETF trading opportunities to over 7 million users in 120 countries. The crypto company has a native token, CoinW Token (CWT), which you can trade on their platform.
They comply with the regulatory license of those regions they operate in. For instance, the exchange has the MSB financial license of the USA, the MSA license of Singapore, and the SVGFSA license.

CoinW Pros and Cons
| 👍 CoinW Pros | 👎 CoinW Cons |
| --- | --- |
| ✅ About 304 supported coins | ❌ Poor customer support |
| ✅ Comprehensive security measures | ❌ Limited trading options |
| ✅ Copy trading features for new traders | ❌ No advance order types for futures |
| | ❌ Higher than average trading fee. |
CoinW Trading Products and Features
CoinW supports over 304 crypto assets for trading. Customers can trade on the platform in the spot, futures, or derivative market. These trades are made using either their mobile app or web browser. However, you must first create and verify your account on CoinW to start.
Spot Trading
You can trade in the spot market using the CoinW exchange. They have over 353 trading pairs for spot trading with an average daily volume of $1.7 billion.
CoinW offers only a limit and market order for their spot trading. You can't use advanced directives like take profit orders, stop orders, and the rest when trading spots on CoinW.
However, they offer a grid trading facility on their spot market. You use this option by giving a particular amount of coins to a bot to trade and then get a percentage of the profits at the end of the year. This is an excellent option for those still learning how to change spots.

Futures Trading
CoinW futures market has an average daily trading volume of $5.7 billion. In addition to the limit and market order, they provide customers with a trigger order to enhance their trading in the futures market. The trigger order is like a stop limit order or conditional order.
Like other exchanges, CoinW has both the cross and isolated margin mode for their futures market; they also have merged and split adjustment features unavailable in different discussions.
Whether you are trading long or short, the leverage you use on CoinW depends on the coin you are dealing with. For instance, while the maximum limit for BTC is 200x, that of Matic is 75×. In addition, they have the stop loss and take profit features, which are vital to the success of your trade.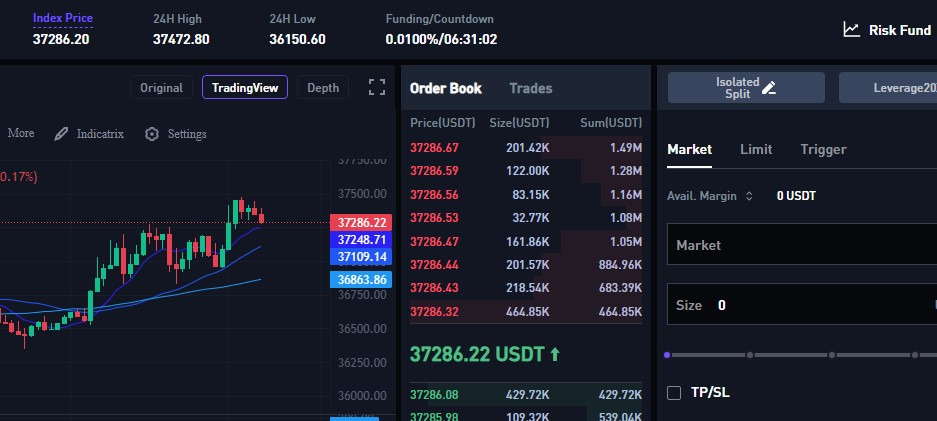 ETF Trading
You can also carry out ETF trading on CoinW. Here, you either long or short the trade. Furthermore, they offer three leverages for ETF trading, including, ×3, ×4 and ×6.
Trading Interface
CoinW trading portal is excellent for both new and experienced traders. It has the ideal candle indicators and charts on a typical exchange. Their trading portal also comes with an order book where you can monitor price movement.
You can access their trading portal via your web browser or mobile app. If you use your web browser, I suggest you do so on a desktop computer to access all functions. Their mobile app can be downloaded on Google Play and Apple Store. On the Google Play Store, about 100,000 users have downloaded the app and rated it four stars.
CoinW Passive Income Products
CoinW offers several passive income products, including savings, copy trading, and auto investment.
Copy Trading
You can earn money from trading on CoinW by joining over 35,000 copy traders on the exchange. This is a great way to start your journey if you still need to perfect your trading strategies. On the copy trading portal, you will have access to the trading strategies of elite traders. Whether you want to make a long-term or short-term investment, there is always a trader to copy on CoinW.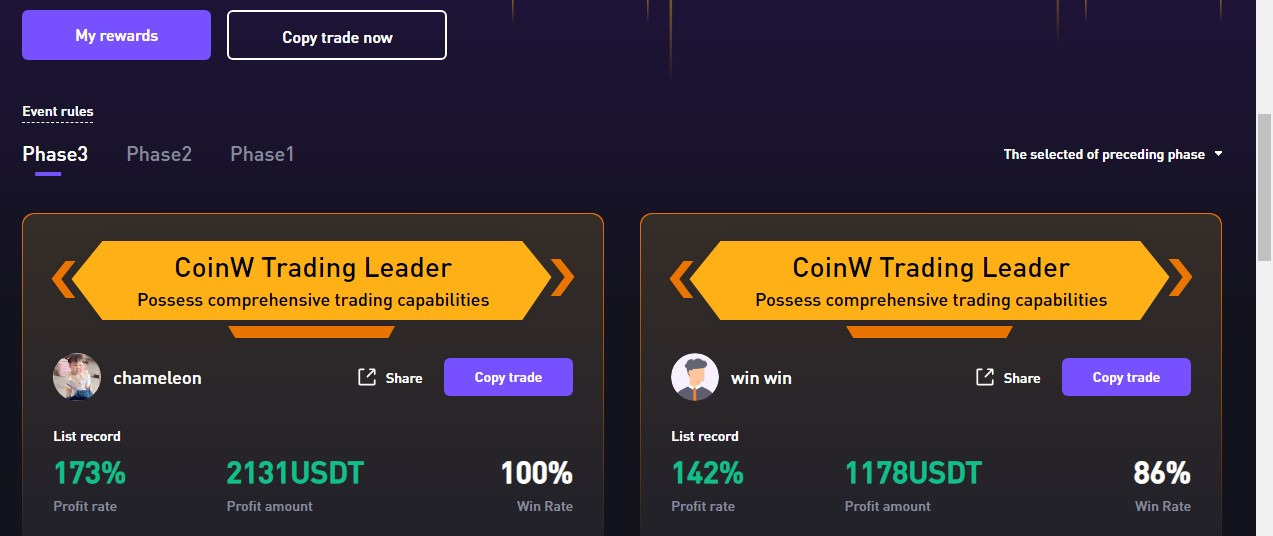 CoinW Finance
These include the savings and investment section of CoinW. The saving part is called CoinW earn. Here, you keep a particular amount of your assets with the exchange for some time. Doing so will make you earn a percentage of your savings. You can save your assets in a current, fixed, or hybrid account.
The investment section of the app is Autoinvest. Here, you set an investment plan where you will direct the exchange to buy your choice assets automatically. In turn, they deduct the money from your wallet.
You can also earn passively from CoinW by engaging in their referral program. Here, you will get a percentage commission on your referral to the exchange.
CoinW Fees
Spot Trading Fees
Spot trading fees on CoinW depend on your average trading volume and CWT holding. Default fees for spot traders start at 0.2% as a taker fee and 0.2% as a maker fee. On the other hand, a VIP 6 spot trader with an immense amount of CWT holding pays 0.01% as a maker fee and 0.01% as a taker fee.
Futures Trading Fees
Their trading fee on the futures follows the same tiered structure as Spot. They charge a maker fee of 0.04% and a taker fee of 0.06% for every primary futures contract. This fee also gets more affordable as your trading volume increases and as you increase the amount of the native token you are holding.
Withdrawal and Deposit
CoinW supports over 34 fiat currencies for transactions, including USD, EUR, and GBP.
The amount and time needed to withdraw crypto assets here depends on your primary address. However, make sure you confirm the address before sending in any crypto. Depositing crypto on CoinW is free.
CoinW Security
CoinW uses various security measures to ensure customer accounts and funds' safety. They require multiple verifications before customers can log in, generate API keys, or withdraw funds. They verify user identity using tools such as cell phone verification code, Google Authenticator, Twilio, or U2F security key.
The exchange also uses advanced security tools to record and monitor IP data of customer login. They report suspicious activities on their customers' accounts by sending them a confirmation mail.
CoinW also prioritizes the storage of customer's funds. They use MPC (Multi-Party Computing) wallets to manage on-chain transactions. In addition, most of their exchange funds are stored in offline cold wallets, which require multiple signatures from several of their senior members to access.
They are also one of the exchanges that occasionally publish their Proof of Reserves (PoR). They do this by disclosing available assets in their cold and hot wallet.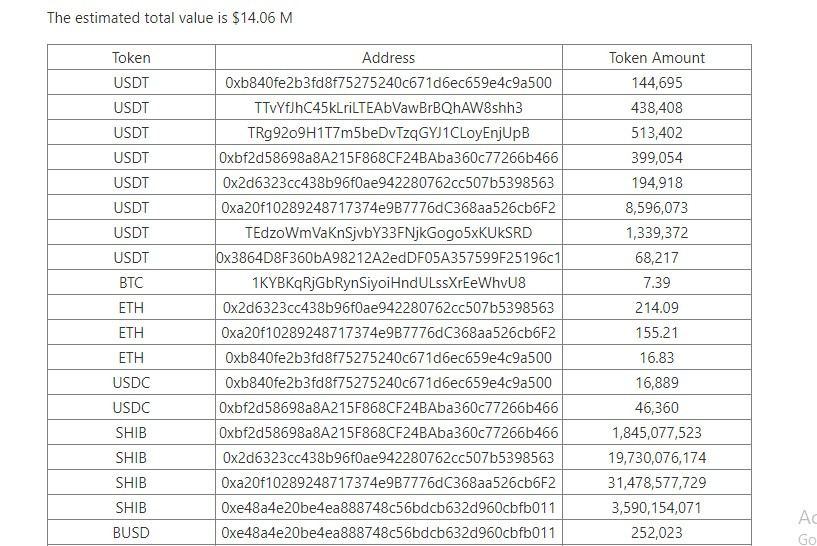 CoinW Customer Support
CoinW customer support needs to be more comprehensive. They have a help center that contains various articles, frequently asked questions and other helpful resources. On the help center, you can also click a link that will direct you to where you can submit a request. The company has an excellent social media presence on Twitter, Facebook, Telegram, Medium and more.
CoinW provides about 16 local trading centers in 13 different countries. In addition, the platform supports the use of 3 languages, including Chinese, Korean, and English.
Conclusion
No doubt, CoinW is fast gaining acceptance globally. However, they still need to improve in certain features. Their customer support needs to be more comprehensive, and this is a barrier for traders getting fast help. They don't also have advanced order tools, which improves trading for advanced traders.
Nevertheless, their wide range of supported coins, security measures, and copy trading features for new traders stand out from their peers.