In the ever-evolving world of cryptocurrencies, finding a reliable and user-friendly exchange can be a challenge. However, Coinberry is here to simplify the process for Canadian users, offering a secure and regulatory-compliant platform that aims to stand out in the crowded marketplace.
But can Coinberry truly compete and meet the growing demands of crypto enthusiasts and institutional investors alike?
In this comprehensive review, we delve deep into the world of Coinberry, analyzing its fee structure, security features, deposit and withdrawal methods, and customer support. We'll uncover the strengths of this Canadian exchange and also suggest areas where improvements can be made.
Overall thoughts on Coinberry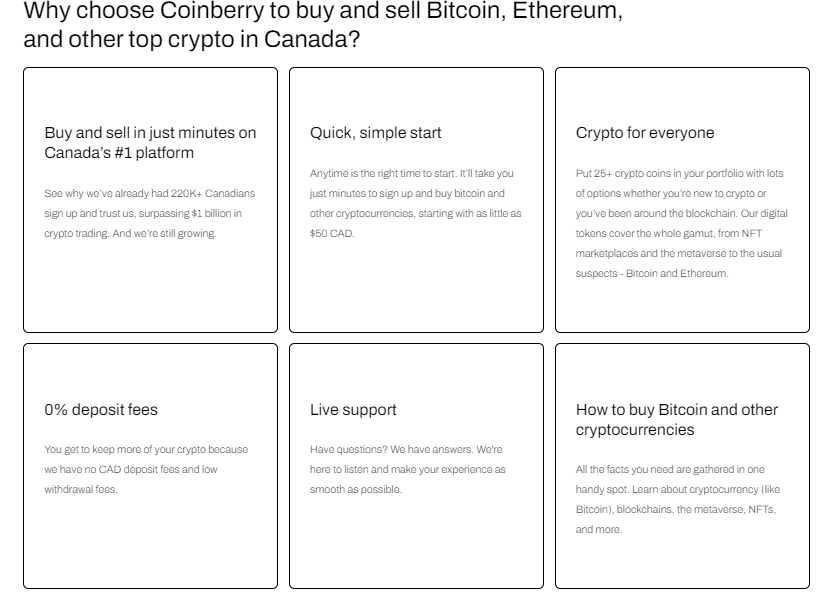 Coinberry, the Canadian cryptocurrency exchange established in 2017, has undoubtedly made a name for itself in the world of digital currency. Co-founders Andrei Poliakov and Evan Kuhn set out with a mission to simplify cryptocurrency investing for Canadians, and they've done just that.
What sets Coinberry apart is its commitment to reducing the learning curve associated with crypto investments. Whether you're a seasoned investor or a newcomer to the world of cryptocurrencies, Coinberry provides an accessible platform to purchase Bitcoin, Ethereum, and Litecoin.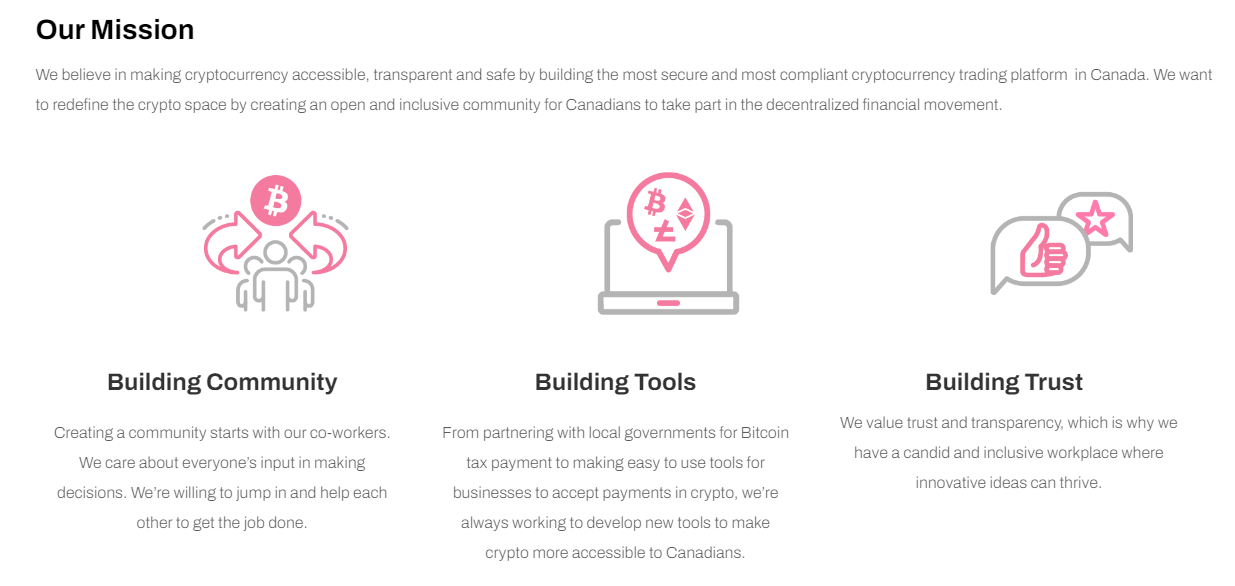 One of the standout features of Coinberry is the wide range of payment options it offers. You can buy cryptocurrencies using a credit card, debit card, wire transfer, or Interac-Transfer.
With Interac-Transfer, Coinberry has tapped into a service used by over 250 financial institutions in Canada, making it convenient and seamless for users to transfer funds securely.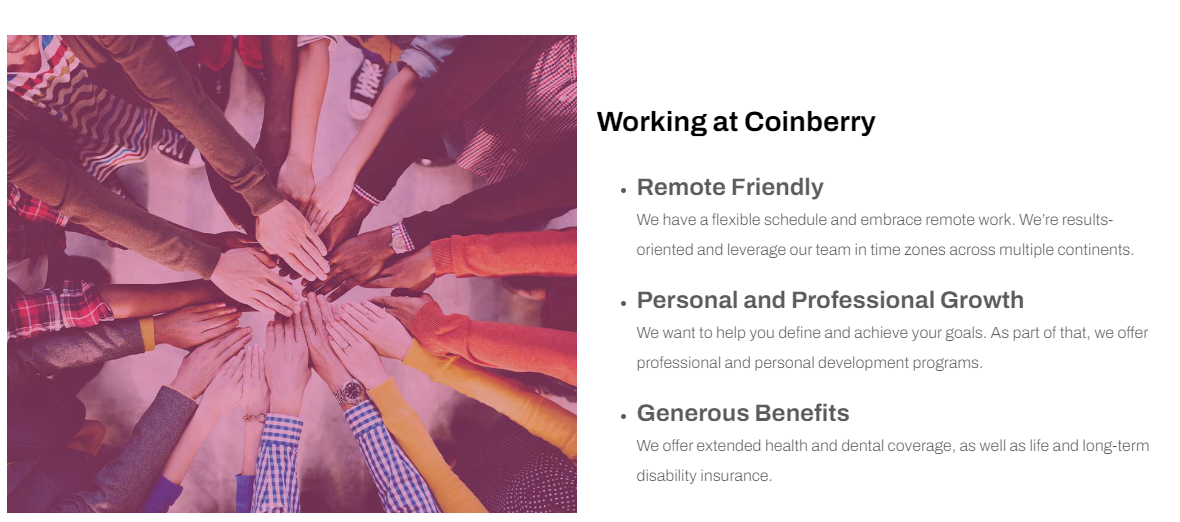 In addition to its user-friendly approach, Coinberry has made notable strides in building partnerships and expanding its reach. Joining forces with Ledger, a prominent hardware wallet company, marks a significant milestone for Coinberry as the first Canadian exchange to achieve this distinction.
Such collaborations demonstrate the platform's commitment to security and fostering a trustworthy environment for users.
Coinberry Pros
Quick and simple crypto purchasing
Beginner-friendly interface
Convenient mobile app for iOS and Android
Wide selection of popular cryptocurrencies
Free deposits and withdrawals
Automatic recurring crypto purchases with AutoPilot
Coinberry Pay for receiving BTC payments
Fully compliant with FINTRAC regulations
High-level security for crypto protection
Coinberry Cons
Limited range of cryptocurrencies
No Live Chat Support
Services Offered on Exchange
Supported Coins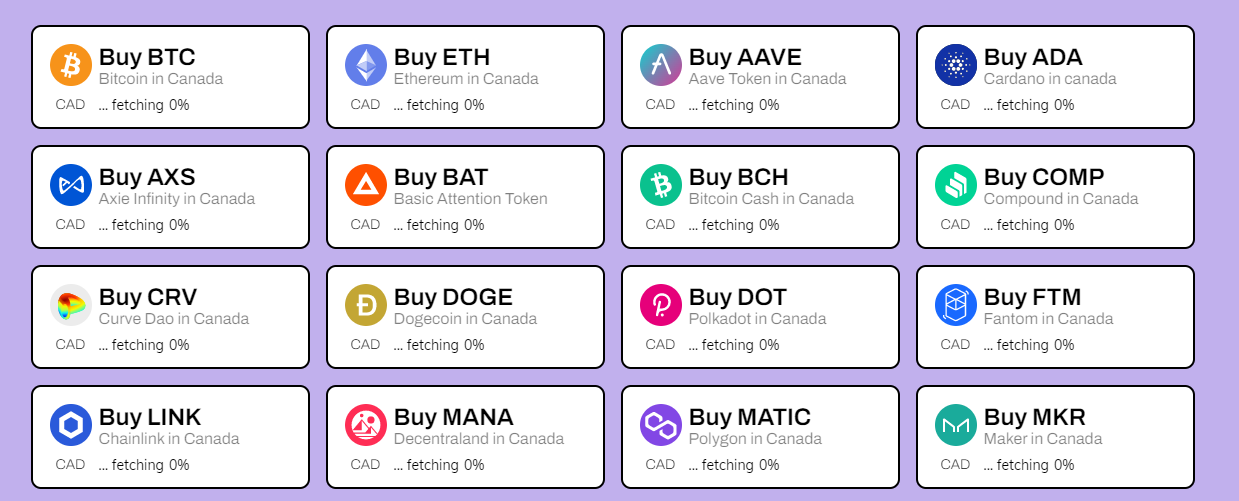 When it comes to choosing a cryptocurrency exchange, the range of supported coins plays a significant role. Coinberry, a reputable exchange, understands the importance of offering a diverse selection of assets.
While the number may not be as extensive as some other exchanges, Coinberry covers the most popular choices that beginners are often interested in, such as BTC (Bitcoin) and ETH (Ethereum).
But that's not all! Coinberry goes the extra mile by including a variety of altcoins in its repertoire. This expands your investment opportunities and allows you to explore exciting projects beyond the mainstream options. With altcoins like XRP (Ripple), LTC (Litecoin), ADA (Cardano), and more, Coinberry ensures that you won't just be blindly picking projects and hoping for the best.
Furthermore, Coinberry empowers users to delve deeper into the projects they're investing in. This means you can expand your knowledge and gain insights into the assets you're buying. It's a refreshing approach that goes beyond mere transactions, fostering a learning experience
and enabling you to make informed investment decisions.
AutoPilot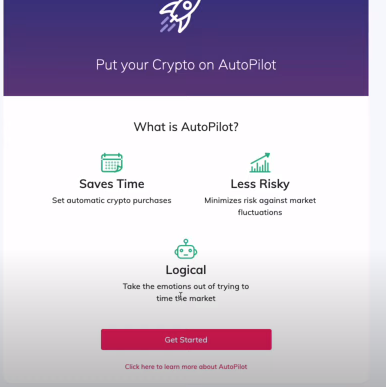 AutoPilot, the feature that puts you in control of your crypto purchases on Coinberry. With AutoPilot, you can effortlessly make regular purchases of crypto, reducing the impact of price volatility. Simply select the amount and frequency that suits your personal needs, sit back, and let AutoPilot handle the rest.
Coinberry Pay
This innovative payment processing solution allows anyone to accept digital currencies as a form of payment. Whether you're a small business owner or a budding entrepreneur, Coinberry Pay has got you covered.
When your customers pay you in cryptocurrency, Coinberry Pay seamlessly converts those payments into Canadian dollars (CAD), ready to be deposited into your Canadian bank account. No more worrying about market volatility or holding onto crypto assets.
With Coinberry Pay, you have the freedom to embrace the benefits of cryptocurrency without the hassle. It's a customizable solution that integrates smoothly into your existing payment infrastructure, making it a perfect fit for businesses of all sizes.
Account Creation and Verifications:
Creating an account and going through the verification process on Coinberry can seem like a daunting task. Here is a step-by-step guide to creating an account and completing verifications on Coinberry.
Step 1: Create an Account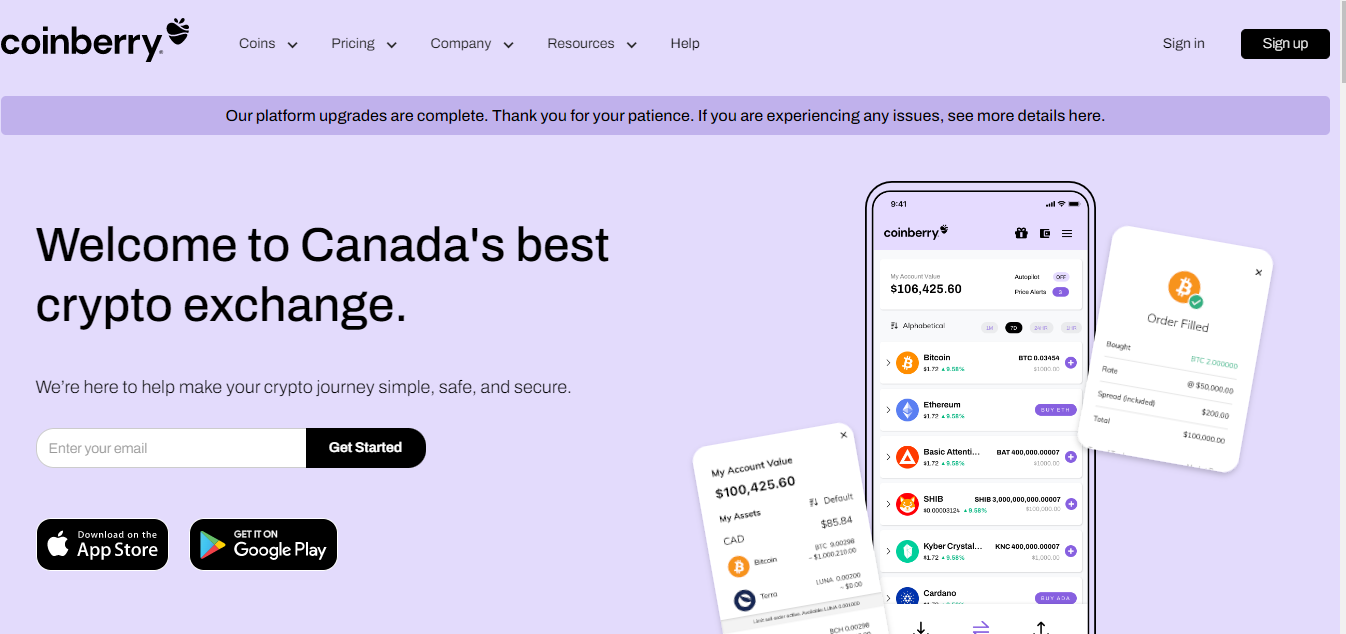 To begin your Coinberry journey, look no further than the upper right-hand corner of the platform's page. You'll find the "Sign Up" button eagerly waiting for you.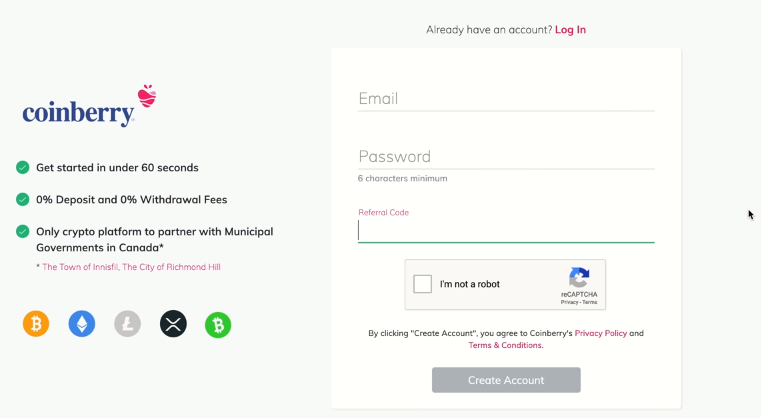 Enter your email address and set up a secure password, then click on create account and you're all set to dive into the world of digital currency.
Step 2: Verification Methods
Coinberry offers two verification methods for new customers.
Instant Verification:
Instant verification is a quick and convenient way to get started. To proceed, you'll need to provide a government-issued photo ID that includes your full name and birth date.Once submitted, the verification process is typically completed swiftly, allowing you to dive into the world of cryptocurrencies in no time.
Manual Verification:
If the instant verification process doesn't go as smoothly as expected, don't worry! Coinberry has a manual verification option for you.
This method requires additional verification documents, such as a government-issued photo ID and a proof of address document.
Rest assured, Coinberry accepts a variety of identification documents, including a Canadian passport, Permanent Resident Card, or an identity card issued by a province or territory.
Just provide the necessary documents, and Coinberry will personally verify them within one to three business days.
Step 3 :Set Up Two-Factor Authentication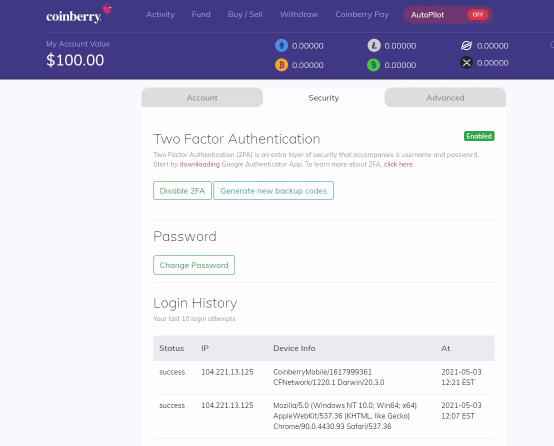 For enhanced security and protection, it is recommended to enable Google Authenticator on your mobile device. Follow these steps to set it up with Coinberry:
Launch the Google Authenticator app on your phone.
Select "Scan Barcode" from the app's menu.
Use your Coinberry device screen to scan the provided QR code.
Enter the verification token displayed on Google Authenticator into the designated field on Coinberry.
Click the "update" button to confirm.
Coinberry will provide you with three backup codes. Ensure you save these codes securely for future use.
Mobile App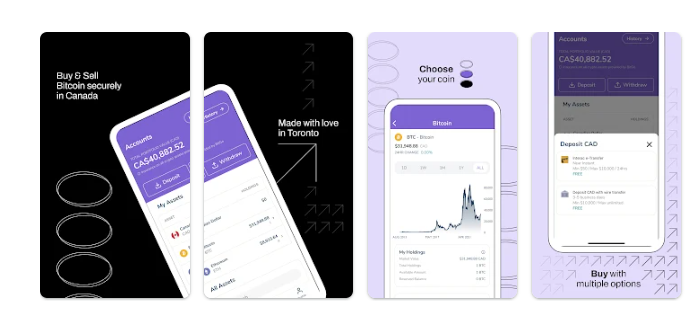 For those of you who want to buy or sell crypto on the go, you're in for a treat with the Coinberry mobile app. Available on both Android and iOS, this app is designed to make your cryptocurrency experience seamless and convenient. The user interface is not only attractive but also simple and intuitive, allowing you to navigate with ease.
Unlike the website version, the mobile app offers a chart display for the prices of BTC, ETH, and LTC, keeping you updated on the market trends.
One standout feature of the app is its ability to send coins or CAD to other accounts, something you won't find on the website. This feature makes it perfect for users who not only want to invest on the go but also spend their cryptocurrencies at merchant stores or anywhere that accepts them.
With the ability to send crypto and scan barcodes, Coinberry is pushing the boundaries of how we perceive and utilize our cryptocurrency funds. So, get ready to embrace the future of finance with the Coinberry mobile app.
Coinberry Trading Features
Coinberry's trading platform caters more to investors and beginner traders rather than advanced day traders. This means that the interface is designed to be simple and user-friendly, without complex features like margin trading or detailed trading charts. Once your account is verified, you'll find easy-to-use buttons for buying and selling Bitcoin, Ethereum, or Litecoin, allowing for instant crypto purchases directly from Coinberry.
What sets Coinberry apart is its unique ability to short sell assets, which we haven't seen on other Canadian exchanges.
Short selling involves agreeing to sell an asset in the future at a predetermined price, with the aim of profiting from a potential decrease in its value. Coinberry's short selling feature is incredibly user-friendly, with one-click ordering, making it accessible even to beginners.
It's important to note that Coinberry's short selling operates without leverage, meaning you'll need to provide the full upfront cost of the position. This approach ensures simplicity and eliminates the complexities associated with margin trading platforms.
Exchange fees
Spot Trading Fees
| Exchange | Trading Fee |
| --- | --- |
| Binance | 0.1% |
| KuCoin | 0.1% |
| Kraken | 0.16% / 0.26% |
| Huobi | 0.2% |
| Crypto.com Exchange | 0.2% |
| NDAX | 0.2% |
| Bitbuy | 0.2% |
| Coinberry | Up to 2.5% |
Withdrawal fees (FIAT)
There are ZERO fees charged for withdrawing CAD by e-Transfer or Wire transfer.
Withdrawal fees (Crypto)
| Type | Fee | Minimum Withdrawal |
| --- | --- | --- |
| Bitcoin | 0.0005 BTC | 0.0015 BTC |
| Ethereum | 0.007 ETH | 0.057 ETH |
| XLM | 0.02 XLM | 26.02 XLM |
Coinberry Security
When it comes to safeguarding your crypto assets, you want nothing short of top-notch protection. That's where Coinberry comes in, dedicated to maintaining an incredibly secure platform for its users. They've gone the extra mile by implementing institutional grade crypto protection, leaving no stone unturned in ensuring the safety of your digital assets.
Coinberry has partnered with Gemini Trust Company LLC™, a renowned digital asset custodian known for its unrivaled levels of regulation, security, and compliance. With $200 million in insurance coverage, your crypto holdings are shielded from external threats, giving you peace of mind.
But that's not all. Coinberry takes the protection game one step further by safeguarding against internal threats as well. They've got your back with insurance that guards against financial losses arising from dishonest acts or unethical behavior from Coinberry employees.
Customer support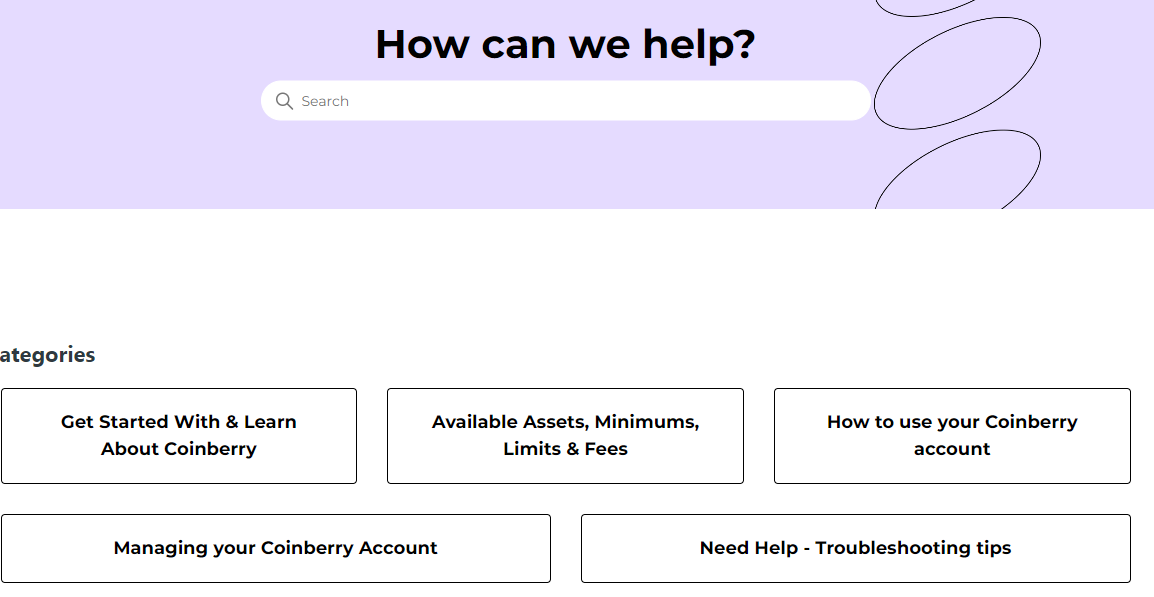 When it comes to cryptocurrency trading, customer support is undeniably crucial. We all know the frustration of having urgent queries that require timely assistance. That's why Coinberry stands out with their customer support options.
Need immediate help? Give them a ring at 1 (888) 997-6544 from Monday to Friday between 9:30 am to 4 pm EST. It's comforting to know that you can speak to a real person and resolve any account issues.
Prefer written communication? Shoot them a message on their website or email support@coinberry.com. Their contact page is also available for specific queries. And for those routine questions, check out their FAQ page, covering everything from funding with e-Transfer to buying crypto with Canadian dollars.
Don't forget, you can even reach out to Coinberry via their lively social media accounts like Facebook or Twitter. Rest assured, Coinberry has your back with their friendly and accessible customer support.
Conclusion
Coinberry does many things right when it comes to providing a user-friendly platform for individuals in Canada to buy Bitcoin and other cryptocurrencies. One of its standout features is its beginner-friendly user interface, making it a great choice for first-time crypto investors. Additionally, the exchange offers 0% CAD deposit and withdrawal fees for wire transfers and Interac e-Transfers, which is a significant benefit.
However, it's important to note that Coinberry's trading fees, which can reach up to 2.5% per transaction, are comparatively higher than similar Canadian exchanges. This can be a drawback for intermediate and experienced investors who are looking for lower trading costs.
The user-friendly interface and the absence of deposit and withdrawal fees for certain methods make it an attractive choice. However, if you're an experienced investor or looking for greater altcoin support and deeper liquidity, you may find better options among global exchanges with lower trading fees.
FAQ
Is Coinberry legal in Canada?
Yes, Coinberry is fully compliant with Canadian laws and regulations, operating legally in all provinces and territories.
Is Coinberry trustworthy?
Absolutely, Coinberry is a reputable and trustworthy exchange. It has obtained regulatory approvals from FINTRAC and the Ontario Securities Commission, demonstrating its commitment to compliance and security.
Can I withdraw funds from Coinberry?
Coinberry allows users to easily withdraw their funds. You can initiate withdrawals by providing your wallet address.
Does Coinberry require KYC verifcation?
Yes, Coinberry requires full identity verification. Coinberry is a licensed and regulated crypto platform and must comply with KYC laws.