Best Way to Buy Cryptos with Faster Payments
Suppose you're a UK-based crypto trader or investor seeking to buy Bitcoin and other cryptos with the Faster Payments system; Bitget is the perfect crypto exchange to deposit British Pounds (GBP) for buying cryptos. The platform offers free GBP deposits through the Faster Payments Service.
Bitget is one of the world's leading crypto exchanges. The platform was launched in 2018 and has over 20 million registered users. That shows that Bitget is a reliable and trustworthy crypto exchange.
With access to over 500 cryptos, 500+ trading pairs, 125x maximum leverage, and low trading fees, Bitget is a perfect choice for active traders. Users can also access advanced trading tools, copy trading, bot trading, and more.
On Bitget, trading fees are as low as 0.02% for makers and 0.06% for takers on the futures market, while for spot trading, prices are set at 0.1% for both makers and takers. That makes Bitget an attractive choice for traders seeking minimal trading fees.
However, It is important to note that Bitget is a legitimate crypto exchange, and KYC verification is required for users to buy cryptos or deposit fiat currency on the platform. If you want to buy cryptos with Faster payments GBP on Bitget, follow the comprehensive step-by-step guidelines below.
Buy Cryptos With Faster Payments Step-by-Step
Step 1: Create and verify your Bitget account
To deposit GBP on Bitget, you must first create an account on the platform. Sign up to Bitget using your email address or phone number, and verify your identity by uploading a valid Government-issued ID and taking a live selfie.
Step 2: Go to the Deposit Section
At the top right corner of the homepage, click on the "Asset" icon, then select "Deposit".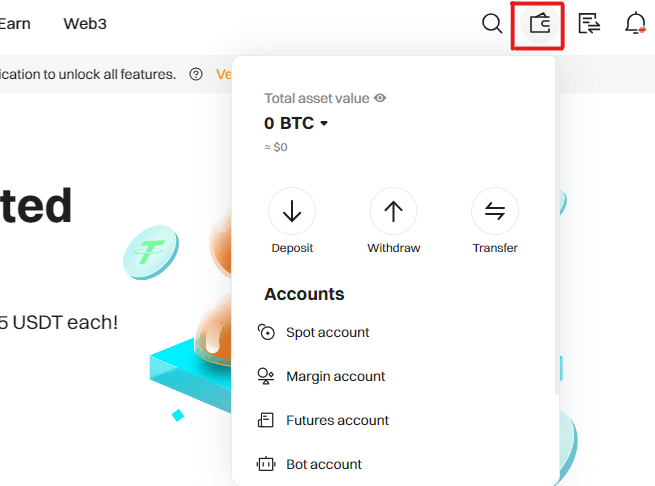 A new page opens, asking you to select a crypto and network. Navigate to the top right corner and click on "Fiat Deposit".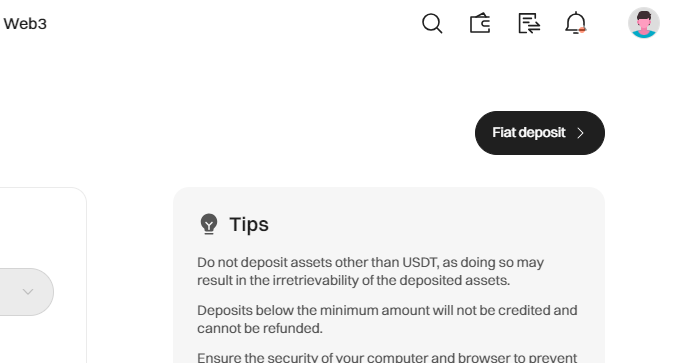 Step 3: Select "Faster Payments" as your payment method
On the fiat deposit page, select "GBP" as your preferred fiat currency and choose "Faster Payments" as your Payment method. Then, click "Next". Bitget charges zero fees for GBP transfers using Faster Payments, and the arrival time is immediate.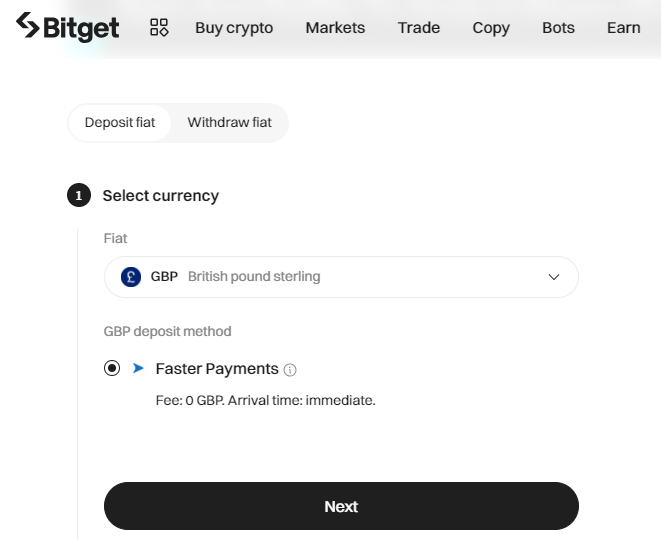 Step 4: Enter the deposit amount and proceed to payment
In the next window, you'll be required to enter the amount of GBP you want to deposit. Input the amount of GBP you wish to transfer and click "Next". In this case, we'll be depositing 100 GBP through Faster Payments.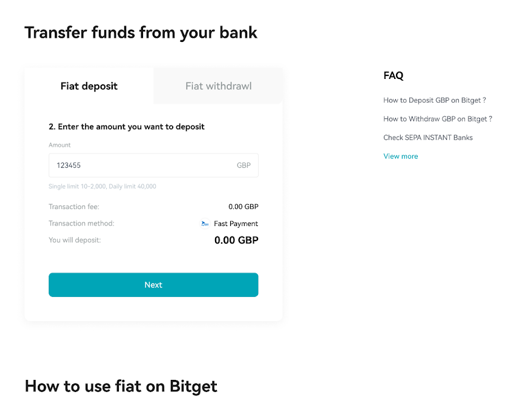 On the next page, the order details will be displayed with the amount and the payee information. Log in to your bank account to transfer the amount to Bitget using these details. After you've made the transfer, go back to Bitget and click "I have transferred", and your cryptos will be added to your account once your transaction is verified.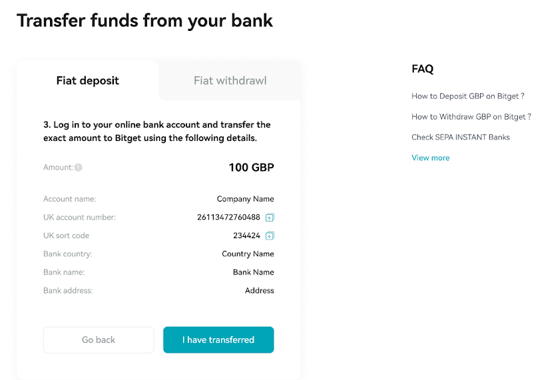 About Faster Payments
Faster Payments (FPS) is a payment system used in the UK to facilitate rapid electronic payments in British Pounds (GBP). The FPS allows individuals and businesses to make seamless GBP transfers 24/7. It was designed to reduce the time money takes to move from one account to another and improve the speed of payments.
That makes Faster Payments one of the fastest and most reliable ways to deposit GBP for buying cryptos as a crypto trader or investor in the UK.
Bottom Line
In conclusion, Faster Payments is a reliable means of buying crypto with Fiat in the UK. If you're looking to buy Bitcoin and other cryptocurrencies with Faster Payments, we recommend Bitget as the best crypto exchange, as it offers free GBP deposits via Faster Payments. The platform also offers a wide variety of features for active trading, including advanced trading tools, NFT support, copy trading, and many more. You can follow the comprehensive step-by-step guidelines provided above to securely complete your deposit of GBP to buy cryptos on Bitget.