With a history dating back to 2011, Bitstamp has earned a solid reputation as a secure and transparent platform for trading digital assets. Founded by Nejc Kodric and Damijan Merlak in Slovenia, Bitstamp has grown its presence to over 100 countries, boasting a user base of over 4 million.
Operating under licences across all 27 European Union countries and close to 50 other regions, including China and the U.S., Bitstamp ensures compliance and accessibility for a global audience. While it may offer a narrower range of 120 cryptocurrency markets, Bitstamp still secures a prominent 11th place in the ranking of crypto exchanges with the highest trust factor according to coinmarketcap.
This review delves into Bitstamp's features, trading options, security measures, and more. So, sit back, relax, and explore what makes Bitstamp standout in digital asset trading.
Overall Thoughts on Bitstamp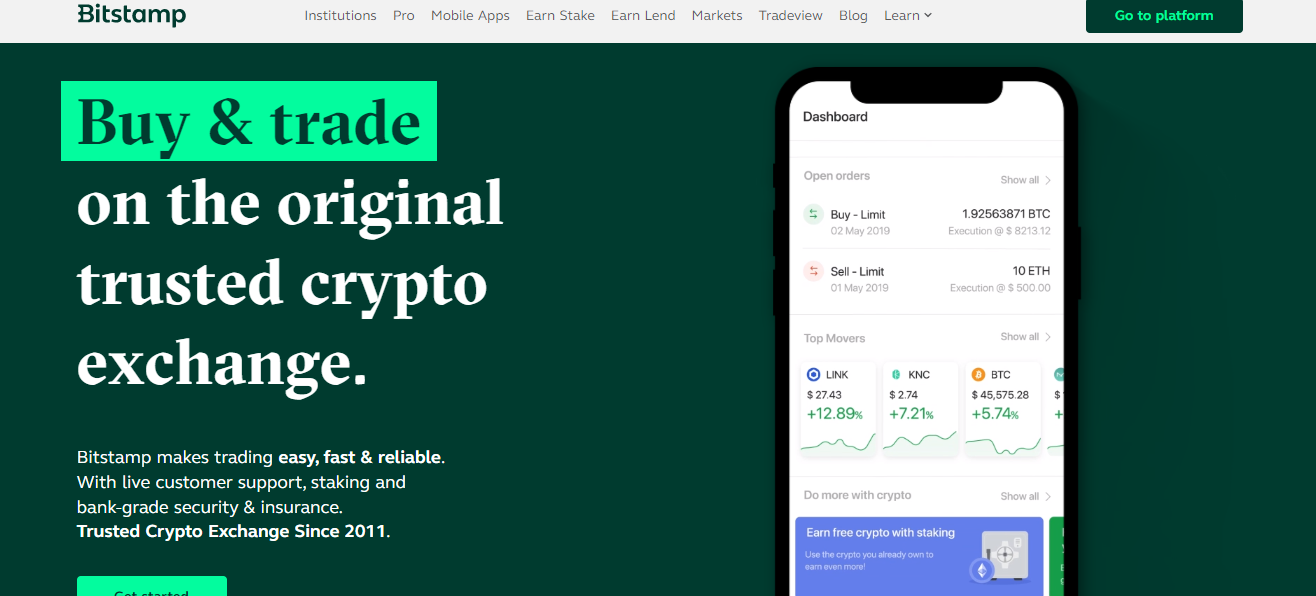 Bitstamp, a remarkable crypto exchange, has managed to carve its place in the competitive world of cryptocurrency trading. It offers users an exceptional experience and a strong focus on security and peace of mind.
In this ever-evolving landscape, Bitstamp stands out as a platform that combines convenience, security, and professional-grade tools to cater to traders of all levels.
One of the standout features of Bitstamp is its convenience. Whether you need to deposit funds, make withdrawals, or execute trades, Bitstamp ensures a seamless and hassle-free experience.
Gone are the days of navigating complex processes or dealing with unnecessary hurdles. Bitstamp simplifies these tasks, allowing users to focus on what matters most—trading and maximizing their investments.
Security is of paramount importance in the cryptocurrency world, and Bitstamp understands this well. Since the unfortunate breach in 2015, the platform has significantly enhanced its security measures. Users can trade with confidence, knowing that Bitstamp has implemented robust systems to safeguard their funds and personal information.
Pros
Hassle-free buying and selling of cryptocurrencies
Intuitive and user-friendly platform
Accessible through mobile applications for on-the-go trading
Convenient options for crypto trading
Advanced trading features catered toward professional users
Wide selection of popular cryptocurrencies available for trading and purchase
Opportunities to earn through staking and referral programs
Instant deposit methods for quick and seamless transactions
Robust security measures to protect your assets
FIAT support
Cons
Relatively high taker/maker fees
Lack of markets for traders
Not suitable for advanced day traders
Services Offered On Bitstamp
Staking Rewards
Not all crypto exchanges offer the exciting opportunity to earn staking rewards on your holdings, but luckily, Bitstamp does. Staking rewards are like a thank-you payment for supporting the cryptocurrency network. It's a win-win situation!
So, what exactly is staking? Well, it's putting up your cryptocurrency holdings to help verify transactions within a specific cryptocurrency. By committing your coins, you not only contribute to the network's security and stand a chance to earn extra rewards.
Bitstamp makes staking a breeze by handling all the coordination for you. They then pass on the net staking reward minus a 15 percent fee. The best part? Bitstamp is transparent about its fee structure, unlike some competitors who keep their costs hidden behind vague terms like "small fee."
It's important to note that staking rewards at Bitstamp are currently available for Ethereum and Algorand. So, if you hold these cryptocurrencies, you can earn rewards while supporting the network.
And here's some good news for our U.S. friends: Bitstamp's staking rewards are open to U.S. customers, except those residing in New York, Nevada, Hawaii, and Louisiana.
So, if you're eager to maximize the potential of your crypto holdings and earn rewards along the way, Bitstamp's staking program is worth considering.
Convenient Cryptocurrency Buying And Selling
When buying and selling various cryptocurrencies, Bitstamp has revolutionized the process, making it incredibly easy for everyone. You don't need extensive knowledge or experience to navigate this platform because they've kept everything simple and user-friendly.
With Bitstamp, you must select the cryptocurrency you want from their list and choose your preferred payment. That's pretty much it! The streamlined process ensures that even new investors and traders with no prior experience can seamlessly buy and sell their cryptocurrencies without any major hurdles.
Gone are the days of complex procedures and technical jargon. Bitstamp's user-friendly interface and straightforward approach allow you to dive into the exciting world of cryptocurrency without feeling overwhelmed.
Available Cryptocurrencies
Each digital asset brings its unique charm and potential. While some platforms may offer a vast array of markets, BitStamp takes a more focused approach. With over 54 digital assets, it provides access to the dominant cryptocurrencies that have captured the market's attention.
You'll find familiar heavyweights like Bitcoin (BTC), Litecoin (LTC), Ethereum (ETH), Bitcoin Cash (BCH), Ripple (XRP), and Stellar (XLM). But BitStamp doesn't stop there. It also includes some slightly lesser-known coins, adding a sprinkle of excitement to the mix. Coins like Chainlink (LINK), Polygon (MATIC), and Dai (DAI) make an appearance, catering to altcoin enthusiasts.
One of the significant advantages of BitStamp is its ability to trade crypto against fiat currencies. Whether you prefer the mighty USD, the Euro, or even the British Pound, BitStamp has got you covered. This feature especially appeals to novice traders, providing a user-friendly entry point into the crypto world.
However, for the more experienced cryptonians seeking a wide range of altcoin options, BitStamp's list might leave them yearning for more. While the platform covers the most prominent cryptocurrencies, some traders may feel that the selection falls short.
Easy Account Setup
Here is the step-by-step process to start account creation.
Step 1: "Register"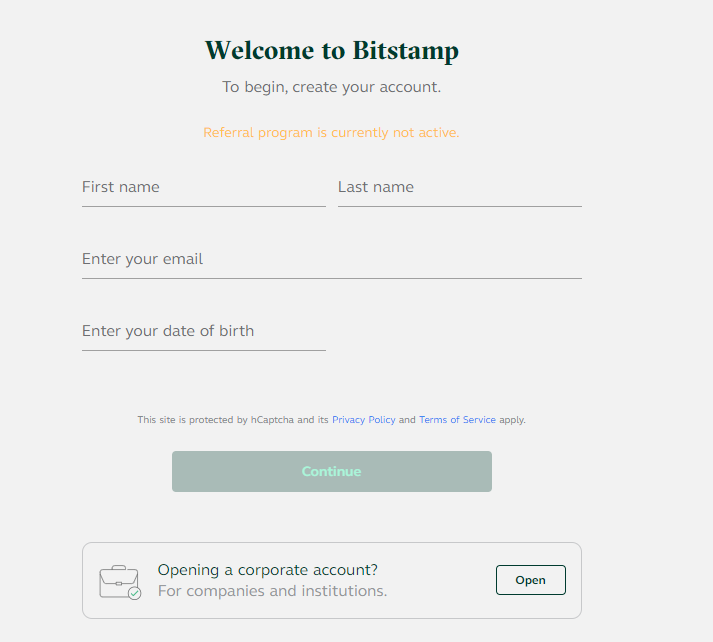 To begin, click on the registration button and provide your email, first name, last name, and date of birth, and don't forget to agree to the Terms of Use and Privacy Policy. It's like signing up for a cool new adventure, but without the hidden treasure (at least not yet!).
Step 2: Check Your Inbox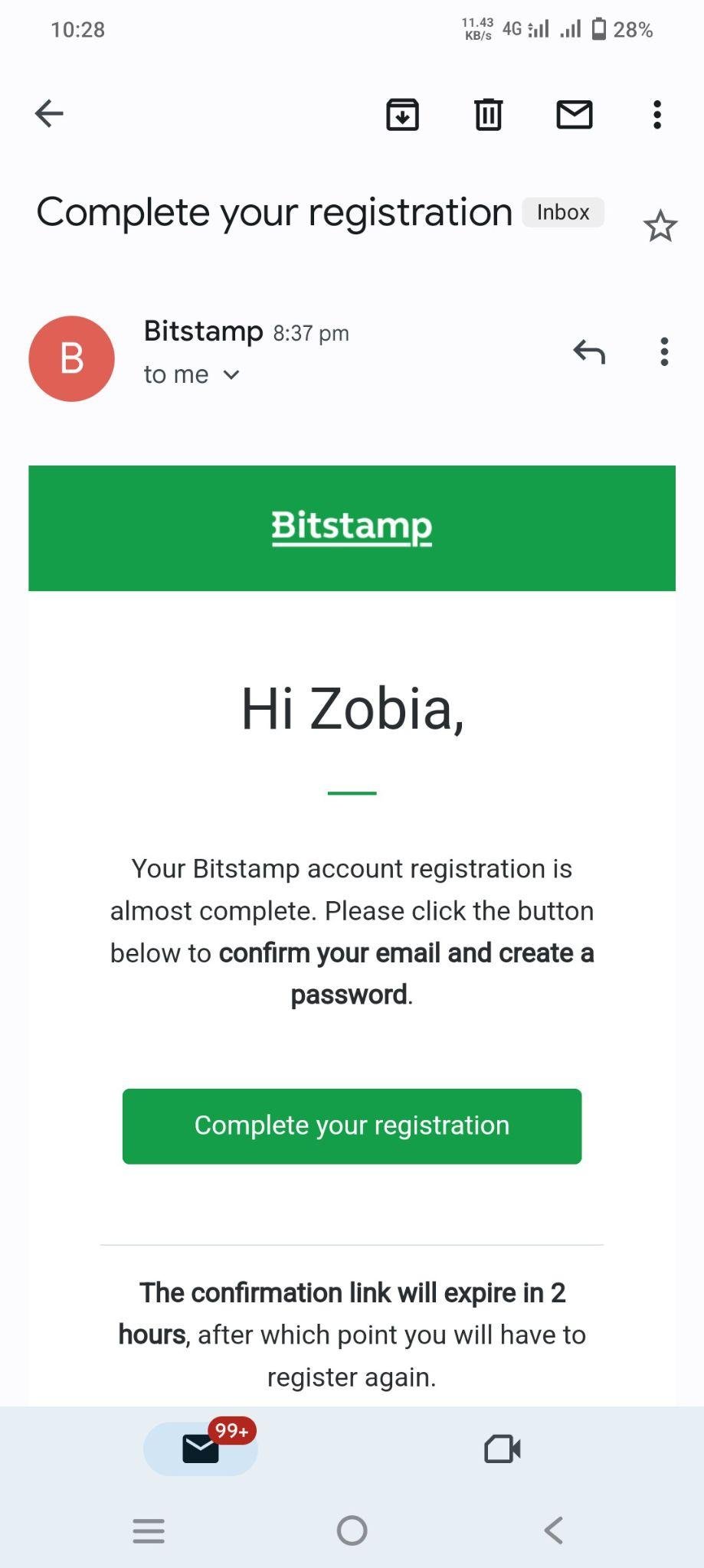 Wait for the magical moment when the inbox fairy delivers the confirmation email. Open that email and prepare for the next step.
Step 3: Enter Your Password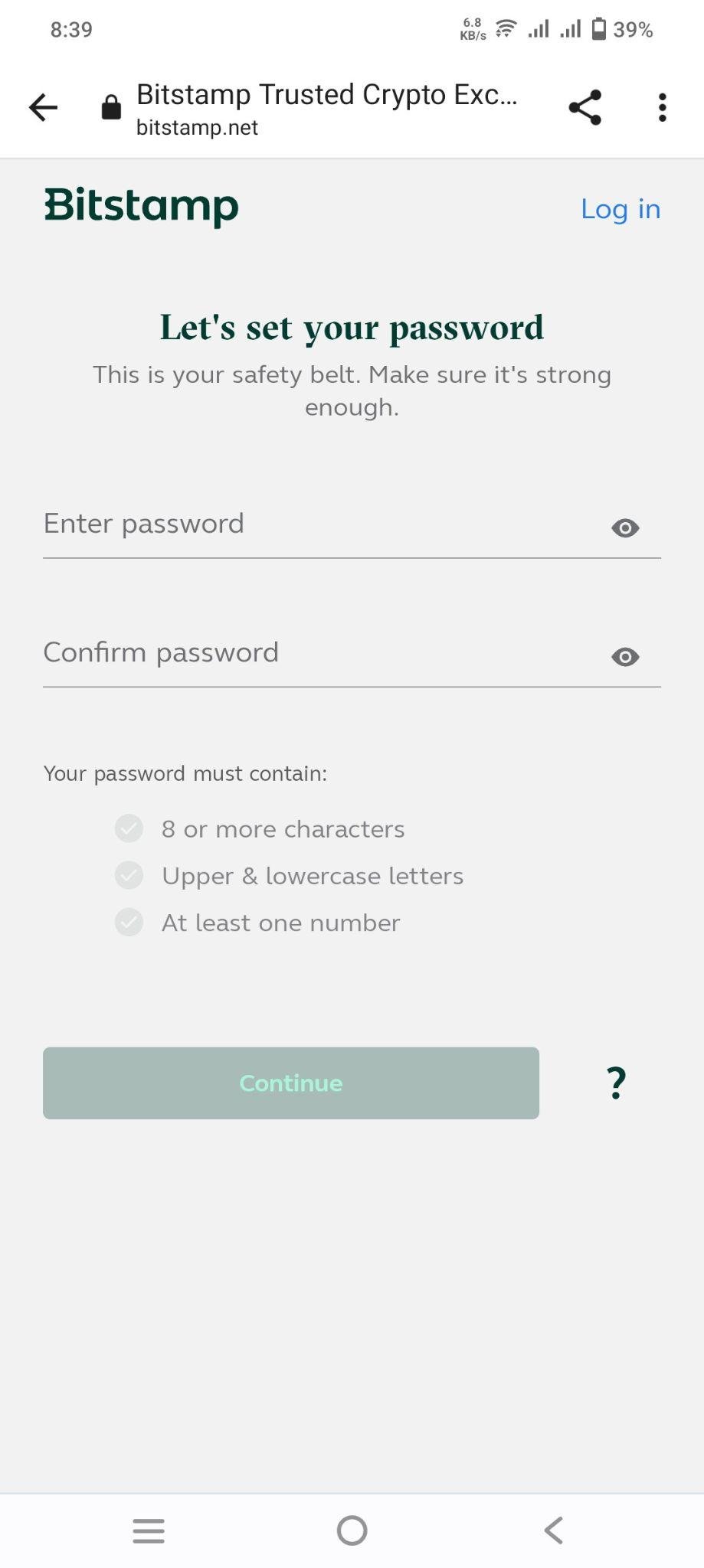 Now, it's time to create a password that will keep your account safe and sound. Choose a strong password that even the savviest hackers would struggle to crack. Remember, it's like fortifying the gates to your digital kingdom.
Step 4: Get Verified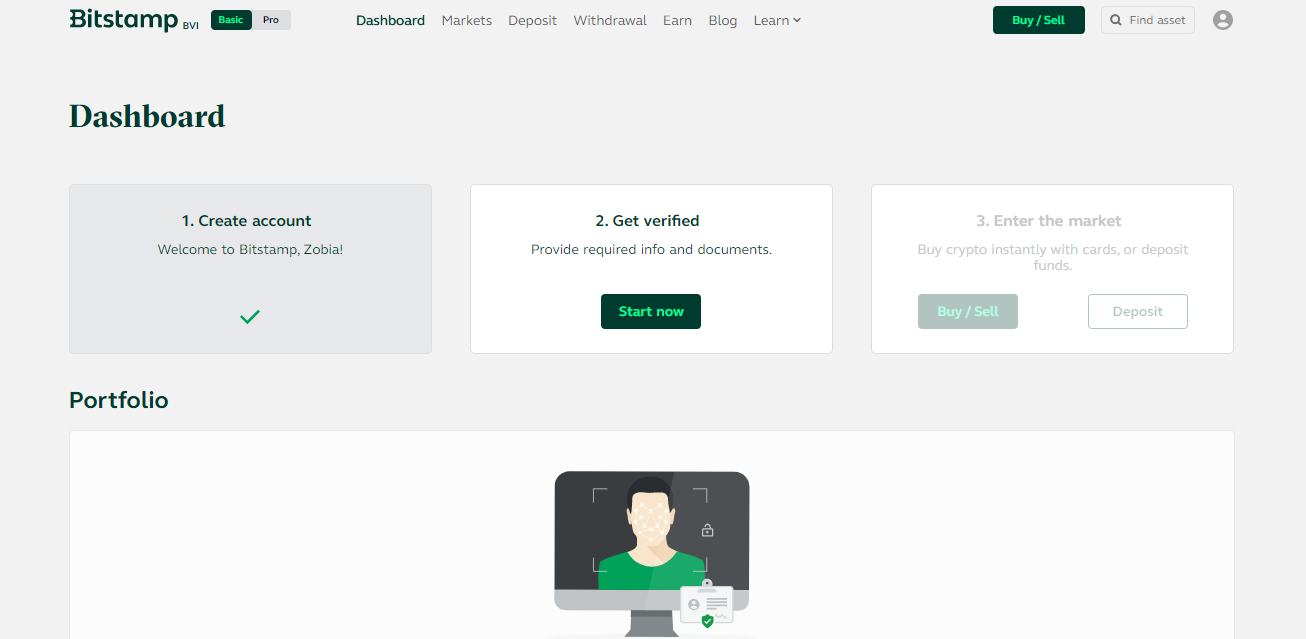 Provide the necessary information to prove your identity. We're not asking for your secret spy code or anything, just the basics. So, have your documents handy and let's move on to the next step.
Step 5: Enter Your Info
Enter the requested information to complete your profile. Think of it as sharing the important details that will help us tailor your account to your needs. Don't worry, we'll keep it safe and sound.
Step 6: Upload Documents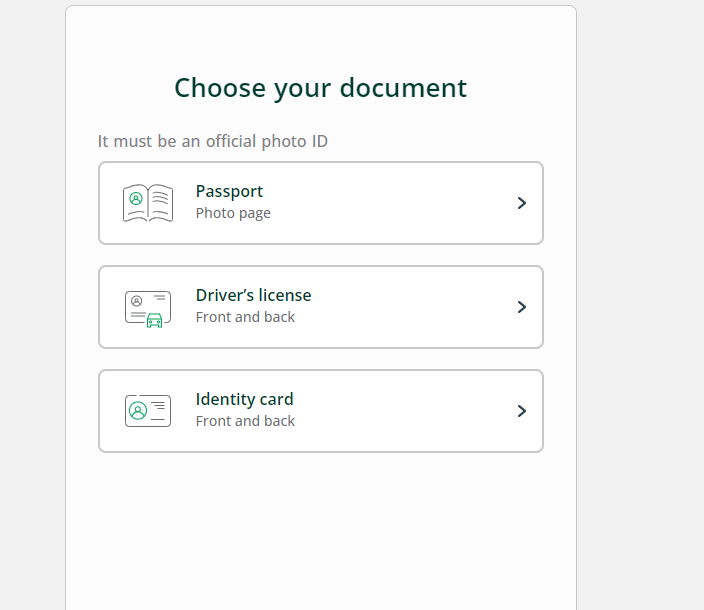 Grab those documents (no need for a dramatic drumroll) and upload them securely. We need to verify your identity, as Bitstamp is not a non-KYC exchange after all. It's like showing us your passport photo, minus the awkward pose (unless you're into that)identity card or driver's license.Then you will be provided with secure lik to uplad your documents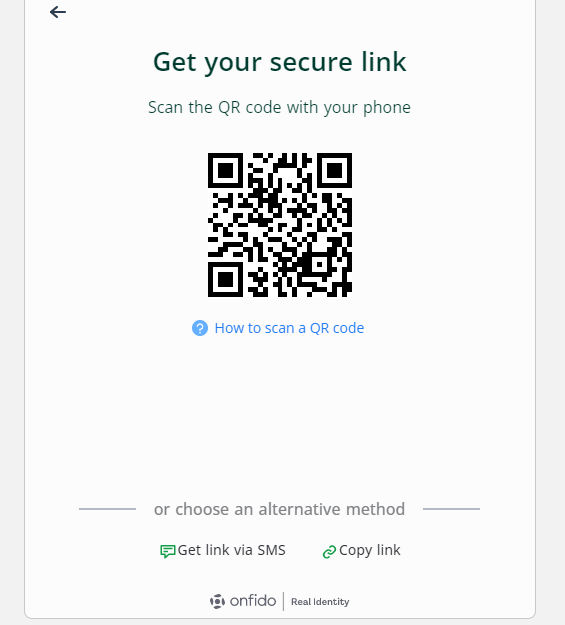 Mobile App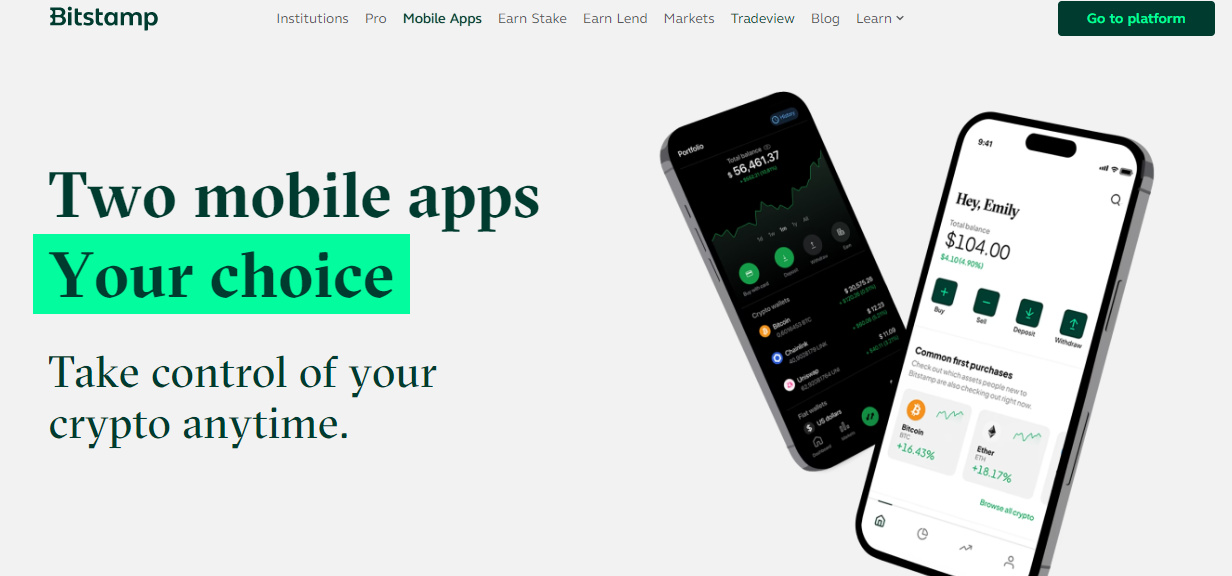 Bitstamp offers a mobile app that allows you to trade cryptocurrencies directly from your smartphone. Available for free on the Apple App Store and the Google Play store, this app brings the power of Bitstamp's trading platform to your fingertips.
Here are some exciting features of the Bitstamp mobile app that make it a must-have for traders: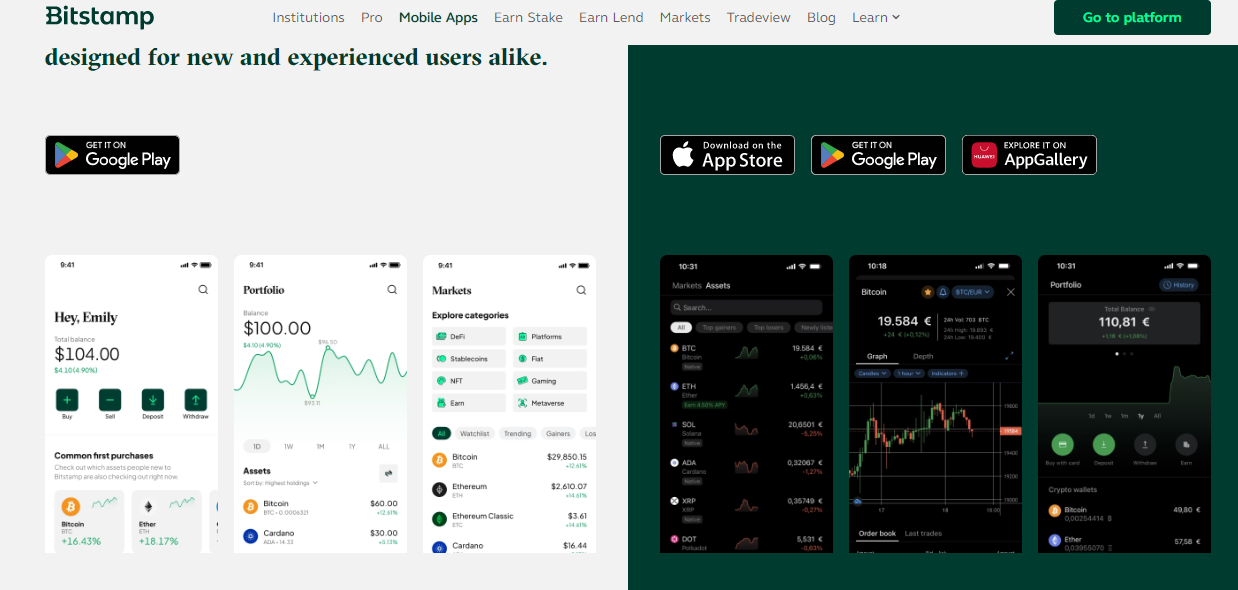 Seamless Buying and Selling: Whether you're a new trader or a seasoned pro, the Bitstamp mobile app offers an intuitive interface for easy buying and selling of cryptocurrencies. With just a few taps, you can execute trades and stay on top of market movements.
Tradeview Charts for Informed Decisions: Experienced traders will appreciate the inclusion of Tradeview charts. These charts provide valuable insights and analysis to help you make informed trading decisions. Stay ahead of the game and spot trends with ease.
Clear Transaction History: Keep track of your transaction history, balances, and important details with utmost clarity. The Bitstamp mobile app ensures that all your financial information is readily available, allowing you to monitor your trades and portfolio with confidence.
Free Crypto Transactions: Sending and receiving cryptocurrencies has never been easier. The Bitstamp mobile app enables you to effortlessly transfer cryptos without any fees. Enjoy the convenience of managing your digital assets on the go, without worrying about additional costs.
Enhanced Privacy and Control: Take charge of your trading experience with the Bitstamp mobile app. It offers features like remote app disabling for added security. Moreover, the private mode allows you to hide your balances and switch between sub-accounts, ensuring a personalized and secure trading environment.
Order Notifications and Types: Stay informed about the status of your trades with order notifications. The app keeps you updated on open orders, ensuring you never miss an opportunity. Plus, you can easily manage different order types to suit your trading strategies.
Bitstamp Trading Features
Are you ready to take your trading game to the next level? Bitstamp has got you covered with its impressive TradeView option. Get ready to dive into a world of detailed charts, advanced options, and a plethora of trading pairs with various fiat currencies.
With TradeView, you can access comprehensive charts that provide valuable insights into market trends. But it doesn't stop there! You have the freedom to customize these charts according to your preferences. Choose from a range of indicators, candle types, and durations to create a trading experience that suits your style.
And that's not all! Bitstamp's TradeView offers a handy tool panel on the left-hand side. Explore its features to enhance your trading strategies and make informed decisions. It's like having a toolbox at your disposal, empowering you to navigate the exciting world of trading with ease.
Bitstamp Exchange fees
Spot Trading Fees
Spot market trading at Bitstamp is based on a maker-taker fee structure. There is a separate fee for instant purchases.
| Type | Fee |
| --- | --- |
| Maker | 0-0.16% |
| Taker | 0-0.26% |
Withdrawal Fees (FIAT)
Following are the withdrawal fees based on your withdrawal method:
SEPA: 3 EUR
ACH: free
Faster Payments: 2 GBP
Withdrawal Fees (Crypto)
The crypto withdrawal fee differs for each of the coins available to withdraw. You will have to take a look at the fee chart at the time of withdrawal to get an idea of how much you will have to pay.
| Cryptocurrency | Withdrawal Fee |
| --- | --- |
| Bitcoin Cash (BCH) | 0.0001 BCH |
| Bitcoin (BTC) | 0.0005 BTC* |
| Ether (ETH) | 0.006 ETH |
| Litecoin (LTC) | 0.001 LTC |
| Paxos Standard (PAX) | 20 PAX |
Bitstamp Security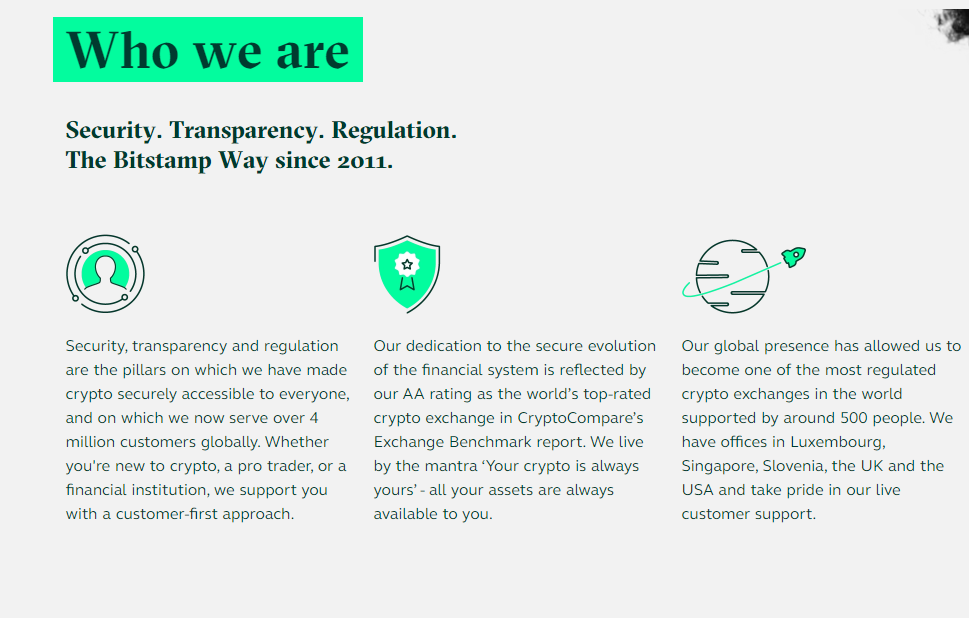 This reputable exchange prioritizes the safety of its traders by implementing robust security measures. One such measure is two-factor authentication (2FA), adding an extra layer of protection to your account.
With 2FA, you can assign a password to your mobile device, ensuring that only you have access to your account. Plus, for added security, Bitstamp enforces regular password changes every 90 days.
After facing hacking attempts in the past, Bitstamp has fortified its security infrastructure. The majority of exchange funds are now stored in cold storage, which means they are kept offline and away from potential threats. Additionally, customer crypto wallets are safeguarded with 2-factor authentication, providing an extra shield against unauthorized access.
Bitstamp doesn't stop there. To ensure secure connections, the exchange employs AES 256 encryption, the most advanced standard in the industry. This encryption technology protects the confidentiality and integrity of your data during transmission to their servers.
With Bitstamp's commitment to top-notch security measures, you can have peace of mind knowing that your crypto assets are in good hands. So, trade with confidence, knowing that Bitstamp has taken every precaution to safeguard your funds and personal information.
Bitstamp Customer support
When it comes to customer support in the world of crypto exchanges, Bitstamp truly stands out from the crowd. In an industry where support often falls short, Bitstamp goes the extra mile to ensure its users feel valued and heard.
At Bitstamp, you can expect standard self-help resources like a comprehensive website and a support ticket system via email. But what sets them apart is their 24-hour phone support, which is a rarity among crypto exchanges.
This means that when you find yourself grappling with a complex issue and struggling to fully grasp the situation yourself, you have the advantage of speaking directly to a knowledgeable support representative.
Having the ability to explain your problem over the phone and receive real-time assistance can make all the difference. Bitstamp understands the importance of clear communication and aims to provide a friendly and engaging support experience.
Conclusion
When it comes to cryptocurrency trading, Bitstamp is a platform that ticks all the right boxes. With its emphasis on security, safety, and an array of tools for traders, Bitstamp has established itself as a reputable player in the industry. The platform's fast market execution and low withdrawal fees make it particularly appealing for institutional investors and those trading in large volumes.
Whether you're a seasoned trader or just starting, Bitstamp offers a reliable and trustworthy platform to engage in crypto trading. So, if you're an active investor focusing on a specific crypto asset, look no further than Bitstamp to enhance your trading experience and make the most of your investment opportunities.
FAQ
Is Bitstamp safe?
Based on reviews, Bitstamp is considered safe and utilizes advanced security technologies, including Multi-Sig for hot wallets and offline cold storage systems.
Who is Bitstamp best for?
Bitstamp is recommended for professional traders, although it may be overwhelming for beginners. The platform has millions of customers and is known for being reliable and safe.
How long does a withdrawal take?
Withdrawals typically take around 2 to 3 business days to process.