Bitpanda Review
Bitpanda, headquartered in Vienna, Austria, stands as a reputable cryptocurrency broker catering to users across the Eurozone.
What sets it apart is its unique approach of allowing users to purchase cryptocurrencies directly from Bitpanda instead of using the peer-to-peer trading model.
However, in a market filled with crypto brokers, is Bitpanda the ideal platform for starting your crypto trading journey? This comprehensive review delves into every aspect of Bitpanda, from its fee structure to its features, security measures, user interface, and more.
So keep reading to uncover whether Bitpanda earns your trust as the premier European cryptocurrency exchange!
Bitpanda Overview
Bitpanda, an Austrian-based cryptocurrency brokerage, was established in 2014 by Eric Demuth and Paul Klanschek. The company is headquartered in Vienna and is accessible not only in European nations but also in Switzerland, the UK, Turkey, and the UAE.
With over 700 employees, Bitpanda ranks among Europe's most prominent cryptocurrency brokers.
One of Bitpanda's distinguishing features is its diverse asset offerings. In addition to facilitating cryptocurrency trading, Bitpanda supports ETFs, stocks, fractional share trading, and commodities like gold and silver.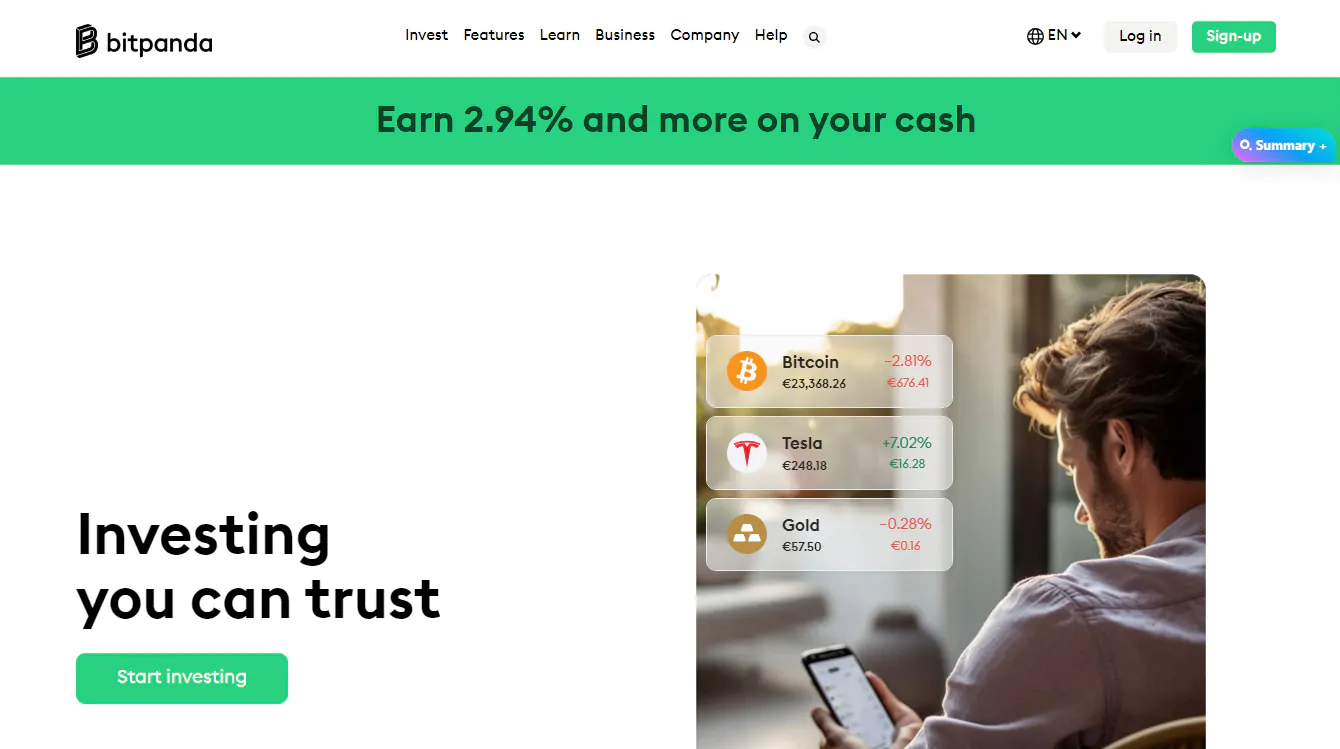 This means users can broaden their investment portfolios beyond cryptocurrencies, gaining access to an extensive range of stocks and ETFs.
Bitpanda offers its trading platform through a web-based exchange and a mobile app. With a user base exceeding 4 million and over 1 million app downloads, Bitpanda enjoys a substantial following.
The platform has earned an average rating of 3.5 stars based on 37.3k user reviews.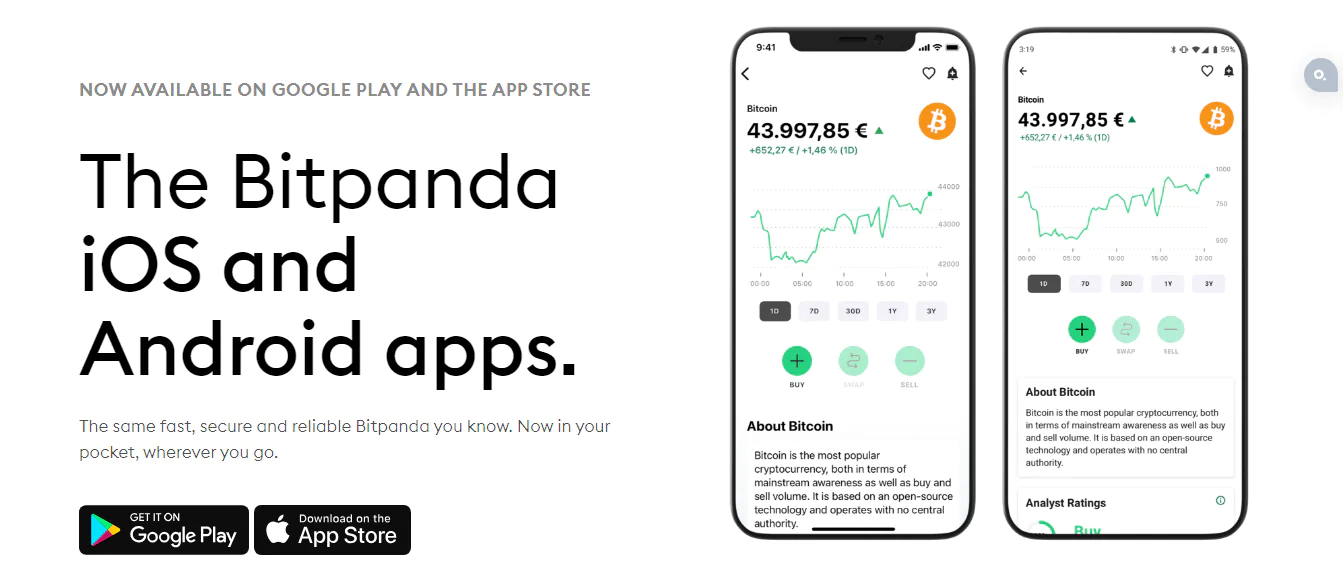 Bitpanda's cryptocurrency support extends to over 200+ digital currencies, encompassing popular options like Bitcoin and Ethereum. It also features emerging tokens such as Solana and fan tokens linked to sports teams like Barcelona FC and Manchester City.
This extensive selection makes Bitpanda an attractive choice for users seeking exposure to a wide array of cryptocurrencies beyond the commonly known ones.
Bitpanda Pros and Cons
| 👍 Bitpanda Pros | 👎 Bitpanda Pros |
| --- | --- |
| ✅ Very beginner friendly | ❌ No futures |
| ✅ 300+ cryptos available | ❌ Low liquidity |
| ✅ Simple € on/off ramps | ❌ Lacks advanced features |
| ✅ Passive income products | ❌ No proof of reserves |
| ✅ TradFi + Crypto Assets | |
Bitpanda Sign Up & KYC
Bitpanda offers an easy-to-navigate, user-friendly platform. To get started, click "Sign Up," you'll be directed to a page where you can enter your full name, email address, country of residence, and password.
If you're interested in opening a business account, you'll find a link at the bottom of the page for that purpose.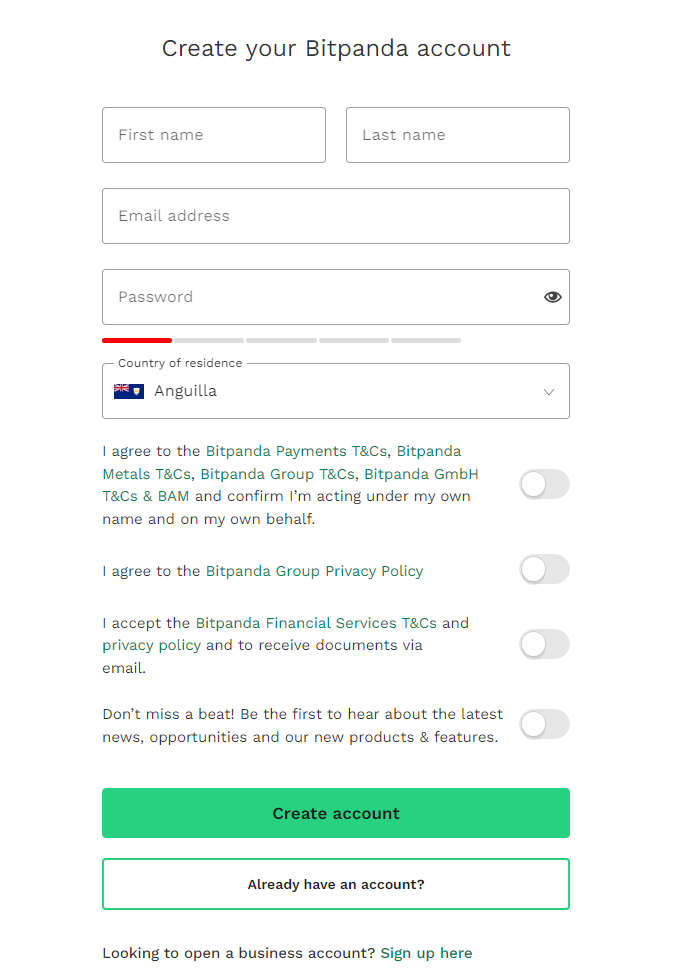 After confirming your email, you must answer a few questions about compliance with EU anti-money laundering regulations. These questions mainly revolve around your income and planned annual trading volume, including:
What's the source of your investing funds?
What's your employment status?
How much do you earn monthly after taxes?
What's your rough net worth?
How much do you plan to invest in one year?
Additionally, you'll need to verify your account by providing the required identification documents. While you can temporarily skip this verification step, please note that you must complete it before making deposits or starting trading activities.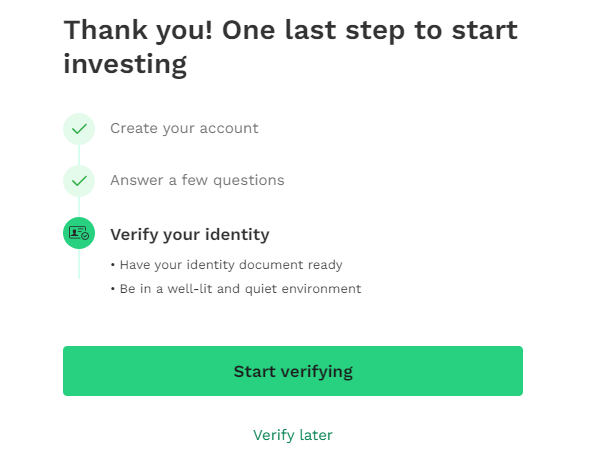 For KYC verification, you'll need to upload a picture of your passport and a selfie.
Verification typically takes about 20 minutes, although it might take up to two business days for some users. Once verified, you'll gain full access to Bitpanda's features and can proceed to make your initial cryptocurrency or fiat deposit.
Bitpanda Products & Services
This European cryptocurrency platform offers access to a wide range of assets, including over 200 cryptocurrencies and additional stocks, ETFs, crypto indices, precious metals, and commodities. Collectively, with these 3000+ selections of digital assets, Bitpanda offers something for every investor.
For those interested in passive income, Bitpanda provides staking rewards for more than 20 cryptocurrencies like ADA, SOL, DOT, and ATOM. Additionally, their institutional custody service adds an extra layer of security for your assets.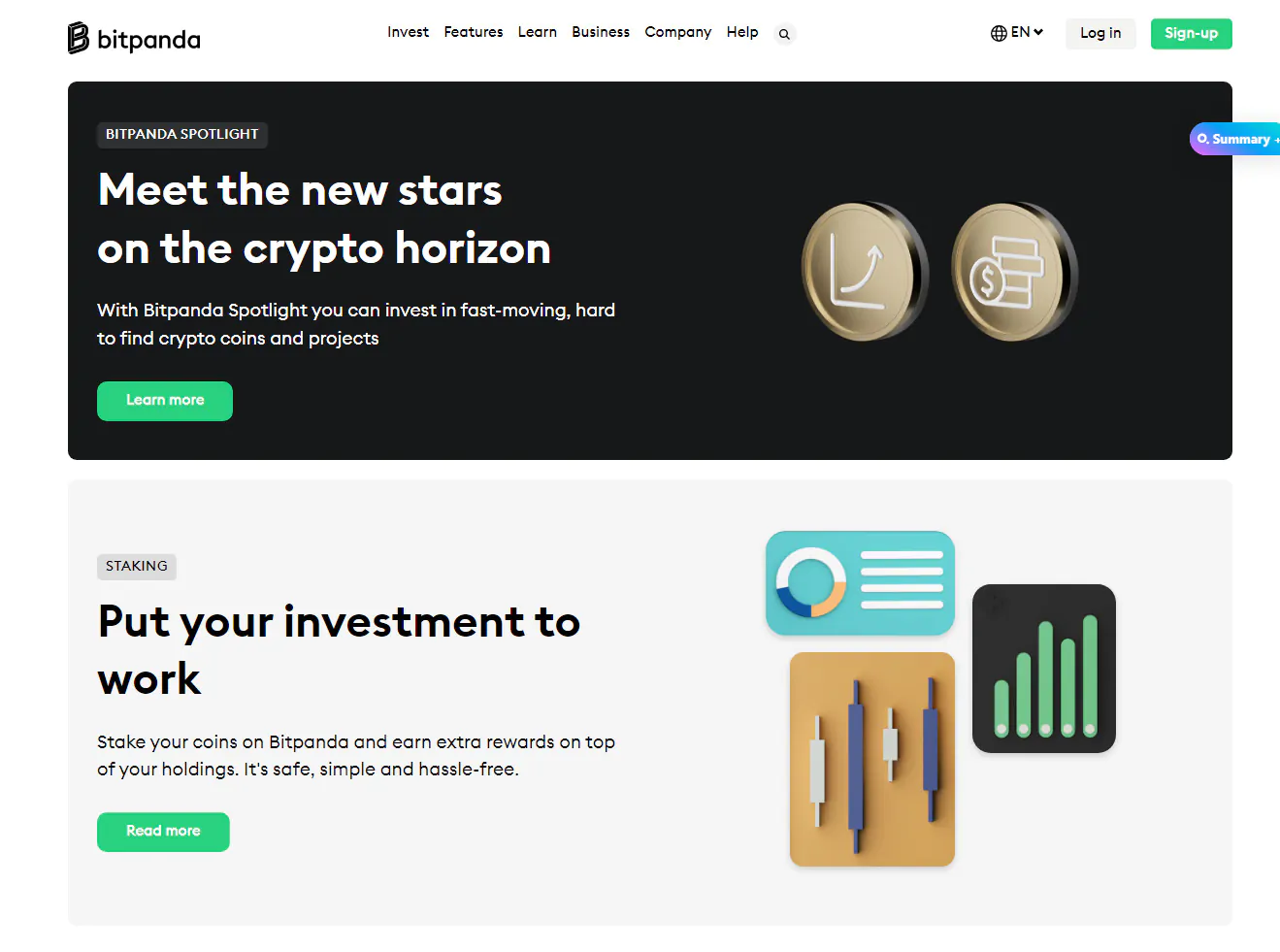 Bitpanda's user-friendly website makes it easy for beginners to navigate, while more experienced traders can explore Bitpanda Pro, which is ranked 110th on Coinmarketcap.
Bitpanda even offers its debit card, allowing users to spend their crypto conveniently at thousands of merchants.
Bitpanda Fees
Bitpanda applies a straightforward fee structure for cryptocurrency transactions. A 1.49% fee is incurred when buying, while selling comes with a 1.29% fee.
It's worth noting that individual cryptocurrencies may have their own associated deposit and withdrawal fees.
Bitpanda Deposit & Withdrawal Methods
Bitpanda makes depositing funds into your account a breeze with various fiat deposit options. You can deposit money through bank transfers (SEPA), credit cards (VISA and Mastercard), or services like Neteller and Skrill.
Remember that some of these methods incur fees, such as a 1.8% fee for Visa and Mastercard deposits and a fee of EUR 0.9 + 3.6% for Neteller deposits.
However, SEPA transfers are fee-free, and bank wires for other European fiat currencies cost only 3 EUR per deposit.
Regarding withdrawals, Bitpanda offers various methods for both cryptocurrencies and fiat money, as shown in the image below.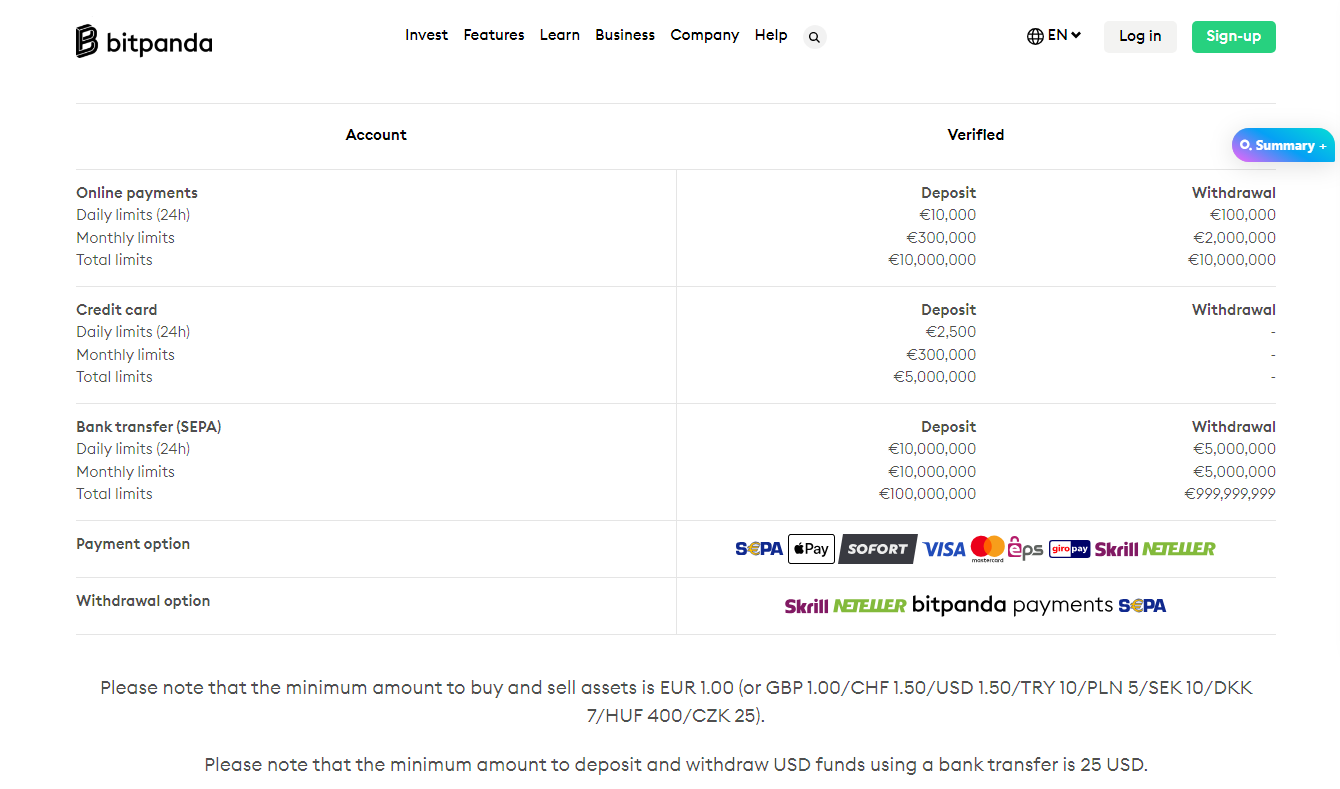 Now, the minimum withdrawal amount for fiat is EUR 25, and it's free of charge, making it an excellent choice for smaller withdrawals. Fiat withdrawals via bank transfer are also fee-free, providing cost savings for users.
While withdrawing cryptocurrencies from Bitpanda comes with fees, they vary depending on the type of cryptocurrency. For instance, withdrawing Bitcoin from your wallet incurs a 0.00004830 BTC fee.
Ethereum wallet withdrawals are charged a 0.00233030 ETH fee, while Solana withdrawals have a 0.00100000 SOL fee. Withdrawals of ERC-20 USDT, however, come with a 4.44 USDT fee, slightly higher than other cryptocurrencies' fees.
In summary, Bitpanda provides an appealing choice for individuals seeking cost-effective withdrawals of cryptocurrencies or fiat currency.
Bitpanda Customer Support
Bitpanda offers multiple avenues for customer support. Firstly, the Bitpanda Helpdesk is a comprehensive resource that answers many common questions about various platform aspects.
Topics are neatly categorized, and frequently viewed pages are conveniently listed at the bottom for easy access. You can contact their support team if you can't find the information you need there.
They provide a contact form where you can specify the nature of your inquiry and choose the relevant topic. The system also offers a brief overview of your selected topic, which might address your question without further assistance.
If you still require help, you can pick your preferred language (options include English, German, French, Turkish, Italian, Spanish, and Polish), provide your account's email address, and detail your issue.
You even have the option to attach files, such as screenshots, to aid the support team in understanding your problem.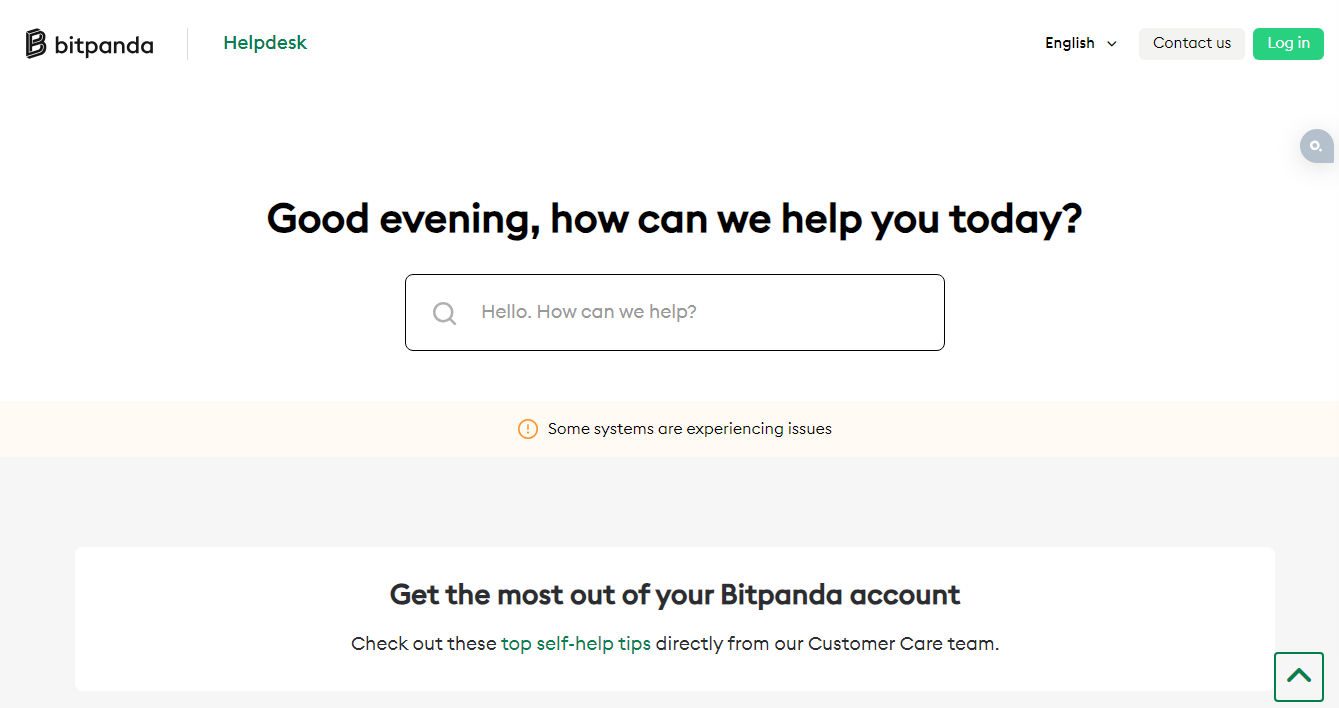 Bitpanda strives to respond to all support requests within 72 hours, though they acknowledge it may take longer, assuring customers that no request is overlooked.
Additionally, Bitpanda maintains an active community where users can discuss various topics, including price fluctuations, coin listings, and general industry developments.
While this community can be a valuable resource, Bitpanda emphasizes that they do not handle support inquiries through social media channels.
For any significant concerns, customers are encouraged to use the contact form mentioned earlier for more efficient assistance.
Bitpanda Security
Bitpanda strongly emphasizes safeguarding its users' assets, and its track record underscores this commitment. Remarkably, in its nine years of operation, Bitpanda has never experienced a security breach, a testament to its robust protective measures.
Regular internal and external assessments conducted by KPMG continuously validate Bitpanda's security protocols, ensuring that user assets remain secure.
To fortify its defenses further, Bitpanda proudly holds ISO 27001 certification, a globally recognized standard for information security compliance. Passwords are stored using highly trusted and contemporary hashing algorithms.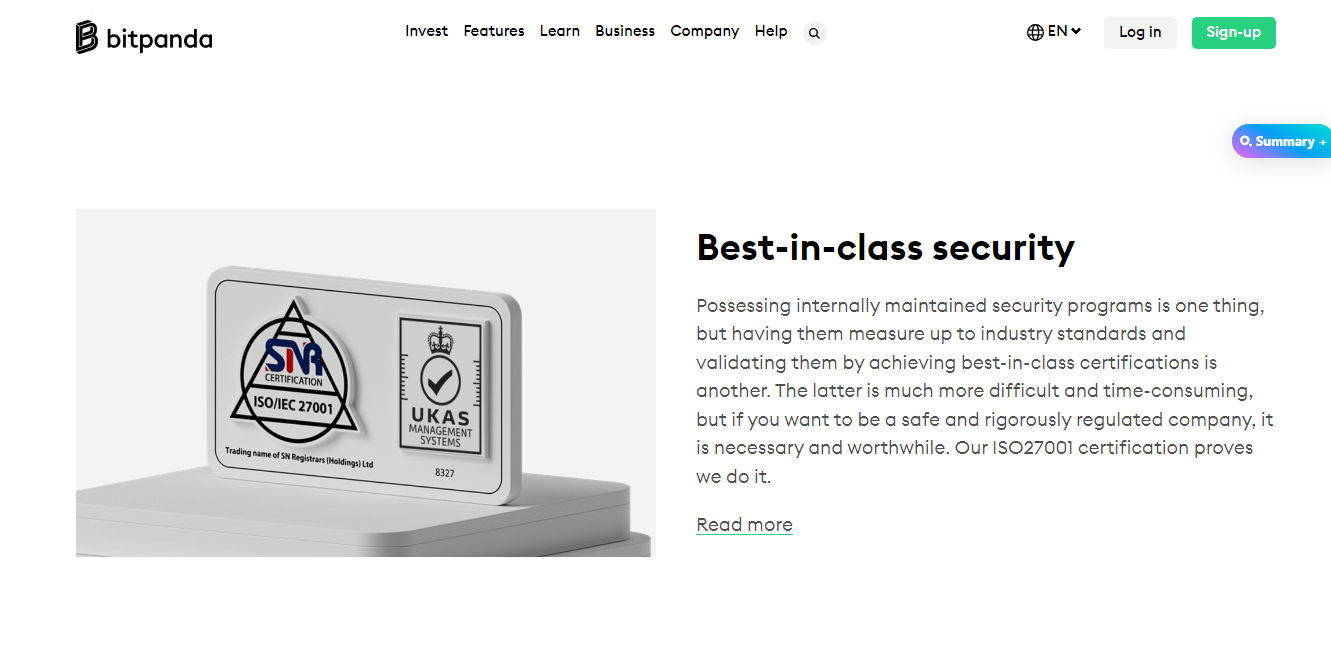 Moreover, Bitpanda's KYC onboarding and verification procedures align fully with European regulations. In addition to offering two-factor authentication (2FA), Bitpanda extends additional safeguards such as account lock and monitoring.
Session management is in place to keep tabs on browser and device sessions, enhancing overall security.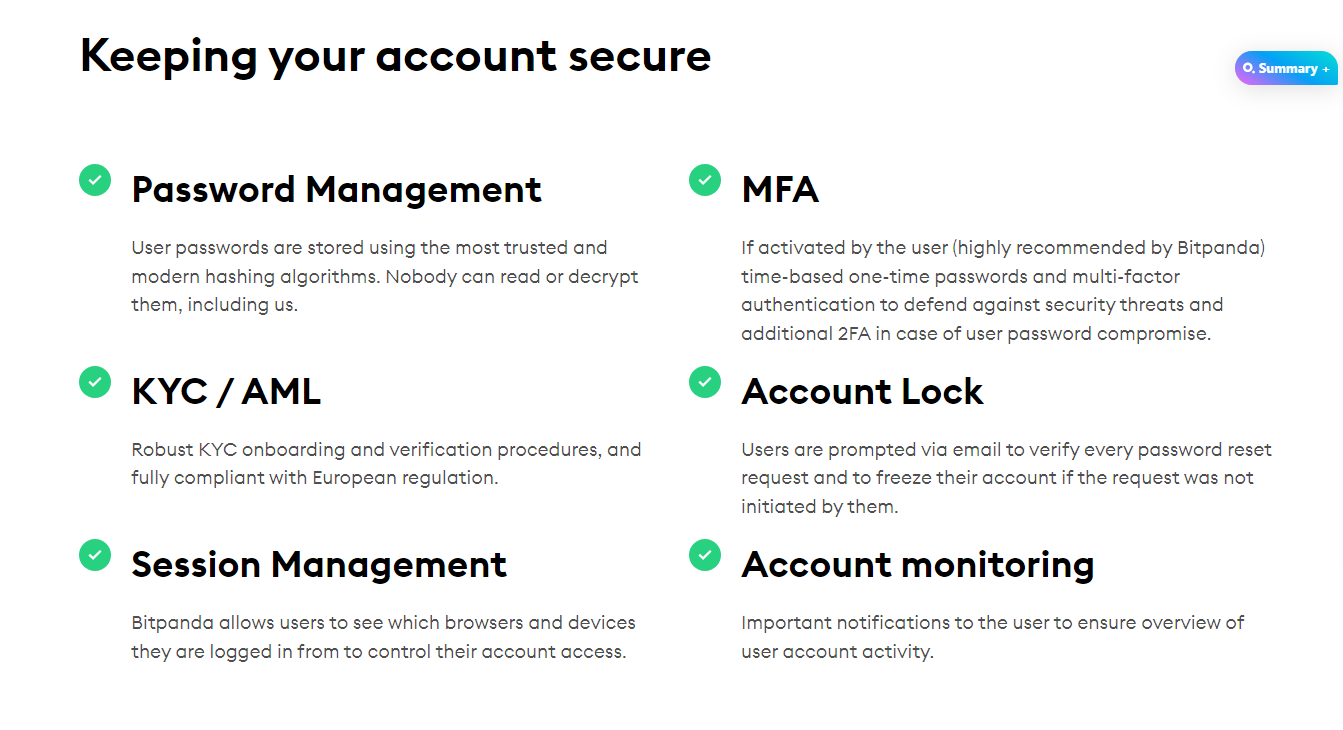 Another interesting aspect that adds to Bitpanda's security is its impressive array of ten European licenses and registrations, including MiFID, VASP, PSD, and E-Money. The exchange also has a payment service provider license under PSD2.
Expanding on user security, Bitpanda employs cold storage for assets, though the specific amount stored offline isn't disclosed. Additionally, the platform's commitment to security extends to user account access.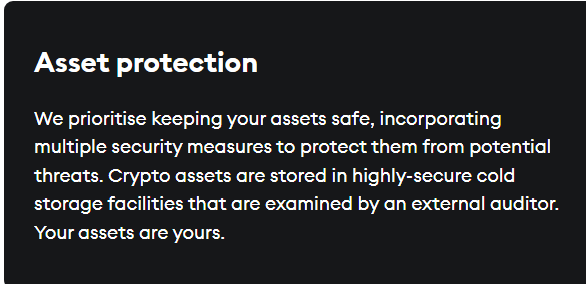 Whenever you log in from a new device, Bitpanda ensures it's you through email verification. The platform employs reCAPTCHAs and conducts spot checks when you make significant changes to your account details, such as your email address or phone number.
Bitpanda also implements DDOS protection and employs SSL encryption for an added layer of security.
Bitpanda Review: Conclusion
Bitpanda stands out as a comprehensive broker, going beyond the typical offerings in the cryptocurrency sphere. Whether you're a novice log in experienced trader, Bitpanda caters to all levels of expertise.
What's particularly convenient is that you can seamlessly transition between their platforms – Bitpanda and Bitpanda Pro – using a single account.
This means that you won't face the hassle of opening and verifying another account once you're ready to explore more advanced trading.
Moreover, Bitpanda's robust security measures provide peace of mind regarding the safety of your funds. Their commitment to transparency ensures you're well-informed about all aspects of your trading journey, leaving you confident in your decisions.
So whether you're looking for a user-friendly experience or want to delve into more advanced trading, Bitpanda offers a comprehensive solution to meet all your needs.
While Bitpanda has its strengths, you can always explore a greater variety of cryptocurrencies and lower trading fees by opting for the following Bitpanda alternatives.
Bitpanda Vs. Alternatives
| | Bitpanda | Kucoin | OKX |
| --- | --- | --- | --- |
| Founded | 2014 | 2017 | 2017 |
| Userbase | 4M | 20M | 20M |
| Supported Cryptos | 200+ | 734 | 329 |
| Spot Fees | 1.49% (buying) / 1.29% (selling) | 0.1% (maker) / 0.1% (taker) | 0.08% (maker) / 0.10% (taker) |
| KYC | Yes | Yes | Yes |
| Hack History | No | Yes | No |
| Customer Support | Email Support | 24/7 live chat support | 24/7 live chat support |
| Ideal for | Beginner Traders in Europe | Altcoin Hunters | Advanced Spot and Futures Trading |
| Sign Up | Bitpanda | Kucoin | OKX |