In my 8 years of crypto trading, I have tested over 100 crypto exchanges. I can already tell you: Binance and Bybit are still some of my favorite cryptocurrency trading platforms and I am very excited for this comparison!
Binance and Bybit both became titans in the crypto space and are considered to be some of the best cryptocurrency exchanges in the world. But which one is better? Is there a clear winner? Which one works for YOU? We have tested over 100 exchanges, and in this guide, we compared Binance vs Bybit side by side.
Let's not waste any time and let's get right into it. Below you will also find a table with an overview of the most important facts.
This table compares all key measures of Binance and Bybit, two of the largest crypto exchanges in the world
Bybit vs Binance Security and Regulations
First of all, Binance and Bybit both provide full proof of reserves to ensure full transparency. Both exchanges back up customer funds 1:1 which is a big deal.
Furthermore, both exchanges store 90% of customers' funds in secure cold storage which is offline and protected from hacks. Mentioning hacks, it is important to note that Binance did get hacked and $30 million was stolen. However, every customer received a full refund. Ever since nothing happened to Binance and the customers' funds always stayed safe. Bybit did not experience any hacks.
Where Binance takes the lead is a customer protection and security fund, called SAFU. This fund is now worth over $1 billion and reserved for the worst-case scenarios to cover customers' losses.
Bybit unfortunately does not have a security fund as of 2023.
Both exchanges seem equally secure as of 2023, but the security fund of Binance is a very big deal.
In terms of regulations, both exchanges are unregulated by the SEC, SICP, or FINRA. Also, both exchanges are not allowed to operate in the USA.
However, Binance is regulated in many European countries, including Sweden, Germany, the UK, France, Italy, Lithuania, Spain and more.
Unfortunately, Bybit seems to be a lot slower in terms of regulations and compliance. We could not find any official information about regulations and licenses.
Binance takes the lead in terms of regulations!
Bybit vs Binance Fees
Binance fees compared to Bybit fees is probably the most interesting part for active crypto traders.
First of all, both exchanges have fairly low fees compared to the competition.
Binance spot fees start at Level 1 with 0.1% for makers and takers, however, you can receive a 25% discount by holding the native Binance token, BNB. Based on your monthly trading volume, you can reduce your spot trading fees to as low as 0.02% and 0.04% at VIP 9 which requires a monthly trading volume of $4 billion.
Bybit has a similar structure on the spot market with 0.1% maker and taker fees for Level 1. Based on your trading volume, you can decrease your trading fees to 0.005% maker and 0.02% taker when reaching $60-100 million volume per month. This means that you need to trade less to receive a larger discount on Bybit compared to Binance.
Binance takes a rather small lead on the spot market when using the 25% BNB fee deduction feature for Regular Users! For big traders with billions in trading volume, Bybit takes a small lead.
Bybit Spot Fees: 0.1% maker, 0.1% taker
Binance Spot Fees: 0.1% maker, 0.1% taker
Having a look at the futures market, Binance fees start at 0.02% maker and 0.04% taker which is a very good rate compared to the industry standard of 0.02%0.06%. By holding BNB you can get an instant 10% fee discount on the futures market. Based on your trading volume you can reduce your fees to 0% maker and 0.017% taker at VIP 9 which requires a trading volume of $25 billion.
One Bybits futures market, the fees start at 0.02% maker and 0.055% taker. This might sound similar to the Binance fees, yet a 0.015% difference for taker fees is pretty big. At the Pro 3 Level, your fees will be reduced to 0% maker and 0.03% taker.
Bybit Futures Fees: 0.02% maker, 0.05% taker
Binance Futures Fees: 0.02% maker, 0.04% taker
Binance clearly takes the lead on the futures market! It is also important to note that over 70% of orders are taker orders where Binance beats Bybit by 33%.
As most trading activities happen on the futures market, Binance is the winner for the Fee section!
Check out the full Binance fee schedule here
Check out the full Bybit fee schedule here
Bybit vs Binance Trading Experience
Leverage Trading
Both exchanges are excellent leverage and margin trading platforms.
Bybit offers 100x leverage on major cryptos such as BTC and ETH. While Binance has a maximum of 125x leverage, unfortunately, Binance only offers leverage in certain areas due to regulations. Restricted areas where the leverage is reduced or not available at all are the UK, Germany, and France.
As more leverage does not necessarily mean better, there is no clear winner in terms of leverage.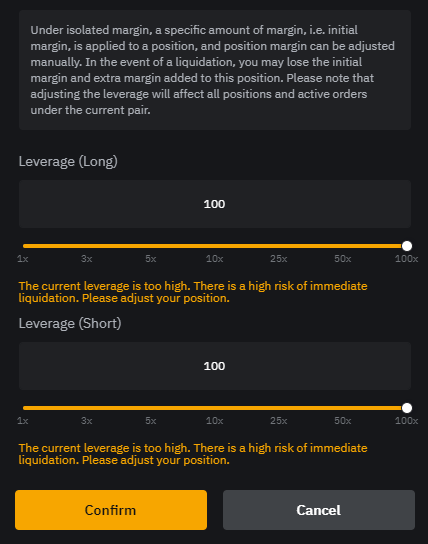 Number of Coins and Trading Pairs
Having a look at coins and trading pairs, both platforms are very similar.
On the spot market, Binance offers 386 coins and Bybit offers 389 coins. In terms of the user interface, both exchanges are fairly similar and both work very smoothly without any disruptions.
On the futures market, you can trade 259 pairs on Binance and 223 on Bybit.

Binance beats Bybit by 33 coins.
Volume and Liquidity
Binance is the largest crypto exchange, with $30 billion traded on a daily basis in 2023, peaking at over $100 billion during the last bull run.
In 2023 Bybit reaches a daily volume of $6-10 billion. This number is still great and places Bybit at rank 3 globally of all derivatives platforms. Yet, Binance takes the lead without a doubt as not just the volume is higher, also the liquidity is deeper. That means that even large orders won't move the price a lot.

Copy Trading
This is an interesting point as copy trading has really taken off in the last couple of years. As of 2023, Bybit is one of the top cryptocurrency copy trading platforms with a directly integrated copy trading platform.
Unfortunately, Binance requires a third-party application called "Tradewagon" to perform copy trading. That means Binance does not have copy trading integrated into its platform like Bybit has.
Bybit is the better choice for copy trading!
Bybit vs Binance KYC Requirements
Every regulated trading platform must require customers to verify their identity. Binance and Bybit are both committed to being legitimate exchanges and both require KYC.
Binance requires KYC for all activities. You can use your ID, Passport, or Driver's License to verify your identity on Binance. If you want to increase your withdrawal limit you can provide additional information for a higher KYC level.
Binance Level 1 verification requires personal information, your ID or Passport, and facial recognition for a video. Level 2 requires your proof of address.
You can read our full KYC guide for Binance here.
Bybit introduced mandatory KYC verification in May 2023. Bybit Level 1 verification requires your ID or Passport and a selfie, Level 2 requires your proof of address. Also, Bybit is not available in the US.
You can read our full KYC guide for Bybit here.
As both exchanges require KYC we got a draw here.
Bybit vs Binance Withdrawal Limits
Crypto Withdrawals
Binance has a 24-hour withdrawal limit of $8,000,000 worth of cryptos for personal accounts, no matter the verification level.
Bybit on the other hand lets you withdraw $1,000,000 worth of cryptos per day on Level 1 and $2,000,000 on Level 2.
The crypto withdrawal costs depend on the coin and network you choose, so that is individual and hard to compare.
Binance is the clear winner for crypto withdrawals
FIAT Withdrawals
Binance offers FIAT withdrawals worth $50,000 per day for Level 1 verification and $2,000,000 for Level 2 verification. If you want to receive higher withdrawal limits you have to request it manually in the Personal Verification section.
Lastly, Binance FIAT withdrawals in EUR and GBP are super cheap when using bank transfer with a fixed fee of 1€ and 1£. The average Binance FIAT withdrawal time is 1-3 days.
Bybit finally introduced FIAT withdrawals in late 2022. You can now pay out your profits in 8 different FIAT currencies, including USD, EUR, GBP, TRY, and more.
A big downside of Bybits FIAT withdrawals are the limits. You can only withdraw up to 18,000€ or $20,000 at a time which is not a lot compared to Binance. On the other hand, Bybit offers real-time transactions through "Advcash Wallet". Also, you can only withdraw up to $100,000 per month with Level 2 KYC, while Level 1 KYC is only $5,000 per month.
Binance clearly takes the lead in terms of Withdrawal Limits for cryptos and FIAT due to the high limits! Bybit offers instant withdrawals, but the limits are just too low, especially for big traders.
Bybit vs Binance FIAT Onramps and Direct Purchases
Crypto Purchases
Binance and Bybit both accept FIAT crypto purchases via bank transfer or credit card through third-party providers.
Binance offers direct crypto purchases via credit card in 40 different currencies. However, the fees seem to be quite high at almost 4%.
On Bybit you can purchase cryptos such as USDT, BTC, ETH, and more with 50 different FIAT currencies via credit cards, bank transfers, SEPA, and third-party providers such as Google Pay, ZEN, and Advcash. The fees are very low with a fixed fee of 1%.
Bybit seems to be the better option for direct crypto purchases. Not only do you receive more than on Binance due to the fee difference, but on top of that, you have many different payment methods you can choose from.
FIAT Onramps
On Binance you can onramp FIAT with 14 currencies via bank transfer, including EUR, GBP, AUD, RUB, TRY, PLN, and more. It is important to note that Binance does not offer USD FIAT onramps. You can even trade many major FIAT currencies against major cryptos such as EUR. GBP and USD against USDT, BTC, ETH, and more. No other exchange offers this feature.
Bybit accepts card payments for direct crypto purchases with 12 different FIAT currencies, including USD, EUR, GBP, RUB, and more. However, Bybit does not support FIAT trading except for EUR/USDT.
While both platforms offer FIAT onramps, Binance takes the lead due to the FIAT trading opportunities.
Bybit vs Binance Earning and Staking
Both platforms offer staking, mining, and other earning products. However, when comparing both platforms side by side, you will quickly notice that Binance offers a much more comprehensive repertoire of earn products. In fact, Binance offers so many earning products that we have no chance of covering all of them in this comparison. Binance easily wins the point for earning and staking!
Bybit vs Binance Crypto Debit Card
One great thing about both platforms is their debit card which you can use for payments.
Based on your monthly spending, you can enjoy up to 8% cashback with the Binance card! Furthermore, you can receive discounts when holding the BNB token. Bybit also has a debit card, but the offer is not as good as Binance.
Bybit vs Binance Mobile and Desktop Application
Both platforms offer a comprehensive mobile application for iOs, Android, and Windows phones. When testing both mobile apps side by side, we noticed that Bybit is a lot faster and encounters fewer lags or network issues.
If you trade a lot from your phone, Bybit is definitely right for you!
If you are on your computer, Bybit is only available on your internet browser. The web version is quite stable, but not quite as fast and reliable as Binance.
Binance does not only offer a web version but also a standalone desktop application for Windows, macOS, and Linux, which is absolutely amazing. The application is very stable and we did not encounter any issues with it. We highly recommend downloading the Binance standalone application for the best trading experience.
So if you are mostly trading from your PC or laptop, Binance is the way to go!
Bybit vs Binance Account Security
On both exchanges, you have the same options to secure your account. These are:
2FA (Google Authenticator)
SMS verification
Email verification
Anti-phishing code
Withdrawal code
Biometrics (for mobile)
These features are industry standard and you should consider setting everything up on your Bybit and Binance account to have the highest level of protection and security.
Bybit vs Binance Customer Support
Both platforms offer 24/7 customer support through live chat, however, we noticed that Binance takes longer to reply and is not as helpful as the Bybit support.
Binance would often open tickets which would then be solved through email. Eventually, every issue was solved by the Binance support staff, but it just took longer than the Bybit support.
Bybit on the other hand replies on average in just 1-2 minutes and always has a helpful solution to all of the problems.
The only tricky thing on Bybit is understanding how to receive real human support instead of a chatbot. If you want to talk to a Bybit representative, you must write "Connect me to a real person".
As Bybit usually resolves queries faster than Binance, the point goes to Bybit.
Conclusion – Bybit vs Binance
Overall, Binance is superior choice. It is the most comprehensive cryptocurrency exchange, hence being the market leader in the crypto space. With lower fees, more coins, and higher withdrawal limits, Binance takes care of its customers' needs very well. If you want to learn more about Binance, you can read our full review here. Binance also offers better value for money compared to Bybit.
Although Bybit came out in second place in this comparison, the platform should not be underestimated. There is a reason Bybit quickly became the top 3 crypto exchange in the world and it is still one of the best choices for traders.
Where Bybit really stands out is its user-friendly design. If you want to learn more about Bybit, you can read our full review here.
At the end of the day, the most important thing is that you feel happy and safe on the crypto exchange that you are trading on. We highly recommend you try both exchanges yourself, as both are brilliant choices and see which platform you prefer!
How did we make the Binance vs Bybit comparison?
Thorough testing of both platforms
Instead of reading other reviews and looking up what customers say, we actually tested Binance and Bybit to the full extent. We do not rely on third-party information but we are real traders and do the job ourselves. Not only was I one of the first customers of Binance as well as Bybit, but I have also stuck with both platforms throughout all of the years as both exchanges proved to be at the top of the game.
Side-by-side comparison
To make sure that the Bybit and Binance comparison is as accurate as possible, I have traded on both platforms simultaneously on two of my three screens. That way I can compare liquidity, order execution, reliability, and network stability in real-time.
Fully updated data
As exchanges make updates every other month, things can change quickly. One bad update and the whole platform can perform worse than before. This Bybit vs Binance comparison was written and updated in May 2023. Two years ago, Binance was actually less reliable and less stable, with many bugs and issues. Now, in 2023, Binance has almost the fastest and most reliable training platform out there.
FAQ
Which exchange is best for beginners?
Bybit seems to be best for beginners as it has a more user-friendly interface. Binance is the most comprehensive platform, thus it is much harder to navigate.
Which exchange should I choose?
There is no objective right answer to that. You must select the exchange that suits your needs. Binance and Bybit are both excellent choices with subtle differences. Consider which point is most important to you and make a fact and information-based decision. You can also try both exchanges and see which one you like most!
Which exchange has lower fees?
The default fees on Binance are lower. Binance fees are 0.02%/0.04% while Bybit fees are 0.02%/0.055%.
Do I need KYC verification on Bybit or Binance?
Bybit and Binance both require KYC verification to use their services.
Is Binance the same as Binance US?
No, Binance US is a separate entity, exclusively for US citizens. In this comparison, we only dive into Binance which is the global platform.
Can I use Bybit and Binance in the US?
No, users from the USA can not use Binance or Bybit. For US citizens, MEXC Global seems to be the best choice.