Are you stuck between picking from Kraken and Coinbase to leverage your growth in the crypto world? Since both Kraken and Coinbase are globally recognized crypto exchange platforms that have garnered significant attention, it can be hard to pick one.
Both platforms enable users to purchase cryptocurrencies using traditional fiat currencies like US dollars or Euros, catering to seasoned investors and newcomers alike.
Kraken boasts low fees and generous trading limits, making it a favorite among traders with varying activity levels. On the other hand, Coinbase is particularly popular among U.S.-based investors due to its user-friendly digital wallet and convenient funding options.
Now with so much to explore, which exchange would best fulfill your needs? In this article, we will explore the strengths and weaknesses of Kraken and Coinbase.
So without further ado, let's get started.
Overview of Kraken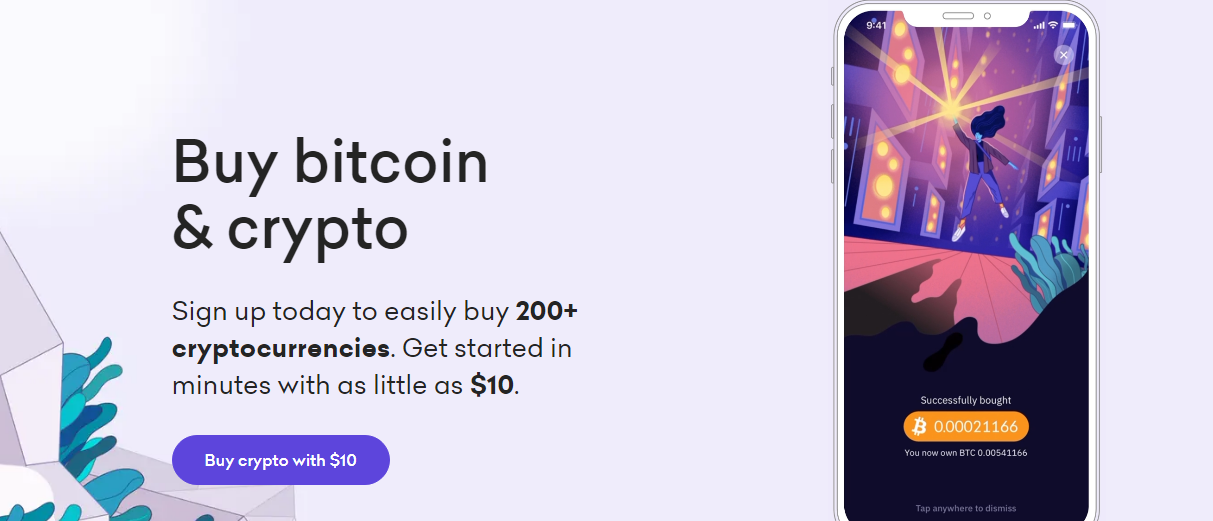 Source: Kraken
Kraken founder Jesse Powell worked at Mt. Gox in 2011, when the exchange encountered two big hacks that led to the loss of bitcoins. These incidents, which exposed the limited security measures of the popular exchange, brought significant uncertainty to the crypto world.
Motivated by this challenging situation, Jesse embarked on a mission to establish a secure cryptocurrency exchange that could rebuild trust and foster widespread acceptance of digital currencies.
As a result, Kraken was born, a crypto exchange that stressed security from the start, making strong efforts to prevent hackers from accessing the exchange. Ever since its emergence, Kraken has resisted hacking, making it one of the most reliable go-to cryptocurrency exchanges for fiat currencies like USD, EUR, JPY, and more.
Pros:
Kraken Pro has low fees.
Features 200+ cryptocurrencies.
Offers margin trading and futures.
Features two-factor authentication and cold storage.
Offers staking for specific cryptos
Cons:
Inaccessible in New York and Washington.
New investors may find the interface complex.
High costs for the "Instant Buy" platform.
Overview of Coinbase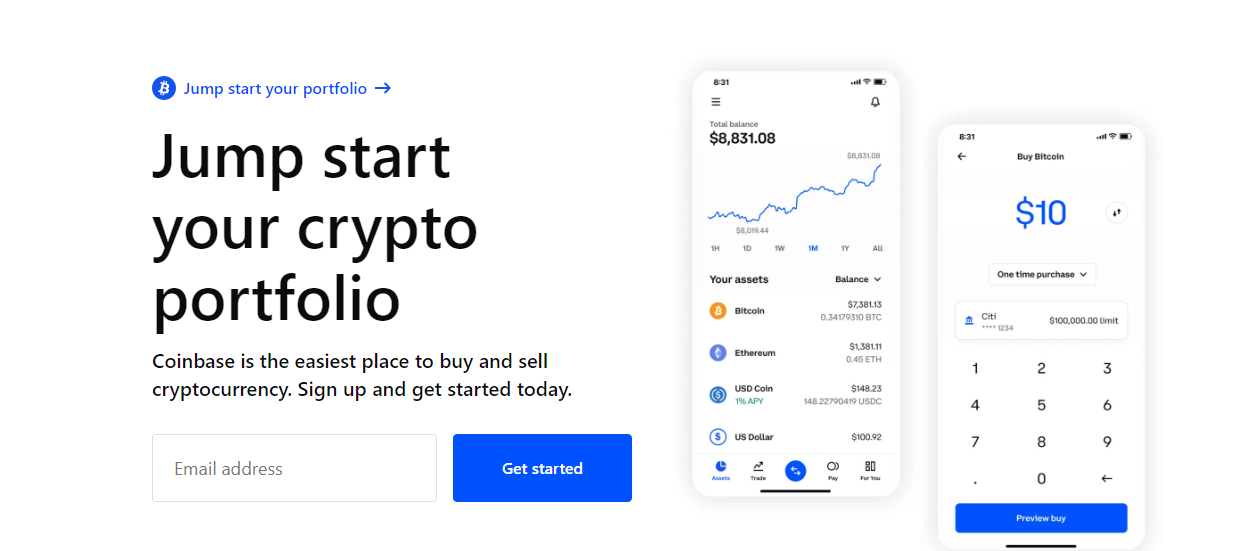 Source: Coinbase
During the same period when Jesse Powell was working on creating a secure exchange, the founders of Coinbase were also planning to establish a rival platform to Mt. Gox. However, Coinbase had a slightly different goal in mind. They aimed to build the most user-friendly cryptocurrency exchange available.
The Coinbase team designed the platform with a user experience similar to PayPal, making it easy for individuals to enter the world of cryptocurrencies without feeling overwhelmed by new technology.
By 2014, Coinbase had gained over one million users and was experiencing rapid growth. To date, the exchange has formed partnerships with well-known companies like Expedia, Dell, Time Inc, and PayPal, contributing to the adoption of Bitcoin payments.
Pros:
As a listed firm, Coinbase operates under severe US supervision.
Simple, beginner-friendly UI.
Two-factor authentication and cold storage.
Features a mobile app for trading and a wallet for crypto and NFT ownership.
Cons:
Higher fees than Kraken.
Accessibility to fewer cryptocurrencies than other exchanges
Not available in some countries
Kraken vs. Coinbase: How Are They Different?
| | | |
| --- | --- | --- |
| Platform | Kraken | Coinbase |
| Primary Features | Reduced costs, robust safety measures, and a wider selection of currencies | It's user-friendly, and even beginners can use PayPal to make purchases and sales. |
| Security Features | Security measures include two-factor authentication for withdrawal confirmation through email, SSL encryption, API key permission management, and air-gapped cold storage. | Insurance in case of a Coinbase hack, biometric fingerprint logins, two-factor authentication, and USD balance/funds in digital wallets are encrypted using AES-256 and are FDIC-insured. |
| No. Cryptocurrencies Supported | 97 | 120+ |
| Supported Transactions | Buy, sell, receive, send, futures trading, exchange, cryptowatch | Send, receive, buy, sell, exchange |
| Fees | Trading fees range from 0% to 0.26% (per trade), with credit card fees 3.75% + €0.25 and online banking/per transaction fee on the exchange being 1.70% + $0.10 | Transaction fees of 0.50% (per trade), with credit card fees of 3.99%, and online banking/per transaction fee on the exchange being 1.49%. |
Key Features of Kraken vs Coinbase
Each Bitcoin exchange caters to both experienced investors and newcomers. However, there are certain aspects of the most popular and trusted exchange platforms, like Kraken and Coinbase, that make them different from one another. It includes:
Wallet
Using a crypto wallet is vital for keeping your assets secure. Primarily because if you leave your crypto on exchanges, there's a risk of hacking or frozen accounts. But Coinbase and Kraken have different approaches to external wallets.
With Coinbase, you can use the Coinbase Wallet to store cryptocurrencies like Bitcoin, Bitcoin Cash, Litecoin, Ripple, Stellar Lumens, and NFTs. It's a safe place designed for ERC-20 tokens on Ethereum.
In contrast, Kraken is an exchange, not a wallet service. They suggest using external wallets for storage. You can transfer funds to a third-party wallet from Kraken. Moreover, they even review hardware wallets to help you find the best options. Kraken offers a corporate wallet for secure exchanges, but they don't provide a personal wallet service.
Availability
In terms of availability, Coinbase enables trading in over 100 countries, while Kraken supports trading in 176 countries. The availability and functionality of both platforms may vary depending on the user's location.
For example, Coinbase is not available to residents of Hawaii, whereas Kraken is inaccessible in New York and Washington.
Margin Trading
Kraken allows margin trading with leverage up to five times an industry average. On the other hand, Coinbase initially introduced this feature in early 2020, offering limited availability with three times leverage, but later disabled it by November 2020.
Mobile Apps
Coinbase's mobile app has received excellent ratings on iOS and Google Play devices. With this app, you can easily complete cryptocurrency transactions in just a matter of minutes. Additionally, Coinbase provides a Learn Center that offers a wealth of educational materials on various cryptocurrency topics.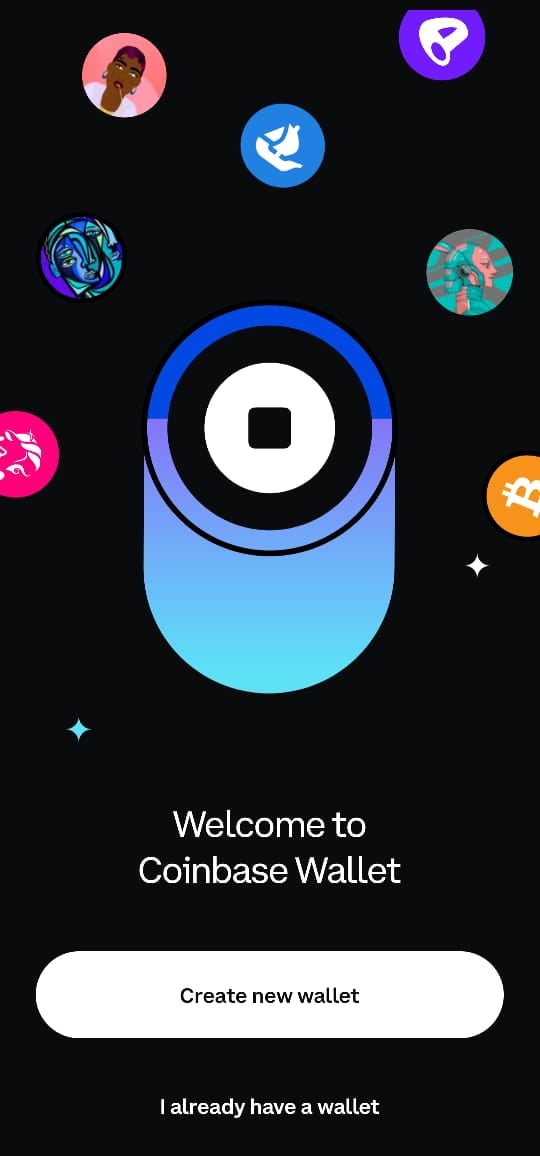 Source: Coinbase Mobile Wallet App
On the other hand, Kraken offers two different mobile apps for its Android and iOS users, including Kraken and Kraken Pro. While both these apps are free and offer extensive advanced features that make them a strong contenders to the Coinbase app, they are not accessible in Crimea, Luhansk, Donetsk, Cuba, Iran, North Korea, and Syria.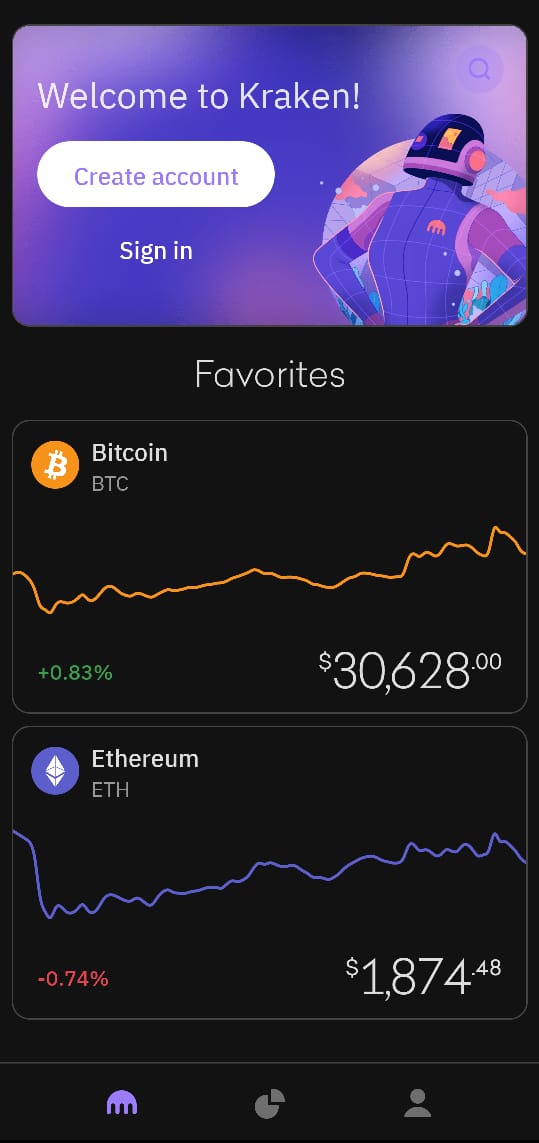 Source: Kraken Mobile App
Kraken vs Coinbase Supported Currencies
Both Kraken and Coinbase support a range of fiat currencies, including USD, EUR, CAD, AUD, GBP, CHF, and JPY. Regarding the number of cryptocurrencies available for trading, Coinbase offers over 120 options, while Kraken provides access to 97.
Having said that, both platforms have different offerings, allowing users to explore both to find the specific cryptocurrencies they are interested in.
For instance, Kraken offers cryptocurrencies like Flow (FLOW) and Icon (ICX), while Coinbase allows trading of Filecoin (FIL) and Yearn Finance (YFI). However, Tron (TRX) and Siacoin (SC) are unavailable on Coinbase.
In addition to Bitcoin, some of the popular cryptocurrencies supported by these exchange platforms include:
Bitcoin Cash (BCH)
Cardano (ADA)
Chainlink (LINK)
Litecoin (LTC)
Ethereum (ETH)
Kraken vs Coinbase Security Features
Security is a critical factor to consider when choosing a cryptocurrency exchange. Thankfully, both exchanges stand strong on their promise to offer the utmost security to their users.
Specifically, Kraken takes security seriously with 2FA and a global settings lock for added protection. The exchange is recognized for its security measures, ranking No. 2 on a reputable exchange security review site.
Furthermore, customer deposits on this exchange are kept safe, with 95% stored offline in secure cold storage units worldwide. Their servers have 24/7 surveillance and armed guards. Kraken's dedication to security was rewarded with the CSO50 Award in 2022 for its outstanding efforts.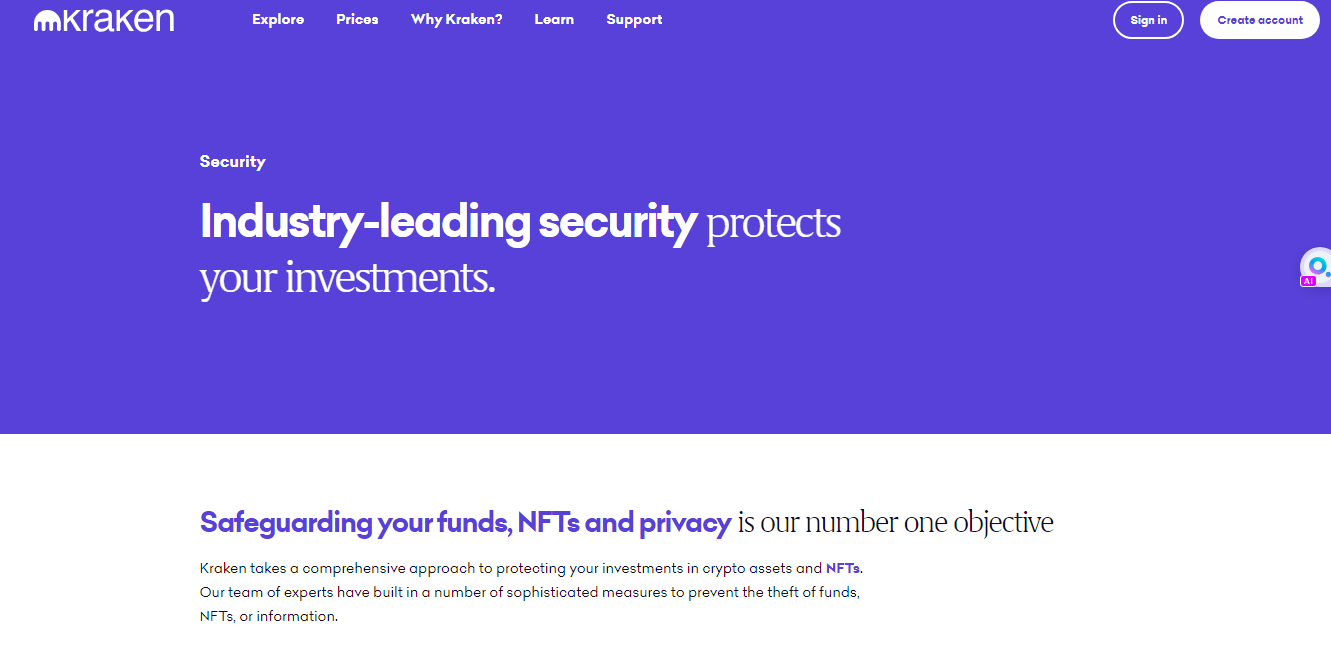 Contrary to Kraken, Coinbase prioritizes security by offering 2FA and storing digital assets in cold storage. This means most cryptocurrency funds on this exchange are kept offline in vaults and safe deposit boxes for enhanced protection.
Furthermore, the Coinbase wallet provides an added layer of security with fingerprint access. Moreover, they offer FDIC insurance for USD deposits up to $250,000, providing reassurance for users.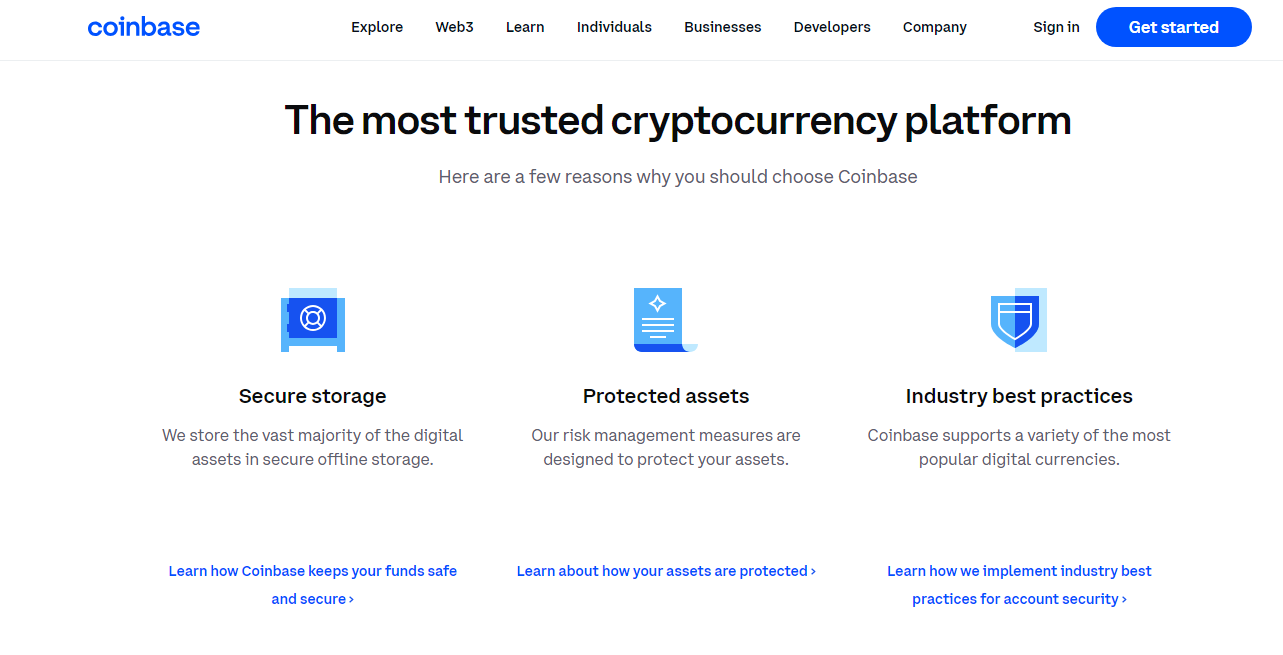 Kraken vs Coinbase Fees
Kraken and Coinbase have notable differences in their transaction fee structures. Standing out with its low maker-taker fees, Kraken is among the most competitive in the industry.
On the other hand, Coinbase's maker-taker fees are nearly double, reaching a maximum of 0.50% compared to Kraken's 0.26%.
Let's delve into the specifics of how the fee plans of these exchanges differ from each other:
| | | |
| --- | --- | --- |
| Platform | Kraken | Coinbase |
| Bank Account Fee | $0 to $10 | 1.49% |
| Wallet Fee | Free (no fee applied) | 1.49% |
| Credit/Debit Cards Fee | 3.75% + €0.25 | 3.99% |
| Wire Transfer Fee | Free for up to $10 deposit, and $4 for up to $35 withdrawal | $10 deposit, $25 withdrawal |
| Crypto Conversion Fee | Based on the conversion volume | 0.50% |
| ACH Transfer Fee | 0.50% + 0.9% to 1.5% | Free (no fee applied) |
| Trading Fee | 0% to 0.26% (based on the user's rolling 30-day volume) | 0% to 0.50% |
| Purchasing Fee | 0% to 0.26% | 0% to 0.50% |
| Extra Fee | Doesn't Apply | May Apply |
Kraken vs Coinbase User-Experience
Both Kraken and Coinbase offer excellent user experiences across desktop and mobile platforms. Kraken's platform stands out with its robust security measures, making it an attractive choice for investors dealing with substantial sums. However, these additional security precautions can be time-consuming for users seeking a quick trading setup.
In contrast, Coinbase excels in providing a seamless and efficient onboarding process. Its user-friendly interface and simplified trading features appeal to inexperienced investors who want to start trading promptly.
With Coinbase, new users can initiate trading by verifying their phone numbers. By completing additional verification steps, users can unlock higher account levels and access increased limits.
Kraken vs Coinbase Stand-Out Features
Kraken offers an extra trading platform called Cryptowatch, allowing users to trade across multiple exchanges. One of the exchanges available on Cryptowatch is Coinbase Pro, accessible through its web-based portal.
Alongside Coinbase Pro and Kraken, Cryptowatch users can trade on other exchanges like Bitfinex, Bitstamp, Poloniex, Bittrex, Binance, and HitBTC using their account API keys.
Coinbase's notable feature is its simplified approach to making buying, storing, and selling Bitcoin accessible for users. Although it has higher fees compared to Kraken or even Coinbase Pro, the level of ease and simplicity offered by Coinbase's base brokerage platform is unmatched.
Kraken vs Coinbase Result: Final Verdict
All in all, when it comes to Kraken vs. Coinbase, it all boils down to what you need. So if you're new to cryptocurrencies, Coinbase is the way to go. But if you're a trader looking for advanced features and lower fees, Kraken is better than Coinbase Pro.
By considering the standout features of each platform, you can easily pick which one is best for you. So go ahead, pick the ideal exchange as per your needs, and make the most of it!