Bitfinex, renowned for its low transaction fees, is often hailed as one of the top cryptocurrency exchanges that supports a wide range of coins worldwide. However, its association with the Tether stablecoin has attracted regulatory scrutiny. While Bitfinex's competitive fees are advantageous, its checkered past may discourage certain customers.

In this Bitfinex Review 2023, we aim to provide readers with a comprehensive analysis of the platform's features, benefits, drawbacks, and security measures. By exploring Bitfinex's range of products and services, traders can assess its suitability based on their specific needs and risk tolerance.
Join us as we delve into the intricacies of Bitfinex, shedding light on its prominent position in the crypto exchange market.
Bitfinex Overview
| | |
| --- | --- |
| Website: | https://www.bitfinex.com/ |
| Exchange Owner: | iFinex Inc. |
| Headquarters Country: | Hongkong |
| Foundation Year: | 2012 |
| Mobile App Trading: | Available |
| Minimum Deposit: | 10,000 for USD/EUR/GBP; 1,000,000 for JPY; 75,000 for CNH |
| Deposit/Withdrawal Fees: | Fees vary |
| Supported Crypto Assets: | 150+ |
| Trading Pairs: | 300+ |
| Maximum Leverage: | 100x |
| Accepts US clients: | No |
Bitfinex Pros
In this Bitfinex Review 2023 section, we will highlight the strengths of Bitfinex that make it a popular choice among traders.
Wide Range of Cryptocurrencies: Bitfinex offers a diverse selection of over 150 different cryptocurrencies for trading. This extensive range allows users to access a variety of popular and emerging digital assets, providing ample opportunities for diversification and investment.
Fiat Currency Support: Unlike some exchanges that only support crypto-to-crypto trading, Bitfinex allows users to deposit and trade with fiat currency. This feature is beneficial for those who prefer to trade using traditional currencies like USD, EUR, or JPY, providing greater convenience and accessibility.
Advanced Trading Features: Bitfinex offers a range of advanced trading features designed to cater to the needs of both casual and professional traders. These include options such as margin trading, limit orders, stop orders, and more. These features empower traders to implement various strategies and take advantage of market opportunities.
Competitive and Low Fees: Bitfinex is known for its competitive fee structure, offering relatively low trading fees compared to many other cryptocurrency exchanges. This can be especially advantageous for frequent traders or those engaging in high-volume transactions, as lower fees can contribute to improved profitability.
Bitfinex Cons
Although Bitfinex has many benefits, it is essential to recognize that it, like all platforms, has its drawbacks.
Restricted Access for US Customers: It's important to note that Bitfinex is not available to customers from the United States. This limitation can be a significant drawback for US-based traders who are seeking to use the platform for cryptocurrency trading.
Regulatory Failures in the Past: Bitfinex's compliance and openness have been called into question due to regulatory problems and claims of misleading activities.
Trading on Bitfinex Exchange
Bitfinex offers a comprehensive suite of trading features that cater to the needs of both beginner and experienced traders. Some of the notable trading features include:
Spot Trading
Bitfinex has the most liquid order book in the world, which is essential for traders looking for a tight spread. Bitfinex offers traders a wide variety of order types, including limit, market, stop, stop-limit, trailing stop, fill or kill, and scaled orders, in addition to a sophisticated and adaptable graphical user interface and more than 300 trading pairings such as:
BTCUSD
EURUSDT
ETHGBP
JPYUSD
XRPUSD
OMGETH
Additionally, based on the data from CoinMarketCap, Bitfinex boasts a substantial 24-hour trading volume of $59,456,508.19, reflecting its active presence and participation in the cryptocurrency market.
Margin Trading and Funding
Bitfinex stands out with its robust margin trading and lending capabilities. Traders can leverage up to 10x and tap into the P2P margin funding market to secure additional funds. With margin funding, users can earn interest on both fiat currencies and digital assets while providing liquidity to traders seeking leverage. Here are some crypto assets Bitfinex supports:
BTC
ETH
XRP
EOS
XVG
LTC
ADA
XLM
SPANK
INT
TKN
MLN
DAI
MTN
UTNP
ETP
Customizable rates and durations, along with the convenient 'Auto-Renew' feature, ensure a flexible and seamless experience for traders. Whether it's margin trading or margin funding, Bitfinex empowers users to maximize their trading potential and explore lucrative opportunities in the market.
Derivatives
Bitfinex offers derivatives trading, enabling traders to speculate on asset prices without the need for physical ownership. By collateralizing their USDT holdings, traders can easily execute trades and participate in the derivative market, exploring diverse investment opportunities and managing risk efficiently. The maximum leverage on the derivatives market is 100x.
Securities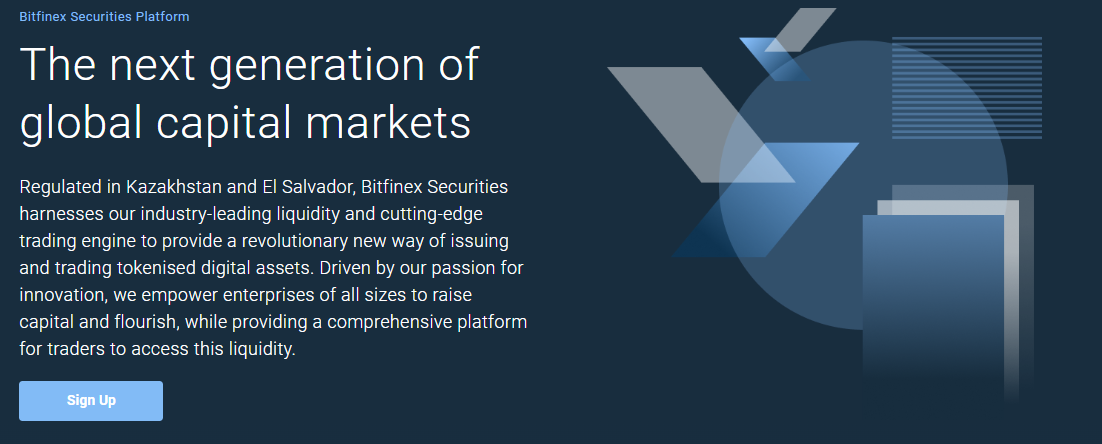 Bitfinex Securities is a cutting-edge platform that operates around the clock, 365 days a year, with a critical objective of facilitating capital raising for previously underserved companies. The platform also aims to broaden investor access to innovative financial products, such as blockchain-based equities and bonds.
Paper Trading
Bitfinex features a useful paper trading simulator that allows you to test and forecast the performance of your virtual investments in the market, providing a risk-free environment. By using simulated trading, you can gain valuable insights into market dynamics and make informed investment decisions to maximize your organization's profitability.
Bitfinex Fees
The fees that traders on Bitfinex must pay are as follows:
Trading Fees
Bitfinex operates on a taker-maker fee structure, with trading fees starting at 0.2% for takers. However, makers enjoy discounted fees of 0.10% and can even have fees as low as 0%. Large OTC orders have no trading fees. Additionally, frequent traders can earn fee discounts and rewards for their trading activity.

Deposit and Withdrawal Fees
Bitfinex charges a fixed fee of 0.1% for deposits made via bank transfers, while cryptocurrency deposits incur nominal fees based on the specific coin. Withdrawal fees include a fixed rate of 0.1% for bank transfers, but faster withdrawals may incur fees exceeding 1%. For BTC withdrawals, a fee of 0.0004 BTC is charged.
Bitfinex Services
Bitfinex offers a range of services to its clients, including:
Staking

Bitfinex offers a convenient soft-staking program that enables you to effortlessly earn rewards by holding your digital tokens. With staking rewards reaching up to 8% per year, it presents an attractive opportunity for token holders. Supported tokens include popular cryptocurrencies like:
Ethereum (ETH)
Cardano (ADA)
Polkadot (DOT)
Tron (TRX)
Tezos (XTZ)
Bitfinex Honey
The Honey Framework feature allows users to design their own workflows, which can then be used to automate operations in response to external events. Users may construct strategies and activate actions quickly and easily because of the drag-and-drop interface and lack of coding requirements.
Bitfinex Alpha
Bitfinex Alpha is an all-inclusive platform that offers cutting-edge data, research, and analysis from prestigious institutions and organizations. Bitfinex Alpha is a resource for learning more about the cryptocurrency markets, on-chain signals, blockchain innovation, and macro-drivers. Bitfinex Alpha provides in-depth analysis on more than fifty different topics, sent straight to your inbox.

Bitfinex Borrow
Bitfinex Borrow gives its customers access to the many benefits of P2P lending, including its transparency, lucrative rewards, and adaptability of terms.

However, in order to borrow money using the site, you'll need to be eligible and adequately handle the risks involved. You can borrow up to $250,000, the maximum allowed by law, based on the value of the collateral you provide. To calculate the potential loan amount and understand the minimum margin requirements, you can utilize Bitfinex's Loan Calculator.
Bitfinex Pay
Bitfinex Pay is a user-friendly widget that enables seamless acceptance of cryptocurrency payments. With a straightforward setup process, it opens doors to the vast world of digital currencies and their limitless potential. By utilizing Bitfinex Pay, users can enjoy the advantage of zero processing fees.
Desktop Version
Bitfinex does not offer the popular MetaTrader 4 (MT4), MetaTrader 5 (MT5), or cTrader trading platforms.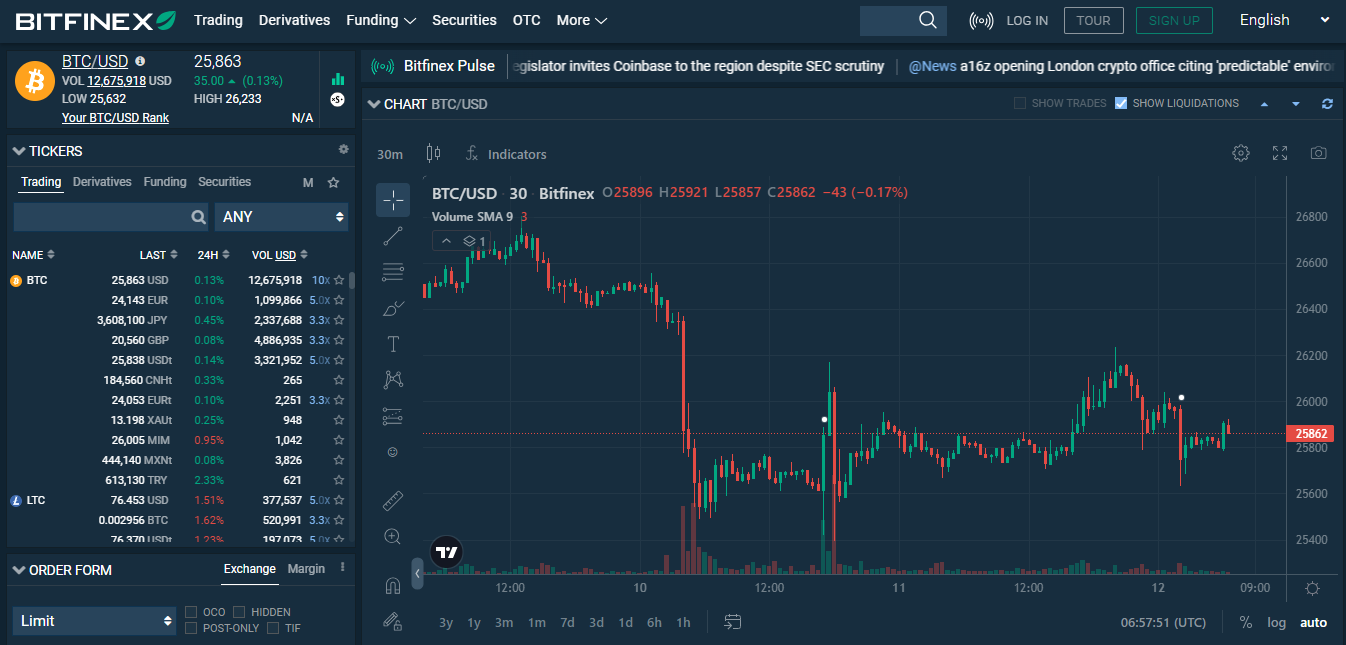 Instead, it provides its custom trading platform that has been developed and tested in-house. This proprietary Bitfinex trading platform enables traders to effectively monitor their portfolios and stay updated on the current market conditions. Additionally, it offers valuable features such as trade idea generation and seamless order placement to facilitate efficient trading activities.
Bitfinex Mobile App
Bitfinex offers a mobile app for Android and iOS devices, enabling users to trade, transfer funds, access their wallets, participate in margin funding, and set up API key access. However, due to the inherent security risks associated with mobile platforms, it is advisable to conduct significant value trading on a secure desktop or laptop.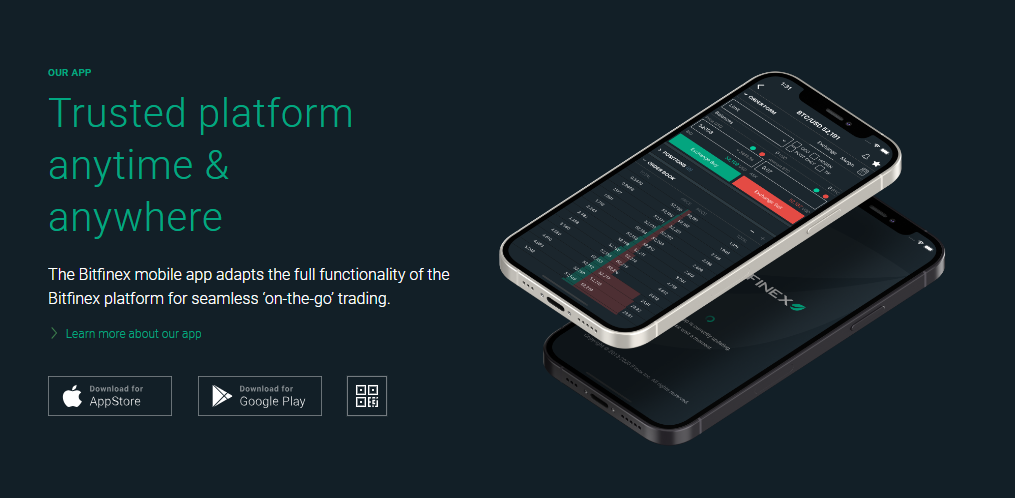 Credit Card
Bitfinex offers instant Bitcoin purchases using your credit card, providing a seamless experience. Additionally, you can buy Tether, Tether Gold, Tezos, TRON, Ethereum, and other ERC20 tokens with a minimum purchase of $25, using your debit or credit card. Accepted payment methods include Visa, Mastercard, UnionPay, and debit cards, making the process as simple as online shopping.
Affiliate Program
The commission structure of the Bitfinex Affiliate Program sets it apart from similar crypto affiliate programs. By referring others to Bitfinex, you can earn a percentage of the trading and margin funding fees from up to three levels within your referral network. You have the potential to earn 18% on the direct level, 6% on the first level, and 2% on the second level.
Bug Bounty
Bitfinex offers the Bitfinex Bug Bounty Rewards program, inviting users to actively search for bugs, report them, and receive rewards. By fostering relationships with security researchers and promoting security research, Bitfinex aims to fulfill its mission of providing the most advanced, secure, and trusted trading platform for digital tokens.
Bitfinex Security
Bitfinex prioritizes security by storing 99.5% of client funds in cold storage, with only 0.5% in hot wallets for liquidity. The cold storage system is geographically distributed and utilizes multi-sig technology.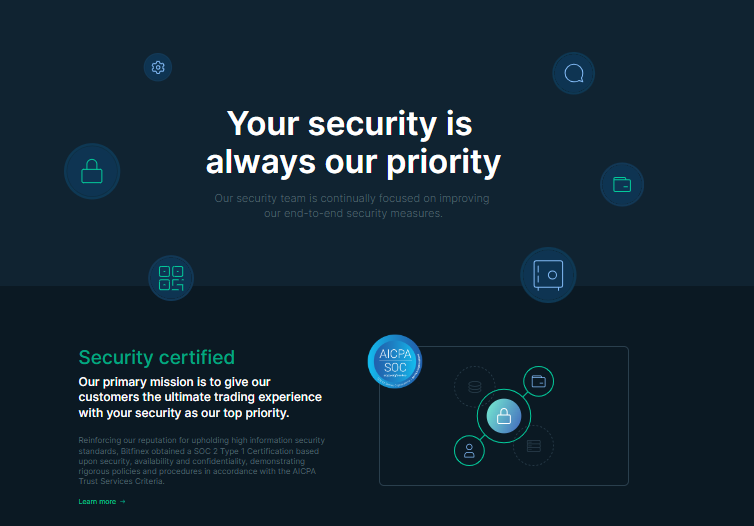 Traders are required to undergo a two-level authentication process for login and withdrawals, including Two-factor authentication (2FA) and Universal 2nd Factor (U2F) with a physical security key. These measures enhance the protection of user accounts and funds on the exchange.
Bitfinex Customer Support
Bitfinex offers 24/7 customer support exclusively through email, which is a significant limitation. However, the exchange strives to address traders' concerns within a maximum of 12 hours. While a Telegram channel exists for general compliance inquiries, account-specific queries must be submitted through the official support ticket system to ensure security.
It's important to note that Bitfinex does not engage in private messaging, and traders should exercise caution by refraining from sharing passwords with anyone requesting them.
Conclusion
In conclusion, this Bitfinex Review 2023 affirms that Bitfinex is a legitimate crypto exchange worth considering. Experienced traders with diverse crypto portfolios and industry knowledge will find Bitfinex to be a great option. It offers competitive fees, a wide range of financial and analytical tools and maintains a high level of security.
However, if you are a beginner and new to crypto trading, there may be better options available for you. It is recommended to explore other exchanges, particularly those with no fee structures. Take a look at our list of best no-fee crypto exchanges for suitable alternatives, including the MEXC crypto brokerage.
FAQ
Is Bitfinex like Binance?
Yes, Bitfinex is like Binance since they both provide the buying, selling, and trading of numerous cryptocurrencies and use their own internal token.
Is Bitfinex available to anyone in the US?
Bitfinex is no longer available to users in the US as a result of a policy shift made by the trading platform in order to prioritize their other consumers.
How long does it take to withdraw funds from Bitfinex?
Bitfinex has a maximum withdrawal processing time of 12 hours, while the average withdrawal time is less than 2 hours.
Does Bitfinex require KYC verification?
Yes, Bitfinex requires you to verify your identity. Otherwise you can not trade or withdraw.