As a pioneer in the digital asset trading realm, Bitfinex has stood at the forefront of the cryptocurrency trading surge since its establishment in 2012.
Evolving with the industry's dynamic landscape, Bitfinex has fostered partnerships with key industry players, ensuring an unparalleled trading experience.
However, circumstances change, and you might contemplate account deletion – whether due to shifting trading habits, dissatisfaction with features, or security concerns.
Follow the steps below for a seamless account deletion process.
How To Delete Bitfinex Account
If you've decided to part ways with your Bitfinex account, follow these steps to ensure a smooth and permanent deletion process.
Here's a comprehensive guide to help you quickly navigate the steps.
Step 1: Access Account Settings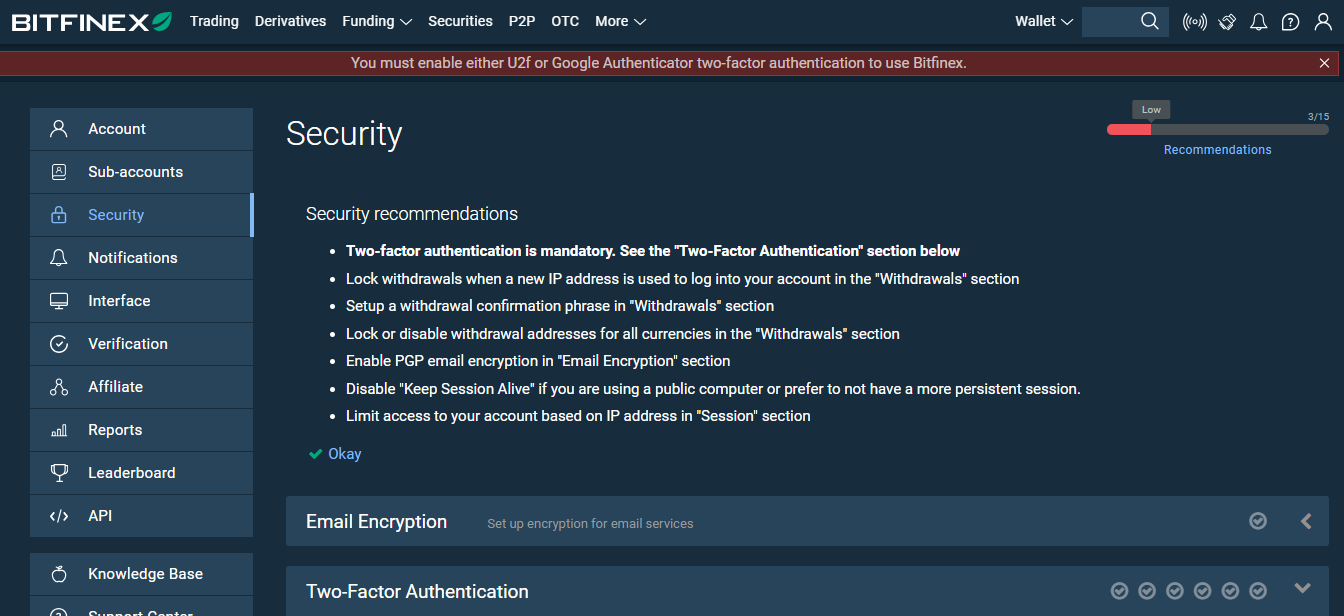 To initiate the account deletion process, log into your Bitfinex account. Once logged in, locate and click the "Account Settings" option.
This option is in the upper right corner of the Bitfinex website's menu.
Step 2: Deactivate Your Account

Upon accessing the Account Settings, you'll be directed to a page displaying various details about your account. Scroll down to find the "Account status" option at the bottom of the page.
Here, you'll have the opportunity to take the crucial step. Change your account status to 'Deactivate' in the bottom right corner.
Step 3: Confirm Your Decision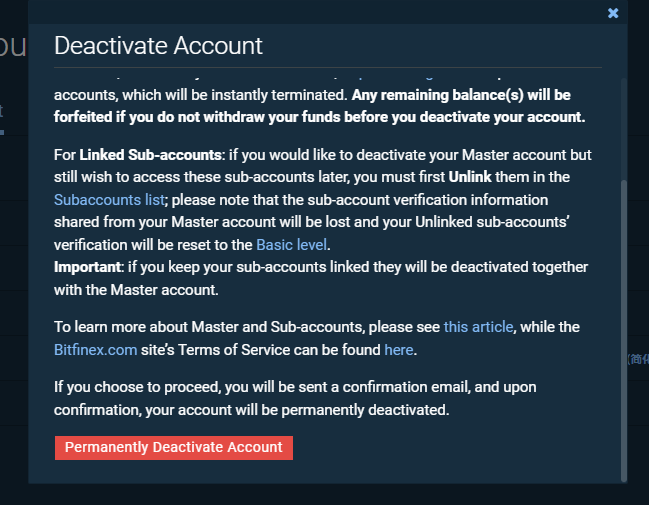 A confirmation pop-up will appear as you near the final steps, validating your choice. It's imperative to take a moment to ensure this decision aligns with your intentions.
Once confident, click the confirmation prompt. Subsequently, you will receive a confirmation email confirming your account deactivation.
Step 4:Final Confirmation
Access your email and locate the confirmation message to solidify the deletion process. You will find a "Permanently Deactivate Account" button in the email.
By clicking this button, you will log out of your Bitfinex account and permanently erase your presence from the platform.
Things To Know Before Deleting Bitfinex Account
Before deleting your Bitfinex account, being well-informed about a few crucial aspects is imperative. Ensuring a seamless process requires careful consideration:
Open Orders: Verify that no active orders remain on your account. Cancel any available orders to prevent unexpected transactions.
Trading Positions: Ensure all trading positions are closed. Clearing active trades guarantees a clean exit from the platform.
Pending Funding Offers: Confirm the absence of any pending funding offers. Resolving these ensures a tidy departure.
Asset Transfer: Before account deletion, transfer all assets to a secure location. This safeguards your holdings during and after the account closure.
By addressing these key points, you ensure a smooth and responsible closure of your Bitfinex account, or any other crypto account, while safeguarding your investments.
Conclusion:
Remember, account deactivation is an irreversible step, carrying lasting consequences. Once your account is deactivated, the Bitfinex Support team cannot reactivate it. Therefore, it's vital to thoroughly assess your choices and consider all implications before proceeding.
Prior to making any final decisions, ensure you've withdrawn any necessary funds and resolved ongoing transactions. Bitfinex encourages users to engage directly with their support team for guidance and assistance, emphasizing the gravity of this permanent action. Your account's future rests in your hands, so choose wisely.