Pionex has become a prominent automated bot trading platform for cryptocurrencies since its launch in 2019, with over 1,000,000 users and a monthly trading volume surpassing 500 million.
However, circumstances may arise where users decide to part ways with the platform.
Whether it's a shift in investment strategy or a desire for a fresh start, deleting a Pionex account is straightforward.
In this article, we'll guide you through the steps to gracefully exit the Pionex ecosystem.
So let's get started.
What to Do Before Deleting Your Pionex Account
1. Closing Orders: Before initiating account deletion, close all existing orders on your account to facilitate the process and prevent any potential complications.
2. Withdraw funds: Your account's total balance must be below 10 USD for the deletion process to proceed successfully, ensuring a smooth transition.
How to Delete Pionex Account
Concluding your association with your Pionex account is a simple process.
If you've decided to bid farewell to your Pionex account, follow these steps to complete the closure process smoothly.
Step 1: Log into your Pionex Account
Access your Pionex account by entering your credentials on the login page. Ensure you provide accurate information to access your account successfully.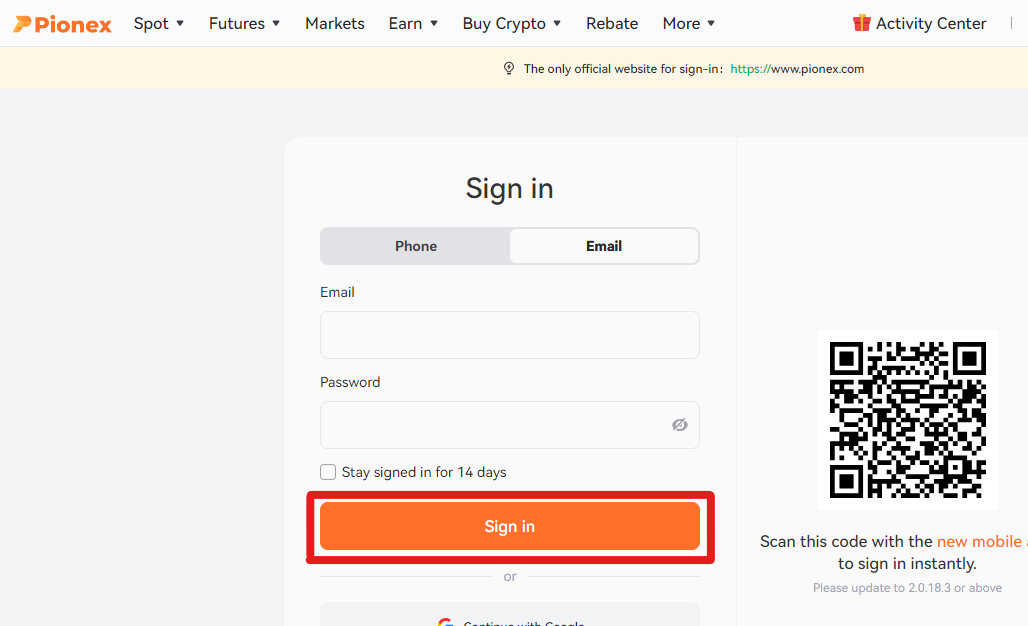 Step 2: Click on the Profile Icon
Once logged in, locate and click on the profile icon in the screen's top right corner. This will lead you to your account settings.

Step 3: Configure Security Settings
Navigate to the dropdown menu and select "Security" to access configuration options for your Pionex account.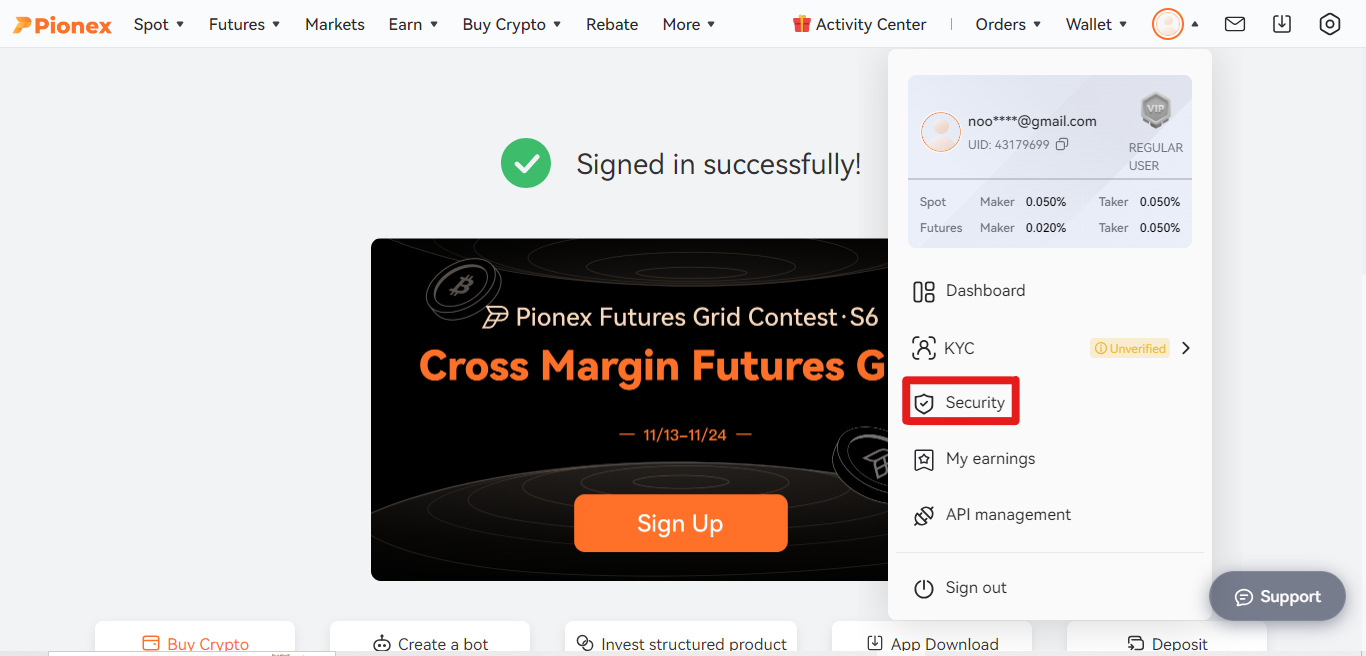 Step 4: Initiate Account Deletion
Scroll down until you reach the bottom of the page, where you'll find the "Delete Account" option. Click on it to kickstart the straightforward account deletion process.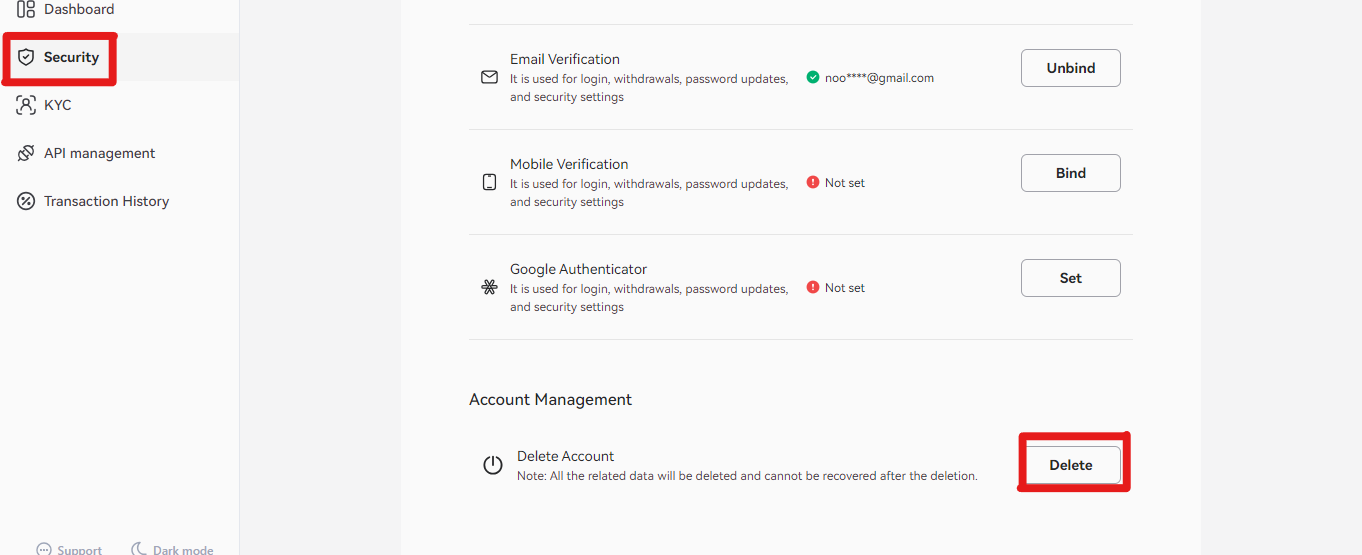 Step 5: Confirm Deletion Decision
Upon selecting "Delete Account," a confirmation prompt will appear. Affirm your decision to delete the account, ensuring a deliberate and secure process.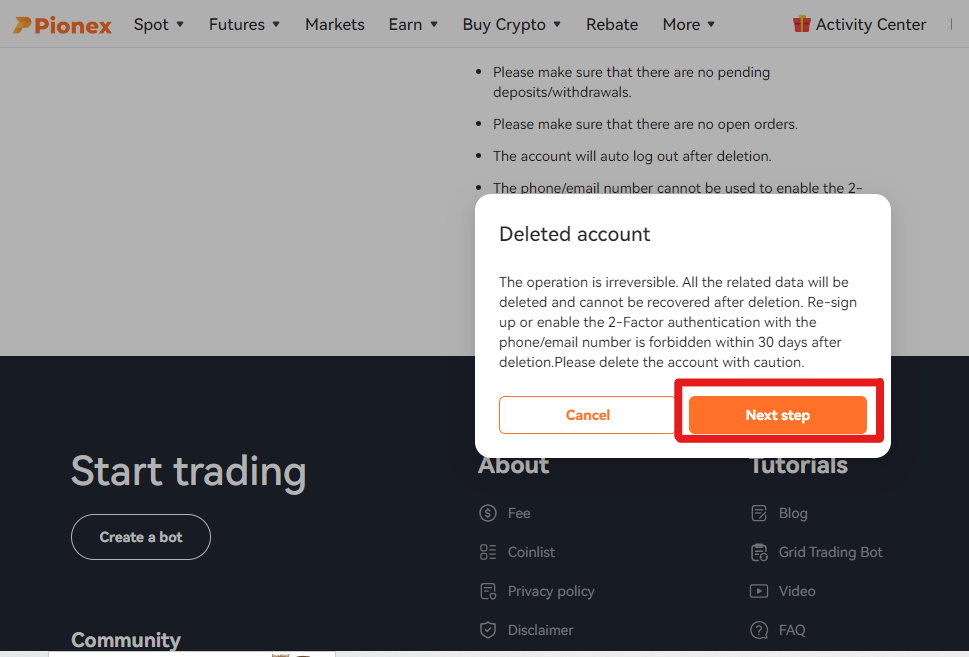 Step 6: Verify Identity with Code
Upon initiating account deletion, Pionex will dispatch a verification code to your registered email. Retrieve the code and enter it as prompted, confirming your identity seamlessly and securely.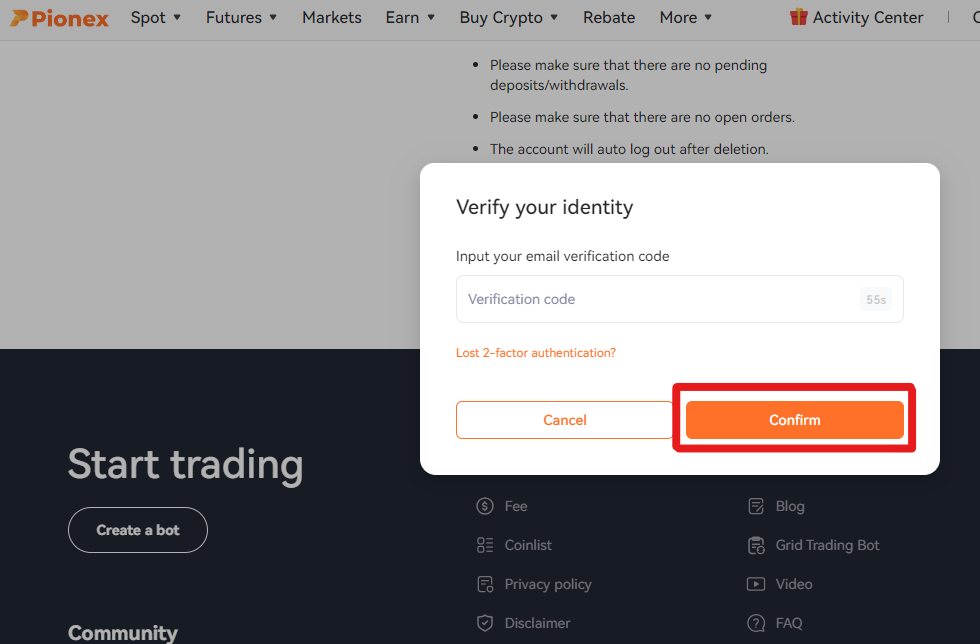 Step 7: Successfully Deleted
Once the verification code is accepted, your Pionex account will be successfully deleted. Ensure you've completed any necessary steps before finalizing the deletion.

Note: You can recover your account within 30 days of deletion.
Best Pionex Alternatives
Choosing MEXC and Bybit as alternatives to Pionex hinges on individual preferences and specific needs.
MEXC is a versatile platform suitable for advanced traders, offering a comprehensive range of services such as spot trades, margin trades, futures, perpetual contracts, copy trades, trading bots, lending, borrowing, and secure Web 3 wallets.
As one of the largest crypto exchanges, MEXC offers low fees of, deep liquidity, and a well-designed interface, making it an attractive choice for diverse and advanced trading options.
Conversely, Bybit excels in advanced trading features, particularly perpetual contracts and margin trading, making it a preferred platform for experienced traders seeking sophisticated tools.
Bybit's strong security measures and substantial liquidity make it appealing to professionals, while MEXC, with its low fees and user-friendly design, caters more to beginners and intermediate traders.
When choosing between MEXC and Bybit, assessing your trading expertise, desired features, and the complexity of your planned trades is crucial.
A thorough comparison of the platforms' offerings will help determine which aligns best with your trading goals and preferences.
Final Thoughts
Saying goodbye to your Pionex account is a simple process, just follow the steps provided to ensure a secure closure procedure.
Delve into exciting alternatives where MEXC delivers user-friendly simplicity and Bybit towers with advanced features—ensuring an exhilarating journey customized to each trader's desires.
Tailor your choice to match your skills and trading aspirations, making the transition smooth and exciting.