As financial knowledge becomes more accessible through social media, the number of forex traders is rising today. However, even when the list of forex trading platforms grows, only a few platforms make a name for themselves as reputable brokers.
Today, we'll closely examine one such broker, OANDA Corporation – a trusted global forex broker known for its easy-to-use trading platforms and powerful research tools.
This guide will cover everything, from the platform's features to the quality of its customer service. We'll explore whether Oanda ticks all the boxes for being one of the best forex brokers based on what we find.
So keep reading to learn what this much-hyped global forex broker offers.
Oanda Overall Thoughts on Exchange
Oanda Exchange is a regulated online forex broker making waves in the trading world. They offer various assets, from forex and CFDs to stock indices, bonds, commodities, and precious metals.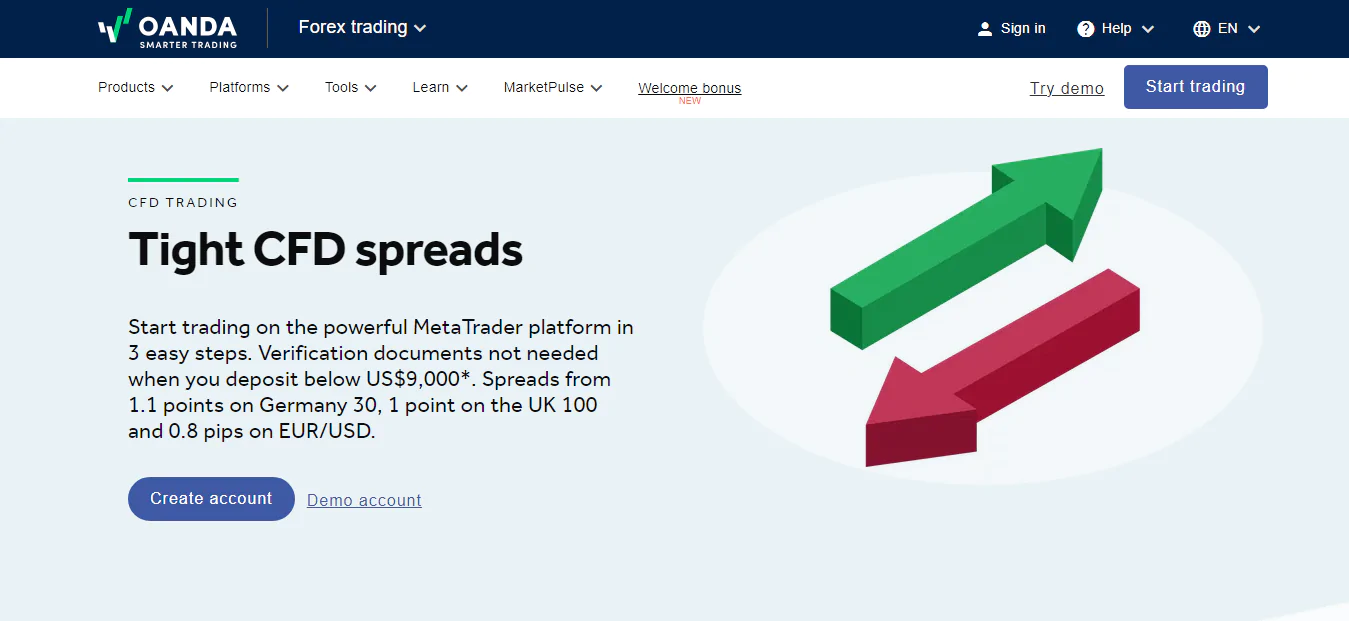 Source: Oanda Website
Their award-winning proprietary platforms and precise technical indicators help traders spot profitable opportunities like a pro, while their user-friendly website makes navigation a breeze.
But, like any platform, Oanda has its quirks. Their product portfolio is limited, mainly focusing on forex and CFDs (which isn't even available in the U.S.). Additionally, customer support is available 24/5, so you might have to wait outside those hours.
However, Oanda is a highly reputable and well-regulated broker, trusted by traders worldwide since 1996. Oanda is worth considering if you're ready to enter the exciting world of forex trading with a reliable broker.
Pros
Available to U.S. traders for forex trading.
Regulated in six Tier-1 jurisdictions, including NFA and FCA.
Highly rated mobile app for ease of use.
Excellent offering of research tools, news, and market analysis.
Access to TradingView platform and VPS services for MT4 hosting.
Options for algorithmic trading with Algo Labs.
Offers crypto CFDs in select jurisdictions where permitted.
Cons
No account protection for U.S. clients
A limited selection of trading instruments (only Forex and Crypto available)
High withdrawal fees for specific methods
Less number of base currencies are available
Oanda Services Offered
Analysis Tools
Oanda covers all the essential analysis tools for successful trading in the Tools and Strategies section. They have various technical analysis tools to help you predict market movements like a pro.
These tools are a game-changer when conducting forex research and crafting winning strategies. Whether you're a newbie or an expert, these analysis tools will guide you in making the right decisions.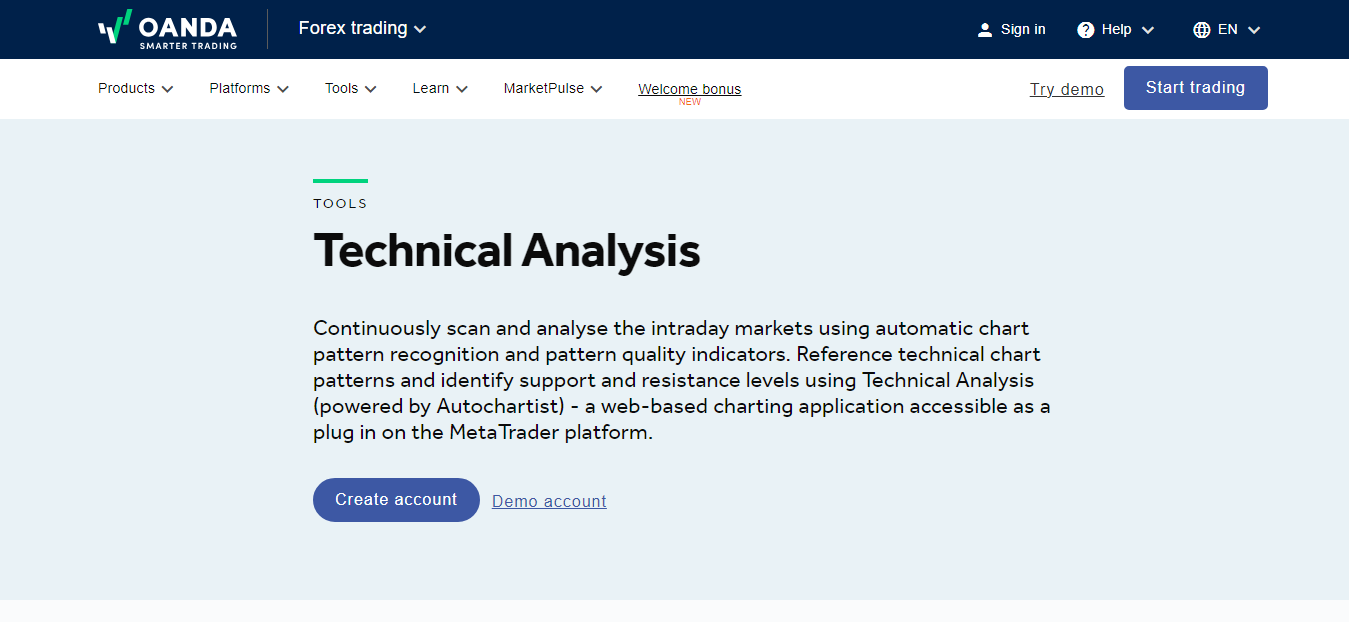 Source: Oanda Website
Plus, Oanda's market volatility analysis tool makes the research a breeze! Some such analysis tools offered by Oanda include news analysis, visual market data analysis, and coding languages.
Specifically, one of the popular analysis tools offered by Oanda's platform is Autochartist, one of the best technical analysis tools out there. It's a powerful tool that can elevate your trading game to the next level.
And that's not all – Oanda's got your back with their Trading Performance Portal too. This nifty tool, powered by Chasing Returns, analyzes your trading history, helping you identify your strengths and areas where you can improve.
So you can level up your trading patterns and become a pro in no time!
Mobile App
Investors and traders today seek convenience, and Oanda recognizes this need. That's why they offer a mobile app, making trading on-the-go a breeze. The app has undergone significant upgrades since its launch in 2010, now providing a faster and more user-friendly experience.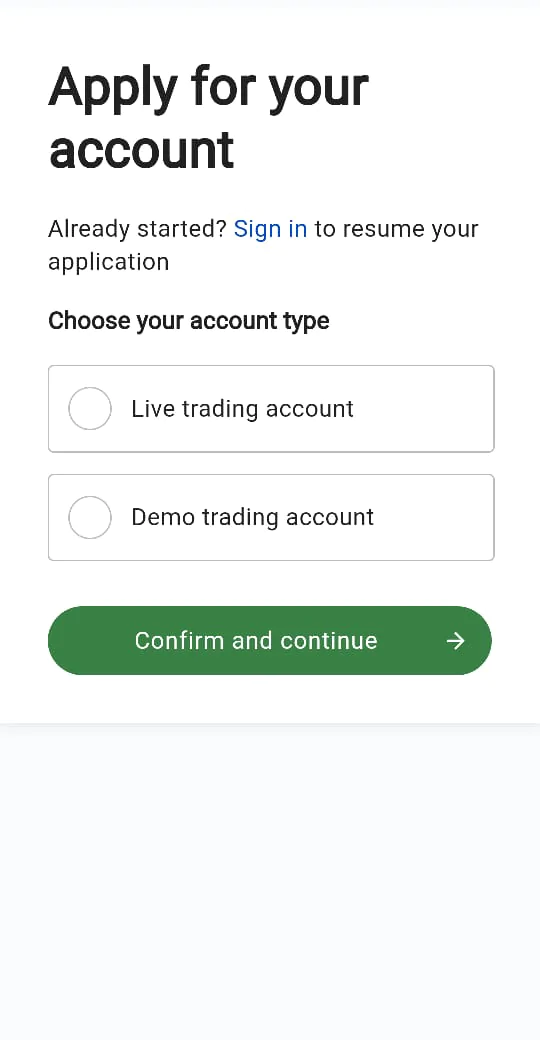 Source: Oanda Mobile Trading App Sign Up
The best part? The app is customizable! You can set your parameters and have essential data at your fingertips, such as units traded, risk levels, and favorite forex pairs. With alerts and signal notifications, you'll never miss a trading opportunity.
The mobile-centric design ensures a seamless experience tailored to your smartphone. Just download the app on iOS 11, 12, or later for iPhones or on Android Jelly Bean and above for Android devices, and you're all set to start trading anytime, anywhere.
Trading Tools
Besides the forex and crypto trading features, Oanda has much more to offer its users. One of the most popular features supported by the global forex trading broker is its trading tools in partnership with additional platforms developed by third-party experts.
You can access these platforms from Oanda's Marketplace. Here, you'll find the Seer Trading Platform, a nifty tool for creating and testing automated trading systems. It's all about the algorithms, baby!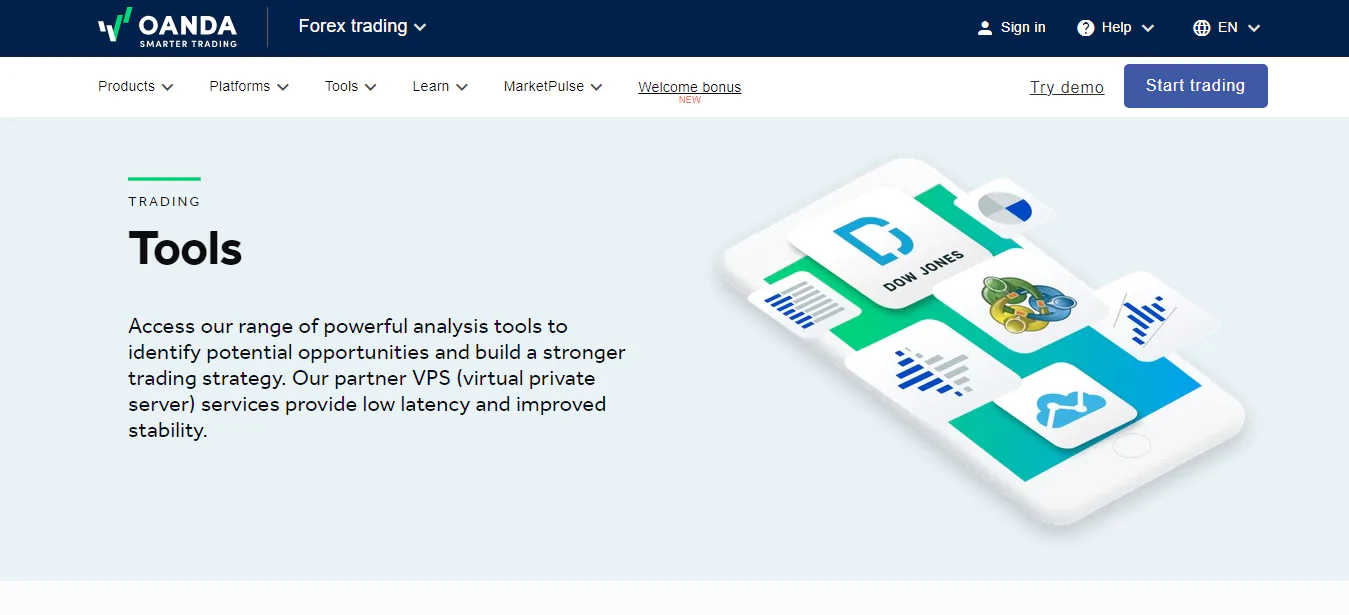 Source: Oanda Website
And if you're into charting platforms, Oanda connects with some of the best, like TradingView, NinjaTrader, MultiCharts, and MotiveWave. So you've got plenty of options to choose from!
Feeling all tech-savvy? Oanda's got your back here, too, with Algo Labs. Through this platform, you can tinker with Python and C# APIs to maximize your trading activities on Oanda.
Oanda Deposits and Withdrawals
Depositing funds on the Oanda platform is a breeze, but let's discuss options. In the U.S., you can use bank transfers, wire transfers, Visa, Mastercard Debit/Credit cards, Neteller, and Skrill. Good news—there's no charge for depositing money!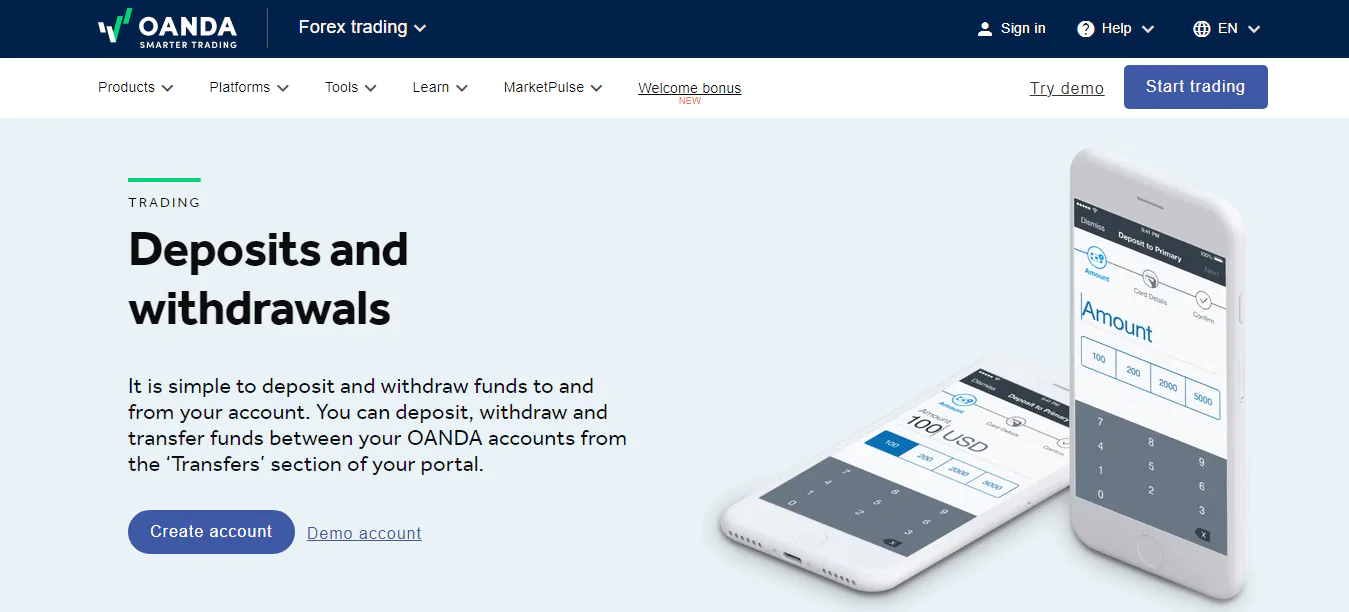 Source: Oanda Website
Furthermore, there is no deposit limit on any account you choose to make on the Oanda Exchange, making it possible to even start trading with $1.
But, and there's a but, if you decide to withdraw through a bank, hold on to your hat, as they hit you with a hefty $20 fee. This fee is extremely high compared to our top picks of crypto trading platforms like Bybit.
However, if you opt for other withdrawal methods, like Neteller or Skrill, you can skip the withdrawal fee there.
Educational Material
Oanda offers diverse and high-quality educational resources for traders of all levels without cost. You can access informative articles, charts, and educational videos to learn about the platform and trading basics.
They even have live webinars on various subjects, including market analysis, and offer client education in multiple languages.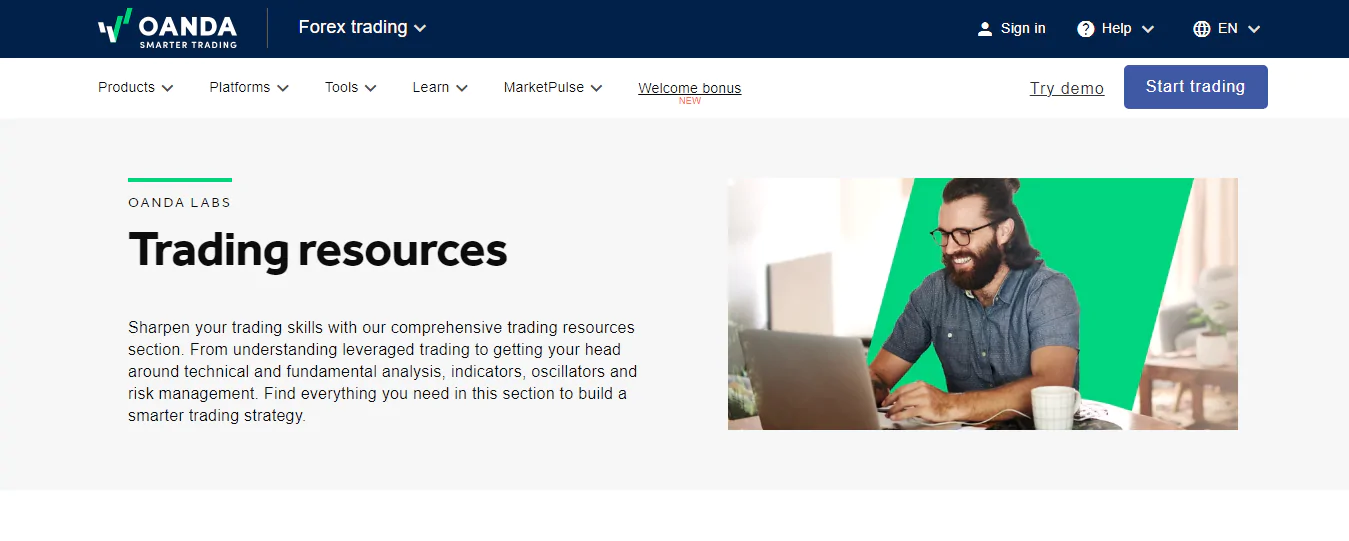 Source: Oanda Website
However, some users might find the videos outdated. Despite this, their webinars, covering topics like order types, risk management, and technical analysis, are available to everyone, with premium webinars exclusively for Oanda customers.
The educational section is a bit tricky to find on their website, but once discovered, it's split into three subsections: Getting Started, Tools and Strategies, and Capital Management.
Each section provides detailed information presented in a mix of video and text, helping traders learn essential skills for successful trading.
On the downside, Oanda needs an extensive range of educational videos on its YouTube channel, which could be improved. Organizing and expanding the video content would elevate their educational offering to match other leaders in the field.
Nonetheless, Oanda's educational resources remain valuable, and their webinars on all aspects of trading, including live market analysis, are worth checking out.
Types of Accounts
When opening an account with Oanda, you have two options: the standard account and the premium account. The standard account is perfect for traders of all levels who want to dive into forex and CFD trading.
On the other hand, the premium account comes with some conditions to meet. But if you qualify, you'll enjoy custom pricing, tight spreads, free wire transfers, and even a dedicated relationship manager to assist you.
But that's not all – Oanda also offers new traders the option to create a demo account. It's like a practice account with virtual money, so you won't risk losing any real funds.
Considering this, we highly recommend beginners to start with a demo account. It's the perfect way to get familiar with the web platform, hone your forex and CFD trading skills, and avoid potential losses.
So practice and build your confidence before diving into the real action!
Oanda Types of Orders
When trading on Oanda, you've got three types of orders at your disposal:
First up is the Market Order. With this one, you'll trade at the current market price.

Source: Oanda Website
Next, the Limit Order. This order lets you set a specific price for an instrument. It's handy when you want to get in at a particular rate.
Lastly, we have the Stop Loss Order. This order works as a safeguard, canceling a trade if things don't go in your favor. It helps you manage risks and protect your investments.
So, with these three order types, you've got the flexibility to trade smart and make the most of your trading journey!
Oanda Exchange Trading Features
Algorithm Trading
One of the most impressive trading features of Oanda is its Algo trading. Oanda impresses its customers with its fully automated trading capabilities, driven by a highly intelligent algorithm.
This algorithm analyzes market data, identifies profitable opportunities, and executes precise trades. Automation removes emotions from the equation, leading to disciplined and consistent trading decisions.
The system also allows for faster execution and diversifying strategies across multiple assets and timeframes. However, traders should cautiously develop and test strategies to optimize the benefits of automated trading.
Forex Trading
Oanda offers a robust forex trading platform with a wide range of services to enhance the trading experience. With over 70 forex pairs, including majors and minors, and competitive spreads as low as 0.0%, traders can benefit from capturing even the smallest price changes.
Now a fully regulated broker with a solid reputation, Oanda provides a reliable and secure environment for forex trading.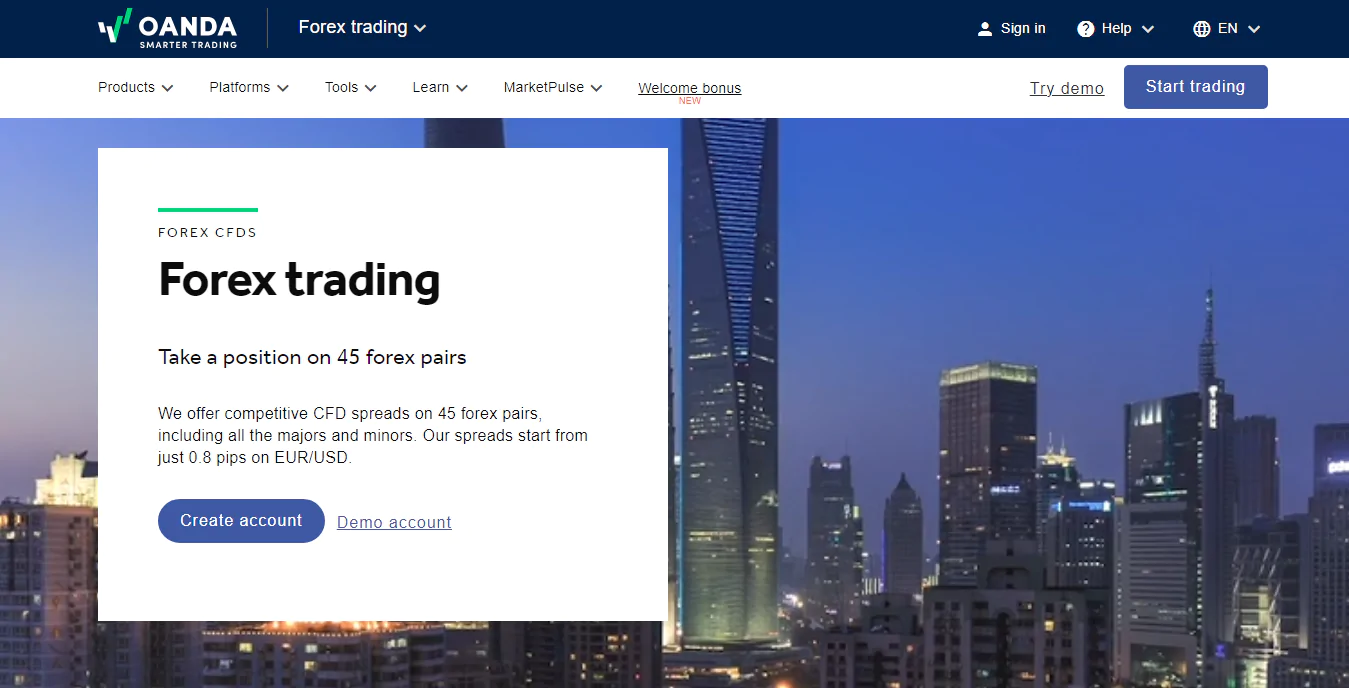 Source: Oanda Website
One of the notable features of Oanda is leverage trading, allowing traders to enter larger positions with a smaller margin amount. However, traders should exercise caution, as leverage trading can amplify profits and losses.
Apart from all this, the maximum leverage available on Oanda is 50:1, while leverage trading for cryptocurrencies is unavailable on the platform.
Oanda Crypto Trading
Oanda has wisely tapped into the growing cryptocurrency industry by partnering with Paxos, a prominent player in the crypto space.
Now, users can conveniently access both forex and crypto trading services on a single platform, eliminating the need to switch between different applications or websites.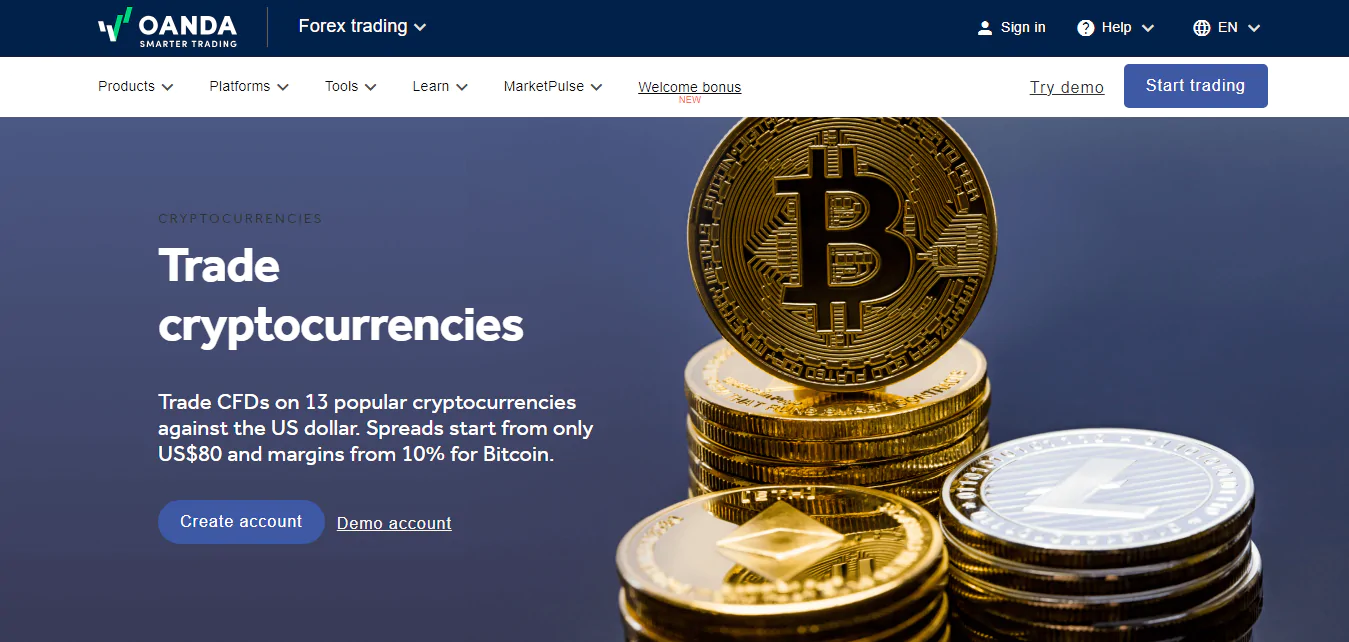 Source: Oanda Website
Oanda provides a good starting point for crypto trading with 10 supported cryptocurrencies, including Bitcoin, Ethereum, and Litecoin.
However, for experienced crypto traders looking for a broader range of options, dedicated platforms like Binance might offer a more comprehensive selection.
Additionally, crypto trades on Oanda do not incur spread markups or custody fees, and a 0.25% fee is applied to all crypto orders, with a minimum of US$0.01.
Apart from that, the platform also allows you to access monthly statements when you need them. In contrast, deposits or withdrawals must be fully settled before transferring between forex and crypto accounts.
Oanda Trading Platforms
Web Trading Platform
The Oanda Trade web platform offers a hassle-free way to trade without downloading. Log in to your Oanda account, and you're ready! It's designed to deliver real-time data with lightning-fast precision, even on your browser.
This user-friendly platform boasts a next-generation engine equipped with top-notch trading technology.
You'll find a wide range of trader analytics and tools, including unbiased technical analysis from Algo Labs and Quant Connect—renowned names in the trading world.
The web platform also includes essential features like risk management and updated news. So, if you prefer a software-free approach, the web platform has got you covered for a smooth and seamless trading experience.
OANDA MetaTrader 4
For those who prefer a fully customizable trading experience, Oanda's MetaTrader 4 platform is an excellent choice. Tailor your interface according to your preferred trading style and set default parameters for factors like units traded, risk, profitability, and favorite forex pairs.
The platform's mobile chart trading functionality enables quick order changes and closures on the go. Users can visualize market behavior using various chart types and drawing tools, keeping a close eye on price movements.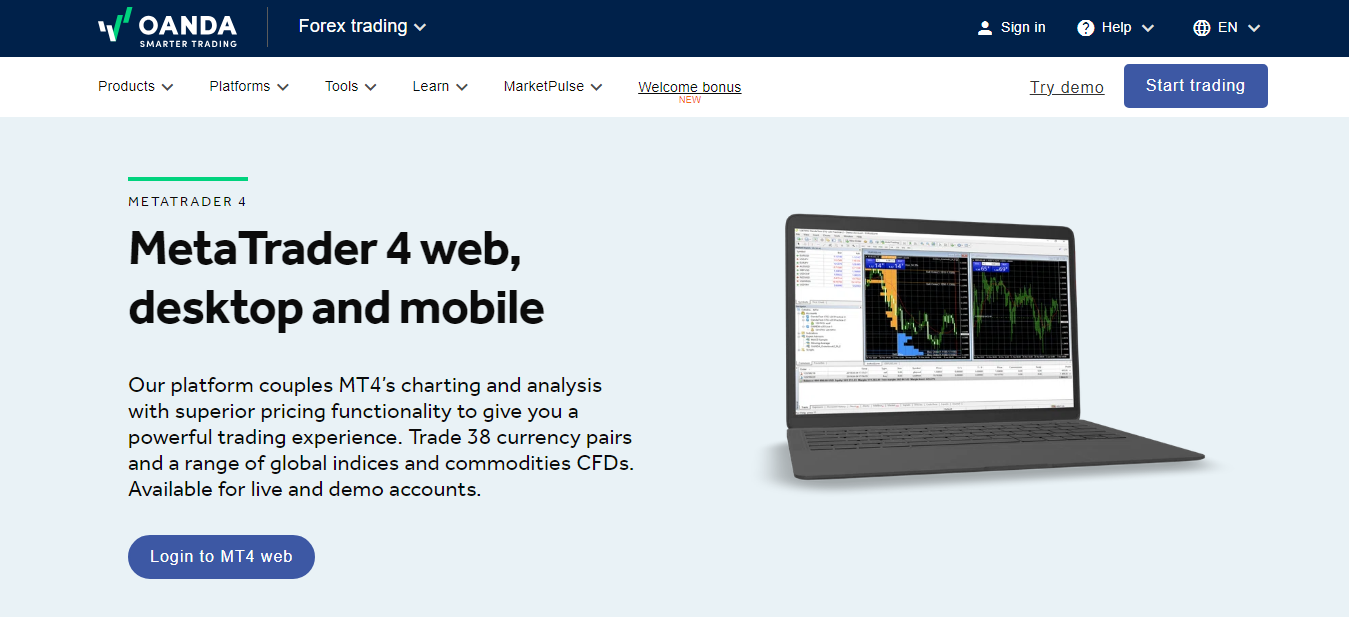 Source: Oanda Website
Additionally, real-time prices for exotic forex pairs are available without algorithmic intervention.
With MetaTrader 4's custom bridge, investors enjoy Oanda's pricing alongside MT4's charting and analysis. Additionally, users can automate trading strategies and build trading algorithms to test their custom approaches, all accessible on mobile devices.
OANDA TradingView Integration
Experience the power of TradingView charts right within Oanda's platform. Gain access to over twelve mobile-friendly and interactive chart types and more than 100 prebuilt indicators for popular trading strategies.
The TradingView platform offers 50+ drawing tools with adaptive visuals and customizable settings, allowing multiple synchronized charts in a single layout and multiple frame analyses.
Analyze markets with over 100 fundamental fields, ratios, and valuation analyses. Simulate trades, test strategies with historical data, and produce educational ideas and research papers for continuous improvement.
Stay ahead with real-time market news from various outlets, keeping you updated on the latest economic developments.
Take advantage of Oanda's TradingView offer, which allows you to access these cutting-edge features with a live or demo account, with the possibility of having the cost of TradingView's monthly subscription credited to your Oanda account.
Oanda Exchange Fee Breakdown
Spread
Oanda's spread-only pricing includes the commission in the spread itself. The spread size varies based on the asset being traded. There is no spread for cryptocurrencies, while for forex trading, the spread is obtained from liquidity providers.
Commission + Core Spread Pricing
In this pricing model, users pay a fixed commission per trade and a reduced spread compared to the spread-only pricing. For crypto trades, the commission is 0.25% of the entire trade.
Financing Costs
Oanda charges financing costs based on the size and type of trading position. It can be a charge or credit, depending on whether it's a long or short position.
Inactivity Fees:
The exchange charges a monthly inactivity fee of 10 units of the account's currency for accounts inactive for at least 12 months. However, accounts with a balance of 0 will not be charged.
Oanda Sign Up and KYC
Registering on Oanda is a breeze and will only take a few minutes. Here's a step-by-step guide to get you started:
Step 1: Head over to the official Oanda website.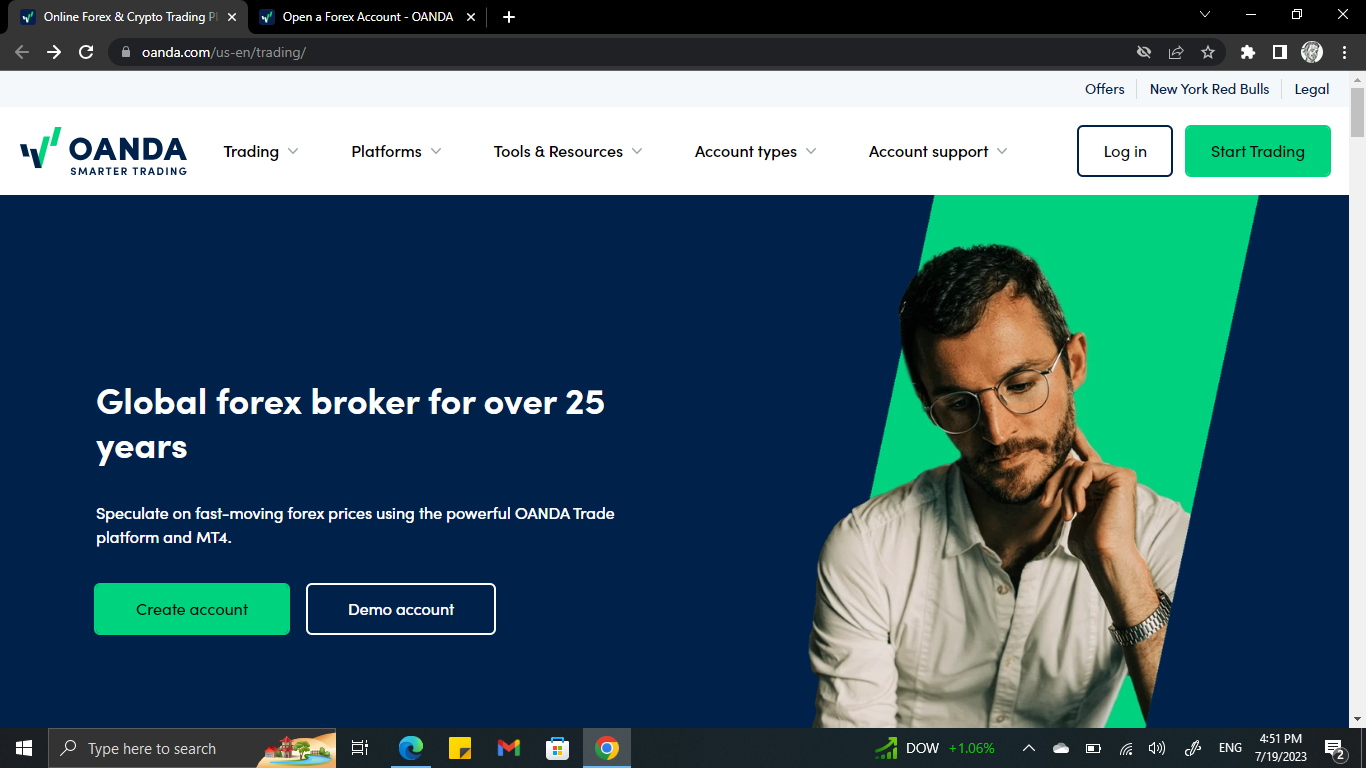 Step 2: Click on the "Start Trading" button.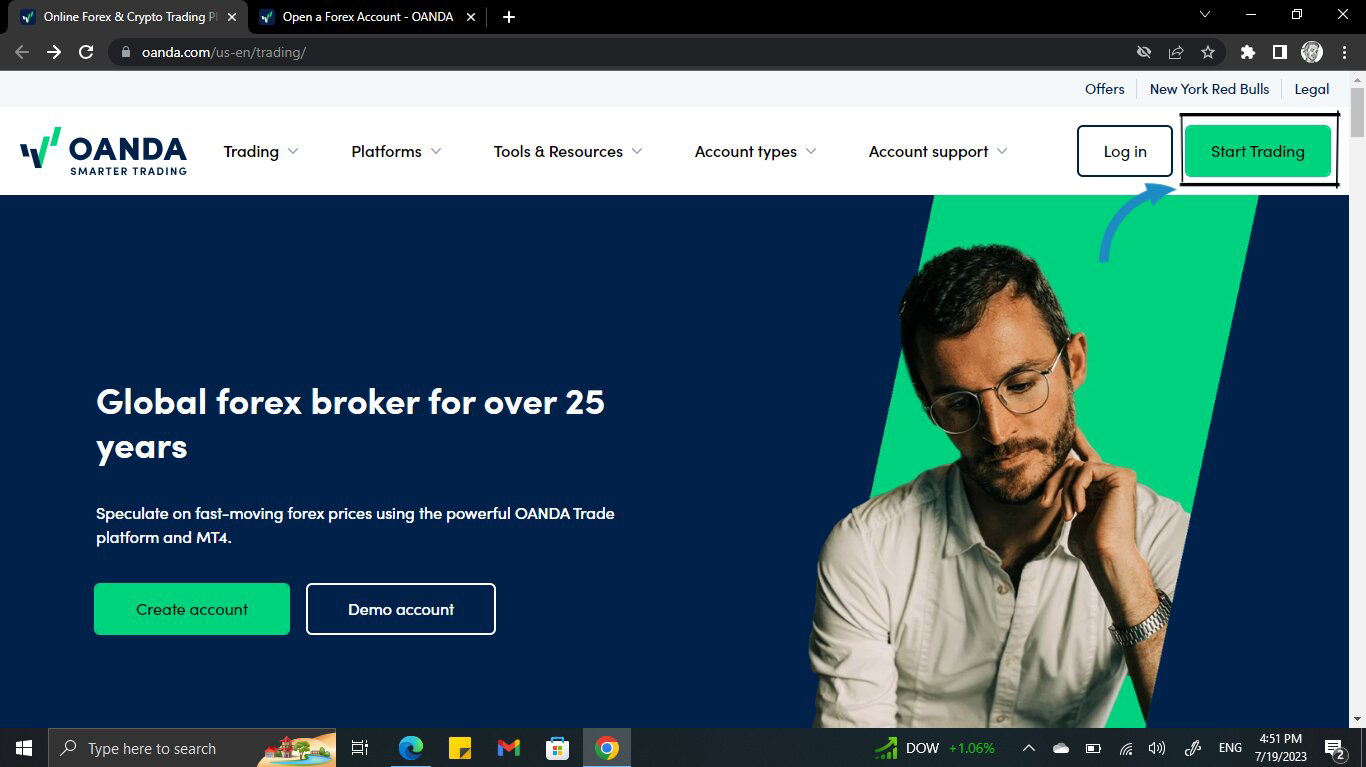 Step 3: You'll be asked about your country of residence. Select the right answer.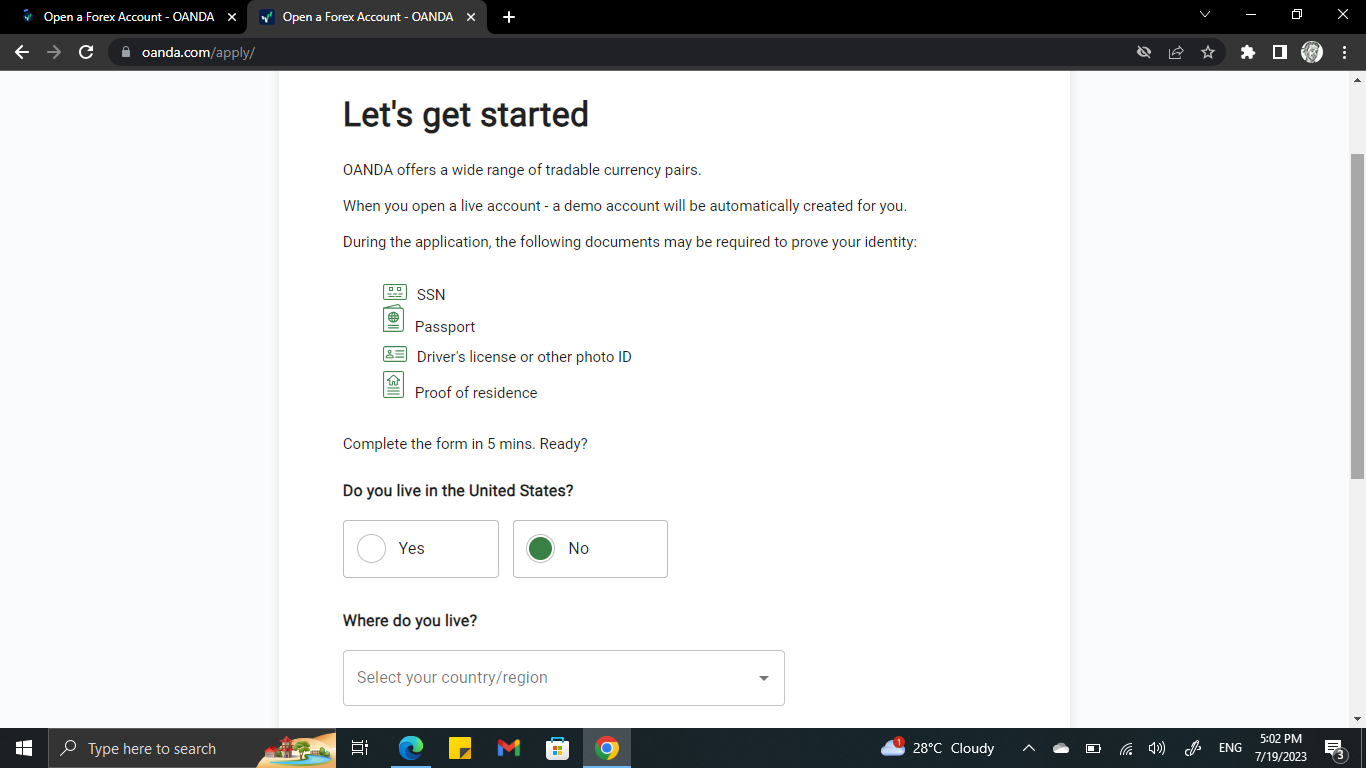 Step 4: Provide your email I.D. and basic personal details as requested on the following screen.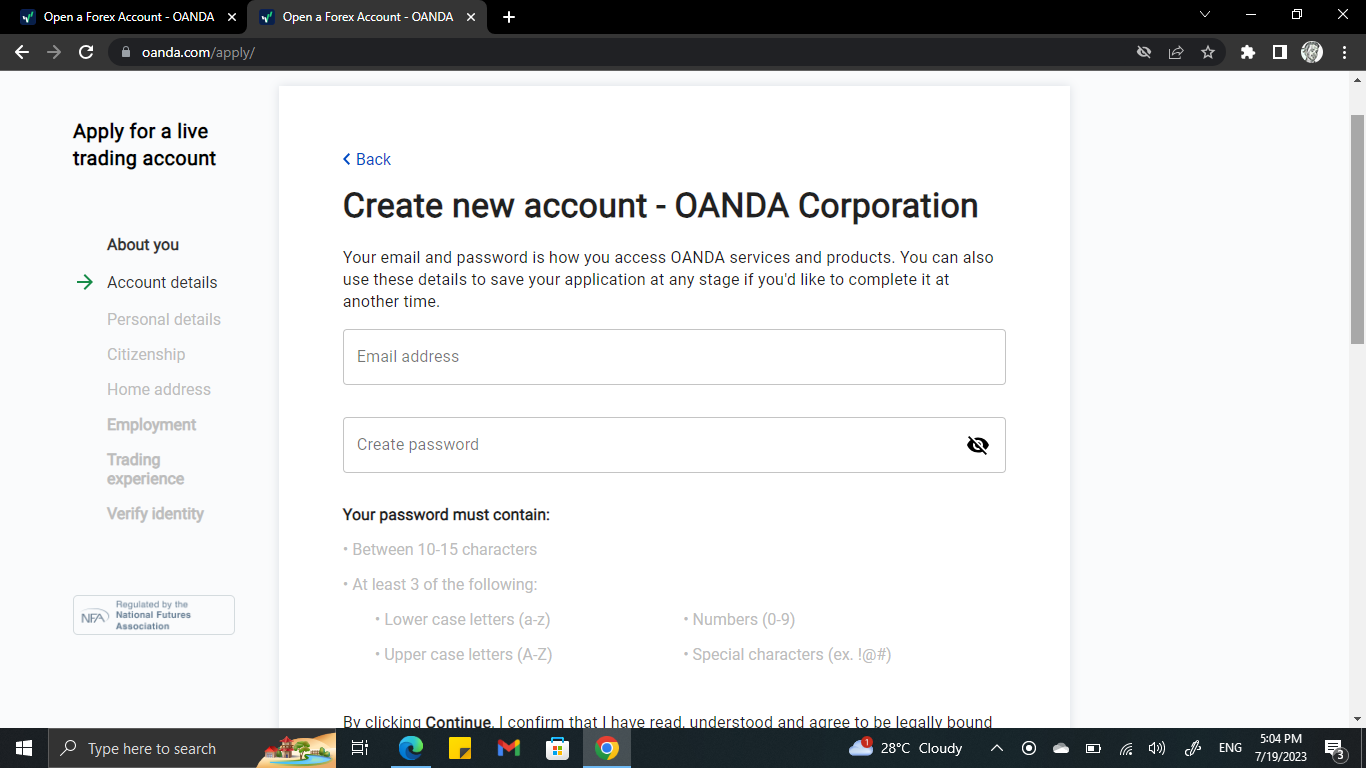 Step 5: Once you've filled in your personal information and provided details about your trading experience, you must provide KYC verification documents.
Step 6: Once your verification is complete, you can start trading on the Oanda website. Happy trading!
Oanda Security
With a reputable 20-year track record, Oanda prioritizes customer security with stringent measures, including strict disclosure guidelines.
Regulated by six top-tier authorities, including FCA and CFTC in the U.S., customers' funds on Oanda are safeguarded in established banks with SSL encryption for personal data protection. Users can also opt for two-factor authentication (2FA) for added security.
However, user protection may vary depending on location and status. For instance, E.U. retail clients have negative balance protection, while others do not. So it is essential to always check the regulations specific to each Oanda legal entity based on location.
Oanda Customer Support
Oanda values excellent customer service, ensuring users have a smooth experience with their platform. They offer multiple ways to resolve any issues promptly.
What does this mean? You can directly call their contact number or email if you prefer that mode of communication. The live chat feature is one of the highlights of their customer service for immediate responses, available in English, Spanish, and Mandarin.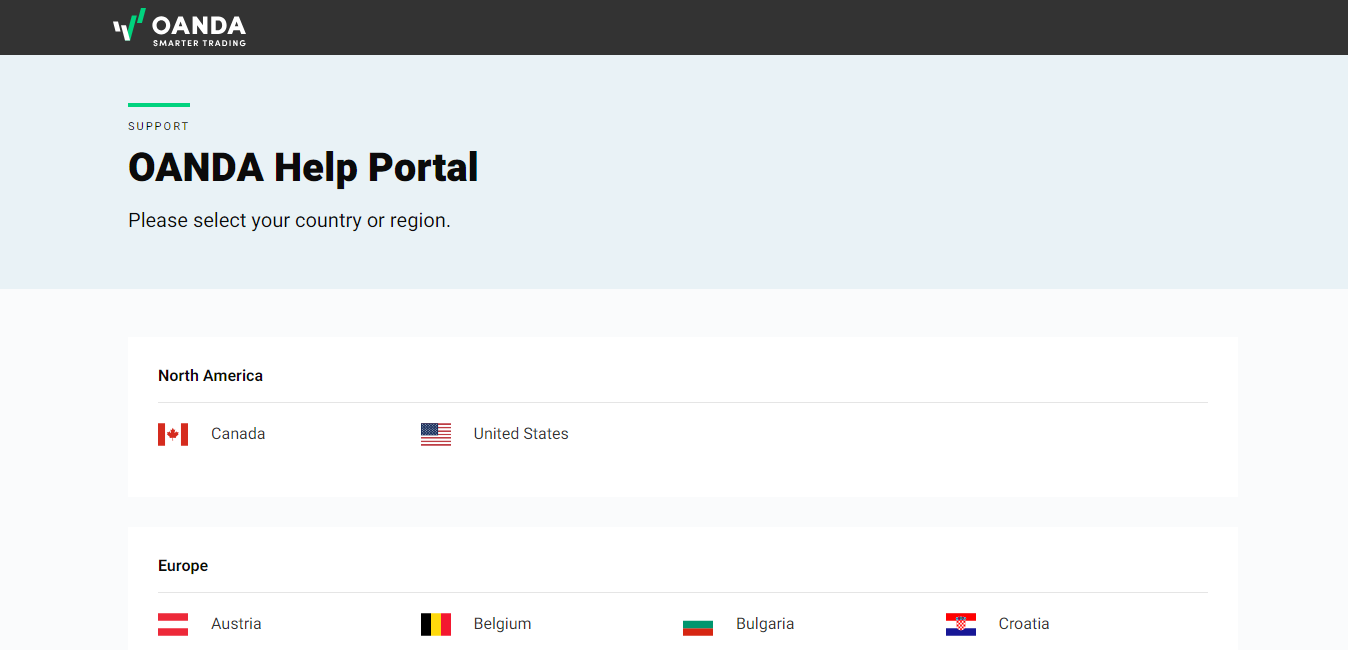 Source: Oanda Website
Furthermore, their comprehensive FAQ section addresses the most common questions, saving users from needing additional support.
Regarding response timing, Oanda's customer service operates from Sunday to Friday, with live chat active from 1 PM to 6 PM ET. Email support, however, is available 24/7.
Overall, Oanda provides multiple customer support options to its customers. In fact, their multilingual team is well-equipped to assist users via live chat, chatbot, email, or phone.
However, their chatbot and customer support service timing may need improvements for the exchange to stand among the top global forex brokers list.
Conclusion
In conclusion, Oanda is a highly regarded trading platform, well-suited for forex and cryptocurrency investors. It caters to beginners and experienced traders, offering educational materials and advanced technology like MetaTrader 4.
With competitive spreads and efficient risk management tools, the platform ensures a smooth trading experience. However, its selection of CFDs and cryptocurrencies is relatively limited, and the Oanda Trade platform is less advanced than some leading platforms.
So if you're looking for more trading options, consider other top forex trading platforms or our top-picked crypto exchanges like Binance and MEXC Global (for more crypto trading options).
FAQ
Is Oanda a good broker?
Yes, Oanda is considered a good broker. With a solid reputation and numerous awards since its inception in 1996, it is a trusted platform for forex and cryptocurrencies. Additionally, the platform receives strong customer reviews, further supporting its positive standing as a broker.
Does Oanda have an inactivity fee?
Yes, Oanda does have an inactivity fee of $10 per month for accounts with no open positions for more than 365 days.
Does Oanda have CFD products in the U.S.?
No, Oanda does not offer CFD products in the U.S. but is available in other countries.
Can you short-sell crypto on Oanda?
No, short-selling crypto is not currently available on Oanda. Instead, users can buy or sell the 10 cryptocurrencies on the platform.
Is my money safe on Oanda?
Yes, your money is safe on Oanda. The platform uses advanced security systems, including two-factor authentication, to protect user data and funds. Additionally, a dedicated helpline reports any security issues, ensuring a safe and secure trading environment.