If you are looking for an honest and reliable cryptocurrency exchange, you probably have come across the names Kucoin and Bybit. But how do the two tier-1 crypto exchanges compare? Bybit and Kucoin are some of the largest crypto platforms in the world with millions of users from all around the world. In this side-by-side comparison of Kucoin vs Bybit, we will delve into absolutely everything that you need to know. After this review, you will know exactly if you should go with Kucoin or Bybit. At the end of this comparison, you will know exactly which crypto exchange is best for you!
First of all, let's compare Bybit and Kucoin in a table with all the important key measures at a glance.
This table compares all key measures of Kucoin and Bybit, two of the largest crypto exchanges in the world!
Bybit vs Kucoin Overview
Kucoin and Bybit have secured themselves spots in the top 10 crypto exchanges in the world. First, we will give you a quick overview of the exchanges so you have an overall picture of what to expect from the platforms.
Kucoin was launched in 2017 and has its headquarters in Seychelles. With over 12 million users, Kucoin secured its place as a tier-1 crypto exchange.
The platform is an ideal choice for you if you're wanting to buy low-market-cap altcoins on the spot market because they support a lot of brand-new currencies that aren't yet listed anywhere else. With over 800 supported spot cryptos, Kucoin has a lot to offer.
Furthermore, users of Kucoin can benefit from a variety of passive income products in addition to trading, including staking, mining, lending, and more.
Bybit was launched in 2018 by Ben Zhou. With its headquarters in Dubai, over 3000 Bybit employees manage over 30 million registered users on its platform. Bybit is widely known to be one of the most user-friendly trading platforms due to its well-designed interface. With a daily trading volume of over $14 billion, Bybit is even consistently ranking in the top 3 crypto exchanges sorted by volume according to coinmarketcap.
Bybit vs Kucoin Trading
Spot and Futures Trading
Bybit is one of the most popular crypto exchanges for day traders. With a dedicated spot and futures market, crypto enthusiasts can access over 380 different cryptos. With 0.1% maker and taker fees on the spot market, traders enjoy fair trading fees. For advanced traders, Bybit charges 0.01% maker and 0.06% taker fees on the derivatives market where you can access leverage of up to 125x.
What Bybit stands out with most is the user-friendly interface which makes it super easy to navigate through the dashboard, even for new traders.
Lastly, Bybit has some of the deepest liquidity on the futures market, making it a great spot even for large traders with a lot of trading volume. This is to no surprise, as Bybit with over $14 billion traded each day in the top 3 crypto exchanges sorted by volume.
On the other side, Kucoin offers a staggering 860 cryptocurrencies on the spot market, spread across 1537 unique trading pairings, with the majority settled in USDT. The cost structure offered by Kucoin is the same as Binance's, with spot trading fees for makers and takers of 0.1%.
Kucoins offers futures trading for over 180 different cryptocurrencies and has a 24-hour derivatives trading volume between $2 and $3 billion. Kucoin costs 0.02% for makers and 0.06% for makers in terms of fees. The 125x leverage ceiling applies to major cryptos such as BTC and ETH, while less popular cryptos support 10-75x leverage.
Overall, Bybit is the better choice for day traders due to lower fees, better liquidity, and more assets on the futures market. Furthermore, the Bybit interface is superior to Kucoins interface, making it the better choice for beginners.
If you are just interested in the spot market for buying and holding instead of active trading, Kucoin might be right for you due to the wide variety of available cryptos.
Bybit vs Kucoin Copy Trading
Bybit launched its copy trading feature in 2021 and is now one of the top crypto copy trading platforms. You can analyze the past performance of pro traders and make an informed decision if following them makes sense or not. With just a few clicks, you can set copy trading up. The process is flexible and completely automated, meaning you can stop copy trading at any time.
Unfortunately, Kucoin does not offer copy trading yet, so if you are interested in copy trading you must go with Bybit.
Bybit vs Kucoin Bot Trading
If you are looking for more ways to make passive income on the side, you can access trading bots on Bybit and Kucoin. You can create your own custom bot on both platforms. However, you can also choose existing bots from other users that already have a track record.
Both platforms seem to be equally prepared with trading bots and we didn't see any notable differences. Kucoin and Bybit both have done a great job supplying their users with automated trading strategies, so feel free to check out yourself if you prefer trading bots on Bybit or Kucoin!
Bybit vs Kucoin Options Trading
For advanced traders, Bybit even offers options trading for Bitcoin, Ethereum, and Solana. One major critical point that we have about Bybits options trading feature is the interface which is not necessarily user-friendly. If you are new to trading, we recommend staying away from options anyway as it adds another layer of complexity to your crypto trading.
As of 2023, Kucoin does not offer crypto options trading. If you are interested in options trading, make sure to check out our official list of the best cryptocurrency options trading platforms.
Bybit vs Kucoin Fees
Kucoin spot costs for makers and takers also begin at 0.1%. You can lower your fees by 20% when using the KCS token, leaving you with 0.8%.
Just like Kucoin, Bybit also charges a default spot trading fee of 0.1% for makers and takers. Unfortunately, there are no instant fee discounts for holders of the Bybit Token (BIT).
Trading commissions for Kucoin futures begin at 0.02% maker and 0.06% taker. This is a reasonable price and the industry standard. On the futures market, there are regrettably no fee breaks available to KCS holders.
Bybit charges 0.01% maker and 0.06% taker fees on its futures market which is a decent rate. Again, there are no fee discounts for BIT holders, however, you can reduce your trading fees based on your 30-day trading volume.
For the spot fees, Kucoin is more affordable due to the KCS fee discount. For futures traders, Bybit is the best choice. Not only are the default fees lower, but you can also reduce your fees a lot further based on your 30-day trading volume.
Bybit vs Kucoin Deposit Methods
Crypto deposits are free of charge on both exchanges, Kucoin and Bybit.
Bybit supports over 15 different FIAT currencies for onramps including EUR, GBP, USD, AED, RUB, TRY, and more. The deposit methods and fees differ based on your FIAT currency. Bybit supports FIAT deposits with credit cards, Advcash, bank transfer, and ZEN. The fees range between 0% to 3%. Using Advcash is the cheapest option with 0% fees and the FIAT onramp is processed instantly.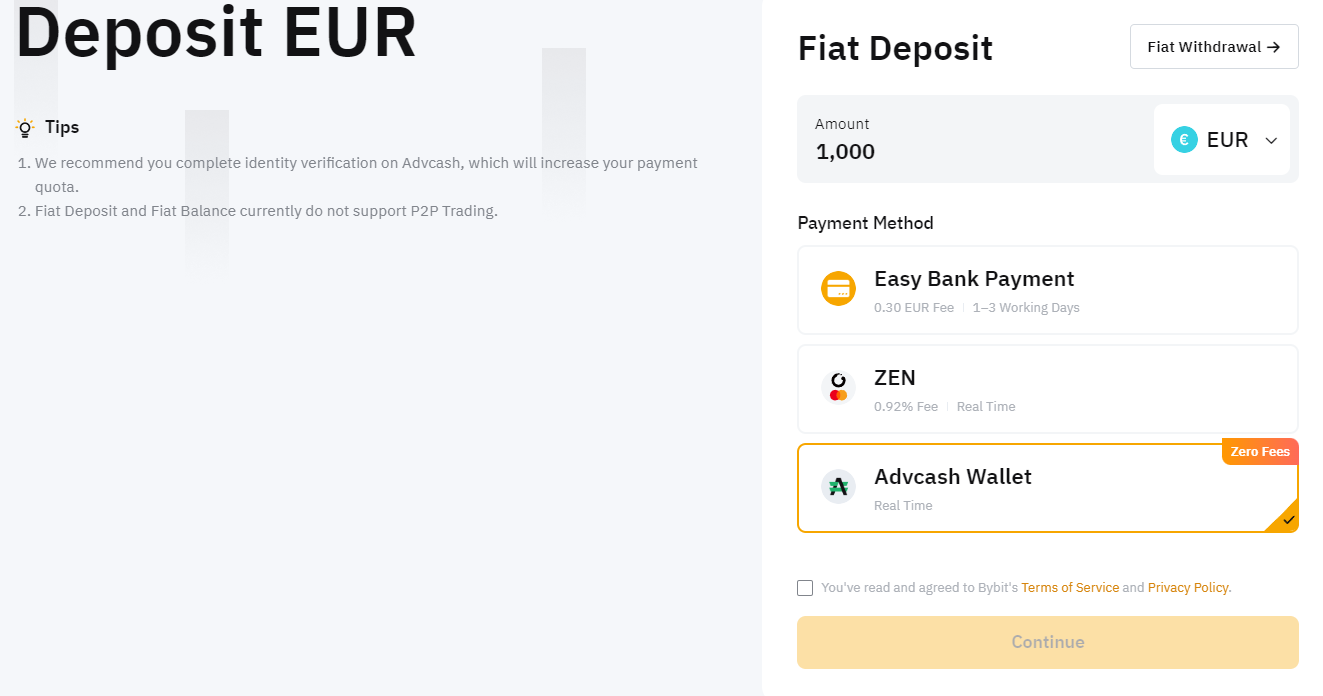 Kucoin on the other hand supports over 20 FIAT currencies, including EUR, GBP, AUD, USD, CHF, RUB, SEK and more. The FIAT currencies on Kucoin can be deposited with Bank and Wire transfers. Unfortunately, Kucoin does not allow FIAT onramps with credit cards. Also, in order to onramp FIAT, Kucoin requires you to fully verify your identity at the highest level with proof of address. Bybit on the other hand only requires an ID or passport for FIAT onramps.

There is no clear winner for deposits. In terms of variety, Kucoin has the upper hand as it supports more FIAT currencies for deposits. Bybit on the other hand has lower fees and faster processing times.
Bybit vs Kucoin Withdrawals
Bybit and Kucoin offer crypto withdrawals for all major chains and over 300 different cryptocurrencies. The crypto withdrawal fees are different for each crypto and network. While some networks like the Ethereum network (ERC20) are more expensive, other networks such as TRC20 and BEP20 are relatively cheap and cost less than $1.
In terms of FIAT withdrawals, Bybit offers them for 10 different FIAT currencies including EUR, USD, GBP, RUB, TRY, and more. The FIAT withdrawals are handled through Advcash Wallet and ZEN. Both offer instant zero-fee FIAT offramps. That means your money will arrive instantly and there are no withdrawal fees. Alternative payment methods are Bank transfers for selected FIAT currencies. The fees are also 0% but the processing time can be up to 3 working days.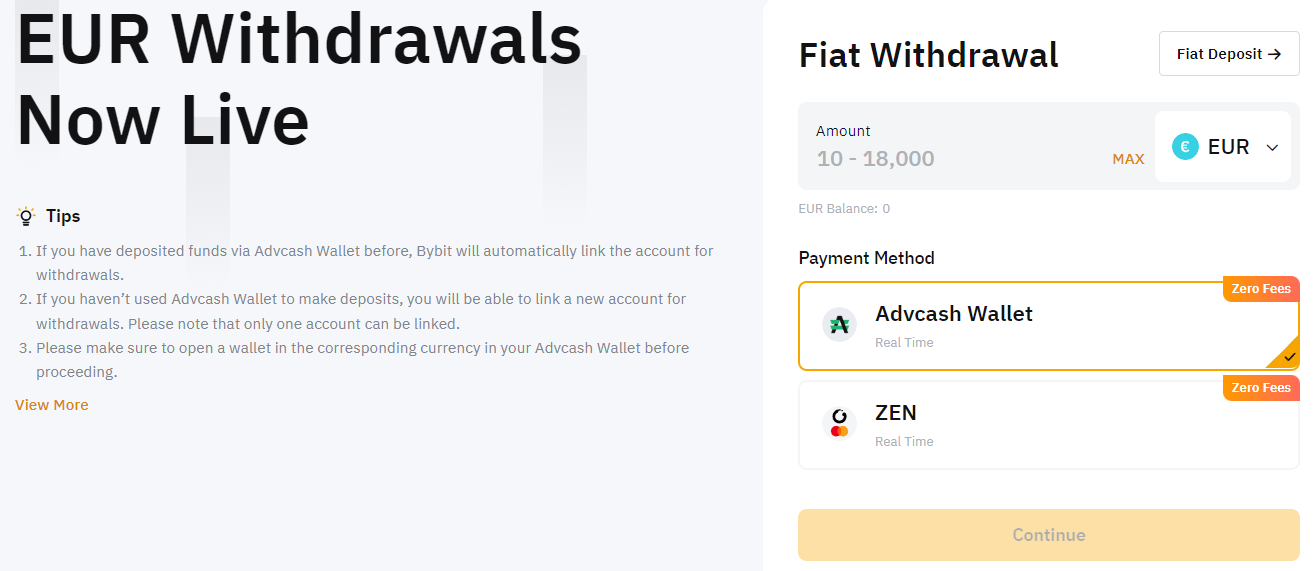 Kucoin on the other hand supports FIAT withdrawals for 7 different FIAT currencies. These are EUR, GBP, RUB, TRY, UAH, BRL and USD. Withdrawals are instantly handled through Advcash with 0% fees. Alternatively, Kucoin offers FIAT withdrawals with SEPA BankTransfer which is a fixed fee of $1, while Wire Transfers for USD cost $80. We highly recommend you go with Advcash or SEPA BankTransfer on Kucoin as Wire Transfers are really expensive.

For withdrawals, Bybit is the clear winner. Not only does Bybit support more FIAT currencies for withdrawals, but also the processing time is faster and the fees are lower (in most cases 0%).
Bybit vs Kucoin Products & Services
Kucoin and Bybit are dedicated cryptocurrency exchanges and therefore have many features aside from trading.
Passive Income Products
In the "Earn" section, Kucoin provides various ways to make passive income with cryptos.
Crypto Lending: Lend out your cryptos and earn interest! With fixed durations of 7 to 28 days, lenders can earn up to 0.1% in daily interest
Kucoin Earn: Invest in stable investments with professional asset management on Kucoin. New users can even receive up to 100% APR for 7 days on USDT.
Staking: You can stake various cryptos with fixed or flexible terms on Kucoin to make passive income.
Cloud Mining: Kucoin even offers you mining of new tokens with a maximum APR of 3%.
Bybit also has some options to make passive income with cryptocurrencies in the "Finance" section.
Bybit Savings: Receive guaranteed yields on flexible terms, meaning you can withdraw at any time.
Liquidity Mining: Provide liquidity to Bybit and earn fees like professional market makers
ETH 2.0 Staking: You can receive yield while trading with your staked ETH!
Dual Asset: Bybit offers high yields for predicting the price action.
While Bybit and Kucoin both offer ways to earn passive income, Kucoin is the winner as it is more transparent with its products and easier to use. Furthermore, Kucoin offers more products in its earn section, compared to Bybit. So if you are looking for the best exchange for passive income products, Kucoin is definitely the right option for you!
Bybit vs Kucoin Crypto Debit Card
Looking for a way to spend your cryptos without having to withdraw them to your bank account? Kucoin and Bybit have you covered with their crypto cards!
Kucoin offers the KuCard which you can use online to pay for goods. You can even receive up to 1000 USDT in rebates with your KuCard. Furthermore, Kucoin offers KCS cashback for each purchase. As of 2023, the KuCard supports USDT, BTC and KCS which you can use for payments. The conversion happens automatically.
The Bybit card is free of charge without hidden fees. Simply transfer your cryptos on your card and spend money. You can even order a physical Bybit crypto debit card, meaning that you can use it in local stores! As of 2023, the Bybit card supports FIAT currencies including EUR and GBP, as well as BTC, ETH, XRP, USDT and USDC.
In terms of crypto cards, Bybit is the clear winner. With more supported cryptos (even FIAT) and a physical version, the Bybit debit card is perfect for crypto enthusiasts that are looking for an easy way to spend their crypto profits.
Bybit vs Kucoin Promotions and Bonuses
Most crypto exchanges offer generous bonuses to their traders. Kucoin and Bybit are no exceptions to this. In fact, both exchanges have some of the best signup offers available!
Kucoin offers up to $3200 to new users in the form of a gift box. It is important to note that this gift box also can contain less. Other than USDT rewards, users can receive fee discounts, rebates and additional trading bonuses in the Kucoin reward center.
Bybit users enjoy the most generous reward system with a whopping maximum bonus of $30,000. The best thing about the Bybit bonus is that it is not a gift box as Kucoin does, but a real bonus based on your trading activities. We have a full guide on how to obtain the full Bybit bonus which you can check out here.
There are different tiers, starting at $100 for only depositing $3,000 and trading $6,000. The bonus can be used for futures trading.
Furthermore, Bybit hosts the largest crypto trading competition each summer, called the "World Series of Trading" (WSOT) where millions of traders compete for massive prize pools of up to $8 million.
In terms of promotions and bonuses, Bybit is undoubtedly the number 1 choice for crypto traders. With massive bonuses and engaging competitions, Bybit has a lot to offer its users.
Bybit vs Kucoin – Verdict
Ultimately, the battle between Kucoin and Bybit is a very close one. Both are great crypto exchanges. While Kucoin puts its focus on the spot markets with over 800 available cryptos, Bybit puts all its focus on creating one of the best crypto platforms for trading.
If you are looking to trade cryptos, Bybit is definitely the best choice for you. Not only does Bybit have some of the best liquidity in the crypto space, but also has very low fees, high leverage, and the second-highest 24-hour trading volume. With a perfectly designed interface, Bybit is not only great for advanced traders but also beginners.
Bybit is best for:
Active traders
Whales due to deep liquidity
Copy trading
Ease of use
Kucoin on the other hand is the best choice for altcoin traders that want to buy and hold on the spot market without leverage.