Guarda Wallet has recently gained significant popularity. Introduced in 2017, Guarda Wallet is a highly secure and comprehensive wallet that aims to provide a one-stop solution. It is a non-custodial and open-source wallet that places great importance on privacy and security.
With support for over 400,000 digital assets and more than 50 blockchains, Guarda Wallet is accessible on both mobile and desktop devices. Users can conveniently purchase Bitcoin and other cryptocurrencies using traditional fiat currency through the wallet's integration with Simplex. Guarda Wallet offers a wide range of services covering various aspects of the cryptocurrency ecosystem, including the ability to create personalized ERC-20 tokens.
Guarda Wallet stands out as an exceptional software wallet for individuals, whether they are new to the world of cryptocurrencies or seasoned investors. It offers a combination of robust security measures, a user-friendly interface, and the convenience of managing all crypto assets in a single location. In this review, we will highlight the key features of the wallet and provide essential information to consider before utilizing it.
Guarda Wallet Pros & Cons
Pros
Guarda Wallet does not support integration with Ledger hardware wallets at the moment. However, it offers its secure software wallet for managing your cryptocurrency assets.
One of the notable features of Guarda Wallet is its ability to facilitate trading between various coins and tokens directly within the wallet software. This means you can conveniently exchange cryptocurrencies without relying on external platforms.
Guarda Wallet has a built-in option to purchase additional cryptocurrencies using fiat currencies such as dollars, euros, or other supported ones. This integration allows users to expand their crypto portfolio from within the app easily.
Guarda Wallet offers the convenience of storing multiple crypto assets in a single wallet. This eliminates the need for multiple wallets and simplifies the management of your digital assets in one centralized location.
Cons
Guarda Wallet functions as a light wallet. This means that users do not run full nodes through the software. Instead, it connects to external nodes to access the blockchain data. This lightweight approach offers convenience and ease of use for users.
It's worth noting that purchasing cryptocurrency through the Simplex integration within Guarda Wallet can involve higher fees than alternative options. It is best to consider and compare different platforms and exchanges to find the most cost-effective method for buying cryptocurrencies.
As of now, Guarda Wallet does not provide support for hardware wallets such as TREZOR or KeepKey. However, it offers its software wallet solution, incorporating robust security measures to protect users' crypto assets.
Guarda Wallet Features
One outstanding feature is Guarda Wallet, which shines in its vast support for a wide range of cryptocurrencies and crypto tokens. The main goal of Guarda Wallet's crypto wallet service is to support as many crypto assets as possible. Hence, users can effortlessly keep their digital assets inside a single software program.
The wallet is a great option for beginners in the digital currency world because of its user-friendly UI and first-rate customer service. At the same time, seasoned cryptocurrency investors can use the wallet's extensive feature set to seize the chances the developing crypto asset market provides.
Guarda Wallet provides its customers with very high levels of protection for their cryptocurrency holdings by connecting with Ledger devices. Strong security is provided by this integration, which ensures that the private keys linked to their crypto assets are unavailable to hackers trying remote access.
Guarda Wallet's features go beyond safe storage, as well. Allowing users to buy new cryptocurrencies straight from the wallet acts as an all-inclusive solution for cryptocurrency-related activities. The wallet also enables smooth trading between various crypto coins, making it a practical one-stop shop for all activities and transactions relating to cryptocurrencies.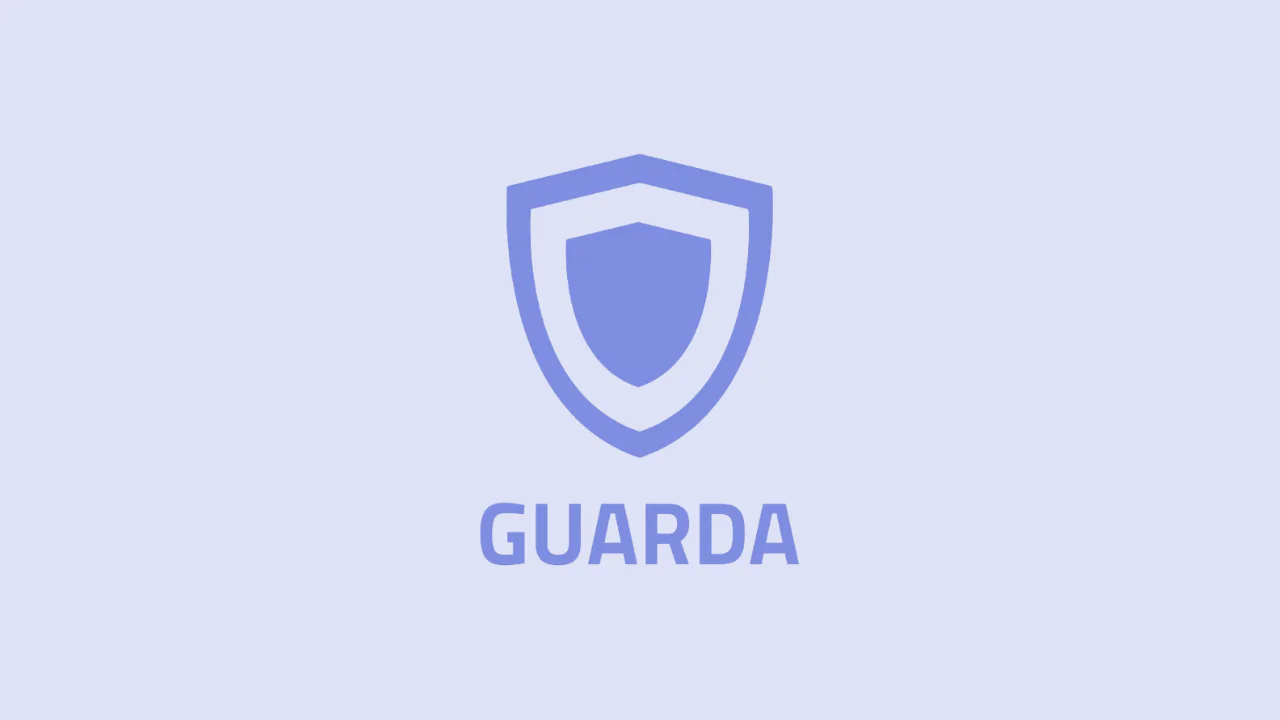 Guarda Wallet Security
Guarda Wallet has swiftly established itself as one of the most secure cryptocurrency software wallets, despite having just entered the market. People nowadays are looking for more privacy and protection for their digital assets, and Guarda Wallet aims to meet these needs. Being a non-custodial wallet is one of the main factors enhancing its security.
Since their private keys are not kept on the company's servers, users are not forced to give personal information to use the wallet. As a result, there is a substantially lower chance of getting hacked. Your private keys are entirely in your control with Guarda Wallet, and only you have the power to retrieve them. Making a backup file as a precaution is suggested, and saving it on many different devices for increased protection. Surprisingly, Guarda Wallet has not yet been linked to documented security breaches.
Guarda Wallet Supported Coins
Guarda Wallet contains support for 60 different chains and the tokens that are issued on those blockchains. Additionally, Guarda Wallet currently supports more than 400,000 different crypto tokens that various projects have issued over the years. If there is a crypto asset you want to own, then there's a high probability that their wallet supports it.
Some of the popular cryptocurrencies available on Guarda include Bitcoin, Ethereum, USD Coin, Binance USD, Tether, Dogecoin, Ripple, Solana, Litecoin, Shiba Inu, Polkadot, Cardano, Dai, Polygon, Tron, Avalanche, Uniswap, Wrapped Bitcoin.
Guarda Wallet Privacy and Anonymity
Guarda Wallet prioritizes privacy and anonymity by eliminating users needing to provide personal information or undergo identity verification when creating a wallet. As is the standard practice for non-custodial wallets, setting up a Guarda Wallet only requires users to perform a backup process. This backup step does not involve sharing personal information with Guarda Wallet, further preserving user privacy.
Guarda Wallet Supported Operating Systems
Guarda Wallet offers versatility in terms of its availability across different platforms. It is accessible via the web, allowing users to utilize it on any device with a web browser. Moreover, there are downloadable versions of Guarda Wallet tailored for desktop and mobile computing environments. This ensures that users can access their wallets conveniently from various devices.
Additionally, Guarda Wallet provides a Chrome extension, enabling seamless integration between the wallet and the web browser. This extension enhances the user experience by directly providing easy access to wallet functionalities within the browser environment.
Guarda Wallet Fees
Although Guarda Wallet is free, it involves certain fees once you start enjoying its features. For crypto purchases made through the wallet, a standard fee of 5.5% is applied to the transaction.
The wallet also offers the flexibility of customizable transaction fees. Users have the option to adjust the fees according to their preferences. Opting for lower fees allows for a longer transaction confirmation time while choosing higher fees expedites the transaction process. It's important to note that blockchain transaction fees can vary based on network conditions and user activity.
For instance, if you wish to transfer Bitcoin, Guarda Wallet provides an "Advanced Options" feature where you can specify the number of satoshis per byte you would like to pay as network fees. Typically, paying higher transaction fees results in faster confirmation of transactions by the network.
Furthermore, when conducting transactions on smart contract-enabled blockchains like Ethereum, Guarda Wallet allows users to determine the gas fees they want to pay. This gives users the flexibility to manage the cost of their transactions.
Guarda Wallet also offers the convenience of purchasing coins using a credit card, which can appeal to some users. However, it's important to note that Guarda applies a service fee for in-app cryptocurrency purchases made with a debit or credit card. This service fee is relatively high, typically around 5% of the transaction amount.
Guarda Wallet Storage
Guarda Wallet operates as a hot wallet, storing the cryptographic keys for your cryptocurrencies using software on an Internet-connected device. The responsibility of safeguarding and controlling the information required to spend or transfer your crypto lies solely with you as the user and not with the creators of Guarda Wallet.
If you are looking for an additional layer of security for your cryptocurrency holdings, it is worth considering a cold wallet. Unlike hot wallets, cold wallets store your cryptocurrencies on offline devices such as USB thumb drives, ensuring they are not connected to the Internet. Guarda Wallet offers a feature that enables users to convert their cryptocurrencies into cold storage devices, which Ledger, the wallet manufacturer, provides. This integration allows users to enhance the security of their crypto assets through offline storage solutions.

Is Guarda Wallet Safe to Use?
Guarda Wallet stands out as a wallet with exceptional security measures. When creating a wallet or performing transactions such as depositing or withdrawing funds, you are not required to provide personal information. Guarda Wallet does not request or store your private keys on its servers. Consequently, your anonymity is preserved, and the risk of being hacked is greatly minimized. As a non-custodial wallet, Guarda places your funds' full responsibility and control in your hands. This makes it a reliable choice for securely storing and exchanging crypto assets.
Conclusion
Guarda Wallet is a leading cryptocurrency wallet that offers users a comprehensive suite of features, including storage, purchasing, earning, swapping, and spending various crypto assets.
Although the in-app fees for purchasing cryptocurrencies may be justified by the exceptional security measures, top-notch customer support, and the wallet's multi-platform functionality, Guarda Wallet prioritizes providing best-in-class security, ensuring the safety of users' crypto assets. Additionally, the wallet's user-friendly interface and availability across multiple platforms make managing and securing your crypto portfolio a seamless and convenient experience.