The trading platform one chooses significantly influences their trading experience. Whether you are trading on Bybit or Bitpanda, you should understand the fundamentals of any exchange before investing in their products or services.
Bybit and Bitpanda are two popular exchanges that offer various trading opportunities for users. This article will delve closely into their products, feel structure, security, and more.
An Overview Of Bybit and Bitpanda
Bybit was birthed by a forex broker, Ben Zhou in 2018. The founder followed his passion, which led him to combine DeFi with TradFi to build a next-level crypto exchange platform.
With its headquarters in Dubai, United Arab Emirates, Bybit has over 15 million users, is available in 160 countries, and has over 405 supported coins.
You can access Bybit on their website or mobile app which is available on both the Google play store and Apple Store. The ByBit app can be downloaded on both iOS and Android completely free of charge.
Bitpanda is one of the fastest-growing crypto exchange platforms in Europe, it was founded in 2014 by Eric Demuth, Paul Klanschek, and Christian Trummer. They claim to make investing accessible for everyone, with their goals focused on reimagining what it means to invest, by making simple, easy-to-use financial products for everyone.
Bitpanda has its headquarters in Vienna, Austria, and an office in London which was opened in 2016. Firstly known as Coinimal, before it was changed to Bitpanda in 2016. The platform was a cryptocurrency-only trading platform, over the years they launched trading in precious metals and securities. They also introduced a PSD2 payment service provider license and an E-Money license for first-time investors and seasoned experts to invest in what they believe in.
They have over 4 million users, 700 employees, and over 100 supported coins. Just like Bybit, Bitpanda can be accessed via its website and mobile app.
Bybit vs Bitpanda: Signup and KYC
Bybit
Having an account on Bybit requires your email address or phone number, a strong password, country code, and a referral code which is optional to sign up. Users will also get a recaptcha verification code via the registered email address or phone number for the registration to be completed.
Bybit mandated that users do their Identity Verification of at least Lv.1 to be able to have access to all Bybit products and services. The required documents for the KYC process for Lv. 1 are a government-issued document and a scanned selfie gotten from your camera. Meanwhile, proof of address is needed to upgrade to LV. 2 and secure a Bybit card. Registration usually takes 15 minutes, but in extreme cases, it takes 48 hours.
Without KYC verification, users also can't trade or make withdrawals. There is no monthly withdrawal limit for users who have completed Identity Verification Lv. 1 or Lv. 2.
Bitpanda
Bitpanda registration requires an email address, phone number, and a strong password. It also needs users to indicate their country of residence and accept the terms and conditions and privacy policy if they agree with them. After creating the account, users will get a confirmation mail, all they need to do is to click on the link to complete the registration.
The next step is the verification process, the KYC document needed is either a passport or identity card matching your personal details. The verification process for Bitpanda takes a few minutes before it reflects in the user's account.
Bybit vs Bitpanda: Products, Services, And Features
Supported Coins
In addition to over 620 spot trading pairs, Bybit offers over 420 crypto tokens, including popular coins like BTC, DOGE, SOL, ETH, DYDIX, AVAX, BIT, DOT, LTC, DOGE, MATIC, and more. Bybit provides up to 100x leverage for Bitcoin and up to 50x leverage for other supported coins.
Bitpanda only offers 100 coins, In addition to Bitcoin, you can also find Litecoin, Bitcoin Cash, Dash, Ethereum, and Ripple (XRP). However, it needs Euro to purchase the coin.
Trading Categories
Bybit provides two main trading options: traditional spot trading and derivatives. Within the derivatives category, users can pick from settlements, USDC Perpetuals, USDC Options. Contracts Bybit lets users leverage up to 100x on Bitcoin (BTC) and Ethereum (ETH) futures. Bybit also offers Unified Trading Account which is an all-in-one trading account, it allow users handle multiple currencies all under one roof.
On the other hand, Bitpanda caters to passive investors with support for over 100 cryptocurrencies. For active trading with advanced features, Bitpanda Pro is the recommended choice. Beyond crypto, the main Bitpanda platform also offers a diverse range of investment options, it includes stocks, ETFs, commodities, metals, leveraged tokens, etc.
Trading Interface
Bybit has a user-friendly trading interface . It comes with a full menu of indicators and offers features and trading possibilities. Traders can place up to eight charts per tab on the main screen, each of which can contain additional components like indicators, intervals, and drawings.
Meanwhile, Bitpanda offers options for users who want to manage all of their investments in one location. Bitpanda user interface has the purpose of providing an overview of your entire trading experience.
Passive Income Products
Bybit allows users to earn with its wide range of passive income products. Users have excellent opportunities to generate passive income from their cryptocurrency holdings with Bybit Savings and Bybit Lending.
In addition, the platform also offer other passive income products like liquidity mining, yield farming, staking, cloud mining, airdrops, and more.
Bitpanda offers users the opportunity to earn weekly rewards by staking assets with just one button. They also offer a tell-a-friend program which allows users to earn up to €100 each. Also an affiliate program where commission will be earned.
Bybit vs Bitpanda: Trading Fees
At Bybit, trading fees vary between makers and takers for Bybit and Bitpanda.
The spot fee for makers and takers on Bybit exchanges is 0.1%. They give fee discounts based on how much you trade over the past 30 days. Meanwhile, Bitpanda charges a default fee of 0.25% for all trading types. Same as Bybit, the trading fees can be decreased based on 30-day trading volume.
Bybit charges 0.02% maker and 0.055% taker fees for futures Trading. Bitpanda does not offer crypto futures trading, but ETF futures with a fee of 0.25%.
Creating and maintaining a Bitpanda account is entirely free. Bitpanda applies a 1.49% premium for Bitcoin transactions and a standard 0.25% trading fee for both takers and makers trades. Frequent traders can have a reduction fee based on their 30-day trading volume.
Bybit vs Bitpanda: Deposit Methods
Both platforms offer free crypto deposits.
Bybit accepts FIAT deposits in 15 currencies, British pounds, euros, and US dollars, etc. Users can deposit through various channels such as Advcash, credit cards, SEPA transfers, and bank wire transfers. Depending on chosen currency and deposit method, the fees can be as low as 0% with Advcash or go up to 4% for bank wire transfers.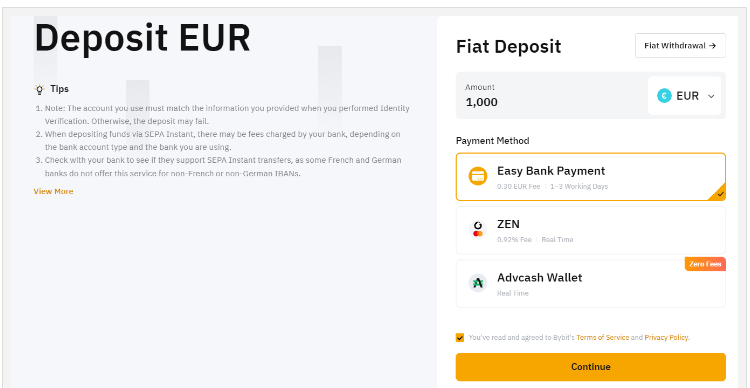 Only the following currencies are accepted by Bitpanda for FIAT deposits: EUR, GBP, CHF, and PLN. There are several options for paying: SEPA, Visa/Mastercard, Skrill, and Neteller. The charges for these transactions vary, with card payments costing 1.8% and Neteller and Skrill costing up to 3.6%. SEPA transfers may take 1 to 3 business days to process, while the remaining methods are typically processed right away.
Bybit vs Bitpanda: Withdrawal Methods
Bybit offers over 300 different cryptocurrencies and calculates withdrawal fees based on network conditions. Bitpanda allows users to withdraw cryptocurrency vai Bitpanda wallet, charging additional fees on top of the standard network fees. The minimum withdrawal amount at Bitpanda is 25 euros, with a cost of 5 euros plus network fees.
When it comes to FIAT withdrawing, Bybit lets you withdraw in 10 different fiat currencies. Users can use Advcash and ZEN for these transactions, both of which are completely free. While the fees and methods for fiat withdrawals on Bitpanda are the same as those for deposits. The exchange currently supports 5 different fiat currencies.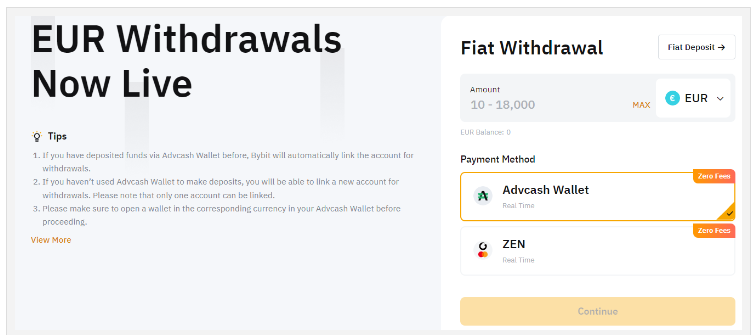 On the other hand, Bitpanda facilitates crypto transactions via its own wallet. However, it's worth noting that Bitpanda does add additional charges for crypto transfers. If you're looking to pull out funds, there's a base limit set at 25€, and the charge for doing so is an extra 5€.
Bybit vs Bitpanda: Security
Strong security features must be prioritized when choosing an exchange platform. We'll go into detail about the securities each platform has put in place to protect users' assets in this section.
Security Compromise
Bybit exchange platform is one of the most secure platforms for trading. Their platform has never been hacked, they set up anti-phishing code and secure their assets using Google 2FA.
Same as Bybit, Bitpanda has never been hacked or compromised. They claim to have built-in security features that make it difficult for hackers to corrupt.
Proof Of Reserves
To gain the trust of traders, Bybit offers full transparency via their Proof of Reserves (PoR). They also released a Nansen dashboard and their wallet addresses in December 2022. Bybit holds a 1:1 reserve on all user assets. Reserves and user assets will be made public to users.
Meanwhile, Bitpanda hired KPMG, an auditing company to help ensure the assets of its users are safe.
Account Security
For enhanced security against hackers and scammers, Bybit introduces different security measures to their users, it includes Google 2FA, fund password, YubiKey authentication, anti-phishing Code, etc.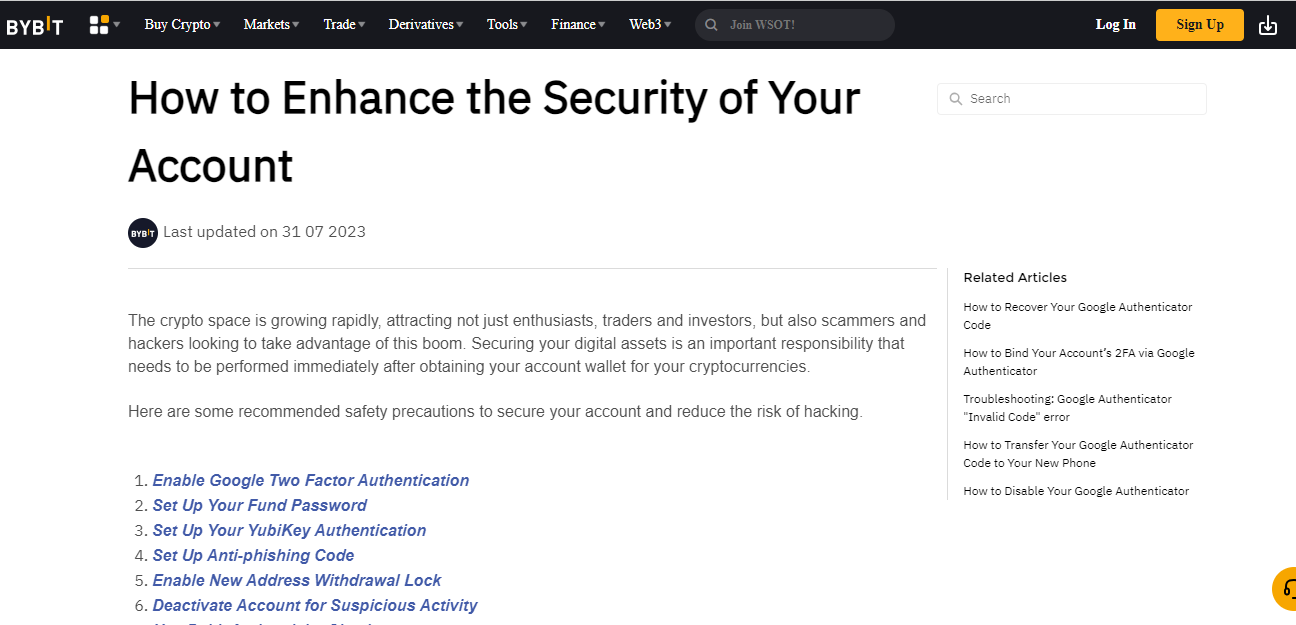 Bitpanda has also put in place different security methods which Google 2FA should be adopted by users. They also introduce cold storage, session management, and reCAPTCHA to their security session.
Bybit vs Bitpanda: Final Verdict
Bybit and Bitpanda are both well-known in the crypto sphere, they fulfill different needs and stand out in different ways.
Bybit focuses on cutting-edge trading features like high leverage and derivatives, offers a wide variety of coins, and is focused on innovation. However, because of the past regulatory issues it has faced in some countries, potential users may be hesitant.
On the other side, Bitpanda contrasts itself as a good option for Europeans looking to invest in cryptocurrencies as well as other assets like stocks and commodities. It is simple to use, making it appropriate for beginners. However, its trading fees are relatively high and therefore not suitable for active traders.
Overall, Bybit will take the win because it has a significant edge in terms of global reach, coin support, low fees, and advanced trading features. It caters to a larger global audience, and its partnerships with established brands might give some users additional confidence.