Do you need help picking either Bybit or Bitmex for your crypto trading? Look no further. This article offers a detailed comparison of Bybit Vs Bitmex. We have put together the most important information needed to help you make an informed choice. This article will focus on providing you with the overview, sign-up & KYC, products, trading fees, account security, etc, of these platforms.
Bybit vs BitMEX Overview
Bybit is a crypto exchange founded in 2018 by Ben Zhou. The exchange has its headquarters in Dubai, UAE, with about 12,000 employees. Bybit provides crypto services in over 160 countries.

Bybit provides crypto products to over 15 million users with a daily trading volume of over $5 Billion. The crypto exchange, however, is restricted in Ontario, the US, Quebec, the UK, and Singapore due to regulatory uncertainty.
Bybit also has a mobile application where users can trade cryptocurrencies. Their mobile application is available for both Android and iOS users. The app has over 10 million downloads and a 4.5/5 star on the Google play store.
Bitmex, on the other hand, is the oldest derivative trading platform. The platform was founded in 2014 by Arthur Hayes, Ben Delo, and Samuel Reed.

Bitmex is based in Seychelles but has a customer base in over 140 countries. People living in the United States, Japan, Ontario, Canada, Quebec, Canada, Bermuda, North Korea, Cuba, Syria, Crimea, Iran, etc, can't open a Bitmex account.
Bitmex has its native token Bmex, along with 50 crypto currencies. They currently have a trade volume of about $ 285 million.
You can download Bitmex on the google play store. They have over 50 thousand downloads and a 3.7/5 star on the google play store.
Bybit vs Bitmex: Signup and KYC
Bybit
The sign-up on Bybit is easy. To open an account on Bybit, you need an email address or phone number and a strong password.
Next is the verification process. A 6-digit confirmation code is sent to your registered email address or phone number. Inputting this code in the provided area will help verify your account.
However, before you access their trading products, you must complete your KYC registration. They are divided into level 1 and 2.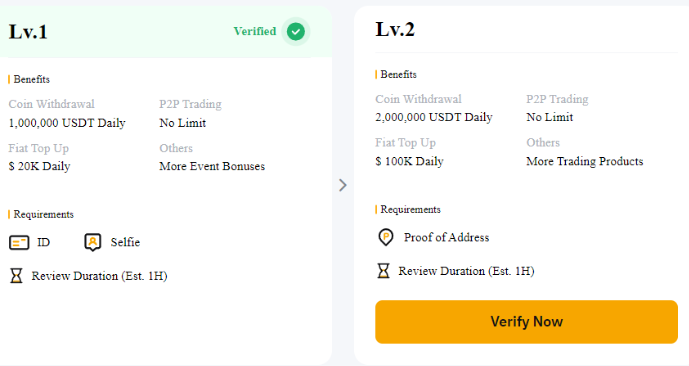 For Level 1 KYC, a passport or identity card and a selfie are needed. The verification procedure takes only a few minutes.
The Level 2 KYC requires proof of address, such as your utility bills or bank statements. Level 2 KYC is important if you want to do higher withdrawal.
Bitmex
Having an account on Bitmex is also as direct as that of Bybit. To start, you must provide an email address and a strong password. Your account is created shortly after doing this.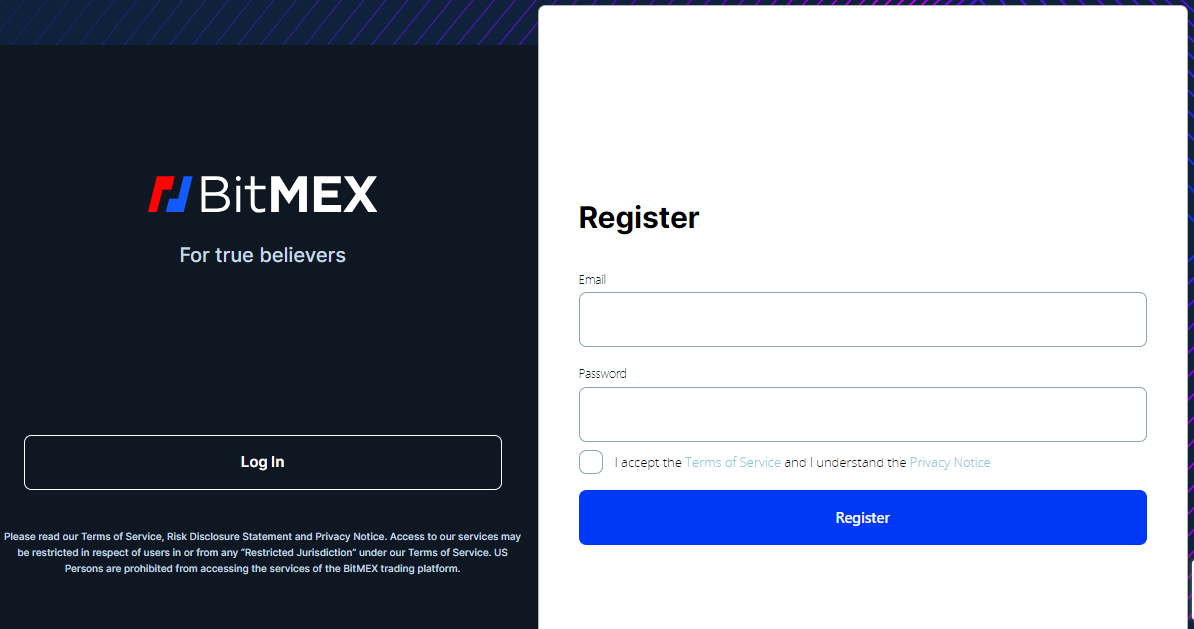 Next is your KYC verification. That is vital if you must trade on the exchange. During this process, you will be asked to provide a photo ID, proof of address, and a selfie. You will also respond to a few multiple-choice questions regarding your source of funds and prior trading experience.
Bybit vs Bitmex: Products, Services, And Features
Supported Coins
Bitmex exchange provides trading options for 26 cryptocurrencies, some of which are Litecoin, Bitcoin Cash, Binance Coin, Ethereum, Cardano, Dogecoin, Litecoin, Polkadot, Shiba Inu, and Avalanche, etc.

Meanwhile, Bybit has a broader selection with over 426 cryptocurrencies. Some of its popular crypto include Avalanche, Polkadot, Bitcoin, Litecoin, Dogecoin, Bit, Solana, Ethereum, Dydx, and Polygon (MATIC).
Trading Categories
Bybit's product spans spot, futures, derivatives, and NFT trading. The maximum leverage you can trade on Bitcoin is 100x for future trading. At the same time, other cryptocurrencies support a maximum of 50x leverage.
On the other hand, trading on Bitmex involves spot, future, derivative trading, and perpetual contract. You can leverage up to 100x when trading futures on Bitmex.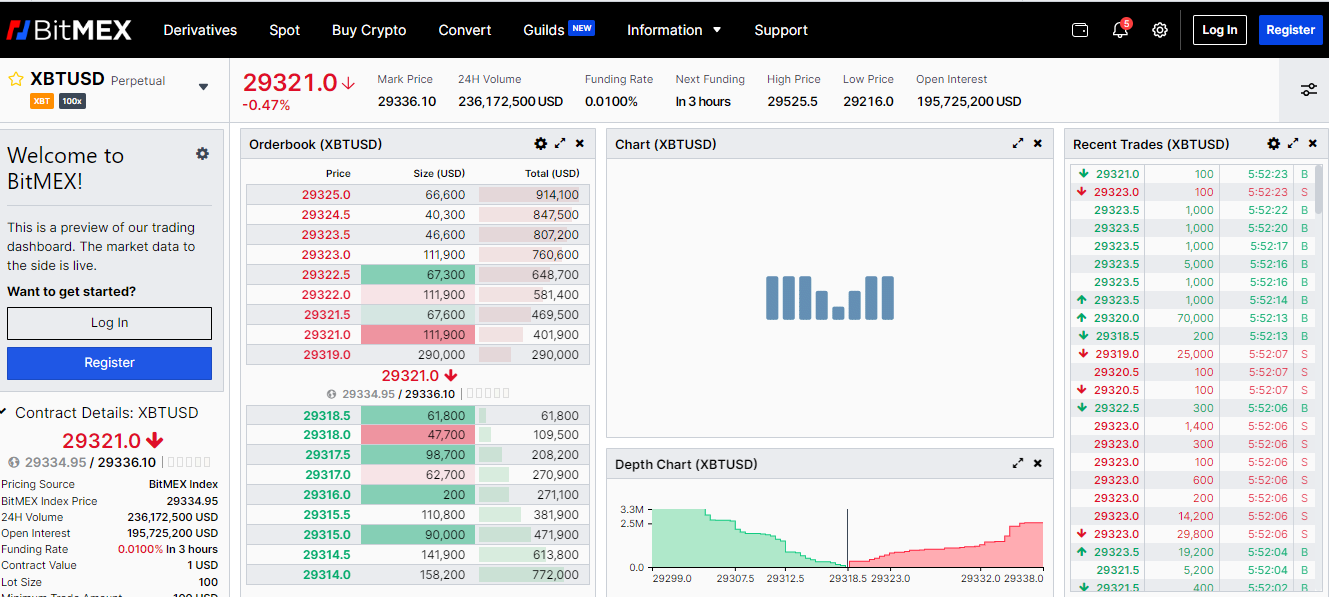 Trading Interface
Bitmex provides a user-friendly interface-although it is outdated and does not look modern. This interface comes with detailed analytics, real-time tracking of prices, and live graphs for about 40 cryptocurencies. That enables users to easily handle their portfolios, streamline their transactions, and consistently monitor the market.
Bybit's trading interface is more user-friendly, reliable and equipped with a range of tools and indicators. The main screen features organized tabs and extra elements like indicators, time intervals, and drawings.
Passive Income Products
There are various ways you can earn passively from Bybit. They include savings, lending, staking, liquidity mining, dual asset, etc.
BitMEX doesn't provide passive income opportunities through investments. Instead, its primary function is to enable users to profit from buying or selling their preferred cryptocurrency.
You can also earn passively on Bybit through their automated trading feature. Here, Bybit provides future trading bots and a bot marketplace. This way, users can replicate the trading techniques of other experienced traders. They also provide copy trading opportunities for users.
BitMEX referral program is one common way to earn passively. Here, you earn a commission based on the trading volume of the person you refer. Bitmex also runs an affiliate program, where you earn commission by promoting the exchange.
Bybit vs Bitmex: Trading Fees
When you trade on the spot market with Bybit, they will charge you 0.10% in makers and takers fees. They charge 0.02% for makers and 0.055% for takers in futures trading.
The fees are different for Bitmex. Spot traders pay 0.025% as makers fee and 0.075% as takers fee. Futures traders pay 0.02% for makers and 0.075% for takers.

Bitmex offers discounts to users who hold large amounts of BMEX tokens or whose monthly trading volume exceeds $1 million. For Bybit, discounts are offered to traders based on their 30-day trading volume.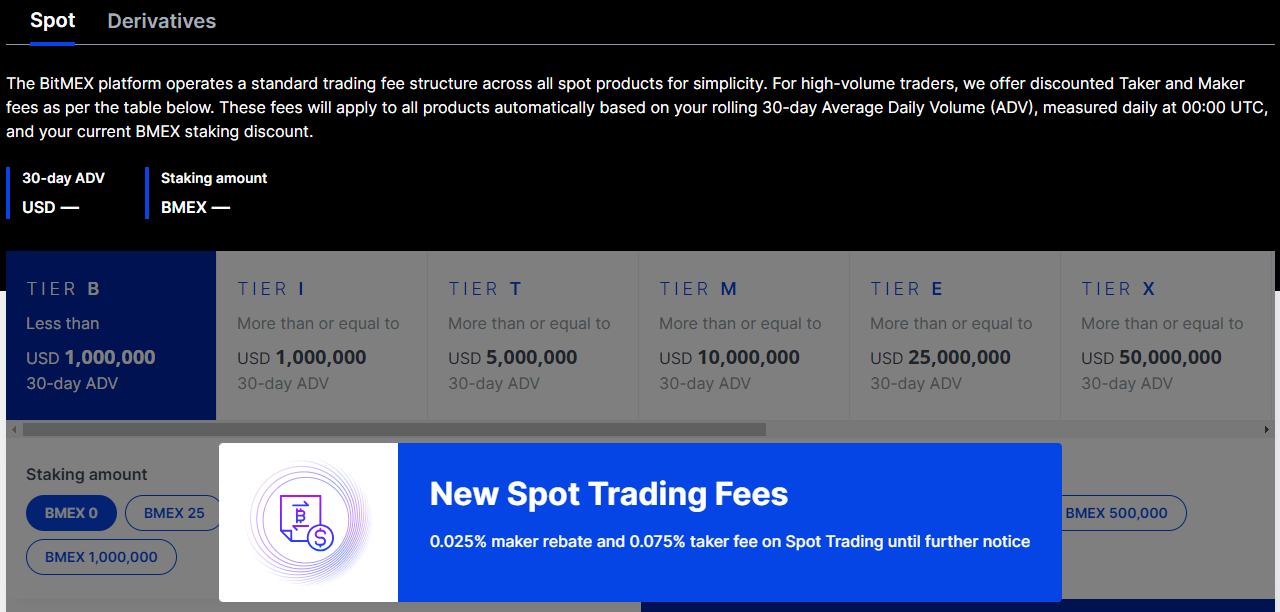 Compared to the rest of the market, trading fees offered by Bybit and Bitmex are generally quite competitive. Each platform stands out for its cost-effective fee structure. However, Bybit has better value for money due to lower futures fees and better discounts.
Bybit vs Bitmex: Deposit Methods
Bybit allows deposits in 15 different fiat currencies, including, but not limited to, USD, RUB, and BRL. Users have a variety of options for funding accounts, including SEPA, FPS, and bank transfers. The options for payment include Advcash, ZEN, and Easy Bank Payment. Advcash stands out because it doesn't charge any fees for FIAT deposits, and the transactions are completed immediately.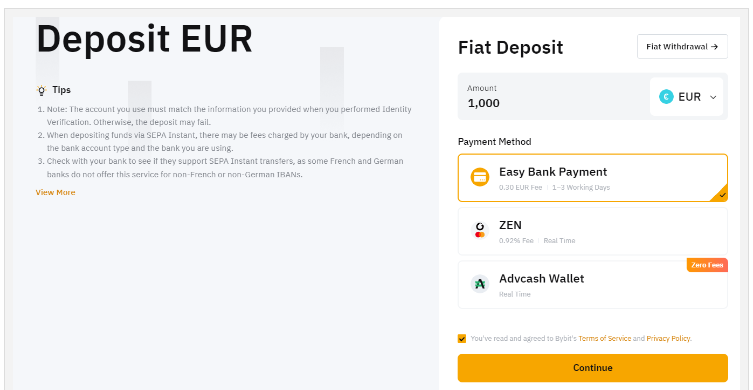 On the other hand, deposits in fiat money are not accepted by Bitmex. Instead, users can either deposit digital currencies they already own or buy direct cryptocurrency through Onramper.
Bybit vs Bitmex: Withdrawal Methods
Bybit allows users to withdraw funds in fiat currencies such as USD, BRL,GBP, EUR and TRY. You won't be charged any fees if you're withdrawing in TRY or BRL via the bank. However, those looking to withdraw USD using Wire Transfer'll be charged a $25 fee. For cryptocurrencies, Bybit charges a fee of 0.005 BTC for Bitcoin, 0.005 ETH for Ethereum, 0.01 SOL for Solana, and 10 USDT for Tether.
On the other hand, Bitmex doesn't allow withdrawals in fiat currencies but does permit withdrawals in cryptocurrencies. Their charge for Bitcoin withdrawals stands at 0.00005 BTC.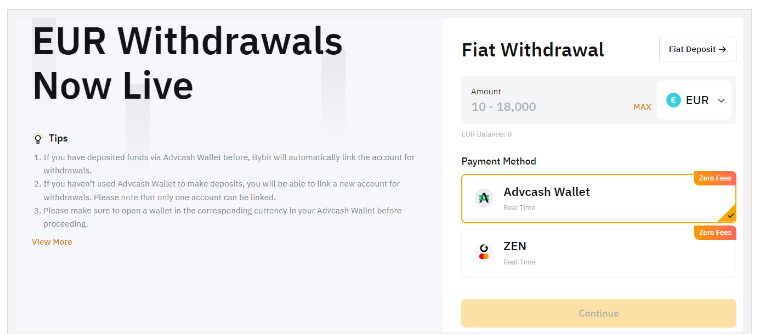 Bybit vs Bitmex: Security
Nothing beats a good security feature in picking an exchange trading platform. Trading platforms must put in place security measures to safeguard users' investments. We aim to evaluate the security features of Bybit and Bitmex in this section.
Security Compromise
Bitmex experienced a security compromise in 2019, with their Twitter account being hacked and many customer email addresses being leaked.
On a brighter note, Bybit stands out as one of the most secure trading platforms available. Not only have they managed to remain free from hacks, but they've also implemented anti-phishing measures and employed Google's 2-factor authentication to secure the safety of their users' assets.
Proof Of Reserves
The Bitmex Proof of Reserve & Liability (PORL) process is carried out by Bitmex twice weekly. Their website has all the necessary documents and information about this process. Users can now verify the accuracy of the reserve documents provided by Bitmex.

While using a Merkle Tree structure, Bybit provides real-time proof of reserves to its users. Users can check the exact location of their assets as liabilities in Bybit's blockchain-based wallets using their special Merkle Leaf code. Additionally, the PoR mechanism of Bybit now makes it possible to authenticate user holdings for 20 different tokens.
Account Security
Bitmex recommends two-factor authentication, prioritizing U2F, Yubikeys, and TOTP authentication over SMS. Strong passwords should be used, and tools like 1Password, KeePass, or LastPass should be considered. Users should also enhance network security with hardware firewalls, and for public networks, they should use a trusted VPN.
Bybit provides multiple security measures for its users, including Google Two-Factor Authentication, fund passwords, YubiKey verification, and protection against phishing.
Final Verdict
In terms of history and presence, both Bybit and Bitmex have established their footprints in the crypto exchange world.
However, judging by the features and security compromise situation, Bybit will take the lead as a winner.
Both Bybit and Bitmex offer solid platforms for crypto trading, and the choice largely depends on individual preferences. For users prioritizing a broader range of products, fiat deposits, and robust security features, Bybit might be the preferable option.
In addition, Bybit offers better value for money. Their prices are more affordable for active traders. Always conduct thorough research and consider your unique needs before selecting a platform.