The Bitcoin Mercantile Exchange, or BitMEX, is a peer-to-peer cryptocurrency trading platform that facilitates transactions between users directly. Crypto traders can enter into leveraged contracts that are settled in Bitcoin using its wide variety of derivatives products. It's worth noting, though, that BitMEX has struggled with legal issues and regulatory compliance issues in the United States.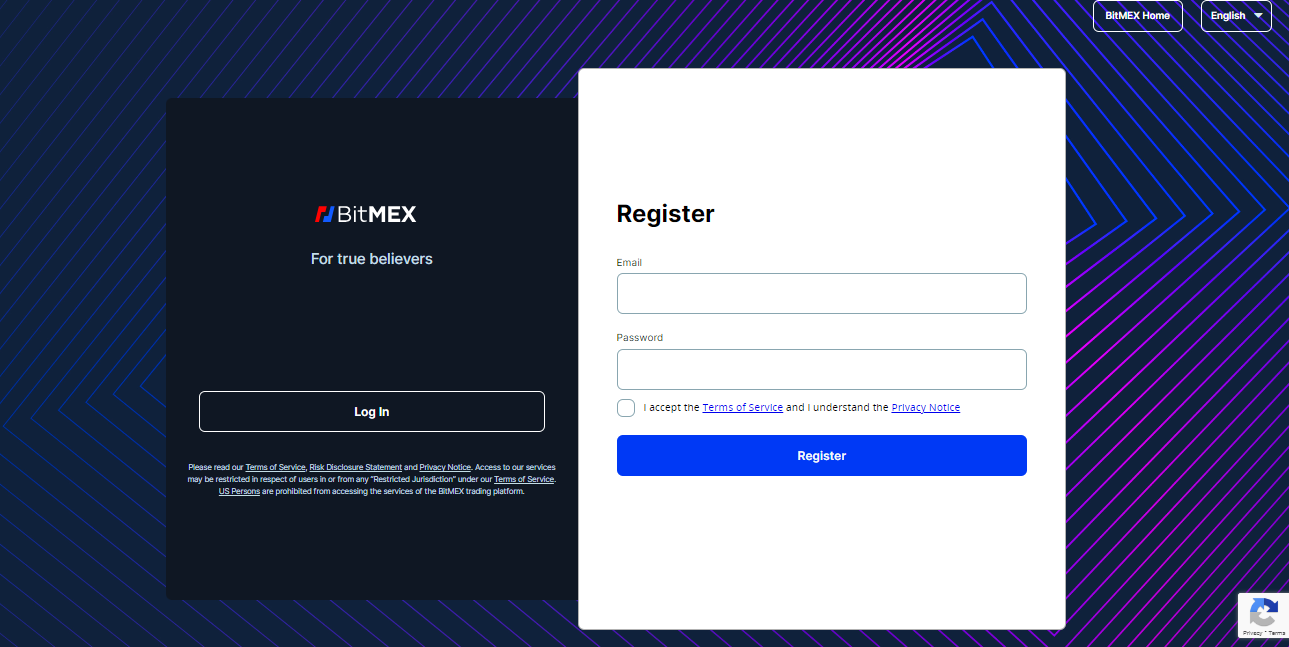 Keeping these considerations in mind, this comprehensive BitMEX Review 2023 aims to provide readers with an in-depth understanding of the platform's offerings, strengths, weaknesses, and security measures. By evaluating the products and services provided by BitMEX, traders can make informed decisions about whether the exchange aligns with their trading objectives and risk appetite.
Stay tuned as we dive deeper into the details and explore the nuances of BitMEX, shedding light on its role as a leading player in the cryptocurrency exchange landscape.
BitMEX Overview
| Website: | https://www.bitmex.com/ |
| --- | --- |
| Exchange Owner: | HDR Global Trading Limited |
| Headquarters Country: | Seychelles |
| Foundation Year: | 2014 |
| Mobile App Trading: | Available |
| Minimum Deposit: | 0.001 BTC |
| Deposit/Withdrawal Fees: | Free deposits/withdrawals for BTC; Free deposits for USDT |
| Supported Crypto Assets: | 33 Crypto Assets (BMEX, BTC, USDT, ETH, BNB, and more) |
| Trading Pairs: | 50+ |
| Maximum Leverage: | 100x |
| Accepts US clients: | US Traders are not accepted |
Pros
As we embark on this BitMEX Review 2023, let's begin by highlighting the platform's remarkable strengths and focusing on its standout features that set it apart from the competition.
Superior platform for derivatives trading: BitMEX stands out as an exceptional platform for traders seeking to engage in leveraged trading, providing a wide range of leveraged contracts and robust features to support their trading strategies.
High leverage options: With the ability to utilize 1:100 leverage, BitMEX empowers users to open substantial positions with only a fraction of the required collateral.
Low trading fees: The competitive fee structure of BitMEX is a significant factor that contributes to its appeal among experienced traders who frequently engage in trading activities.
Bitcoin perpetuals have a lot of liquidity: Trading experiences can be improved and the risk of slippage can be reduced thanks to this large pool of available funds.
Cons
Although BitMEX seems to be a well-acclaimed platform with unique features, strong security measures, and reasonable costs, it is essential to recognize that no platform is without its restrictions.
Regulatory compliance concerns: As a Seychelles-based exchange, BitMEX operates outside the realm of regulatory oversight. This factor raises concerns regarding the platform's adherence to legal and regulatory requirements.
Limited asset availability: Users hoping to trade in a wider range of assets may be dissatisfied by this restriction.
Unavailability of fiat deposits: This may restrict the accessibility for users seeking to engage in fiat-based transactions.
Trading Features
While BitMEX offers a range of advanced features, including high-leverage options, it is important to note that the platform is primarily designed for experienced traders who are familiar with crypto derivatives trading. Here is an in-depth overview of the key trading features provided by BitMEX:
Derivatives Trading
BitMEX is well-known in the crypto industry thanks to its extensive selection of derivatives.
BitMEX's perpetual swap contracts and quarterly futures contracts are its two most popular derivatives products. Due to their unending duration, perpetual swaps give investors the freedom to take long or short positions without worrying about when their contracts would expire.
Because of their adaptability and high-profit potential, these swaps have exploded in popularity on the market. BitMEX allows traders to increase their returns from very small investments by a factor of 100x via leverage on specific perpetual swap contracts.
When it comes to collateralization, BitMEX exclusively supports Bitcoin (BTC), while settlement is carried out using Tether (USDT). This makes trading derivatives on the platform a safe and streamlined experience for all users.
Currently, BitMEX supports over 50+ trading pairs on its perpetuals and futures contracts. Some of these trading pairs are:
XBTUSD
ETHUSD
LTCUSD
XRPUSD
DOTUSD
LINKUSD
XBTM23
XBTU23
ETHM23
XBTZ23
ETHUSDM2
BitMEX is an attractive platform if you have the appropriate expertise in futures trading and are looking for high-leverage opportunities. Derivatives trading on BitMEX can be lucrative, but it's important to proceed with caution, do your homework, and use good risk management practices.
Spot Trading
When it comes to spot trading on BitMEX, users have access to a selection of popular cryptocurrencies traded in USDT pairs. While the range may be limited compared to other exchanges, it is important to note the diversity within the available options.
Currently, BitMEX supports spot trading with 10 trading pairs, providing traders with a variety of options to choose from. These trading pairs are as follows:
XBT/USDT
BMEX/USDT
TRX/USDT
ETH/USDT
SOL/USDT
APE/USDT
LINK/USDT
AXS/USDT
MATIC/USDT
UNI/USDT
BitMEX Beta Testnet
For those who prefer to practice their trading skills before diving into live trading, BitMEX offers a valuable feature called the testnet. With the testnet, users can engage in demo trading of cryptocurrencies without any risk.
This allows beginners to familiarize themselves with the platform, explore its functionalities, and gain hands-on experience in trading cryptocurrencies with leverage through the BitMEX paper trading account. It's an excellent tool for honing trading strategies and building confidence before venturing into the live trading environment.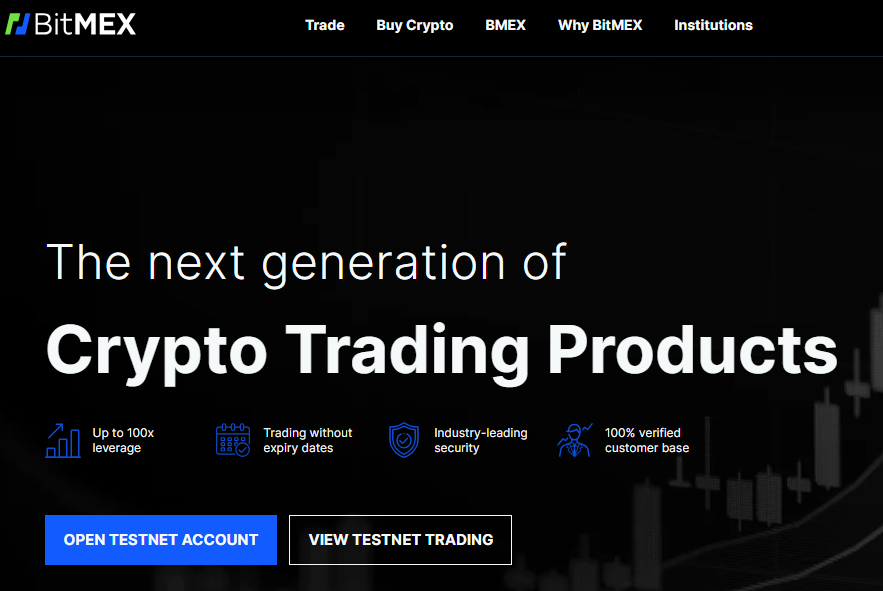 Services
BitMEX is dedicated to delivering a full range of services to meet the demands of cryptocurrency traders, including cutting-edge trading tools, leveraged contracts, staking options, and exciting promotions.
Convert Crypto
BitMEX offers a convenient crypto converter feature that allows you to convert USDT, USDC, and XBT to a wide range of cryptocurrencies, including ETH, LINK, UNI, MATIC, AXS, SUSHI, SHIB, APE, TRX, DAI, AAVE, FTM, MANA, SAND, BNB, AVAX, NEAR, DOT, XTZ, ADA, BMEX, BCH, LTC, and DOGE.
The input fields on the order form will display the minimum and maximum conversion amounts for each currency, and there are no fees charged for conversions. The conversion price is based on a combination of market prices to ensure the most favorable rate.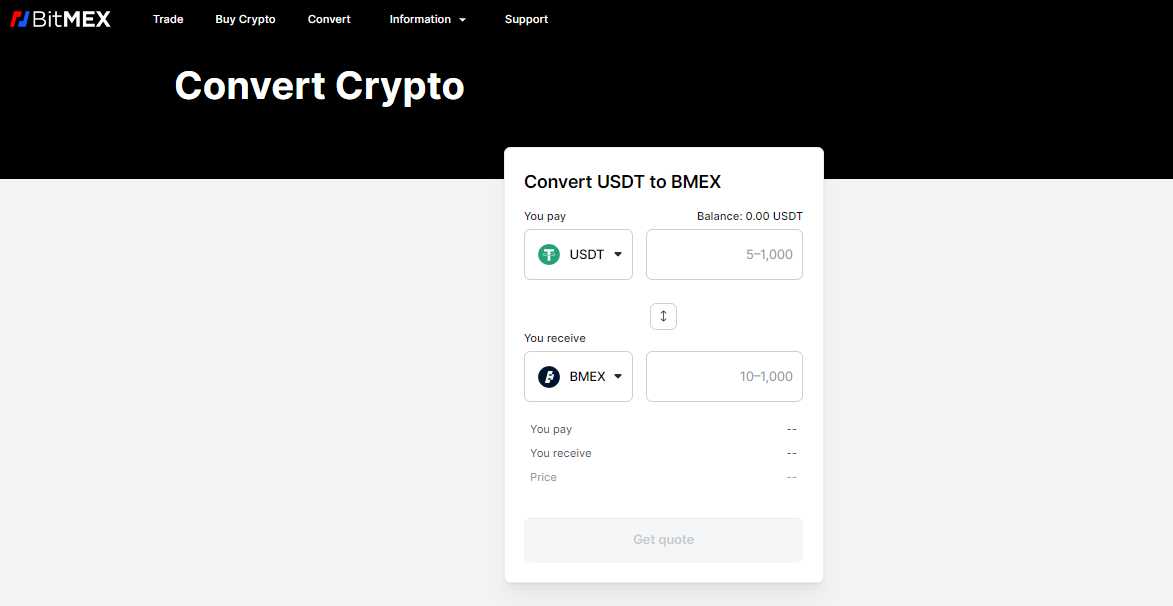 BMEX Staking
BitMEX provides a lucrative staking program for BMEX Token holders, offering a range of enticing rewards and advantages. By staking BMEX, users can unlock benefits such as significant trading fee discounts of up to 15%, exclusive privileges like early access to new products, exciting BitMEX merchandise, and even tickets to thrilling sports events.
The more BMEX tokens you stake, the greater the rewards and benefits you can enjoy, making it a rewarding experience for BitMEX users.

Buy Crypto
BitMEX offers a convenient "Buy Crypto" service that enables users to effortlessly purchase popular cryptocurrencies using their credit cards. Through their trusted partner, OnRamper, BitMEX allows users to buy Bitcoin, Ethereum, and USDT within minutes, making the process quick and hassle-free. Whether you're a new user or an experienced trader, BitMEX's "Buy Crypto" service provides a seamless and efficient way to acquire cryptocurrencies with ease.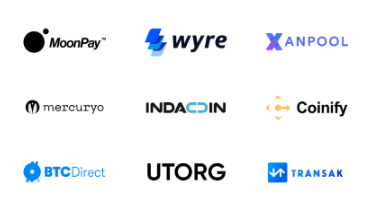 Mobile App
For crypto enthusiasts, the ability to monitor holdings and execute trades while on the move is of utmost importance. Recognizing the significance of a smartphone app in today's fast-paced crypto landscape, BitMEX offers its users the convenience of trading on mobile platforms.
The BitMEX mobile app is available for download on Google Play and the App Store, catering to both Android and iOS users.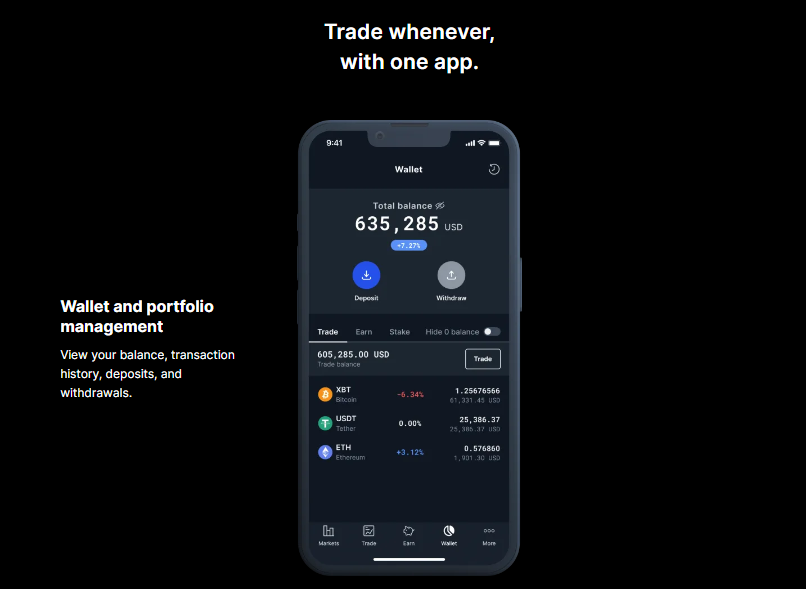 Web Trader
BitMEX is well-known for providing advanced traders with a platform comparable to that used by major financial institutions.
Experienced traders will likely find all the tools they need to perform a wide variety of crypto derivatives trading methods on the platform, while newbies may find the professional setup to be overwhelming.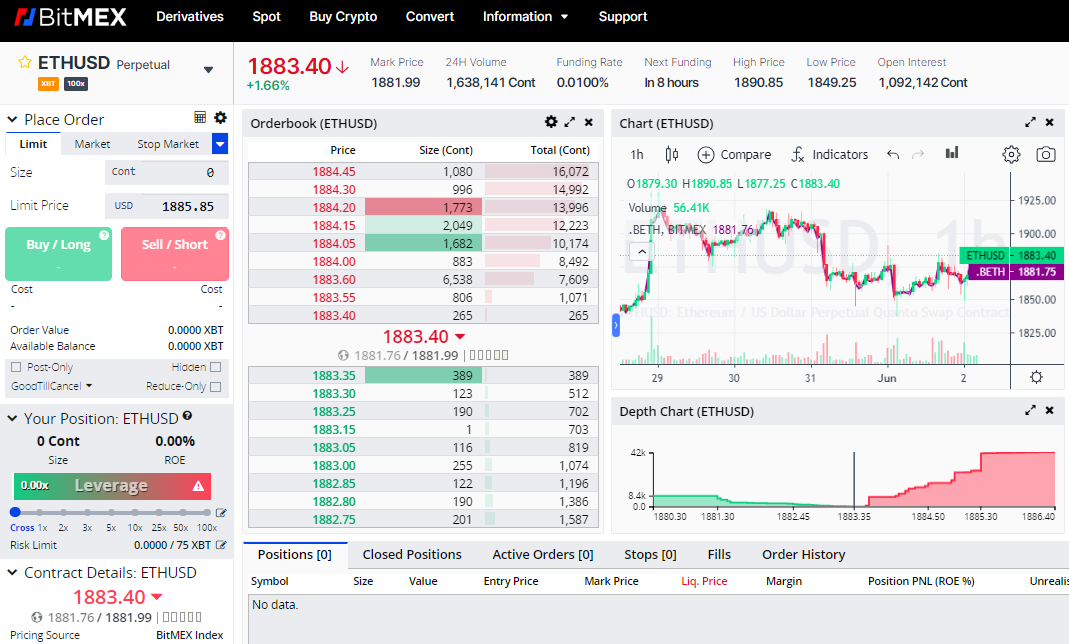 Promotions
BitMEX goes beyond its exceptional trading features by offering enticing promotional programs, including referral programs, affiliate programs, and a bug bounty initiative. These programs present additional avenues for users to reap rewards and maximize their experience on the platform.
Referral Program: By participating in BitMEX's referral program, users have the chance to earn up to a remarkable 20% bonus. Simply share your unique referral link and meet the program's criteria to unlock this enticing opportunity. Not only does this program enable you to enhance your own trading experience, but it also rewards you for expanding the BitMEX community.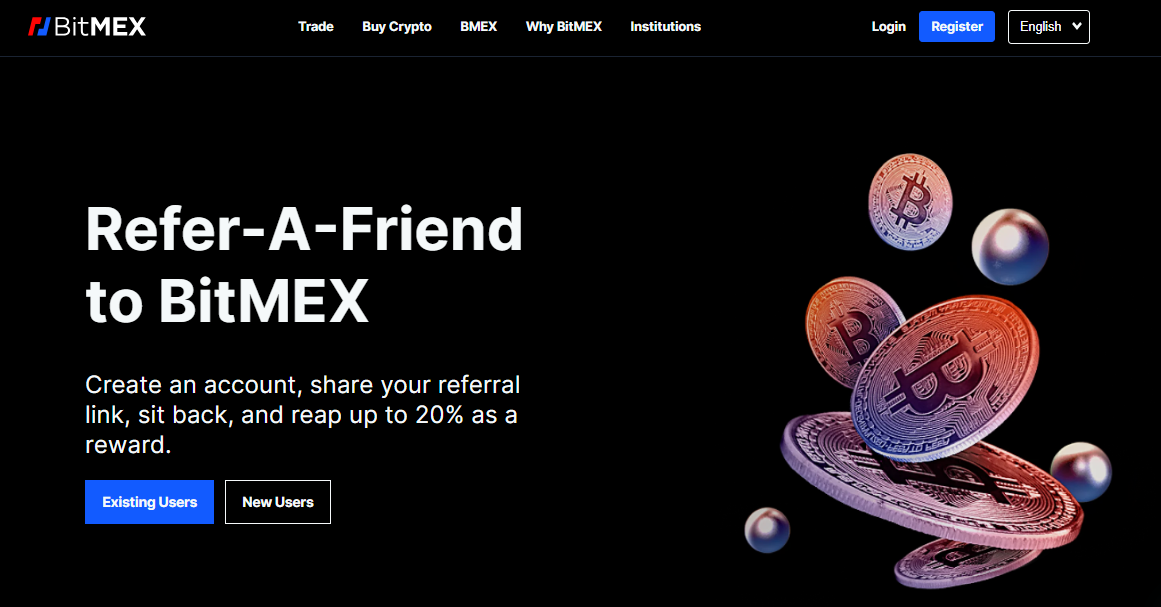 Affiliate Program: Engaging in BitMEX's affiliate program allows you to earn substantial commissions of up to 45%. As members of your community join and actively trade on BitMEX, you can enjoy a generous commission based on their trading activities. This program not only incentivizes you to share the benefits of BitMEX with others but also enables you to earn significant rewards as your community grows.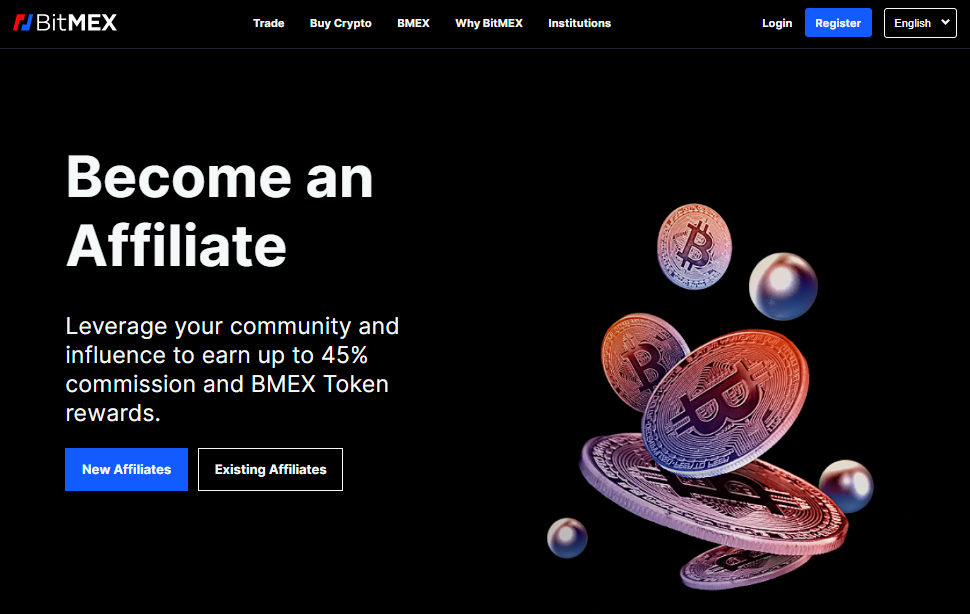 Bug Bounty: BitMEX values security and is committed to maintaining a robust and safe platform. To encourage users to contribute to this effort, BitMEX offers a bug bounty program. By identifying and reporting potential vulnerabilities, users can earn rewards of up to $10,000, depending on the severity level of the issue discovered. This program fosters a collaborative environment and ensures that BitMEX remains at the forefront of security measures in the crypto space.

BitMEX Academy
BitMEX recognizes the importance of knowledge and strives to empower its users with comprehensive educational resources. The platform goes beyond its trading services by offering guides and courses that cater to both new and experienced traders, ensuring that users can acquire the necessary knowledge to navigate the world of cryptocurrency trading.

Fees
BitMEX offers competitive and variable trading fees based on the specific contracts and currencies involved, allowing users to optimize their trading costs.
Derivatives Trading Fees
With a focus on simplicity, BitMEX implements a standardized fee structure for all its derivative products, featuring a taker fee of 0.075% and a maker fee of 0.020%, ensuring transparency and clarity for traders.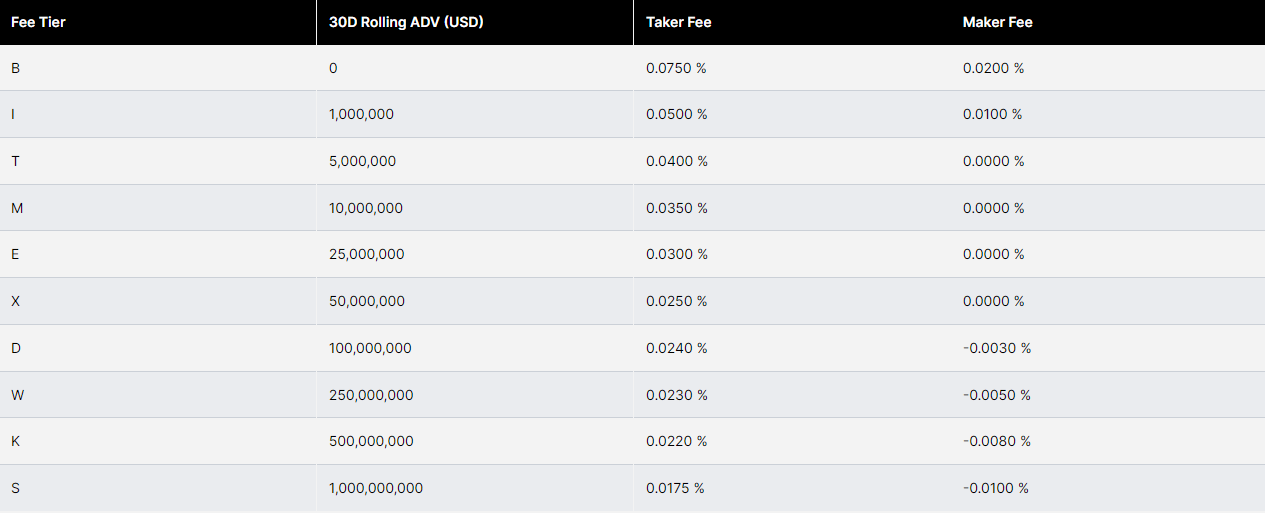 Below, you will find comprehensive tables showcasing the trading fees for both Perpetual and Future Contracts on BitMEX.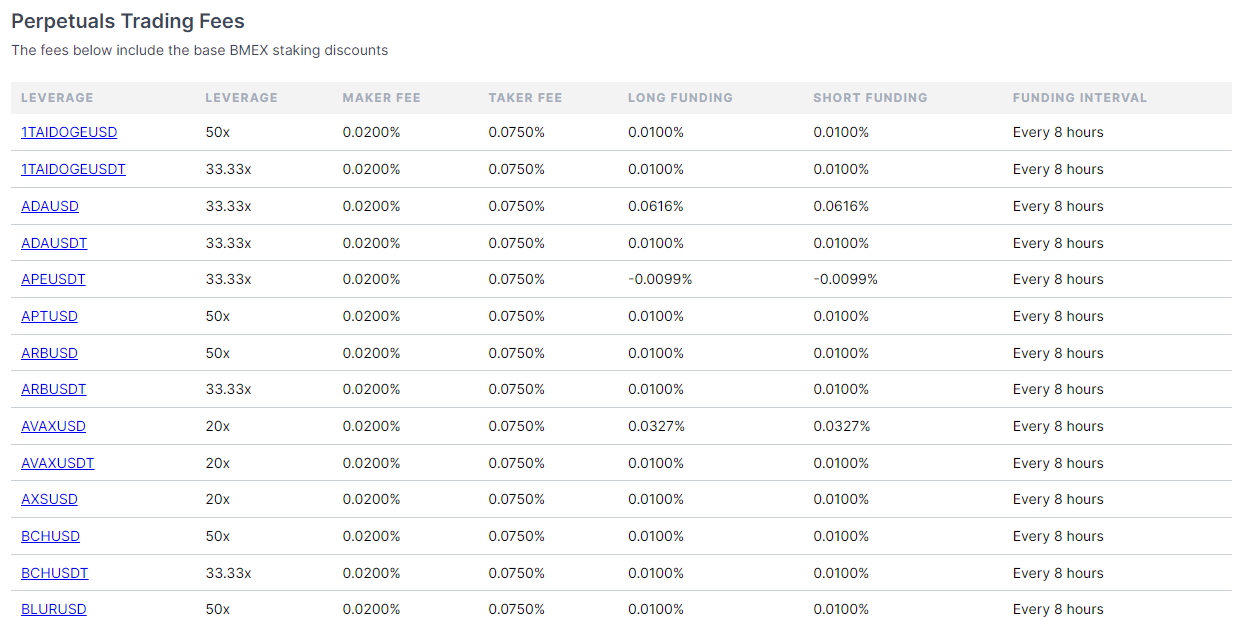 With a focus on fairness and efficiency, BitMEX ensures that users have a clear understanding of the fees associated with their transactions.
Spot Trading Fees
In this highly favorable development, BitMEX has temporarily waived spot trading fees, allowing traders to enjoy a fee-free experience. This presents an exceptional opportunity for users to engage in spot trading without incurring any transaction costs.

Deposit and Withdrawal Fees
At BitMEX, users can enjoy the convenience of fee-free deposits and withdrawals when it comes to Bitcoin transactions. Additionally, BitMEX dynamically adjusts the minimum Bitcoin Network fee based on the current load of the blockchain. This ensures that transactions are processed efficiently and at an optimal cost, taking into account the prevailing conditions of the network.
Furthermore, BitMEX offers favorable conditions for Tether deposits, with no fees imposed on such transactions. However, it is worth noting that withdrawal fees for Tether can vary.
Security
BitMEX has implemented a range of cutting-edge security protocols to eliminate single points of failure and insulate digital assets from cyber-attacks, internal collusion, and human error. Let's explore the key security features that set BitMEX apart:
Intrusion Prevention: BitMEX's proactive approach includes frequent checks of positions and margins, with balances cross-verified against on-chain records every 10 minutes. This stringent monitoring ensures that any bugs, flaws, or intrusions causing discrepancies in positions are immediately detected and promptly halt the exchange.
Bitcoin Custody: BitMEX employs a sophisticated multi-signature wallet system for Bitcoin custody. With a quorum of signers required to authorize transfers, private keys are never stored on cloud servers. Even in the event of a full system compromise, attackers would not have access to enough private keys to compromise the funds held and protected by BitMEX.
Custody for Other Assets: BitMEX's commitment to security extends beyond Bitcoin. For other assets, the platform utilizes secure multi-party computation (MPC), where private keys are distributed among multiple co-signing components. This decentralized approach eliminates the risk of a single point of failure and enhances the protection of your assets.
Transaction Safeguards: BitMEX incorporates transaction rules that enforce policies to block potential attacks. By prioritizing the segregation of duties, the platform ensures that no single actor within the system can independently authorize a withdrawal. Multiple signatures and interaction with untampered Hardware Security Modules (HSM) are required to validate transactions.
Fund Segregation: BitMEX places a strong emphasis on the segregation of funds. Client funds remain securely segregated at the account level and are ring-fenced from company assets. This industry-leading protection ensures that your funds are not lent, staked, or traded, and are solely dedicated to your trading activities.

Please note that while BitMEX has implemented rigorous security measures, it is always recommended to exercise caution and adhere to best practices in managing your digital assets.
Customer Support
BitMEX offers a dedicated support team that is available round the clock to address any queries or concerns you may have. Whether you require assistance with account setup, trading features, or technical issues, their knowledgeable support staff is ready to provide guidance and resolve issues in a timely manner.
What sets BitMEX apart is its commitment to catering to a diverse user base. The support team is fluent in multiple languages, ensuring that language barriers are not a hindrance to receiving assistance. English, Chinese, Turkish, and Russian are among the languages supported by BitMEX, allowing users from different regions to communicate effectively with the support team.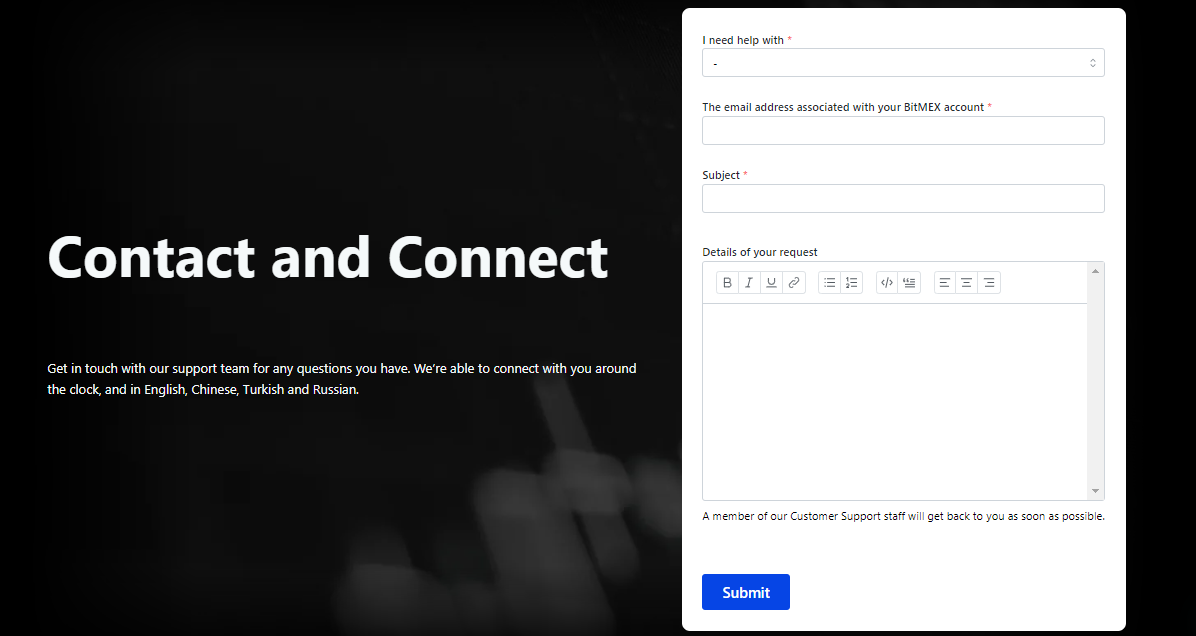 Please note that response times may vary based on the volume of inquiries.
Conclusion
As we wrap up our BitMEX Review 2023, we can confidently claim that the platform prioritizes user security and offers a robust trading environment for sophisticated strategies. Users can have peace of mind knowing that their assets are well-protected on BitMEX.
Nevertheless, it is important to consider certain caveats. BitMEX is best suited for experienced individuals familiar with cryptocurrency derivatives trading platforms. Furthermore, it is worth noting that BitMEX USA is not supported, and availability varies across different countries.
In light of these factors, it is essential to carefully evaluate your trading needs and experience level before determining if BitMEX is the right platform for you.
FAQ
Is BitMEX a secure crypto exchange for investors?
Yes, BitMEX is a secure crypto exchange for investors. BitMEX is highly regarded for its top-notch security measures, including multi-signature access, 2FA verification, and cold storage, ensuring the safety of investors' assets and trades.
Does BitMEX provide convenient mobile applications?
Yes, BitMEX offers convenient mobile applications for both iOS and Android devices, allowing investors to conveniently manage their investments on the go.
How long does a withdrawal from BitMEX typically take?
Withdrawals from BitMEX are processed daily, with requests submitted before 13:00 UTC included in the day's batch processing, prioritizing the security of users' funds.
Does BitMEX support multiple languages?
Yes, BitMEX supports a variety of languages, such as Japanese, English, Russian, Korean, and Chinese, ensuring a global reach and inclusivity within the crypto community.