In the highly competitive crypto industry, there are some very prominent players. With so many options to choose from, it can be hard to make a final choice when selecting a crypto exchange. Two of the best players are Bitget and Kucoin. In this comparison, we will go over Kucoin and Bitget, some of the largest crypto exchanges in the world.
After this guide, you will know exactly if you should use Bitget or Kucoin. We cover everything from fees, liquidity, security, features, products, and more.
First, we will start with a table where you can compare all key factors instantly so you already know what to expect from each exchange.
This table compares all key measures of Bitget and Kucoin, two of the best crypto exchanges in the world!
Kucoin vs Bitget Overview
Bitget was launched in 2018. With headquarters in Seychelles and Singapore, Bitget currently serves over 12 million customers from over 130 different countries. Bitget currently supports over 570 different cryptocurrencies which you can trade on the spot and futures market.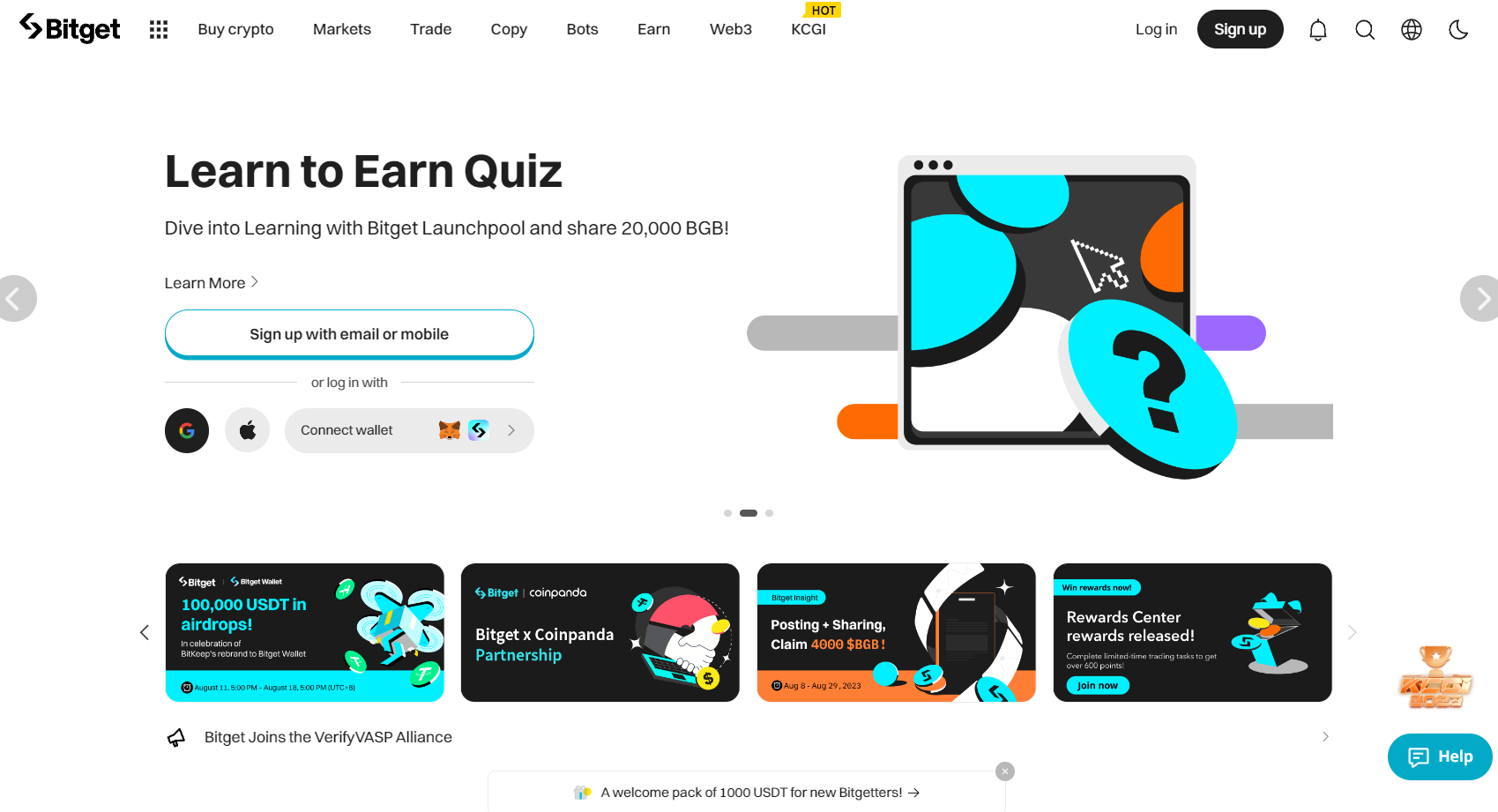 As of 2023, Bitget is one of the largest crypto exchanges on the derivatives market with a daily trading volume of over $10 billion, regularly ranking it in the top 5 exchanges in the world. Many traders trust Bitget due to its low fees, deep liquidity, and its flagship product, Bitget copy trading where you can automatically copy the trades from experienced traders. With no hacks or exploits, Bitget has a clean track record.
For traders seeking trading from their phones, Bitget has a comprehensive mobile app for iOS and Android devices. With over 5 million downloads and a 4.6/5 star rating, Bitget is considered to be one of the best crypto exchange apps.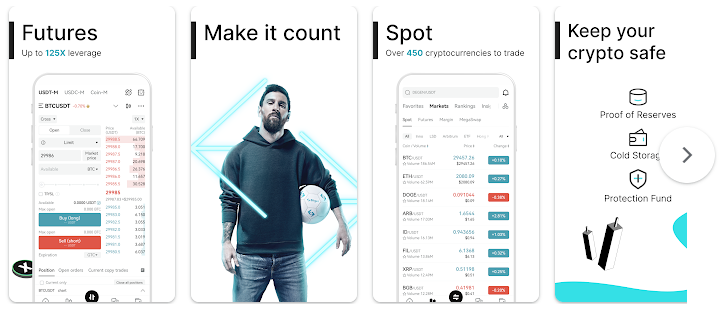 The Kucoin exchange was launched in 2017 with its headquarters in Seychelles. Kucoin is known as a top exchange for altcoins, offering over 800 digital assets for trading. With over 12 million users, Kucoin counts as one of the largest crypto exchanges in the world.
Aside from trading, Kucoin has a wide variety of passive income products such as staking, mining, algorithmic bot trading, and more.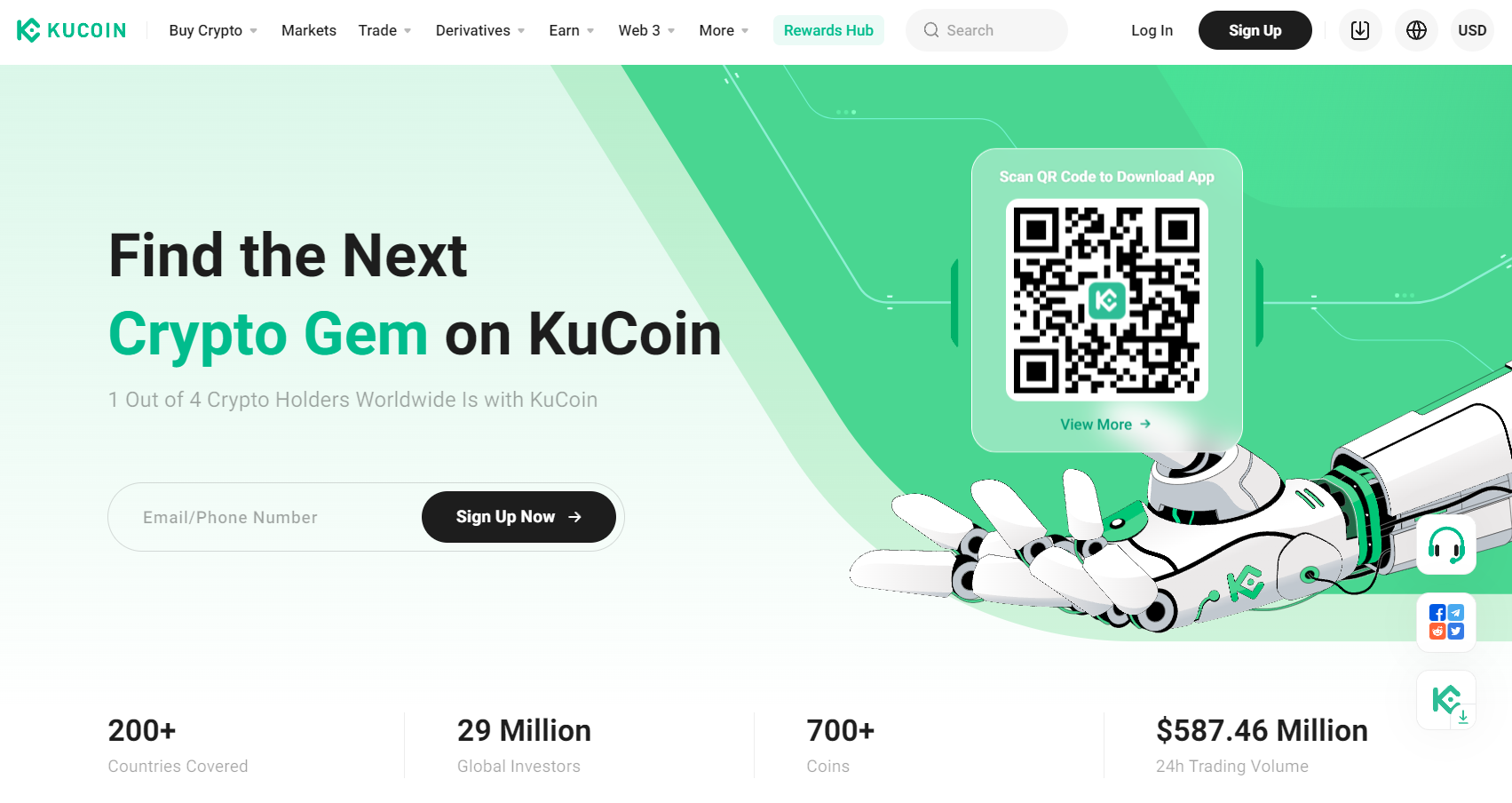 What we love about Kucoin is its rebranding in Q2 2023 where they re-designed the whole website. The new interface is very user-friendly and reliable. Also, Kucoin has a mobile app for iOS and Android with over 10 million downloads and a 4.2/5 star rating.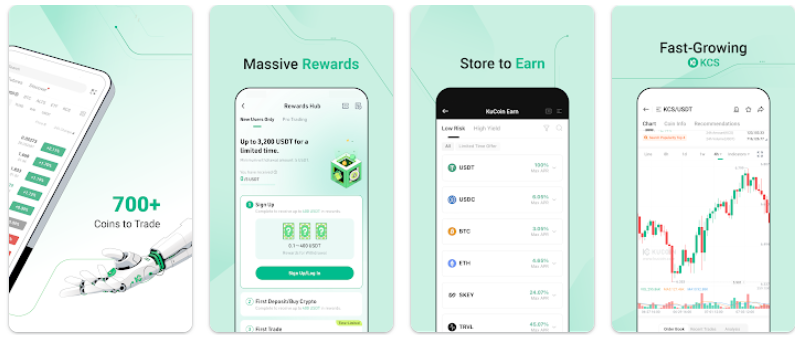 Kucoin vs Bitget Sign Up & KYC Process
Bitget and Kucoin allow signups with email and phone number and a strong password. On Bitget you can now even register with your MetaMask wallet which is great for Web3 enthusiasts.
In terms of KYC verification, Kucoin, and Bitget are very different. While Kucoin requires KYC for withdrawing, Bitget can be used without KYC. Without KYC, you can not withdraw from Kucoin which is an important thing to note. However, you can trade and withdraw without KYC on Bitget.
Bitget has a daily withdrawal limit of 50,000 for non-KYC users. This is a very generous limit compared to Kucoin. If you need to increase your Bitget withdrawal limit, you must verify your identity with your ID or Passport.
Kucoin requires level 1 KYC which requires personal information including a government-issued ID, Passport or Driver's License, name, and ID number. Level 1 KYC has a daily withdrawal limit of $499. Level 2 KYC increases the daily withdrawal limit to $1,999 and Level 3 KYC unlocks $999,999.
Kucoin vs Bitget Products, Features & Services
Kucoin and Bitget both offer a wide variety of crypto-related products.
In terms of trading services, Bitget offers spot trading with a 10x margin, futures trading with 125x leverage, and over 500 available cryptos.
Bitget regularly reaches a daily trading volume of over $5 billion, making it one of the largest crypto exchanges in the world. The Bitget trading interface is very user-friendly and reliable, making it a top choice for active day traders that are looking for a great futures trading platform with leverage.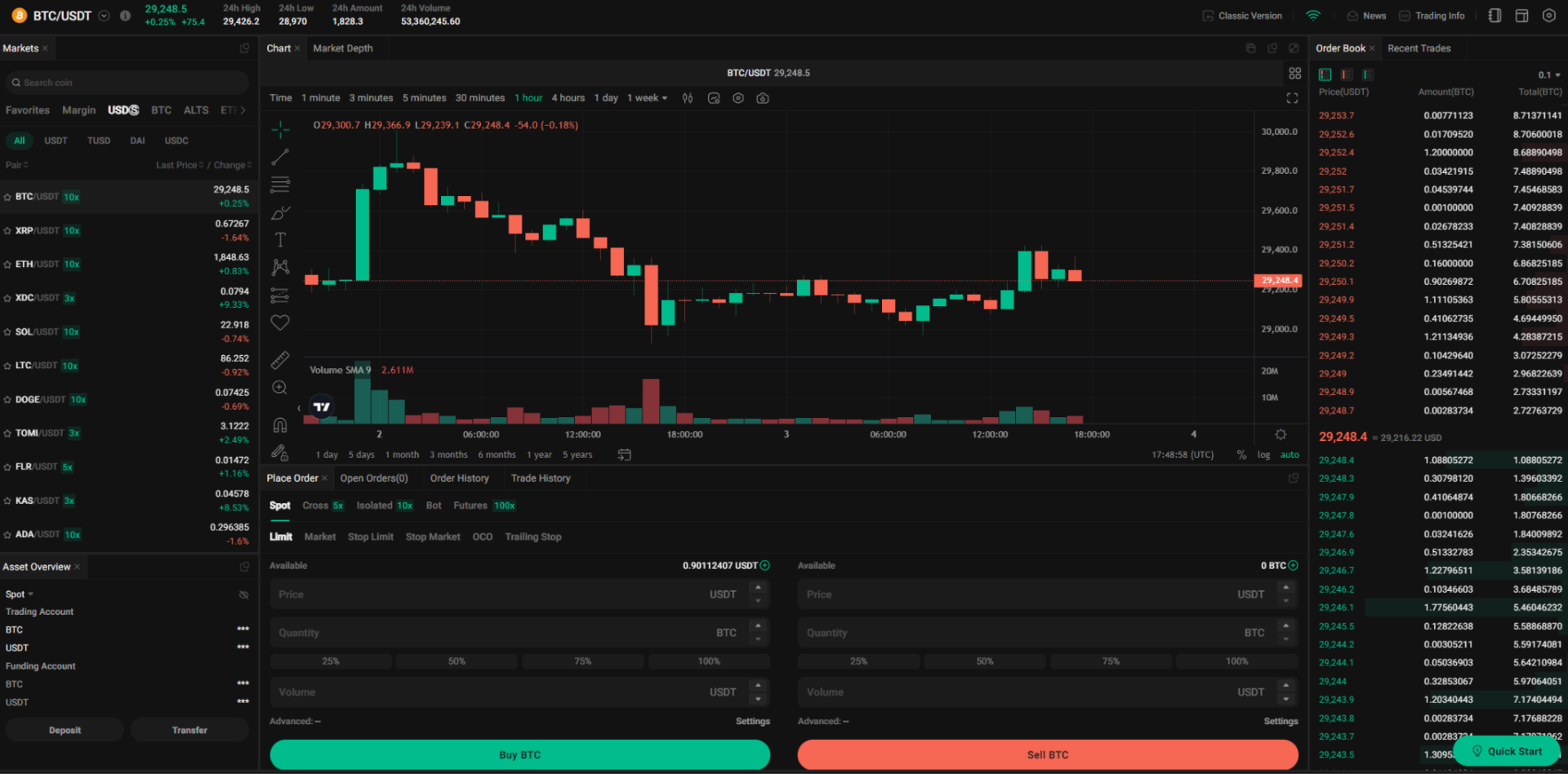 Kucoin on the other hand offers 800 cryptos on the spot market and 250 cryptos on the futures market with an average daily volume of $2 billion.
Kucoin is popular for its spot market with shiny altcoins that are not listed on other exchanges yet. Thus, Kucoin is considered to be one of the best spot trading platforms for buying new cryptos. Additionally, Kucoin offers a 3-10x margin for the spot market.
In terms of derivatives, Kucoin supports 100x leverage and a good user interface. The whole Kucoin website was redesigned in Q2 of 2023 and is now very user-friendly.
If you are interested in NFT trading, Kucoin also has you covered with their Windvane NFT aggregator.
If you are looking to actively trade on the futures or derivatives market with leverage, Bitget is superior. Where Kucoin takes the lead is the spot market with over 800 available cryptos that you can buy and also NFT trading.

When it comes to financial products for passive income, both exchanges have a lot to cover.
Bitget is popular for its comprehensive copy trading features where you can automatically follow advanced traders. The Bitget copy trading is easy to set up and once you find a good trader to copy, you will earn passive income from his trading performance. Additionally, Bitget offers savings accounts, staking, crypto loans, dual investments, range sniping, and mining launchpools to make even more passive income.

Kucoin on the other hand is popular for its range of automated trading bots where you can earn passive income without having to monitor the market. Setting up Kucoin bots is relatively simple, and once the bot is set up, you will earn passive income from its performance. Additionally, Kucoin is a large "Earn" section, similar to Bitget, with savings accounts, staking, dual investments, mining, and more.
If you are looking for copy trading and futures trading, Bitget is the best choice for you.
On the other hand, Kucoin is superior when it comes to trading bots and spot trading for altcoins.
Kucoin vs Bitget Trading Fees
The fee structure of Bitget and Kucoin is very similar.
On the spot market, Bitget charges the industry standard of 0.1% maker and 0.1% taker fees. If you are holding the native Bitget Token "BGB", you get a 20% fee discount, lowering your spot trading fees to 0.8% (maker and taker). You can check out the official Bitget fee schedule here.

Kucoin has the exact same spot fees of 0.1% for makers and takers. Even the discount with the native Kuoin Token "KCS" gives you the same fee discount of 20%. You can check out the official Kucoin fee schedule here.

For futures trading, Kucoin and Bitget have very similar fees again.
The Bitget futures fees start at 0.02% maker and 0.06% taker. Based on your 30-day trading volume, you can reduce your fees to 0.0015% maker and 0.035% taker.

Kucoin also charges 0.02% maker and 0.06% taker fees on the futures market. The lowest possible fees are -0.015% maker and 0.03% taker.

When comparing the fees side by side, we came to the conclusion that Bitget is slightly cheaper for spot trading due to better spot discounts. For futures trading, Kucoin has slightly lower fees due to fee discounts, however, you must trade over $4.4 billion to reach this discount.
In terms of fees, it really does not make a difference if you trade on Bitget or Kucoin except if you are a crypto whale with billions in monthly trading volume.
Kucoin vs Bitget Deposit Methods
Bitget and Kucoin allow crypto deposits free of charge.
When it comes to fiat deposits, Kucoin supports over 20 currencies including EUR, GBP, AUD, USD, RUB, SEK, and more. The supported payment methods for fiat onramps are Bank and Wire transfers. In rare cases, Kucoin also accepts fiat onramps with credit cards. The fees range from $1 to $25 based on your payment method. The cheapest option is Bank Transfer which is a fixed fee of 1€/£.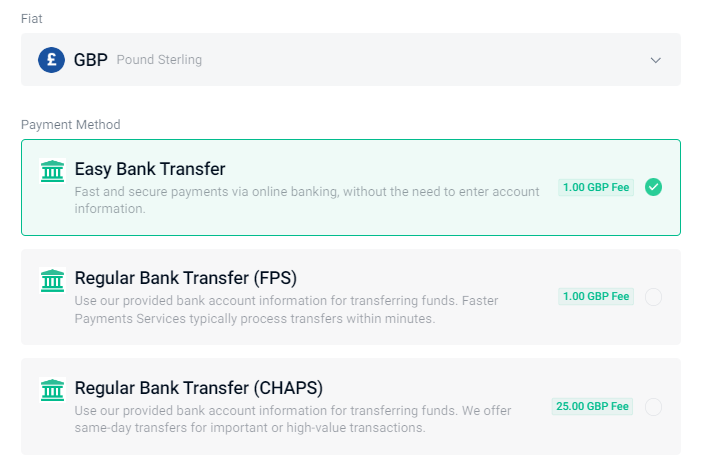 Bitget on the other hand offers fiat deposits for 5 currencies: GBP, EUR, RUB, UAH, and BRL via SEPA Bank Transfers for EUR and GBP and PIX for BRL deposits. For SEPA transfers the fees are 0% per transaction. RUB transactions are handled with Advcash without any translation fees.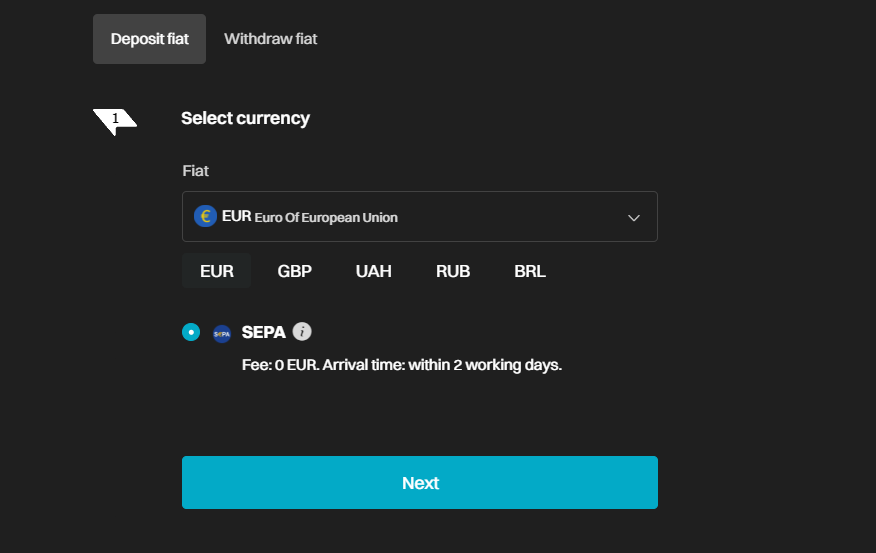 If your local currency is not supported on Kucoin or Bitget, you can also buy cryptos via credit card on the platforms right away. Kucoin supports over 40 fiat currencies and Bitget supports over 50 fiat currencies for direct crypto purchases. For this, the fees range from 2-6% based on your local currency.

In the fiat deposit section, Kucoin supports more currencies and similar methods. However, when looking at the deposit fees, Bitget is a lot cheaper. Also for crypto direct purchases, Bitget is the better option.
Kucoin vs Bitget Withdrawal Methods
Bitget and Kucoin offer crypto withdrawals for over 400 coins and all major networks. The withdrawal fees differ for each coin and network. However, some of the cheapest withdrawal options on Kucoin and Bitget are USDT and BUSD with the TRC20 or BEP20 network with a fixed fee of $1.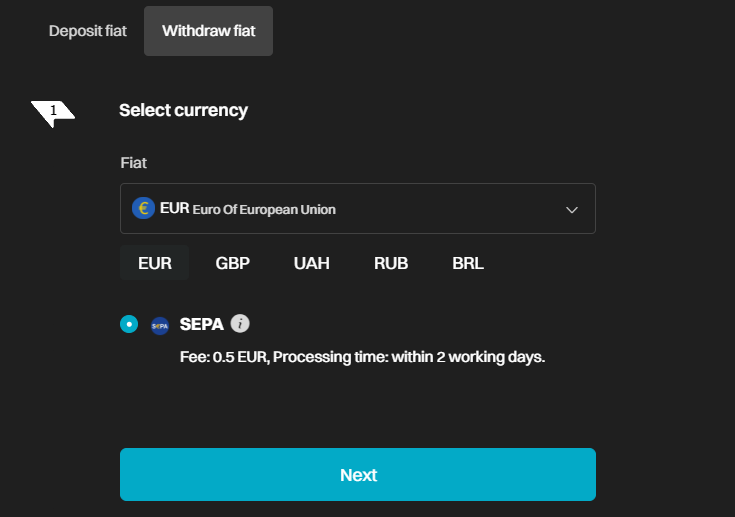 For fiat withdrawals, Kucoin supports 7 currencies. Note that you can not withdraw every fiat currency from Kucoin that you initially deposited. The supported currencies are USD, EUR, GBP, RUB, TRY, UAH, and BRL. For USD, the fees are 0% (Advcash) to $80 (Bank Wire). For EUR, GBP, and others, the fees are fixed at 1€/£ per SEPA transaction.
Bitget supports every fiat currency for withdrawal which is also available for deposits: EUR, GBP, RUB, UAH, and BRL. Also, the withdrawal methods are the same as the deposit methods which makes the whole on and offramp process on Bitget easy to understand. EUR and GBP can be withdrawn with SEPA transfers and fixed fees of 0.5€/£. RUB and BRL can be withdrawn with Advcash and PIX with 0% fees. The most expensive currency is UAH with 8% fees via Advcash.
In the withdrawal section, Kucoin and Bitget are fairly similar and the fees barely differ. Even though Kucoin accepts USD on and offramps, it is important to note that Kucoin does not allow US citizens on its platform.
Kucoin vs Bitget – Which Exchange Wins?
This side-by-side comparison between Kucoin and Bitget is a very close one. Both exchanges are very user-friendly, so if you are a beginner you will have a great time on both platforms.
Both exchanges focus on different areas, therefore it is easy to say which exchange is best in which case.
Kucoin is clearly the best exchange for buying altcoins. With over 800 available cryptos on the spot market, Kucoin has a lot more to offer compared to Kucoin. With integrated trading bots, Kucoin offers a great way to make passive income by setting up parameters and letting the bot trade for you 24/7. Lastly, Kucoin offers a fractional NFT marketplace for web3 enthusiasts.
Bitget on the other hand is best for day traders. The Bitget futures and derivatives market is superior to Kucoin. Additionally, Bitgets flagship product, the "copy trading" feature, lets you earn passive income by following the most successful traders on the Bitget platform. Furthermore, Bitget offers more staking, mining, lending, launch polls, and other passive income products than Kucoin.
Kucoin is best for:
Spot trading
Altcoins
Trading Bots
User-friendliness
NFT trading
Bitget is best for:
Futures/Derivatives trading
Active day trading
User-friendliness
Copy trading
Passive income products