XT.com is the world's first social-infused exchange, which allows traders and investors to trade a diverse range of cryptocurrencies. As a community-focused crypto exchange, XT.com enables its members to create their own communities, start businesses, interact directly with their consumers, and make other helpful connections.

XT.com Exchange
XT.com was founded in 2018 and is based in Singapore, but it also has operational centers in Tokyo, Seoul, and other major cities. XT.com has over 2 million registered users, over 800 cryptocurrencies supported, and over $1 billion in daily trading volume. XT.com aims to provide a comprehensive and convenient trading experience for both beginners and professionals, with innovative solutions and diverse markets.
Sign Up & KYC Verification
To start trading on XT.com, you need to create an account. The signup process is straightforward. Visit XT.com's website and click on the Sign Up button. Select your country/region and click on Confirm. Enter your email or phone number and set a password. If you have one, enter a referral code. Click on Send Code to receive a verification code. Finally, log in and start trading. Users can verify their identity to daily withdrawal limit and unlock the full features of XT.com, such as Fiat Trading and the P2P Merchant Application.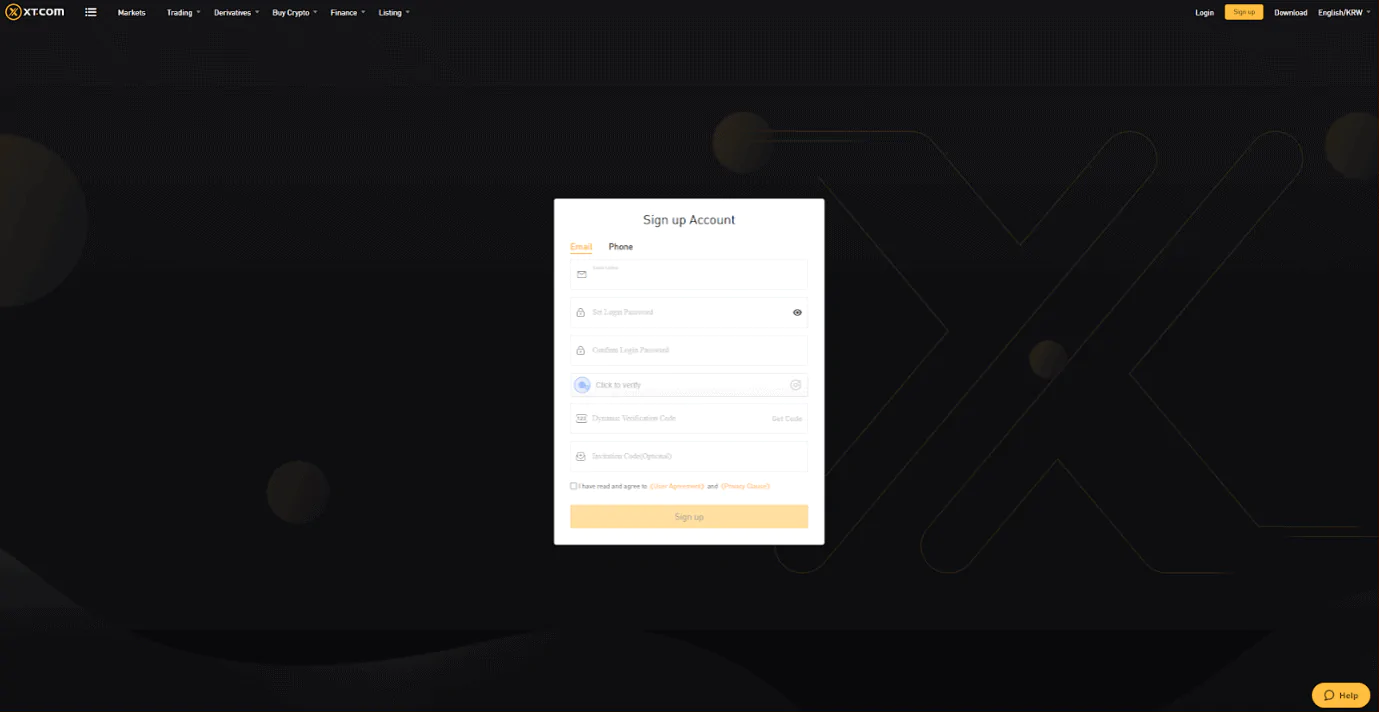 Features and Services of XT.com
Instead of focusing on a single crypto group or type of investor, XT.com invites all types of traders to join its platform and enjoy its diverse features. XT.com provides access to multiple trading exchanges and professional and standard trading platforms and facilitates the selling and purchase of cryptocurrencies.
Futures Trading
Futures contracts, prediction markets, and ETFs are all available on the renowned cryptocurrency derivatives exchange XT.com. Through speculation on underlying asset price changes, futures trading enables users to manage risks, leverage positions, and profit from rising and declining markets. XT.com offers two different types of futures contracts: coin-margined and USDT-margined, where coin serves as the settlement currency and USDT serves as the collateral. Users can borrow money for both types of contracts to increase returns by leveraging their trades with 50x their collateral.
Spot Trading
Spot trading on XT.com involves buying and selling cryptocurrencies at the market's going rate. On the spot market of XT.com, you can trade more than 800 high-quality tokens and 1000 trading pairs. On XT.com, you can also benefit from extremely low trading costs, a top security risk control system, and round-the-clock customer assistance.
Margin Trading
XT.com margin trading includes borrowing money from the platform to improve your purchasing power and possible profits. The margin market at XT.com offers up to 10x leverage for trading. As the collateral and settlement currency, you have a range of cryptocurrencies and stablecoins to pick from.
Use money you can afford to lose for margin trading, and be aware of the hazards. Margin trading is a high-risk activity that has the potential to produce greater gains but also substantially higher dangers. When the market moves dramatically, your investments risk being liquidated.
P2P Market
XT.com P2P market enables users to buy and sell cryptocurrencies directly from each other using various payment methods like bank transfer, PayPal, Alipay, and WeChat Pay. With over 800+ tokens and 1000+ trading pairs, including popular coins like Bitcoin, Ethereum, USDT, and XT, users can access the market anytime through the XT.com app for Android or iOS devices. They can create advertisements or browse existing ones to find the best deals. Once a trade is initiated, sellers' coins are locked in an escrow system until the buyer confirms payment. XT.com offers a convenient and easy way to buy and sell cryptocurrencies with fiat or other cryptos and integrates social features like chat rooms, groups, and live streams. Users can earn rewards by inviting friends, completing tasks, or participating in events.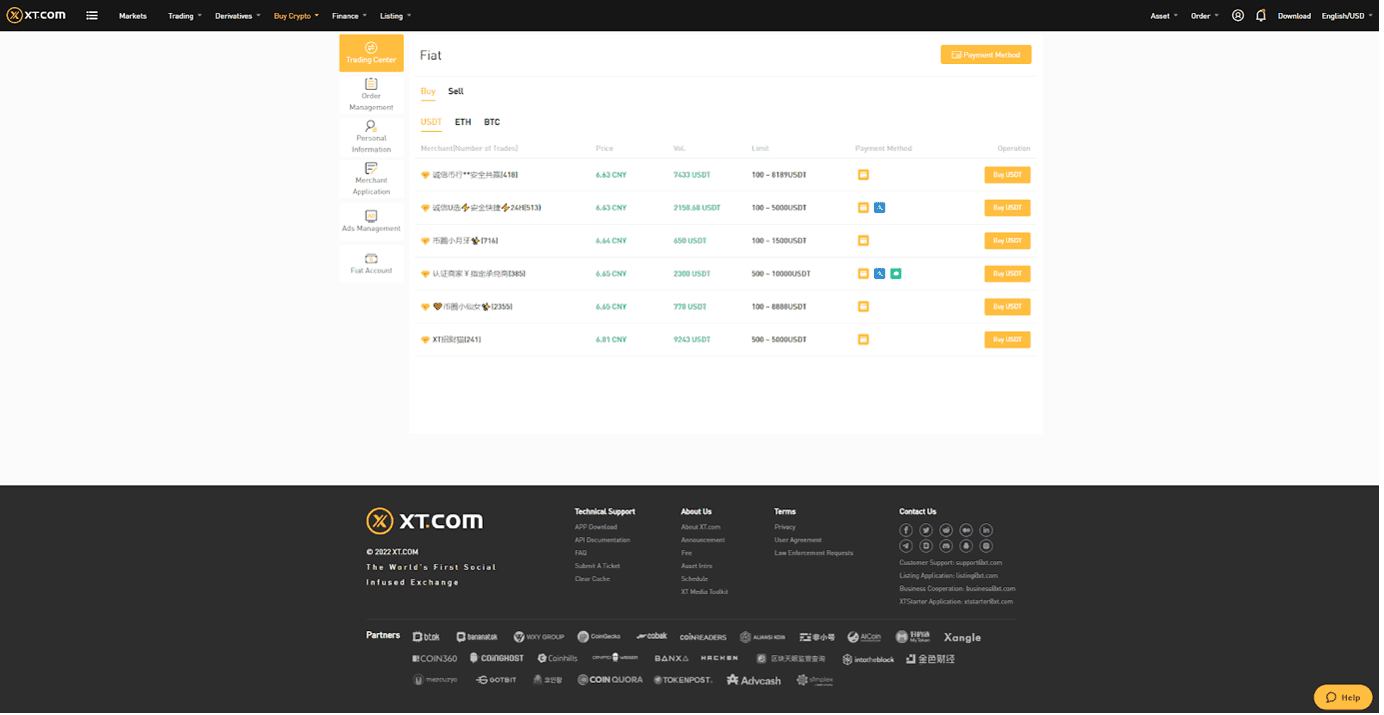 Cloud mining
Users can mine cryptocurrencies without purchasing or maintaining hardware, thanks to XT.com's cloud mining services. On the NFT market of XT.com, contracts can be bought to share rewards and traded. To provide ALEO cloud mining contracts, XT.com has teamed with ALEO, a platform for private, scalable, and economical applications employing zero-knowledge cryptography. ALEO's announcement will determine the length of the contract and estimated revenue. Although cloud mining is a practical and simple way to engage in the cryptocurrency market, it is not without danger, including the possibility of contract termination, price fluctuations, and platform security.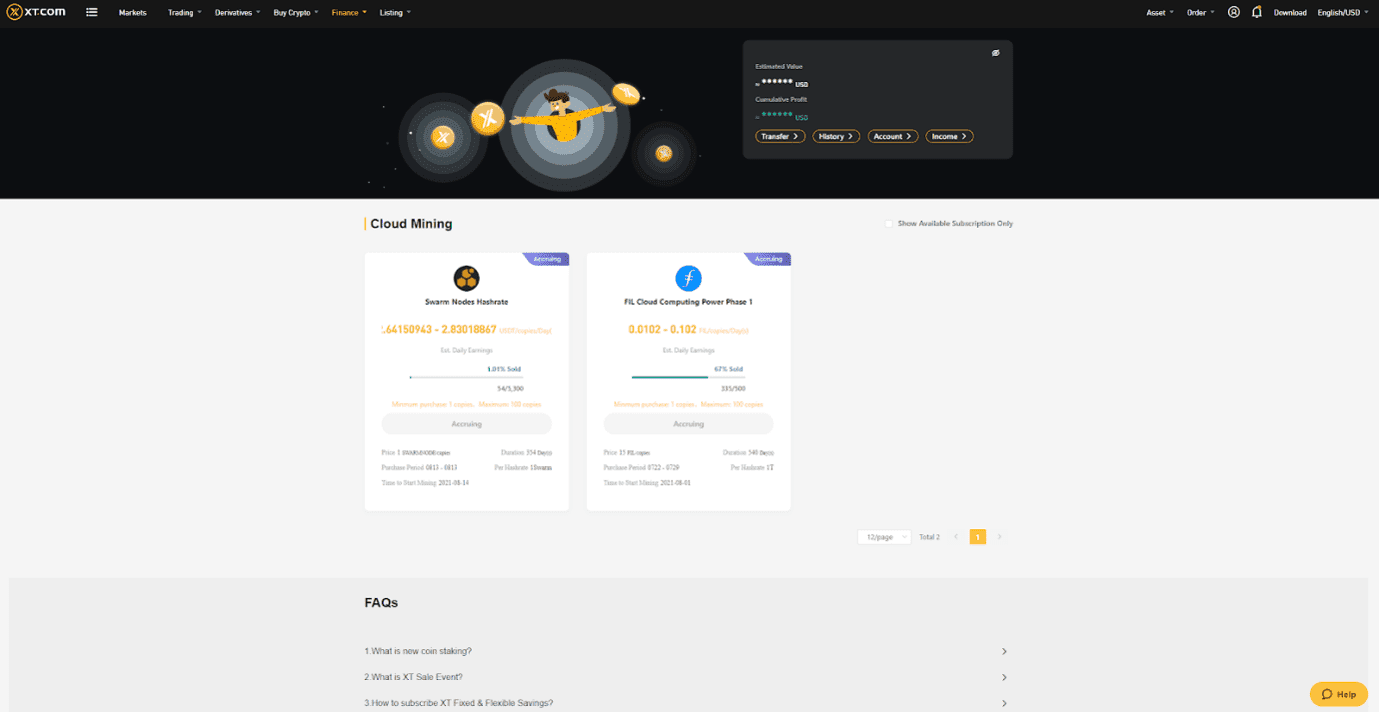 XT.com Fees
Trading Fees
XT.com charges a spot trading fee of 0.2% for makers and 0.2% for takers. In comparison to other exchanges, the charge is relatively high as the industry standard for spot fees is at 0.1%. However you can reduce the cost as you garner more trading volume on your account.
For futures trading fees, XT.com charges 0.04% maker and 0.06% taker fees. Yet again, XT.com is more expensive than most exchanges for leverage trading and offers less value for money.

Deposit and Withdrawal Fees
Deposit costs may vary based on the payment type you select at XT.com. You could have to pay the card issuer or the payment processor certain fees, for instance, if you use a credit card to purchase cryptocurrency.
XT.com's crypto withdrawal fees are not fixed and depend on the token you withdraw.
XT.com Customer Support
XT.com offers 24/7 customer support to address users' issues or inquiries. Users can contact through direct requests on the site, via email, and live chat. Users experiencing general issues can lodge complaints at support@xt.com. Click on the chat icon to start a live chat with a customer service representative for specific issues.
XT.com User Interface
The general interface of XT.com is simple and user-friendly. Finding exactly what you're looking for only takes a few seconds. If you are a solitary investor, you can ignore other features on the app and simply select the buy/sell option to hold or withdraw crypto. If you are a trader, you can begin your trading journey by selecting the trading or derivatives options. Simply click the upper right corner of the platform to open your dashboard and manage your crypto holdings.
XT.com Mobile App
Whether you choose a desktop, or a mobile device, XT.com's dedicated programs for Windows, Android, and iOS will provide you with a seamless experience. XT.com includes all its functions in its mobile application. If you don't want to utilize a web browser, you can download the Windows application for a smoother experience or a smartphone app for increased flexibility.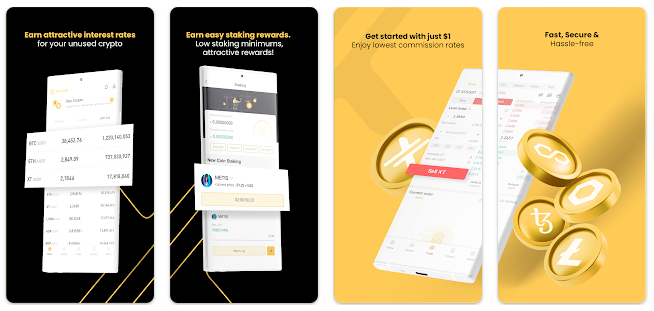 The mobile app offers more convenience for smartphone users. Users can still trade in other markets, evaluate charts, acquire important information, check market conditions, and do much more from their mobile devices. The process is as quick and easy as using a web browser.
XT.com Security Features and Policies
XT.com prioritizes security. They implement top security risk control systems, identity verification, strong password policies, device management, anti-phishing codes, and a privacy policy. XT.com also integrates two-factor verification to prevent unauthorized access to registered accounts and protect customers' assets and data. Besides passwords, users must verify their permission to access an account via email, SMS, or Google Authenticator.
To avoid phishing fraud, users can also specify their own anti-phishing code and check if the codes received via email match. XT.com additionally protects its users' privacy by adhering to applicable laws and regulations, safeguarding users' personal information from third parties without their consent and legal authorization. Users can learn more about how XT.com collects, uses, and protects users' data by reading XT.com's privacy policy on its website.
XT.com Pros and Cons
| Pros | Cons |
| --- | --- |
| There are more than 800 trading pairs available. | Third-party merchants mean higher fees. |
| Accurate charts and professional trading experience | No learning guides, informational posts, or help center |
| Several trading markets integrated | |
Conclusion
XT.com is a global exchange for traders and investors, offering quick trading in multiple markets and allowing investors to buy and hold cryptocurrencies with preferred payment methods. The platform is accessible and user-friendly, with Live Chat support and ticket submissions to address any concerns promptly.
FAQs
Can US citizens register on XT.com?
Yes, XT.com is available to users in the United States. They can easily register on the site and have access to practically every financial activity and asset.
Where is XT.com located?
XT.com's headquarters are located in Singapore, however they have operations centers worldwide.