Poloniex Review
Poloniex is a cryptocurrency exchange platform that has been operating since 2014. It offers a variety of features and services for cryptocurrency traders, making it a convenient platform for both experienced and amateur traders. Poloniex supports over 400 cryptocurrencies, giving users a wide selection of options to trade. From popular cryptocurrencies like Bitcoin and Ethereum to lesser-known altcoins, Poloniex offers a diverse range of assets for traders.
History and Reputation of Poloniex
Poloniex has a long history and has made significant achievements and positive contributions to the crypto industry. Over the years, Poloniex has remained committed to providing access to creative assets and maintaining the security of its platform and customers' funds. This dedication to safety is crucial in the crypto industry, where users' assets must be protected from potential threats.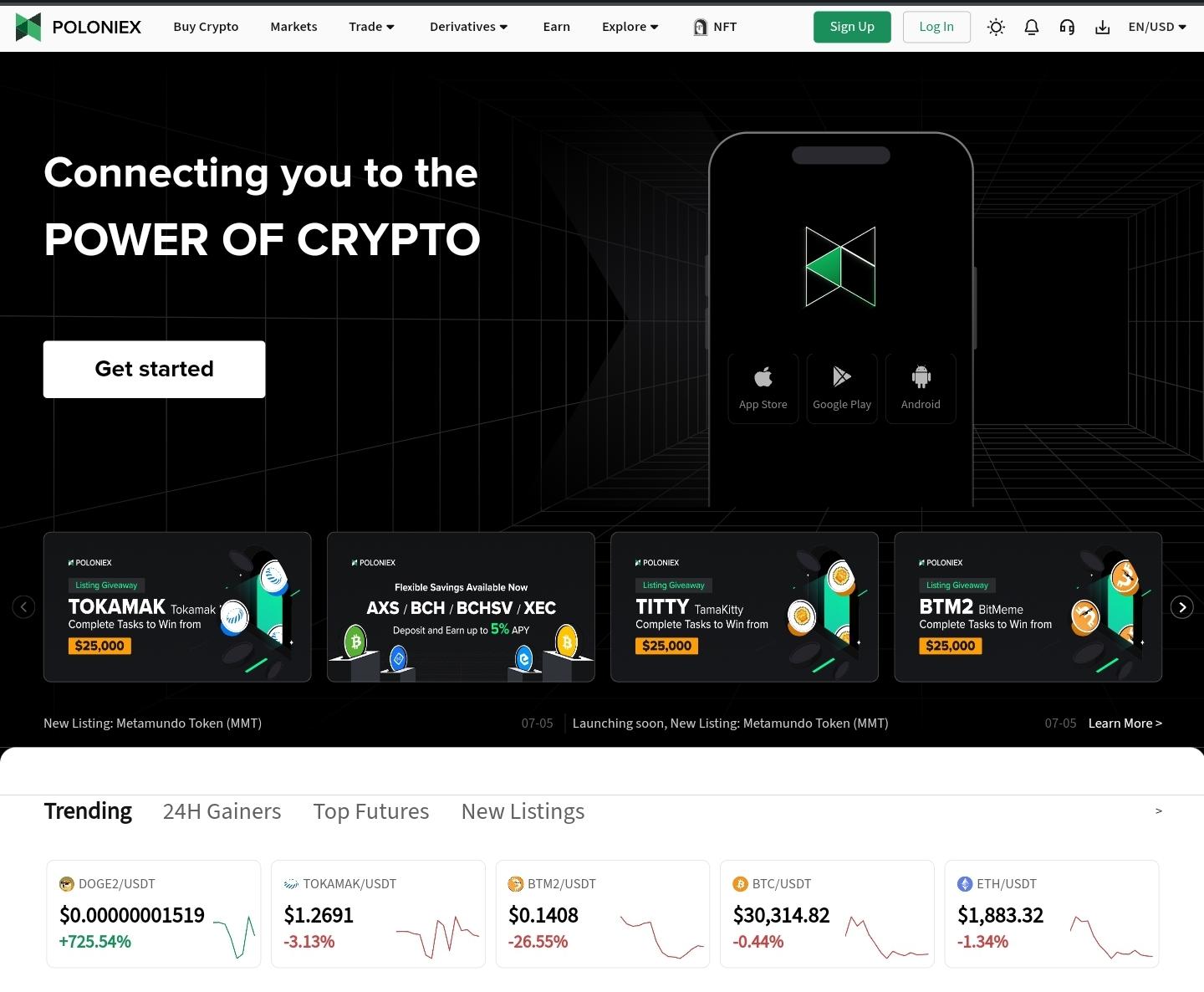 Poloniex Signup and KYC
When signing up for Poloniex, users must provide their legal name and last name, which should precisely match the name on their identification documents. Users are also asked to provide their complete, current address.
Users must submit clear images of their identification documents and a selfie during the KYC verification process. Submitting the selfie and ID images separately is essential to ensure successful verification. Users should ensure the entire document is visible and readable in the picture, and the ID should not be damaged or expired. Government-issued passports that use the English/Latin alphabet are typically more likely to be accepted.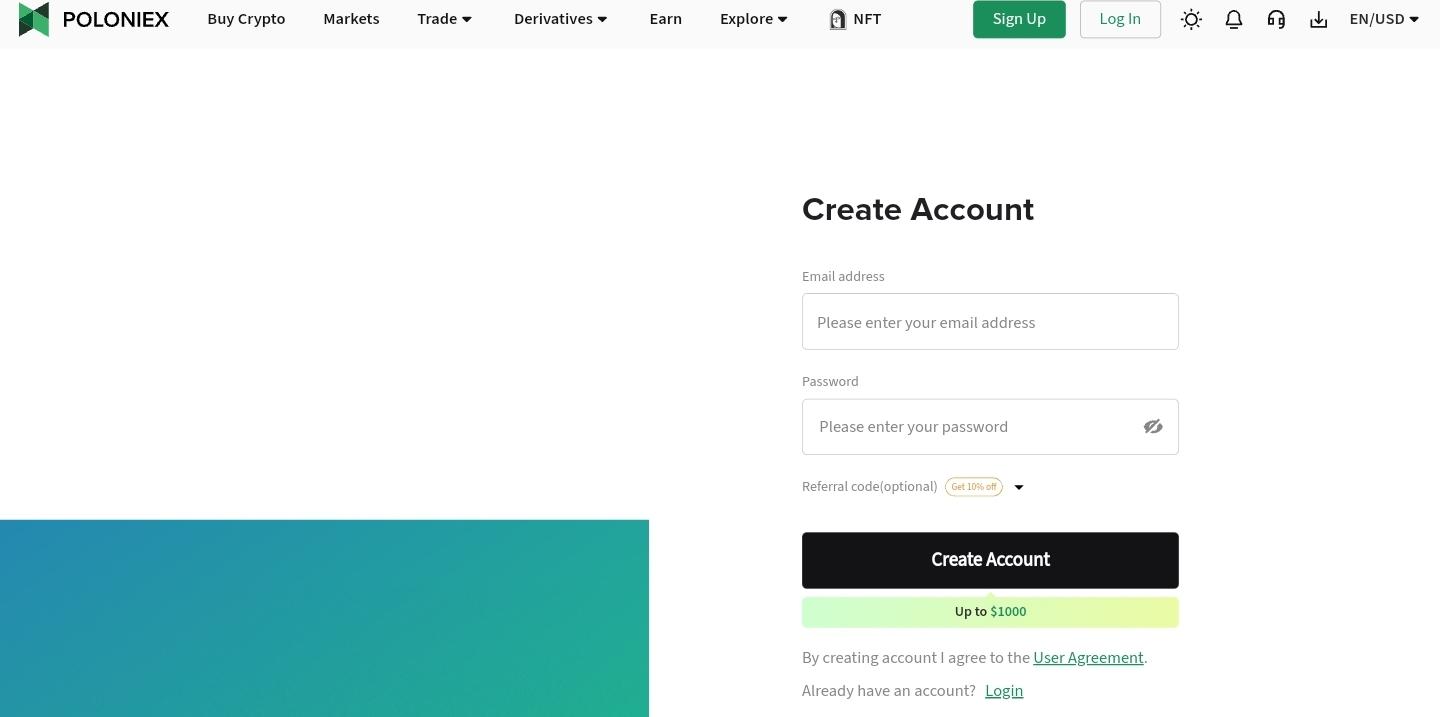 Poloniex Products and Services
Poloniex offers a range of products and services related to cryptocurrency trading and investment.
Poloniex Spot Trading
Poloniex offers spot trading as a core service, allowing users to buy and sell cryptocurrencies for immediate settlement at the current market price. The platform supports many cryptocurrencies, including Bitcoin, Ethereum, and Litecoin. Users can execute market orders for instant buy or sell transactions, set specific price levels, and use trading pairs like BTC/USDT. Poloniex also provides trading tools and features, such as real-time price charts, order books, trade history, and customizable interfaces, to enhance the spot trading experience. These tools help users analyze market trends, monitor price movements, and make informed trading decisions.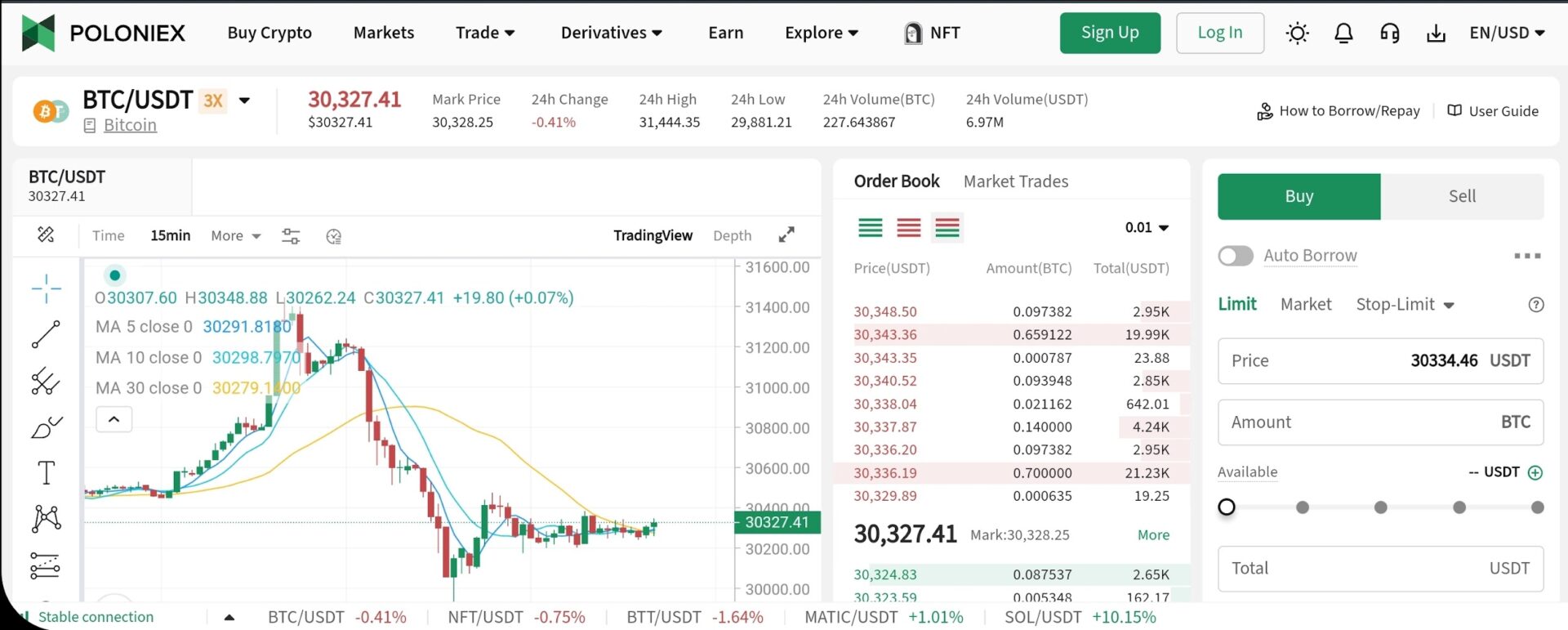 Poloniex Futures Trading
Poloniex offers futures trading as a critical service, allowing users to engage in derivative trading based on cryptocurrencies' price movements. This includes futures contracts, leverage trading, and various futures products, such as perpetual contracts and traditional contracts with specific expiry dates. Users can trade futures contracts against different cryptocurrencies or stablecoins, such as Bitcoin (BTC) futures against Tether (USDT), to speculate on the price movements of digital assets.

Poloniex Margin Trading
Poloniex also offers margin trading, allowing users to trade cryptocurrencies with borrowed funds to increase their positions. This involves using leverage, trading pairs, long and short positions, margin funding, margin fees, risk management, and monitoring margin levels to avoid margin calls or liquidation. Users can take long classes, expecting a cryptocurrency's price to rise, and short positions, anticipating a price decline. Margin trading also involves providing funds to the margin market and receiving interest payments from traders borrowing funds. Poloniex charges fees for margin trading, which can vary based on the user's trading volume and trading pair.
Poloniex Copy Trading
Poloniex copy trading is a feature that allows users to follow and copy the trading strategies of expert traders on the Poloniex platform. Users can choose from a list of lead traders who share their portfolio and performance metrics and automatically execute the same trades as them. Followers can benefit from the expertise and experience of lead traders, while lead traders can earn commissions from the profits of their followers. Poloniex copy trading is available for futures contracts, which are derivatives that allow users to speculate on the price movements of cryptocurrencies without owning them. Poloniex copy trading is a convenient and easy way to participate in the futures market and learn from the best traders.
Poloniex Staking
Poloniex staking is a service that allows users to earn rewards by depositing and holding certain assets in their Poloniex account. Users do not need to opt in or lock up their funds to participate in staking. They can trade, deposit, and withdraw their funds anytime and still receive staking rewards. Poloniex supports staking for:
Cosmos (ATOM)
Polkadot (DOT)
NEAR (NEAR)
Polygon (MATIC)
Solana (SOL)
and USDD, a stablecoin pegged to the US dollar.
Poloniex Grid Trading
Poloniex grid trading is a feature that enables users to automate their futures trading by placing orders at fixed intervals within a specified price range. Users can manually set their trading bot's parameters manually or use the AI strategy that suggests the optimal settings based on the market conditions. Users can choose between three types of grid strategies: long, short, or neutral, depending on their market view. Poloniex grid trading supports all USDT-margined perpetual contracts and allows users to profit from the price fluctuations in the crypto market.
Poloniex Earn
Poloniex Earn is a service that provides users with various cryptocurrency investment products that offer passive returns. Users can choose from flexible or fixed-term products, depending on their preferences and risk appetite. Flexible products allow users to subscribe and redeem anytime, while fixed-term products have preset rules and expiration dates. Users can also enable auto-subscribe to automatically invest their available balance or interest into their chosen product. Poloniex Earn pays out interest daily to users' spot accounts and guarantees the principal of all investment products.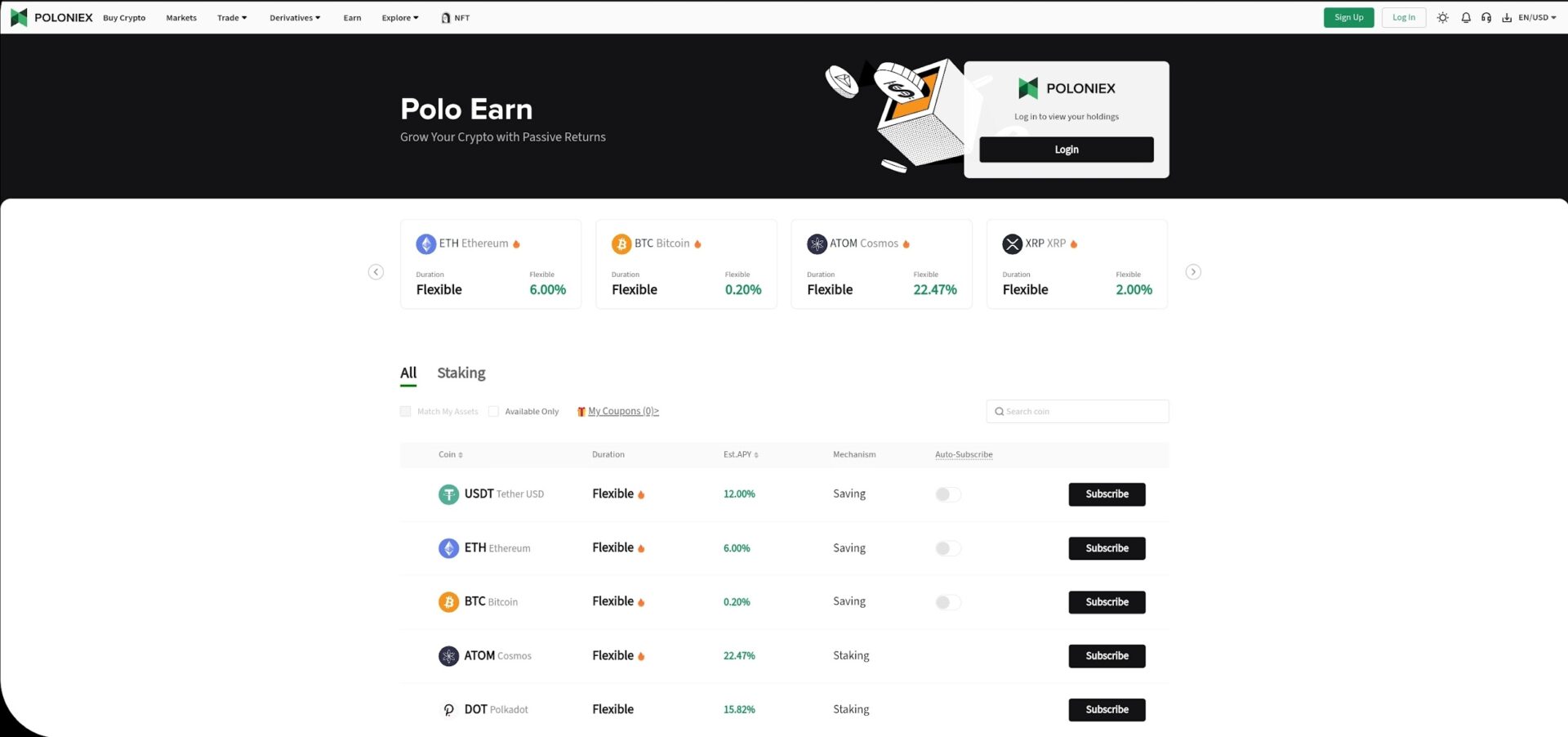 Poloniex P2P Lending
Poloniex Lending is a service that allows users to lend their crypto assets to other traders and earn interest from them. Users can set their lending rates and durations or use the auto-renew feature to lend automatically. Poloniex Lending supports many cryptocurrencies, including BTC, ETH, USDT, and TRX. Users can view their active loans, earnings, and history on the Poloniex Lending page. Users can also cancel their loans anytime unless other traders already take them.
Poloniex Trading Fees
Poloniex trading fees vary depending on the type of trading product and the user's trading volume and TRX balance. Poloniex offers spot, futures, margin, and lending products. The fees for each product are:
Spot trading: Poloniex uses the maker-taker fee model, where the maker is the one who places an order on the order book, and the taker is the one who matches or takes an existing order. The fees range from 0.005% / 0.1550% (M/T) to 0.200% / 0.2000% (M/T), depending on the user's 30-day trading volume. Users holding a substantial amount of TRX in their spot account can opt-in to pay fees with TRX and receive a 30% discount on their payments.
Futures trading: Poloniex charges a flat fee of 0.0150% / 0.05% (M/T) to -0.0150% / 0.0210% depending on a future traders' trading volume.
Margin trading: Poloniex charges the same fees as spot trading for margin traders, plus an additional borrowing interest rate that depends on the currency and market conditions.
Lending: Poloniex does not charge any fees for lending crypto assets to other traders, but it deducts a 15% service fee from the interest earned by the lenders.
Deposits and Withdrawals
Poloniex offers various deposit methods for users to fund their accounts with fiat or cryptocurrencies. These include bank transfers through Simplex, credit or debit cards through Simplex, Apple Pay through Simplex, and cryptocurrencies through the on-chain platform. Users must verify their identity and bank account details, with minimum deposit amounts ranging from $50 to $20,000 daily. Users can deposit over 400 cryptocurrencies into their Poloniex account but must generate a deposit address for each currency. You can also transfer funds between Poloniex accounts for free with Off-Chain Transfer.
Poloniex offers various withdrawal methods for users to withdraw fiat or cryptocurrencies from their accounts. These include bank transfers, credit card/debit cards, and cryptocurrencies. Bank transfers require identity verification. Cryptocurrency withdrawals require a destination address and payment ID. Beside network taxes, withdrawals on Poloniex does not attract any charges. Depending on network congestion, some currencies have minimum withdrawal amounts and confirmation times.
Poloniex Mobile App and Wallet
The Poloniex Mobile App is a free application that allows users to buy, sell, and trade cryptocurrencies on the go. Users can also access advanced features like futures trading, staking, lending, and DeFi. The Poloniex Mobile App is available for Android and iOS devices and can be downloaded from the Google Play Store or the App Store.
The Poloniex Wallet is a secure and convenient way to store and manage crypto assets on Poloniex. Users can deposit and withdraw over 400 cryptocurrencies on-chain using their Poloniex Wallet. Users can also view their account balance, transaction history, and price alerts on the Poloniex Wallet.
Poloniex Customer Service
Users can contact Poloniex customer service for inquiries or complaints related to their account or the platform. Poloniex provides customer support mainly through email. Users can fill out a simple contact form on the Poloniex website to open a customer support ticket. Poloniex also has a help section that answers frequently asked questions about various topics, such as verification, deposits, withdrawals, trading, and security.
Poloniex's Affiliates Program
Poloniex's affiliate program is a referral program that allows users to invite their friends to and earn rewards from their trading fees. Users can join the affiliate program by signing up for Poloniex and getting their unique referral code or link. By sharing the code with friends, users can encouraging them to sign up and trade on the platfrom.
Poloniex offers the referrer 20% of their friends trading fees, while the referee gets 10% payback of their net trading fees. Users can also apply to become a Space Traveller, a particular tier of affiliates who can earn up to 60% commission and enjoy more benefits, such as exclusive bonuses, special events, and direct input for Poloniex's products and marketing initiatives.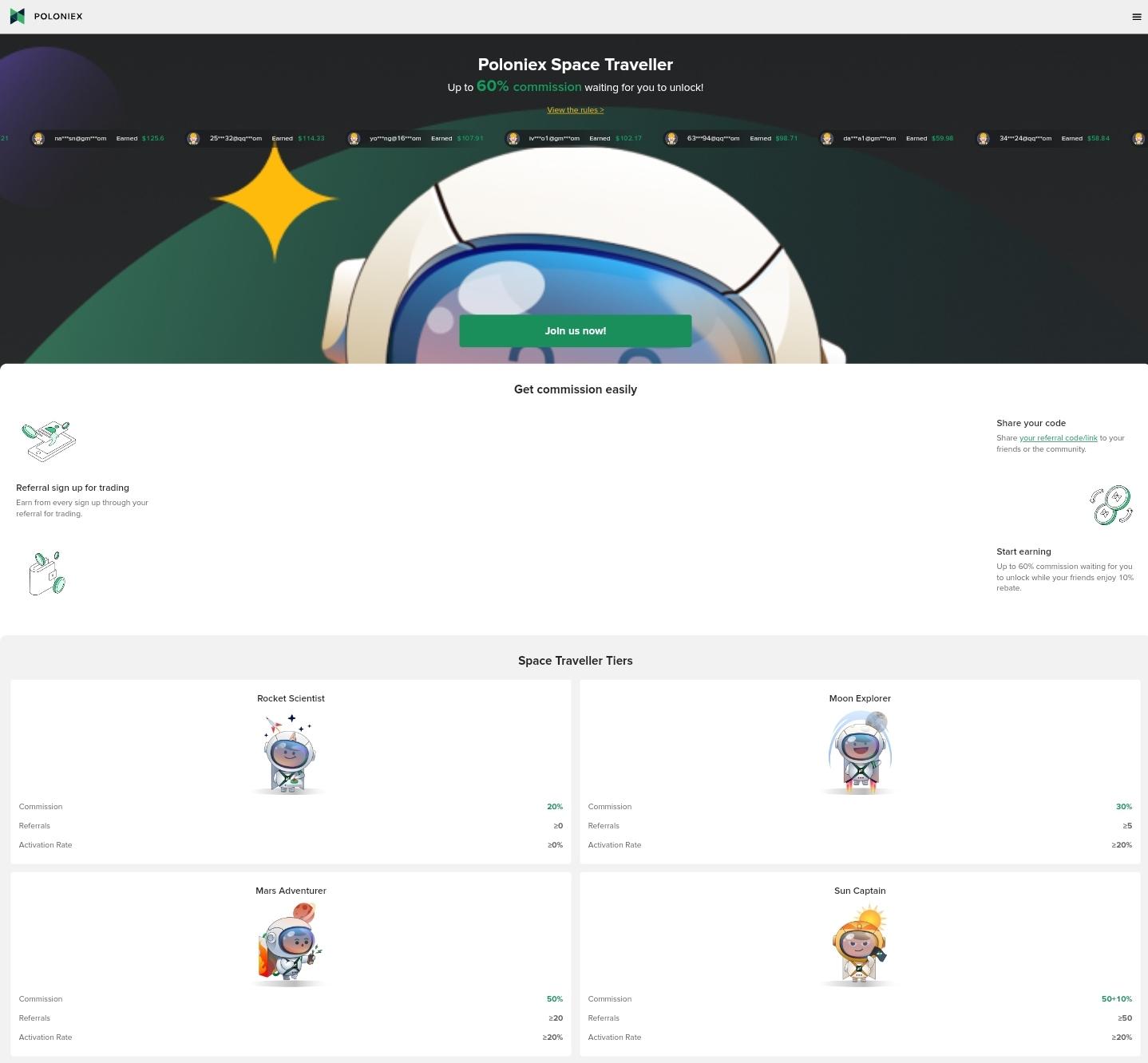 Poloniex Security Features
Poloniex offers various security features to protect users and their assets from hackers and scammers. These include advanced techniques for denial-of-service attacks, cryptographic signatures-based DNS cache protection, strong web attack protection, and storage of user funds in cold wallets. Role accounts limit access to users' private information, while a registry lock prevents unauthorized changes to the website. Two-factor authentication (2FA) is enabled for added security. Users can view their session log history, which includes IP addresses, locations, devices, and browsers, and can freeze accounts if suspicious activity is detected.
Poloniex Pros and Cons
| Pros | Cons |
| --- | --- |
| Poloniex supports many crypto assets, giving users a wide range of options to trade and invest in. | Poloniex does not serve U.S. citizens and residents due to regulatory issues. |
| Poloniex has a user-friendly and functional mobile app that allows users to access the exchange on their Android or iOS devices. | Poloniex has received many complaints from users about its slow and unresponsive customer support. |
| Poloniex charges low trading fees that start from 0.2% / 0.2% (maker/taker fee without discount) and decrease with higher trading volume. | |
Conclusion
Poloniex is a well-established and popular cryptocurrency exchange offering various products and services for crypto traders. It has low trading fees, many cryptocurrencies, and features such as staking, futures, and margin trading. However, it has some drawbacks, such as high buying and selling fees, poor customer service, and a history of security breaches. Poloniex is not available for U.S. users, but it may be a good option for international users looking for a low-cost and versatile crypto platform.