If you are interested in LBank and would like to learn everything you need to know about its products and services, you have come to the right place. In our full LBank review of 2023, we will have a look at LBanks features, strengths, and weaknesses. We will dive into trading options, fees, available assets, security, customer support, and more. After this comprehensive LBank review, you will have a clear mind of what to expect from the cryptocurrency trading platform.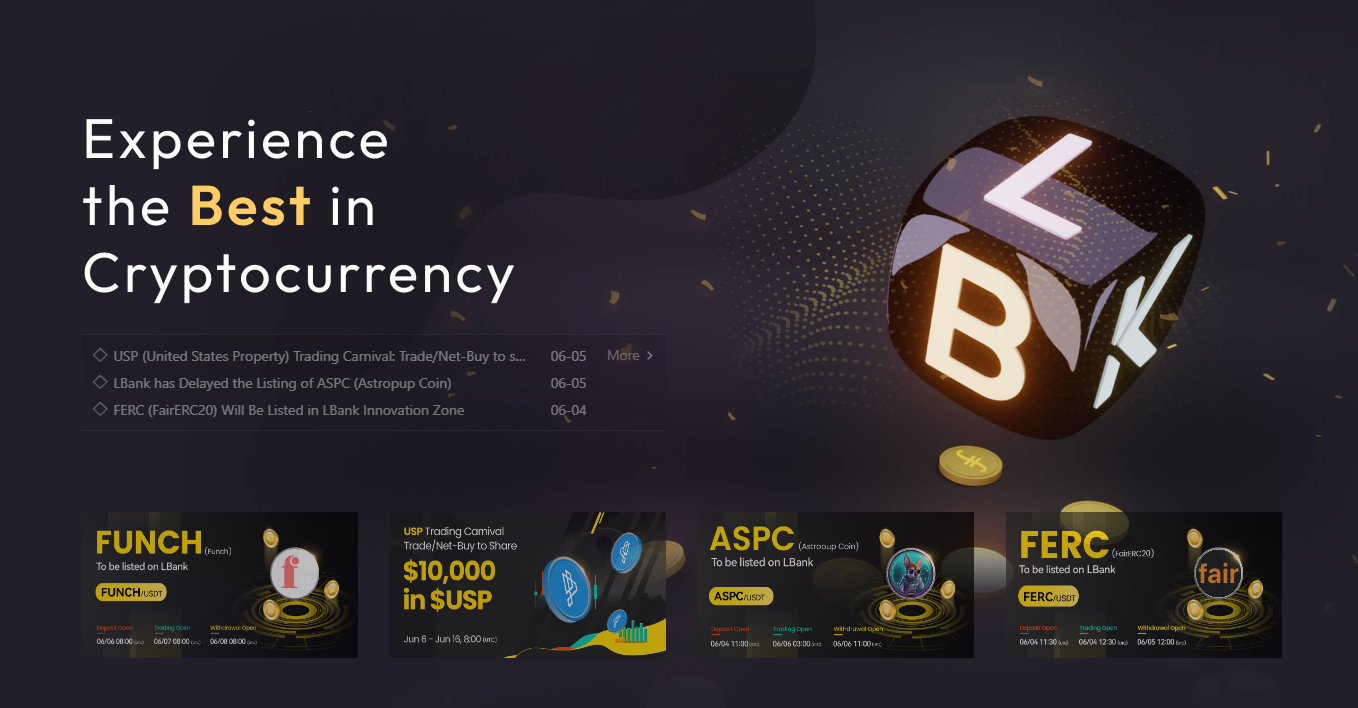 LBank Quick Overview
Launched in 2016, LBank is a dedicated crypto exchange focussing on spot and futures trading. With over 5 million users and $3.5 billion in daily trading volume, LBank consistently ranks among the top exchanges sorted by trading volume. LBank offers over 450 spot and 60 futures trading pairs, making sure that you have a wide range of cryptocurrencies available to buy and sell.

You can not only access a spot market on LBank but also perpetual futures and even an ETF market. The interface is well-designed and very user-friendly while offering advanced trading tools you require. LBank is a very minimalistic crypto exchange with a focus on trading, which makes it very easy for beginners to navigate through the platform and find exactly what they are looking for. Furthermore, LBank offers comprehensive 24/7 live chat support to resolve your queries as quickly as possible.
Pros and Cons of LBank
Pros
Wide range of tradable assets
High volume
Cons
Limited FIAT support
No FIAT withdrawals
Small range of products
Poor liquidity
No fee discounts
Limited chart time frames
Trading Features Offered by LBank
Spot Trading
LBank puts its focus on new traders, thus prioritizing optimizing the spot market. You will have an easy time navigating through the spot trading interface on LBank as it is not overloaded with unnecessary data like on other exchanges. As of 2023, LBank offers over 450 spot trading pairs, including all major cryptos such as BTC or ETH, but also some "meme" coins such as DOGE or PEPE. The spot trading interface is kept very simple, yet effective and you won't lack any features. With 0.1% maker and taker fees, LBank offers low and fair commission rates for traders. Aside from just offering USDT trading pairs on its spot market, LBank also introduced trading pairs against BUSD, USDC, BTC, and ETH, giving you more trading opportunities.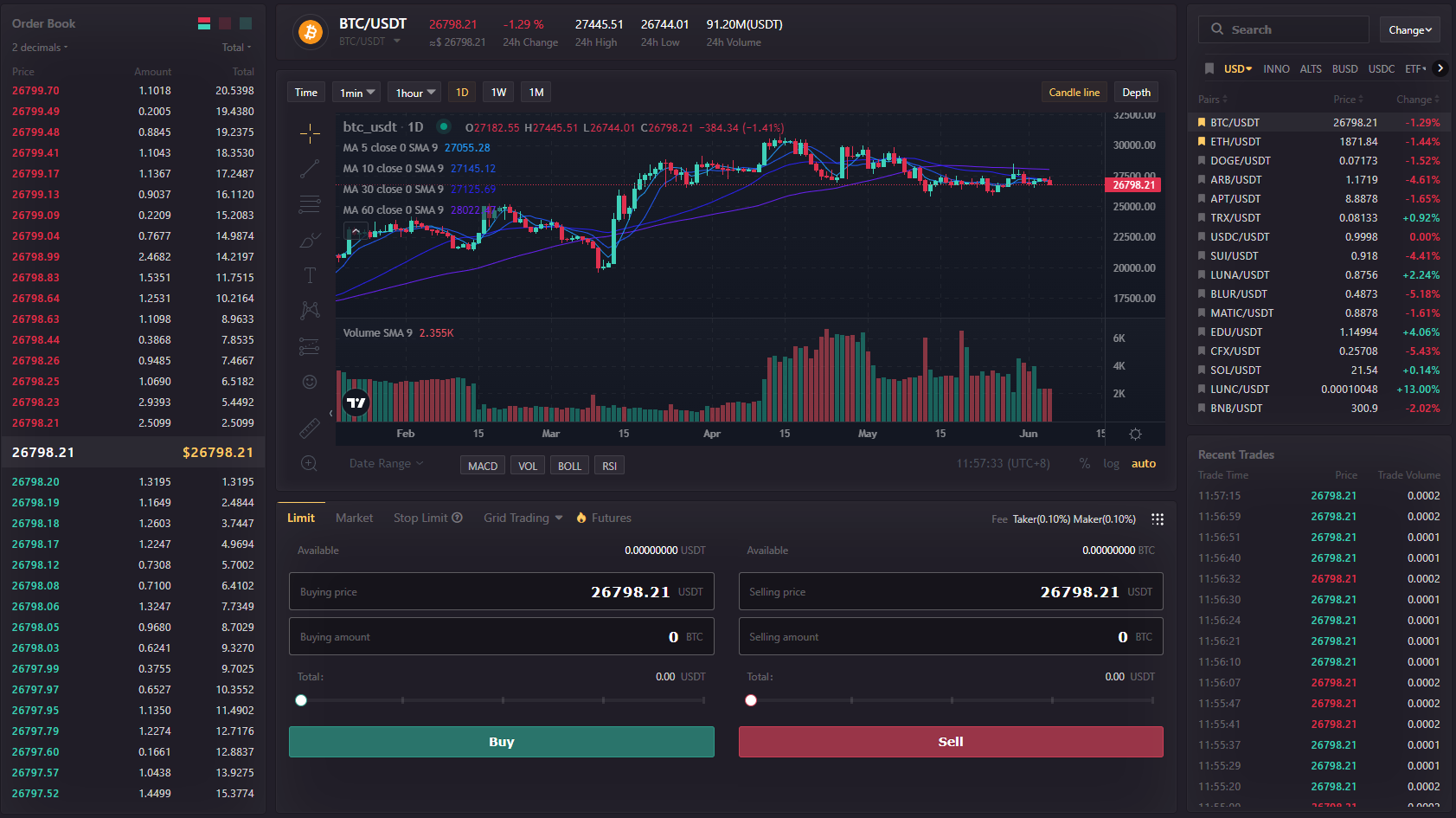 Futures Trading
The Futures trading platform on LBank is designed minimalistic, giving new traders an easy time navigating through the dashboard. But also advanced traders will find what they require for day trading. With an order book, trade history, advanced order types and leverage of up to 125x on major trading pairs such as BTC and ETH. Advanced traders can switch between isolated and cross-margin mode as well as hedge and one-way mode to manage their risk to their liking. On the LBank spot market, you can trade over 60 different USDT-marginated trading pairs. The trading fees are fairly low with 0.02% for makers and 0.06% for takers. One key criticism that we have for the LBank trading platform is the settings for time frames. It is more complicated to switch time frames compared to other centralized exchanges. Also, LBank only supports a limited number of pre-set timeframes. However, if you properly want to trade, you should analyze your charts in Tradingview anyway, so this should not be a problem.

LBank Trading Fees
The trading fees on LBank are fairly low and make trading on the platform affordable. Fees really play a huge role in profitability, especially in the long run. On the spot market, LBank charges 0.1% fees for maker and taker orders which is well below the industry standard. With 0.02% maker and 0.06% taker fees, LBank also offers a great fee structure on the futures market. Unfortunately, LBank does not offer trading fee discounts based on your 30-day trading volume. This will not impact any new traders, however, offering fee discounts is especially important for seasoned traders with a lot of trading volume.

LBank Crypto Direct Purchases
If you don't own any cryptos yet or you simply just want to buy more, you can do so on LBank via credit card payments, P2P trading, or Bank Transfers. LBank only supports USD as the payment currency. As of 2023, you can purchase USDT, BTC, and ETH directly from LBank. The transaction fees for credit card payments are around 3%. That means if you pay $1000 worth of your FIAT, you will receive $970 worth of cryptos in return. The available payment methods on LBank are:
Credit/Debit card
Bank Transfer
Wire Transfer
ACH
Google and Apple Pay
Cash App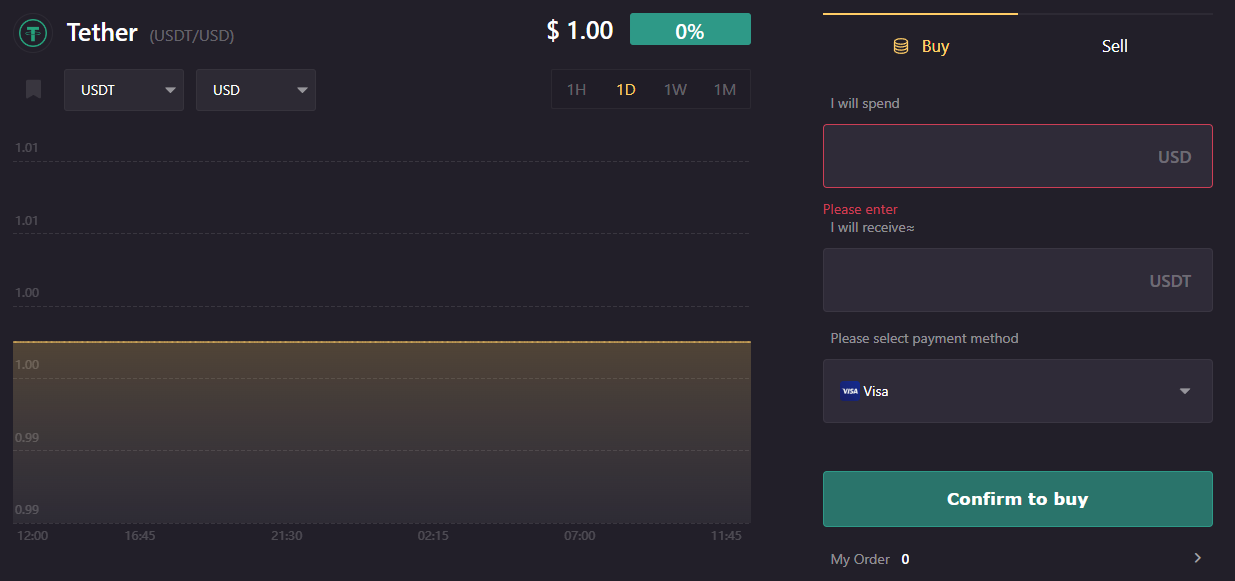 LBank Other Services
When it comes to passive income, LBank offers earnings accounts and grid bot trading. The setup is very simple and you can even receive rewards for setting those features up. The Grid Trading feature is an automated strategy, buying and selling at horizontal levels based on pre-set parameters. Setting this up requires a little bit of technical knowledge, and we highly recommend doing proper research before starting any sort of strategy trading. The earn products on LBank offer APY on different cryptocurrencies. You can choose between flexible and locked products. When using locked earning products, your cryptos will be staked for a fixed amount of time. Only when this time is due, you can receive your funds back and you will receive the respective APY. The Flexible option gives you more freedom as you can just pull your funds out whenever you want. Generally, locked earning products yield more than fixed ones.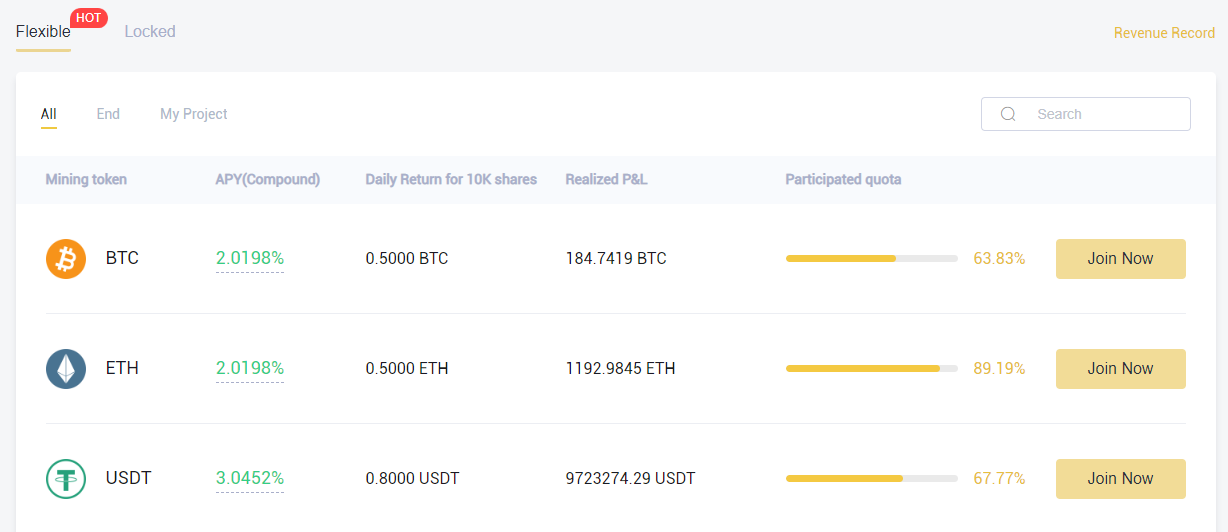 Bonuses on LBank
If you are looking for bonuses and incentives, LBank has you covered in the Bonus Center. You can receive up to $250 in trading bonuses for doing simple tasks. If you trade over $1000 on the spot market, you will receive 20 USDT cashback, which means you get paid back by LBank for trading on the platform based on your trading fees. Furthermore, you can receive a 200 USDT earning bonus if you deposit and hold more than $200 on LBank Earnings, which is their passive income product. The last two bonuses can be obtained by buying cryptos on LBank with your credit card and by setting up 3 trading strategies in LBanks Grid Bot section. Note that you must finish the tasks within 30 days of registering on LBank to be eligible to claim them. After 30 days, the bonus offers expire.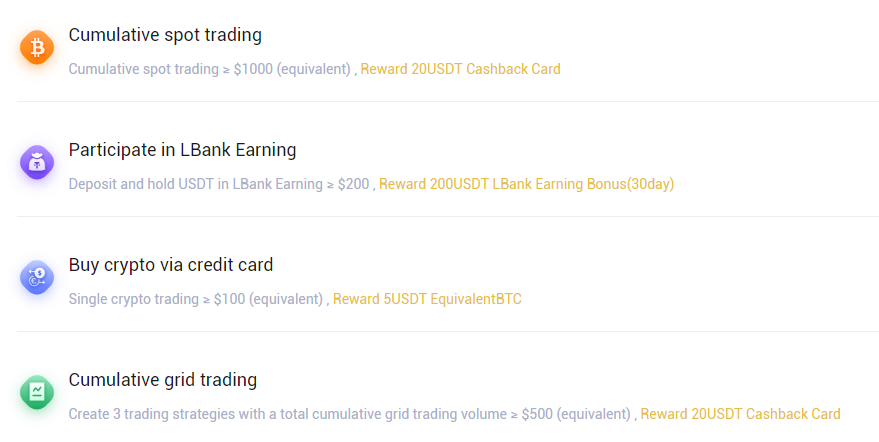 LBank Security
Being on the market for over 7 years, LBank has a clean track record without any hacks or data breaches. This is an important factor, especially in the crypto market where hacks are not uncommon. As of 2023, LBank has proven to take security very seriously and puts customers first. You can also protect your LBank account with advanced security features such as 2-Factor Authentication which will be used for log-ins and withdrawals. Even if someone figures out your password, they can not access your LBank account as they still need a 6-digit code from your 2-Factor Authenticator. Additionally, you can add SMS verification, an Asset Password, and an Anti-phishing code to protect your account at the highest level. We highly recommend setting up all of these security measures right away, after creating your LBank account. LBank does not require KYC. But if you wish to verify your identity, you can do so with your Driver's license, ID card, or Passport. This will also raise your withdrawal limit. As LBank is an unregulated crypto exchange, we would never recommend storing money on the platform. Whenever you are done with your trading sessions, make sure to send your cryptos back to your own wallets.
LBank Customer Support
LBank understands how important customer support is in a trading environment. If you have any problems, questions, or queries, you can contact the 24/7 live chat support in the bottom right corner. When testing the chat support, we instantly received support from an agent (real human) within 30 seconds which is super impressive. The support was very knowledgeable and could resolve our queries quickly. We recommend using the live chat support on LBank whenever you have something on your mind.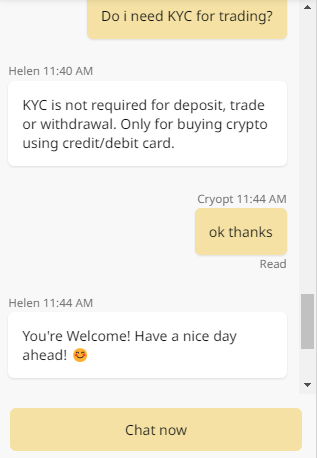 Conclusion
LBank is an decent choice for new traders, looking for an easy-to-use crypto exchange with a user-friendly interface. As the platform is not overloaded with data and information, LBank is easy to navigate. With low fees and a dedicated spot market including over 450 available trading pairs, you will find most coins you are looking for. If you are an advanced trader, you can take advantage of LBank's competitive fees on the futures market with up to 125x leverage.
However, if you are an advanced trader, we do not recommend using LBank. There are no fee discounts based on trading volume and you can get better conditions and more features on other platforms. For advanced crypto traders, we recommend having a look at Bitget and MEXC.
FAQ
Is LBank legit?
Yes, LBank is a legit crypto exchange with over 5 million users and $3 billion in daily trading volume
What are the LBank fees?
The spot fees on LBank are 0.1% for makers and takers. The futures fees on LBank are 0.02% for makers and 0.06% for takers. Unfortunately, LBank doesn't offer any fee discounts based on the 30-day trading volume.
Is LBank good for beginners?
Yes, LBank is great for beginners. It is a very user-friendly platform and easy to navigate.
Does LBank require KYC?
No, LBank does not require KYC for trading, so you can stay anonymous.